ECCENTRIC CAT OWNERS: ANNE (AIDAN) WILTSHIRE
"Anne" Wiltshire was an eccentric cat-owner living in Chelmsford, Essex, whom I met during the 1990s when I worked at Chelmsford Cats Protection League shelter. She was known locally for going everywhere with her cat, which was her emotional crutch in social situations. She made the news for having her cat in court at a time when emotional support animals were rare in Britain. She was an isolated and misunderstood person who was scared of people, both real and imaginary. I want to remember her respectfully and compassionately. The information here is pieced together from people who had met her.
I met Anne after she adopted a one-eyed cat from the local shelter, and I went to do the follow-up visit. She lived on the Meadgate estate in Great Baddow in a home pretty much hoarded out, especially with books and documents. There was a damp and "catty" smell, but the cat – a one eyed female – was happy, healthy and greatly loved. Anne herself was somewhere in her 50s, though she looked older, was intelligent, well-educated and eccentric. Multiple layers of clothing, rarely changed, disguised her shape. She came across as a butch-looking woman, in fact she reminded me of my old headmistress at the Girls' High School.
She was very much anti-war and anti-nuclear, and when she found out that I worked at GEC I had to say I worked on fire and rescue thermal imagers otherwise she would not have let me inside to do the home visit! She was interesting to talk with, although fact and fantasy sometimes became blurred. She was also interested in music and frequented a local music shop (Dace, on Moulsham Street) that specialised in classical music and musical instruments. She was scared of people, both real and imaginary, and thought she was being watched by Russians. Much later, I learnt that she had served in the military, in some sort of intelligence role. Before she had a cat she she carried around a teddy bear with its head just peeking out of her coat, and sometimes she spoke to it. It was sad, but she was harmless at that time and much vilified.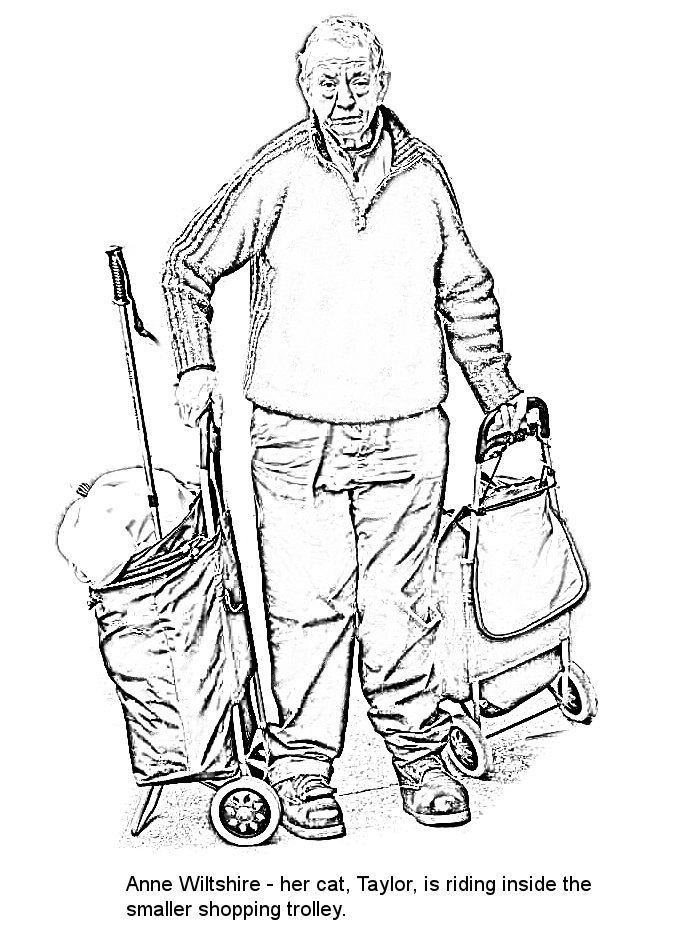 The cat – wearing a harness - often rode around on her shoulders, sometimes on top of a rucksack (inside the rucksack on bad weather), going everywhere with her: church, the supermarket and the library. At other times it rode around in her 2-wheeled shopping trolley, watching the world through the half-open zip through which Anne stroked it and talked to it. It was not welcome everywhere and sometimes had to be hidden from view in the shopping trolley which had a strong "catty" odour.
"I was in town with my late mother many years ago, probably around the late 90s and we had parked along the back road which runs by the market and through to London Road. Anne approached us as we were getting in the car and asked if we could give her a lift. Meadgate was on our way home to Moulsham Lodge, so I gave her a lift, complete with shopping trolley and cat, Anne was not small in stature either. We were glad when she got out of the car due to an odour but I felt sorry for her because people judge a person initially by their looks and none of us know when we may experience the feelings she had or indeed be in her position." (Diane Ivory, Chelmsford Remembered Facebook Group)
"There was a funny incident in the Cathedral (so someone told me). Anne was sitting with her cat around her neck. A few rows behind her was someone with a guide dog. The dog showed excellent self-control while the cat sat staring at him, almost as if to say, 'Ha, ha, you can't catch me!' People said it was hilarious to watch the silent interaction between dog and cat." (Rosy Baxter, Chelmsford Remembered Face Group)
In 1995 Anne spent some time "in hospital" which I later found out was the Linden Centre which specialised in Mental Health issues. During this time her neighbours went in to feed her cat. Unfortunately, it went missing and although there was an appeal in the local newspaper, I don't think it returned. Anne was obviously distraught at the loss. She adopted a black cat called Taylor which also travelled around on her shoulders or in the trolley.
Not all shops wanted the cat in there, especially if Anne allowed it walk on towels etc that were on display. Assistants often saw her and her cat, she would place the cat on top of the basket of lovely fluffy towels and everyone seemed too polite to complain. She was also a regular in M&S.
"I first saw them in Boots kitchen shop in High Chelmer at the till. The assistant was allergic to cats and rushed off to find someone else to serve. Another time they were before me in a queue in Boots pharmacy and I took a photo. The cat was later carried in a trolley bag. I remember being on a bus and the driver refusing to drive unless they got off. So I got off. Then they got off and we got on a different bus. I was at the front and they spoke to me and I was allowed to stroke the cat." (Jacquie Acott, Chelmsford Remembered Facebook Group)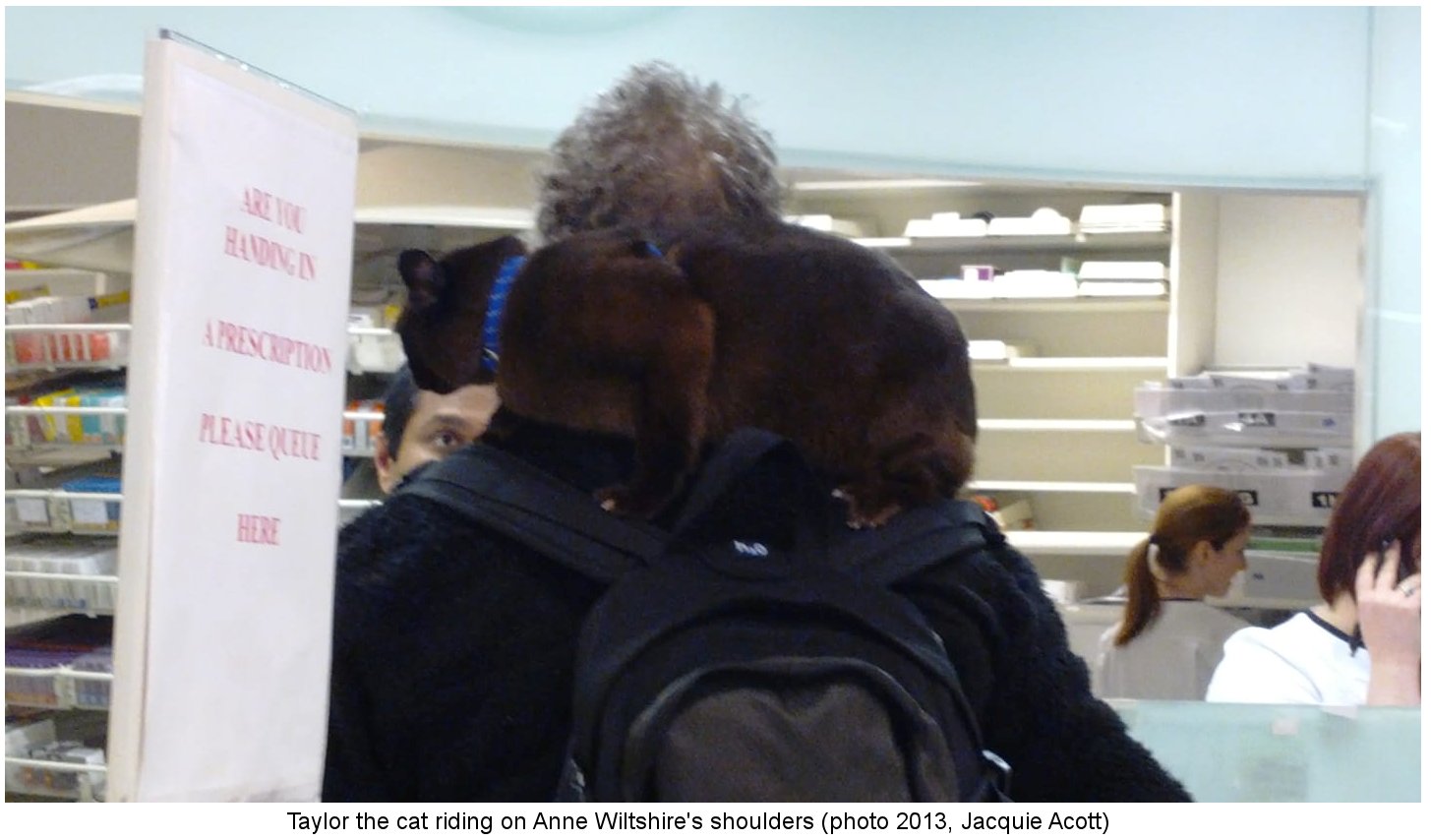 In Sainsburys supermarket, customers complained and Taylor had to be put in the manager's office, where it went frantic at being separated from its mistress. Much the same happened when it accompanied her to hospital appointments and was not allowed in the consultation room. A staff member had to restrain the upset cat. I think Taylor knew that Anne relied on him and he became very distressed if they were separated. Cats do not judge people.
Anne often shopped for clothes in the local Bolingbroke & Wenley department store and generally bought men's clothes and shoes. Most people attributed this to her eccentricity and orientation. Sadly, some people pointed at her or made fun of her, but if you were respectful she was interesting and educated to talk to. If she felt threatened, or you caught her during one of her more paranoid moments, she became defensive which came across as aggression. In 1999, Anne and Taylor appeared on "Look East" local TV which was covering the new millennium eve, 31st December 1999, in Chelmsford town centre.
Anne also did an interview for Anglia TV, where she explained how her cat helped her cope in social situations. This was at a time when the role of emotional support animals was not widely recognised. Her cat also travelled with her by train into London, being fed cat biscuits all the way, where she attended a church in Marylebone. A woman with a cat riding her shoulders, or poking its head out of a shopping trolley, was quite a distraction to ticket officers. Prior to the cats she is said to have carried a teddy bear inside her coat for comfort.
Anne told people that she was writing her memoirs, but whether this was true or part of her delusion I don't know. She wrote daily in her journals, but her diaries and memoirs would have been cleared out of her home, with other belongings, after she died. The journals might have given an interesting insight into her life. She had apparently suffered horrible abuse as a child. She mentioned having been in the military secret services (MI5 or MI6) where incidents had caused her to have mental breakdowns. Apart from rumours of an estranged brother, no-one knew if she had any living family, and despite the best efforts of the local authorities, she refused to allow social workers or mental health workers into her home.
During the 1990s she became increasingly delusional and isolated, believing there were Russians in the attic and eating only cold, tinned food in case other food had been contaminated or poisoned. Her layers of clothing were not often washed or changed. She was so convinced that people were accessing her property through the loft space that she put talcum powder on the floors every night to prove this. She kept "important documents" on her person between her layers of clothes so nobody could get hold of the documents. In retrospect, perhaps becoming "Anne" was a way of escaping from the past and hiding from imagined enemies.
"I remember seeing her on Chelmsford train platform and thinking I am definitely getting on a carriage with her this will be a much more interesting commute than usual. And it was. The cat was with her and got fed dried cat food on the way to Liverpool Street then a train dodger totally took advantage of the ticket officers all being completely distracted by her and her cat at Liverpool Street and legged it through the barriers." (Alison Nagle, Chelmsford Remembered Facebook Group)
At some point Anne moved out of her home on Meadgate and into Coleridge Court, off Brownings Avenue, on the Westlands Estate and she continued to be one of Chelmsford's eccentrics. One of the few people who regularly interacted with her described her as "very intelligent but had become quite delusional. I believe they had a very interesting personal history. A very private person but interesting to talk to."
She still travelled into town by bus and though her cat was no trouble, Anne (now mainly presenting as male) was becoming "a very rude and arrogant person in the end, also quite violent. Smashing bus windows, making a scene making children cry" according to one of the drivers on that route. "Definitely some sort of mental issue. Some people were quite rude which set him off. The cats were never an issue, although a lot of people thought of it as cruelty. He often walked the cat on a lead." If anyone tried to touch the cat, they suffered verbal abuse.
Although I occasionally saw her around town, I no longer worked locally and heard nothing more until she made the local, national and even international news.
Between May 2014 and April 2015, Anne, then aged about 70, stalked two women whom she knew through the church in Marylebone. She became obsessed with a solicitor whom she imagined to be her legal advisor (remember that Anne believed she was under Russian surveillance). The other victim was a church minister. Anne's attachment to them became so excessive it became disruptive and intimidating. In October 2013, one of the women took out a restraining order to try to stop the harassment, but Anne refused to be warned off, no doubt due to her mental state. This was when I found out that Anne was also known as Aidan (spelled Aiden in some accounts). I don't know if Aidan was her former name and he had chosen to live as a woman (as suggested by court reports) or whether she was born Anne and wanted to become male, so I'll now use "s/he" and "hir" as pronouns. Because Anne remained fixated on the women it resulted in a court case.
In December 2015, a Chelmsford Crown Court judge gave permission for Taylor to accompany 72 year old Anne/Aidan Wiltshire as an emotional support animal, describing the cat as a crutch that the owner relied on. Taylor attended court in the shopping trolley, poking his head out of the top to be stroked by his owner. Cat and owner were obviously devoted to each other, and the judge said there was documentary evidence (presumably a medical report) that Taylor provided emotional support for the defendant to cope. Anne/Aidan did not enter any pleas, not being mentally competent to do so, and the case went to trial in March 2017, and Taylor accompanied Anne/Aidan throughout the two-day hearing. The judge described Anne/Aidan as transgender, because the two victims knew Anne as a woman, and they used female pronouns. In court, s/he presented as "stereotypically male" and was referred to with male pronouns by the judge, prosecution and defence counsel. Due to mental health issues, s/he was declared unfit to plead, and given special permission to sit in the dock with the cat on hir lap for comfort during the trial.
Anne/Aidan was given permission to remain sitting with Taylor on hir lap when the jury's "guilty on both charges" verdict was read out. Sentencing was adjourned for psychiatric reports, and s/he was released on bail. When Anne/Aidan left the two-day trial s/he became angry at the intrusive reporters and threatened one of them with a walking stick (the only image many people have seen). Two passing policemen reportedly had to calm the situation. Because of this, some people who did not know hir described Anne/Aidan as "a violent male presenting as a trans woman" or as using "trans ID as mitigation." This is untrue and unfair. S/he was a rather pathetic figure, profoundly anxious and fearful, who did not deserve to be treated like a sideshow.
In April the judge imposed an 18-month supervision order, recognising that Anne/Aidan had serious mental health issues and was an isolated and vulnerable figure with significant cognitive impairment and problems of thought disorder. This meant s/he had problems with reasoning, judgment and complex decision-making. "You appear to have struggled with issues of gender identity. You may be suffering paranoid schizophrenia or bipolar affective disorder." Anne/Aidan had "no wish to be treated for mental health issues." The medical evidence did not support imposition of a hospital order, but an absolute discharge would not reflect the impact of hir obsessive behaviour on the two women. This left only a supervision order (i.e. assigning social workers). Because Anne/Aidan was unfit to plead through mental impairment, the court could not impose any restraining order. A hospital order would have separated Anne/Aidan from her only form of support and worsened her mental health.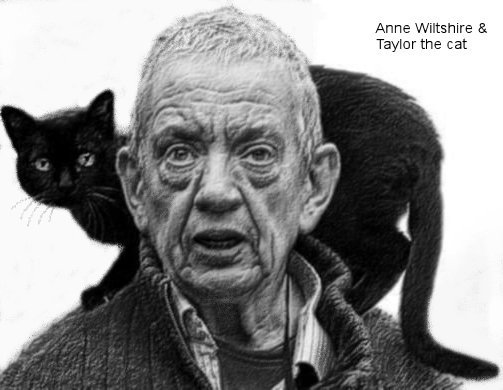 After the unwelcome attention, Anne/Aidan lived a reclusive life in Coleridge Court, not speaking to neighbours. A few years later she was taken into hospital where she died. When she passed away her flat was cleared by a house clearing company. Her death is recorded as "Ms Anne Wiltshire" and there is no record of Aidan.
Regardless of her issues, her cats were much-loved and didn't judge her, and they provided much needed emotional support to an intelligent person whose struggles with mental illness had caused distress to others. Most people only ever knew Anne as one of Chelmsford's eccentrics, a character seen around town with a cat on her shoulders, and that is how most of us would like to remember her.
You are visitor number