BRIEF HISTORY OF CHELMSFORD CATS PROTECTION LEAGUE - OLD BRANCH REPORTS 1969 - 1974

I have some missing issues in my collection, but the ones I have make interesting reading.
May 1967
CHELMSFORD AND DISTRICT BRANCH : Hon. Sec., Mrs. J. Middlemiss.
Sad news first - our two "hospital kittens" both died quite suddenly - the second had brain damage, probably due to severe infection. Well, we tried! £12 11 0d. resulted from the sale at 66 Broomfield Road, postponed from February. The Easter Fair was unlucky in having another fair nearby at a school, also, sleet and a biting wind made many unwilling to venture out, which was a pity, because the hall looked quite gay with assorted stalls, including home - made wine and cheese - new to us! The hot - cross buns were outsize and delicious, so we did not mind buying up the surplus! One local paper favoured us by sending a photographer and using one of his "shots" in the next edition. As usual, our problem was transport for the surplus goods, some of which have been sold since - including the Easter Eggs, bringing up the takings to about £48.
Three new committee members have been co - opted bringing us up to strength and improving the transport system a little and new helpers are coming forward. We send our thanks to "anonymous, Bow" for the Postal Order, and to several other good friends. We received a dollar from Pasadena, California, from a family whose cat, one of "ours" born under their hedge, should now be safely there by arrangement with Spratts' Livestock Shipping Dept. His mother, abandoned once, was again abandoned by an apparently "nice" family, but taken in to a new home and again, the R.S.P.C.A. said that they were unable to take action because of certain circumstances - more's the pity. We were approached by a hospital about two cats belonging to an elderly lady, stricken by a "stroke". These were causing anxiety to a neighbour, but this has been dealt with - a real emergency which justifies our existence, as does the little emaciated "stray" recovering in the cattery with two possible homes awaiting her.
Our small Whist Drives continue fortnightly, a Rummage Sale is upon us and plans for a Strawberry Fair are "in the air" - anyone with Strawberry jam or bottled strawberries to spare? We hope to renew the Market Stall shortly and any saleable goods are welcomed. 7 cats went to homes in March, but already we have a "Mum" with five kittens in the cattery - Spring came early this year ! Altogether there are 11 cats up there needing homes.
Note : The Editor regrets the omission of the following from last month's issue of The Cat: We have rescued cats and kittens from queer places but none more so than under a hospital bed ! One Saturday night our Secretary received an urgent S.O.S. from a Hospital - which shall be nameless - "I have two kittens in my room and the porter has found them and threatened to drown them tonight". The mother was trapped and destroyed (how we know not). One kitten died and the gentleman, a regular" long - term patient, being a cat lover, had fed the other two. My husband and I drove up to the hospital at visiting time, with a large, zipped bag, feeling like conspirators ! We made the acquaintance of a distinguished - looking gentleman who was very relieved to see us. They moved the bed and I dived for the two well - fed mites, dumped them quickly in the bag before they knew what was happening : after a very interesting chat, we left for the cattery with our burden. I had noticed runny eyes and noses so our long - suffering Mrs. Groves inspected before transferring to a cage in "solitary". After much antibiotic, good food and peace they are slowly recovering. Happier is the story of the stray little lady in Braintree which, when I went to collect her, had so endeared herself to the couple who had taken her in that they just could'nt part with her. These good people were also instrumental in finding our "stray", lost since August, from his new home. He is now happily settled in a caravan. - M. Raynor.
June 1967
CHELMSFORD & DISTRICT GROUP: Hon. Sec. Mrs. J. Middlemiss.
A "postscript" to the sad story of our "Hospital Kittens" - the gentleman who was so concerned for them has since died. Truly "Ships that pass in the night".
Our evening Jumble Sale at the Cathedral Hall on April 4th raised £17 and a considerable amount of "better than jumble" articles to be sold through other channels.
The five kittens have gone to good homes - there being a shortage at the moment! However they wore soon replaced by six more ! An "S.O.S." from a lady - "I have two strays with kittens" brought speedy action, only to find that the two mothers were sisters, kittens of a stray who disappeared last year and fed by the lady since last September. One was a placid Tabby and the other a "nervy" black and white who had her kittens on the bare garden, from where they had been moved to shelter with the other four. The latter went quite wild and bit her "collector" through glove and thumbnail, which wasn't surprising, as the poor creature had another kitten, born dead, after being transfered to the cattery? The lady is not likely to repeat her misplaced "kindness"!
Albert, known to his family as "Put - put." arrived safely at Los Angeles Airport, and once at home, stepped from his box as fit as the proverbial flea. He purred like a maniac, butted everyone and rubbed round legs. The press cameras were in evidence at the airport, but that was just a coincidence - David Niven was on the same plane! "Put - put" promises a picture as soon as possible. Surely one of the best feline "rags to riches" stories of the year? Credit must be given to Spratts Livestock Shipping Service, who arranged his transport to America.
Six cats and six kittens have gone to homes in April. A quiet month for fund raising but more is planned shortly, including a return visit of Mrs. Colville with her "T.V." cats at a Coffee Evening on May 16th. Anything for the "Bring or Buy" stall will be welcomed. - Mrs. Marjorie Raynes.
July 1967
CHELMSFORD & DISTRICT GROUP Hon. Sec. Mrs. J. Middlemiss,.
A second visit by Mrs. Colville of Horndon-on-the-Hill with her "T.V." Cats brought quite a good attendance at a Coffee Evening at "The Plough", Springfield, on Tuesday, May 16th and resulted in about £20 from the "Stall", competition and refreshments. "Brumas", the white Manx, better known to "T.V." viewers as Arthur, beamed benignly on all and sundry who "fussed" him, as did "Dotty", the James Bond cat in "Thunder -ball", also her "understudy", Nelson the "Lucky Numbers" cat, who will shortly be appearing for "Kiwi", was once a dockland cat and actually appeared in a "Dixon" episode. Several other cats include a "Smokey" Manx, one of about 6 now in this country.
We have taken charge of an elderly "Tom" belonging to a gentleman of 73 now on his way to Australia to marry his sweetheart of years ago. A postcard from the Middle-East of "Fairstar" reported a pleasant voyage and much gratitude to the C.P.L. for their care and report on "Pussy" who was found to be suffering from "Cat Flu" but has responded to treatment, in isolation, and has one offer of a home already.
During May 2 cats and 13 kittens have gone to homes. We have a rummage sale on the evening of July 11th at the Cathedral Hall - rummage would be welcomed from this area.
August 1967
CHELMSFORD & DISTRICT GROUP Hon. Sec. Mrs. J. Middlemiss.
June's activities began with a market-stall on Saturday, June 3rd which rivalled all others in taking 26 'phone calls on the previous Thursday to re-organise because of "emergencies"! We therefore called off the July stall as several helpers would be away and Mrs. Middlemiss could not face repetition ! The stall, however, took £16 - the weather was kind ! It was far from kind on Saturday June 24th for the "Strawberry Fair" in the garden of "the Plough", Springfield - at 3.00 p.m. precisely, opening time, the rains came!!! Eighty pounds of dessert strawberries, some resting on plates beside sugar and cream, were hastily removed to shelter, or covered as well as possible, also the "Bring and Buy", a produce and children's stall. We all retired to the tea-room, which we hoped to use only for Mr. and Mrs. Colville and their beautiful cats and kittens, all their photographs and press-cuttings and rosettes. However, least worried were "Nelson" from the top of the piano, of "Lucky Numbers" fame, and later in the year, "Kivi", Bruma whose photograph, with outsize tins of "Kattomeat", beamed at us, better known as "Arthur" to T.V. viewers, and the four white kittens who sometimes accompany him, now in a pen with their beautiful mother "Auntie of Rosental" from "Paws" (minus jewels!) plus her one little black kitten. Dave Clark of "pop" fame claims one kitten on his return from America and his secretary already owns the sixth, which he gave her. The James Bond cat, Dolly, was "otherwise engaged" - recent kittens!!! In spite of the upheaval, £30, to keep their less fortunate relatives, was taken, as the remaining strawberries, obtained at a very reasonable cost from a large wholesaler were sold later by our ever- obliging "hostess". This event has been photographed and reported in the local press. One of the "less fortunate" turned up next morning at the Secretary's home - a tiny kitten, found in a field, gummy-eyed and emaciated necessitating several 'phone calls and a Sunday visit to the "Vet", warm milk feeds two-hourly, etc., but it has responded to treatment.
We now have a considerable range of kittens from which to choose - either in the cattery or private homes. Three cats and eighteen kittens have gone to homes in June, usually one of the most "trying" months, with holidays ahead. Our thanks go to "Anonymous, Bow", for their donation - I expect we all have a different "mind-picture" of the donor? The pseudonym hides a kind heart, anyway.
Sept 1967
CHELMSFORD & DISTRICT GROUP Hon. Sec. Mrs. J. Middlemiss.
Having been washed out at the Strawberry Fair in June, we chose one of the hottest days of the year for an evening Rummage Sale at the Cathedral Hall Starting about 2.00 p.m. with carrying and sorting, "the few" finished around 10.30 p.m. - The dealer failing to turn up for the "remains" until around 10.00 p.m. ! ! It wasn't his fault and he was as weary as we were, poor man. We feel, sometimes, that there must be easier ways of raising money? Seventeen pounds was not up to our usual figure, but "Sales" are a prominent feature of this thriving community. However, we have enough goods for a Market Stall early in August. Once again our thanks to "Anonymous Bow". At the monthly Committee meeting delegates to the Annual General Meeting of Headquarters at Caxton Hall submitted their report and answered questions arising from this.
The tiny abandoned kitten, (now Sam, and someone's pet) which was quite ugly when rescued, has become a really attractive little creature - white with black patches, one over an eye, like the proverbial pirate ! Well, you never can tell. Our problem "tom" belonging to the Australian emigrant has been allowed to stay on at the cattery, where he can spend his remaining days snoozing in the grass or one of the many sheds, etc, - a happy solution, the news of which is now winging its way to his late owner. Now we have new problems looming up - a small "colony" on the outskirts of the town, five cats living on a "rubbish tip" - and a cattery bursting at the seams! Truly, as Mr. Steward told us, we are dealing with the most difficult of animals ! !
Oct-Nov 1967
CHELMSFORD & DISTRICT GROUP : Hon. Sec., Mrs. J. Middlemiss.
Since the last report, in early August, holidays have curtailed activities somewhat. However, the Market Stall on Saturday, August 5th brought in £23, and another £33 resulted from a September Fair on Saturday, September 2nd, held in the garden of "The Plough", Springfield, through the kindness of Mr. and Mrs. Topley. An innovation was "Madam Tabitha" and her Crystal Ball, a part well played by a new committee member and very popular all afternoon. '"Madam's" voice was showing the strain by 5.0 p.m. ! A gift of ten dollars from Miss Schuchard in Oregon, America, came as a pleasant surprise, also 7/6d Hoylake, Wirral, and our old friend from Bow. Our grateful thanks goes to all these good people.
Best cat story of the month concerns puss who went to school! The family, while away on holiday, arranged for her care by neighbours, but she set out to "track down" the young member of the family and turned up on the little girl's empty desk. At school - a considerable distance - where friends recognised her and returned her to her home.
An S.O.S. one night from a local works brought our secretary a tiny scrap of black and white fur and whiskers, literally "flyblown" only a week or so, old. Bedded down in the bathroom (only recently vacated !) with warm milk and glucose feeds, "the Scrap" developed into a tiny but attractive kitten. Cleaning it up was a major problem, as always, but a large bitch puppy, herself an "orphan of the storm", took in the situation at a glance, having demanded to know what dwelt behind the bathroom door ! One lick of her large tongue bowled over "the Scrap", which picked itself up and returned for more, stumpy tail erect purring like an engine! This was repeated after every feed and a respectable little "Marcus" captured the hearts of a middle-aged couple living in on a quiet country road and they took on his up-bringing enthusiastically.
Ten cats and forty-three kittens have gone to homes in August and September. At the time of writing a number of cats and kittens are in the cattery and others in homes. We would welcome British and Foreign Stamps - £in. border left please - any saleable article - collection arranged locally - offers of help in any form and of course, just MONEY ! Our commitments become heavier as we become better known !
December 1967
CHELMSFORD & DISTRICT GROUP : Hon. Sec., Mrs. J. Middlemiss.
We could not have chosen a worse night for the Coffee Evening on October 2nd. Rain and a gale blew up during the afternoon and cut our audience to a very small number, which was regrettable as Mr. R. Masefield an active member of The Essex Naturalists' Trust Council gave an interesting talk on its work and a slide show of historic and beautiful places. A lovely series of Scotland was accompanied by a Scottish voice and suitable music. Another, on "Grimes Graves" in Norfolk was informative. These depressions are old flint mines, two of which have been reconstructed. The other two series were on Rochester and a local walk. The evening brought in only £5. 13. 0d. On Saturday, October 21st a member held a sale at her home, postponed from last month. This resulted in £18. 6s. 0d. from donated goods. Two Whist Drives added their quota and the month ended on a better financial note with a Rummage Sale on October 28th which shifted quite a bit of stuff stored by various members and raised £21. 18s. 0d. - and this in spite of eight other sales in various parts of the town ! These opened at 2.00 p.m. or 2.30 p.m. but we opened at 1.00 p.m., because the dealer had to come at 3.30 p.m. even so, there was a queue in the rain.
Today's paper brings another tragedy caused by hunting - the fox crossed a garden where the cat, a ten year old crossbred, was immediately afterwards set upon by the hounds and left bleeding from stomach wounds. When will our "civilised" (?) country stop this unnecessary cruelty?
We are no further with our "wild" cats but no doubt the bad weather will make them easier to trap - when we obtain a trap ! One friendly little creature, little more than a kitten, was picked up from a garden with a back leg almost severed - it was not in pain apparently, but going gangrenous and had to be put down. This was almost next-door to Police Headquarters but it had not occurred to anyone to ask them to take action, which they are bound to do for an injured animal. We traced the owner a couple of days later.
Fourteen kittens and three cats found themselves in new homes in October. One lost cat belonging to a warden, turned up inside the Prison! They had "adopted" it in the boiler room to replace the deceased prison "mascot". It could have picked a worse place - for a cat! Finally, helpers and goods urgently needed in the Witham district - Christmas Bazaars, Church House, Collingwood Road on Saturday December 16th at 2.30 p.m. A new area of activity !
Jan 1968
CHELMSFORD AND DISTRICT GROUP : Hon. Sec., Mrs. J. Middlemiss.
The highlight of November activities was, of course, the Christmas Bazaar on the 18th at Springfield Parish Hall. This ran on similar lines to last year and included a wine and cheese tasting stall (the wines are made by the Committee member family!). An additional attraction was "Madame Tabitha" with her crystal, cards and hand-reading which proved as popular as in the summer. We improved on last year's figure with £93, although almost every hall in town seemed to hold some rival activity! Two pictures appeared in the local press with our short report.
A Coffee Morning in Kelvedon on Monday November 28th was organised by a supporter, Mrs. Snell and this was a great effort, producing nearly £12 including £5 from a well wisher who could not attend. We are grateful too, for two other gifts of £6 from a naval gentleman in Monte Carlo and from a lady and gentleman in Braintree, in memory of their well loved pet which they have lost after 17 years. Two fortnightly Whist Drives added their small, but regular, quota. Over the year, these prove to be the best "money-spinners".
Our biggest headache at the moment is the problem of a number of cats under a hut behind a block of shops. We have, at last, the use of a trap and have caught four in spite of it being re-set by someone unknown after it had been closed up for the night resulting in a call to our Secretary at 7 a.m. next morning by an irate fish monger, also of one cat being released by a sea-cadet officer - "it had been there since Monday, etc." We "created" - it was Wednesday - and we had told the cadet's "C.O." what we were doing! You can't win! These cats are well fed and in good condition - would anyone like to help us with their keep, please? We think that there are probably ten and tameable.
Thirty kittens and five cats have been found good homes in November. Neutering has been delayed until cat flu subsides in this area, apart from essential surgery visits.
Feb-Mar 1968
CHELMSFORD & DISTRICT REPORT
The beginning of December seems far away with the crocus showing - however, we started the month with a good effort by a helper in Kelvedon, Mrs. Snell, who raised £61 7s.6d., by a coffee morning, plus £5 from a well-wisher who could not attend. New ground was also broken by a Christmas Bazaar at Witham, organised by a new committee member who lives at Terling. As this entailed transporting goods and helpers from Chelmsford, the result of barely £30 was disappointing. The date was too late and the hall too far from the town centre - better luck next year when it can be arranged earlier !
Four Whist Drives were held and a £5 donation was appreciated - this from a lady who found her kitten three miles away, through a newspaper advertisement actually, but the "Cats' Protection League hounds" were on the trail and have made a good friend. A number of kittens around 5 months old have wandered off and been returned home - also a 2 year old alsatian dog - Yes we do care for dogs as well ! ! in emergencies. This, and several adult cats seem to have come our way, due to the "emigration exodus". One of our old committee members has "sold-up" and is off to New Zealand in March, along with her husband, mother and a large dog and three cats ! Animal transport by sea seems quite reasonable so we hope that others will endeavour to take their "old faithfuls" with them when conditions here drive them overseas. We gratefully acknowledge 2/6d. from our friend in Bow and a parcel of stamps from St. Austell.
Christmas boarders and a holiday abroad for Mr. & Mrs. Grove put paid to any further trappings of cats living rough, but we now have our own trap and hope to organise a rota again. It proved unsuccessful with a nervous cat which was trapped as a kitten and released. 18 cats and 36 kittens have gone to homes in December and January. Once again can I appeal for anyone who can board a cat or kitten for short periods to cut out cattery fees? It is also pleasanter for the animal to have a "home" - though, of course, they must be kept indoors for safety - but they usually settle quickly and take to using an earth or peat tray.
April 1968
CHELMSFORD & DISTRICT GROUP : Hon. Sec., Mrs. J. Middlemiss.
The weeks after Christmas always seem to be a period of reduced activity and ours are no exception. A Rummage Sale was not a great success, due to the advertisement being inserted in the "Animal" column, instead of "Forthcoming Events"......
"Rummage Seekers" are not always "animal minded!" However, nearly £14 was forthcoming. A gift of £5 from good friends near Chelmsford was much appreciated, also an interesting letter and stamps from the Seychelles Islands. Plans are afoot for a Coffee Evening, a stall in the Shire Hall Foyer one Saturday morning and the Easter Fair in the same location; this being in the centre of things and charges reasonable Goods for these would be welcomed, fancy goods, jewellery, books, "good-as-new", clothes, preserves, sweets, etc. We are now collecting tinfoil of all types and, of course, stamps. And could we please "collect" volunteers with cars who come in to Chelmsford before 2.00 p.m. who would transport a cat from their area to the "Vet" in Queen Street (off London Road), and better still, return it when they return home between 5.00 p.m. and 6.00 p.m. also? This way the job is done with little extra cost to anyone. A piece of plastic sheeting and some paper under the box or basket is all that is necessary - just in case of accidents"!
If we have been less active in fund raising, the cats themselves have kept us busy. A warm spell has given them - like the birds ideas ! Several young females have been saved from trouble just in time and new "tom" owners are ringing up... ."We think he'd better be done". Would that many, many more people had the same idea ! Some of the biggest offenders are among the farming community, who allow their cat population to inter-breed, with horrible results, at times. How about a "drive" in this direction? Their "toms" are often a real menace to folk living near with females and neutered toms. This is quite unnecessary, as it will be years before kittens are in such short supply that new blood cannot be found for farm pest control. And, as the Walsall R.S.P.C.A. Inspector says, cats cannot exist on vermin alone, as many misguided people think. They should be handleable too, in case of the need to nurse or treat them for illness or injury. One of the best hunters at the Cattery is their pedigree Siamese!).
21 cats and kittens have been placed in homes in February, including 3 of our "trapped cats" for which we appealed last month. Illness has delayed further trapping but it will be resumed in early March, before kittens appear again.
May 1968
CHELMSFORD & DISTRICT GROUP: Hon. Sec., Mrs. J. Middlemiss.
Illness - our own relatives - and house - changes seem to have decimated "mobile" committee members and it has been more than usually difficult to find enough help and transport. However a Coffee Evening "happened" - always an informal affair with us! Cat lovers are usually tolerant - if they were not they couldn't stand the pace ! A heterogeneous collection of articles overflowed from the "Bring and Buy" stall (many "sent" not "brought"!) and these and refreshments kept visitors busy until Mr. Masefield of the Essex Naturalist's Trust set up his projector and tape recorder and entertained us with transparencies and talks on Scotland, a Shropshire geological visit and a local walk, which was most restful and enjoyable. £9 was "totted up" at the end of the evening.
On the morning of Sat. March 16th we hired the Shire Hall foyer in the centre of the town and set up our "market", which was much more comfortable and central than the Charity Stall in the Market. A sunny morning brought out shoppers and we added £19.16.0. to funds. Lunch hour shoppers must have been amused at four respectable (almost!) ladies wrestling with a flapping plastic sheet and jig-saw pieces dancing merrily off the roof of a red Vauxhall, where usually rests "His Lordship's" dignified limousine during "Quarter Sessions"!!
Five more semi-wild cats from under the Sea Scout's hut have been trapped and taken to the Cattery to tame, which has increased the numbers there, recently the lowest for a long time. Eleven cats and eight Kittens have gone to homes in March, also a mother and four 2-day old kittens, and several members have tried to help an elderly lady in Pleshey village, who wrote to the local newspaper about cats left by the death of a neighbour, but this has proved difficult, mainly because she has been living away from home and the remaining cats are very timid now. Our thanks go to "Anon" once again and to the lady in the Seychelles for her kind donation omitted last month in error.
June 1968
CHELMSFORD & DISTRICT GROUP : Hon. Sec., Mrs. J. Middlemiss.
The Easter Fair on April 6th was blessed with a bright day and sunshine flooded the foyer of the Shire Hall and brought out the shoppers who were tempted to drop in and see what it was all about. Stalls were loaded with Easter Eggs, provisions and cakes Birthday and other cards, etc., while "Madame Tabitha" kept the fun going in an improvised tent, and a treasure hunt and competition raised hopes among the buyers. £63 was quite a gratifying result and the two fortnightly whist drives added their small quota. We would like to thank the "Well Wisher" who left a box of goods on the Secretary's doorstep, also other donors and helpers.
A common occurrence ended happily - we hope - when a young, energetic ginger cat, up a tree for 24 hours, at least, was brought down by a games master who scaled an adjacent tree with a cat box, grabbed "Ginger" (who was quite intrigued by the whole affair, especially the irritated blackbirds) and lowered him to the ground. After food and drink "Ginger" ambled off home, presumably, since he did not return for more. All enquiries failed to find his owners and the local papers did not publish an article about him which might have cleared up the case. Comment by the R.S.P.C.A. Inspector, "I've never known a cat who didn't eventually get down by itself, and if rescue is attempted, they may climb higher, or - worse - jump' and injure themselves. The only exception was one who was frozen to the tree." So, unless the weather is impossible, do as the cat does, sit tight and consider the situation.
Our trapping operations were brought to a sudden halt by the disappearance of the trap. We have every reason to believe that it is in the river, but as we cannot prove this, the police will not drag that stretch of the river bed beside the site. Any frogmen volunteers?!! 10 cats were caught and possibly 3 remain. Now the Maldon "dump" cats are losing their shelter by demolition and these are being brought in - all reasonably tame. The Pleshey cats are slowly being rounded up with an R.S.P.C.A. trap, C.P.L. members having approached the Vicar for local help. 9 cats and 4 kittens went to homes in April, but the kittens are already arriving. Once again an appeal to car-owners, willing to do an occasional job when the very few "regulars" are indisposed or otherwise engaged.
July-Aug 1968
CHELMSFORD:
Although my name appears as secretary, it is the first time I have actually written it myself. Our very able publicity secretary M. Rayner usually copes with this but she is on holiday and so I have to put pen to paper. Life goes on as hectic as usual, as soon as one event is over the next looms up ahead. We recently had a rummage sale and now a Bargain Sale on June 8th, and our Strawberry Fair on July 6th. We would appreciate anything saleable of any description (gifts, jewellery, groceries, toys, china, etc.) for these or any other events. Incidentally, we are still wanting used stamps, foreign or British, (please leave small margin of paper on), also milk bottle tops, silver paper etc.
We have 22 cats in the cattery awaiting homes, including a mother 3 years old and daughter 2 years old, both pure white, spayed and unfortunately completely deaf. These obviously need an extra special understanding home and of course cannot be parted. Surely the "right" person for them must be reading this now, if so, please contact me.
Recently in the cattery we had 3 tortoiseshell cats that had been living in the most unbelievable conditions. They spent their entire life with thick rope round their necks and tied to legs of chairs and tables because the odd couple who had them were scared to let them loose in case they lost them. One of our committee members managed to talk them into letting us have them and they have since gone to homes. A neighbour had called the R.S.P.C.A. Inspector in, but he said he could not do anything as they were well fed and there was no actual cruelty involved.
Readers will probably be interested to know that we have trapped twelve of the thirteen cats living wild under the sea cadets hut. Several have already tamed and gone to homes. We had just one more to catch, so set the trap and went back about an hour later and no trap ! Some mean person had stolen it. Chelmsford C.I.D. have it in hand, but no success. So now we have one poor little cat living miserably on its own under the hut. It must be bewildered as to where all the others have gone. Naturally one of the committee goes every night to feed it, but we have not a hope of catching it without a trap.
Our thanks again to our good friend "Anon" of Bow for donation and also to "Cutie-Cat" of Devon. These are very appreciated. Eight cats and three kittens went to homes during April and twelve cats and fourteen kittens during May.
The start of the holiday season seems to have slowed down activities. Apart from the two Whist Drives, the only event in Chelmsford was the Market in the Shire Hall foyer on the morning of Saturday June 8th when £20 1 Is. Od. was taken on the stalls. The other event was a Coffee Evening in Witham, designed to recruit helpers and explain to those interested in the C.P.L. just what we aim to do. We hoped to have Mrs. de Clifford there to do this, but the rail go-slow prevented her making the journey and Mrs. Middlemiss, Chelmsford's Secretary, gave a short talk and answered questions, which led to an interesting "discussion evening". A Bring and Buy stall and competition and refreshments added £12 to funds.
The monthly meeting was interrupted by a 'phone call (not unusual)! but the Chairman returned chuckling - It was about some kittens at the bottom of the caller's garden, and when asked if they were old enough to leave their mother, she replied, "I should think so, they've got fur on!" Obviously more used to birds! These are only a few of the spate of kittens arriving. However, 31 went to homes in June, usually a bad month for placing. Fifteen cats also were found homes during the month. Several other cats and kittens were housed from Witham. The three tiny kittens successfully reared by the Secretary have gone to homes, all as clean and neat as though they had received a mother's attention, thanks to "Tracy", the kitten-loving bitch who washed and played with them each day. Although June has meant more work "behind the scenes" than in the public eye - but, come to think of it - isn't most of the C.P.L. work done in this way?
Sept 1968
CHELMSFORD
The month began with a Coffee Evening arranged by'Mrs. Jean Gumbrell at Terling near Witham, which raised £12. A Strawberry Fair on July 6th, in the garden of the "Plough Inn" at Springfield was blessed this year with a dry afternoon with little wind, but being Carnival Day the crowd was thin and some helpers were on holiday - but the strawberries were ripe ! They sold in punnets and with sugar and cream along with other refreshments and the usual stalls and competitions. £43 were taken including proceeds from the remaining strawberries sold by our hostess in the bar. Three Whist Drives "kept the pot boiling" and a number of donations have helped.
7 Cats and 16 Kittens have gone to homes in July but the cattery is full, it being the local holiday weeks. A pensioner in West Hanningfield is being helped with the 9 cats and a number of kittens, which she has befriended, before, we hope, they multiply much more!
Oct-Nov 1968 – No report
Dec 1968
CHELMSFORD
As Publicity Secretary I should have known better than to rely on memory for the last day for Copy. After a terrific effort by myself and my daughter (typist!) she posted August and September report just in time - I thought. However, it was too late, which was a pity, as there was quite a bit of it! This must be a summary of activities.
August events started on the first with a Coffee Evening to which our visitors were asked to bring photographs of their pets for a competition "The cat I would most like to own". Mrs. Snell's photograph of a lovely fluffy tabby kitten won the prize. The whole evening resulted in £8. On August 17th a Saturday Sale in the Shire Hall Foyer took £18 and the same venue saw the September Fair on September 14th. The "draw" to this event was another visit of Mr. and Mrs. Colville of Horden-on-the-Hill with the T.V. cats and other beauties. Nelson, now retired from films etc., is our "Mascot" and collects for us, as the perfect example of "Cable Street Stray" to "Stardom". Rosental Dishy Dolly, a Blue Cream Manx, attracted much attention as she recently won the Trophy at Alexandra Palace for the Best Short Haired Kitten in the Show. We were delighted to hear that Brumas, once "Arthur" has made a wonderful recovery from complete paralysis and is "working again". Rain (not unusual for us!) damped spirits but £66 10s. 0d. was taken.
We are now planning TWO Christmas Fairs, one on Saturday, December 7th in Chelmsford and another in Witham on November 29th evening, as we need so much money now! The latter is organised by Mrs. J. Gumbrell, 11, White House, Gambles Green Terling, Chelmsford. Any gifts would be welcomed for either. There is also a bumper Christmas Draw for which we should be grateful for prizes. Many thanks to "Cutie Cat" of Devon and "Anon, Bow" for their support and to some kind soul in Hastings for silver paper and stamps. Thanks, also to "Tilly" of Birmingham for stamps and to Mrs. or Miss Sumner for two tea cosies.
August and September proved one of our worst passages - the cattery was full over the holiday, then the owners went on a "working holiday" and their deputy had enough to cope with. One appeal letter to a local paper, giving a number of ways in which people could help (the other paper ignored us) produced to date - nothing! We hope for a "delayed action!" A letter to the "East Anglican Daily Times" brought commiseration from a lady in Ipswich who once boarded cats for the R.S.P.C.A. also, due to a cut by the editor, an aggrieved letter from the local ex-secretary of the R.S.P.C.A.! However, a telephone call to the lady put that right and an Editors Note in a later edition soothed the other offended cat-welfare workers - I hope! I gave full credit to these people in the piece which the Editor cut!
Our main activity in October was another Saturday Sale on the morning of the 26th, which raised £31. In August and September nineteen cats and ONE HUNDRED AND TWENTY KITTENS went to homes! October figures are three cats and twenty nine kittens.
Jan 1969
CHELMSFORD
The month opened in the throes of a pet-stealing wave, which caused much anger and anguish. A number of cats were reported missing, also several dogs, before we realised what was going on. As reported in 'The Cat', as in other areas, some were taken in broad daylight. A letter was published by one Ideal paper in which we warned owners to keep a special watch on their pets and asked any member of the public who saw anything suspicious to dial '999' and, report it. We deplore the ridiculous 'sentences' (?) and the fact that 'receivers' cannot be brought to court. Having received a petition form from Mrs. Bent of Oadby we decided to join hers and wrote for a supply of forms, which we are distributing.
Our fund raising activities this month seem to have been limited to two Whist Drives - we are drawing breath for the Christmas effort ! However, tickets for a Grand Christmas Draw are going well, to be drawn at a 'Coffee Evening' on December 17th. We regret that the Witham Christmas Fair has to be cancelled because Mrs. Gumbrell, the organiser lacked enough local support. She is forced by personal reasons to give up her work for the 'C.P.L.' but will find homes for cats until the new year. The local papers published this and was approached by Anglia T.V. with the result that a 'rush job' was done on a film at the Cattery, Featuring Mrs. Middlemiss, our General Secretary, which appeared as a thirty-second 'flash' on the 6.00 p.m. programme 'Today', with all the wrong facts and figures. We do not have 200 cats in the Cattery costing £200 per month, nor will these nebulous cats be put down in the first fortnight! Our Vet. would 'have kittens' ! ! It was due possibly to an article in the Daily Sketch on . Nov. 28th who qualified it by saying that only 50 or so cats were actually boarded in the Catteries (and we don't run them ! !) A remark in Mrs. Gumbrell's report to the Braintree and Witham Times seems to have started the ball rolling. Altogether, we seem to have 'hit the headlines* in November - an appealing kitten picture appeared, although the two month old kitten was back home before the paper came out, but no matter.
The Sketch's article and the T.V. film resulted in homes for several cats and promised support from a Headmistress and School in Basildon and quite a number of P.O.'s, cheques, etc. - which, as the saying goes 'Only shows, it pays to advertise.'!! This magazine will appear just after Christmas, so, before you put those cards away, how about cutting off the fronts, (only) of the pictorial ones and sending them along to us for Calendars, please - and the used stamps? (With borders) And don't forget all those chocolate foil wrappers and milk-bottle tops too - can anyone else collect and sell these to a dealer and forward the cash, if this is easier? Most towns have a dealer who will tell you how he buys foil -- ours buys 'mixed', in any box or bag.
13 cats and 20 kittens have gone to homes in November. Most of 'our' kittens have gone now - no doubt there are some 'late starters' to provide 'New Year Kittens' ! ! !
Feb 1969 – missing issue
March-April 1969
CHELMSFORD
Mrs. Rayner, who has been our Press Secretary since the Branch was formed in 1963, has unfortunately had to give up her good work at least for the time being, due to poor health and family pressures. For the present, the report will be written by our Hon. Secretary, Mrs. J. Middlemiss and our Assistant Hon. Secretary, Mrs. C. Peterson.
Last year seemed a very difficult year whilst we were in it ; the worry of being unable to meet our veterinary and cattery bills despite constant money-raising activities ; our helplessness in the height of the "kitten availability and holiday season" when there was apparently no cattery in Mid or North Essex when we could squeeze in just one more homeless cat or kitten for a short stay; the innumerable cat problems all seeming to need mid-week transport, lack of which is one of our biggest headaches . . . but somehow we managed, and we can look happily back on 1968 and say that we did what we intended, which was help, feed, shelter, neuter and find good homes for all the cats coming into our care (and a good many more as well via the local Branch of the RSPCA). Homes were found for 472 cats and kittens and a large number of these were spayed and neutered at our expense.
It only takes a short visit to the cattery to let us see our difficulties of last year in the proper perspective and renew all our good intentions to do everything we can for the needy cats in our area. Although homes have been found for 29 cats in the first three weeks of January, we still have a total of 31 adult cats awaiting homes because there is a steady intake all the time. We have an especially beautiful pale beige tabby who was run over, taken to the vet and thence to us. Her leg was broken and she had a very bad gash, but she has healed beautifully and joins in the loud chorus of "Welcome" (or is it "Feed Me"?) whenever anyone visits the cats in the cattery. She was obviously someone's pet but adverts have brought no response and, of course - as with all adult female cats of unknown origin - we have no way of telling if she has been spayed or not. Time alone will tell - we hope !
The most recent arrivals in the cattery are four cats which belonged to a very elderly lady who has now died. She lived in a fairytale cottage on one of the local "Commons" and tragically made the local newspaper headlines two or three years ago when two of her cats were tom to pieces by a local Hunt. Since then, there have been four other incidents like that in our area. Words cannot express our feelings on this subject.
On a more cheerful note, we always take great pleasure in returning lost cats to their homes, and the return of "Misty" to his delighted owners is a fine example of what carefully kept records of lost and found cats can do. A lady telephoned us to ask us to do something about the semi-wild long haired grey cat which was living in her hedge and which she had seen around on and off for at least a year. "Long haired grey" rang a bell with our Secretary who turned up her records and discovered that more than two years ago, Misty, a neutered tom had disappeared. The owners had since moved to another town but we contacted them via their old neighbours, they came over to view the cat from a distance as he was quite unapproachable, recognised him immediately as Misty, called him by his name whereupon he immediately bounded into the kitchen, purring and rubbing their legs, jumped on their knees and settled down in absolute bliss. Apparently he's hardly stopped purring for a minute since !
We have already planned many fundraising events for 1969. We have booked the Chelmsford Shire Hall once a month throughout the year and plan to hold our three main bazaars there (Easter, Autumn and Christmas Fairs). On the remainder of the monthly dates we shall have our Saturday Sale. We seem to have made a hit with these Saturday morning sales for the bulk of what we sell is good second-hand clothing and white elephant items for which there is a real demand. Please turn out your cupboards and drawers and send us your parcels of unwanted clothing etc.
We would also welcome anything saleable for our Easter Fair in late March. Our Christmas Fair last December was most successful and so we are practically sold out of nice things for future bazaars. We also regularly hold Rummage Sales, Coffee Evenings and Bring and Buy Stalls, so anything anyone is kind enough to send will be sold at one or other of our "sales". At this stage we would like to thank all the kind people, mostly anonymous, who have sent us used Christmas cards, milk bottle tops and postage stamps. Please carry on saving and sending. We fear that this - our first report - is overlong, but with practice we shall know how to condense it !
May-June 1969 – issue missing
July-Aug 1969
CHELMSFORD
We are all feeling somewhat despondent (temporarily we hope) - there are so many cat problems and despite our very best efforts we seem to be permanently in a state of financial embarrassment. However, we have two 'events' coming up soon which are a little different from our usual Rummage Sales, Coffee Evenings and Saturday Bargain Sales We do hope that any readers who can possibly reach Chelmsford will come and meet us first at our STRAWBERRY FAIR on Saturday afternoon, July 12th Here we will have lots and lots of luscious locally-grown strawberries, served with cream, and also on the menu will be tea, scones and home made cakes. We will sell "bazaar-type" items on our stalls, and we usually manage to have a special attraction at this annual event such as our fortune teller, Madame Tabitha, or the famous Television advertising cats. The Strawberry Fair is held in the garden of the Plough Inn, Springfield Road, Chelmsford (about 1.5 miles from Chelmsford town centre towards Colchester).
Our second interesting event is at Chelmsford Cathedral Hall on Saturday (all day) August 9th. Our good friends, the Essex Cat Club, are staging their first exhibition since the club was formed, of prize-winning pedigree cats. They have kindly offered us one or two stalls there (again for bazaar type goods), and we shall also be in charge of the refreshments. All the money we raise will be for us! The ECC hope that the C.P.L. will make lots of money on the stalls and refreshments to help less fortunate cats than those on show. It is hoped that 25 to 30 pedigree cats will be shown and there will also be a competition for the "best household cat." So please come along on August 9th if you possibly can. Needless to say, we would be very grateful for any items to sell at the Strawberry Fair and at the Essex Cat Club Show.
Since the last report two months ago, 34 cats and 14 kittens have been found good homes, and 53 cats have been neutered So far none of us seems to have a minute to spare from cat problems to sit down and work out a way to seek proper publicity for the League's Cat Population Limitation scheme, but we hope to get the co-operation of the local press and do something about it very soon. We were most impressed with the excellent article which the Birmingham Branch copied in the May/June magazine. Meanwhile we continue to neuter 7 or 8 cats each week.
Of all the cat stories we could recount of the last two months, the one we like best (and which had a happy ending) is about a 12 year old neutered tom, long-haired *'Ginger". He lives with a couple, and the wife every evening drives 5 miles into Chelmsford to collect her husband from the railway station. On their return one evening Ginger, who had been sunning himself on the window ledge during the afternoon, had disappeared, There have been very many cases of cat-stealing in our area recently, and the distraught owners feared the worst after searching locally for many hours with no sign of Ginger. Mrs. Middlemiss was notified and Ginger was added to her list of missing cats. Ten days later Mrs. Middlemiss received a telephone call to say that a stray cat had been hanging around near the railway station. It was Ginger, of course! How he had managed to survive amidst the constant heavy traffic of Chelmsford High Street and the railway station precinct is a miracle. He had obviously had enough of wondering where his owner disappeared to every evening and decided to go and see for himself, completely unbeknown to them! Which all makes one wonder how many cats are taken for a ride unknown to the driver, and then disappear at the other end. Lucky old Ginger to have got home safely from his adventure of going to meet a train!
Sept-Oct 1969
CHELMSFORD
Because it is both the height of the kitten availability season and the height of the holiday season, the months of July and August are always the most hectic of the year for us, "protecting" cats. Our Secretary, Mrs. Jean Middlemiss, has no respite at all from the daily cry "A stray cat has had kittens in my garden". We are constantly surprised at the large number of people who feed and shelter a cat for months, or even years, and yet strongly deny ownership when the cat has kittens or when it becomes essential that it should be neutered. We wonder how long a cat must take up residence before it ceases to become "a stray"!
The other eternal cry at this time of the year is "My cat has 5 kittens. I can't find homes for them and I am having them all put to sleep tomorrow unless you take them away now". We pity the poor mother cats who have been adopted by such unthinking and irresponsible people. We try to persuade them to keep the kittens until September, for we have found that more homes are forthcoming in September than at any time of the year. And, of course, we make immediate arrangements to have the mother cat spayed providing the kittens are more than ten weeks old.
The Branch is still very proud of our record of never having had a healthy cat painlessly destroyed. We know from past experience that with sheer hard work in home finding, all the hundreds of cats passing through our hands will eventually be found a good home. Mrs. Middlemiss has had many cats (and dogs) dumped upon her, but an episode in July was very upsetting for both the Middlemiss family and the cat concerned. Late one night an extraordinary note was found under their door, saying: - Dear Sir, I have put a cat in your car. It is very vicious and children are not safe with it. It was you or vivisection. Hope this is convenient". (No signature of course). You can imagine what happened. In pitch darkness and armed with only a torch, Mrs. Middlemiss prepared to extract the savage beast from their car, parked outside their house. To cut a long story short, two hours later they ended up with the front seat of the car completely dismantled and with all the springs removed, the poor frightened creature having hidden right inside the seat. In all her years of handling frightened cats, Mrs. Middlemiss had never seen one so terrified. He trembled under their bed all night and next day took hours of gentle coaxing to get him to emerge and eat something. And then - lo and behold - one of our helpers arrived with a very small daughter, to transport the cat to the kennels. As children do, and before she could be warned off, she ran to cuddle him and from then on it was perfectly obvious that this was no vicious, savage, scratching villain, but quite the soppiest and friendliest cat imaginable! He is now neutered and waiting for a good home to turn up. But we fear he may have a while to wait because with so many kittens available, the older cats are not so quickly adopted. We will gladly deliver him anywhere within 30 miles of Chelmsford if some kind person would take pity on him.
In the meantime, we are trying to make up to him for his awful experiences, and he and all the other long stayers in the cat boarding kennels really appreciate a special treat of rabbit, liver, chicken and fish once in a while instead of their everyday food. Please could you help us to provide these tit bits by sending a donation to our Car Cat and his Companions? At the moment there are 39 cats and kittens in the kennel and 125 kittens on the list, the owners having been almost beaten into promising to hang on until August is over! We can really be tough with some humans if we have to be! During June and July, homes were found for 34 adult cats and 63 kittens, and 23 cats were neutered at our expense.
Our Strawberry Fair on July 12th was a very pleasant occasion and we made several new friends. We were able to reduce our debt to kennels and vet by £60, but sadly, we still owe a lot. By the time you read this, our next event which is still ahead of us, will be over. A pity because we feel that lots of you would make an effort to get to Chelmsford on August 9th particularly to meet 'Arthur5 (who will be very closely guarded!) and 'Jason* of T.V. programme Blue Peter fame. And a host of other famous cat "stars" too. These will all appear, along with about 40 pedigree cats, at the Essex Cat Club "Cat Gala". We are to run two stalls and the refreshments at this event, and let us hope that we can make lots of money to help all our poor unwanted cats.
We are now very short of bazaar type items to sell at our many money-raising events, and we are also completely out of good second-hand clothing for our monthly "Saturday Sales" In fact, we look like having to sell the clothes off our backs at the next one (which might, on reflection, at least draw in the crowds!) But won't you please come to our rescue and send us bazaar items in time for our September Fair on 20th September, and clothes and white elephants for our next Saturday Sale on October 4th? We find that we are having to run some sort of money raising event once a fortnight at present, and we do need lots of things to sell.
Finally, we are nursing a secret which we hope to reveal in our next report A hint - our own shelter, in our Secretary's garden, has at last become a possibility if only we can get enough kind people to help us get It started.
Nov-Dec 1969
CHELMSFORD
Will all our kind friends please note that our secretary, Mrs. Jean Middlemiss, has now moved to a new address; 112 Watchouse Road, Galley wood, Chelmsford. This move of house almost caused our Branch to collapse in complete disorder because for three weeks Mrs. Middlemiss was without a telephone. This was during the month of September which we have always found to be the best in the year for home finding, and cats were being taken to the cattery and no-one knew from whence they came, cats were being taken from the cattery, supposedly to good homes. And unknown to us, cats were being taken to be neutered on our account and without appointments. All in all pandemonium reigned, and it is taking weeks of investigation to check up on the cat movements during those three weeks. This makes the rest of us on the Committee realise that without Mrs. Middlemiss (bless her), and her telephone in action for at least sixteen hours a day, seven days a week, our Branch would have gone under long ago! Fortunately order is now almost restored and it is cat business as usual at 112 Watchouse Road. During August and September homes were found for 52 adult cats and 66 kittens, and 28 cats were neutered - but actually we are still counting after those three muddled weeks.
Our refreshments and two stalls at the Essex Cat Club Gala raised more than.£30 much needed money, and our September Fair raised nearly £70, and our very grateful thanks to all you good people who helped us by sending items to sell. We have two Rummage Sales and three Saturday Sales (good second hand clothing and white elephant items) still to come in 1969, and of course our big, big effort, the Christmas Fair on December 6th. Won't you please sond us something to sell? We are also holding our own Christmas Draw (which brought us in £100 last year), with fifteen major prizes of turkey, chicken, pheasants, wines, spirits, cigars, cigarettes, chocolates and other festive gifts, and we will gladly send any readers books of tickets to sell. (2/6d per book of five tickets, and a stamped addressed envelope would be much appreciated).
We now need to raise £1,000 per year to keep pace with all our work for unwanted cats, and our main concerns are, neutering, rescuing and home-finding. Where does all the money go? We continue to take into our temporary care large numbers of unwanted cats from all over mid and North Essex, all of which are eventually found a good home. (We have even "swopped" four cats recently with a wood yard! They had four friendly but very prolific females and no-one to pay for them to be spayed. We had four very battered old toms - neutered late in life by us - but still rather too unruly for the average home. So we swopped. The four now-spayed females have gone to good homes, and the four old boys, after a fortnight of rest and rehabilitation in a large shed at the wood yard, have now been released there, and are venting their pent-up wrath and indignation on the local rats and mice - which is why the wood yard wanted the cats in the first place).
The majority of our unwanted cats come from 4 main sources. (1) Genuine strays who have obviously once had a home of some sort and are quite at ease with humans. (2) We get a large number of adult cats, usually much loved pets, belonging to the sick and elderly who have had to give up the cat because they are moving into hospital, old person's home or council flat where animals are not allowed. We deal with very many heart-breaking cases of this kind. (3) Kittens from people who have not bothered to have their female cat spayed. We now insist upon a promise from them that the mother cat must be spayed if we are to help find homes for the kittens. Many people do not realise that a cat can be neutered at any age providing that it is in reasonable health. We very often finance the operation if the owner is genuinely too poor to afford it, i.e. old age pensioners. (4) We acquire a large number of cats for a variety of often strange reasons. Their owners state such things as: - "We have now got a dog/baby and don't want the cat any longer". "We are emigrating tomorrow". (We are still amused at the lady who turned up at Mrs. Middlemiss's door complete with cat in a carrier bag and said they were on their way to Australia now. The funny thing was she was wearing an old pair of carpet slippers! What would the Australians think we wonder). "We don't want the cat because it steals food if we leave it on the table". (What do they expect?). "We are going on holiday and don't want the cat any longer". (This means that they won't pay for the cat to be boarded at a cattery, and also they must be on bad terms with the neighbours). "We don't want the cat because it scratches/ bites the children". (We wonder what the children have done to the cat?) "We don't want the cat because it stays out at night" (or will not go out?) "We don't want the cat because it catches birds". (What about all the humans who catch birds, we wonder). "We don't want the cat because we shall have to pay for it to go to the vet to have it doctored" or "it has an abscess" or "it has worms" or "it has fleas" or "it has a limp" or "it has a cough" or "it has runny eye/nose" or "the milkman says it is not healthy with the children". (We wonder if they also ask the milkman's advice about their children's ailments).
And so it goes on. The reasons for not wanting the cat are endless ! All these villainous cats, according to their owners, are otherwise doomed to die unless we "do something about them immediately". And guess what? When we take them to the cattery they turn out to be just ordinary, loveable pusscats, independent, full of character, and each with its own built-in individual charm. What else can we do but make every effort to find them a good new home where their special qualities are appreciated?
Our "Car Cat" was adopted by some good people on September 28th, but before he left for his new home he and his companions sent their very best purrs of thanks to their thoughtful friends who sent them donations for special titbits. And we thank our anonymous friends for their donations, bazaar parcels and good used clothing. Mrs. Middlemiss will reply personally to all who send their name and address when she can snatch a few minutes from all the cat problems. We also collect left over knitting wool for cat blanket cotton material suitable for aprons, postage stamps, milk bottle tops (and we will start collecting just about anything else you can think of if it will make us some cat-care money!)
Finally, we are giving Mrs. Middlemiss a few weeks to settle down in her new home (and garden) before we can be truly realistic about our plans for our shelter there. In the meantime, our Shelter Fund is now open and we have £5 in it. More news in the next issue of the magazine when we have had time to think up some ways of raising money for the shelter. Any ideas you may have will be most welcome and gratefully acknowledged.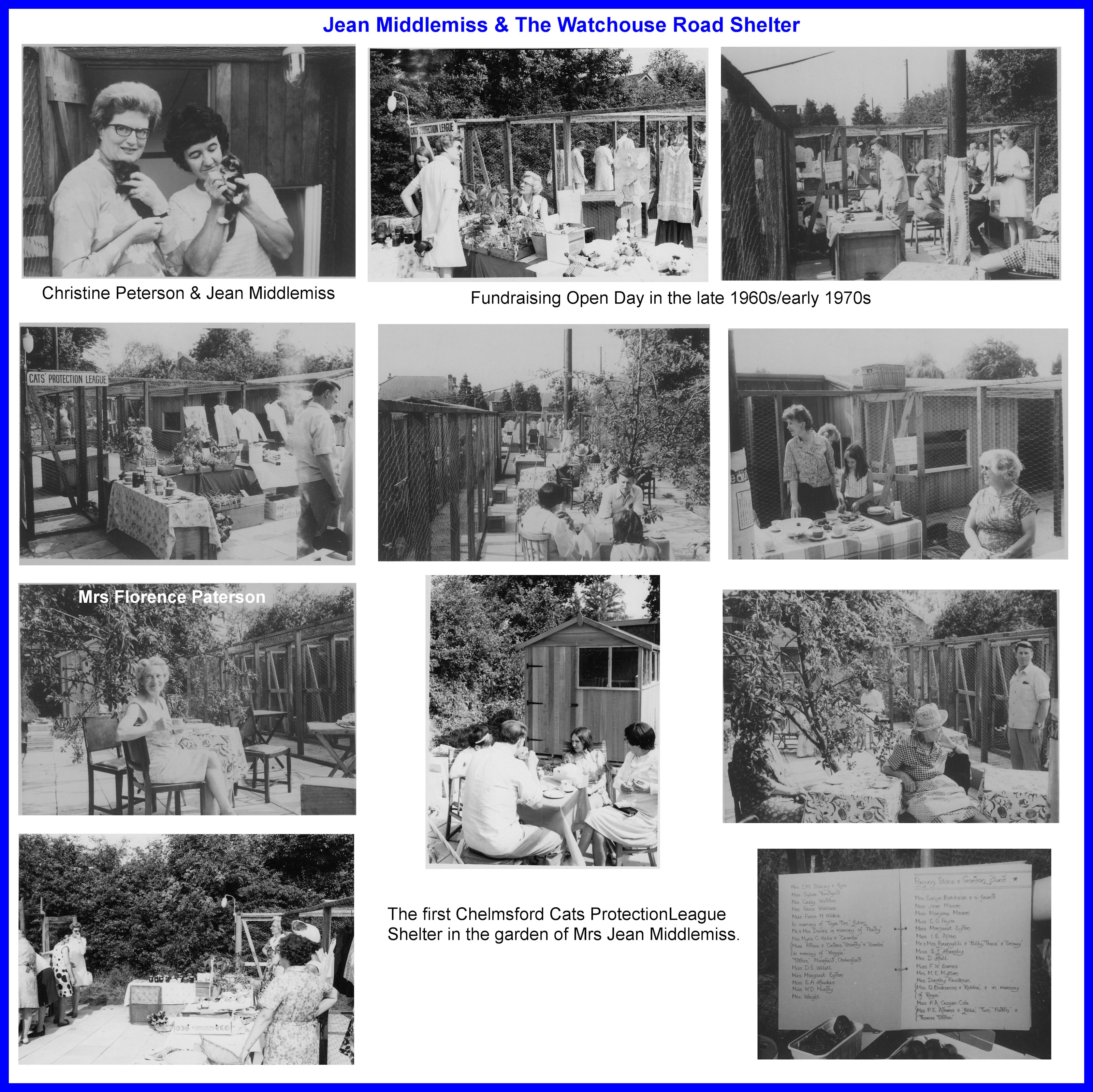 Jan – Feb 1970 – issue missing
March-April 1970
CHELMSFORD:
We are overwhelmed by the wonderful kindness of the readers who responded to our sad story in the last report. Our shattered hopes for our own Shelter and the Branch's financial difficulties demanded a miracle and it happened. Not one good fairy, but 24 have come to our aid with sympathetic letters and donations from 10/- upwards. We hope that all of them will be able to come and see us and let us thank them personally, in the not too distant future.
We have more or less cleared our debts up to the end of '69 and have money left over to found our Shelter. We are truly overcome by our sudden good fortune and change of luck. As so often happens, things get worse before they become better. The debts continued to mount up and we were greatly saddened by two things: 1, at a Coffee Evening we had four Ronson table lighters stolen. These had been donated by a lady for sale on behalf of the cats. Two of them were gold plated and the value of the four was £60. A very thorough search was made and the police informed to no avail. A second disappointment was the sheds which we had been offered for our Shelter, they were found to be too dilapidated for use.
Just before Christmas the situation improved, the Bazaar raised £44 and our Christmas Draw £112. We had a generous donation of £200 from Headquarters and other small donations from our friends locally. We had 44 cats in the boarding kennels through Christmas, of course home finding was at a standstill at that time. Since the January/ February issue of "The Cat" was published we seem to be in another world. The foundation of our Shelter is a reality instead of a dream. We have been "planning" for the past two weeks and hope we have no difficulties in getting planning permission. We plan to erect a wooden shed 24ft. by 10ft., on a concrete base, fully insulated to keep the warm in and the cold out. Infra-red and vinolay floor for easy cleaning and two sort-of shelves with cubby holes round the interior walls. The cats will be able to snuggle up there in the wood-wool/blanket lining provided. We will have a few baskets on the floor for those that prefer them. A complete wired in "compound" about two or three times the area of the shed built on concrete for hygiene, will connect with the shed. This will be the main part of the Shelter.
We shall need several wooden sheds (mini shelters) one, a nursery unit for kittens, two, for mums with kittens, three, for expectant mums and four, for cats awaiting neutering and five, for cats recovering from neutering or any other operation.
The most important need of all is to have an isolation unit and a hospital unit. New arrivals will be in isolation for a specified period and when cleared and neutered will be able to join the others in the main Shelter. Many will be with us only a short time but others may have to stay longer. We shall also need a kitchen/store-room and a large area of Mrs. Middlemiss's garden will have to be fenced in. This will make the Shelter "private" and prevent vandals who might get in and either do damage or release the cats. These then are our Shelter plans which may seem over ambitious but in view of the fact that homes were found for 584 cats and kittens during 1969, 80% were under our care either at various cat boarding kennels or in our homes, the need for a Shelter here is very real and we shall be able to help even more cats because our boarding bills will be much reduced. Visitors will always be welcome and we shall have Open Days and Garden Parties to raise the money to pay for the running of the Shelter.
Once again we thank our anonymous donors for their gifts for our Christmas Bazaar and Saturday Sales, for the £10 which was sent in a parcel at Christmas and for the wonderful box of chocolates which will make a raffle prize well worth winning. We shall be grateful for good second-hand clothing, gifts for Bazaars, used postage stamps and 1969 Christmas cards to make into calendars for next Christmas. Anyone wishing to donate towards one of the mini shelters are invited to apply for further information to the Honorary Secretary (name and address, inside back cover.)
May-June 1970
CHELMSFORD:
How slowly grind the wheels of local government. At present we are in a state of suspended animation awaiting the necessary planning permission to erect our Shelter. We are trying very hard to be patient, but it looks as if it will be well into the Summer by the time our buildings can go up. "Ever-optimistic" (our motto!) we had expected to have the Shelter built by now, but we didn't appreciate the time delay factor in getting the all-important planning approval. In the meantime, we are having to spend some of our precious money on the cats in the cat boarding kennels. Although our un-wanteds are in and out quite rapidly during the Winter months, the numbers awaiting homes have not been fewer than 11, or more than 25, at a time. We are not, of course, spending any of the money which our truly generous friends sent us specifically for the Shelter, but nevertheless, we shall somehow have to raise some more money for the 9 'Mini-Shelters' when we get our planning permission. We shall describe the Mini-Shelters to you fully in the next issue of the magazine (by which time we shall know our fate!), and we shall ever-optimistically hope that people will endow them and have their names (or their cats' names) recorded in our Shelter, for it is entirely due to you readers that the Shelter is possible and we must permanently record our appreciation for the future ! We will gladly send a leaflet describing the Shelter and 9 Mini-Shelters to anyone upon request.
We have been very busy since our last report. We had first of all a New Year Bazaar and Coffee Morning followed by two 'Saturday Sales' and a Rummage Sale. Then we had our Easter Fair on a bleak, cold and miserable day. Altogether these events raised £130. On April 11th we have another Coffee Morning and Mini Bazaar in Chelmsford and then two weeks later another one in Witham. We are crying out (as usual, we regret) for things to sell at our Bazaars, and for your good used clothing for our Saturday Sales. Perhaps Spring cleaning will unearth a little something or other in your drawers and cupboards! Our thanks to the friends who have already sent us parcels and also stamps, British and Foreign.
We found good homes for 89 cats during January and February and we had 52 cats neutered. In this connection we have just received a bill for £175 from one of our vets, so you can imagine what a relief it is to us now that Mr. Steward has sent us some vouchers for neutering!
July-Aug 1970
CHELMSFORD
First we have some good news. At last we have been granted outline planning permission for our Shelter. The final plans will not come before our R.D.C. Planning Committee until mid-June, but at least we now know that it will exist. The great worry is that we need at least £400 to complete the Shelter as it is envisaged. So far, we have only enough money to pay for the main 'communal' shed and the concrete and wire netting (both very costly items) throughout the Shelter. We have a little money towards each of the 9 special Mini-Shelters, but not enough to complete any of them. We will also be without electricity which we can't afford to have laid on, and there is no money left to pay for a fence to surround at least part of Mrs. Middlemiss's garden. We find this rather worrying as one of our greatest fears is that vandals would break in and release the cats - or worse.
We are trying to feel not too discouraged about us not having enough money. We know that it is now or never and we are very anxious to get the finances sorted out as quickly as possible so that we know just what we can do. It will be impossible to only part-build the Shelter to start with, because each and every one of the different units is an integral part of the Shelter as a whole. Please help us to make it complete and fully operative right from the start by donating something, however little, towards one of the following Mini-Shelters: 1. Nursery unit, for kittens. 2. Laying-in unit, for cats about to have kittens. 3. Maternity unit, for cats with kittens. 4. Awaiting neutering unit. 5. Convalescent unit. 6. Special care unit, for very timid cats. 7. Kitchen/store room unit. 8. The all-important Isolation unit. 9. Hospital unit.
We also should have No. 10, which is not a unit, but a Special Fund to pay for all the many miscellaneous items which we shall need and which are all extra to the cost of the actual buildings themselves. This will include feeding bowls, cat litter and trays, cat baskets (carrying) and cat baskets (sleeping), and the fibreglass kennels which will be part of the Isolation units. We have a special form for you to complete if you would like to help found the Chelmsford Shelter, and your name (or your cats' name) will be recorded in the Shelter if you wish. We have been greatly touched by the gifts we have received in memory of much loved cats. For your interest, the Mini-Shelters so far most subscribed to are No. 4 and No. 6. and a lot of fat (greedy?) and contented cats have donated towards their less fortunate brothers' future by choosing No. 7! We shall have no problem whatever in filling all the buildings with our temporary cat guests just as soon as we 'open', but we may have difficulty in getting the cupboards in No. 7 filled, so please ask your cats to spare us a few tins to get us started!
Anyone donating to our Shelter is put on our special 'Friends/Fairies/Founders Mailing List' and will receive progress reports and news of our Shelter from time to time. Our next big event is a Strawberry Fair in early July. We had hoped to combine this with the Grand Opening of the Shelter, but it is not to be. However, perhaps some more good fairies will smile kindly upon us and we shall be able to combine opening day with our Autumn Fair. One good thing - if it should be a rainy day, we can all get in the Shelters with the cats instead of getting drenched and dripping outside in our plastic raincoats as is usual! Good homes were found for 88 cats in March and April, and 79 cats were neutered.
Sept-Oct 1970
CHELMSFORD
More good news in our Shelter Saga! We have at last got planning permission for the Main Shelter and Mini-Shelters as envisaged by us. There remains just one more "permission" we have to get before we can start to build and this is something to do with our complying with the local By-laws. Surely by the next issue of the magazine we shall be able to report that it is all happening!
We now know that there has been quite a lot of local opposition to our Shelter, and this has no doubt contributed to the delay in getting permission. Local residents seemed to imagine that hoards of wild, smelly noisy, garden-wrecking cats would be roaming the neighbourhood. If only people would find out the facts before they protested, they would know that all our temporary cat guests will be completely confined in buildings and wired cages and runs, and if they arrive unneutered - well, we'll soon take care of that, so there should be no tom cat smells. Nor do we expect much noise. We have noticed that our cats in the boarding kennels only talk when they want food and attention, which ours will have plenty of. The cats themselves will help us to keep the Shelter clean and fresh (and many people could learn a lot from cats in the matter of personal cleanliness).
We thank all the wonderful people who have sent donations towards the Shelter as a result of our latest appeal, particularly two "anons" we can't thank by letter - Tilly, Birmingham and A cat Lover, Newcastle. We still haven't enough money to lay on electricity or water, which would cost more than £200, but we will manage with torches and hosepipes to start with at least, and perhaps by the winter we can have a big heating and lighting appeal !
We have been so very busy trying to raise money to pay for our cat boarding bills and for the Shelter that we have now sold out of just about everything. Not surprising, as we have been having a Sale of one sort or another every week for the past two months. Our most profitable fund raising activity is our "Saturday Sale" (one each month), when we sell good second hand clothing. Please see if you can spare something from your wardrobe -large sizes are in great demand. We still need large quantities of postage stamps, any country, and please leave a good margin of paper around the stamp, and we are crying out for anything suitable to sell at our numerous bazaars. We really want to get a good stock ready for the Grand Opening of the Shelter.
Our Secretary, Mrs. Middlemiss, is unfortunately in hospital at the moment and so we will combine the May and June figures for cats we found good homes for, and cats we had neutered, with the July/August figures in the next report.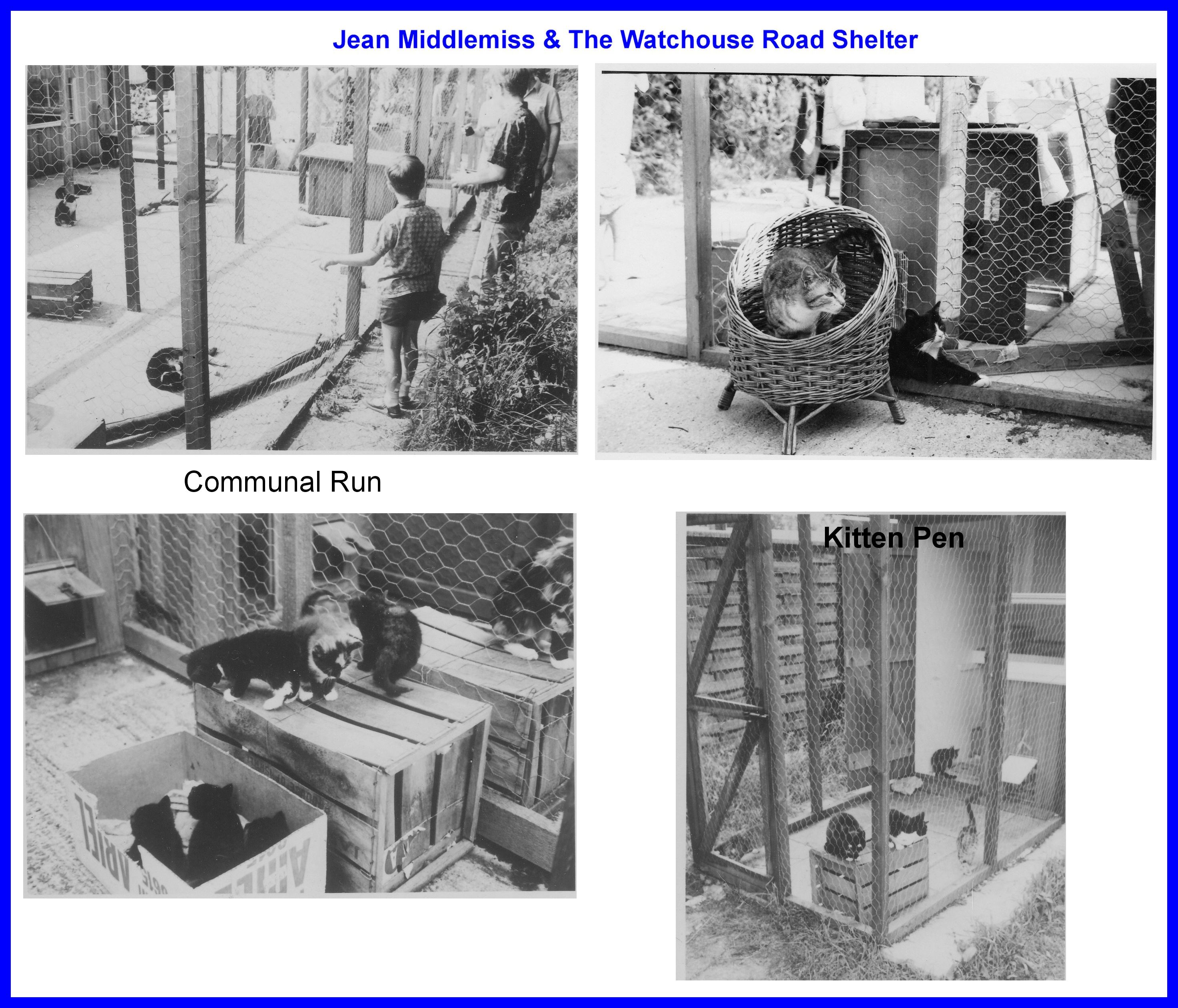 Nov-Dec 1970
CHELMSFORD
Things have really happened since our last report. The Shelter is almost completed and by the time you read this we should be ready to move all the cats out of the boarding kennels and into their lovely new accommodation. Once they are in their new quarters we feel sure that homes will be much more easily found. Instead of Mrs. Middlemiss having to organise cats in and out of the kennels by "remote control", it will all now be happening in her own back garden. What a relief and, thinking back to one year ago, what a miracle! It really does read like a fairy story.....
Once upon a time, there lived nine beautiful cats with a poor lady who was unable to cope with life's problems. In time, they were all turned out of their home and the lady was never heard of again. But the nine beautiful cats were eventually found nice homes and, because good fairies from all over the Kingdom found pity in their hearts for the poor lady, the nine cats, and the Chelmsford Branch because of the financial difficulties that were caused by the cats, a miracle happened and enough money was gladly given to pay off the debts and found a new Cat Shelter in the County of Essex..... Poor Mrs. O. - if ever you read our end of your story, be blessed.
It is really only the beginning of the story for us of course, and we very much doubt whether we will live happily ever after. But we shall do our best to see that hundreds of unhappy cats coming into our care in the future will! Back to the land of reality. It is going to cost a great deal of money to run the Shelter. All our money is raised by our very frequent fund raising events, members' subscriptions and donations. All our Members and friends receive our Newsletters (generally four a year) and thus keep in touch with our activities and share with us our hopes and fears. Won't you please help us to support the Shelter? Here are some ideas.
1. Orders are now being taken for our 1971 Calendars (many of them made from the Christmas cards you kindly sent us). Subjects are Cats (naturally) and other animals, Floral and Pictorial. Please state which you prefer. Prices are 1/ - , l/6d., 2/ - . and 3/ - each and please could you enclose a little extra to help with the postage. Orders to Mrs. B. Hopkins, 24 Peel Road, Chelmsford.
2. Our Grand Christmas Draw tickets are now available. Lots of goodies and Christmassy prizes to be won. Books of 5 tickets (6d. per ticket, 2/- per book). Please send for as many books as you think you can sell without losing your friends! The money can be returned with the counterfoils. Requests for books of tickets to our Promoter: Mrs. E. Stiling, 48 Highfield Road, Chelmsford. All proceeds towards the Shelter, of course.
3. The Shelter buildings, all neat and nice looking in rich cedar wood are splendid, but the garden all about them looks a mess! A churned up sea of mud and no money left to do anything about it ! Please will you or your cat buy us a coloured paving slab? Donations to Paving Slab and Garden Fund very much appreciated and includes free Membership of our Branch for one year !
4. All the other things we constantly beg from you - please send to Mrs. Middlesmiss: Good used clothing. Vast quantities of postage stamps, torn off with a good margin of paper around the stamp. Gifts for our Bazaars. Anything you don't want, which we can convert into money for the Shelter.
Finally, once again our thanks to all our wonderful good fairies for making 1970 "The Year of the Cat" in Chelmsford. The next report will be in 1971 and so we join with all the other Branches in wishing all cat lovers and cats a very happy Christmas. During May, June, July and August, 198 cats and kittens were place
Jan-Feb 1971
CHELMSFORD
We have discovered, very much to our cost, that nothing ever goes according to schedule. Promises, promises - all broken! The builder promised that our Shelter would be completed in eight weeks. Four months later, it still remains to be finished. The electricity authorities promised to do their part of the installation three weeks ago - they still haven't been. The flooring contractors the same, but at least they have half done their work! You may imagine our dismay. It is only now, at the beginning of December that we are able to move some of our temporarily homeless and unwanted cats into their now Shelter. We are keeping our fingers crossed and hoping that all our contractors will complete their work within two weeks and then we shall be able to bring the remaining cats into our care in time for Christmas. So at the time of writing, we are half open for business.
We would again like to thank the kind readers who responded to our Paving Slab and Garden appeal in the last issue of The Cat. By the time we have our official opening of the Shelter in the Spring, it should all look very neat and attractive for human guests as well as cat guests. Home finding and neutering continue apace and at the moment there is a very good turnover of cats in and out of the kennels and Shelter. We hope it will be better still when we have them all under one roof. The two months' delay in completion of the Shelter has caused us some terrific bills at the boarding kennels, we wonder if we will ever straighten out our financial situation, not owing anything to anyone. Probably not, as long as we continue to care for all the needy cats which come our way.
Good news is that our Grand Christmas Fair on November 28th raised £98 for the Shelter - a record for us. We hope that our second Christmas Fair on December 12th will raise almost as much. Our Christmas Draw does not so far appear to have been quite as successful as last years, but there is still time for improvement. Please will you send us your leftover or unwanted knitting wool - any amount, any thickness, any colour? We have two good ladies who knit for our Sales and they have had remarkable success recently knitting ponchos - the latest fashion craze. We are always happy to know of anyone who will do a little knitting, or apron and cushion cover making for us to sell.
Once again we would like to say how grateful we are to the good people who have sent us parcels for our Saturday Sales and Bazaars, and donations to the Shelter. We are thrilled to have made so many new friends during 1970.
Please continue to help our many cats by sending gifts for our bazaars, good second hand clothing for our Saturday Sales and large quantities of used postage stamps. During September, October and November, good homes were found for 231 cats and kittens and 95 cats were neutered. December's numbers are still to come, but already this year 606 cats have been rehabilitated by us, which is 22 more than the total for 1969. Thankfully, we are still progressing!
Mar-Apr 1971 – no report
May-June 1971
CHELMSFORD
The Postal Strike caused us and our dependants quite some worry. First, because we were unable to send out our Newsletter to our loyal supporters advising them of our fund-raising activities and, second, we didn't hear anything from anybody for seven weeks and we felt very cut off and lonely! The result was that we were very poorly patronised at our February and March Saturday Sales and we had two bazaars to hold (the Spring Fair and the Easter Fair) and nothing to put on the stalls! However, as always, somehow we scratched and scraped around and managed to put on two good shows. Our knitters and apron makers set to with alacrity, as did our cake, marmalade, jam and garden plant producers. It was a really hard effort from a handful of people. Then, at the eleventh hour we received some nice bazaar gifts from our good friends far away, and at the Easter Fair another good friend, Mrs. Kalis, brought her beautiful blue-eyed Persian cat "Crumbs", who, with his begging bowl before him, persuaded many people to give 8p towards a days' food for one of his poor friends in the Shelter
Our next big event is our first OPEN DAY at the Shelter on May 1st, and we are looking forward to meeting some of our good fairies then. As well as the Shelter guests (feline) as an attraction, We shall have lots of stalls, home-made produce, etc. and we hope we shall make enough money to keep us out of the red for a little longer. What a hand-to-mouth existence it is! But we have no intention of putting our pusscat guests on short rations so we think our begging bowls will be much in evidence on that day!
Since early December when the Shelter opened, we have had an average 30-35 cats at a time in our care. Not, of course, the same ones as you will see from the numbers gone to homes at the end of this report. Some cats are so charming and delightful that they only stay overnight ! But the number of hard-to-place cats is unfortunately increasing. These are the pensioner pussies, our old darlings, mostly in our care because their elderly owners have gone before them, and the timid cats who rush away and hide when humans approach. We do have good people who are pleased to give a home to a senior citizen cat, but mostly everyone wants to have a young cat. Many of the shy cats "come round" whilst in the Shelter and go happily off to homes, but it is obviously going to take a bit longer to gain the confidence of some of them, particularly those who have a very good reason to mistrust humans.
Of all the cats which have passed through the Shelter in the last four months, only two are what one could call really "wild" in that instead of cowering and hissing, they would attack when cornered. These two, a beautiful brother and sister, are now neutered (what a to-do that was!) and they are going back to the farm from whence they came and where we shall continue to feed them for the rest of their lives. Who knows, even they may end up nice pussies in time. We are surprised, nevertheless, at how many "wild cats" we are called upon to catch, only to find that they are perfectly normal domestic pusscats and rather shy and timid having through no fault of their own fallen upon hard times !
We appeal to you again to send us the following things, all of which will be converted into Shelter money to feed and care for the cats and kittens. Unwanted gifts for our bazaars. Good second-hand clothing for our Saturday Sales. Large quantities of postage stamps, British and foreign, torn off with a good margin of paper around. Knitting wool, small or large amounts. Our special appeal of the moment is for the "CCB FUND". (Cat carrying boxes), urgently needed as we have such a lot of cats to carry to and from the vets for neutering and for treatment, and we do need some hygienic (we have in mind fibreglass) container which can be scrubbed and cleaned in the way that ordinary woven baskets can't be.
During January, February and March, good homes have been found for 133 cats and 57 have been neutered. We thank all friends who have helped us in any way. The pieces of blanket have been very welcome to the cats at the shelter during this cold winter. A local friend gave them a good spring mattress. In addition to finding it comfortable to sleep on the young ones have great fun using it as a trampoline.
July-Aug 1971
CHELMSFORD
The Shelter is absolutely bursting at the seams with cats and kittens. We thought 30 was enough to cope with but now we have 65. Mrs. Middlemiss vows that not another one shall go in, but what happens? Last week, in order of appearance, first a very pregnant puss who promptly presented us with three kittens (to show us how much she liked us), then a very small kitten was brought in. He had been found in a collapsed state, in a hedge After these came two young neutered toms, one half dead from malnutrition and the other with pneumonia (both now getting on very well after much treatment from the vet). Then two more abandoned cats in kitten, and a mother with two four week old kittens, found in a country lane miles from anywhere and obviously dumped there. This little mother is earning her keep by feeding two other three week old kittens who were found half drowned on the side of a busy road beside the body of their mother who had been run over. No doubt it was the intention of the incredibly cruel people who put them there that this should be the fate of all three. Sometimes we just want to sit down and cry. Fortunately home finding continues apace, but poor Mr. and Mrs. Middlemiss not only have to cope with the cleaning of the Sheltet and the feeding of all these cats, but the phone rings constantly. Yesterday they received 35 phone calls !
The rest of us on the committee are doing our best with our constant money raising efforts to cope with the financial headaches that the Shelter has brought, but we are steadily losing ground. It just does not seem possible to raise the minimum amount of £30 a week which the Shelter needs. In the hand to mouth existence in which we find ourselves, and with the constant worry that we only have enough money in hand for the present week's food for the cats, we do beg you to help us if you possibly can. Here are some ways.
1. Become a member of our Branch by sending a donation(25p minimum)
2. Please send us your good second hand clothing and unwanted gifts etc. for our Saturday Sales and Bazaars.
3. Please send a donation towards our Special Shelter Appeal Fund.
4. Mrs. Brenda Hopkins, 24 Peel Road, Chelmsford asks me to thank all the kind people who sent lovely cards for her to make into calendars for Christmas 1971. She now has enough for this year but would be glad if you would continue to save any suitable ones and send them next year! Orders will be taken for the calendars in September - details in the next issue of The Cat. .
Mrs. Hopkins is now appealing for material for her "summer" money raising effort. She is making very attractive peg bags and would be grateful for any remnants of strong cotton material in gay colours, minimum size 24" x 16". The peg bags are on sale at 27p each (5/6d) and when ordering from her (address as above) please could you include a little extra for postage. We are also very grateful for odds and ends of knitting wool, larger pieces of material for aprons and cushion covers and, of course, postage stamps torn off the envelope with a good margin of paper around them. Mrs. Hopkins will gladly receive all these things at her address to relieve Mrs. Middlemiss of some of her "load".
Finally, thank you all our good friends who came from near and far to visit the Shelter on our first open Day on May 1st. we had a glorious sunny day and all thoroughly enjoyed ourselves and the Shelter profited by £50. The next Open Day is probably to be on July 10th when we hope to have our STRAWBERRY FAIR at the Shelter. What could be a more pleasant way of spending an afternoon than talking to cats and eating strawberries and cream at the same time! During April and May 83 of our cats and kittens went to good homes.
Sept-Oct 1971
CHELMSFORD
One would think that after 7 years of home finding and neutering in this part of England there would be a reduction in the number of cats needing our help. We must have found homes for nearly 4000 cats during that time and, to the best of our knowledge, all of them have been neutered. Wherever do all the countless unwanted and stray cats and kittens come from? This is of course the worst time of the year for home finding, and it is the worst time of the year for abandoned cats, but by September we should all be looking a little less worried, especially Mr. and Mrs. Middlemiss who have to care for all these cats.
As with everyone else these days, shortage of money is a real problem. We need to make at least £35 a week to pay for the Shelter and for the food which we provide for many other homeless and hungry cats in and around Chelmsford. Add on to this veterinary bills, advertising and transport, and you can understand that we just don't know how we can keep going another weèk! But then we look at our dependants in the Shelter and at all the other cats we feed elsewhere (more than a hundred), and every single one of them is well loved, well known to us and very special and so we know that we must make even more efforts to raise money for their care whilst they are our dependants. Because we know that you too care about cats, we don't mind asking you to help us. Here are some ways.
1. GRAND CHRISTMAS DRAW 1971. We aim to collect together at least 30 very nice prizes, and by October the books of tickets will be available (4 tickets for lOp in each book). Please write to Mrs. Stiling, 48 Highfield Road, Chelmsford for as many books as you think you can sell without all your friends ! We would also be very grateful to anyone who could donate a suitable prize for the draw (e.g. gift sets, linen sets, wines, spirits, cigars, cigarettes, chocolates, groceries, jewellery, poultry and game - or, of course, the money instead !)
2. PLEASE LET US HAVE Your unwanted gifts for our Bazaars, fairs, coffee mornings etc. Your good second hand clothing for our Saturday Sales. Your remnants of material and wool for our sewing and knitting ladies. Large quantities of stamps, torn off with a good margin of paper around them.
3. TUCK BOXES FOR CATS AT CHRISTMAS We are asking our local supporters to please buy an extra tin or packet of cat food each week and place it in a box marked "Tuck Box". If enough members and friends donate a regular supply of food "for Christmas", we might have a little money to spare for all our other expenses,
We certainly wouldn't ask our friends from far away to post us a heavy carton of tins, but if you would put 5 or 10p a week aside, and send it to us when convenient, we will buy the tuck box contents for you, write and tell you what you have paid for, and add your name (or your cat's name) to a new list of "TUCK BOX PROVIDERS" in our Beautiful "Book of Donors", where everyone who has helped us with the Shelter has their name (if they wish) and or their cat's name recorded.
We would like to record our appreciation of the great kindness and the readily available help which we have always received from Mr. Steward. We wish Mr. and Mrs. Steward a very happy retirement and long may they live to enjoy their wonderful memories of the work they have done for cats. Finally, we have got out of step with the numbers of cats we have found homes for on a monthly count, so we will record that from January to the end of July this year, 373 cats and kittens have been happily placed in homes and all of them have been or will be neutered.
Nov-Dec 1971
CHELMSFORD
It is Sunday October 3rd and the writer of this report has just returned home, feeling very happy, after a very successful "Open Day at the Shelter". We were so pleased to meet some more cat lovers who have hitherto been just names to us. The cats in the Shelter behaved beautifully - naturally - and two of them, Clyde and Jasmine, immediately found homes. Clyde, a long haired ginger neutered "softie", went riding away to his new home in a large Jaguar. We were most impressed !
Having had round about 70 cats in the Shelter during the summer months, it is now a great relief to us all, and especially to Mr. and Mrs. Middlemiss, to report that more cats and kittens are going to homes now than are coming into the Shelter. We never really believe it will happen, but more homes are found in September and October than in any of the other months of the year. We are now down to 46 cats in the Shelter. All the kittens have gone from the Shelter and from Mrs. Peachey's "Mini-Shelter" in Witham, but we still have along list of kittens and cats awaiting homes in and around Chelmsford.
Our HONORARY AUNT/UNCLE TUCK BOX scheme is proving to be popular. If you live away from Chelmsford and would like to be an Hon. Aunt/Uncle, we will gladly buy the tins on your behalf if you would like to send us the money, and we will let you know what food you bought and add your name (or your cat's) to our list of Aunts and Uncles in our Shelter Book of Donors.
If you would like to send a regular contribution (very small or very large!) and become a PERMANENT AUNT/UNCLE to one of the dear old cats or one of the very timid cats in the Shelter (who are likely to be there for some long time if not for ever), we shall be very happy to send you a nice photograph of your cat with a complete description, and we hope that you will then name him/her! Already Pastel, Lulu, Tina, and a dear little elderly, somewhat deaf, but happy and lovable little tortie, have found a permanent
aunt and today have had their photographs taken! Now that they are special cats, they will be able to hold their heads up high amongst all those others who come and go all the time! There are still about 10 cats who would like to be special too!
We have a very full programme of money-making-for-the-Shelter events ahead of us. In October we have two Autumn Fairs which will be over by the time you read this, but our two main Christmas bazaars will still be to come. On November 27th we have our CHRISTMAS MARKET in Chelmsford and on December 18th our GRAND CHRISTMAS FAIR AND PRIZE WINNING DRAW at Danbury Nr. Chelmsford. We know that we shall be absolutely "cleaned out" of suitable things for the Stalls after our Autumn Fairs, so we would be very grateful if you could find us something to sell for the Christmas Fairs. We have found that best sellers are soft toys, aprons, soaps and sweet smelling things in general, all sorts of gifts and bric-a-brac, paper backs, stationery, knitwear (for children and adults rather than babies!) and of course, cakes, jams, chutneys and plants are very popular on the Home-made and Produce Stalls.
We are still collecting good second hand clothing for our regular Saturday Sales and anything "as new" is kept for the bazaars where we get a very good price. Large quantities of stamps, torn off with a good margin of paper around them, and remnants of material and knitting wool are always most welcome.
We wish all of you a very merry Christmas and a happy New Year, and the cats in the Shelter send their very special thanks and love to the kind people who have already provided them with a Christmas Tuck Box. During August and September, 154 cats and kittens happily went to homes, and 86 were neutered.
Jan-Feb 1972
CHELMSFORD
We think that October and November were record months in 1971 for homefinding, for in those two months, 187 cats and kittens were placed. Wouldn't you think that we would now have fewer cats in the Shelter? Today, December 1st, we still have 62 and at Mrs. Peachey's Mini-Shelter in Witham there are 14. We have had several batches of cats from factories In Essex which have closed down, and presumably the cats have become redundant along with the employees. A sign of the times, sadly, but we hope not a permanent one. Fortunately these factoiy cats are nice friendly pussies and so homes will soon be found for them.
1971 has been the year for late kittens as well. It is quite unusual that so many are still being brought into the Shelter and though they quickly go to homes, it means that adult cats which might otherwise have been chosen have to stay longer in the shelter.
By the time you read this Christmas will be over, and the cats in the Shelter and those we feed in factories, farms and car parks around Chelmsford, will have had a splendid time eating all the special foods which their HONORARY AUNT/UNCLE TUCK BOX SCHEME has provided. Thank you to all of you for your generosity. You should by now have had a letter of thanks from your pusskin ! The HON. AUNT/UNCLE TUCK BOX SCHEME will continue because it has been wonderful to be able to provide the cats with every kind of tinned cat food, dried meat and Seanip in 3 flavours ! Also with the money so generously sent, we have been able to give the cats fresh fish, meat and liver twice a week as a change from tins. They get terribly bored with tinned and dried food only, good though it is, and on the days when they have coley or meat and liver, there's hardly any need to wash the cats' dishes for there isn't a scrap left anywhere, so clean are the plates licked !
And please don't forget our PERMANENT AUNT/UNCLE SCHEME for the cats who are old or timid and likely to have to stay in the shelter for a long time. Our photographer
has taken some very nice coloured photos of most of them and he will try to take some more of the terrified cats who hide away, because they have no faith in humans, when he has a sunny day to spare, for time and patience are needed to coax them out. But these cats are the ones who really need a permanent aunt to care about them, so please adopt one if you care. A regular contribution of any amount, small or large, will make them into special cats.
Away from the shelter, life is very busy. During the present three weeks we have two Christmas Bazaars, one Rummage Sale and one Saturday Sale and our little band of helpers is frantically busy. Lets hope we make lots of money to last us a few more months in this hand to mouth existence.
Please send us your unwanted Christmas presents (if any!) before you grow to like them, your good second hand clothing, stamps in large quantities and anything else you can think of which we can turn into "pussy cat care money". We shall also be pleased to have your 1971 calendars, especially the "turn over each month" ones, and Christmas cards with pictures of cats, animals pretty scenes, flowers etc.
A big thank you to all the good friends who helped our cats and our Branch in 1971, and to the thoughtful people who sent us parcels anonymously for our sales and bazaars. A very Happy New Year to you all from our pusscats and the Committee.
March to Aug 1972 issues missing
Sept-Oct 1972
CHELMSFORD
It seems strange to be thinking about Christmas in the middle of August but by the time you read this, our Mrs. Brenda Hopkins, 24 Peel Road, Chelmsford, will be ready to take orders for her very attractive "homemade" 1973 calendars, for delivery from October onwards. There are some lovely cat pictures and animal pictures in general. Also pretty scenes, flowers, etc. so please state your preference. Prices are lOp, 15p, 20p and 25p according to size, and we would be very grateful if you could include a few extra pence with your order to help with the postage costs.
Mrs. Hopkins also reminds me to ask you to please continue to save and send postage stamps, British and foreign, in vast quantities ! Please leave a good margin of paper around the stamp if possible. We have just received a cheque for £16.83 from the last collection, so it is well worthwhile. We also save trading stamps - Green Shield, Pink and Co-operative and cigarette coupons assorted! At the moment these are being used to help provide prizes for this year's Grand Christmas Draw ; more of this in the next issue.
Activity in our Branch is bordering on the chaotic at the moment. The Shelter is literally bursting at the seams and Mr. and Mrs. Middlemiss are at the end of their tethers, if you can imagine the scene! Also there are dozens of desperate cat cases "outside" the Shelter which somehow Committee and helpers are coping with. Mrs. Hazel Peachey's "Mini-Shelter" in Witham, where so much has been done to swell our home-finding records, has become a C.P.L. Branch within a Branch, and Mrs. Peachey is coping with all the cat crises in North Essex. Home finding during July and August is almost at a standstill and we seem to get 10 cats in for every one out ! By September things should have calmed down a bit and we shall be able to sort out the future.
Fund-raising activities also continue apace and once again we give our heartfelt thanks to all our good friends who keep us going by attending our money making events, sending us things to sell, sending us Tuck Box donations and adopting our old and timid cats. Without you we couldn't exist.
Nov-Dec 1972
CHELMSFORD
It was a great pleasure to meet so many friends from near and far at our Open Day on September 17th. The cats were, of course, the main attraction and five kittens and four cats were lucky enough to be chosen for homes during the afternoon. The Shelter is still overfull, but happily September turned out to be - as always - the best month of the year for home finding.
We have been extremely busy coping with the summer's unwanted kittens and their mothers, in car parks, gardens, farms, factories, yards, warehouses, hospitals, etc. etc. and by the time you read this all the kittens will have gone to homes and all the mothers will have been spayed if we have been able to catch them - and if not - well, e shall keep on trying! We have not had any healthy cat in our care destroyed, either in the Shelter or amongst the very many we look after "outside". Our policy is still to neuter and feed cats wherever they are, providing that they have adequate shelter, and as soon as we can, we take them into our own Shelter and a home is found. This policy seems to work quite well except that our food bills go up and up and up - and we do have problems in finding people to "do the rounds daily", feeding all our outstation dependants!
On the fund raising side we have been as busy as ever and the pace is quickening as we get towards our Christmas cat-care money making activities. During the next three months we hope to make enough money, one way or another, to keep the Shelter and the cats going for almost half of 1973. First of all we have our GRAND CHRISTMAS DRAW. With the help of many of our friends we have again collected 30 nice prizes, to be drawn at the Christmas Fair on December 9th. The tickets are in books of four for lOp, and we would be very grateful if you would try to sell some tickets to your friends on our behalf. Please write to Mrs. Ann Barker, 136 Beehive Lane, Chelmsford for as many books as you may be able to sell without losing all your friends! (If you take more tickets than you can sell, we won't mind at all).
Next, Mrs. Brenda Hopkins of 24 Peel Road, Chelmsford, is happy to take your orders for her attractive home made calendars, details of which were in the last issue of The Cat. On November 25th, we have our big event of the year, the CHRISTMAS MARKET AND FAIR at Chelmsford Cathedral Hall, 10.30 to 4 p.m. We would welcome anything suitable for sale on our stalls, and it goes without saying that we would welcome you tfeo! We hope to have one or two extrovert cats on show for your pleasure, and other attractions too. It would be nice if you could come and have lunch with us.
On December 9th, Saturday morning, we have our final event of the year - another CHRISTMAS FAIR combined with the GRAND CHRISTMAS DRAW. We are hoping that we shall have enough goodies to stock the stalls at both these Christmas events. Particularly at this time of the year, we welcome TUCK BOX donations so that we can provide extra, and more interesting food, for all our cats. Please be a TUCK BOX AUNT OR UNCLE, and we and the cats promise you that you'll hear a great chorus of purrs right through Christmas! We all wish you a very happy Christmas, and peace be with you in 1973.
Jan-Feb 1973
CHELMSFORD AND DISTRICT REPORT
Although I am writing these notes shortly before the end of the year we are very happy to tell you that so far this year 971 cats and kittens have gone to good homes from the shelter, from our various outside cat-care refuges and from Mrs. Hazel Peachey's Mini-Shelter at Witham. We do not think that we will quite make the total 1,000 but we are all very pleased that all the hard work has resulted in so many homeless and unwanted cats being placed in good homes. We know too, that many of you will be delighted to learn that we have not had a single cat destroyed. During the last few weeks of the year we found life very busy whilst in amidst all our Christmas fund raising activities. Our all day Fair on November, 25th raised £110 which was very good as there was a great deal of competition in the town. On December 9th we had a similar Fair combined with our Christmas Draw and £56 was raised in approx one hour the rest of the time being taken by the draw. "Crumbs" a beautiful blue-eyed white Persian drew the winners. At least he tried for the first few and then his owner Mrs. Kalis helped him out. There were 37 prizes in all and nearly all of them came from kind members and friends many of them via trading stamps green shield, pink and co-operative. The first few winners were:-£5-Miss G. Mitchell, Chelmsford, 6575., Turkey-Mrs. Morena, London, W.l. 0694., Candlewick Bedspread - Mrs. Mears, London, W.2., 4682, Whiskey - Mrs. Cridland, Billericay, 7299., Gin - Bobbie Hondman, Hornchurch, 6701, 200 Cigarettes - Mrs. Holmes, Danbury, 4977.
A full list of the 37 winners is available upon request from Mrs. C. Peterson, Piers Gill, Fir Tree Rise, Little Baddow, Chelmsford, CM3 4SS. We do thank all of you kind people who helped us to sell the tickets which we completely sold out much to our chagrin three weeks before the draw - next year we will be sure to order more tickets.
We had a wonderful response from our Tuck Box "Aunts and Uncles" for the cats Christmas feeding and the 60 cats in the shelter and our 50 or more outside dependants all had their usual treats of rabbit, chicken, fresh fish and liver. Three or four of our helpers gave a hand with Christmas cooking of the special food which lasted for four days and we are feeling very thankful that we knew one or two people with a deep freeze. If all the cats had received two meals a day, it would have worked out at about 900 meals. However, a lot of them got only one meal with double rations , of course.
To commence 1973 we have Saturday Sales in January and February and also a St. Valentine's Fair at Danbury in February. Our members and friends will receive a news letter in January giving the dates for the next few months and the draw results. Finally, we hope to tell you some very special and important news in the near future. We are expecting to move the shelter to a splendid 1 acre site in early 1973 where at least we shall have room and facilities enough to care for as many homeless and unwanted cats as may be necessary.
A big thank you to everyone who helped us in 1972, we could not have managed without you and all the cats, the Committee and helpers wish you a very happy New Year. - Mrs. C. Peterson
March-April 1973
CHELMSFORD AND DISTRICT BRANCH
The news about the new Shelter is good and we hope to tell you more about it in the next issue of the magazine. If you would like a few more details "to be going on with", please write to us for a copy of our current Newsletter, where Pusskin, the Chief Shelter Spokescat, reveals all - or almost all! Please can anyone help us to think of a nice name for the new Shelter? At the moment the bungalow is called "Rhiwlas" and we don't know what it means or even how to say it. So far we've only had some rather rude suggestions for the new name, such as Catastrophe Comer, Neutering Nook, Pussies Place, Tabbies Tabernacle, Felines Folly, Caterwaul Camp and Cosycot! None of them very suitable.
Home finding is going very well at the moment and for the first time for many months more oats are going to homes from the Shelter than are coming in. We are now able to take in some of the many cats which we feed in and around Chelmsford and find them homes. 11 is very difficult to interest anyone in giving a home to a cat straight out of a car park or a factory yard, for instance, where many of them are.
We are now well into the swing of 1973's money raising activities with two "Saturday Sales" and one bazaar already behind us. By the time you read these notes the St. Valentine's Fair on February 17th will be over, and our next big bazaar is the EASTER FAIR at Chelmsford Cathedral Hall on Saturday 7th April, 11 a.m. to 4 p.m. Do come along if you possibly can - we hope to have some special attractions and of course the usual stalls, home-made refreshments and nice people (we mean you, our guests) !
We would be very grateful for anything for our bazaar stalls, and for your good second hand clothing for our Saturday Sales. This year we are having six bazaars as well as eight Saturday Sales. Also several Rummage Sales and Coffee Mornings. We have to have all these events to make enough money to run Shelter and feed all the cats, and it really is quite a task gathering enough things together to sell. We would also be grateful for calendar pictures and birthday and Christmas cards with cat pictures on them. Mrs. Brenda Hopkins, our calendar making lady, worked very hard at the end of last year raising over £30 by her efforts. We also have a "used stamp lady" and a "trading stamp lady" so we would be very happy to receive stamps of both kinds.
The final total for cats found good homes in 1972 was 978. This was 204 more than 1971, and we're pleased that we're making progress. - C. Peterson
May-June 1973
CHELMSFORD AND DISTRICT
The Easter Fair was a great success and a very pleasant day for all of us. £115 was raised to help to care for the cats in the Shelter. Thank you very much to our good friends for the lovely things which arrived for the Easter Fair stalls, some of them sent anonymously. (Please send your name and address as we would like to thank you personally. Thank you too for the beautiful cat pictures, cards and calendars which you have sent for our calendar making lady, who is quite delighted with them.
Our "Permanent Aunts and Uncles" continue to send regular donations to help to support their adopted cats - the old and the timid ones - and we are indebted to then for their care for these cats.
We can now tell you some more news about our new Shelter-to-be. The bungalow, which stands in almost 1 acre of ground, mainly orchard, has now been purchased and we can apply for planning permission for our cedar wood buildings to be erected. Some of these will be removed and rebuilt from the existing Shelter, but we shall have to buy several new ones as we have expanded in our work so much during the past 3 years. We hope to have 3 large buildings, with compounds, each to take up to 20 cats comfortably. These cats will be the "normal" ones, ready and able to go to homes, so their stay in communal quarters won't be for long.
Then we shall have 10 "Mini-Shelters". These will be for pregnant cats too late to abort, for mothers with kittens, for slightly timid cats "coming round", and for cats waiting for their spaying and neutering appointments. - Mrs. Christine Peterson
July-Aug 1973
CHELMSFORD AND DISTRICT BRANCH
As usual at this time of the year the Shelter is full to overflowing with unwanted cats and kittens and, although homes are still being found, it will be September before the numbers go down. We had hoped so much that our new Shelter would be underway by now, and possibly completed before Autumn. It would have relieved the pressure tremendously. But we still await the necessary planning permission from the RDC before building can start. The plans are drawn, the new wardens appointed. Builders are completing estimates but we still can't go ahead yet. What is worse is that we have been trying to save up so hard for the new shelter that we have overdrawn our current bank account the first time for ages! So we were delighted when on May 26th we had a very successful Rummage sale - our best yet - and £56 was raised. Our Treasurer, Mrs. Joyce Fowler, had just received a letter from the bank to say that we wore overdrawn by £54, so our faces were just saved.
We shall have to try very hard to raise some more money for the new Shelter and we thought that our next all-day bazaar - the AUTUMN FAIR on October 20th - should be devoted to the new Shelter building funds. If every reader could send us just one thing for our stalls, we're sure we'd have a very successful day. We would keep anything sent just for October 20th and not sell it at our other events before then. Please see if you can spare something for us, and donors of money or gifts will be recorded (yours or your cat's name) in a lovely new "Book of Shelter Founders" which Mrs. Olga Harvey of Rochford will produce for us. Please send to Mrs. Jean Middlemiss at 112 Watchouse Road, Galleywood, Chelmsford, or to the writer of these notes.
In the meantime we have on August 11th, September 8th and October 6th our usual SATURDAY SALES where we sell good second hand clothing, so if you are turning out your wardrobes, please think of us. We have a very full programme ahead and we are all trying very hard to make some cat-care money, as well as caring for the cats themselves.
We have at present 92 cats and kittens in the Shelter to care for and we provide food for another 70 or so in and around Chelmsford, so our food bills are now staggeringly high. Home finding is still going well, though more and more cats with kittens, or cats about to have kittens, are arriving daily. Our friends ask us why we no longer tell you about individual cats with interesting stories. Wo have so many, each with a tale to tell, that it would be difficult to single special ones out. We no longer teli you the sad and awful things that happen, but unfortunately never a week goes by without some evidence of human cruelty to cats. It is all very distressing but it spurs us on to make even greater efforts to help as many cats in need as we possibly can. To cheer you up, we found good homes for three tortoises as well quite recently ! - Mrs. Christine Peterson
Sept-Oct 1973
CHELMSFORD
We are still a very disappointed, disgruntled lot ! But for the real encouragement and support we have received from our many friends, we'd be even more fed up because we still haven't received our planning permission to build the new shelter. Funds are rapidly dwindling and our legacy, upon which we built all our hopes for the new shelter, is no longer intact. But we are ever optimistic and we hope it will all come right in the end.
We have had two very pleasant Fairs recently; the Strawberry Fair which turned out to be a nice old fashioned garden party. Mrs. Tarling kindly invited us to have the fair in her lovely cottage garden, complete with a babbling brook, and though the weather was cool and cloudy, even the helpers thoroughly enjoyed themselves for once!
We still have far too many cats and kittens to care for, in and out of the shelter, but fortunately, we are managing to find few homes in this, the most difficult time of the year, so that the number of cats awaiting homes should not now increase and we hope that we, now are over the worst. We have had a good response to our appeal for readers to send items, or donations towards our next all day Bazaar (the AUTUMN FAIR on October 20th) and we thank everybody very much for their concern for us. We now have several names to "start off" our new book of shelter founders.
Please continue to send us your good second hand clothing and unwanted gifts for our many sales, and we are very grateful for trading stamps and usod postage stamps. (On a personal note - special thanks to "anon" who made me laugh - yes I am at present the "used" stamp lady! Thank you also Mr. Parratt for making me laugh when I phoned him to say this report would be late as I would be in hospital "being spayed". He promised to get a Voucher in the post right away") - Mrs. C. Peterson.
Nov-Dec 1973
CHELMSFORD AND DISTRICT BRANCH
We are in the middle of a very disturbing and depressing situation in Chelmsford - with policy, personality and financial problems as well as the sad news that we still await planning permission for our new Shelter. Committee members - because of our financial difficulties - disagree, and so resign. The end result, for the cats, could be quite horrifying. The situation is really quite simple - that we do all we can to help all needy cats, and this means that in the height of every summer we have, say, 200 cats and kittens, in and out of the Shelter, to feed. We know that by the end of each year this number will have reduced to perhaps 40 because all of the 200 and many others as well, in and out of the Shelter will have gone to good homes. The remaining 40 or so, not all in the Shelter, are well cared for, thank goodness, by their "permanent aunts" who send a regular donation which keeps these cats (the timid, old, ugly and the ones who have perhaps managed to find themselves their own Shelter, but there is no-one to feed them (farms, factories, hospitals etc.) We also know that we have a terrible struggle every summer to make ends meet, and this year has been more difficult than usual because, although we have worked constantly to raise money, cat food prices - and of course everything else too - have gone up tremendously and donations have been smaller. Of course we are feeling "the pinch".
Until now we have coped with this yearly situation but this year it looks as if we're not going to and the Branch may come to an end through lack of money and local helpers. Nevertheless, we have four important dates and the Christmas Draw to give us hope to continue our work and get those of us still on the Committee "out of the red". We have THREE Christmas Fairs - on November 17th December 1 st and December 15th. If you would like details of where and what time, please send for our current Newsletter. We would welcome anything for the Stalls. Its going to be very difficult to get enough goodies to stock three Fairs. We really are trying very hard to raise our cat-care money. Please send also for our Christmas Draw tickets, lOp per book of four. We shall (somehow) have 40 very good prizes to be drawn on December 15th.
Thank you very much to all the good friends from far and wide, who continue to support and encourage us. If only you all lived in Chelmsford what wonders we could work! We hope for better times ahead, and those of us who founded our Branch more than 10 years ago, and a few stalwarts who have joined us since, are despondent but still determined. - Mrs. Christine Peterson
Jan-Feb 1974 – no report
March-April 1974
CHELMSFORD AND DISTRICT BRANCH
We must apologise for being unable to produce a report for the last issue of the magazine. At that time we were so very busy (mainly trying to deliver and post the 53 prizes in the Christmas Draw) that there wasn't a moment to sit down and write it. Also, I personally must apologise for the long, long time it is taking me to acknowledge the letters, parcels and donations which you have so very kindly sent to us. This is because, to us, it does not seem right to send just a receipt or brief note in answer to your very kind and encouraging support. Please know that we are very, very grateful and a letter will be sent as soon as possible. The trouble is, of course, that in this voluntary work there is to much to do and too few people to do it.
We have some slightly better news for you. First, that we turned the year "out of the red" Our three Christmas Fairs and the Christmas Draw (which thanks to our good sales people raised £337) were successful and we had some very nice letters and Christmas Tuck box donation from our friends. Somehow having a credit bank balance made all the difference to our spirits even though it was very short lived. We then received our vet's bill (for a year!) and ordered 2 months supply of cat food, and there we were - broke again.
We are also slightly more hopeful about obtaining the planning permission for the new shelter, but are now quite resigned to the fact that it will be many months before it is completed. Everything takes such a long time these days. Our members and friends who receive our Newsletter should by now have had details of what the hold ups and difficulties have been, so if you would like a copy of the current Newsletter, please write.
Jean Middlemiss and I found Christmas was a very difficult time. We had very many cats to feed - in the shelter and "out" - and because the holiday lasted 12 days with the New Year and the 3-day week and petrol was very difficult to get during this time, factory and farm cat feeding and driving many miles each day was a real headache. Overworked Mrs. Middlemiss was ill at the time and still isn't much better. Nevertheless, we struggled through and thanks to your generosity our cats had their Christmas day treat of rabbit. We've never seen food disappear so fast !
More good news is that the cats are going to homes quite quickly now, and as always at this time of the year, the number of adult cats sheltered is at its lowest. However, in our eyes "Spring-time is Kitten time" so the intake of abandoned cats in kitten, or with kittens, will soon be upon us. For 1974, we have seven "Saturday Sales" booked, where we sell good-as-new clothing and household goods. The next two are on March 23rd and May 18th. On April 6th we have the first of our six "big bazaars". It is the EASTER FAIR in Chelmsford Cathedral Hall, from 10.30 to 4 p.m. Clothes/gifts/helpers/customers very welcome !
Finally, we have three special requests and we'd be delighted if you could help. First, has anyone a good jam pan no longer needed? (The writer is fed up with her jam and marmalade always sticking and burning in a flimsy pan and also has it in her mind that if we had a few good jam pans at the ready others might be encouraged to try their hand at preserves for our Produce Stalls). Second, please send me your old hat pins ! The more the merrier. (A cork on the points will stop the postman from getting stabbed!). Third, please send dolls - any kind, old or new, providing they have four limbs. As ever we are very grateful for gifts for our bazaars, knitting wool, soft toys, babies and small children's knitwear, paperbacks, envelopes, good-as-new clothing, used postage stamps - and anything which will bring us some cat-care money.
We are very pleased to say that good homes were found for 1,212 cats and kittens in 1973 and no healthy cats were destroyed. - Mrs. Christine Peterson (Chairman)
May-June 1974
CHELMSFORD AND DISTRICT BRANCH
We had a lovely time at our Easter Fair on April 6th, thanks to all the good friends who helped to stock our Stalls. £122 cat-care money was raised and our Treasurer was able to order another supply of food. (Bulk buying of food direct from the manufacturers is a great help and saving, but we need some capital to be able to do it, and our eight "big" bazaars help us to do this). So indirectly anything you send for our bazaar stalls and Saturday Sales ends up as food for all our pussycats. We still have about 150 to feed each day. The number ought not to be as high as this but we had an unexpected sudden increase of more than 50 when we rescued them from an old people's home where they were allegedly under throat of death by so-called marksmen. What a lovely lot of cats they are - in appearance, if not in character! Unusually, a lot of* thorn are long haired female gingers and there are some very pretty torties and tabby-torties. But unfortunately these cats haven't had much contact with loving humans until now, so some will take a long while to gain confidence and be ready to go to a good home. We would be very grateful for any financial help you can give to these cats. We're having to spend a great deal of money on veterinary treatment for them as so many were suffering from the various after effects of cat 'flu. They're all responding well to treatment and will soon be as good as new. Please send anything you can spare to the Tabby-Tortie Fund.
If only we had permission to go ahead with our new Shelter, how very much easier it would be to care for all these cats. Alas, we still await planning permission. We have made a new application accompanied by our views and objections at refusal, and we understand that this second application is once again with the County Planning authorities who turned us down on the grounds that we would "constitute an additional traffic hazard on an already busy road." Since there is adequate parking space and turning space for at least 6 cars in the front garden of "Catkins" and since it is most unlikely that we'd receive that many visiting cars in a week, never mind all at the same time - it all seems to us a very poor reason for refusing our application. However, once again we'll have to wait months and months for a decision. So many good happenings, or near miracles, have kept us going for the past 11 years that we just don't believe that we won't get our permission eventually.
Our next few dates to remember are:-May 25th "Saturday Sale" Chelmsford Shire Hall, 10.30 to noon. June 29th, "Summer Fair/Cats' Tea Party", in the Garden of Laburnam Cottage, Brook End, Chelmsford at the kind invitation of Mrs. Tarling. Sunday afternoon, 2 to 4.30. August 3rd "Saturday Sale," as above. As ever, we are very grateful for gifts for our stalls, knitting wool, soft toys, knitwear, paper backs, records, envelopes, good-as-new clothing, used postage stamps, trading stamps, dolls (and jam pans and hat pins!) and anything which will bring us some cat-care money.
I had hoped to be deluged with strong jam pans and old hat pins after our last appeal! So far no jam pans, but a very pretty collection of her mother's hat pins from Miss J, whom we'd thank properly if we knew her address. We sold the hat pins for £3. They are in great demand as people make sort-of-flower arrangements out of them! -Mrs. Christine Peterson (Chairman)
July-Aug 1974
CHELMSFORD AND DISTRICT BRANCH
Fortune is not smiling upon us at the moment and so this report will be very brief. We were refused planning permission for the new Shelter again but, since then, "certain things" have come to light and we believe it will be a case of third time lucky and we shall be approved next time the Planning Committee meets. We are now showing our claws !
Jean Middlemiss is most unfortunately temporarily out of action through ill health, and so home-finding and care of the cats at the present Shelter is proving very difficult at this, the busiest time, of the year. Mr. Middlemiss is coping with the cats as best he can, and Mrs. Paterson and I and some of our good helpers are coping with the home finding and endless cat problems as best we can! If you have written to us and still await a reply, please bear with us. We thank you very much for your encouragement and support and we couldn't exist without it. Thank you to all who have sent goods for our many different sales and bazaars, trading stamps, postage stamps, knitting wool, donations to the Tabby-Tortie Fund, and special thanks to our "Permanent Aunts" who regularly send donations for their adopted cats. We shall write to thank you as soon as we can find a moment to sit down !
Unfortunately the dates of our next events were misprinted in the May/June issue of the cat. It should have read "Strawberry Fair" on Saturday, 29th June, and "Summer Fair and Cats' Tea Party" on Sunday, 14th July. We do hope that no-one was inconvenienced by coming to see us on the wrong dates.
We hope to have more cheerful news in the next issue. At the moment the only cheering things in our lives are the dozens and dozens of kittens we have awaiting homes. Entrancing to watch, but we have nowhere to keep them until homos are found. Is there no-one within driving distance of Chelmsford who could house one or two of them for a short period of time? They are such fun to have around you. - Mrs. Christine Petersen (Chairman)
Sept-Oct 1974
CHELMSFORD AND DISTRICT
Good news is that at long last we are in sight of getting the planning permission for the new Shelter at "Catkins", Battlesbridge. And what a battle for the cats it has been, with endless confrontations, and letters to all sorts of Council department. Jean Middle-miss and I have been told we would make good barristers, so carefully have we made our moves and won our case ! We now await a legal document - already two months overdue - which is being prepared by the Council for us to sign to say that we will give up the present Shelter at 112, Watchouse Road, and then we should get the permission in writing.
It has been quite chaotic for us during the past three months. Somehow we have provided for more than 300 cats and kittens at a time and we also have a list of more than 200 cats and kittens urgently needing homes, and we have managed to persuade their owners to "hang on" for a while. In many of these cases the loving owners will only hang on if we provide food! What insight one gets into human behaviour. I could write a whole chapter of a book every day on people and cats, given time.
During this time, Jean Middlemiss has been in hospital for a major operation, and so out of action. How we missed her, for it is a full-time job coping with the endless telephone calls and the home-finding. Thankfully she is now making very good progress and has taken on the telephone calls once again. I personally cannot find words to express my thanks to Alec Middlemiss, to Mrs. Florence Paterson and to Joan and Bill Richardson at "Catkins" for their efforts during this period. Between us we've just about coped and made (we think!) a very good team. My reward has been losing a stone in weight with all the running around Essex and no time for meals.
It has cost a tremendous amount of money to feed and care for all these cats and kittens and now that at last we can find time to look ahead, we must make great efforts to raise money. We are pleased that Mr. Parratt has invited us to have a stall at the ANIMAL FAIR in London on October 18th and 19th, and we look forward very much to meeting our friends there. We know so many of you through writing and it will be a pleasure to meet you personally. Our Summer Fairs have left us with very little to sell and we would be thankful for anything for the Animal Fair and for the AUTUMN FAIR in Chelmsford Cathedral Hall on October 26th. After that we have three CHRISTMAS FAIRS and the CHRISTMAS DRAW to come! Goodness knows how we're going to get enough goods and prizes but, as you know, we never stop trying.
We thank all our good friends who have kept us going through our crisis period with their encouragement, financial support and gifts and good clothes etc. for us to sell. What would all those cats do without you? - Mrs. Christine Peterson,

Nov-Dec 1974
CHELMSFORD AND DISTRICT
Our latest news is that we still await the legal document upon which our planning permission depends. We have disagreed with a draft copy which arrived saying that we must remove the present Shelter (and Cats!) within 28 days of permission. An impossible situation of course as we know very well that it will be many months before the new Shelter could be built.

Our CHRISTMAS DRAW tickets are now available and Miss P. Woodhouse, Little Tuftes, The Ridge, Little Baddow, Chelmsford, has kindly agreed to be the promoter once again. We hope to have as many handsome prizes as usual, so please write to her for as many books of tickets as you can persuade your friends to buy. They are 30p per book of four tickets. With three CHRISTMAS FAIRS still to come, and the CHRISTMAS DRAW prizes to find, we would be very, very grateful for anything you can let us have. As always, we depend upon you for our cat-care money.

The dates for the CHRISTMAS FAIRS are as follows November 16th, 10.30 to 4 p.m. Danbury Village Hall, Nr. Chelmsford. November 30th, 10.30 to 4 p.m. Chelmsford Cathedral Hall. December 14th, CHRISTMAS MARKET AND DRAW, 10 a.m. to noon, Chelmsford Shire Hall Foyer. - Mrs. C. Peterson (Chairman)


You are visitor number