BRITISH CAT FOOD BRANDS - A HISTORY
Copyright Sarah Hartwell, 2012 - 2019
This small item appeared in several newspapers on 1st September 1950" "I hear that a new wave of interest in cats is sweeping the country. Manufacturers report that never before have prepared foods been in such demand. One firm alone is spending £8,000 on research into problems of animal nutrition. Fishmongers, too, say that cat owners are paying up to £1 a week for fish for their pets, although one London branch reports that while this is not general, cats are certainly getting more choosy, and owners are no longer buying cuttings for their pets. All in all, it is estimated that £20,000,000 will be spent on feeding Britain's cat population this year!"
The pet food market in the UK has become an oligopoly - a few companies each producing several brands that give the impression of a more competitive market. It's difficult for other companies, even the big pet food companies from continental Europe, to break into the market unless they can find a niche. Two names dominate the market: Mars (as Pedigree Petfoods) and Nestle (as Purina). Even one of Europe's biggest brands, Affinity, features these major players in its history. Over the decades, these two companies seem to have swallowed up most of Britain's pet food companies, retaining some brands and dropping others to streamline their range of products.
This was compiled mainly for my own interest and isn't an authoritative history of British cat foods. I've tried to untangle the intertwined histories of familiar brands in the UK and detail how they've changed hands, often several times, over the years. Anti-monopoly/anti-trust laws meant that companies sometimes had to sell off some brands before they could buy out a rival. Some brands I could only find in adverts and seem to have sunk without trace, unable to gain a toehold in the market.
Readers outside of the UK will see some familiar names here, but only where the companies are linked to brands in the UK or where manufacturers in different countries coincidentally used the same name, trademarking it nationally rather than internationally.
The bright yellow Go Cat packaging suggests that it is equivalent to the US MeowMix and Friskies brands (indeed, in the early 1990s it was called Friskies Go Cat). The MeowMix name once existed separately, alongside GoCat, as a brand in the UK. In the UK, Omega is the Purina budget brand analogous to Purina Cat Chow or Purina Cat Mix in the US.
Spillers, Nestle & Purina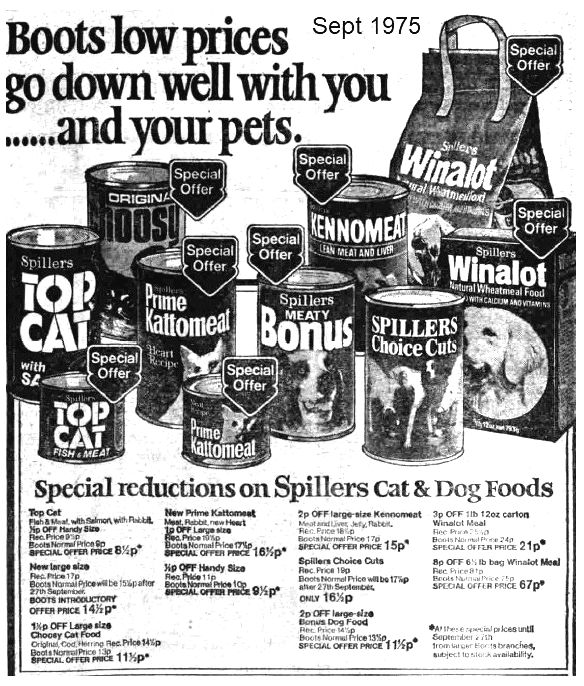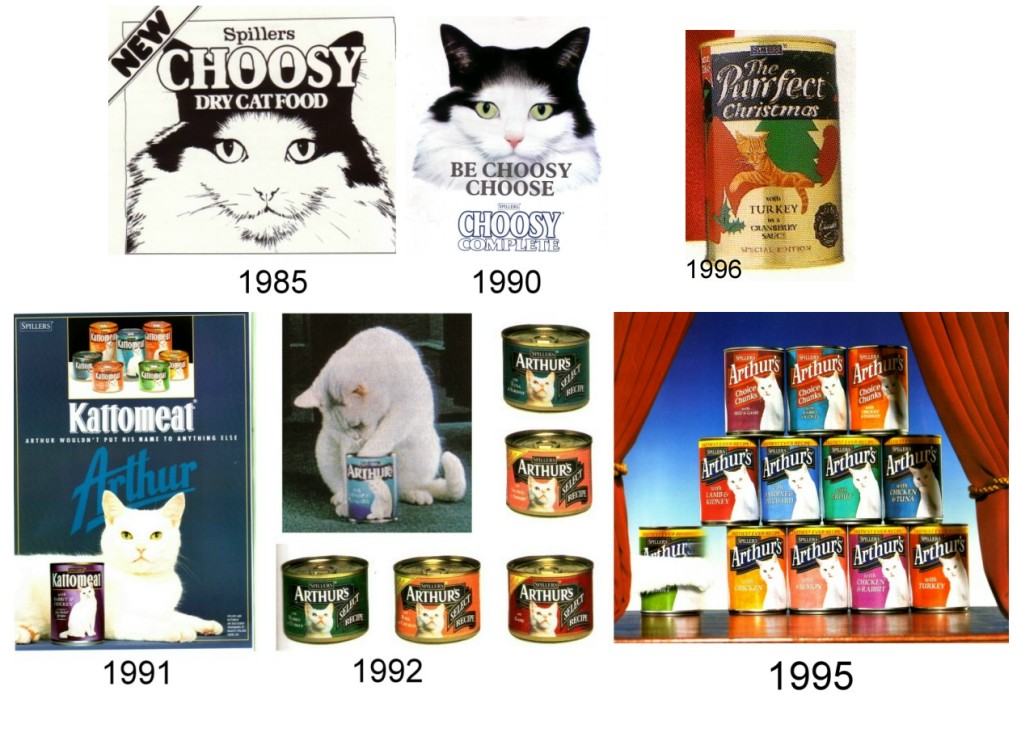 Kattomeat was the sister brand to Kennomeat; canned cat and dog foods launched by Robert Wilson &Sons in the 1950s. In 1964, Spillers Ltd took over the brand names. In 1972, Spillers bought out Hovis's "Stamina Foods" which made the "Paws" brand of cat food.   In 1979, Spillers became part of Dalgety plc. In 1992, Kattomeat was renamed and relaunched as Arthurs.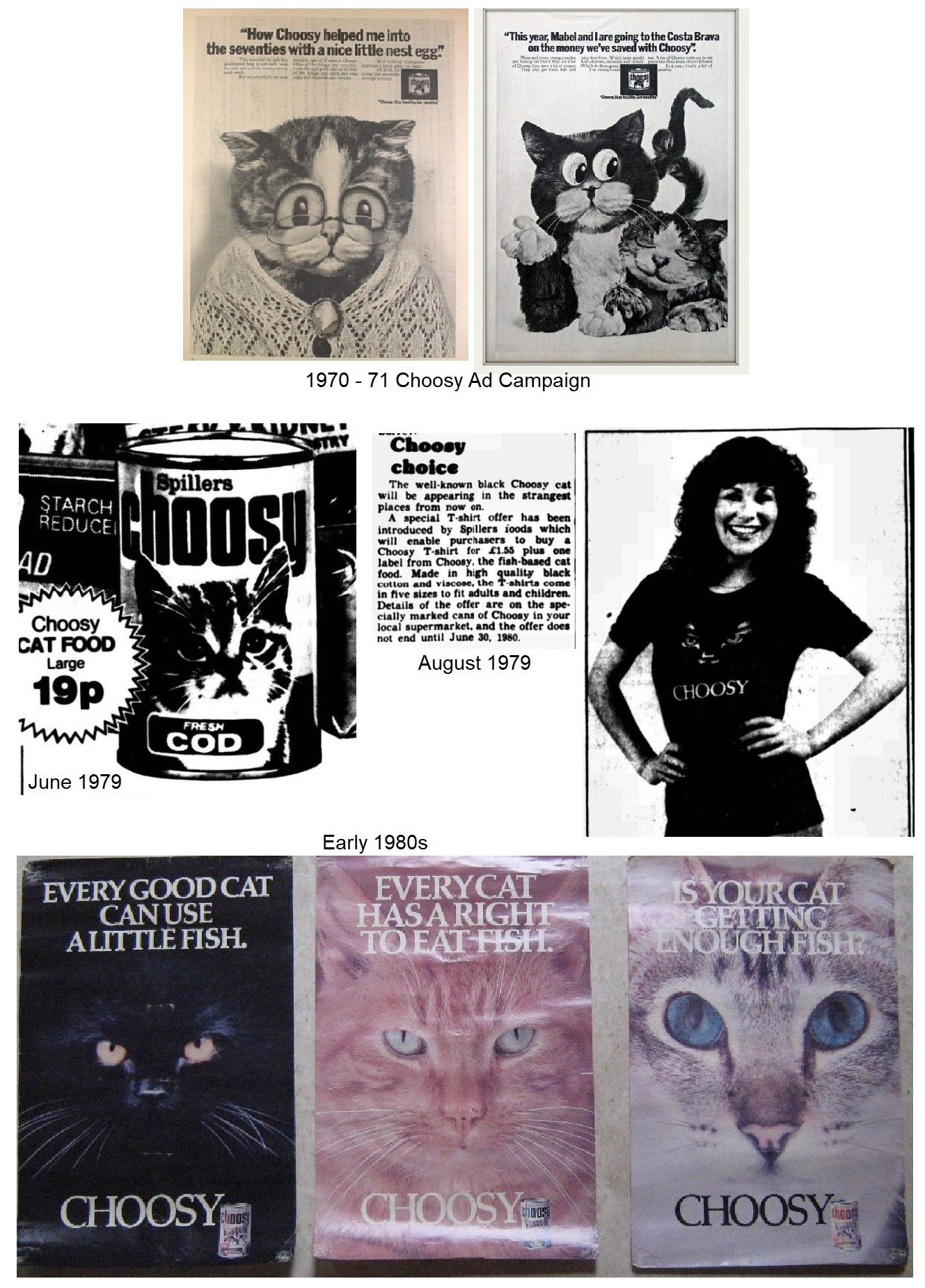 Kattomeat's Arthur, a white cat that ate by dipping his paw into the tin of food, became so well known that the food was rebranded as Arthur's before it vanished altogether. There were rumours (possibly by those supporting competitor brands) that Arthur's teeth had been removed to make him eat by dipping a paw, but paw-dipping is a natural cat behaviour and Arthur had simply been encouraged to use his paw to get a treat straight from the can.
Quaker petfoods started off in 1966 with Chunky dog food, then acquired Felix Cat Foods in 1970.
In 1995, Dalgety plc acquired the Felix brand from Quaker and the Arthurs brand was dropped. Then in 1997, Nestle acquired the brand from Dalgety. Spillers also owned the vanished Choosy brand cat food; Choosy was relaunched in 1993, but has since vanished. Spillers also produced the now-vanished Purrfect (renamed Purrfect Selection in 1992) brand in the UK; this top-of-the-range product competed with Sheba.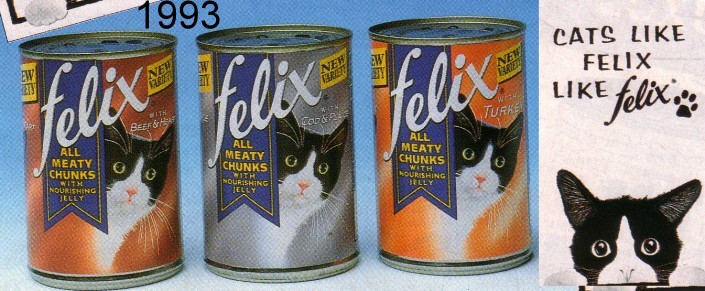 During the 1990s, the Swiss company Nestle expanded to rival Mars in the pet food market. In 1997, Dalgety sold the Felix brand to Nestle in 1997.  In 2002 Nestle took over Ralston-Purina and its pet foods were branded as Purina; however anti-trust laws (equivalent of the UK's Monopolies and Mergers Commission) meant it first had to sell off its MeowMix brand. MeowMix (the food "cats ask for by name") was bought from Nestle in 2001 by Richard C Thompson in partnership with JW Childs Associates; they relaunched it in the USA.  The advertising was a version of a karaoke video with a ball bouncing over the words "meow meow meow" (later on, the cats' meows were given English language subtitles).  In 2006, Meow Mix in the USA was sold to Del Monte.
In the 1980s and 1990s, Beta Petfoods (later BP Nutrition (UK) Ltd) produced Beta Purr Complete dry food and Beta Purr Chunks in Gravy. According to the trademark datase, the Beta Purr trademark was filed in 1981, first advertised in 1983 and expired in 2002. It was part of Dalgety Holland and was later acquired by Nestle.
In the 1980s, Quaker introduced a moist biscuit called Delikat (30% moisture compared to conventional dry cat food's 9%).  In the UK, Purina discontinued the brand during the 1990s (if my memory serves) though it continued until 2007 in North America until it was linked to the "tainted cat food" scandal.
In the UK, Febo Professional MeowMix and Febo Professional Cat Stars were marketed by Professional Pet Services. Looking at the trademarks database, it appears "Febo Professional Meowmix Beef Chicken Liver" was trademarked in 1987 and registered 1990. The trademark was assigned to Nestle in 2002 and expired in 2008.
It was the threat of de-listing by supermarkets that forced Spillers to relaunch Felix. In the late 1980s, Felix was a minor player with a steady share in a mature market. It had never been advertised and had only a few flavours. However supermarkets threatened to delist it to give more shelf space to their own label varieties. It needed a distinct identity and was relaunched in May 1989 with its first ever advertising campaign. Instead of portraying cats as cute and fluffy, it used the idea of a mischievous cat and instead of filming real cats, it used a cartoon cat. In 1991, Spillers ensured the ads appeared week after week during the same time slots – persuading the public that the brand was bigger than it actually was! By mid 1996, it had almost doubled its "brand awareness" and its customers had tripled … and more importantly were remaining loyal.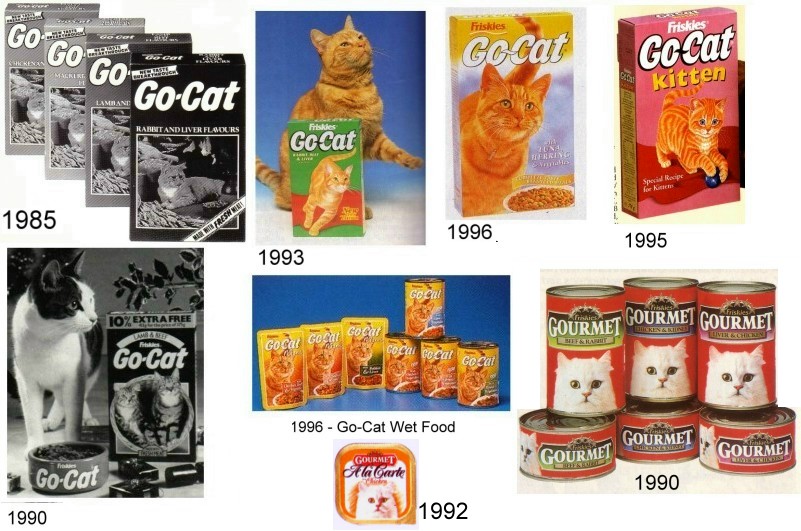 Nestle took over Go Cat in 1985 and Friskies Gourmet and Go Cat became part of its Purina subsidiary. Nestle also produced Kit & Kaboodle, a short-lived brand of dry food in the UK market during the 1990s.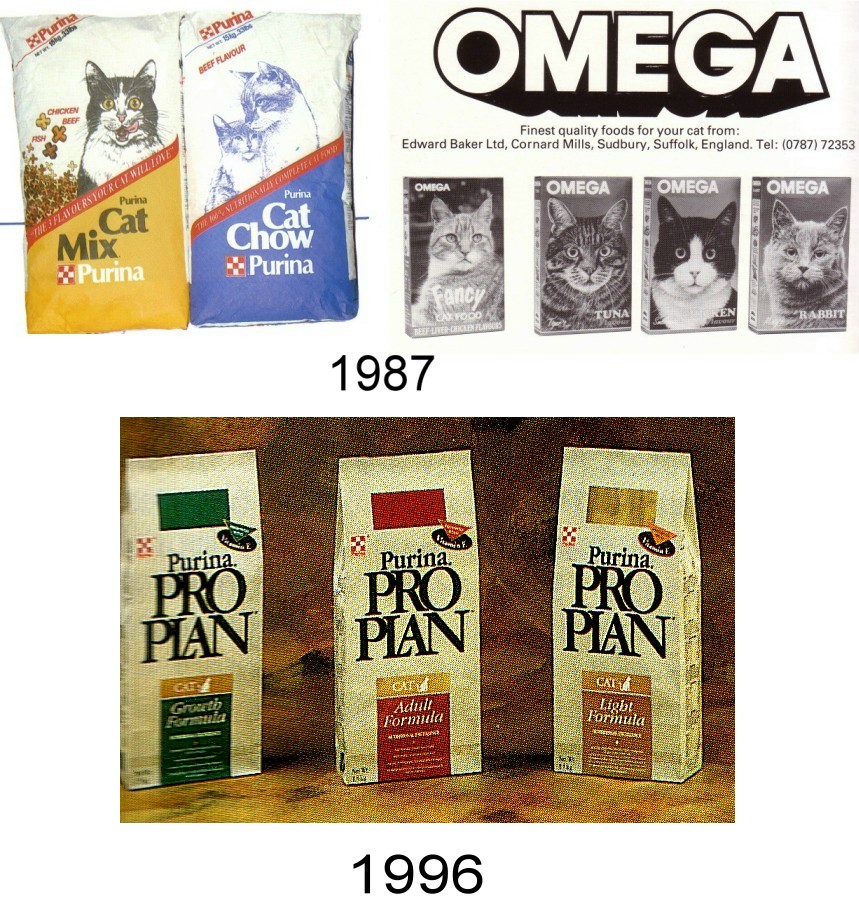 Edward Baker's Omega cat food became Purina Omega. The already well-established Omega brand seems to have continued while Purina Cat Chow and Purina Cat Mix (present in the late 1980s and sold in the USA) seem to have vanished in the UK. Omega is available from large volume retailers, often in self-serve form. Bakers is better known as a dog food brand.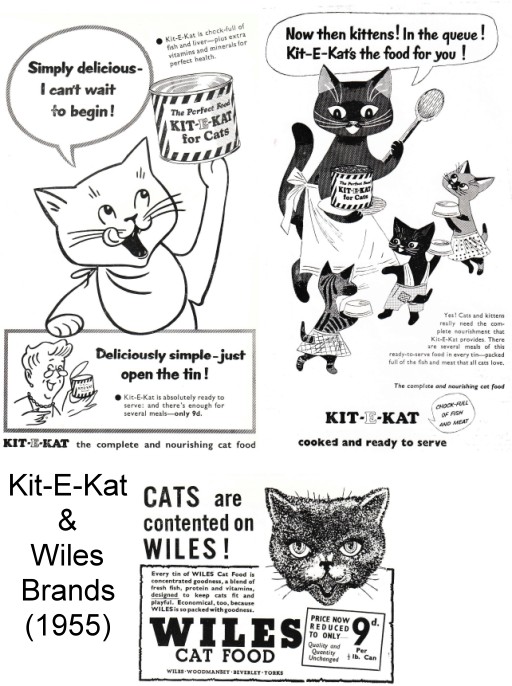 Mars & Pedigree
The other major pet food company in the UK is Pedigree Petfoods, a subsidiary of Mars. Mars owns Whiskas, Sheba, KiteKat and the now vanished Katkins brand. Katkins was a budget brand.
Pedigree Petfoods, is a subsidiary of Mars. Owns Whiskas, luxury brand Sheba, Kit-e-Kat and the now vanished budget brand Katkins. In 1934, Slough-based Mars Limited entered the petfood market when they acquired Chappel Brothers who made Chappie dogfood. In 1939, this subsidiary became Chappie Ltd. In 1950 they introduced Kit-e-kat. In 1956, the expansion of their pet foods range led to a change of name to Petfoods Ltd. In 1958, they launched the Whiskas brand. In 1972, they became Pedigree Petfoods Ltd. In 1975 this became the Pedigree Petfoods division of Mars Ltd. Its Whiskas brand became four times as popular as Kit-E-kat.
Since 1936 in the USA, Mars had produced the Kal Kan cat food brand; in 1988 this changed its name to the internationally recognised Whiskas brand.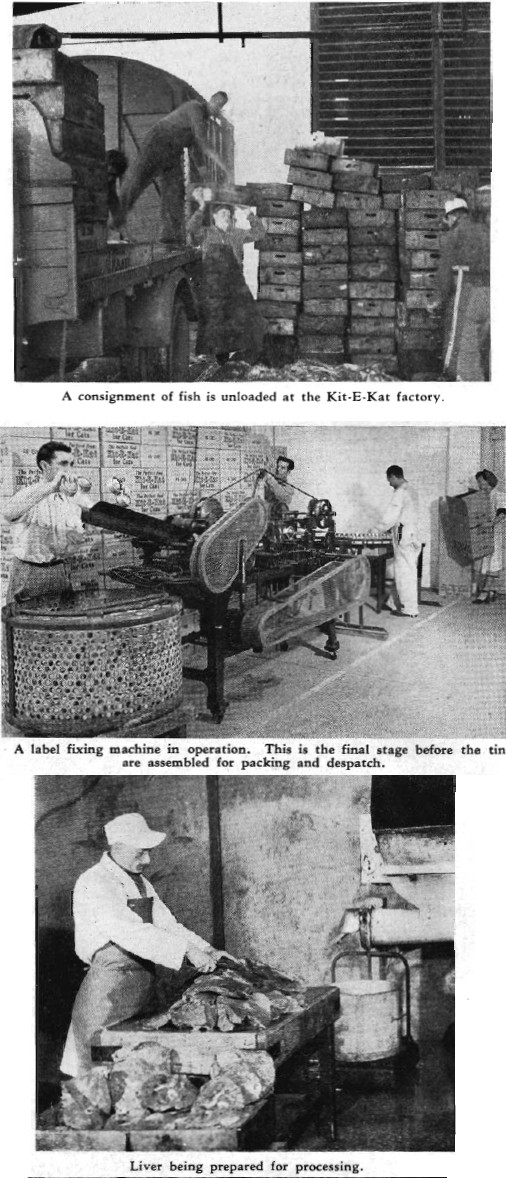 It is interesting to read a report about the Slough, Bucks factory in 1951, which was still a period of shortages following WWII. The following excerpts come from "Cats Paradise" from "Our Cats" October 1951. "Our Cats" had previously mentioned "The Pussy Butcher" of the early 1900s, who would sell conveniently wrapped 6lb parcels of "corn-fed horse" to catteries. The (unnamed) reporter had accepted an invitation from Mr W J Lloyd, the General Sales Manager, to see "the wheels going round" at the Kit-E-Kat factory in Slough.
Pet feeding since the war has been a real headache, particularly for those who live in the cities and towns. The uncertainty of supplies; the prices demanded for such items as fish and rabbit. The position has been pretty grim; grim enough to cause a number of breeders to cut down on the number of their cats. In addition, there must be thousands of cats who keep fir and well only because their owners, frequently people of slender means, share their ration books with them. The eternal problem of feeding would b much more acute were it not for the enterprise of certain commercial undertakings which manufacture and market cat food in handy and economical form. Prominent in these praiseworthy activities is the Slough firm of Kit-E-Kat Ltd, because of the commendable aims and objects and the good name their parent company has always enjoyed in the canine world.
The tour began at the railway siding which terminates conveniently at the rear of the factory. Here the special containers from Hull, Grimsby and Aberdeen pull up with their precious freight and are unloaded within a few yards of the processing room. A consignment from Grimsby had arrived and there it lay - a mountain of fish - a sight to gladden sapphire, copper, yellow, green and all other feline eyes. It wasn't sad-looking, flabby and unappetising fish, but sea food of a quality well up to human consumption standard. Nearby, were other assemblies of liver, whalemeat and horsemeat, three more of the ingredients used in the manufacture of Kit-E-Kat [in the 1940s and 1950s], which of course has to be blended according to the availability of the raw materials and Government regulations. Yet another item in the Kit-E-Kat recipe was stored aloft in nearby hoppers - cereals and biscuits of various kinds which not only lend food value to the finished product, but also serve a useful purpose as absorbers of moisture.
The first stage of manufacture begins in a huge mixer where all the ingredients are introduced before they pass on to a cooking process by steam injection. The it was a case of the mixture "going round and round and coming out here." Down through automatically controlled nozzle feeders the hot brown mixture comes oozing through to fill the empty tins as they pass underneath at a rate of 120 per minute. The tins are sealed and inspected for faults. The filled tins are then hoisted high in containers of special design to pass through an interesting process of sterilisation. The food actually receives 50 minutes processing at a temperature of 250 degrees Fahrenheit, which surely is enough to spell disaster to any lurking germs. After sterilisation, the tins are ready for labelling and despatch. Raw ingredients go in at one end and in a very short space of time neatly labelled cartons of canned food for cats pass out to the parcels van at the other. Output capacity is 45,000 cans per shift of eight hours. But only years of pioneering have made it all possible.
The story behind the modern manufacture of Kit-E-Kat is interesting. An American organisation, Chappell Bros Inc, set up an factory at Pendleton, Manchester, a quarter of a century ago with plant imported from the States for the manufacture of a dog food known as Ken-L-Ration. In 1935 a new factory was established on the Slough Trading Estate and the organisation eventually assumed the title of Chappie Ltd and the brand name of "Chappie" soon became highly esteemed throughout the canine world. A progressive policy was maintained over the years and even throughout the war, when much experimental work and improvisation of machinery became necessary. A subsidiary was formed for the purpose of developing a cat food; that subsidiary is known to-day as Kit-E-Kat Ltd.
The success achieved by the Slough organisation is due largely to the thoroughness of its research in the field of small animal nutrition. Dr. K. A. Cottam, B.A.. Ph.D. is Director of the Research Division. He has at his disposal a well-equipped laboratory. He works closely with outside research agencies and collates their specialised knowledge. It is Dr. Cottam's duty as a biochemist to check on incoming raw materials and outgoing products and to pursue the development of new formulae and improvements in existing ones. He is concerned also with nutritional research, observed animal behaviour and consumer research. One well-defined objective is always in Dr. Cottam's view - the manufacture of a food which measures up top the most exacting demands of the cat's requirements. Dr. Cottam's knowledge of the cat population of this country is doubtless unique. here is a fairly recent [1950/1951] example: 22,000 cat owners were interviewed, 108,740 questions pertaining to cat care and management were asked and the investigators travelled over 11,000 miles in the course of their duties. This particular door-to-door quiz (one of several undertaken) disclosed the surprising fact that one cat out of every three is kept for the prime purpose of catching mice. About 20 per cent of the owners interviewed said simply: "We have pets because we love them," but only 3 per cent had adopted strays. Fish came an easy first as an item of diet, meat was a poor second. Cold milk was the favourite drink, some enjoyed a cup of tea. Only two cats in 1,000 prefer mouse on the menu to anything else. One fed largely on pancakes.
It must surely be appreciated that the story of Chappie, Ltd. and its subsidiary - so briefly sketched here - is a story of real progress and achievement. And although the organisation has 25 years of pioneering behind it, one cannot help feeling that so far only the very early chapters have been reached. Very soon a move is to be made from Slough to a factory much larger at Melton Mowbray. And as many fanciers already know, a new product with the appealing brand name of Whiskas will be marketed in a big way. Whiskas is a dehydrated food which has been subjected to elaborate tests. So once more, difficulties caused by restrictions in supplies of raw materials and obstacles to distribution have been overcome so that more and more cats can be supplied in these difficult days with a complete food that is economical and cooked ready to serve.
In 1952, the first Whiskas product was launched to appeal to those owners who hadn't take up the company's Kit-E-Kat canned food. It was not the Whiskas canned food familiar to today's owners. Instead of replacing the traditional diet of table scraps, Whiskas augmented it. Advertised as providing "vitamin-vitality", adverts told owners to "Buy your pet a carton of Whiskas now. It's very economical. Just mix it with table scraps for the richest, healthiest meal a fortunate puss ever had." It played on the idea of cats being vitamin-starved and as such, it competed with the popular Bob Martin's "Tibs Cat Powders", conditioning powders sprinkled on food as vitamin and mineral supplements.
And later: "Whiskas is the most economical way of feeding a cat everything he must have for good health, and how he'll love it! Now, Whiskas costs less and it's better value than ever. Your cat can't thrive on table scraps alone. He needs a balanced meal of proteins, vitamins and essential minerals to keep him fit and lively. Every packet of Whiskas contains twelve good, nourishing meals, packed with vitamin vitality and appetising good health. Buy your car a carton of Whiskas at the new reduced price, and hear him purr!"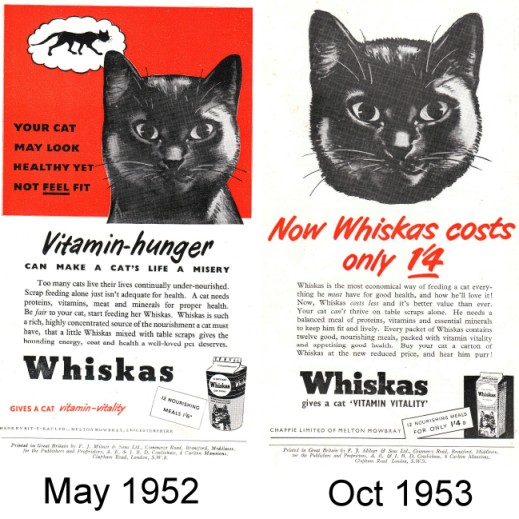 To give a little context to the rise of branded canned or convenience cat foods, and the dominance of Kit-E-Kat, the Daily Herald ran a nation-wide doorstep survey during March and April 1953. About one third of cat owners bought branded cat food. Younger families, rather than older families, were more likely to buy branded cat foods (marking a change from scraps and boiled fish heads to convenience foods). Most cat foods were bought at the grocers (41%). The average monthly amount spent on cat food was about 4s 3d with younger housewives spending more than the older. At that time, a can of cat foods cost between 9d and 1s per can. The most popular type of branded cat food was meat-and-fish. Kit-E-Kat was by far the most popular brand (86%), beating Wiles, Spratts and Red Heart. The manufacturers of Kit-E-Kat took are least two other companies to court claiming their product names were too similar to Kit-E-Kat.
In November 1954, Chappie Ltd sued Spratts Patent Ltd alleging infringement of their trademark. Mr Justice Roxburgh was asked to decide if people would confuse " Kit- E-Kat" (Chappie Ltd) and " Sprattykat" (Spratts Patent Ltd). Counsel for Chappie Ltd., Mr. P, Stuart Bevan, said : " In the atmosphere of a court. where people enunciate their words with considerable clarity, confusion is very unlikely. But in a shop with children ordering cat food, and orders coming over the telephone, the possibility of confusion exists." The Judge said "I have no doubt that 'Kit-E-Kat' is well known. I, myself, have heard of it, and I haven't got a cat. But almost ever since I was born I have heard of Spratt's." Then he refused to grant an injunction restraining Spratt's Patent Ltd. from passing off their product in such a way as to confuse the public. There was a real possibility, said the judge, of people confusing the two products because of imperfect recollection. He had in mind the woman who went into a shop knowing only that the cat food she wanted ended with "Kat." "The danger is in the jingle. But if one trader got a monopoly of the word 'Kat' I don't know where it would stop. It would ban words like 'Flabbykat,' 'Bushykat,' and others." He concluded "There certainly will be confusion, but I am not certain whether it will be of sufficient degree to make it actionable." In the long run, "Sprattykat" does not seem to have materialised.
And in a court case in April 1955, Mr Justice Wynn-Parry had to decide whether "Kit-E-Kat" could be confused with Warrington Canners Ltd's "Pretty Kitty" tinned food. Chappie Ltd. sought an injunction against Warrington Canners Ltd. to restrain them passing off their product "in a manner likely to cause confusion" and prevent them from infringing Chappie's trade mark, or from passing off their goods for those of Chappie Ltd. Mr Justice Wynn-Parry decided he would make no order on their application. In his view, no serious damage would arise between now and the trial of the action. Mr. P.J. Stuart Bevan, who advanced the claims of Kit-E-Kat said that "Kit-E-Kat" was a household word in the cat world. There was a danger of confusion particularly with the new cat owner, whose friends had spoken of "Kit-E-Kat" saying, " My cat loves it." The person buying it might ask for "Pretty Kitty" cat food whereas he meant "pretty Kit-E-Kat food." But the judge said he thought people today were taking short cuts in the use of language. " I should have thought it more likely that a person would just ask for "Pretty Kitty" without the added burden of "cat's food."
Coincidentally, not long before the Chappie vs Spratts case, another then well-known cat food manufacturer was also engaged in a legal action connected with its product's name. Mr. Justice Lloyd-Jacob heard Henry Quennell, Ltd., of Warrington, Lancs., appeal against a registrar's refusal to allow them to register "Pussikin" as a trademark for their cat food. Mr. John Whitford, for the manufacturers, said the registrar held that "kin" added to the words "puss" or "pussy" would be normal English possibly a term of affection. (British trademark rules prevented the trademarking of a "normal English" word). Whitford added, "It seems that when the word 'Pussikin' meaning a little cat, is conjoined with the name of the goods it clearly describes their purpose as a food for cats." But Mr. Whitford submitted that "pussikin" was only a made-up word. After During further submissions on word meanings the appeal was dismissed with costs and Henry Quennell Ltd were unable to register the "Pussikin" brand name.
In a 1955 article in the Financial Times under the heading " Better Times for Pets," a correspondent comments that the continual publicising of the need to take better care of animal pets seems to be having effect. More attention is now paid to their feeding and the fact that Kit-E-Kat was the most heavily advertised single product of all would seem to illustrate the belief that "the cat is a better consumer than the dog." Canned foods were steadily replacing direct sales of horse-flesh and fish heads, which it considered was all for the general good.
In 1968, Mars bought Thomas's of Halifax. Mars developed the pet treats side of the business including Kitbits introduced in 1981. Apart from the name "Thomas Treats", the cat treats were rebranded as Whiskas in the 1990s. Thomas's Europe became part of Mars European Petcare organisation in the 1990s and then became Mars Complementary Petcare.
Mars Petcare has studied pet nutrition since the early 1950s. By 1965 it had founded the Nutrition Research Unit which later became the Waltham Centre. Waltham produced a range of prescription cat foods including hypoallergenic and kidney support foods. In 1991, the Waltham logo was introduced on all Mars pet food brands to show they were scientifically formulated.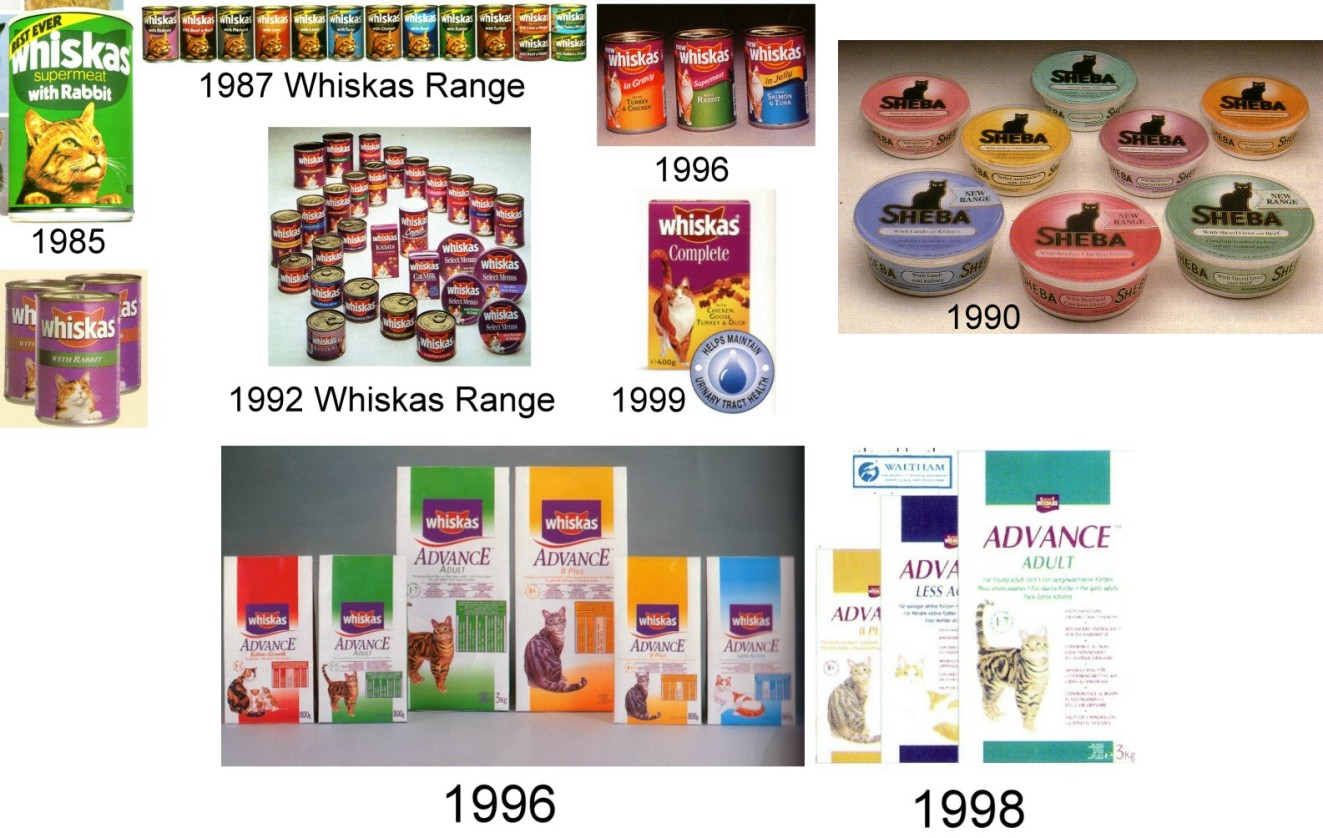 In the late 1980s and throughout the 1990s, Pedigree Petfoods had come under greater competition from Nestle as the latter expanded into Nestle Purina Petcare. In the early 1990s, Pedigree re-launched it main cat and dog ranges with new theme colours: purple for Whiskas and yellow for Pedigree (their leading dog food brand). To some extent this backfired because consumers had been used to flavours being "colour coded" (the main ones being dark green for rabbit, yellow for chicken, red for beef, light green for lamb, dark blue for tuna and pink for salmon). In the Whiskas section, there was a wall of "royal purple" and only narrow bands of colour detailing the flavour. This sent many consumers, such as myself, to the Kattomeat/Arthurs and Felix sections in search of easily identifiable flavours! It also caused problems for the stores when stacking their shelves. Over the years, the purple has been reduced and the colour-coding takes up more of the label.
Nutro MaxCat dried food was also distributed in the UK during the early 1990s. In 1926, John Saleen purchased a British-owned dog food company and renamed it Nutro Products. In 1985 the "Max" range was introduced. Nutro Products was acquired by Mars Inc in 2007. It was affected by the tainted pet food recall in 2007 and again in 2009 when some products were found to contain large amounts of zinc.
Royal Canin was founded in France in 1967 and acquired by Guyomarc'h in 1972. The Guyomarc'h Group was bought out by French bank Paribas in 1990 and sold to Mars in 2001. The company specialises in breed-specific formulas based on the digestive quirks of those breeds. It also produces a number of lifestyle and life-stage diets as well as a range of prescription foods to rival the Waltham Nutrition diets. In March 2004, Royal Canin acquired the Techni-Cal brands from Del Monte Foods.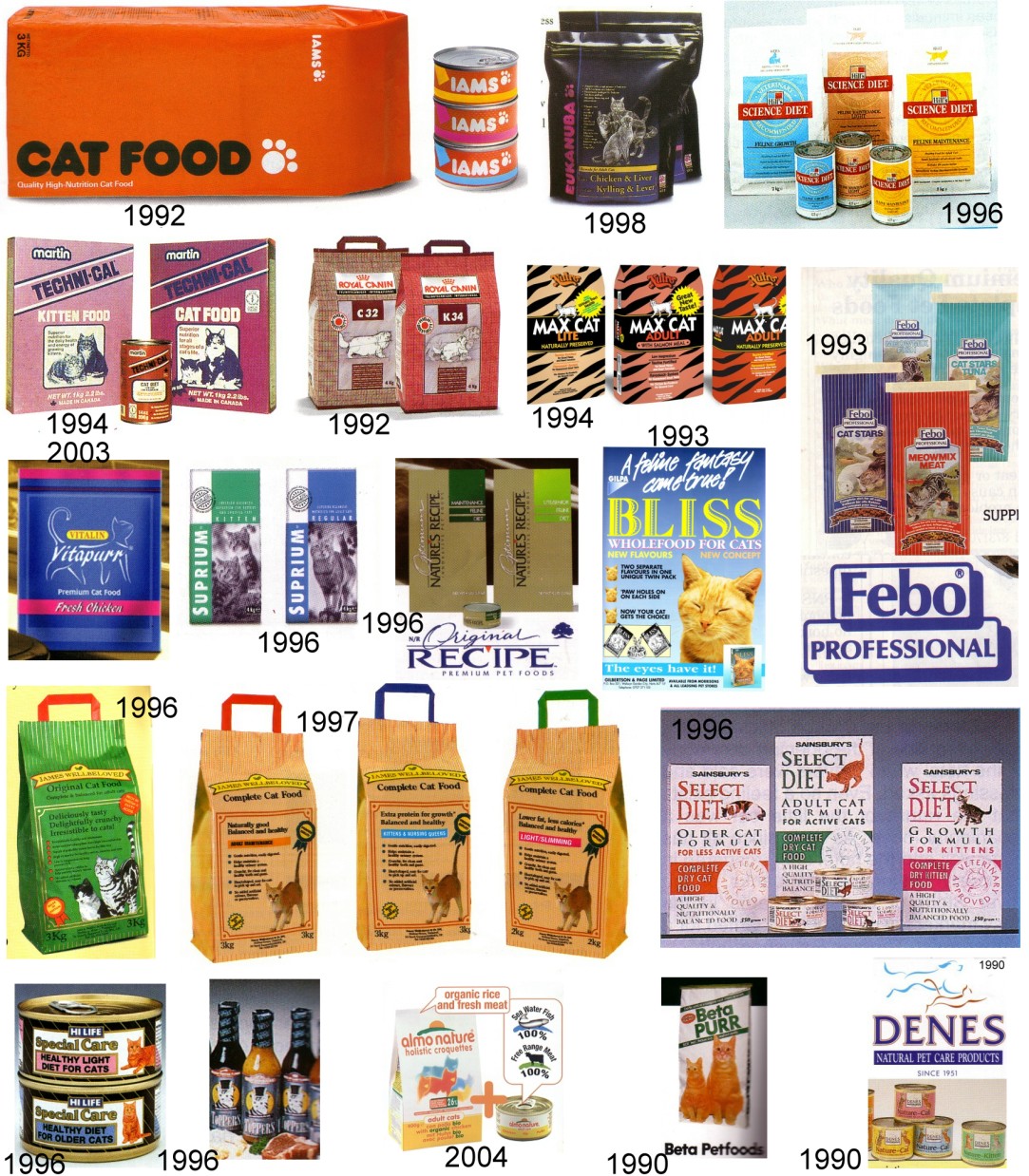 Del Monte
the early 1990s, Heinz Pet Products introduced Nine Lives to the UK. Already an established brand in the USA, it introduced some novel flavours to the UK market, but was not long-lived. Nine Lives is now owned by Del Monte.
Melton Pet Supplies Limited was registered in 1983 in Nottingham. In 1993 it was owned by Claude Goodburn Pet Products UK Limited. It distributed Nature's Recipe; taking out full page adverts during 1996, but went into administration in 1997 and was wound up in 2001. Nature's Recipe is now part of Del Monte and if it is still available in the UK, it is probably direct from a distributor.
When Nestle took over Ralston-Purina in 2002 it first had to sell off its MeowMix brand. This was bought by Richard C Thompson in partnership with JW Childs Associates in 2001. In 2006, Meow Mix in the USA was sold to Del Monte.
March 2004, Del Monte sold its Techni-Cal brands to Mars-owned Royal Canin.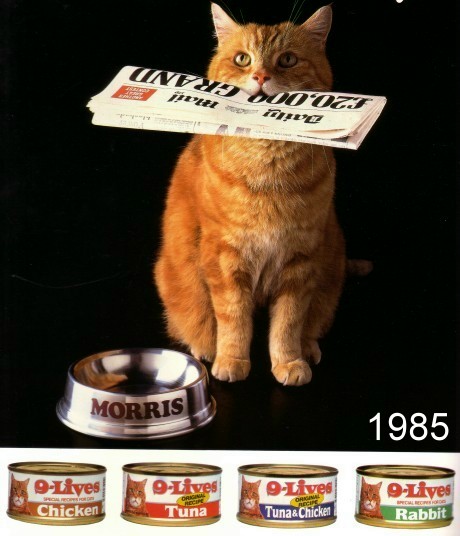 Affinity
In the early 1990s, there was the Munchies dry food brand that later became Brekkies. It used to be available in boxes from supermarkets, but now seems to be available mainly from large volume retailers. Brekkies (aka Munchies) and Advance (only recently available in UK supermarkets) are both Affinity Petcare brands. The ubiquitous Purina and Mars both appear in the company history! In 1963, Gallina Blanca Purina started up as a Joint Venture Agrolimen and the North American Ralston Purina Company.
In 2002, Agrolimen acquired the whole of Gallina Blanca Purina as a result of the worldwide takeover of Ralston Purina by Nestlé. GBP also acquired companies and brands in Greece and Italy. In July 2002, Mars purchased Royal Canin, but had to relinquish a number of businesses and brands in France and Northern Europe. Agrolimen acquired the brands given up by Mars. GBP also changed its name to Affinity Petcare and by 2009 was the third largest dried pet food manufacturer in Europe.
Procter & Gamble and Colgate-Palmolive
Best known for things such as detergents and toothpastes, these multinationals also have pet food subsidiaries.
Iams was founded in 1946, it was sold to Procter and Gamble in 1999, becoming P&G Petcare in 2006. It has been around in the UK for several decades (from vets and pet superstores), but is a newcomer to supermarket shelves. The Eukanuba range are the more specialised diets which are marketed as a distinct brand, separately from the more mainstream Iams products.
Hills Science Diet was made available via vets and pet professionals in the USA in 1968. In 1976, Hill's Pet Nutrition was acquired by Colgate-Palmolive and its availability expanded, including into Britain. It produces Science Diet and Prescription Diet ranges. The Prescription Diet range is available only through vets, while Science Diet is also available from pet superstores.
Independents (So Far!) and Other Brands
Classic cat food is made by Butchers Petcare. Butchers Petcare began in 1987 and is best known for its dog food products (slogan: "Fit as a butcher's dog"). In the 2000s, it introduced the two Classic canned cat food selections: a meat six-pack and a fish six-pack. Although a minority brand of cat food, it is found at major supermarkets.
Gilbertson & Page Ltd (Gilpa) from Hertfordshire were founded in 1873 and awarded the Royal Warrant in 1884 (Queen Victoria). Bliss was produced by Gilpain 1992 and the box contained 2 flavours and a pouring hole on each side of the box to dispense the flavours separately. The Bliss brand expired in 1997. Their more recent brand, Umami, was marketed in supermarkets in a cat-shaped plastic bag, but was not stocked for long. Umami is still available, now in more conventional sacks, from pet superstores and direct delivery.
A niche product that doesn't advertise on TV is "Hi Life", produced by Town & Country Petfoods Ltd;  and its niche is "indulgent foods". Hi Life also used to produce sachets of semi-moist food in salmon and chicken flavours, similar to Delikat.
US-based Fromm distributed their dried cat food in the UK in the 1990s; it tends to only be available from specialist stores or direct from distributors. Fromm is still owned by Fromm Family Foods.
James Wellbeloved started out in Somerset producing dog-food for dogs with food allergies and intolerances. They expanded into cat foods their products are now available in Sweden, Finland and Germany. In the UK, they are available from pet superstores and some supermarkets.
Almo Nature is a small, niche company that was established in Genoa in 2000 and is well known in Europe. It produces completely natural foods for cats and dogs on the market. Its products are available from specialist pet stores in the UK. With its recognisable ingredients, it's one of the few cat food brands that even looks appetising to humans.
Another niche product since 2011/12 is Encore cat food, available in pouches and small cans and using shredded chicken or flaked fish in its products and no fillers. Its dry food uses only small amounts of beet pulp, potato and cellulose plant product compared to many dried cat foods (most rely heavily on grain). This is another product that even looks appetising to humans.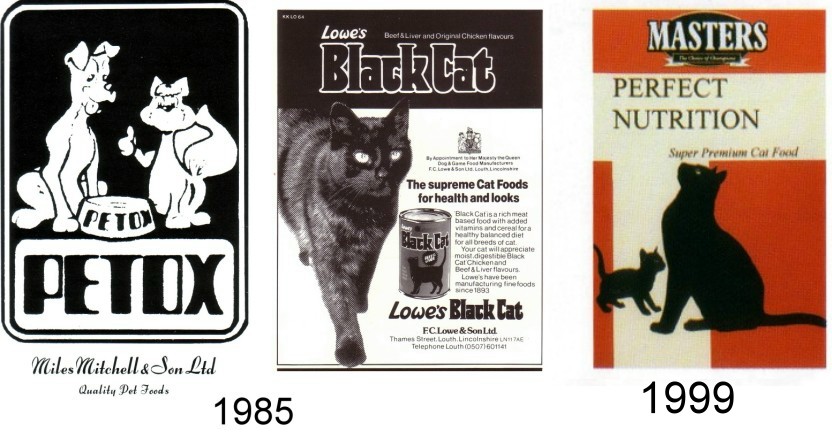 Finally there are a few brands I know nothing about as I have only found adverts. Lowes "Black Cat" was made by FC Lowe &amp Son in Lincs. They produced chicken and beef & liver varieties of Black Cat. Lowes, founded 1893, were pet food manufacturers By Appointment to Her Majesty the Queen. They seemed to have peaked in the 1950s when they were associated with Crufts and the Kennel Club, and appear to have declined since then. I found several Lowes trademarks discontinued in the 1970s, but nothing for the Black Cat brand. However in the 1980s there was Lowes "Silky" brand.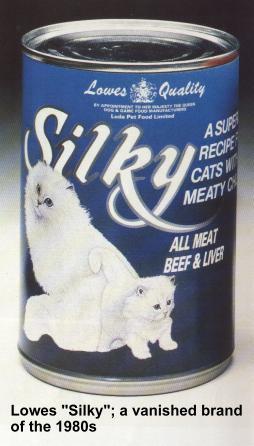 Masters, which I found in 1999 was a super premium cat food. Their packaging was a seated black cat in silhouette and the background was red and white.
In addition, most supermarkets have own-label brands though these may not obviously be own-brands. Tesco produced the "Claude" budget range. Sainsbury used to produce "Gamekeeper's Choice" and "Fisherman's Choice".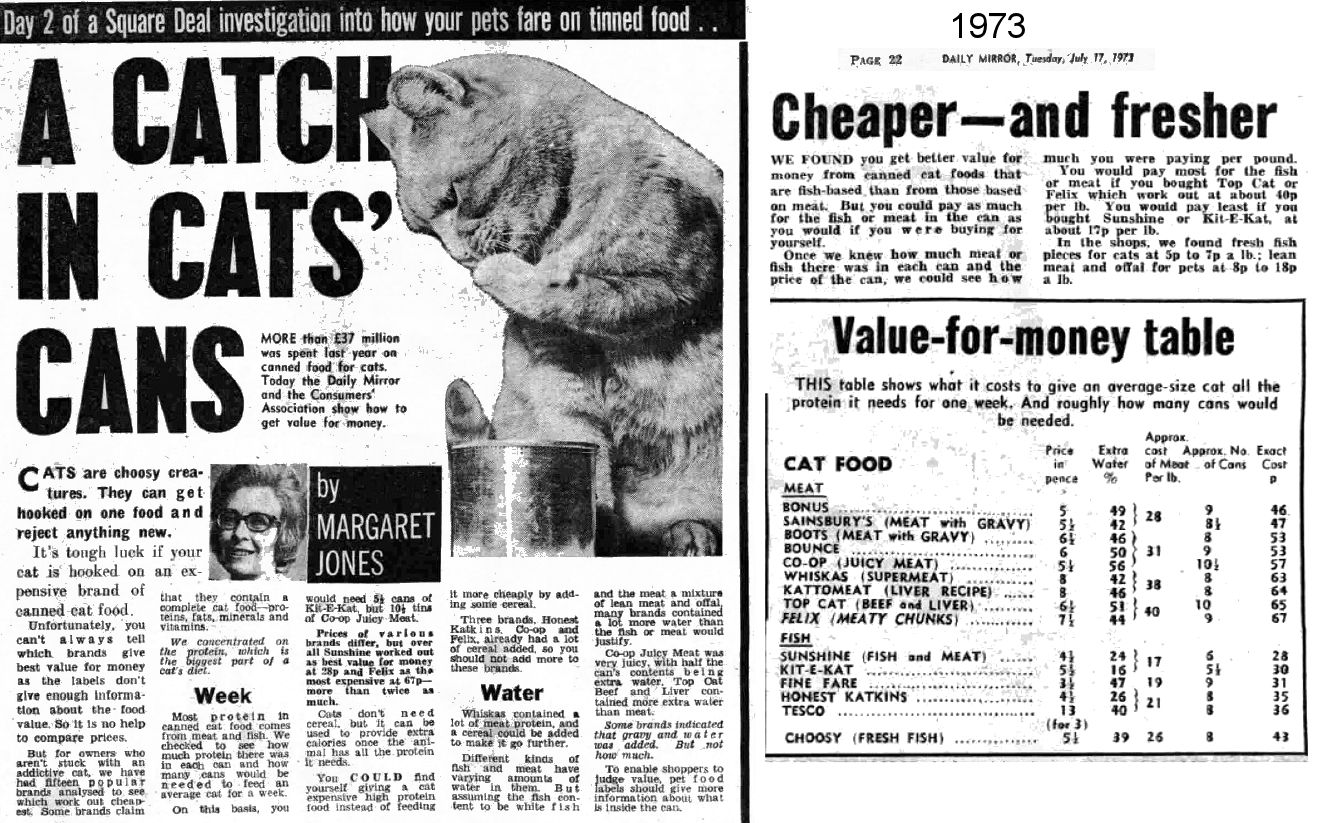 DID A MAJOR CAT FOOD MANUFACTURER CHANGE ITS ADVERTISING SLOGAN BECAUSE OF BSE?
According to a scientific paper in 2008, BSE "was sufficiently high profile for the leading pet food manufacturer to rapidly withdraw an advertising campaign for their cat food bearing the slogan 'what bowls a cat over?' "(Collinge J. (2008). Review. Lessons of kuru research: background to recent studies with some personal reflections. Philosophical transactions of the Royal Society of London. Series B, Biological sciences, 363(1510), 3689-96.). A correspondent recalls an advert showing a cat lying down next to a food bowl and staring at the camera.
The statement is much repeated, but always leads back to Collinge's kuru paper so I investigated more deeply. The paper was published in Britain and refers to "the leading pet food manufacturer." In Britain at that time this was Pedigree Petfoods. They produced Whiskas, Kit-e-Kat and the budget brand Katkins. My archive of British cat and pet magazines runs from the 1970s until the present day. I spent several hours trawling through these magazines. I found Whiskas adverts in the 1990s showing cats in the position my correspondent described, but the slogan was "body language."
I did some searching online for the slogan. I found that Purina Petfoods (who are a major manufacturer in North America) had trademarked the slogan "A taste so good, it bowls cats over" for their Friskies brand. Purina was not a major name in Britain until 2002 when Nestle took over Ralston-Purina and rebranded its pet foods under the Purina name. If Britain's major manufacturer had used a slogan too similar to Purina's trademarked slogan it would have had to change it due to legal issues, not due to BSE issues. It's also possible the paper's author (or the uncited source of that statement) mis-remembered a British advert or conflated the Purina slogan with a British product. If the major British cat food manufacturer of the time did use the slogan it was not in the specialist cat press and it most likely got changed due to trademarking laws.
FOOD SUPPLEMENTS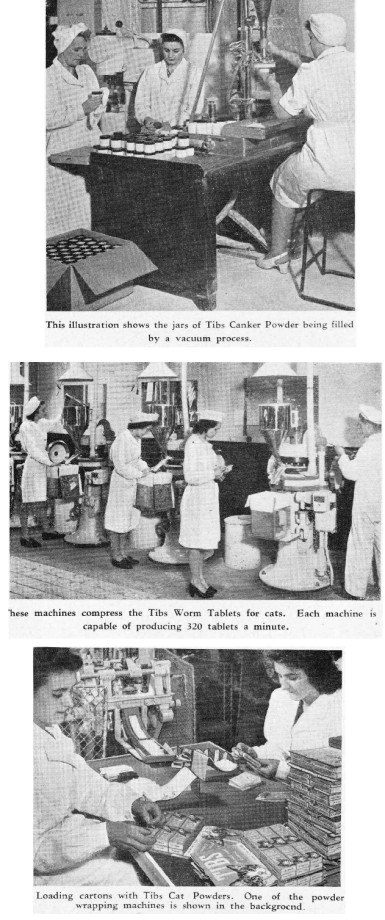 These notes are based on Joan Thompson's report "Visit to Bob Martins" in "Our Cats" of March/April 1952 In January 1952, she visited the well-known animal welfare company, Bob Martin Ltd of Southport, Lancashire.
In 1892, Bob Martin started his research. Although he was something of a visionary, he could not possibly have foreseen the developments which were to grow from his early pioneer work. Martin laid the foundations of a new industry gaining the respect and confidence of dog and cat owners around the world. By 1952, in addition to Continental European countries, "Tibs" preparations were sold in places as far apart as Aden , the Argentine and Australia, and from Saskatchewan to Siam.
Before 1900, the average owner had only hazy knowledge about keeping dogs and cats in good condition. Owners knew little about animal nutrition or illness and if their animals did not recover from illness on their own, they were often destroyed. As the writings of early cat fanciers and breeders show, dietary needs were not understood - cats being fed bread-and-milk for some meals - and medication was basic, and sometimes toxic. Bob Martin was determined to change all that. He established kennels and before long had about 100 dogs under his care. From these he acquired valuable knowledge on canine ailments. He wisely decided that prevention of these troubles should be his first aim. In a short time he produced a formula that was to challenge the existing ideas about health and fitness in dogs - and some years later - in cats. This formula was introduced as " Bob Martin Condition Powders for Dogs" .
Patient experiments convinced him that one of the main reasons pets became off colour was because their domesticated existence was so different from what nature intended. He proved that when many of them were supplied with certain vital elements they improved immeasurably in health. When provided with mineral and vitamin supplements, their health improved. At that time, pets could expect to get table scraps and meat or fish that wasn't fit for the table; often the meat or fish had to be boiled off of the bones and much of the goodness was lost.
Many leading fanciers entrusted "Mr Martin" (first names were never used, giving an image of authority) with the conditioning of their valuable show animals and for some years, orders were entirely due to personal recommendation. For a small price, well-known animal fanciers would endorse his products in their advice columns and books. In 1920, Mr Martin was joined by his son, Mr Robert Martin, and together they expanded their operations. In 1924, the company published its first advertisement in the national press.
When the cat's special needs were studied and "Tibs Cat Powders" were marketed in 1939, sales soared. The vitamins and minerals in "Tibs Cat Powders" supplemented an often unnatural diet (vitamins and minerals would later be incorporated into prepared cat foods). By 1952, more than 50 million Tibs powders were being manufactured each year at the factory Thompson visited. Adverts told readers that Tibs was formulated by scientific methods as well as telling them to keep their cats "Tibsical."
The Company started with one clerk and a packer, but by the 1950s had hundreds of employees. The staff were always on the alert for information which might help to find treatment for conditions such as the dreaded Feline Infectious Enteritis, there being no vaccine at the time. All drugs used were tested at Southport and were British Pharmacopoeia standard. Tibs Powders passed through very fine sieves to ensure an even texture and the powder fell onto spotless Perspex-lined trays. From those, it passed to the wrapping machine and was untouched by hand. Each machine was fed at one end with a 1 and five-eights mile roll of paper which was quickly cut, creased and filled with five grains of powder in a neat heap in the centre. The robot then folded the packets and ejected them in a steady stream for human assistants to count and pack. The paper was tested for purity and none was used that could have a deleterious effect on the ingredients. Precision in thickness was considered in fractions of millimetres as the powders had to fit the cartons tightly.
When, owing to tariffs, the powders were made in other countries e.g. France, samples were submitted to Southport to ensure the product met quality standards. A modern instrument tested for, and estimated, vitamin B using ultra-violet light. This process once took all morning, but by 1952 could be performed in thirty minutes. In two cabinets that simulated tropical conditions, samples of capsules, tablets and powders etc, were tested for their reaction to humidity and dry heat. In one cabinet, the entire product in its wrappings underwent tests. Constant research and exacting tests by qualified chemists ensured the products' constant high quality and conformity to formula.
Consideration for the staff was another notable aspect on Thompson's visit. She met the company's welfare officer, Miss Duxfield, who had been with the firm for nearly 30 years.
And finally, a selection of brand advertising from the early 1950s:-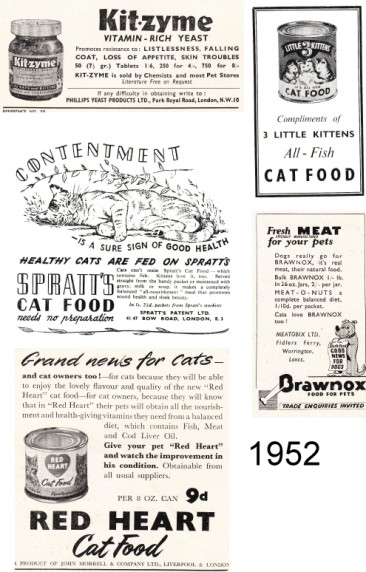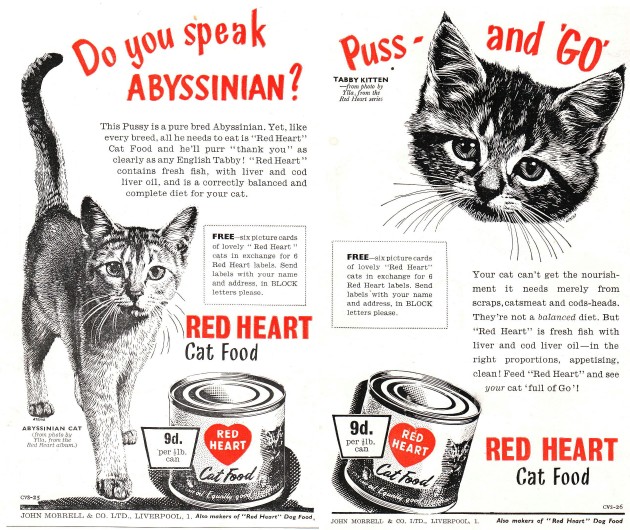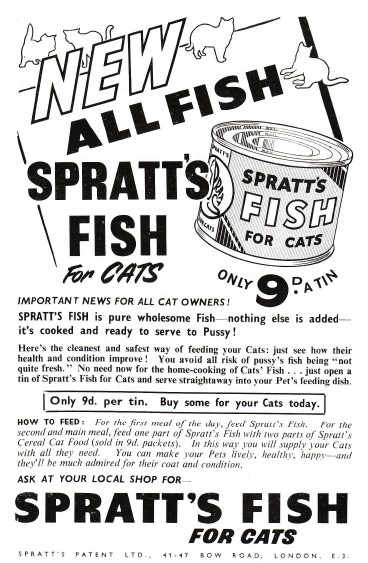 Main off-line sources:
Our Cats Magazine 1949 to 1965
Cat World Magazines 1987 to date.
Cat World Annuals 1985 to 1997
Your Cat Magazine 1990s to date
All About Cats Magazine 1994 to 2001
Cats/Our Cats annuals 1985 to 2007
On-line sources:
Manufacturer websites
UK trademarks databases
UK company profile and check databases
You are visitor number