FRANCES SIMPSON - CAT AND DOG LONDON (1902)
Published in Living London. Ed. George R. Sims. London, Paris, New York & Melbourne: Cassell & Co., 1902.
Frances Simpson made an income from writing short articles for various magazines and journals (sometimes using a pseudonym). This article describes the lives of dogs and cats in England's capital city. It's unusual to see an article with as much, or more, about dogs than cats.
Nothing much has been written on cats and dogs in our great city; but how seldom if ever, we can pass through a London street by day or night without seeing one of other, and probably both of these animals ! We have a census of human beings taken from lime to time, but the task of enumerating either dogs or cats in the Metropolis has not been attempted. Licences for dogs would fail to give the figure by several hundred ; and as for cats, who shall number them ? It has been stated on authority that there are four times as many cats as dogs in London.
The dog being the nobler animal, let us first glance at his life in our capital. We see the pompous pug, the tiny toy terrier, or quaint "Jap" spaniel seated beside "My Lady" in her carriage and pair as it dashes through the fashionable streets or slowly winds its course along the Park. Their lines have fallen in pleasant places, yet their lives are often shortened by too luxurious and over abundant feeding. To lead the "life of a dog" is usually suggestive of an unhappy career, but truly many a human being might envy the lot of the pampered pet of a high-born dame, whose yearly expenditure in the canine menage may be counted by hundreds.
There used to be a Dogs' Toilet Club [grooming club] at the West-End, but this has been done away with. There are, however, several professionals and amateurs of both sexes who attend to the toilets of fashionable dogs. The clipping of poodles is quite an art in itself, and requires the skill of an artist. Dentistry forms an important item in the canine toilet, and expert seamstresses are employed in making suitable and well-fitting coats for dandy dogs. And there is, of course, the London dogs' doctor.
Let us go to a Dog Show at the Royal Botanic Gardens. This annual fixture is always a very smart gathering, taking place in the height of the London season. Sometimes as many as a thousand dogs of all sorts and conditions, sizes and breeds, are entered for competition and exhibition. Similar shows are held at the Crystal Palace, the Royal Aquarium, Earl's Court, the Agricultural Hall, and at the Alexandra Palace. Her Majesty the Queen is patron of the Ladies' Kennel Association, under whose rules many of these shows are held. Of late years there has been a surprising increase of foreign dogs introduced into our midst, and very high prices are asked and obtained for Japanese and Pekinese spaniels, griffons, and schipperkes. There are fashions in dogs as in everything else, and money is literally no object when some choice specimen of the canine tribe is desired by one of fortune's favourites.
So much for the aristocratic dogs of the Upper Ten. Let us turn our attention to their humbler brethren, some of whom think themselves well off if they can pick up a crust from the gutter or a bone from a dustcart. It is no unusual sight in the London streets to meet a sandwich man leading a dog, and to read on the board that valuable animals may be purchased at moderate prices from such and such a shop. In Regent Street the dealer plies his trade carrying a tiny pup under each arm, perhaps another in his pocket. Leadenhall Market provides dogs of all sorts, and sometimes such good specimens are offered at such low prices as to cause the purchaser to wonder where they were picked up ! In Bethnal Green there are dog sellers and buyers, who group themselves in certain streets to carry on their trade. A photographic illustration on p. 256 gives a good idea of an East-End crowd taking an interest in the sales. In all parts of London there are dog stealers and dog smugglers, and it is a common occurrence for a valuable dog to disappear and a reward to be offered, followed by a speedy reappearance of the precious pet, and no questions asked ! At the Dog Market in the East-End a well-known figure is the rat seller. He arrives every Sunday morning with scores of rats, and people crowd round him with rat traps to be filled. We notice the eager face of the dog in the man's hand, watching his opportunity and yearning to get at the rats which the vendor holds in each hand.
There is a touch of pathos given to the beggar standing at the corner of a street by his faithful dog sitting patiently beside him with a money-box; slung round his neck. It is difficult to resist the silent appeal of the dumb creature, who never attempts to move from his position, though he may be cramped and shivering with cold. A pang of pity is added for the blind man trusting himself to be guided by his clever dog, who steers his sightless master in safety through the crowded streets. A dog will run for miles after a London Omnibus in or on which his master is seated. He never seems to get bewildered with the moving mass of surging vehicles, and will be on the spot when his master gets down.
At one or other of the many music-halls in London there are generally some performing dogs ; and we wonder as we watch their marvellous antics whether kindness or cruelty has brought these creatures to such a state of implicit obedience and perfect submission. The London beggar makes use of his dog to extract sympathy and coins from passers-by. Dogs are also frequently used as beggars for various charities. There was a brigade of begging dogs organised for the sufferers in the South African war, and large sums were collected in the streets and at entertainments, shows, and bazaars. At Paddington Station there is a dog called "Tim," and royal personages now and then place a gold coin in Tim's basket. This animal has collected close upon £1,000 for the widows and orphans of the Great Western Railway employees.
At Waterloo "London Jack's" effigy is exhibited in a glass case, and a brass plate records his deeds in the name of charity. There is also a money-box into which the charitable are invited to drop a coin, and a notice on a brass plate announcing that contributions will be placed to the credit of the deceased dog and the Orphanage Fund. Another dog has been appointed to carry on Jack's work. He lives at Vauxhall, and comes up to the busy London terminus on state occasions and race days. The firemen of London have their Brigade dog, who takes part in the exciting scenes of conflagrations, and has been known to assist in the work of rescue. The police force had also a fox terrier for some time, who was a sort of daughter of the regiment.
Who has not heard of the Battersea Home for Lost Dogs, where every year about 22,000 poor wanderers are received? These are generally brought by the police, who are enabled under Act of Parliament to take from the streets those dogs which are apparently ownerless. All animals are carefully examined on entering the Home, and should any be affected with contagious disease they are forthwith sent to the condemned cell. If seriously injured they are destroyed at once. At stated hours the home is open for receiving visitors, restoring or selling dogs. Our photographic illustration on p. 257 was taken at a time when visitors were searching for their lost pets. The wonderful instinct of these creatures is often shown by the instant recognition of their master or mistress, and no better proof can be needed by the authorities as to the legal claim of the rightful owner. Sir Benjamin Richardson's improved lethal chamber is used to dispose of valueless animals by means of a painless death, and the dead bodies are consumed in a crematorium erected at great cost on the premises at Battersea. The number of dogs that enter the chamber of death every week averages between three and four hundred.
Comparatively few Londoners know of the Dogs' Cemetery hidden away in a quiet corner of Hyde Park, near the Victoria Gate entrance. This burying ground is not a public one, and does not belong to anybody in particular. Dwellers in the neighbourhood of Bayswater have been allowed from time to time to bury their dead pets here ; but the space is now completely filled up, and the custodian has to refuse further applications for interments. The graves in this canine necropolis number about three hundred. The headstones are mostly of uniform pattern. There is one Ionic cross and a broken column. Fresh gathered blossoms mark the spot of the more recently buried pets, all the graves are nicely planted with flowers, and many have short but very touching inscriptions telling of a lost one mourned. How full of suggestion are the following:-
"Sleep on, dear little faithful heart. - May, 1901."
"Two little veterans.
Bob and Jack.""
"Could love have saved
Thou hadst not died."
"In ever loving memory of little Nellie."
"Could I think we'd meet again,
It would lessen half my pain."
The short inscription, "Fritz, a martyr," makes us wonder how the poor creature met his death. To give dogs this decent burial seems a fitting tribute to their loving faithfulness. They are such a short time with us, and we hardly know and feel their worth before the cruel hand of death snatches them away. In St. Pancras Cemetery at Finchley there is a monument raised by the dogs of London to the memory of William French, who lost his life in saving Mr. George R. Sims' little Yorkshire terrier from drowning [note: Sims was the editor of "Living London" - Simpson was very good at touches of flattery that ensured her articles were published!].
So much for the dogs. Let us briefly consider the cats of London ; and in doing so our thoughts naturally turn towards those poor pussies who frequent the garden walls and roof tops, and who are oftener heard than seen during the hours of darkness. All the year round there are poor stray cats wandering about the London
streets, but during the summer season the number of forlorn, frightened, and forsaken animals to be seen is really piteous. Their owners have gone to enjoy themselves on the Continent or brace themselves at the seaside. They close their houses ; and if they give a thought to their puss, it is that she will pick up something or that the neighbours will look after her. Away they go, and the poor cat is left behind to get her living as best she can. Some householders make provision for the cats' meat man to call and put a stick of meat through the letterbox. These men are frequently generous to stray dogs and cats, flinging them odd pieces, but one has been known to thrust an empty stick through, and thus deceive the purchaser and rob poor puss of her meal.
It is a mercy that there are institutions in London such as the Gordon Home for Lost Cats and the Camden Town Home. The excellent institution started by Mrs. Gordon at Shepherd's Bush, and now removed to Argyle Road, Hammersmith, was the first organised attempt to deal with the question of stray cats in London. Its chief object is to find an immediate refuge for the poor wanderers, and to put an end to their misery by the sleep of death. It is a pathetic sight to visit one of these homes, and to see the deplorable condition of some of the animals brought in from the streets. There are, however, from time to time, really nice specimens to be found at Gordon Cottage. The accompanying photographic illustration was taken during visiting hours, when ladies desirous of securing petty pets can search amongst the strays.
At the Camden Town Home, started in 1896, the number of cats received during the first five years amounted to the huge total of 33,635 ! These figures speak for themselves, and all honour is due to those kind ladies who have given their time and energies to such a truly noble work of charity. A cart from this institution goes round collecting the waifs and strays, and will call by arrangement at any house. No fee is charged if the owner is poor. All injured cats are destroyed at once, whether strays or otherwise. To lovers of cats such an attempt to alleviate their sufferings must appeal very strongly ; and even those who have an instinctive dislike to these harmless creatures cannot fail to see the very great utility to the public at large in clearing our London streets, squares, parks, avenues, and empty houses, where a poor friendless animal hides in terror and misery.
It is not necessary to point out that there are cats and cats. Until recent years Pussy was regarded as merely an animal supplied by Providence for the destruction of rats and mice. The common backyard cat and the perturber of our midnight hours no better represents the well-bred puss than the pariah cur of Eastern cities represents the domestic dog. The cat fancy is making great strides, and is patronised by a large section of fashionable people, mostly ladies. There are two cat clubs, with specialist societies ; and several shows are held in London every year. At these some of the choicest specimens and best bred cats are exhibited, such as Persian, Siamese, Manx, and Russian. Cats, however, are not seen at their best in the pen ; still less do they show to advantage when carried into the ring to
be judged, as depicted in the reproduction below of a photograph which was taken at the Royal Botanic Gardens Show. Notice the only cat who is standing on his legs. The judge awarded first prize to him, as the others positively declined to do anything but crouch on their stomachs ! At a cat show held at Westminster in 1900 a cat of which we also give a picture earned about £10 for the Transvaal War Fund by standing on her hind legs begging and saluting for Queen Victoria. There have been clever performing cats at some of the London entertainments. One of their trainers asserted that it took many years of patience and perseverance to arrive at a satisfactory result as regards teaching a cat to do any tricks.
What an air of homeliness is imparted to a house by a large, sleek fireside cat, and for a drawing-room pet nothing is more suitable than a fluffy Persian puss reclining on the hearth-rug. It is true that a London house or flat is not best suited for cats, for they love to have a garden to run into at will. It does not answer to allow a valuable Persian cat to stray outside on the London pavement, where her beauty may not only attract but tempt the passers-by. After the last census the following statement appeared in the press : — " A census enumerator in going over a return paper found that the household cat had been included as a member of the family'. It was described as 'Jim,' the relationship to the head of the family being lodger.' The entry then stated that he was of the male sex, single, aged one last birthday. His occupation was also given — ' mouse-catcher, worker on his own account.' "
The cats' meat man is a familiar figure in the London streets, as he hurries along with his cart, his barrow, or his basket filled with slices of horse-flesh run on small wooden sticks. His nasal call of " Meat, meat ! " is answered by a rush of hungry cats who follow him for some distance, hoping to touch his heart, and by persistent mewing to get a bit of meat thrown to them.
Amongst the dogs' graves in the Hyde Park cemetery there are two headstones showing that pet cats have also found a resting place in that quiet corner. One inscription reads thus : —
"In Memoriam
My dear little cat Chilla.
Poisoned July 31st, 1895."
And the other : —
" Our darling Coodey,
A faithful, loving cat.'
If dogs are the friends of mankind, their companions in their walks and partners in their pleasures, cats may be considered the special pets and chosen allies of womanhood. Londoners, for the most part, lead a life of high pressure, and have but little leisure time to consider the cats and dogs that inhabit their great city ; but, nevertheless, the busiest would miss the dear animals from their midst. So whilst they are with us and we with them, let us -
" Do the work that's nearest,
Tho' it's dull at whiles.
Helping when we meet them
Lame dogs over stiles."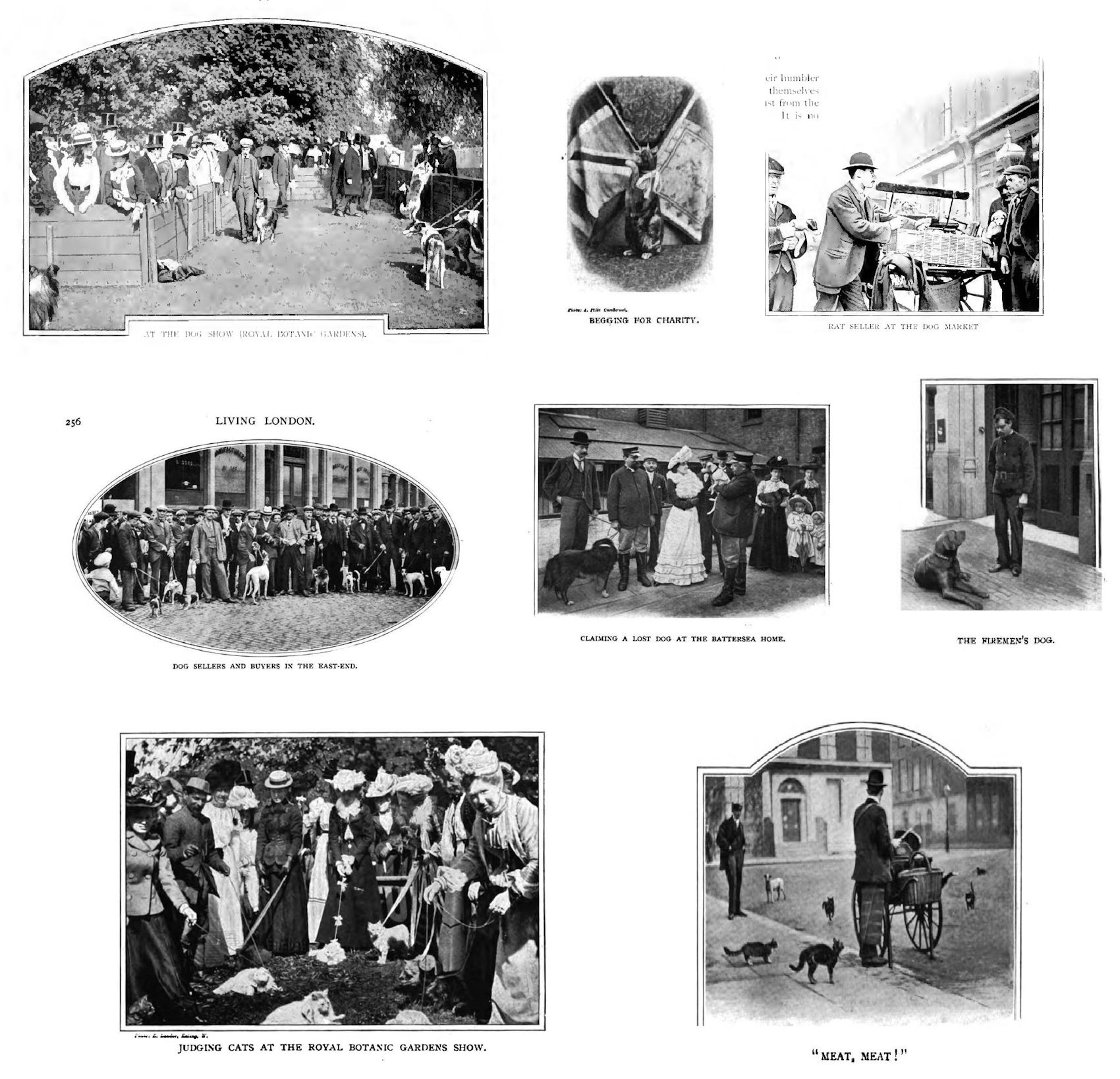 You are visitor number