THE CULT OF THE CAT


by W. M. ELKINGTON
The Lady's Realm Vol 8 (Issue: August 1900)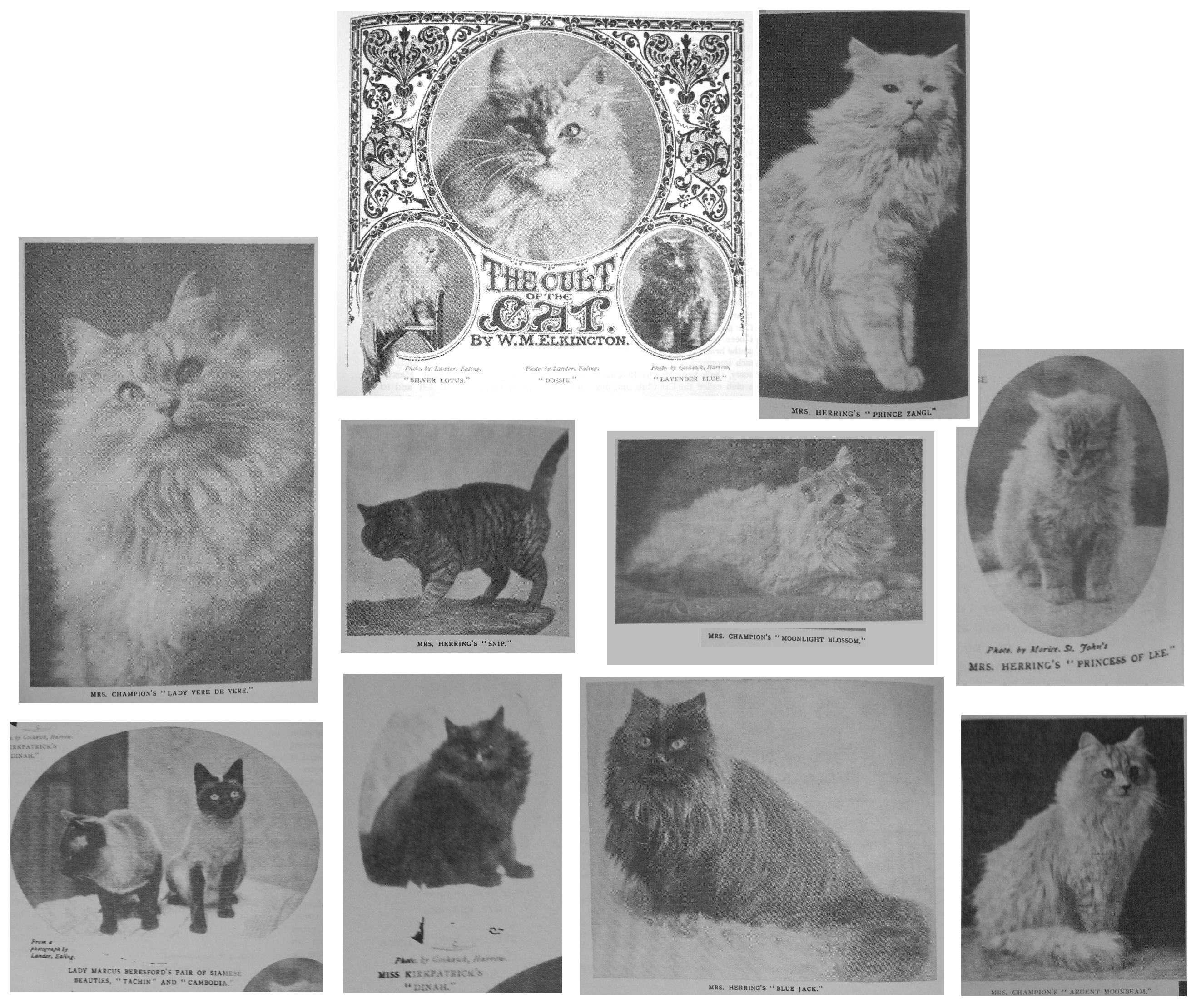 IT is scarcely thirty years since the first cat-show was inaugurated, largely through the influence of that good friend of pussy, Mr. Harrison Weir, at the Crystal Palace. Yet in that short space of time how great has been the change in the conditions of life of the harmless, necessary cat ! The modern champion leads a luxurious life ; she is a truly gorgeous creature, that reclines on silks and satins, whose toilet is equally as important that of her mistress, and whose taste is as fastidious as that of a well-fed invalid. The champion of the cat world is an aristocrat par excellence, whose will is law, and whose career is one long round of sunshine.
No creature has been more popular as a pet than the cat, and certainly in no branch of the animal "Fancy" have ladies been more successful than in that which has been honoured and graced by Her Majesty the Queen, the Princess of Wales, the Duchess of Bedford, and those renowned artists and naturalists Mr. Harrison Weir and Mr. Louis Wain, of whom the last two have, with pen and pencil, by precept and practice, done wonders for the amelioration of pussy.
As President of the National Cat Club, the Duchess of Bedford is a prominent figure in the cat world. Around her, as vice-presidents, are a number of well-known ladies, all true friends of the cat, who have worked hard to encourage good breeding and to popularise open competition. The National Cat Club, ably conducted by Mrs. Stennard-Robinson, its Honorary Secretary, has worked wonders in the glorification of the high-bred cat, and the beautiful creatures that grace our show-pens owe much to its fostering care.
Ladies, as I have said, have been pre-eminently successful in their cult of the cat, and none more so than Lady Marcus Beresford, in whom pussy has a devoted friend, lady Marcus Beresford has long kept cats as pets, but it is only six or seven years since she went in largely for breeding show specimens. She was the prime mover in Cruft's great cat show in 1894. In those days Lady Marcus went in for nearly every possible colour, chiefly favouring blues, oranges, and tortoiseshells ; but nowadays the Bishopsgate catteries are almost entirely inhabited by blues, silvers, and Siamese. Lady Marcus Beresford keeps a cat-girl, whose whole time is devoted to the care of the cats and their houses, but their mistress personally superintends all the arrangements. There are usually between twenty and thirty cats at Bishopsgate ; but, of course, when the kittens begin to arrive their numbers are greatly augmented. The cats are fed almost entirely on meat ; no milk is given, and of late no artificial heat has been used in the houses, with the result that the health of the inmates is found to be much improved.
In January, 1898, Lady Marcus Beresford started a club called the Cat Club, and this has proved a brilliant success ; for, owing to the untiring energy and generosity of Lady Marcus, the club has been able to offer at its shows an absolutely unequalled list of prizes ; and at the first show, in January, 1899, there were more cats shown than at any show before. The club now boasts a very large membership and an excellent financial position, so that Lady Marcus Beresford has just cause to be proud of her work. There is no doubt in the mind of any one that she is the best friend the cat and the cat fancier ever possessed. Lady Marcus does not breed cats solely to sell and to win prizes ; her cats are pets, and their lives are truly happy. The two Siamese beauties, Tachin and Cambodia, whose portraits are reproduced on page 560, were sent home by Lord William Beresford when he was in India, together with a number of beautiful Persians. These, with over twenty others of the best Lady Marcus possessed, were maliciously poisoned last year - a dastardly act which robbed the Bishopsgate catteries of some of their most distinguished inmates.
One of the most active members of the committee of the National Cat Club is Miss Gertrude Willoughby, who is a great lover of Persian cats, and keeps a large number at Fulmer Hall, Slough, where she has just built new and handsome catteries. She has several noted champions, including Champion Fulmer Zaida, a lovely Chinchilla, considered the best of its variety in Europe. Miss Willoughby refused sixty guineas for her a year ago, and this beautiful cat is valued by a noted judge at £200. She has won over seventy firsts, cups, and specials.
Another of Miss Willoughby's noted cats is Champion Fulmer Xenophon, who is a short-haired English tabby, most beautifully striped like a tiger, has won over a hundred and sixty firsts, specials, cups, and medals, and was taken when a kitten from the woods, where he was found quite wild, though now he follows his mistress about like a dog. Then there is Champion Lord Southampton, a Chinchilla male and a big winner, who cost £6o a few months ago, which is probably the highest price ever paid for a cat. Among the others one notices Fulmer Scotland's Prince (a lovely white male with deep blue eyes), Fulmer Zulu, (a pale blue male), Fulmer Blue Dora, Fulmer Silver Tommy, Fulmer Silver King II., Fulmer Powder Puff (a white with azure eyes), Fulmer Chang (a large black), Fulmer President Kruger and Fulmer Flora (a pair of Siamese which Miss Willoughby considers very much resemble pug-dogs).
Miss Willoughby represented the National Cat Club at the Bagshot bazaar last year, and sold over £25 worth of kittens for H.R.H. the Duchess of Connaught, and had the honour of presenting Her Majesty the Queen with a blue Persian kitten belonging to the Fulmer catteries. She also presented Princess Victoria of Schleswig-Holstein with a kitten, and both are now the pets of the palace. Miss Willoughby sells her kittens for charitable purposes, and realises from £3 to £15 each, those from Zaida easily realising the latter figure; She has compiled a useful card for novices on the art of rearing cats, which is called "Multum in Parvo," and treats of the principal ailments of Persian and their remedies This card is also sold for a charity at the cost of sevenpence, post free, and can he procured by writing to Miss Willoughby at Fulmer Hall, Slough.
Almost phenomenal has been the success of Mrs. Champion in the cat "Fancy." Although Mrs. Champion is a great animal enthusiast, it was not until 1894 that she really began to keep Persian cats, for in the autumn of that year she purchased her celebrated Chinchilla, Lord Argent, at Brighton show, where he had taken first, special, and silver medal in the kitten class. Mrs. Champion's purchase turned out a huge success, and is the founder of a most valuable strain of Chinchilla and silver cats. His kittens' successes in the show pen have been remarkable; in fact, so long as they are shown in coat and condition, they rarely, if ever, fall to win. One of Lord Argent's must noted daughters is Lady Vere de Vere, who is only three years old, but has already taken fourteen prizes, including five firsts, championship, and four specials, and has never yet been without a prize or prizes. Among his distinguished sons may be mentioned Koh-i-noor, brother to Lady Vere de Vere, as well as Lord Nonsuch and Windsor Prince of the fairies, Most promising of all, however, is Mrs. Champion's young Chinchilla Argent Moonbeam, who is of the very palest silver shade imaginable. The colour of the Chinchilla generally improves in lightness until two yours old yet Argent Moonbeam had attained the most perfect colour when only eleven months. He has done some great things already in the show pen, and may be hailed as one of the best cats of his day. Among other note-worthy winners are White Friar, White Tsar, and Argent Dainty, and finally the pale young Chinchilla male. Moonlight Blossom, who began his exhibition career by securing second and special at Westminster, 1900.
Mrs. Champion has done and is doing a great deal for the improvement of the Chinchilla and silver breeds. These two breeds have always inclined to a weedy, undersized type, but Lord Argent is such a large, magnificently shaped and coated cat, with such a grand wide head, that his sons and daughters are a great improvement on the old type. All the cats at Fairlawn Grove are carefully dieted on lean beef, both cooked and raw, with fish only once a week, and little or no milk; consequently they are remarkable for their excellent health and condition. Mrs. Champion is a member of the National Cat Club, Cat and Ladies' Kennel Club Association, and rarely exhibits except at shows held by those clubs.

Among the best-known breeders of Persians is Miss Kirkpatrick. Her black cat Dinah is now seven years old, and was the first Persian Miss Kirkpatrick ever owned, being purchased as a kitten at the Crystal Palace, where she had taken second prize. Her appearances in the show pen have been but seldom, the best win credited to her being a first at Holland Park. Indeed, Dinah is more of a breeding cat, and among her kittens is Chili, who is well known as a prize winner. He has been to fifteen shows and has taken twenty-one prizes, most of them being firsts and specials. His latest wins are first at the Crystal Palace last October, first at Hitchin, and second at Watford.

Miss Kirkpatrick has several cats veil known in the exhibition world, and among her kittens is Lavender Blue, a beautiful pale female, with very long for, quite the best kitten, Miss Kirkpatrick says, she has ever owned. Lavender Blue has twice been shown, at Hitchin and at Watford, where she carried all before her, taking three firsts and two specials, among the latter the special offered for the best cat in show at Watford.

Miss Kirkpatrick's cats are given entire liberty, and seldom have anything the matter with them. They are fed three times a day, upon milk and milk foods in the morning, raw meat at midday, and boiled fish and rice at night Miss Kirkpatrick assures me that plenty of good food fresh air, and daily grooming are the best things to keep Persians healthy and in good condition.

For many years the name of Mrs. Herring has figured prominently in the cat world. Indeed, Mrs. Herring's catteries are so extensive that one might be tempted to term the place a farm, if one did not remember that all the beautiful creatures to be seen are pets. There are blues, silvers, browns, oranges, blacks, whites, tabbies, and almost all the sub-varieties of the most popular breeds. And the remarkable fact is that Mrs. Herring is able to recite the name and pedigree of each and every one of her numerous family, and to relate with just pride their achievements in the exhibition world. There is Champion Blue Jack, a lovely blue Persian, winner of Cup at Crystal Palace, and many other first prizes, specials, and medals. Then come Prince Zangi, winner of first prize, championship, and premiership, Botanic Gardens ; Princess of Lee, first, Crystal Palace, 1898; and Snip, an English tabby of wondrous size and marking, winner of over fifty prizes, specials, and medals. When I look down the championship list of the late show of the National Cat Club, I find Mrs. Herring winning in another variety (long-haired) with Don Quixote, in tortoiseshell with King Saul, and in silver tabbies with Champion Jimmy, as well as the Ladies' Kennel premierships with Don Quixote in longhaired Toms, and Dolly Varden in short-haired queens.

Mrs. Herring's house is full of trophies, cups, medals, and special prizes won by her cats; and no wonder ! Such care and attention was never expended upon dumb animals as Mrs. Herring lavishes upon her pets. Her fame has even spread as far as Turkey, and the Sultan has purchased direct a beautiful brown tiger tabby, with which he has expressed the greatest pleasure, and declares that he admires it greatly. Mrs. Herring is on the committee of the National Cat Club, and is, I believe, a relation of Mr. Harrison Weir. She tells me that none of her cats leave home for any show unless she accompanies them. Such is Mrs. Herring's devotion, and it finds ample reciprocation in the love of her pets.

Exquisite is the only term that can be applied to Mrs. Wellbye's Chinchillas. The beautiful queen Dossie is four years old and is a noted winner, and mother of those renowned Chinchillas, Silver Lotus and Silver Veronica, who won two first prizes at Westminster, 1900. Dossie is quite the favourite of the household ; indeed, so jealous is she of her rights in this respect that she will not' tolerate another cat in the same room. She has two other daughters besides the above-mentioned queens - Silver Lily and Silver Jessamine, both first-prize winners; and a very promising son, who is expected to shortly make a successful debut.

Mrs. Wellbye is very proud of her beautiful cream Chinchilla queen, Crème d'Or. The colour is very rare in a female, and this exquisite cat has already won first at the Crystal Palace and at Brighton, 1899. A glance down the championship and special prize list of the National Cat Club is sufficient to convince us that the domestic cat, or rather the aristocratic cat, is not only a charming pet, but a public character of undeniable distinction.

You are visitor number