MISS WILLARD'S CAT (TOOTS WILLARD)
Toots (Tootsie) Willard was a famous cat in late 1890s USA, but is largely forgotten today. He belonged to Frances Willard (1839 – 1898), an educator and social reformer who was instrumental in the passage of the Eighteenth (Prohibition) and Nineteenth (Women Suffrage) Amendments to the United States Constitution. Frances Willard was also a national president of Woman's Christian Temperance Union (WCTU). Toots Willard was a popular exhibit at cat shows, in part due to the fame of his owner and helped promote her causes to the women organising and attending the show. Many of the show organisers were, in some way or another, interested or active in social reform.
Told in a series of newspaper cuttings of the time, here is Tootsie Willard, once thought to be the most famous cat in all America.
FRANCES WILLARD'S CAT
Juniata Sentinel and Republican, November 2, 1898
A famous pet of Miss Willard at her "Rest Cottage" home in the Catskills was a large Angora cat named "Toots." Many readers may have seen a picture of Toots, for the sale of his photograph spread his renown along with that of his distinguished mistress, and coined money for her cause. In this way he is said to have contributed two thousand dollars to the treasury of the Woman's Christian Temperance Union - probably more than a cat ever earned before.
Toots had some rather unfeline peculiarities. He loved his bath as well as any schoolboy loves to "go in swimming," and his appetite was very esthetic. He would luxurite ever the smell of a bunch of English violets, and then eat them, one by one; and when his mistress taught him pretty ways, his favorite reward for doing his lesson was not a piece of meat, but a sprig of umbrella palm, which he devoured at eagerly as a girl chews caramels.
He learned to stand before a visitor and receive a caress or a pat on the head, and to make a bow for good-by, and he generally minded his manners. Indeed, this was all the recognition he gave Miss Willard herself when she greeted him again, after being two years away. Toots was never a sentimental cat.
It is natural to use the past tense In speaking of this pet of the great philanthropist, since she has passed away; but puss still hears his own praises and the praises of his late lamented owner. Mrs. Leland Norton, president of the Chicago Cat Club, now has charge of the handsome creature, and he enjoys himself in the mature dignity of his eight years, honored not only as being "the Willard cat," but for the good he has done.
THE CATS OF SOCIETY
The Inter Ocean, November 20, 1898
"This is Mr. Toots," said Mrs. Norton to a representative of The Sunday Inter Ocean who had called to learn something about her club. "Isn't he a handsome fellow? You know he belonged to Miss Frances Willard and he was to go to Lady Henry Somerset, if I could not take care of him. We could not have him go out of the country, and it is a very pleasant task for me to look after him as one of my own."
Mr. Toots scowled at a bisque pug dog that ornamented the hearth and then stationed himself upon a gold embroidered silk aofa cushion. "Poor Tootsy's disposition was almost spoiled at Rest cottage," explained Mrs. Norton. "You must not think his character is naturally bad, but he used to be persecuted by persons who wanted to pet him. Hundreds of members of the W.C.T.U. desired to make his acquaintance. They disturbed his equilibrium. Cats have nerves, you know. Mr. Toots has always been humored. Surely, you will excuse his rather forbidding attitude." Mr. Toots was at that moment showing his eye teeth, but perhaps he was only smiling.
"Yes, Tootsy has been carefully reared," continued his sponsor. "He always sleeps on a silk cushion and be is most fastidious about his eating. He sits at the table and always wears a bib. He drinks cream — none of my cats would touch common milk — and he has eggs cooked in various ways. Oysters are one of his favorite articles of diet. He is 8 years old. He is very intelligent. You can actually see him think. Ah! there he is sneezing. Excuse me while I look for Tootsy's handkerchief." Mr. Toots' handkerchief, a fine hemstitched bit of linen, was found, and Mr. Toots' whiskers were carefully smoothed with its folds.
"Perhaps you think it odd that I should love these pretty, graceful creatures," remarked Mrs. Norton, when she had tucked Mr. Toots' handkerchief under his silk pillow. [. . .]Dixie, Ripple, and Toots always sit at my table. They have their high chairs and bibs that are carefully kept in napkin rings."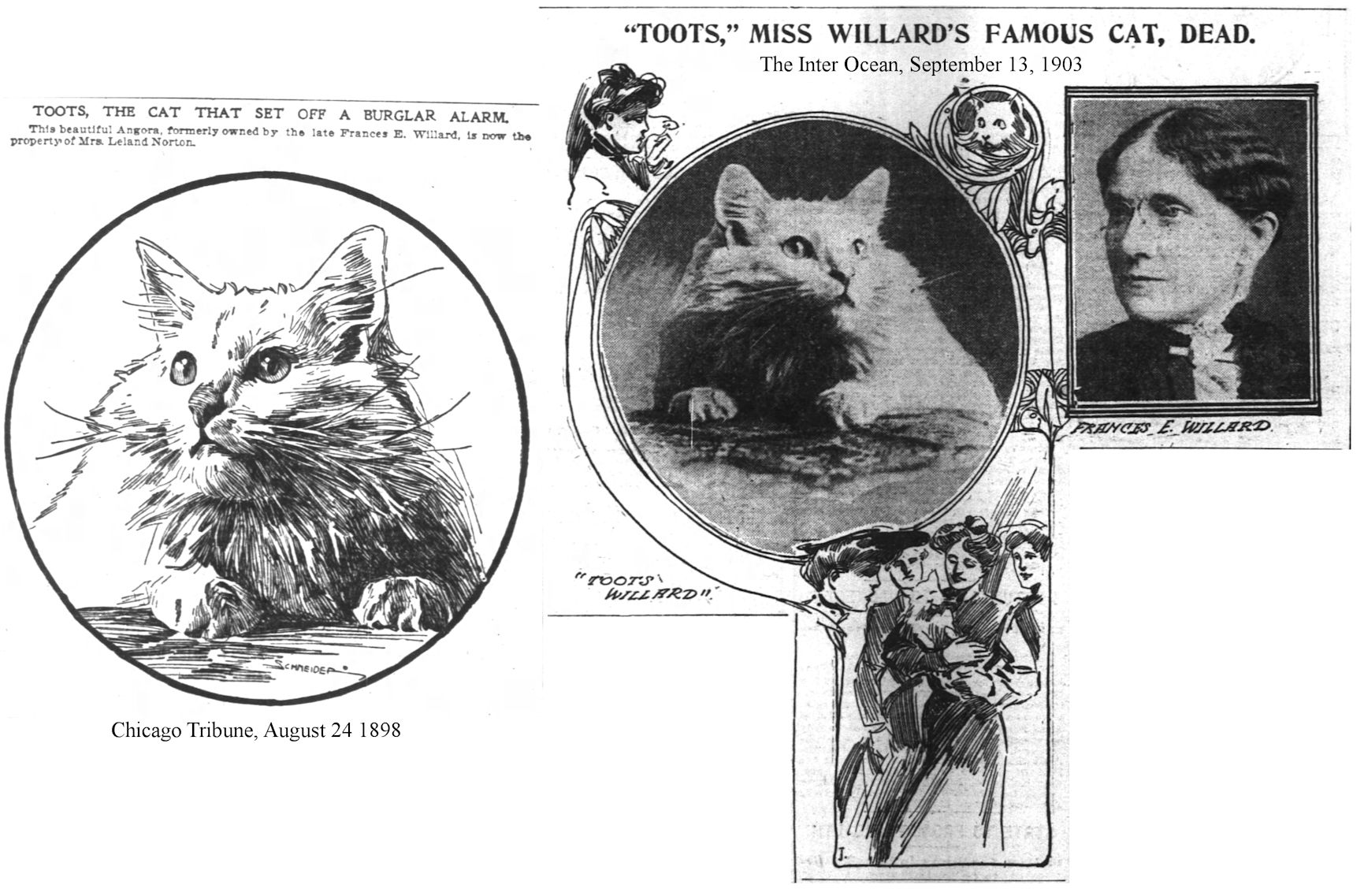 TOOTSIE WILLARD – THE KING OF CATS
The Atlanta Constitution, November 12 1899
By Delia T. Davis
Without doubt destined to be the most celebrated cat in history, and certainly the most distinguished cat of his day, "Toots" or, as he is more familiarly known, "Tootsie Willard," goes about apparently unmoved by the blushing honors thick upon him.
No doubt any dumb thing that had been owned and loved by Frances Willard would be sure of a life-long tender regard from her devoted friends; but "Toots" is really entitled to at least a portion of his tremendous following quite on his own account; for he is a magnificent white Angara, weighing twenty-four pounds, with the long silky hair, the frill or "lord mayor's chain," the superb curving tail and the large full eyes of the thoroughbred. Then he has proved himself of decidedly aristocratic tendencies, has beautiful manners, is endowed with the human qualities of memory and discrimination, and is withal truly aesthetic in his tastes.
"Toots," by the way, seems somewhat of a misnomer as applied to this manly, dignified creature, and sad to say it marks the decline of a woman's hero-worship; for "Tootsie's" name was originally Gladstone — Gladstone Willard. One memorable day, however, news came across the wires that the celebrated statesman repudiated principles vital to the heart of the American temperance leader, and on the moment, Gladstone Willard was rechristened to —"What a fall was there, my countrymen" — to "Toots." This, however, has in no way affected his popularity, as over $2,000 worth of "Toots's'" photographs have been sold within the last few years.
"Tootsie" went to Rest Cottage, the home of Frances Willard, when only a tiny kitten, and there he lived the avowed pet of the household and its numerous guests until several years ago, when Miss Willard prepared to go abroad. Then she took "Tootsie" in her arms, carried him to the Drexel Kennels, and implored their owner, Mrs. Lelund Norton, to admit him as a member of her large cat family. At first Mrs. Norton was very unwilling to assume the responsibility of so loved and honored a being. However, Miss Willard with her all-compelling power ultimately persuaded her, and "Tootsie" forthwith entered upon his new inheritance, as master of the kennels. To his praise be it spoken, he has never forgotten his old friends of Rest Cottage. To this day whenever any of them come to call upon him, he honors them with instant and hearty recognition. Miss Willard, his beloved mistress, was sometime forced to be separated from him more than a year at a time, but time nor change, had any effect upon Tootsie. At the first soft sound of her voice, he would spring to her side, and upon being taken up would put his two large, soft, fluffy paws around her neck and hug her with all the ardor of a child.
"You would never think, to see her with Tootsie, that Miss Willard had a care in the world," remarked Mrs. Norton.
Among Tootsie's most marked characteristics are his sense of color and his love of flowers. English violets he "loves with a love that is more than love." Whenever he sees them, he manifests his delight in every way known to pussyology. He rolls over, sits up and cries and, begs for them in the most appealing manner; and if he detects their odor when out of sight, he will not leave off hunting until he has found them. It is to be feared, however, that this is not wholly an aesthetic joy, for though apparently enamored of their odor and beauty, no sooner does he get them than he snaps the tender stems, and eats the delicate blossoms.
For carnations he has also a tender but a more controlled passion, being quite content to merely smell and play with them. This well known propensity does not go unregarded by his friends - for "Tootsie" has been a pampered darling from the start - and when they make a friendly call upon him, they are pretty apt to bring with them a few violets or carnations. Aside from the blue violets, rose color is "Toot'" favorite tint, and when he seeks a place to bask in the sun, he must needs have a cushion of some deep pink color dragged to the spot; of course he is provided with a rose blanket.
But the place of all others to see Tootsie is at a cat show. There indeed he is in his full glory. He is looked upon as quite too high and mighty to debase himself by entering into competition with other cats, however distinguished. Be it understood that Toots is beyond competition. So he is given the most prominent place in the exhibition, and veritable pilgrimages are made to his kennel by thousands of eager spectators, for Tootsie's fame has spread abroad. Flowers in profusion are carried to him, and there he lies embowered, the observed of all observers — which he seems to think quite the proper thing.
Being the privileged character that he is, Tootsie always eats at the table with the family. He has his own chair and bib, and his manners are said to be exquisite. He eats with the utmost daintiness and care, and never cries to be served; his mistress, however, confided to me that in order to keep his manners perfect, they never ask him to wait, but always serve him first. If offered a dainty bit from the plate of his master, he never by any chance touches the fork upon which it is proffered.
Sometimes he is asked—"Tootsie, will you take your medicine?" and as he has learned that this means a spoonful of sweet cream, he lays his head back, opens his mouth wide, and the most beatific expression takes possession of his features.
An effort has been made to secure Toots for exhibition in foreign lands. If he could ever be allowed to leave America, it would be to go to Lady Henry Somerset in England, the dearest, friend of his first mistress. But America loves to keep her cup, her Philippines, her Deweys — and since "Toots'' is acknowledged to be the most distinguished cat in the world, why, America will keep him too.
After his famous owner's death, Toots went to live with Mrs. Leland Norton and his exploits continued to be reported in the Chicago newspapers.
TOOTS, THE CAT THAT SET OFF A BURGLAR ALARM
Chicago Daily Tribune, August 24, 1899
This beautiful Angora, formerly owned by the late Frances E. Willard, is now the property of Mrs. Leland Norton. The residence of Mr. and Mrs. Leland Norton, 4011 Drexel boulevard, fairly bristles with burglar alarms. When the electrician finished putting them in, he solemnly affirmed that should a midnight marauder have the temerity to force a door or pry open a window the bells would hold a regular jubilee.
These precautions were deemed advisable because Mrs. Norton, while on the Pafic [sic] coast recently, was interviewed on the subject of Angora cats, the chronicler of her words announcing that she was "a wealthy Chicago woman," and within a week the house where she was visiting was robbed. Mrs. Norton's trunk was untouched, though a hatchet lay beside it, when the robbers were frightened away.
It was suggested the thieves might follow the trail into Chicago and loot the Norton residence, hence the burglar alarms. But they would have had their labor for their pains, as Mrs. Norton's treasures are her splendid Angora cats, and an intruder would imagine he had tumbled into a bramble bush should he venture into that aggregation of claws.
A short time after the electric apparatus had been put in the family was aroused about midnight by the violent buzzing of the buzzer and the furious jangling of bells. In an instant a terrified group gathered in the upper hall, and a moment later the electric lights were turned on from garret to cellar. Armed with revolvers, the party cautiously descended to the parlors, found them silent and undisturbed, then stealthily crept down to the dining-room. It was a thrilling moment, when they distinctly heard some one stepping around softly in the kitchen. There was a decisive click of two revolvers, the key was noiselessly turned, when suddenly waa heard an imploring: " M-e-o-w."
It was Toots, the late Miss Willard's famous Angora cat, who is an expert in the manipulation of doors. He will fumble at a door knob and scratch and claw until he turns it. He had dug open the door leading into his kennel, which accidentally had been left unlocked, and the moment it swung open it set all the bells ringing. Blissfully ignorant of the tumult. Toots rummaged around the kitchen until the arrival of the frightened household.
MR TOOTS IS DYING.
The Inter Ocean, December 23, 1900
Cat To Be Cremated. Impressive Rites Are Planned From Miss Willard's Noted Pet White Angora Is Succumbing To Old Age And Snuffles. Instead Of Being Buried In Pussywoods, His Body Will Be Consigned To The Flames.
Under this rustic pile of stones,
Lies all that's left of Tootsey Jones,
His name was Willard; it was not Jones,
But Jones is used to rhyme with bones.
When the late Frances Willard's old pet cat shuffles off this mortal coil no such tender verse as the foregoing, nor any other touching epitaph, will mark his grave and perpetuate his memory to future generations. Mr. Toots is not to have the old-fashioned, orthodox burial, but is to be cremated, according to the most approved and up-to-date methods.
Since the death of his famous mistress Tootsey has made his home with Mrs. Leland T. Norton of No. 4630 Grande boulevard. He is a large white Angara gelding, over 10 years of age (rather advanced years for a member of the feline family), and his death may now be expected at any time. He is suffering with a disease similar to the "snuffles," which is so prevalent among the Belgian hares. But Tootsey's malady is not infectious, and the other cats in Mrs. Norton's cattery are privileged to enjoy his proud and honored company without any danger, but rather with benefit to themselves. Any visitor quickly observes the respectful reverence which the younger cats seem to entertain for old Toots when they are brought into his sickroom.
The tiniest kitten stops her mischievous frolics and the giddiest young cat among them all immediately becomes subdued. Even Chiffon, that coquettish young beauty, with blue eyes, and a fluffy coat as white as the driven snow, seems to have a proper appreciation of the seriousness of the occasion.
As Toots reclines among his cushions with an indifferent air and a quiet dignity, Chiffon softly approaches. And as she kisses him quietly upon his noble brow the attentive watcher can almost hear bar say to him, "You're a dear, brave old gentleman, and we all love and respect you. We admire the fortitude you always show in bearing your snuffles so patiently." Of course they all hope that Mr. Toots may live some time, but it is not probable that he will survive many weeks, and when he dies ha will be accorded every honor that so venerable and highly respected cat deserves.
When Toots is stretched upon his bier a small real-lace handkerchief will cover his face. Toots always has been fastidious, and now during his period of invalidism, there is always a dainty tiny square of cambric tucked under his pillow, to be used in wiping the moisture from his eyes. On the day of the funeral, his body will be wrapped in a winding sheet of white silk and placed upon a slab, which will be solemnly shoved into the big furnace that supplies heat to the Norton mansion. When Tootsey's friends view his remains each one will sprinkle a little myrrh or frankincense over the body – a much more beautiful rite than the one of dropping cold clods of earth upon a casket, in a deep, dark grave – and, while Tootsey's flesh and bones are being consumed by the fiery furnace, the spicy incense will counteract the disagreeable odor of singed hair which might be emitted through the furnace chimney and which might prove objectionable to Mrs. Norton's neighbors.
Disposition of the remains of Tootsey Willard was obtained from Mrs. Leland Norton in answer to a question concerning the location of the Chicago cat cemetery. The Inter Ocean had it upon excellent authority that Pussywoods was the name of the burying ground where all the aristocratic, blue-blooded cats in the neighborhood of the city find their final resting place. It was said that Miss Higinbotham is one of the lotowners, and that her $500 white Angora will one day be buried in Pussywoods. But the location of this interesting cemetery still remains a mystery. Miss Higinbotham is out of town, and various other members of the Beresford Cat club and the Chicago Cat club refuse to give any information on the subject. Said one pert young woman on the South Side:
"No; I won't tell you one thing about it. I never heard of a newspaper man yet who loved cats. And there is this peculiarity about the subtle, mysterious, inscrutable little creatures; they inspire either a feeling of fondest love or one of most hateful antipathy in the human breast. There is no half way feeling. I am afraid you would make fun of Pussy, so I haven't anything to say to you."
Mrs. Leland T. Norton said she was not interested in Pussywoods. "No; I cannot tell you anything about the cat cemetery," she said. "I know nothing about it for the reason that I put all my dead pussies right into the furnace and cremate them. I think it is much the best and most sanitary plan."
Mrs. Norton is obliged to perform this grewsome office every little while, for, besides her cattery, where every variety of the blue-blooded puss is raised, she conducts a cat refuge. In the refuge Mrs. Norton is doing a most humane work, for she is a cat lover in the highest sense of the word. She cares for the common mongrel breed with the same tenderness and affection that she gives to the long-pedigreed Angora. And this cannot be said of many of the other well-known Chicago cat fanciers.
FAMOUS CAT IS DEAD.
Lawrence Daily World, October 26, 1903
Toots Willard, the most celebrated cat in the world, is dead. Over a decade ago he came into international prominence when it was announced that Miss Frances Willard had a splendid Persian puss, who bore the stately name of Gladstone. But when the "Grand Old Man" repudiated certain temperance principles dear to the heart of Miss Willard she promptly rechristened her pet and called him "Toots."
He instantly became the idol of the white ribboners on two continents, and there was an immediate demand for his photographs. And so it came pass that Toots "looked pleasant" hundreds of times while the big eye of the camera winked at him. His picture hangs in thousands of homes, it graces the walls of noble houses in England, and can be found in the hut of an Icelander, for he has coined more than $2,000 for the temperance cause through the sale of his photos. However, his finest picture is a life-size water color painting by Miss Gertrude Estabrooks and owned by Mrs. Leland Norton, 3817 Michigan avenue at whose home he died.
During his kittenhood hundreds of people visited Rest Cottage to see Miss Willard's beautiful cat and lay their hands on his satiny coat. But adulation palled upon him and he became extremely irascible, and with tooth and claw protested against indiscriminate caresses. His naughtiest trick was to hide in dark corners and spring out on people. But when he retired to private life he quickly regained his naturally sweet disposition.
When Miss Willard went abroad after her mother's death she begged Mrs. Norton, who had the largest aggregation of Angora cats, to take charge of her precious puss, and he remained there until he died. As long as she lived Miss Willard went to see Toots, and carried him bunches of fragrant English violets. He was passionately fond of the delicious perfume, and would gather them in his velvety paws, cradle them under his chin, toss them in the air, roll on them, and finally go to sleep with his nose buried in the purple bloom.
Toots' most sensational exploit was to dig the cat kennel door open, which set off an electric burglar alarm. The buzzer buzzed, the bells jangled and held a noisy jubilee which roused the entire household. The terrified family, armed with revolvers, crept through the house and found it undisturbed. But someone was stepping softly around in the kitchen, and then came a loud crash as a pile of pans clattered to the floor. The door was opened wide enough to thrust in a shooting iron, and there in the moonlight sat Toots, "meowing" a welcome.
Toots' sole relative was Dixie Norton, the famed trick bicycle rider, whose son, Royal Norton, is the most valuable cat in the world, Mrs. Norton having refused $2,500 for him. For several years, Toots had been ill with tuberculosis and has been isolated from Mrs. Norton's other cats, and also debarred from seeing visitors.
He was a magnificent animal, weighing 23 pounds, with eyes like jewels, a splendid, plumy brush, and long, silky coat.
MR. TOOTS
The Pacific Outlook, January – June 1907
Inasmuch as the cat has had her day or, rather, her three days in this city, it is of interest to know that the two rival clubs are unusually fortunate in being able to stimulate a healthy competition. There was a time when Mrs. Leland Norton, president of the Los Angeles' Cat Club, was the best known expert in Chicago, but later Mrs. Clinton Locke gained national fame for her kennels. Both were catlovers, who became interested in fine Angoras and Persians after raising a few as household pets.
Mrs. Norton first gained national fame when she became custodian of Mr. Toots, Miss Frances Willard's famous white Angora. Mrs. Norton lived in a handsome house on Drexel boulevard, and, after Mr. Toots was admitted to her kennels, she received many visits from newspaper folk, who insisted upon writing Sunday "stories" about the dignified cat, which had long been associated with the famous temperance reformer at Evanston, Illinois, the Chicago suburb. Mr. Toots received "company" with a well-bred indifference. Usually he lay upon a silken sofa pillow, for he was beginning to be old and lazy before his beloved mistress died. He was cared for scientifically, the greatest precautions being taken that he should have the proper diet and should be protected from drafts. When he caught cold a lace-edged handkerchief was provided for him.
Mr. Toots had a tendency to colds, and, one winter when it was reported that he was dying, a reporter was detailed to write a "feature" story about his last hours. Mr. Toots was found to be convalescent, but that fact did not prevent the forecast of his funeral. It was set forth that he would be buried in beautiful Pussywoods, the cat cemetery, where in time a fitting monument would be erected to his memory.
The city editor praised the young reporter for what he called a "stickful of human interest," but he had reason to regret his appreciation of the first page, double leaded "feature". The day of its publication in the morning edition the telephone rang every few moments and all sorts of voices belonging to bereaved cat owners inquired the location of Pussywoods. Letters poured into the newspaper office and enterprising dealers in tombstones sent in designs for cat monuments. Of course, there never was a Pussywoods, but an enterprising real estate man immediately offered a tract of land for a dog burying ground which he named Fidoland. Although Mr. Toots survived pneumonia he was in due time gathered to his Angora fathers and Mrs. Norton arranged a funeral in keeping with his distinguished position as a cat celebrity.
Linked to Miss Willard is this snippet about two other "temperance" cats:
WOMEN HERE AND THERE
The New York Times, 29th January, 1899
The white-ribbon [temperance] cause has met with a serious loss in Portland. There has been a cat distemper in the city and Hibbie and Giddy, two of the most amiable little cats that ever wore the white ribbon, have succumbed to the disease and are now deeply mourned by their friends. The departed white ribboners had for some time made their home with Mrs. L.M.N. Stevens, President of the National Woman's Christian Temperance Union, in Stroudwater, just out of Portland. They both belonged to Miss Anna Gordon, Miss Willard's devoted helper and friend, for whom Mrs. Stevens was keeping them. Giddy, as has been before stated in these columns, was a beautiful little Maine coon cat, who made and open stand for total abstinence at a big meeting in Bangor, where, uninvited, it walked calmly up the bif hall to the platform and was immediately adopted by Miss Gordon, who fell in love not only with Giddy's beauty, but noble principles. Hibbie was perhaps equally beautiful, though just an ordinary little animal of the genus feline, and more retiring. Hibbie was never known to make a public expression of faith, but was a s devoted as Giddy to milk, and nothing stronger as a beverage. Both cats wearing white ribbons with cards bearing the word "Welcome," were in the hall to receive Miss Gordon upon her last visit to Mrs. Stevens. Now both have succumbed to an epidemic, giving their lives with the ordinary members of their race who did not represent principles. They leave behind many mourners. Requiescat in pace.