THE YORK CHOCOLATE

2016 Sarah Hartwell
This is taken from information published online by the IYCF in 2004 (spelling errors corrected) and archived by the Internet Archive. The original websites became inactive in 2004. If the breed still exists today it must be in critically small numbers.
Breed Beginnings
The York Chocolate was a naturally occurring long-haired breed. The first kitten 'Brownie' was born in 1983 on Janet Chiefari's goat dairy farm in Grafton, New York. The dam was a black and white bicolour and the sire a solid black. Both were long-haired domestics. In 1985, Brownie mated with her half-brother, and they produced two chocolate kittens. A dilute of the chocolate, called lavender, first appeared in 1990 and is a rich, warm cocoa colour. The York Chocolates were bred in only four colours - solid chocolate, solid lavender, chocolate and white bicolour and lavender and white bicolour. The kittens were generally born a cocoa or lighter chocolate colour and their coats darkened as they matured, reaching their full colour around 12-18 months of age.
Generally, the adult female York Chocolate weighed between 6-10 pounds and the adult male weighed 10-15 pounds. The York Chocolate fur is silky soft to the touch and the coat requires little or no grooming, and shedding is minimal. Quite a number of York Chocolate owners with allergies have remarked that they are able to live comfortably with their cats, perhaps because their fur has little dander and they have no undercoat.
Blacky of Upon the Rock Cattery (CFF)/Black One of Upon the Rock Cattery (ACFA), born 26 April 1981, was owned by Janet Chiefari from Cropseyville, New York from the age of six weeks until she died of a mammary tumor on July 12, 1990. She was a domestic long-hair, black and white bi-colour with gold eyes. She mated with a neighbour's solid black domestic named Smokey Morris (CFF)/Smokey (ACFA) who had medium length fur and hazel eyes. They produced Upon the Rock Brownie, a green-eyed female brown and white bicolour kitten, born on July 3, 1983. Both parents were believed to have Siamese ancestry.
Intrigued by the cats' colour and personality, Chiefari read as much as she could about cat genetics and decided to establish a new breed. By the summer of 1989, she had converted her porch into a cattery that housed 27 chocolate-brown cats and kittens. The ten kittens that she chose not to keep in her breeding program were placed in responsible homes.
In July 1989, her vet introduced her to Nancy Belser, a cat breeder and a Cat Fanciers' Federation judge. Belser visited the cattery and agreed that Chiefari's cats were unlike any other. Belser recommended that Chiefari show her cats in the CFF. So that September, Chiefari took Prince, a 6-month-old brown male, to a CFF show and exhibited him as a household pet. Prince won four rosettes a first place trophy.
Over the years Blacky had several more litters, most of the kittens had long hair and many of them had blue eyes. She had black kittens, bicoloured black and whites, grey (blue) tabby, grey (blue) tabby and white bicolours, and tortoiseshell (this last required the sire to be orange). She did not have another brown kitten until mated with a York Chocolate called Upon the Rock Teddy Bear (her grandson). That pairing produced one solid brown kitten, one brown and white bicolour kitten (Upon the Rock Pepi Patty), and a solid black kitten, born on March 3,1990.
Blacky's daughter Upon the Rock Brownie mated with a solid black, long-haired half-brother called Minky (Dam Blacky, sire unknown) and produced a green-eyed solid brown male - Upon the Rock Teddy Bear, and a hazel-eyed brown and white bicoloured female - Upon the Rock Cocoa, born on June 5, 1985. They were both long-haired.
Brownie mated with her son Teddy Bear and produced five kittens in December 31,1988 - two solid brown female, one solid brown male, one brown and white bicoloured female, and one brown and white bicoloured male. These eleven chocolate brown cats were the foundation of the York Chocolate breed, so named because the originator Janet D. Chiefari lived in New York state. Janet worked down for four generations from those original cats. Chocolate with chocolate matings have yielded 100 per cent chocolate kittens until 1990 when the first lavenders were born.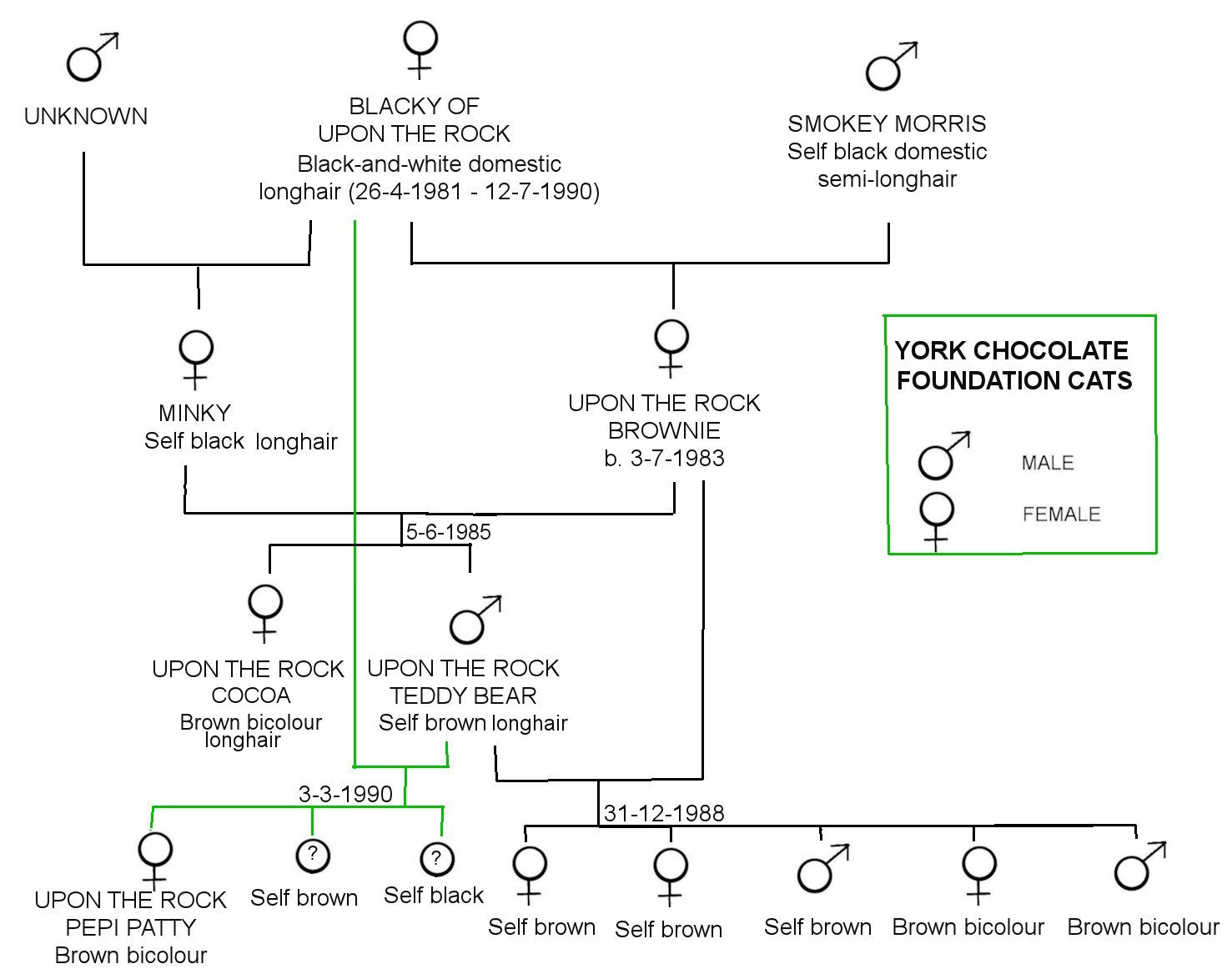 It was CATS Magazine's Breed of the Month in January 1996. By then it had championship status in CFF and CCA, new breed and colour in ACFA and had been exhibited in TICA and CFA shows. In 2005, there were around 60 cats in existence.
The York Chocolate was officially accepted as a Championship Breed by Cat Fanciers Federation in March of 1991 (championship status in1992), by the International Progressive Cat Breeders Alliance (IPCBA) in May of 2002, by the World Cat Federation ( WCF) in August of 2002 and is currently (2004) registered as "New Breed or Colour" with the American Cat Fanciers Association (ACFA). Named 'York' for their state of origin and 'Chocolate' for their colour, these cats are uniquely beautiful additions to the cat world.
The breed was recognized as the "York" by the World Cat Federation based in Germany, but its standard was different from previously published standards and was therefore rejected by the International York Chocolate Federation who preferred their own standard. Had the WCF standard been accepted, and if the IYCF and WCF had worked together to promote the breed, the cats may have gained a wider audience. It seems to me that the IYCF's strict control may have been excessively strict, hampering breed development. The cats were also in urgent need of outcrossing to widen the gene pool.
York Chocolate was not recognized by the major organizations such as The International Cat Association (TICA), the Cat Fanciers' Association (CFA – North America) or Fédération Internationale Féline (FIFe - Europe), nor fully recognised by the American Cat Fanciers Association (ACFA). In March 1990, the Cat Fanciers' Federation of the New England area of the US recognized the York Chocolate as an experimental breed in 1992, and apparently gave it championship status in March 1995, but this organisation no longer publishes a breed standard nor any other information about the breed. The York Chocolate was also supposedly granted champion status by the Canadian Cat Association in March 1995, but there was no record of it on their website in 2016.
As "Il Gatto Cioccolato" it found favour in Italy and the International York Chocolate Federation (IYCF) was founded there in 2003. The site can now only be found on the Internet Archive, having become dormant during. The IYCF claimed affiliation with the German Feline Federation Europe (FFE)/Bavarian Cat Fanciers' Association (BCFA), which published a standard (minus colour information) in 2004. It also claimed affiliation with the Russian World Felinological Federation (WFF), although the latter does not recognize the York Chocolate as breed.
Two catteries were listed: Fairies Cattery (Anna and Francesco Baldi) and Lavender Perfume Cattery (Fulvio and Alice Bresciani). Neither site was online in 2016. In 2015, there was only one remaining breeder of York Chocolates (Debbie Reber) and in 2016 I could find no trace of her cattery.
Appearance and Temperament
This is drawn from several archived standards for the breed. In Looking at these, there seem to be contradictions and variations. For example, some sources stated it had a well developed, but not woolly, undercoat, while others referred to its lack of undercoat.
The ideal York Chocolate is a strikingly rich chocolate brown or lustrous lavender with a coat that has a glossy sheen and flows over body lines accentuating graceful, flexible body movement. The cat should give an appearance of good health and vitality.
The York Chocolate is a medium to large cat, long with substantial bone structure and firm muscles. Males are larger, more heavily boned and more muscular than females. It's also described as oblong (rectangular) with smooth flowing body lines. According to some versions of the standard, the neck is short to medium length, but other standards described the neck as medium to long. The chest is full and rounded, but the rib cage and shoulders should not be broader than the hips. The legs are long and slender with oval paws and tufts between the toes. The hind legs are higher than the front legs so that the rump is slightly higher than shoulders. The tail is medium to long; the length is comparable to the length of the body. It is broad at the base and tapers slightly to a rounded tip. It is desirable for the tail hair to spread out like a plume in the mature adult.
The York Chocolate's head is medium sized, but may appear small in proportion to the body. It is longer than it is wide when the whiskers and facial hair are smoothed back. In shape, it is a modified wedge, which starts at the nose and continues to the tips of the ears. The nose is long and straight and evenly medium broad with a slight indentation (break) at the level of the eyes. The muzzle is well defined, elongated and has a smooth contour; it is moderately rounded, neither short nor sharply pointed, but appears somewhat square because of the pronounced whisker pads. There is a slight whisker break, gently curved, following the lines of the wedge. . The forehead is slightly rounded. The chin is firm with a gentle contour and forms a straight line with the nose and the upper lip. In profile the skull is slightly rounded and the nose has a slight dip. In judging, allowance should be made for heavier jowls in unneutered males.
The ears should be large, moderately pointed, tufted, broad at the base, slightly flared and tilted forward. The inner side of the ears are well furnished with tufts, but little hair is present on the outside and the leather may show through. They are set wide apart on the head, with at least one ear's width between, and they continue the wedge-shape of the head.
The eyes are medium-sized, oval/almond shaped and are set at a slant towards the nose in harmony with the wedge-shaped lines of the head. The distance between the eyes is at least one eye length. The colour ranges from golden to hazelnut to green, the purer and deeper the colour, the better.
The coat is medium length, fine and glossy, falling down the body smoothly. The texture is soft and silky with well-developed undercoat, which must not be woolly. The coat is shorter on the shoulders and becomes gradually longer towards the back. A little frill or ruff is highly desirable. Fur is shorter on the face, belly and lower legs, and is longer on the back, sides and upper legs. Ears and toes should be tufted.
Only four colours are recognized: solid chocolate and solid lilac; chocolate-and-white bicolour and lilac-and-white bicolour. The coat must be coloured on the entire body, and the colour must be solid to the roots, without any shading, rusty traces, white brindling or tabby markings in adults. Ghost markings are permitted in kittens up to 10 months showing the genetic tabby pattern. A white locket or a white patch on the belly of solid-colour cats is a fault. In bicolour York Chocolates, the pattern should include a white blaze of inverted white "V" on the face as well as white chest, white belly and white socks on all four paws.
The scale of points differed from registry to registry
Body - 25 points
Head - 30 points
Eyes - 10 points
Coat texture - 15 points
Coat colour - 15 points
Condition - 5 points
Body - 20 points
Head – 20 points
Ears – 5 points
Eyes – 5 points
Legs / feet – 5 points
Tail – 5 points
Coat – 15 pointsv Colour – 20 points
Condition – 5 points
In temperament (which was very important to breeders), the York Chocolate was described as a friendly, even-tempered breed that was content to be a lap cat. They enjoy being held and cuddled. They are intelligent, energetic, and curious, happily following their owner around. They are good companions, but their background means they are also good hunters. They seem to be fascinated with water and were also described as sometimes shy (presumably with strangers).
Critically Small Gene Pool
The gene pool was very small and a plea for suitable outcrosses appeared on one of the York Chocolate websites (translated and paraphrased): Do you have a cat that resembles York? Out-crossing means the inclusion in the breeding programme of a cat of a different breed or origin that has physical and temperament characteristics very close to the [York Chocolate breed] standard. This process is necessary in the case of new or rare breeds to introduce new blood into the gene pool and avoid inbreeding. The process has to be undertaken with care so that after three or four generations the descendants meet the breed standard in all respects. The European York Chocolate needs to find a suitable outcross. Any candidates, male or female, must be unneutered (obviously!), healthy, vaccinated, and negative for FELV FIV FIP. The coat could be black, blue, or chocolate in solid or bivolour and preferably without a woolly undercoat. The website asked anyone who thought they had a suitable cat to contact them.
York Chocolate Genetics
A scientific paper about "York Chocolate Genetics" was published by breeder Dr. Fulvio Bresciani. . Bresciani (b. 12 December 1960, Saluzzo, Italy) gained a degree in Nuclear Engineering in February 1985. Since 1987 he worked in optical design and signal processing applications on spatial technologies and authored many technical papers and several international publications. He went on to study new mathematical models based on quantitative genetic principles in order to solve multivariable problems of non-linear systems. Together with Pisa University he developed mathematical models predicting hereditary factors in feline breeding. His published research includes a paper discussing a possible new gene controlling the expression of undercoat in cats. The paper is paraphrased below:
The York Chocolate breed could be considered genetically distinct. Bresciani felt that some of its characteristics were worthy of scientific study. Preservation, spread and world-wide recognition of the York Chocolate must be considered a mission not only because of its intrinsic beauty, but also because of its genetics. The following aspects of its phenotype appear perfectly fixed: hair colour, white markings and lack of undercoat. Personally, I think that these stable traits wouldn't surprise anyone well-versed in cat genetics. Chocolate is recessive to black, while dilution is recessive to dense colour. The foundation cats evidently did not carry cinnamon which is recessive to chocolate, otherwise cinnamon and fawn would have turned up early on in the breeding programme.
Bresciani thought the lack of undercoat to be probably the most important aspect of its phenotype. Research, examination of pedigrees and crossing experiments may confirm the existence of a gene controlling the undercoat expression. Current observations and hypothesis suggests a hypothetical gene controlling under coat expression has two alleles: the recessive wild-type allele "yuc" producing a normal thick under coat, and the dominant mutation "Yuc" producing a total lack of undercoat. Yuc (for "York Undercoat") was Bresciani's proposed gene symbol.
The Veterinary Department of Pisa University was apparently very interested about this gene, because dog and cat undercoats are the principal cause human allergies. The existence of a gene controlling this trait could revolutionize approaches towards cat and dog allergies. Another interesting aspect about the undercoat gene identification is the potential to introduce it into other breeds to make them hypoallergenic.
Another interesting trait, according to Bresciani, was the stability of the bicolour pattern. Janet Chiefari, the first York breeder and Anna Baldi first European breeder had fixed a particular white pattern, maintaining the same pattern in all successive generations. Bresciani explained that the white pattern is controlled by the White Spotting gene which has four alleles: s (non-spotted, recessive, no white markings), S (spotted, dominant and variably expressed), Sp (particolour) and sb (Birman gloving). The existence of the particolour and Birman alleles of this gene is still subject to argument at this time. "Sp," if it exists, is a variation of the spotted allele affecting the pattern of white. The classic particolour pattern is an inverted white "V" starting in the center of the forehead and passing through the centres of the eyes. The chin, chest, belly, legs and feet are white. Variable expressions of this allele range downward to a simple white locket or a white spot on the forehead. Here I will add that the degree of white spotting appears linked to whether the cat is homozygous (has 2 copies) of the white spotting gene or is heterozygous (has only one copy of the gene). Cats with 2 copies generally exhibit a higher degree of white spotting than those with one copy. Bresciani suggested that the uniformity and heritability of the white pattern meant the York chocolate breed could confirm the existence of a particolour allele, producing a stable pattern, distinct from the White Spotting allele that produced variable degrees of white colour.
Bresciani then discussed the known (in 2003) conformation, fur-type and colour genes and includes the posited "Yuc" gene as a fur-type gene. Apart from "Yuc" (his posited gene) the genes controlling those traits are widely published so I haven't reproduced the information here. "White masked" refers to the epistatic (loosely termed dominant) gene where solid white masks all other colours. e gave the genotypes that produced each colour variation.
Lavender Self York Chocolate – longhair (recessive), Yuc, brown (recessive) dilute (recessive), non-colourpoint (dominant), non-agouti (recessive), non-silver (recessive), non-white-spotted (recessive)m, non-white-masked (hypostatic).
Chocolate Self York Chocolate – longhair (recessive), Yuc, brown (recessive) non-dilute (dominant, but may carry dilute as a recessive), non-colourpoint (dominant), non-agouti (recessive), non-silver (recessive), non-white-spotted (recessive), non-white-masked (hypostatic) = two possible genotypes.
Lavender Bicolour York Chocolate – longhair (recessive), Yuc, brown (recessive) dilute (recessive), non-colourpoint (dominant), non-agouti (recessive), non-silver (recessive), white-spotted (dominant, but may carry non-white-spotted as a recessive), non-white-masked (hypostatic) = two possible genotypes.
Chocolate Bicolour York Chocolate – longhair (recessive), Yuc, brown (recessive) non-dilute (dominant, but may carry dilute as a recessive), non-colourpoint (dominant), non-agouti (recessive), non-silver (recessive), white-spotted (dominant, but may carry non-white-spotted as a recessive), non-white-masked (hypostatic) = four possible genotypes.
He referenced the following publications in his paper on the York Chocolate/Yuc gene:
Feline Genetics by R. Roger Breton, Nancy J Creek (1999)
The White Spotting Gene in the Ragdoll by Dr David Richardson, Jacqui Richardson - M.B..B.S. (Hons)
Elementi Di Miglioramento Genetico Negli Animali Da Compagnia (Elements of Genetic Improvements in Pets) Authors: Roberto Leotta, Francesca, Cecchi Marco, Bagliacchi, Marco Cianci - University Editorial Service (Feb. 2000) Robinson's Genetics for Cat Breeders and Vete
rinarians Autori: Vella, Carolyn M et al. - Butterworth-Heinemann, published 1999
International York Chocolate Federation Prize-Winners
On the archived York Chocolate website is a list of Italian Feline Association and International York Chocolate Federation prize-winners, from which we can glean some of the cats' names.
Cloud Naboo - Best Kitten (Outcrossing)
Jellicle Lady Bailey - Best Female
Cambridge Mustardseed - Best Male
Fairies Nutella - Second Best Kitten, Best Temperament
Fairies Nicolaus Oberon - Third Best Kitten
Trinkcat Finvarra Of Fairies - Former 1 Best Variety
IYCF Judge: Olga Dentico
AFI Judges: Antonello Bardella - Mrs. Thut
Special Judge York Chocolate: Vittoria Duchi
There was a planned photographic competition (closing date November 2003), probably because cats were located in the USA and in Italy and unable to compete in the flesh. Each cat was represented by 3 photos: the front plane of the muzzle, a close-up of the muzzle profile and a photo of the cat's whole profile. The photos were to be published online on the IYCF website and judged by Janet Chiefari, the breed founder. Results would be announced February 2004. There were also plans for a York Chocolate weekend sometime May and September 2004 at a Medieval farmhouse in Monferrato in Piedmont. This required the cats (i.e. European ones) to be present for the awarding of the trophy.
International York Chocolate Federation
The International York Chocolate Federation (IYCF) described itself as composed of a group of dedicated breeders, owners and enthusiasts who were united in their efforts to preserve, improve and promote the future of the domestic York Chocolate cat. One of IYCF goals was to spread the presence of that breed around the world while maintaining a strict control on its type and on standard and health of the cats.
The IYCF Constitution was published online, as was the Code of Ethics which included the following:
In breeding of York Chocolate cats, emphasis shall be placed on good health, stable temperament, intelligence, good-natured and confirmation consistent with IYCF Breed Standards. I agree to breed with discrimination and with the best interest of IYCF and the York Chocolate breed in mind […] keep accurate records of all matings and pedigrees and to register breeding stock and litters with at least one recognized cat association preferably the International Progressive Cat Breeders Alliance (IPCBA) […] use for breeding only healthy cats, free from disease or hereditary deformity, keeping the York Chocolate Standard in mind. If I discover subsequent hereditary defects, I shall advise previous buyers.
[…] I will not keep my cats in cages or in narrow boxes. I shall inform IYCF executive committee if I'll have notice of IYCF members keeping cats in cages or in narrow boxes. […] I shall refuse to sell to, buy from, or to recommend breeders who sell to cat wholesalers or retailers, to donate a York Chocolate for raffle purposes, or to buy or sell in litter lots. Before selling a kitten as a breeder, I shall ascertain that the buyer is fully aware of all the ramifications of breeding, such as expenses, time involved in care, necessary facilities, and good placement of kittens, and responsibilities to buyers and other breeders. I shall encourage the breeder buyer to join IYCF.
I shall be a good loser and a gracious winner, remembering that having happy, healthy York Chocolates is much more important than winning trophies and titles.