Early Childhood Memoirs
Pre-School Memories
My earliest memories are from about 18 months old. I remember sitting at the bottom of the stairs of our home in Watford, playing with a jigsaw puzzle (with huge pieces). I could see into the living room where dad was chatting with his friend Mike. For many years, whenever I handled pieces of that jigsaw I could revisit that memory. These days I'm left with vague impressions, rather than a full memory. The other really early one was toilet training. I could tell mum when I needed to go to the toilet so dad bought me a pair of "proper knickers" as a present. Mum had put them on me, but I was so excited that I wet them almost at once. Mum was exasperated and put me into my cot because I'd been "naughty".

My primary school years were from 1970 to 1976 then secondary school was from 1976 to 1983. I didn't go to nursery school or "playgroup" and I don't think these were common back then. Most children stayed at home with their mothers until they started primary school at 5 years old. I learnt to read quite early - in fact I can't remember not being able to read! I had the Peter and Jane Ladybird books (only the "A" and "B" books and only up to book 10) and the Janet and John books.
I have plenty of fragmentary memories from my pre-school years. At Iver Heath, I had my own little rose garden with Fragrant Cloud, Blue Moon and Pink Peace. I remember when the cows got loose from Home Farm on the other side of our road and came into our front garden. I remember visiting a large white house with big lawns and my nan pushing me around the paths in my pushchair (I also walked and held her hand). There were walks with dad in the local park when he came home from work; we went to see the beautiful rhododendrons there (and give mum a break). Sometimes my parents took me to Denham and sat me on the wing of the Spitfire plane parked there. We weren't far from the Pinewood Studios area and I still see many of the locations (Burnham Beeches, Langley Park etc) in old films and TV series. The series "UFO" and parts of "Space 1999" were filmed there and some episodes feature the lake where I fed the ducks as a toddler.
With only BBC1, BBC2 and ITV and only limited children's programming, TV held less attraction for children, but sometimes I had to be kept amused when I couldn't play outdoors. I learnt to tell the time with the help of Play School. Watch with Mother at lunchtime and I particularly like The Herbs and Trumpton, Chigley and Camberwick Green. The main children's programmes between 4 pm and 5.45 pm. Either "Blue Peter" or its ITV rival "Magpie" played a major part in most of my peer group's lives. For me, Blue Peter started off with Val Singleton and Christopher Trace, later Val, Peter Purves and John Noakes (Jason the Siamese cat, Petra and Patch the dogs). At a young age I had a Blue Peter jigsaw featuring the presenters and Blue Peter pets, then later I got Blue Peter books (annuals) for Christmas.
Other daytime programmes I watched included The Zoo Gang (I rather liked Barry Morse who later turned up in Space 1999), The Saint (serious crush on Roger Moore), The Persuaders, the Golden Shot (a games show), a series teaching yoga (which mum and I did together) and the horse racing. Thanks to horse racing I had a head start when we learnt ratios in maths at the age of 12 - mum had taught me to understand the racing odds that were displayed on screen and I knew what the return would be on a 10p stake at certain odds (except in ratios you don't get the stake money back and 1:1 isn't called Evens!). I remember cheering on various horses, especially if ridden by Lester Piggott or Sandy Barclay. Despite this, I don't gamble and have only ever placed 1 bet in my life.
With less TV for children we made out own entertainment for most of the day. I mostly played with Hot Wheels cars, Matchbox diecast vehicles, jigsaws and Lego or played in the back garden with my rocking horse "Rinty". I was a very bookish child and as well as young reader books I got Playhour comic each week, but later got Jack and Jill. These were all neatly filed away in a basket and re-read often. I also had some of dad's childhood books including a book about the different saints. I had several Enid Blyton books including her retelling of Brer Rabbit stories and her retelling of ancient myths. It was from those books that I learnt what a comma and a full-stop were for. By 4 years old I could read short articles in dad's copy of The Times; though I could read the words I had no idea what many of the concepts were, but I particularly remember reading that trade union leader Vic Feather had broken his ankle.
One day sticks in my memory for an odd reason. I was probably 4 years old and sitting in the bay window using a toy knitting machine. This was a plastic frame with two opposing rows of hooks that you looped wool over (one day I'll make one with wood and nails – they are great for making scarves). Late that afternoon, I realised that I could not remember anything of the day. It perplexed me. At the time I wondered if I had spent the whole day "knitting" which is entirely possible as I could "lose myself" in an activity. While there's much I can't remember, this particular absence of memory is troubling.
Both sets of grandparents and also my mum's sisters used to visit us and mum's dad taught me to play draughts. I also used to pester my aunts to play Ludo and Snakes and Ladders. One Christmas, Uncle Eric got me a Triang pedal go-cart which I loved. The frame could be extended as I grew so I was still playing with it when I was 10 years old.
On Sunday mornings I went to Sunday School at church. This was as much to give my parents a break (especially when my twin sisters were babies) as for religious instruction. Apparently I was very impressed when the Sunday School helper (whom my parents say I had a crush on) killed a wasp with his penknife. I can still remember my favourite Sunday School song "Store your pennies in the bank of heaven .... you will find them safely waiting for you, when you get to heaven .... one day". Many of the lessons were Aesop's Fables. I remember the monkey who was so greedy he got his hand stuck in a box because he wouldn't let go of the peas (The monkey and the King of Benares). Then one Sunday the story was about 2 apes that fell in quicksand and needed to hold onto something strong to save themselves. One ape held onto his own whiskers, sank and drowned. That one upset me so much I didn't want to go to Sunday School again.
Starting School
When I was 5, everything changed and I started Primary School. I read in a psychology book that you never forget the first day at school because of the disorientation and being separated from your mother. I don't remember my first day at all! I was always a self-contained child and I'd sometimes spent whole days reading books or building Lego houses or playing Hot Wheels, and I don't remember missing mum at all. If anything, I'd found a place with lots more books to read and where I could make things from Plasticine without mum worrying it would get stuck in the carpet.
My family moved several times when I was a child because of dad's work. This meant I went to 3 Primary schools. One thing I have to make clear is that it simply isn't true that "children make friends easily." Primary school age children establish cliques that don't easily admit newcomers or outsiders. Newcomers are curiosities at first, but it's hard for them to join one of the cliques. Being a geeky child with poor social skills, not only was it hard to fit in, I was also an easy target for bullies.
Children's TV - 1970s and 1980s
Around mid-morning there was Playschool; this had 2 presenters (one male, one female) and the content was a mix of educational and fun - songs, "through the window" (a short film e.g. about dray horses having a holiday in the countryside), tell the time, listen to a story and imaginative play with the Playschool toys (soft doll Jemima, plastic doll Hamble, Big Ted, Little Ted and Humpty). At lunchtime there was the Watch with Mother which might be Chigley, Trumpton, Camberwick Green, The Herbs, Mr Benn, Andy Pandy, Pogles Wood, The Woodentops or Bill and Benn. All of this was on BBC. Later on there was a morning slot on ITV, but I can only remember Pipkins about some animals (e.g. Hartley the Hare and also a tortoise) or Rainbow (Zippy, Bungle, George and various animations).
During the weekdays, BBC's afternoon slot for children began around 3:45 with a repeat of Playschool followed by various short programmes ranging from cartoon series (Top Cat, Deputy Dawg, Huckleberry Hound), educational (Animal Magic), drama series and book adaptations (e.g. The Viaduct, Carrie's War, The White Horse Gang, Tom's Midnight Garden, The Diddakoi, Lizzie Dripping, Rentaghost, Grange Hill) and art shows (e.g. Vision On, Take Hart). Jackanory was a serialised book reading which I particularly loved and I had several Jackanory books, so this contributed to learning to read at an early age. My favourite Jackanory book was about a rag-and-bone man. Another one I can remember was about some children who owned a Poodle and who took it to a dog show.
At 4:50 or 5 pm there was John Craven's Newsround. Magazine programme Blue Peter (Mondays and Thursdays) was an institution among my age group. On BBC, the best-remembered 5 pm Friday slot was kids' game show Crackerjack (It's Friday, it's 5 o'clock, it's Crackerjack!). The winner got board games and annuals while runners up got Crackerjack pencils - we were undemanding in those days. One game was "cabbages and kings" where you got cabbages for getting questions wrong. I vaguely recall a junior It's a Knockout called Runaround.
BBC children's TV ended with a 5 minute slot: Parsley (a spin-off from The Herbs), Captain Pugwash (the rude names are an urban legend), Magic Roundabout, The Wombles, The Clangers, Ivor the Engine, Crystal Tips and Alistair, Hector's House, Noah and Nelly and the SkylArk, Roobarb and various others. Some were European imports re-narrated in English. I just about remember Noggin the Nog, which seemed to be about Norsemen. Noggin the Nog was also in some of the comics and annuals I got early on.
I don't recall much from ITV. Its equivalent of afternoon Playschool was Romper Room which featured real children in a TV studio version of a nursery school. Whenever they required music for a game, the children had to chant "Please Mr Music Man, will you play!" It had Romper-Stompers which were upturned buckets with rope handles to stomp about on. Magpie (Tuesday and Friday) was ITV's equivalent of Blue Peter. ITV also had cult children's sci-fi series The Tomorrow People and Timeslip. There was also Follyfoot (about a stables), Michael Bentine's Potty Time and there was the Sooty and Sweep Show. When I was very young, there was a show presented by (garbled memories here) Ayesha Brush and others, which ended with a singalong: "rockin' rollin ridin' out along the bay ....".
My favourite Playschool and PlayAway (the spinoff version shown at the weekend) presenter was Brian Cant who was nominated the voice of childhood. One of my friends had a serious crush on presenter Floella Benjamin.
Childhood TV - Weekends
I was always irritated by the Saturday/school holidays kids' show "Why Don't You (Just Switch off the Television and Do Something More Interesting Instead)" - how could I watch the show if I switched off TV? It seemed to be presented by some incredibly smug kids showing how to do crafts, games and other activities. I dimly remember the Double Deckers about a gang of kids that hung out in an old double decker bus and had adventures; for many years I wanted to live in a double decker bus and when I went to secondary school I used to fantasise about how I would convert the bus for living in (ironically, these days I've been involved in converting buses back to their original state). The Banana Splits was more memorable, but I only liked the cartoon segments. We had The Monkees of course, but I thought they were stupid - I was into The Goodies.
There were various Saturday morning magazine shows. I vaguely recall Saturday Superstore and I loathed BBC's Multicoloured Swap Shop, but loved ITV's Tiswas (the early series with Trevor East and the Wellyphone calls). Tiswas introduced me to the talents of drummer Cozy Powell and, therefore, to heavy rock! Bill Oddie presented The Saturday Banana (also ITV). It should have been called Saturday Bonanza, but someone misheard the title and the banana title stuck! There was also the Mersey Pirate. While BBC had better weekday shows for children, ITV was the place to be on Saturday mornings.
On Saturday afternoons there was usually a children's slot after the national news slot following Grandstand (BBC) and World of Sport (ITV) around 5pm. There was also a Sunday mid-afternoon slot. The Saturday slot tended to be series, sometimes home-grown (Basil Brush, Space 1999, Catweazle, Worzel Gummidge, Dr Who, The Tripods), sometimes USAnian imports (Dukes of Hazzard, Automan, Knight Rider, Manimal, Logan's Run (series), Lucan (about a boy raised by wolves)). The Sunday slot was often a drama or adventure series, sometimes with religious content (The Talisman, Knights of God (Arthurian post-industrial era theme - surely it wasn't as late as 1987!)) although ITV had The Ghosts of Motley Hall which was about 5 spooks from different eras who lived in an old stately home (Matt the stable boy, the White Lady, Bodkin the Jester plus an aristocrat and an explorer/colonel).
Early on, a favourite Sunday teatime show was The Adventures of Black Beauty with its instantly identifiable theme tune (Galloping Home). Even when visiting friends for tea or a party, everything stopped for Black Beauty! This was made between 1972 and 1974 and regularly repeated. The premise was that Black Beauty from the book lived with Dr Gordon and his family. At first, the daughter was Vicky, but in the second series she was Jenny instead. Despite being horse-mad as a youngster, somehow I managed to miss a series called "White Horses" that aired from 1968 and was repeated for several years and also had a memorable theme tune. Because TV had regional variations, it's quite possible I missed this through moving from one area to another. I also failed to watch ITV's Follyfoot, which was based around a stables, as it clashed with something on BBC. Back then you had to choose what to watch; generally a "live" show won because a series or film normally got repeated.
Food
When I was about 3, my favourite breakfast cereal was Kellogg's Sugar Smacks. This had a Star Trek theme at the time with Spock on the packaging. One series of freebies was the Star Trek badge collection; my prized possession was the upside-down V badge. Another series of free gifts were little plastic "monsters" and I remember one that had feet on his head. I also remember a variation that contained "Strawberry Pops" - small, pink, strawberry-flavour pieces mixed in with the Sugar Smacks. I can't find anyone else who remembers these, so maybe it was a short-lived trial in a small region. I also remember "Puffa Puffa Rice," another long-vanished cereal. Mini Shredded Wheat were known as "Cubs" in those days. For many years, I ate most cereals without milk as I hated the texture of soggy cereal in my mouth. Muesli was an exception of course; Alpen (which my nan always called "alpine") and its competitor Country Store were treats when I stayed at my dad's mum's house (giving my mum a rest while she coped with twin babies). These were seen as health foods at the time, despite the sugar and skimmed milk content.
Right from childhood I loved Brussels Sprouts, which I called "bundles" and peas ("buhmmers" because of the bmm-bmm-bmm sound they made when tipped onto a plate) while egg was "googie" and white-bread-and-butter was "buppy". However, I hated tinned veg such as marrowfat peas, carrots and new potatoes which were staple items in my grandparents' larders before they had ice-boxes or freezers. I loved pickled beetroot so much that I could eat a whole (small) jar of it; the downside being that it turned my wee red which gave mum a fright (don't worry, mothers of beetroot addicts - it's a harmless genetic quirk). Sometimes I hanker for the synthetic strawberry or rasperry tastes and brighter reds of 1960s yoghurts. The only brands I recall were St Ivel and Ski and I had a passion for black cherry flavour Ski yoghurts.
I remember pestering mum for Gingerella Biscuits, a short-lived brand of ginger thins, based on the adverts that used a version of the "Cinderella Rockefeller" song. She bought them about twice as they were expensive, and then it was back to normal Ginger Nut biscuits! On the other hand, I disliked pink wafers and lemon puffs because they stuck to the roof of my mouth. Chocolate bourbon biscuits were always my favourites in the family selection boxes.
Brands
Whole books have been written on the brands of past decades, so these are only the ones that bring back personal memories.
My aunts' and grandparents' bathrooms were a delight - Elnett and Harmony hairspray, Lux, Pears and Lifebuoy soaps, Selto tooth salts, Cussons lotions, Marks and Spencer Muguet de Bois talk, Avon Pretty Peach perfume, and of course the half-finished Max Factor and Outdoor Girl lipsticks I was allowed to have. The only colour lipstick I remember from that time (brand unknown) was "Pussynose Pink". As children we loved sniffing the soaps, talcs and lotions. Sometimes I smell something that takes me straight back to childhood. At first, my grandparents had a bath in their kitchens; the bath had a worksurface on it most of the time, only being uncovered on bath-night (strip-washing and child-bathing used the kitchen sink). Later on, the council improved their homes with an annexe containing a proper bathroom and hand-basin, and refitted the kitchen. I'm amazed that many people feel they must shower daily; back then we had morning and evening wash-downs at the sink or hand-basin and a Sunday bath-and-hair-wash-night (unless we got exceptionally dirty).
In the late 60s, everything seemed brightly coloured - except our black and white TVs of course! My aunts' lotions were often garish blues or lurid yellows and I liked to mix blobs of different colours together on the side of the hand-basin to make new colours. The alternatives to the highly coloured, highly scented creams were milky white Cold Cream or pale pink Oil of Ulay favoured by the older generation. One of my sisters, when very young, ate some Elizabeth Arden hand-cream, prompting dad to make an emergency call to the factory while mum fretted. As well as Elizabeth Arden hand-cream, mum used a lot of Nivea handcream for her eczema (in retrospect, food additives and soap powders may have played a part). These days, whenever I drive past field beans in flower I get the waft of Nivea-scent that takes me back to the 60s and 70s.
I remember Dreft hand-washing soap powder. On ironing day, mum shook out the dry laundry and the air was filled with "nappy dust". No-one gave a second thought to what that dust did to their lungs. If it wasn't "drying weather" she put the clothes on rails in the Flatley clothes drier which heated and dried them. This was a refinement of the "drape it over the hot stove door" method and the clothes came out smelling wonderfully fresh. It wasn't cheap to run, but with 3 small children around, it was an essential in poor weather. Washing machines were in the form of twin tubs with a washer and separate spinner. They were hooked up to the kitchen taps to fill, with a waste hose draining into the sink. It took a lot of human interaction to fill and drain the washer (once for the wash, then once or more for the rinses), then to transfer the hot, wet, heavy items into the spinner using a pair of wooden tongs. It was, however, a great improvement on the copper and mangle that my former mother-in-law was still using well into the 1980s.
Perfumed talcum powder was a big thing in my early childhood and up to the mid/late 70s (in my memory) and Marks & Spencer had a great range including my personal favourite, Muguet de Bois (Lily of the Valley). Coty, Cussons and many perfume makers produced talc in parallel to their colognes or aftershaves (men could get Brut 33 talc, Hai Karate talc etc). Nowadays, talcum powder is implicated as a carcinogenic instead of a staple Christmas present for nans. In my early teens, cosmetics specifically aimed at my age group were Miners and Boots 17. Preferred perfume when I reached my later teens would Spritual Sky oils ("Hippy Juice") such as coconut, patchouli or strawberry bought from a side-street boutique called Fleur. This was before New Age shops really took off - at this time Camilla Hepper and The Body Shop were quite radical ideas. Body Shop oil perfumes arrived on the scen during my late teens. For ethical shoppers, there was "Beauty Without Cruelty" from health shops. Spiritual Sky also produced Joss sticks (incense sticks), another must for many mid-late teens as they masked the smell of cigarette smoke in bedrooms.
Early 1970s - Iver Heath
My first Primary School was in Iver Heath, Bucks and I recall it being a fairly modern building. I lived on Swallow Street and usually walked to school. My parents had a navy blue Ford Anglia, but most children walked or cycled to school in those days. Sometimes dad put me on the seat of his moped (it used to belong to his dad) and walked me to school on that before going to work on the moped. There was one bit of the walk I hated, especially in winter. As we passed the cow-field, there was a dead branch in the hedge and it resembled a horse's decapitated head. I always shut my eyes and I've never mentioned this childhood horror to my parents. We sometimes stopped to say hello to Penny, a friendly Jack Russell terrier on a little crescent called Swallowdale. If we walked through Swallowdale, we missed the scary hedge.
I remember walking to school on cold days being fascinated by making "dragon breath". I also remember doing cartwheels on the grass verge and discovering at morning break that I'd lost my KitKat money! Quite often we'd meet up with other children, usually Anita or Tristan, and their parents and arrive at school in a group.
The intake class (or "1st infants") was Miss Hall's class. First infants and the two "2nd infants" classes were in their own little block with own toilets and own playground. Because many children went to school unable to read at all, Miss Hall gave us all symbols to identify our belongings drawer, workbooks and coat-peg. Mine was a biscuit. During the reading assessment, Miss Hall discovered I was already a fluent reader so I was swiftly introduced to the class library shared between her class, Mrs Clayton's (or Clapton, I can't remember) class and a third infant teacher, Mrs Sissons. I particularly remember learning how to spell "ski-ing" because it was an exciting word that needed a line (hyphen) to keep the two "i"s apart!
Unlike many people I have no memory of my very first day at school. I already loved reading and learning and school was a treasure trove of books and knowledge. I was probably so entranced by all the books that I didn't miss mum. Apparently I idolised Miss Hall. There were lots of outdoor activities in good weather: nature walks and learning to identify birds, flowers and trees. We all learnt the Green Cross Code and were given a printed hanky with the Stop-Look-Listen-Cross message on it. Mum met me for lunch and home-time either at the main gate or the field gate. Teachers supervised the gates, but you could sneak through at busy times by tagging along behind another parent.
One lunchtime I went to the field gate and was chased by an out-of-control Alsatian while waiting for mum. I crossed the road and ran home. The dog chased me and barked at me through the garden fence – I was petrified. The dog ran off and when mum finally stopped waiting and came home, she yelled at me. I thought this was terribly unfair - she should have yelled at the dog's owner. I don't think she believed me about the Alsatian, but I was scared of big dogs for ages.
I also remember one girl getting covered in paint and Miss Hall had to strip her off and bath her in the big sink. The girl wore PE kit while her clothes (with the paint mostly washed off) dried on the radiator. We also took in foil milk bottle tops to school as these were collected to get guide dogs for the blind.
On leaving Miss Hall we were split into 2 smaller groups for proper learning. No-one wanted to be in Mrs Clayton's class because she was stricter than Mrs Sissons, but that was where I ended up. She wasn't too strict, but she had standards of discipline and we spent more time doing maths, reading and writing. Again, I don't recall many details, except that I loved writing and learning new words. After Mrs Clayton (or Mrs Sissons), we moved into the main school building. I later learnt that Mrs Sissons was a ruthless smacker of small children whereas Mrs Clayton kept discipline with her voice.
We had PE lessons in the same hall that we had infant assemblies (the junior assemblies were over in the main school building). I don't remember much about these except one PE lessons was based on the Wizard of Oz and we had to be a character going down the yellow brick road. The teacher didn't believe I hadn't watched the film (it had apparently been on TV the previous weekend) and thought I was being contrary. I think my parents had decided the Wizard of Oz was too scary (especially as my sisters were only 3 years old) which was why we hadn't watched it.
There were 2 playgrounds. There was a small playground attached to the three infant classes, which comprised the asphalt playground and a piece of playing field with some saplings and small picnic tables. Separated by a strip of grass (I can't remember if there was a fence) was the larger juniors playground and the big playing field. There was a sharp slope down to a path between the juniors playground and the building and we were forever having announcements in assembly about not running down the slope because you wouldn't stop in time and would bash into the wall.
I have vague recollections of the headmaster who, I think, was Mr Willis (or Williams). At junior assemblies he used old-fashioned instructions such as "please be up-standing" and "please be seated". He also used to click his fingers and point, which was sufficient to reduce a child to silence. I recall his regular lectures about not running down the slope though. Some assemblies had moral plays acted by older children. I vividly remember them acting out Jim, Who ran away from his Nurse and was eaten by a Lion. They covered "Jim" with a grey blanket that matched the grey podium to illustrate him being eaten bit by bit. Apparently, Mr Willis started school dinner by saying "For what" and the children chanted "... we're about to receive...etc" though I never experienced this as I went home for lunch.
The next class was Mrs Williams which was upstairs. I remember yet more educational walks (we learnt about spores on ferns, baby birds etc) and educational television held in an open area near the stairs. We were no longer allowed in the "babies' playground." My only vivid memories, apart from spores on ferns were learning that a duck's beak is called a bill and learning the difference between hay and straw (such things are important to kids surrounded by farmland). It was while I was in Mrs Williams' class that the family moved to Essex.
I also remember rather liking (in a 6 year old way) the dentist's son. The dentist was Mr Parrott. There was a hall by the entrance to the school, where people sometimes had parties. I don't remember much about the shops in Iver Heath, but the footpath by the shops was called "Muddy alley" and was supposedly a magical place where children had amazing adventures. However, I was too young to go there alone. One of the shops had scales with weights, and sold sweets as well as groceries. The hairdresser was next door.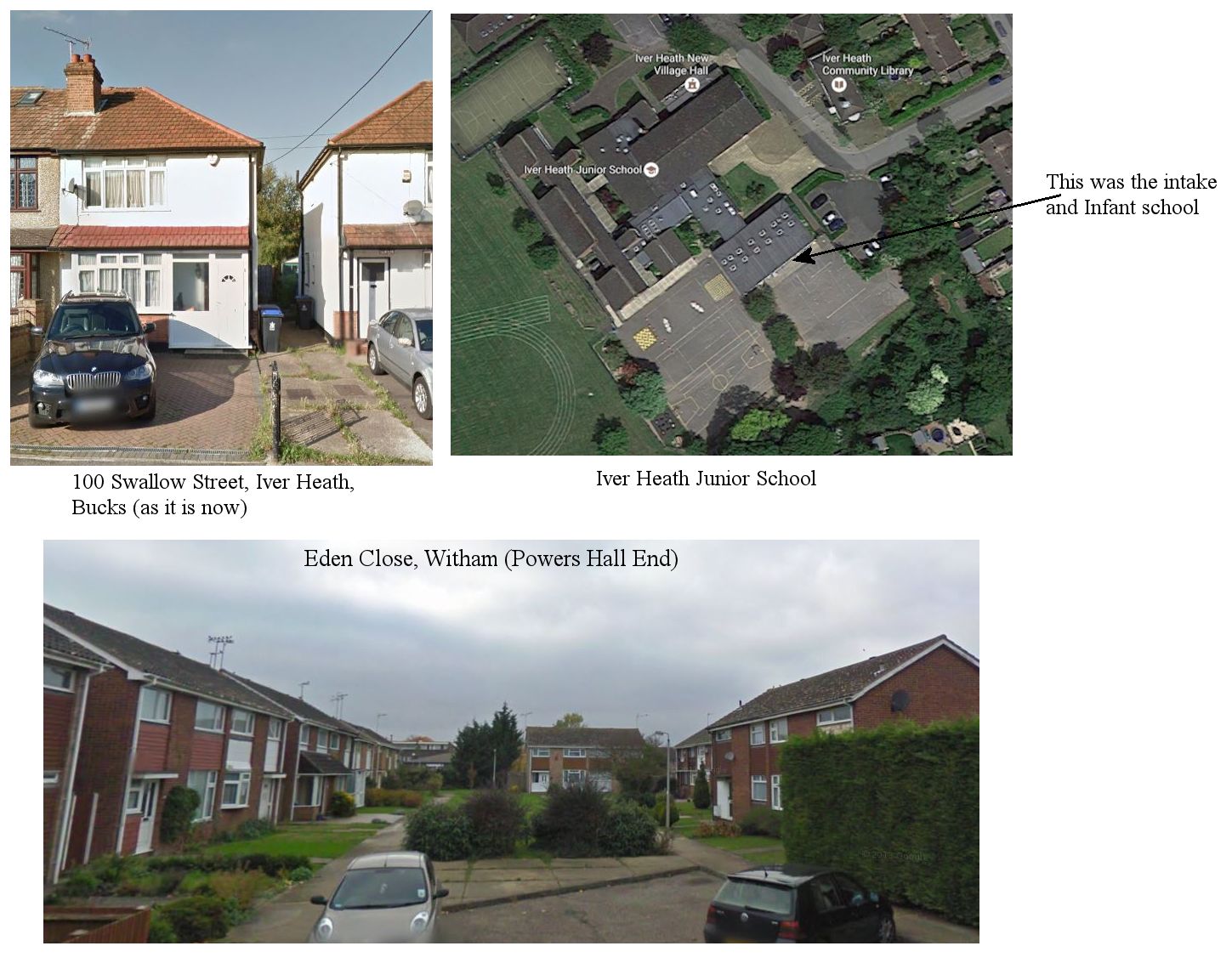 Early 1970s - Witham
We moved temporarily to Eden Road (off of Allectus Way on the map link), Powers Hall End, Witham. My second Primary School was at Powers Hall End, Witham and my only enduring memory of Powers Hall End primary school is hating it! I was very homesick for my old school and wanted to know when I could go back there. My new school was a modern experiment in self-timetabling and I desperately missed the structured timetable of Iver Heath. I was 7 years old and needed order and being a geeky child I desperately needed structure not chaos and confusion. It would probably have been okay if I'd grown up with this system, but I was thrown into the middle of it.
Instead of being based in classrooms, we were based in the dead-end sections of corridor between rooms. There were 4 "rooms: Art&Craft, Reading&Writing (with a little house full of books), Home&Cooking (where you could bake biscuits), Maths&Science. Imagine a St George's cross where each white section is a room. One arm of the cross was longer and led to the toilets and the hall. I. At the end of each arm of the cross (except the long arm) was a carpeted area where the teacher took the register and where we had coat-pegs and drawers for our things. Each leg of the cross had a door into one of the rooms. remember school assembly, but have no recollection of PE lessons - maybe I simply never found out about them! I was there over Christmas and remember there being Christmas singing lessons in the hall.
Instead of set lessons, pupils set their own timetables. They had to attend a session in each of the 4 disciplines every day, but could decide which order to do them; when bell rang we went to the next one we wanted. If a class was already too full, we were sent to another one instead. We had a book and had to get the teacher in the room to tick to say we'd spent a session in there. Instead of the whole class doing the same subject at the same time, we could choose where to go. I would have spent all my time in Reading&Writing and Maths&Science were it not for the tick-book. I think the theory was that we changed room at morning and afternoon playtime and at lunchtime (I always walked home for lunch - there was an underpass and I could walk home on my own without having to cross any roads). The problem was that even playtime was flexible and I didn't have a group of friends to spend playtime with so I still didn't know when to change rooms. Instead of bottled milk, break-time milk came in tetrahedral containers.
I was put in the care of Shelly who got bored and abandoned me after a couple of hours and well before I found out how self-timetabling worked! Shelly, like most kids, already had her social circle and did not need an outsider intruding. For the first 2 weeks I didn't realise there was a playtime. I complained to my parents about no playtime and they phoned the school. Playtime was often taken during a Home and Cooking session, but I never really understood how this worked. I think the teacher who took the register of my group should have kept a closer eye on me to make sure I was finding out these things. As a result, I retreated to "book corner", ended up with the reading age of a much older child and became very introverted. My most vivid memory is when I tripped over a chair in the Reading and Writing room and broke my arm. That curtailed playtime activities and expanded my reading time greatly.
This "modern school" experiment was a total disaster from my point of view. I can honestly say I was very unhappy there. I was only there for about 6 months and during that time I didn't make any friends - partly due to being a geeky introverted child and partly due to needing a properly structured day and not the horrible confusion I found myself in. Perhaps if my social skills issues had been diagnosed at this stage I would have had more adult help and not left to flounder, but back then "geekiness" wasn't really recognised and I ended up even more socially awkward and introverted than before. Moving from school to school is probably much less traumatic for children without my slightly defective brain-wiring (back in the days before seriously geeky children were recognised as probably needing additional help in order to adapt to change) . After the unhappy Powers Hall End experience, I got on much better with adults than with my own peer group.
I was a temporary pupil there because we were renting a house while our own house was being built. Maybe I'd have fitted in eventually, but it took me several months to properly get the hang of the self-timetabling. My inability to remember any of the teachers and only one of my classmate's names demonstrates how unhappy I was at that school.
Mid 1970s - Bocking Churchstreet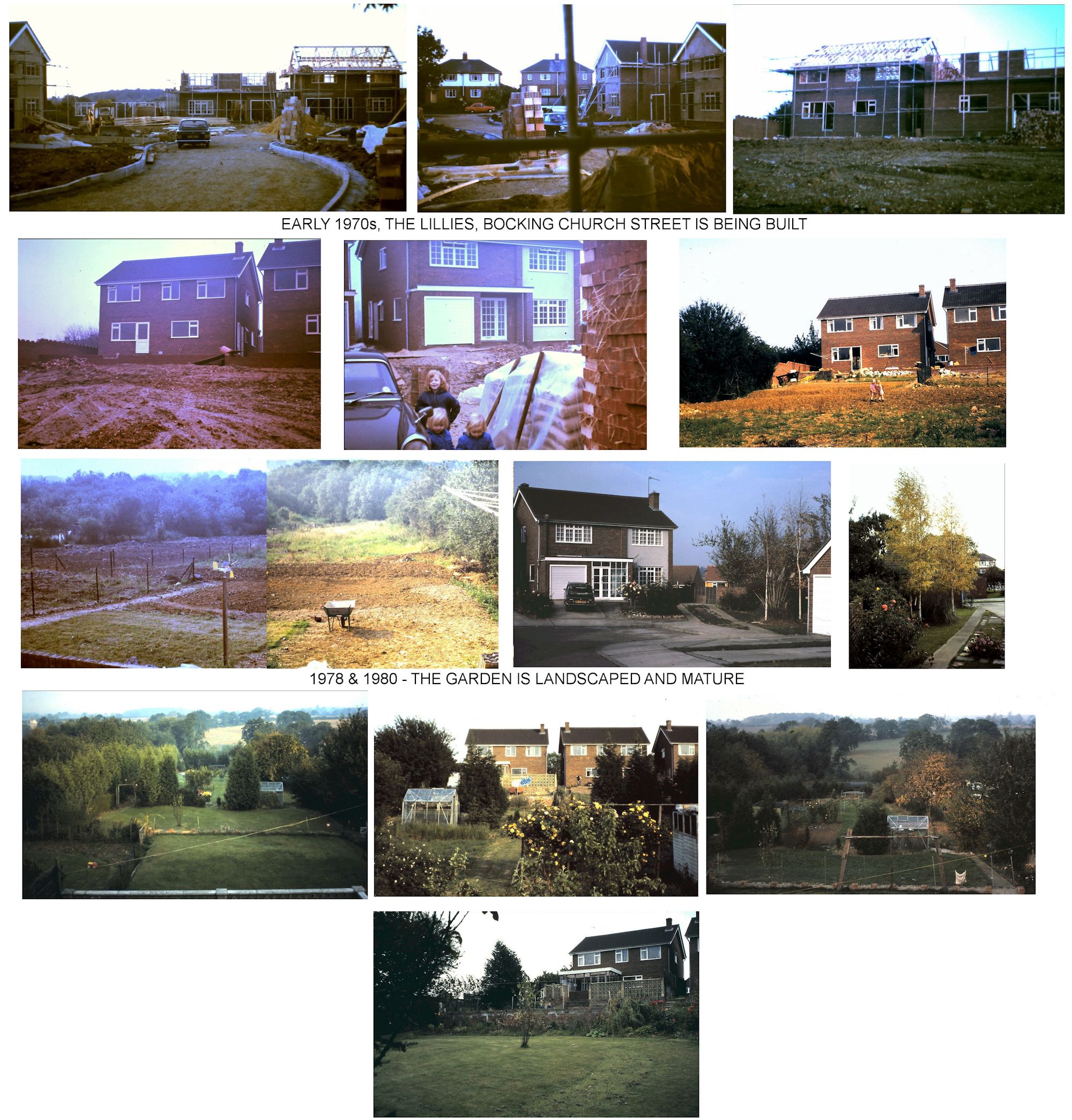 After several months of renting a house in Witham, our new house had been finished and we moved to The Lillies (8 houses in a close and backing onto farmland) near the top end of Bocking Churchstreet, Essex. This is a linear village north of Braintree & Bocking and stretches from the bridge at the bottom of the street (where Bocking "proper" begins) to the Four Releet at the top (where it again meets up with Bocking "proper" on Broad Road). Bocking "proper" turned into Braintree and Bocking End.
The staggered crossroads at the top end of the street was known as the Four Releet which was the name of a house on Broad Road when you turned left out of Bocking Churchstreet. Not quite opposite Bocking Churchstreet was Lyons Hall Road and there was a post office/general store there. Because of the busy main road, we went to the shops down Bocking Churchstreet instead. In the other direction from Four Releet House was Monken Hadley, a home for blind people. When I lived in Bocking Church Street, Monken Hadley was a home for blind people. In the late 1980s it was a home for mentally handicapped young people, then a home for the elderly until it closed in 2001 and was converted into apartments. There was a footpath nearby that led from Broad Road to Bocking Churchstreet alongside Millard House (the old people's home) almost opposite Ashpole Road. Somewhere after the Four Releet was a Dr Barnardos home (Foley House) though I never found out exactly where that was until much later in life – it was at High Garrett, where the road split for Halstead or Gosfield, and became a home for the deaf-blind. However, when I was a kid, anything further towards Halstead than the Bocking Church Street/Broad Road junction was Terra Incognita. Foley House was at 115 High Garrett, Braintree and had been built as a Barnardo's Home for boys. Between 1972 and 1981 (when it closed) it accommodated both boys and girls.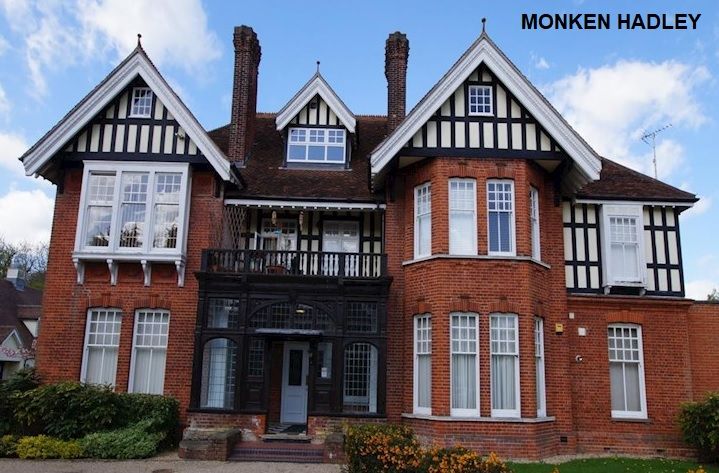 Several of the Ashpole Road households whose gardens backed onto the Lillies were quite miffed when the land was redeveloped. They'd been used to walking across the fields as a shortcut and when it was turned into houses and gardens they had to walk right to the top of Ashpole Road and then down Bocking Churchstreet instead of cutting across. After we moved out (and before new people moved in) there were some problems with one of the households putting a ladder against their back fence and climbing over it so they could use our garden as a shortcut.
As youngsters, we never went that way because of the main road, though when I was a young teen I used to cycle to High Garrett and Halstead. We were only allowed to go as far as Ashpole Road on the left and Millard House on the right. Going down Church Street there was a little Spar on the left. Mrs Stuart ran the Spar shop which had that smell peculiar to Spar shops. Before it was Spar, it was Vivo. The meat-slicing machine was a source of fascination for most of us as the assistant sliced ham from a block and wrapped it in waxed paper. In later years this became a fish and chip shop and then a Chinese takeaway. Mum preferred the Co-op (where the meat was pre-packed on trays) so we didn't go to the Spar often. Outside the Spar was a little pump that sold Esso Blue heating paraffin by the gallon. There was a traditional bakery,Mann and Baldwin, in the alley to the right of Spar and set back behind it. We were allowed to spend pocket money on fresh cakes sold over the bottom half of the bakery's stable-style door. Further down on the left was the local windmill.
There was another close further down the road on the site of the Bull Pub. Although this close didn't have a name, it was known locally as the "Bull site". Not far away was the United Reforem Church and I always loved the Wayside Pulpit posters outside it; we used to read them when walking to or from school or home for lunch. Mrs Grice ran the playgroup in the United Reformed Church. My sisters went to a playgroup there before starting primary school. There were a couple of closes on the opposite side of the street as well. Millers Close backed onto arable land and there was a little wood (Round Wood) where we used to play. The next one down was Windmill Gardens which led to the windmill. I liked going to the Bocking Windmill open days. According to the guide (about 35 years ago!) the base of the mill is brick because the whole mill was lifted up by one storey and the brick section added beneath it.
Halfway down the road on the right was Fenn's Road and the Bocking Church Street Village Hall (which was also the library some evenings). On the right, the school could be accessed either from a footpath on Fenn's Road leading from the school to the village hall or from the main street just past the school playing field (swings, big rocking horse and the see-saw where I broke my arm again). Out of school playtimes it was used as a public recreation area.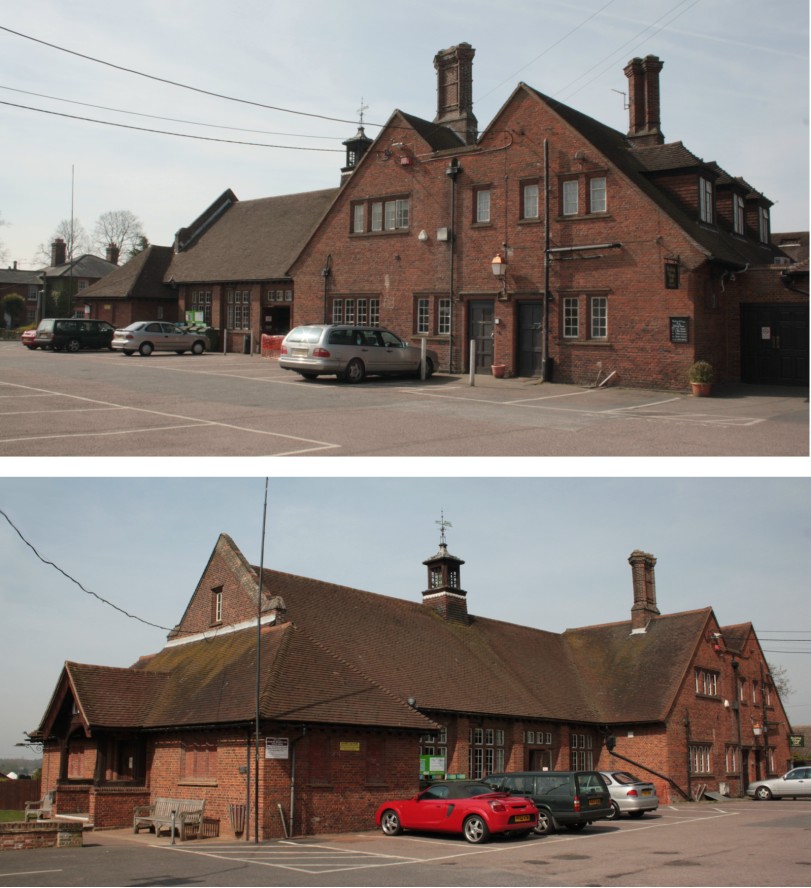 The village hall was also school assembly hall and for a while it was used as a temporary classroom until a demountable had been erected by the playground. There was a big grey box at the top of two telegraph poles outside the Village Hall; this was the old WWII air raid siren and was used to summon the local part-time firemen when there was a fire. The village hall footpath led past old people's homes and we often chatted to them in their gardens. Past the school on the right was Pryke's (newsagents and stationers), Agnetha's (hairdresser), a florist, a small 2nd hand bookshop and Mitchell's (sweets, small toys and wool). On the left opposite those shops was the Post Office and an Off-Licence (attached to a pub). Further down on the left was the Co-op and Brown's (butchers) as well as the old farrier's place (probably used for the scrap metal trade by then) - Poulton's blacksmith. There was a green at the bottom of the hill with the old church school on it (the hall there was sometimes used for the Primary School Christmas party if the village hall wasn't available), St Mary's Church and a terrace of small cottages that had been the almshouses. The almshouses lacked a number 11 for some reason. The road then went sharply left. You could go straight on to Dorewards Avenue or turn right and go over the bridge into Bocking proper. For some reason we never went onto Dorewards Avenue (it led to a modern housing estate) except when carol-singing with the school. Most of the "rough" or "poor" children came from older houses at this end of the village or from over the bridge and up towards the Deanery.
Mitchells sweetshop became Ketleys after Mr Mitchell died. Years after I left Bocking Churchstreet, Ketleys was converted back into a private house. The Post Office and Pryke's both closed more recently. An odd little shop near Pryke's went through series of trades. At one point it became a secondhand book shop, but for much of the time I remember it being empty. Between it and the hairdressers (Agnetha's) was a narrow glass-fronted narrow shop that ended up being a florist. One of the pubs at the lower end of the street had a small room at the side that served as an off-licence.
It strikes me now just how cliquey the village was. We lived at the top end (geographically) and mixed with children from the top end and middle. Only rarely did we play on the areas of waste ground at the bottom end. It turns out there was a big motorcycle gang that used to congregate near the church hall. There was a big Courtauld's factory at the bottom of Church Street; this has since been redeveloped into the Waterside housing complex. We didn't socialise on Dorewards Avenue and apart from trips to the sweet shops, didn't play beyond Fenns Road. When I went back as an adult, the lower end of the village was unfamiliar territory while the upper end and middle was familiar. We were allowed to walk to school (and home for lunch) unaccompanied and at weekend we went to Mitchell's or Pryke's for 2oz of sweets from the jar. We played in the fields surrounding the village and we knew most of the local footpaths.
We had a mobile grocer called Derek who had a big yellow van. He was very friendly and if he had time he came to admire our little gardening plots in the back garden. he used to entertain us by wiggling his false front teeth to make the vanish and reappear. here was also a Corona lorry that came round fizzy drinks in big glass bottles (Corona lorries were almost as common as milk floats). You got a small deposit back when you returned the empty bottle. Sometimes mum let us take bottles to Mitchell's to get the deposit back and we spent the money on a can of Top Deck Shandy or Top Deck Lager and Lime (which were just flavoured, but we thought they were grown up).
There was also a "key swapping club" (swingers) on John English Avenue (off of Tabor Avenue, which linked up with Coldnailhurst Ave) and the local postman made enquiries when new people moved into the village. My mum was shocked about it, though I only found out about that aspect of village life many years later. More sedately, there was a "Young Wives Club" that met at the Village Hall, though I don't think mum joined, possibly because we were outsiders and she hadn't been invited. She joined Inner Wheel which is the ladies version of Rotary Club, but she got fed up as it was all about cooking and sewing.
Once I got used to travelling to secondary school by bus, I used to get a lift from home into Braintree with mum and then go and do my own thing then I'd get the bus home (usually early afternoon). It was half fare until the age of 14, which was 2p or 3p. On Saturday, the more frequent buses home seemed to be the ones that ran along Broad Road so I got off either at Monken Hadley or at the Four Releet. Often I knew the bus driver from commuting to school.
Some Saturdays, I got a single decker bus from Braintree Bus park to Maldon to visit friends who'd moved there (they'd moved from Braintree Public gardens on St Michael's Road to Promenade Lodge beside Maldon Promenade Park). Maldon used to have a bus station, but it has been redeveloped into housing. Later on I got a friend who lived near the Bus Park to give me a pillion ride to Maldon on his Honda motorbike (I borrowed a crash helmet from him). Eventually my parents found out and after they'd been cross, mum gave me her old crash helmet from when she used to ride pillion on dad's motorbike. When we moved to Chelmsford, I got a racing bike and cycled to Maldon instead.
The Village School
As I have no photos, I will describe it as best I can. Imagine you are standing at the top of the playground just in front of a brick built games equipment building. Here is what you will see.
On your right is the opening to the school playing/sports field. Beyond this was a farmland. The caretaker thought nothing of burning wood debris in the corner of the field and we kids sometimes played near - or even with - the bonfire. Around the field edges were wild plants including Lady's Bedstraw, Harebell, nettles and deadnettles, different grasses and clovers. We knew them all, just as we knew all the different trees and birds seen in the village. We did term projects about the countryside. In the mid 70s, the top half of our field was built over by the Edith Borthwick special needs school.
A third of the way down, on the right of the playground is a prefab classroom. Mr Basham taught there. Just beyond that is the bright red brick wall behind which are the main toilets. Then there's a caretaker's building and then more toilets (boys cubicles). At the bottom of the playground, directly opposite is another prefab. That was Mrs James' classroom.
As you stand with your back to the PE shed, to your immediate left is the school garden. Most of the left hand side is taken up by the school building. Halfway along it there is a door leading from the playground into the school. Just beyond the doorway, part of the building sticks out and there's a door into the room we called the "clay cage". The clay cage contained the clay, some tables and the kiln and was part of a wing containing the central heating furnace and the kitchens (school dinners were taken in the classrooms). If you walk from the playground into the school building through the aforementioned door, you are in the main corridor that runs the length of the building. To your left at the far end is Mrs Innes' classroom (Class 3). Lets go and stand outside her door, looking down the corridor towards the bottom end of the building.
To your right is an open area with some tables. Children are sent out there to get on with their work – art, English or maths exercises, learning lines from a play or whatever. There's an alcove with a big butler sink there as well. Being allowed to work there is a privilege as you are out of the teacher's sight. To your left, opposite the open area) is Mrs Hooton's class (class 2, later Mrs Herson's class). Next to it is Mrs Hammond's class (Class 1 – Top Class for 10/11 year olds). Opposite Class 1 is the door you came in. Just past Top Class is the school office and headmaster's office. Opposite those is the entrance to the kitchen and a fish tank just outside it. I looked after the tropical fish for several years. For a few years, at break-time there was a Tuck Shop on the tables between the doors of Class 1 and Class 2.
On the left, past the offices is a bay containing coat racks, though some classrooms also have their own coat pegs. Past the coat racks is Mrs Panell's class (the intake class or Bottom Infants, known to us as the "baby class" and later converted into an assembly hall). Opposite the coat racks (i.e. next to the kitchen) is Mrs Gillingham's class room which was sometimes used for music lessons, 11 plus exams or educational TV (as it had blackout curtains). Past that, I think, are staff cloakrooms or some other no-go area. Then at the bottom end of the corridor there are the big double doors out into a large asphalted area between the main playground and the gates. This area often got used for games such as Grandmother's Chest.
Back to the top of the playground with you! This time, turn to face the wall of the PE shed. Just to the left of the PE shed are climbing bars that look like football goalposts. Beyond the PE shed and to the right (just beyond the school garden) is the "baby playing field" with swings, big rocking horse and see-saw (I broke my left arm falling off the see-saw). This area was also a public recreation ground outside of school playtimes. A footpath to the left of the baby playing field leads up to the village hall where we had assembly and indoor PE. The footpath runs between some old people's bungalows to its left and the village hall to its right.
We filed up to the village hall in a noisy crocodile each morning to sing hymns and listen to Mr Boyes. The recorder group played tunes (inexpertly) as we filed in and out. Sometimes a class did assembly, either reading out school work or doing a short play. The annual nativity play and Christmas parties (one for infants, one for juniors) were usually held there as well. The Christmas Fayre/Fete was held there. Behind the stage was a warren of rooms and, on a couple of evenings a week, the village library. On Friday afternoons Merit Badges were handed out in the village hall. This made me unpopular as I always won a badge. I asked the headmaster if I could be excluded from Merit Badges as it wasn't fair on the others (and it was losing me friends and getting me bullied). I couldn't help being clever.
I visited the school some years after leaving and before I moved away from the village. Mrs Panell's class became the school hall. One of the staff areas opposite the kitchens (or maybe it was part of the old coat peg area) became indoor toilets (hooray!). The corridor was carpeted and the huge butler sink and its surround had gone (making much more space). Areas once cluttered with old-fashioned heating and water systems and big heavy desks and cupboards had been rationalised and used for storage or teaching areas. I realised then that it was no longer "my school". After a few years I had become a stranger and stopped visiting.
Quite early on, I was classed as a "gifted child" with advanced reading and writing skills. These days, I'd probably have been diagnosed with Asperger traits as well. When I was 9, I was already in top class with the 11 year olds and outperforming many of them (but with underperforming social skills). Nowadays, clever kids are given extra work and kept with their own age group, but that wasn't possible in a village school where teachers were also coping with "Educationally Sub-Normal" children (those we now call "Special Needs"). Like many nerdy youngsters, I was better at communicating with adults that with children my own age. All of this, combined with my poor understanding of social situations led to me being bullied for being posh, clever and weird and I became progressively more introverted. It was a vicious circle and I was put on medication when I was 10, but still had to "stick up for myself" or chant "sticks and stones will break my bones, but names will never hurt me." That's all very well in theory, but names can hurt a lot when you don't understand why you're different and are flummoxed by social rules.
At Bocking Churchstreet Primary school we had only one male teacher – Mr Basham - apart from the headmaster. "Sir" was only memorable for having a name that we took the mickey out of. I was only in Sir's class once when he stood in for another teacher one afternoon. I was about 8 years old and I can't remember what the lesson was. He seemed a bit loud and stern at the time. When I moved back into the area in the mid-1980s I saw Mr Basham's name in the local paper. He was about 50 by then and retired, but gave private maths tuition to 10-11 year olds. He had just been "done" for inappropriately touching some of the girls he was teaching. Although I wasn't in his class, it was a shock to read this about a person I was supposed to look up to as a child. Later on I was told he was a "spanker" and stroked the boys' bottoms in between smacks and that he liked to watch them getting changed for sports.
Mrs James's Class
I moved from Mrs Williams' class at Iver Heath to an unmemorable teacher's class at Powers Hall End and then finished the last few months of my "upper infants" year in Mrs James's class (Class J) at Bocking Churchstreet primary school. There was no National Syllabus and school didn't know what standard I'd reached at my previous primary schools. I was born in summer so they could either put me in a class where I was one of the older children or put me in a class where I was one of the youngest. After Class J, I ended up skipping Class 4 and going straight into Class 3.
Bocking Churchstreet school had the traditional structure I craved, but again I was an outsider with social deficits and remained an outsider (or labelled a "loner" for a long time. Loners are often thought of as children who won't mix, but in truth many loners want to mix but their brains are wired up in such a way that they can't understand how to do so. Teachers were well-intentioned in putting such children into groups in the hope they'd make friends, but sometimes I felt as though I'd landed on an alien planet!
When I started in Mrs James' class at age 7, there was a boy there who was bigger and stronger than the others. I'll call him "M". M didn't realise he was bigger and stronger, because his mental skills were those of a 5 year old. His reading, writing and number skills were rudimentary and he came bottom in every class. Children tormented him for being "thick" or a "dumbo" (or even a "spazz" - a very common insult at the time) and, due to his lesser language skills, he lashed out physically.
The teachers knew M was "Educationally Sub-Normal" (the jargon of that time) and praised him for any progress he made, but M was always bottom of the class, last to be picked for team games and never picked to be a partner for pairs or group activities. When M played, he played rough and we were scared of him. Being left behind in everything made him frustrated and he had violent outbursts. Each year, he stayed in that class and the other children moved up. Any friends he had made (or rather any children that didn't shun him), moved on. When my sisters were in that class, he was 3 years older than them and could be hard to control.
Sometimes the teacher took us to play games in the school garden: In and Out The Dusty Windows/Bluebells or Sleeping Lions. The first few times I didn't know any of the games because we'd played completely different ones at Iver Heath. And my new classmates were confused that for me crossing your fingers and say "squitz" meant "I'll tell on you". To them it meant "exempt!" Moving regions meant learning a new language in the playground.
I remember the lesson books that had tracing paper between the pages where you wrote your answers. We had different lengths of coloured wood for learning "tens and units". There was also a book corner and I was in the "horse obsessed phase" so my favourites were Black Beauty and a "Black Roan and Buckskin" which was a sort of western and had a morbid cover image of a dead horse (the untameable "Black Roan") under a tree!
I was probably about 8 when we heard about Miss Jackson. She taught either Class 1 (final year) or Class 2 (next one down) and sometimes took one of the younger classes for an outdoor games lesson. At that age, this was a more organised form of playground games and not sports. One day she wasn't at school and eventually the rumour went round that she had tried to commit suicide using a gas oven after breaking up with her boyfriend. More gossip said she'd gone to Severalls (a psychiatric hospital) which would have made sense if she was badly depressed. I don't know if this was true or just playground gossip, but she never came back to our school afterwards and we were just told she'd gone away. I remember her as being young and rather trendy in how she dressed.
That year there was an emphasis on the Commonwealth and each class studied two countries. We studied India and Sri Lanka (which we were taught used to be called Ceylon). This involved a class trip to the Commonwealth Institute in London.
Because children had a tendency to run across the road after exiting the bottom gate (in the playground behind Mrs Panell's class) Mr Boyes told us in assembly about a boy who had been run over by a bus. I don't know when this was, but he made it sound like it was shortly before I joined the school. Much later I found out there was a boy a few classes above me who only had one arm. The Green Cross Code was still be hammered into us and we got road safety lessons in the playground or village hall. For the road safety lessons, there would be a mini road layout with a zebra crossing. We took it in turns for one pupil got to pedal a car around the road layout while another one crossed the zebra crossing. We were taught to always thank the car drivers by holding up a hand as we crossed. Children who cycled to school used a similar road layout in the playground to do their cycling proficiency lessons and get the cycling proficiency badge. Plenty of children cycled safely to school with friends from a young age and without any adult supervision. For some reason I didn't get a bike until a couple of years after my sisters so I missed doing cycling proficiency.
I skipped the intake class (Mrs Panell) due to my age (as well as Mrs Panell, one of the infants teachers was Mrs Pickford, but I never met her). After Mrs James, most of the top infants classes went into Mr Basham's class, though some of the older or cleverer children skipped this and went straight to Mrs Innes's class. I didn't find out till much later that Mr Basham was well known for smacking boys over his lap. Mrs Innes had a reputation for being very strict, but it turned out this was the best class I could have ended up in - her old-fashioned methods were well-suited to my nerdy mindset. The following year, Mr Basham was later replaced by Mrs Brown (I think that was her name); she never taught me but I heard that some children didn't like her as they claimed she gave special treatment to her niece when the girl was in her class.
Mrs Innes' Class
All the children were scared of Mrs Innes. I was one of the youngest in the class, having skipped Class 4 (Mr Basham) where I would have been one of the oldest. Mrs Innes was strict ("a dragon") and those of us who'd come from Mrs James' class had wanted to be in Mr Basham's class in the pre-fab on the other side of the playground. Her classroom was at the top end of the corridor in the school building. Mrs Innes arranged desks in pairs and rows across her classroom whereas the other teachers arranged their desks in informal groups. Mrs Innes was a large lady in her 50s who drove a Mini car called "Roo". On the first day in juniors, many children acted up. They weren't used to discipline. The whole class spent the next 2 playtimes walking in a slow crocodile (under her hawk-like gaze) around the painted lines at the edge of the playground while everyone else played. From then on, we behaved. Once she'd instilled discipline, she began to stretch our minds. Bright kids got more challenging work; slow kids got extra help. When I joined her class aged 8, my reading age was "at least 11" (the test only went up to age 11). By age 9 it was "around 15". I must stress that there's a big difference between knowing how to read the words and understanding the concepts they represented.
She made her own musical instruments and we were introduced to hammered dulcimers, zithers and other unusual instruments. Most of us had never encountered anything more exotic than a descant recorder or tambourine. We learnt to do plays, write poetry, complete maths matrices, show perspective on drawings and many other fascinating skills. We acted out scenes from history, learnt how people lived in different times and places and we learnt about her own schooldays which gave us another way of learning history.
We learnt to make corn dollies and visited the local windmill. We were taken on nature walks (mostly up Fenn's Road to the farm and back) at different times of the year and told to look out for certain sights and sounds, then we had to write about the walk. One morning we went into the playground with bubble mix to blow bubbles, and then had to describe this as imaginatively as possible. We all learnt to stitch, sew and crochet. One day she brought in some unborn hares, still in their membranes and with placentas, on an enamelled metal dish and we learnt a little bit about biology (this was probably when my lifelong love of biological sciences began). The pregnant mother had run out in front of her car and been killed, but Mrs Innes had tried to save the unborn leverets by performing a caesarean. Unfortunately, they were already dead, but we got an impromptu nature/biology lesson.
We had weekly maths tests and spelling tests. For the latter we had to learn 20 words from a spelling book on our own. I have always been much better at the reading and writing side of things than at maths. Some of us were sent to do group activities in open areas off the main corridor e.g. learn a short play or jointly write a page or poem about a given topic. When we rejoined the class we had to do a short presentation of our work. Only later did I realise that this kept the faster children (and more trusted children) occupied with more challenging work while Mrs Innes could concentrate on the slower learners and control the more disruptive children.
Mrs Hooton's Class
When it was time to move up to Mrs Hooton's class, many of us didn't want to leave Mrs Innes. We'd started her class reluctantly and though she was "old fashioned strict", she wasn't a dragon. She understood how children functioned and how to get the best from them. She was probably the best teacher I had there and I hope she opened the minds of many other children.
Apart from her long dark hair, I can't remember much about Mrs Hooton, probably because Mrs Innes was a hard act to follow! It also marked a return to the "modern" style of teaching with children around islands of desks instead of Mrs Innes's older style with forward-facing rows of desks. It was Mrs Hooton who told my parents that part of the problem was I preferred to discuss or debate something that other children just wanted to fight it out.
In the playground we played things like "The Good Ship Sailed on the Alley-alley-oh", "Grandmother's Chest", "When Suzie Was ...", "Scarecrow", "Knives, Forks, Spoons and Cutters" and games where you had to guess what colour someone had thought of while jumping over their outstretched legs. "British Bulldog" hadn't yet been banned and the boys played this across the whole of the playground from Mr Basham's demountable to the railings of the school garden. When they weren't allowed to play British Bulldog, they played exactly the same game under different names, particularly "Breakout" where one faction was Nazis and the others were escaping prisoners. And if Breakout got banned, it just got another name.
What I can remember are SRA (Student Reading Association) cards which were an American import into British classrooms and aimed at 8–11 year olds. I was 9 years old with a literacy age of 15 and a comprehension age only a few years less. SRA cards were laminated 4 page booklets. They followed the same formula and there were dozens of them, all colour coded for age or skill level. On the first 2 sides was an illustration and either a story or some factual text. Page 3 had a comprehension exercise where wrote complete sentences to answer questions. Page 4 had more general questions and maybe some word puzzles eg: Which 3 letters completes the following 2 words: ap (- - -)ase (Answer: ap(ple)ase = apple/please). Which is the correct spelling? Which words rhyme? Which words are opposites? After the first 25 or so, I found them mind-numbingly boring and formulaic. In theory, I should have finished the whole lot in record time. I'd read every factual book in the school library and 10 years' worth of Readers Digests at home. The problem was, they weren't designed to be interesting, they were designed to drum things into non-gifted readers through constant repetition. The teachers knew I wasn't thick, but it was a problem that I wasn't presenting a daily completed SRA sheet. My parents told the teacher I was bored. The school sent me to a child psychologist. He set lots of tests and reported back that I was bored. The cards were not challenging enough and were holding me back.
Bored at actually doing SRA cards, I started finding errors in them. Most were due to imperfect conversion from American English to British English. Obvious spellings had been changed (-or to –our, plow to plough etc), but there were oddities. I particularly remember a "what vowel comes next" exercise. According to the schoolroom chant, the vowels are "A, E, I, O, U and sometimes Y". The answer to at least 2 of "what vowel comes next" questions was "W" – yet "W" was not a vowel! I double-checked these things with the headmaster and was then permanently excused from doing SRA cards. Having a child who hated doing them because they were boring was one thing. Having a child proof-read and correct them was more than the teachers were willing to cope with.
Around this time there was a serious problem with bullying. I developed what is now called school-phobia and put on medication for anxiety. My parents wanted me to stick up for myself, but geeky children tend to be poor at understanding social behaviour and make easy targets. My younger sisters also suffered and ended up running away from school on several occasions. They were transferred to a school with better discipline (Manor Street Primary School, Braintree), but my parents thought I'd be better finishing the last couple of years at Bocking Churchstreet Primary. Sometimes they say they regret that decision. According to my sisters, Manor Street was a completely different world. The desks were set in front-facing rows, there were good manners and good discipline. This sounds like Mrs Innes' class - I would probably have done at Manor Street.
One of the parents came in to give French lessons which was another way to keep the faster children occupied. I learnt to tell the time in French, but my accent must have been atrocious. I have never had any skill with foreign languages, possibly due to my native language being so firmly hard-wired into my brain. On another occasion, Mrs Hooton was off sick so Mr Boyes too the class. In the morning we our first ever "proper" science lesson, with test tubes. We had a variety of substances, such as washing up liquid, and had to use litmus paper to test if they were acid or alkali (which his accent rendered "alkalide" to my ears). Thus began my love of science.
Mrs Hammond's Class
Having become bored and occasionally uncooperative in Mrs Hooton's class, I skipped the rest of Class 2 and was moved up into Mrs Hammond's class which kept my mind occupied a lot more. I spent about a year and a half here, so I went through 2 sets of classmates. In the last 6 months at this school I'd effectively finished the syllabus, done several written/research projects each term instead of just one and read my way through most of the classroom library. Apart from studying for the 11 plus, I was allowed to help out in Mrs Hooton's class with other children's reading and do more "projects". I could be very obsessive in gathering facts for those projects so they were bigger than anyone else's. We also put together a school "newspaper" and one of my projects was collecting together horror stories written by classmates - mostly involving skeletons, zombies and vampires.
During the first half year I was a year younger than the other children; I was less socially developed, was still outperforming them and was not always popular as a result. In the last year I was with the (sometimes resentful) age-mates I'd left behind 6 months earlier and finally managing to stand up for myself a bit more. During the last couple of years, the school introduced "Merit Badges" which were given out each Friday. Every class had a boy's merit badge and a girl's merit badge for subjects such as Creative Writing or Maths. One day I went to the headmaster (I was quite precocious in talking to adults) and asked him not to give me any more merit badges because it wasn't fair on other children. I wasn't being arrogant, but I had realised I seemed to have an unfair advantage.
In Mrs Hammond's top class (age 10-11) the more grown up of us were allowed to do unaccompanied trips from school – for example we'd be sent to do brass rubbing at St Mary's Church; do a survey of gravestones to find common surnames or to visit (in twos and threes by prior arrangement) a particular old person and ask him/her about life when they were our age. The village was safe with little traffic and people knew each other and they knew who – and where – we were! These trips gave the teachers more time to concentrate on the slower children.
In Mrs Hammond's class we made a giant advent calendar to go on the wall. Some kids got to make scenes to go behind the doors and the rest of the class made the calendar with the cut-out doors. Of course, school broke up before the last tabs were due to be opened so we opened them on the last schoolday. Usually the nativity scene went behind the church doors (and it opened like double doors). Being the one who did that scene was a bit like being picked to play a major role in the school nativity play. Using the fabrics box, we made people to stick on the path leading to the church. I made lots of little old ladies in long skirts and shawls with the hair worn in a bun - because that was the sort of person who went to the village church at Christmas. Mine were all back views so I didn't have to draw faces.
As a rule, we didn't have homework at primary school. In top class some of us opted to have homework once or twice a week. We got word lists and had to look up the meanings or we got a sheet of maths to do. Once we reached Juniors, we had projects. If we wanted, we could also work on these at home. I often did, because I was a swot (I just enjoyed studying). The projects related to that term's class project and were folders full of handwritten information, cuttings and drawings. Some of us did 2 projects. Here's a list of projects I remember with the "Class Project" and my individual project(s) in brackets: The sea (Admiral Nelson); Farms (Sheep and cattle, Crop growing); Horses (Horse breeds); Birds (Gulls and Terns). Other class projects included trees, wild flowers, wildlife, the Victorians .... you get the idea!
There were more school trips - Codham Waterworks to see how water was purified; the Essex Show (twice) and even a week in the Lake District visiting a slate mine, a cattle farm, Lake Windermere, Kendal, William Wordsworth's cottage, Furness Abbey, Brockhole Nature Reserve and climbing a couple of hills (the previous year, the field trip had been to Wales). We were taken to Rose Hill swimming pool (open air) for weekly swimming lessons, though I never graduated past arm bands (due to aquaphobia following an accident when much younger). We also went to the New Museum of London (it was "new" back then I suppose) to learn about the great fire of London.
We also learnt to do sewing (applique - sewing things onto hessian to make pictures - and embroidery) and crochet. Both girls and boys learnt these skills! One year we made crochet squares for blankets for elderly people in the village. As a result, small groups of us went to visit one or other of the old people who had received a blanket and they'd tell us a little about their childhood or schooling.
On the last day of each term, normal lessons were suspended and we were allowed to take in board games from home to play with our friends. On another occasion (mid-term) we were asked to take in our favourite books from home. The idea was probably so that teachers could see what levels we were reading when at home. I took in "The Saint in London" and one of the Spike Milligan "War Memoirs", both of which came from my granddad. I'm not sure what they made of an 11 year old reading such things (I was also devouring Reader's Digest Condensed Books). I was showing off a bit and should probably have taken in one of the pony books or Tomorrow People paperbacks I constantly re-read.
Audio-Visual
Our weekly singing lessons were mostly based on "Singing Together" which the school recorded from the radio. Each term there was a booklet containing the words and music that went with the radio series for that term. This meant we could practise with piano, recorder and melodica (a wind instrument with a keyboard instead of holes) to accompany the singing. I played descant recorder (passably) and treble (tolerably), but my sight-reading wasn't very good and I preferred to play by ear. The school also had back copies of "Time and Tune" which seemed to be the predecessor to Singing Together.
Some of the teachers played piano (and Mrs Innes played just about everything and also made musical instruments). There was a piano in Mrs Panell's room and one at the Village Hall. Sometimes we did music and movement type sessions at the Village Hall, either to piano or to something recorded from the radio. The only one that sticks in my mind is the Doh-Re-Mi song from the Sound of Music - and entirely for the wrong reasons as I've never liked that film and I didn't want to "learn the stupid song"! While in Mrs Innes' class we learnt and performed a musical play called "Robin DDu". A few years later in Mrs Hammond's class we learnt a play that was set in a royal court (by the end of practice and performance I knew the whole play by heart and managed to keep my younger sisters amused during a long car journey by doing the entire play, using different voices for different characters).
We also saw educational programmes on TV from the "Schools and Colleges" series. We couldn't record TV programmes back then so either the TV came into the classroom on a trolley or we went to the TV room (which later ended up being Mrs Gillingham's classroom). Before the programme, there was a countdown clock on screen which gave teachers time to set up the TV and tune it in properly. Either the programmes were in black-and-white or the TV was an old black-and-white set. "Stop, Look, Listen" and "The World Around Us" were two series we regularly watched. The programmes were repeated several times during the week because few people could record them and the school might need to show the programme to another class.
When I was in Top Class there was a series of about 6 programmes that taught us how babies were conceived, how they developed and how they were born. This was a mix of film following a couple who were having a baby, and illustrations showing what went where. There was an emphasis on the couple being married; sex was described as the "love position" and the baby was planned and wanted. Parents had to consent to their children seeing this and several parents didn't consent - notably the mother of the "smelly" girls. Quite a few of the children already knew the basic ideas from seeing livestock or pets being born; some had seen livestock mating and I'd bought some science booklets at a school fete that included chapters on reproduction (and hybrids and mutations, two subjects I've been fascinated with ever since).
School Social Events
Sports day was an annual trial for me as I've never been a sporty, competitive person. When I joined the school I was allowed to choose which colour "house" to be in and I chose "green". Because of children moving away, during the last 3 years I was the only girl in "green" for my year. That meant I was automatically in every race at sports day and these were compulsory. One year I became ill, probably anxiety, and missed sports day altogether and another year I had a broken arm. I think finally some new girls who moved into the village were put in green to even out the numbers. The events included three-legged race, sack race, potato-and-spoon race and obstacle race as well as running races. There were seats for the parents on one side of the track (which started at the bottom of the playing field and finished at the top) and small seats or wooden forms for the children on the other side behind the wall (back wall of the toilets) and demountable. Many of us climbed onto toilet roof to watch and the teachers let us sit there as long as we didn't lark about. While I was quite useless and unenthusiastic about sports day, I always managed a creditable score of stars (House points) for green.
We had several big events each year, some of which were fundraising events for the the school. There was a summer fete in the playing field which often had pony-and-cart rides at the bottom of the field, The stalls were wildly exciting to us children in those pre-video games days. You could try to whack-a-rat with a cricket bat as it came down a chute. You could win a goldfish by throwing ping pong balls into glass jars (I won several and they all survived happily in our garden pond). You could see how many clothes pegs you could remove from a clothese line and hold in a single hand. There were pick-a-straw and tombola stalls and bran tubs and also cocnut shies and crockery smashing. There were craft stalls (lavender bags, crochet items, knitted or embroidered things, home made toys) and cake stalls as well. My favourites were bric-a-brac stalls which usually had plenty of books and comics. I bought my first biology books from a stall at the school fete and by 10 years old was already reading about mutations and deformities. One year the fete got rained off, so people bought a few things from the boots of each other's cars in the car park and went home again. it was a great disappointment. There was also a Pet Show, which was mostly dogs and caged pets.
The Christmas Fayre/Fete was similar, but held in the village hall and instead of pony rides one of the parents or someone from the Rotary Club dressed as Father Christmas. We had fun trying to guess who was behind the beard. There a competition in Top Class to design the programme for the school fetes and the winning design was reproduced on a spirit duplicator.
Sometimes there was a jumble sale in the village hall and I'm sure we would have come home with all sorts of "treasure" if we could. I'm not sure how successful these were in a village where everyone knew who the clothing used to belong to. It amused me to see another lady in the village wearing boldly patterned trousers (this being the 1970s) that my mum had made for herself.
In the autumn we had harvest festival. We all had to take in something (tinned fruit, some vegetables or fruit etc) to give out in harvest boxes to old people in the village. Either we walked down to St Mary's at the bottom of the street or we went by coach to one of the churches in Braintree (one year it was St Michael's) and sang harvest hymns and some of us read out poems or short essays (which we called stories even though they weren't really). Afterwards we went round the village in groups delivering harvest boxes to the addresses on a list. Every year we got confused because there was no Number 11 Bocking Churchstreet (it should have been in the almshouses). At Christmas there was a Carol Service and nativity play, usually in the village hall. One year we used the hall in the new Edith Borthwick School instead. I was a good reader and speaker and was always a narrator so the most I got to wear was a halo. I can't remember any real disasters except for children not remembering their lines and having to be prompted. One year the school did carol-singing round the village (probably it was arranged by Rotary or Lions Club and the school joined in). We'd all practised because of carol service so we weren't too bad. The teachers taught us how to make lanterns using a candle in a jam jar dangled from a pole by string.
Every year there was a Christmas Party, divided into infants and juniors. I went to the infants party when I was in Mrs James's and it was held at the old Church School on the green near St Mary's Church. I can't remember much about the food except, but I remember not wanting to play the balloon bursting game (using forks to burst as many balloons as you can to win the game). I've always had a dislike of balloons, especially when the go bang. Other games would be musical chairs, statues and pass the parcel. I think every child got a small present, often something practical like pencils and rulers. Other years the infant Christmas party was in its usual place in the village hall. Top class helped to decorate the hall and hide the paper fishes for one of the party games ("find the fishes"). The junior Christmas party was in the village hall when I went to it and was the same format, but somewhat rowdier. The parties were probably especially good for the children who didn't have much of a Christmas (or whatever festive season was appropriate to them) at home because of not having enough money.
When I started Top Class (half a year early), school decided to hold an Art and Craft Exhibition for pupils and parents. I entered the Poetry Class for my age group and the black and white photography classes. I won three prizes, which were book tokens and these were soon spent at Hannays bookshop in town. Being a small village, there were plenty of grumbles about favouritism because several of the main winners (who got prizes donated by local businesses) were good friends with particular members of staff and supposedly they got the prizes even though so-and-so's entry was much better (the same complaints you get at competition classes in any village fete or show). While I was at school, this was the only time they ran the competition.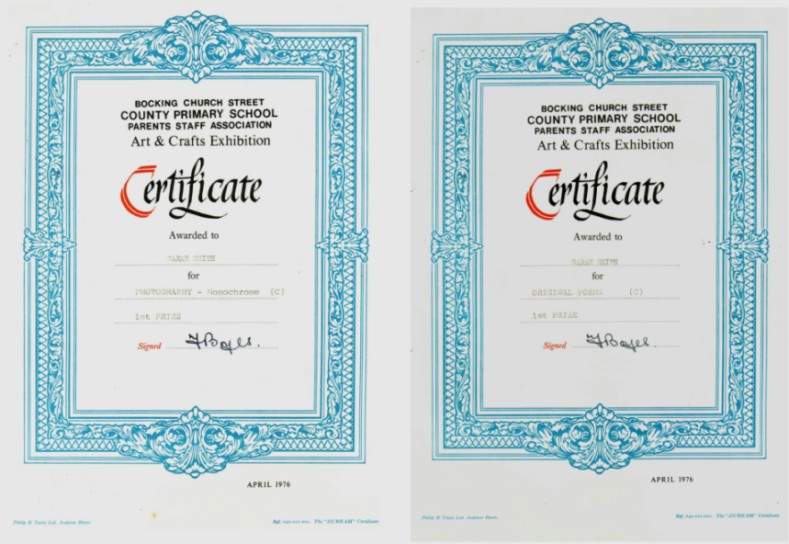 Primary School Dinners
At Iver Heath and Witham, I had always gone home for dinner. At Bocking Churchstreet I alternated between school dinners, lunch at home and packed lunch. Although uninspiring and hardly cordon bleu due to having to cook in bulk, school dinners were healthy. We didn't have a dining hall so each classroom was converted into a dining area by addition of plastic table-covers. The dinner trolleys arrived and we lined up. Food was doled out onto plates as we got to the trolley. The only option was "no gravy," everything else was compulsory. You were allowed to leave one type of food on your plate; the dinner-ladies made you eat everything else. Dinnertime bullying took 2 forms – the stealing of the tasty things from your plate or the deposition of the yukky things on your plate so you had to choke down a double portion. Seconds were often available.
Every meal involved meat, egg or cheese: thin slices of pork or chicken; liver and bacon (which I loved); toad-in-the-hole; fish fingers, corned beef, pilchards, grated cheese or chopped boiled egg depending on whether it was a salad or a hot meal. We had greyish watered down mashed potatoes served with an ice-cream scoop and marrowfat peas (which I've always disliked). All vegetables were boiled into submission. Cabbage was khaki and mushy but I loved it. I hated the watery orange mush of boiled swede.
Once a week there might be somewhat soggy chips. Potatoes also came in "duchesse" form (piped onto trays and baked); sliced on hot pots; mashed on meat pie; or chopped in salad cream as cold potato salad (that peculiar waxy sort from a tin). On curry day there was rice. Sometimes there was tinned ravioli or spaghetti hoops in tomato sauce or real spaghetti with meatballs. Salads were arranged in longitudinal lines on a huge tray. A serving spoon swept across these lines, dumping a swathe of it onto your plate: coleslaw, cress, fine chopped beetroot, fine chopped lettuce, grated carrot, grated cheese (unless it was egg day or pilchard day) and a couple of slices of cucumber and tomato.
Plates were collected up by monitors and "pudding" or "afters" was served by the monitors. First were the "no custards". School custard, served from big jugs, developed a skin with the thickness and texture of a Marigold rubber glove. Semolina was gritty stuff and tapioca was nicknamed "frogspawn." The aforementioned, along with rice pudding, were served with strawberry jam. Combinations included jam roly-poly and custard, jam sponge and custard (it resembled bath sponge), lemon curd tart and chocolate custard, blancmange (how often do we see that these days?), trifle (or "how to use up leftover sponge and custard"). These apparently stodgy puddings were essential for children that were turfed out of the building 3 times daily to run around like maniacs outdoors. Very few children got obese. One girl was very overweight because she ate compulsively, including fish-fingers straight from her parents' freezer. Another pair of children were very overweight and had an even more overweight mother who insisted it was "glandular" but who served vast amounts of food at home and insisted on plates being cleared.
The Less Bright Children
In my days at primary school, Educationally Sub-Normal or "ESN" was the jargon for "Special Needs". Being a small village school, Bocking Churchstreet primary catered for all the village kids – gifted children, average children, disturbed children, under-privileged children and ESN children. Teaching always had to be aimed at the average child making average progress at an average pace.
Gifted kids risked becoming bored and disruptive due to lack of stimulation (I did this a couple of times and then got free rein in the classroom bookshelves if I finished before the other children). ESN children got bored because they couldn't keep up. Some of the disturbed children wanted to sit on the teacher's lap during the lesson, although others had bizarre behaviour such as drinking paint to get attention. The under-privileged ones were sometimes dismissed as lazy, but their home environment wasn't conducive to good study skills (many relied on free school meals for their one decent daily meal – several came to school without breakfast).
The ESN kids had a tough time and were a challenge for teachers and other pupils alike. For example there was "M" in Mrs James's class who stalled at the 5 year old stage for literacy and never moved up a class. He was frustrated and was tormented by other children and sometimes threw his weight around. Without any classroom assistants, it became harder for the teacher to control him and he couldn't get the one-to-one specialised teaching he needed so he remained stuck at the bottom of a class of 30 children. When I was about 9, the top half of our huge playing field was fenced off and the Edith Borthwick School was built. This catered for children like "M". In smaller classes, taught at his own pace and praised for every small step of progress, I hope his life became happier.
Another special needs child had a serious speech impediment. He was a bright, bubbly boy with an enquiring mind, but had difficulty making himself understood. My mother was a classroom assistant for a while and she patiently tried to get him to speak slowly and precisely. His thoughts just ran too fast for his speech and he probably needed a speech therapist.
School Loos & Smelly Kids
At the Victorian era Bocking Churchstreet school, the loos were rather malodorous outdoor toilets on the other side of the playground. A long brick wall shielded a row of cubicles (3 or 4 for the girls) and, at one end was the boys cubicle and gutter room (no urinals, just a gutter/drain and they pissed against the tiles). A roof had been put on the cubicles, but not over the alleyway between the wall and cubicles. There were no toilet seats, just 2 curved bits of wood bolted to the pedestal for parking one's buttocks on. They weren't varnished, but had been worn smooth by generations of bottoms. The paper was "tracing paper" with one side smooth and one side rough – in fact when a class ran out of tracing paper someone would be sent to get some toilet roll!
The drainage probably left much to be desired in spite of frequent application of Jeyes fluid. The roof leaked and the cement floors and woodwork got wet and had a dank smell. I'm sure they were no worse than many other outdoor toilets that served around 100 kids, some of whom had uncertain aim. It was said that one girl used to pee on the floor and not in the toilet, because she wouldn't sit on a toilet seat.
Us girls dared each other to run along the toilet alleyway, past the boys' room and out of the opening at that end of the wall. The playground side of the shield wall was ideal for stocking-ball games as there were no windows (who needed windows when there wasn't a roof?). I visited the school a year after I'd left. Some of the offices and staff areas had been converted into lovely indoor toilets.
The girl who allegedly peed on the floor came from a family with poor personal hygiene, or perhaps without proper washing facilities (even in the 1970s, not all homes had full indoor plumbing). They had Dutch names and the oldest daughter "O" was my age, but at 11 could not consistently spell her own name. She and her clothes had the faecal smell that develops after weeks without proper washing. She was not allowed to attend the human reproduction lessons because her mother didn't believe in sex education. Her younger sister was even more unfortunate, possibly from wearing poorly washed hand-me-downs, and her hair always seemed to be a bird's nest. They were actually quite pretty girls (O had a sweet placid nature and I tried to be friendly to her, but her younger sister could be spiteful), but became outcasts at school because of the hygiene issue. I don't know what their family background was, but their parents didn't go to parents' evenings and I'm sure the children were held back educationally by their circumstances. I don't know what their family background was, but their parents didn't go to parents' evenings and I'm sure the children were held back educationally by their circumstances.
There was also a stinky vicious girl. She was small, boyish and pugnacious. Her dirty hair seemed to get cut with garden shears. One day she and her gang grabbed me in the field and she made the boys expose themselves to me. At that age it was very shocking and I couldn't explain to the teacher what had upset me so much. She often exposed herself to both boys and girls and seemed obsessed, rather than curious, with their genitals. In retrospect, maybe she was being molested by a family member. Many of us were scared of her.
These children remind me of the Charles Causley poem "Timothy Winters". They seemed to be invisible to Social Services. The local Lions Club found one family trying to cook a can of baked beans over a candle after their electricity and gas were disconnected due to arrears. The father had walked out and they weren't yet eligible for welfare payments. The organisation managed to get the services reconnected on "humanitarian" grounds while welfare payments were sorted out. I'm sure we gave some of our outgrown clothes and books away to less fortunate friends on the pretext of "presents" when they came to visit.
The Good, The Bad and the Misunderstood
I'm sure there were characters at Iver Heath and Witham, but I only really recall those from Bocking Churchstreet.
There was one big lad with a ruddy face and a shock of white hair who was accused of being a bully. He was actually quite soft-hearted, but was bigger and stronger than the other lads, had a speech impediment and was rather clumsy as though his body was too big for him. In days past, he'd have ended up a farm-hand. He got taunted as "Selwyn Froggett" (a simple-minded sitcom character) and just wanted to follow his dad into the mechanic's trade. One day, the school gerbil escaped from its cage. In his panic at trying to get out of its way and not hurt it, the boy's foot landed on the gerbil. We had a sudden, messy lesson in life and death. It affected the lad a lot and he was in tears, but because he was big and rough-looking he didn't get much sympathy from his peers.
In the years above me, there were 2 brothers who were serious bullies who relieved smaller kids of sweets, crisps and packed lunches and threatened to "duff up" anyone who told on them. The younger one terrified me for a couple of years (it felt like longer). They were large, strong, possibly not the brightest of children, but cunning. Their younger sister was from the same mould. Life became a whole lot better when they'd both moved on to the local comprehensive school. Many years later, I found out that they came from an abusive home where wife-bashing and child-bashing had been normal for several generations. They had a vicious younger henchman who began smoking and drinking at the age of 13 or 14 and his parents didn't care. Another of the girl bullies (older than me) had a violent, alcoholic father who was renowned for philandering.
Most of the children went to Tabor High School, the closest secondary school in Braintree. A few went to Alec Hunter High School on the other side of Braintree. When I went to Grammar School 10 miles away in Chelmsford, I was a country child from a small and then rather rural village and completely out of my depth socially. In the 1970s, Bocking Churchstreet sometimes seemed to be trapped in the 1950s. Thankfully I left the bullies behind when I went to Grammar School, but some of them continued their reign of terror at Tabor High School.
One little girl who was in the top infants class with me was a biter. Her mum ran a posh frock shop in town and would have been mortified. My mum had to complain to the teacher that I kept going home with bite marks on my arm.
The "slipper" (over the headmaster's knee - more severe than smacking, but less severe than the cane) had a chastening effect on most out-of-control kids. One lad punched me in the stomach for no reason except that I was "clever" or "posh". He got the slipper and his parents must have been told why. I think his dad had a go at him about the right and wrong way to treat girls as he was a reformed character for the rest of the final year at primary school. He also discovered that being friends with the brainy kid was very useful when you had problems with maths or writing.
A number of children came from the local Dr Barnados home and a few of them had behavioural problems due to their home life before being taken into care. One lad used to drink Rowney water-based paint to get attention from the teachers. He also got the day off when his mum visited him at the children's home. For some reason he couldn't go and live with her. It was a good day for him when we went on a class visit to Colchester Zoo as his mum met him there and he spent the day with her.
The children from Foley House finished school 10 minutes early to get the service bus home. The school secretary came round to all the classes to ask for "anyone for the service bus" and she put them on the bus at stop in front of the village hall next to the junior playing field (which was also the village recreation ground). Sometimes the person collecting children for the service bus home used to shout "Foley House" which meant everyone in class knew which children didn't live with their own parents. Later on, that was the bus route I used when going home from Grammar School (and many years later I met one of the bus drivers, which is another story altogether).
We sometimes had armed forces children at the village school, generally only for 3 - 6 months before their parents were posted elsewhere. Some were very mature for their age, but others were disruptive due to never settling down. Some were considered quite exotic because they were American. There were only 3 black children at the school in my time there, all from the Barnados home. When I revisited the village a couple of years ago, I noticed it was much more ethnically diverse.
Detention
I can't remember what the punishments were at Iver Heath or Powers Hall End primaries, but I vividly remember the standard punishments at Bocking Churchstreet. This is not because I was regularly punished though. I became a Prefect and was a door monitor at playtime.
Mrs Innes, who as a child had met Queen Victoria (or so she told us; though this would put her in her 70s, not her 50s!), regaled us with tales of rulers on knuckles and heads banged together when she was a child. Her punishment for the class's disorderly conduct was to make us march round the playground while other classes played. The combination of humiliation, missing out on playtime and peer pressure for the children who had not misbehaved instilled discipline into the class as a whole.
The standard punishment for boys who fought or hit was the slipper, administered over Mr Boyes' knee. Some boys regularly got the slipper, while others were too cunning to be caught. The other standard punishment was detention "under the clock." This was for lesser misbehaviour. The clock in question was opposite the head's office. The perpetrator(s) stood under the clock at playtime or lunchtime. The idea was that they missed play and were humiliated. It rarely worked. They were on the main corridor and could chat with passers by even though they were meant to be silent and consider their wrongdoing. The clock was also next to the big doors that led from the side of the building to the playground. This door was supervised by a Prefect to ensure kids didn't run in and out of the building. Kids had to have a good reason to go into the building at playtime and were supposed to use the door at the end of the building. The person in detention could therefore chat to the Prefect on door monitor duty.
I was only ever under the clock once. I got bored in Mrs Hooton's class and started playing about with the person at the next desk. Being under the clock was a lark and a novelty. The fact it never happened again was due to me being a bookish introvert rather than any chastening effect of detention. On another occasion I was larking about when we were learning a play at the village hall. The only thing I was good for as being a narrator and I got a bit bored between scenes. I got "lines" for that which had no deterrent effect at all - in fact I did double the number of lines during the detention lunchtime which was my way of rebelling.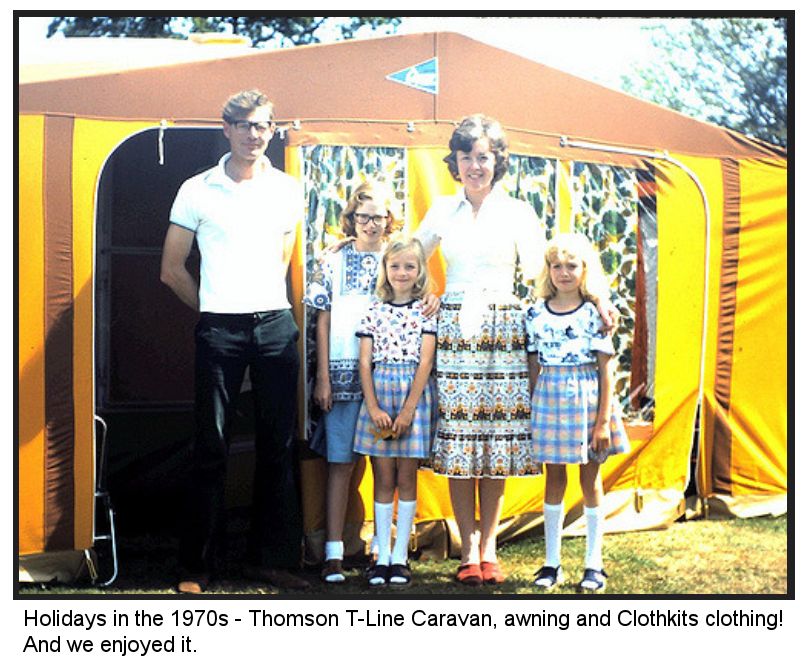 Not Coping
My younger sisters went to the Bocking Churchstreet nursery school (or playgroup) at the United Reform Church and then to the local primary school a few years behind me. They were one of 4 sets of female twins at primary school. Two sets of twins were in the year above me and were very nice. The other set was in the year above my sisters and bullied them mercilessly. My sisters had an even harder time with the rough kids and they repeatedly ran away. My parents eventually moved them to Manor Street School in Braintree (it's now a local museum) where they did extremely well. It was right opposite Braintree bus station and they used to get the Hedingham Omnibuses bus home and walk from the Four Releet crossroads. Coincidentally I now own and drive one of the Hedingham buses they may have travelled on!
They only escaped temporarily by going to a different primary school. They ended up at the same local Secondary School as their former tormentors who made up for lost time with even worse bullying. That secondary school had a poor reputation for discipline at the time.
The 11 Plus
While reminiscing, I chatted to a colleague who is a Primary School governor. These days, gifted children are labelled "gifted and talented." They may be talented at maths or English or some other subject instead of just having a fuzzy "gifted child" label. They aren't moved up a class in order to be taught with older children, they are kept with their age-mates and given extra work or harder work. They might sit in on secondary school lessons in the subjects they excel at. For me this would have been English Language and Biology.
The optional 11 Plus exam was the gateway to selective schooling. Pass it, and you could go to Grammar School. Fail it, or not be put forward for it, and you went to the local Comprehensive with the bulk of the pupils from primary school. This was a mixed blessing – it might mean escaping from bullies or losing your friends. My sisters did not take it and they ended up being bullied by the same two girls that had bullied them at Bocking Churchstreet prior to my sisters moving to Manor Street primary school.
I was the only one out 4 applicants who passed the 11-plus. The school recommended it and my parents were keen. I was a couple of years ahead of my peer group and bored. Of the other 3, one girl was put forward by her parents. She lived not far from me and I think her parents were quite competitive. The other 2 were boys and I was surprised that one in particular didn't make it to grammar school as I thought he was cleverer than me.
We had special lessons from Mr Boyes, the headmaster (he was Welsh) and mock exams. Some questions were Mensa-type logic/reasoning puzzles that I had seen in the Readers Digest. Some involved constructing matrices based on limited clues e.g. Mr Jones's house has a white door. Mr Smith's door is not blue. Then 1 or 2 more clues followed by "whose house has the red door?" (There's an old computer game called "Sherlock" based on this type of reasoning). Others were comprehension or maths. I remember one practice test had "Which is the odd word out: repair, replace, renovate, refurbish?" It's "replace" – the others relate to overhauling something.
We also had to learn exam discipline and time management. Even in classroom tests we'd never had such rigorous conditions. We were given mock exams to take home to do. I think we did the exam in Mrs Gillingham's classroom. All I could say to my parents was that I'd answered all the questions. I then had to wait. When the letter arrived saying I'd passed, at first I was insistent that I'd go to Tabor High with my friends (such as they were). My parents reminded me that the older kids who'd previously bullied me would be there. Also, I would get bored again. We went to an open evening at Chelmsford County High School and saw the facilities. I fell in love with the science labs.
The girl living nearby failed. She said she'd only failed by a few marks, but in fact we weren't told our marks. It was just "pass" or "fail" and "you have been offered a place at such-and-such Grammar School" or "Unfortunately you have not been successful…." She didn't want to talk to me after that and her parents were less friendly. They also bought her a pony, but at this same time, I gave up riding lessons due to study commitments.
Most of the children went to Tabor High School, the closest secondary school in Braintree. A few went to Alec Hunter High School on the other side of Braintree. When I went to Grammar School 10 miles away in Chelmsford, I was a country child from a small and then rather rural village and completely out of my depth socially. In the 1970s, Bocking Churchstreet sometimes seemed to be trapped in the 1950s.
Green Shield Stamps
Throughout my primary school years, I vividly remember Green Shield Stamps (Tesco) and Co-op's blue Stamps. There were also Pink Stamps (Fine Fare), but mum didn't shop there so I hardly ever saw these. I think some petrol stations might also have given Green Shield stamps. The Green and Pink stamps were used to get catalogue goods from the companies that redeemed them while the Co-op stamps gave you a discount from Co-op itself. Basically, the more you spent in those shops, the more stamps you got.
I spent hours as a kid sticking stamps into their respective books. We never managed to fill a single Pink Stamp book as mum didn't use the stores that gave these away and I think my few pages of Pink Stamps all came from a relative! The Green Shield catalogue never seemed to have anything we wanted. In Chelmsford, the Green Shield store was on the corner of West Square (opposite the multi-storey car park) and later became an Argos store. I have no idea how or where the Pink Stamps were redeemed. Like most children, we were enthusiastic collectors and had a biscuit tin with stamps and stamp books in. It was like a game with rules about not mixing stamps of different colours or not mixing different denominations. I'm sure it helped us learn to count too, especially when collecting up the odd few stamps to fill a page.
As store prices went up, you got more stamps. Instead of being dispensed in a one-stamp-wide strip, they were dispensed in sheets. This got absurd - you got reams of stamps - so Co-op and Green Shield produced different denominations of their stamps: dark stamps worth 1 point and paler stamps worth 10 points (the number of points was printed on them of course). Mum didn't like Green Shield. All too often, we went to Green Shield with 10 books of stamps for a set of placemats only to find the catalogue had changed and we now needed 12 books of stamps. We kids continued to collect and stick stamps in books and I wonder if mum eventually gave the filled books to the local hospital League of Friends. We rarely seemed to get anything we wanted and what we did get ended up on school fete tombolas. More recently, I collected Esso Tiger Tokens for the local Cats Protection branch - we needed supporters to send in tokens just to raise enough for tombola prizes!
These days, trading stamps have been replaced by loyalty cards which operate more like Co-op dividend stamps. The points are converted into discount vouchers.
Pony Riding or Ballet?
Like many girls aged 7 - 11, I was pony mad. I had loads of paperbacks by the Pullein-Thompson sisters, Mary Gervase ("pony school" series) and others - all very formulaic, but absolute must-haves for pony-mad girls. Naturally I wanted riding lessons. Though there was a riding school at the bottom end of the village where my friends went, dad chose a riding school in Great Leighs (Fulbournes Farm). After I'd fallen off and broken my arm, he took me to a riding school in Wethersfield, called Sandhills Farm. My instroctor there was Sabrina Benson. There was also lovely Weimeraner dog at the stables and they bred Weimeraners. When the owner left to take up a position at an equestrian centre at Milton Keynes, my riding lessons ended. This coincided with the start of Secondary School and I needed to concentrate on homework and school instead of pony-riding. This was a bit sad as riding had been great for my physical fitness and posture.

My sisters got a second-hand bike from some family friends and when they'd learned to ride it they each got a Raleigh Eighteen (yellow coloured, lady's frame, 18" diameter wheels) and they did their cycling proficiency at primary school. I'm not sure why my parents didn't think I'd be interested in having a bike, maybe it was because I did pony-riding. I was already a couple of years into secondary school when I also got a bike - a green Raleigh Shopper with 20" diameter wheels and front and back baskets. Once I'd mastered it, I much preferred borrowing my school-friends' racing bikes and when I was 16 I got a man's racing bike that I road until it wore out.
My sisters weren't into ponies, and they did ballet and tap dancing at the Village Hall. To enter for their exams, they had to go to Coggeshall. Mum altered dresses for them and dyed things the right colour for entering the ballet exams. I remember reading things such as "their pixie is very good, but the elf could do with more work". I think ballet lessons lasted about a year before they decided it wasn't really their thing.
Braintree Carnival and Essex Shows
Some of the older folks in the village remembered when there used to be a fair held on fields near Deanery Corner. Several of them had earned extra money by helping at the fair. By the 1970s the Braintree Carnival was held on a large green up Coldnailhurst Avenue. Businesses and clubs had decorated floats that were judged. There was a fairground with the Golden gallopers (steam carousel - you had to jump on and off as it never came to a complete stop), chairoplanes (which my parents considered too dangerous for us to go on), swing boats (also "too dangerous"), dodgems, helter-skelter, big wheel and the usual fairground amusements and sideshows from an era before videogames. As well as the fairground stalls, there were some stalls run by local charities, usually along the lines of pick-a-straw. Someone set up a miniature steam train and you could go for a ride up and down the track. During the day there were shows in an arena, such as the inflatable giant wrestlers carried on men's shoulders. In the evenings there was real wrestling and the local hero was Neil Sands. I used to have a Braintree Carnival programme he'd signed. At Carnival time, the local pubs put up signs saying "no fairground folk" (sometimes the signs were less polite in the terms they used). It could be quite overwhelming at the time, though I look back on it with fondness; I've been to a few steam fairgrounds in recent years and they often remind me of Braintree Carnival.
In the summer there was the Essex Show held in Great Leighs. We often went on school trips there and were usually supposed to look at the livestock and make a note of what breeds they were. The first times I went, the Essex Show still had a strong agricultural and country theme with classes with livestock classes, dog shows, horse shows, show jumping, the local hunt and other big displays in the main ring e.g. horse-drawn artillery display, Zulu warriors. There was a big fairground with the usual attractions and sideshows. One year I helped on the pony rides. There were also lots of trade stands for local businesses, many aimed at farmers but as the years passed they were more and more about different makes of cars and getting double glazing (Crittall Windows was still big in Braintree, but there was increasing competition). There were craft tents, horticultural tents and flower arranging; these were closed for judging at certain times of the day.
When I went to Grammar School in Chelmsford, the bus home often got stuck for up to an hour at the Essex Showground because of the traffic. One year Queen Elizabeth II was at the Essex Show on the Friday and this was a traffic nightmare; it was a hot day and we weren't moving at all so the poor bus driver ended up turning his engine off. The Essex Show eventually died a death, but it left me with a life-long fondness for country shows and heavy horse shows so I often go to Orsett Show, Barleylands Show and to heavy horse shows.
You are visitor number: