School History
HISTORY OF CCHS
While writing my own personal memories of CCHS, I got interested in its earlier history. It is an integral part of Chelmsford and I became interested in the history of my home town (a city since March 2012) after dismally flunking my third form "Chelmsford and Basildon Project" in Integrated Studies! While queuing in the corridor on the way to morning assembly I often admired the photos of former headmistresses that hung on the wall near the school offices.
The 1980s
The 1980s tend to be associated with Thatcherism and privatisation. Privatisation and the economic recovery of the mid 1980s led to the rise of the "yuppie" and conspicuous consumption. Technological advances include desktop computers becoming more widespread in homes and workplaces. More companies had mainframes and access to computer networks, but at the same time individuals could become more self-contained thanks to portable radio-cassettes with headphones (a trend that continued with mp3 players and iPods). The Green movement is on the rise.
In the early 1980s, public transport was disrupted by a series of harsh winters and those pupils living in more rural areas outside of Chelmsford were sometimes cut off from school. Some pupils living closer to school managed to walk there, only to be sent home because of staff shortages. In the latter part of the decade, the upholstery-style fabric was phased out, as were tunics, and plain blue A-line skirts were allowed. The idea of an "official school outfitter" seemed to fall from favour. Later on, skirts became grey and the uniform became rather nondescript. During the middle/latter part of the 1980s, the area under the Library (a covered section of Quad) was converted to classrooms.
1980s: During the 1980s, CCHS introduced IT, having originally dismissed computers as vocational, rather than academic, tools. ICT later became an established part of schools curricula and CCHS developed 3 computer rooms plus 3 specialist technology rooms. During the 1980s, the school acquired the adjacent "KEGS Cricket Field" which was used for athletics. This compensated for the loss of the original bottom sports field and asphalt tennis courts which were compulsory purchased for a road improvement scheme. Sports fields continued to be lost as school buildings expanded and in line with a general decline in PE on school curricula across the country. As well as French (starting 1st year), German (starting 2nd year) and Latin (starting 3rd year), Russian and Spanish were on offer to Sixth formers if there was sufficient interest (some being studied as combined lessons at KEGS).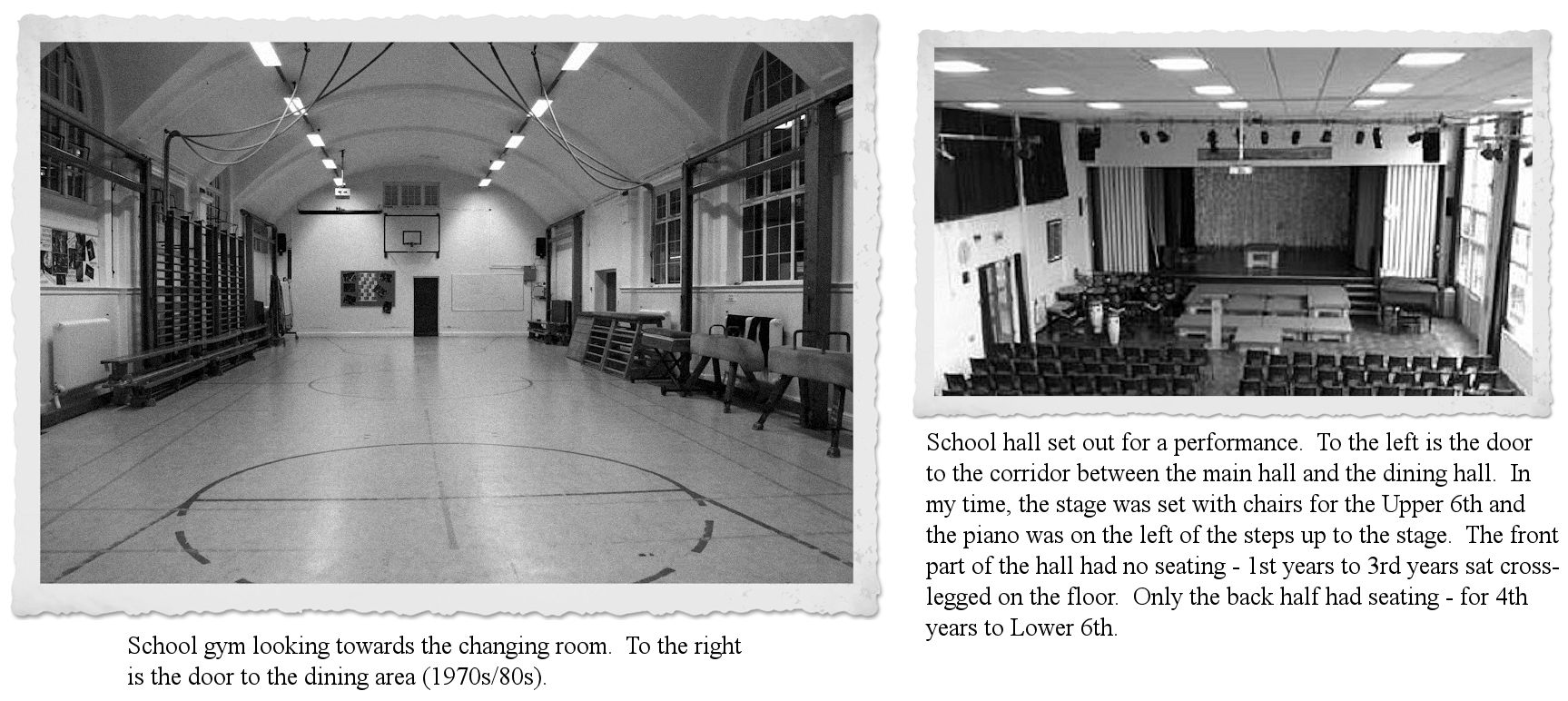 1980: Payphone installed on the first floor landing of the Library/Art block. To avoid any one person monopolising it, it was set up so it couldn't take incoming calls. Previously girls used the telephone kiosk opposite the school – and outside of school hours. Tuck Shop (during morning break) was reintroduced.
1980: Miss Ann Brooks becomes Headmistress. The school has its second male teacher, Mr Robert Clark (mathematics); the first male teacher being the Art master (Alfred Bamford) in the early years of the school. Work Experience, first introduced in 1962, is re-launched for fifth formers who are staying on to sixth form; a 2 week period after O levels and before the start of the summer holiday.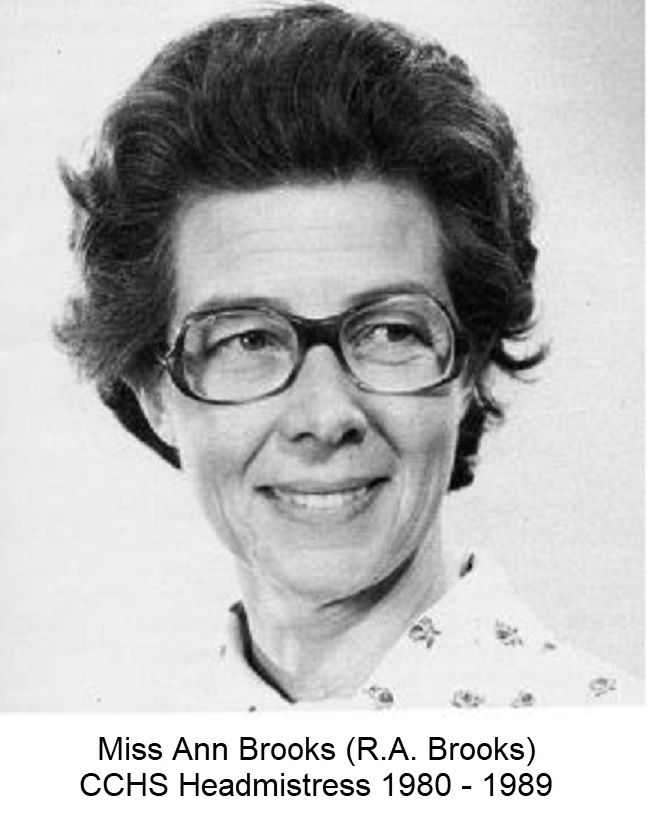 1981: CCHS fundraising to buy first computers for the school. In the meantime, pupils could study Computing O Level after school at the Chelmer Institute which had a Prime mainframe and network. Not long before this, I got into an argument with one of the Deputy Headmistresses over CCHS's view that desktop computers were just glorified typewriters. A new development in the lower Sixth Liberal Studies course was Wednesday afternoons spent helping community projects such as adult literacy, English as a foreign language, helping in a primary school or with occupational therapy at a local hospital. Less outgoing girls such as myself spent their Wednesday afternoons pursuing projects in the art room such as renovating a sturdy doll's house for disadvantaged children. The Odeon cinema, destined for redevelopment, hosted Speech Day for the last time.
1982: CCHS's 75th Anniversary. The seventy-fifth anniversary year saw many changes both in school itself and its surroundings. The first two "BBC Micro" computers were obtained and installed, despite the school's previous resistance to what it saw as "word processing machines" and Technology Club began. Woodwork Club also began. Both clubs came too late for me as I was in the middle of A Level studies, otherwise I would have loved this! A new music room was built (by converting the large cloakroom area opposite the science rooms) with the help of parents, and the lower and upper sixth formers both saw great alterations in their living quarters. The Lower Sixth gained common room space in the bottom of the old caretaker's lodge near the gymnasium. According to the school magazine, it was made habitable by the Parents Association, but in fact it was made over by an enthusiastic group of sixth formers who gave up part of their own holiday). The Upper Sixth re-decorated their house at weekends and holidays. Pupils also made great efforts to improve the general environment of school — the 'Brasso Brigade' polished door-knobs with great enthusiasm and the Gardening Club made improvements to the grounds. The school saw its last Speech Day in the Odeon Cinema, which was closed to make way for The Meadows development (I made one further visit to the "old Odeon" to see "Escape To Victory" with some friends.) The end of a long tradition of Speech Days at that venue was marked by singing from the Choirs, and a speech by Sir James Lighthill, Provost of University College, London. In 1982, the Speech Day was held in the Cathedral, the venue already used for the school's Carol Service and Comemmoration Day Service.
The school said goodbye to Mrs. 'Drama' Greenwood, Mrs. Leak (maths), Mrs, Lodge (chemistry), Mrs. Weekes (RE) and Mrs. Burgess. It welcomed Miss Bolton, Mrs. Champ, Miss Downes, Mrs. Hall and Mrs. Wattebot (physics) to the staff's ranks.
Extracts from the Headmistress's (Miss Ann Brooks) Report at the Presentation of Awards and Certificates on March 31st, 1982.
"This year I have deliberately reported on our academic records first as the slimming down process taking place in education is now affecting Higher Education. We are impressed by the mature perception the girls have of the adult world and the deep consideration they are giving to their choice of courses; a process which starts at the Third year with decisions on subjects to be taken at Ordinary Level.
It is going to be harder to obtain a place in Higher Education in the coming years. However, a Sixth former made a conditional offer is being presented with a contract and she must make a realistic self-appraisal regarding the terms of that contract. If she decides to accept the offer then she must have the confidence and determination to work to meet her side of the bargain. In later life she will increasingly find herself in similarly competitive situations and she will need a belief in her own abilities, unaccompanied by conceit, aggression or pomposity, and an attitude towards others which recognises that everyone has something valuable to offer. These are the positive qualities which are fundamental to a healthy society. Such is life of the present school, in the year of our 75th Anniversary.
Sixty years ago, Miss Bancroft, the then Headmistress, considered "the use of leisure to be one of the most pressing of social problems" as leisure would be more abundant for more people than previously. She encouraged, as we do to-day, the development of extra-curricular activities so that the girls would find 'noble pleasure and pure delight'. With the proceeds of a play, the School bought "a new treasure, namely a school gramophone" - circa 1982 read micro-computer,
A bazaar was held to buy some of the many things the school needed "beyond the bare necessities which at present is all that the official funds can afford". She writes that, in the conditions of 1922, 'life is interesting and it can be happy, but it is not easy. The best equipment for a girl is a good education which, if of the right kind, will help her to touch this interesting world at many points, it will give her sounder judgements, nobler purposes, wider compassions, deeper enthusiasms and so enable her to love life and to see good days" Sixty years later, can we improve on that aim?
By 1932 Miss Bancroft considered the school to have a character and tradition of its own - "a heritage which passes on as a gift from the past, a start and inspiration of the school to-day". Incidentally, fifty years ago the 'beautiful' new Library (now the staff room) was opened and soon 'the delightful expenditure of a carefully accumulated sum of money was made with care, exhilaration and a sense of responsibility'. Thirty years ago, Miss Cadbury found the world to be one of 'uncertain aims'.
To set the growth of the High School in context, I looked again at 'Reluctant Revolutionaries'; a history of girls' schools over a hundred years from 1874. Women fought some doughty battles in the face of the positive discrimination in favour of boys which existed then but, happily, is disappearing gradually now, I delight in the legend of the Headmistress in the 1900's "who, when warned of a visit of inspectors, sent the whole school out to the swimming baths and told the inspectors at the front door that no one was at home". What initiative! It is a tempting thought with our swimming pool in use again next term. Also, I have a high regard for the Headmistress in the 1930's who "gaily taking to the wheel of the motor-car, was an intrepid and alarming driver. Her love of speed and determination never to be thwarted, terrified those whom she took out with her 'as a treat', She never learnt to reverse and her remark 'I like to go forwards, not backwards, was considered to be symbolic of her life and character".
The philosophy of those who made a great contribution to the formal education of girls, the need for which was only accepted, in any real sense, from 1902, is summed up more seriously in the closing passages of the book which points out that 'so much lies ahead which demands constructive planning and liberal thinking, humanity and wisdom'; that, "while we need a continuing regard for the best of the past, we need also an unswerving determination to contribute positively to the future and to the making of a. society both diverse and compassionate".
This I believe must be the aim of every member of the High School; it always has been and always will be.
In the same year, an official history of the school is compiled by Mary Kenyon and published by Essex Libraries. Copies can sell for up to £40 online.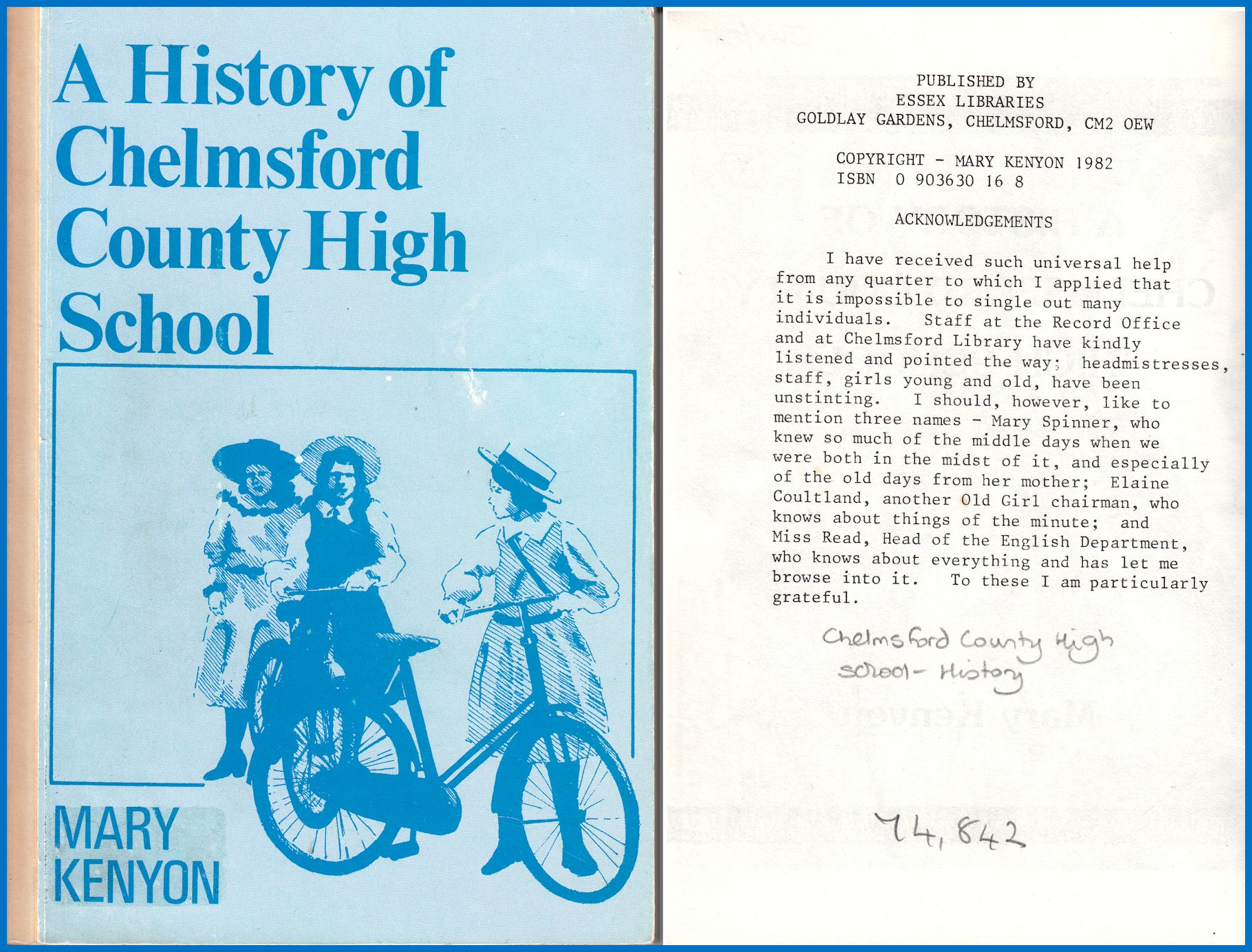 1983: I completed Upper Sixth, leaving after A Levels in summer. The school had its third male teacher, Mr Christie. Speech Day should have been held at the Cathedral, but it was closed for structural alterations so it took place at the Chancellor Hall, though this was too small to accommodate the whole school. This took the school almost full circle, as the Chancellor Hall is on the site once occupied by the Corn Exchange.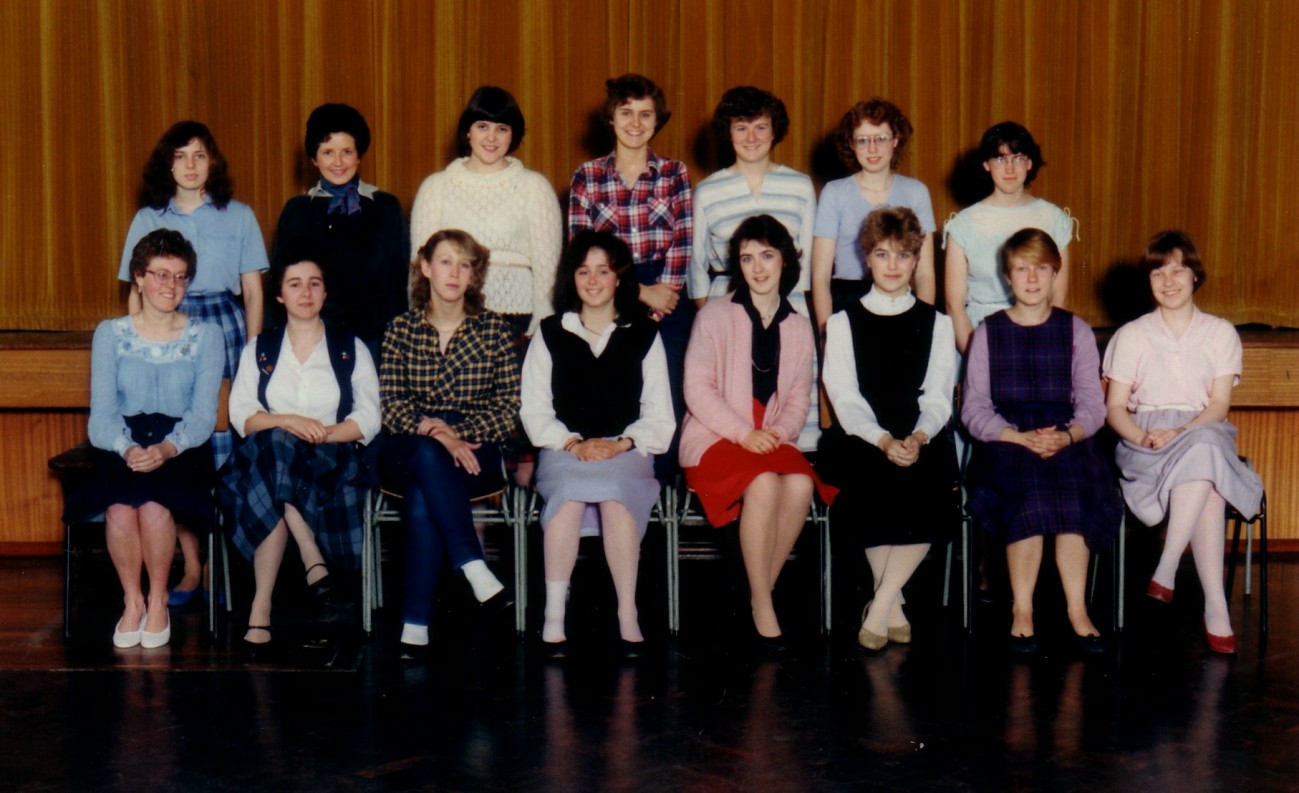 Upper VI 25 and a photo of the whole Upper VI in 1983.
1984/5: The bottom sports field and asphalt tennis courts were lost when the Parkway extension (Cedar Avenue to Broomfield village) was developed.
1986: School House systems changed from four to three houses, C (green), H (red), and S (yellow), standing for County/Chelmsford High School. Each House adopted a charity and organised fundraising events. The downside of this was a mercenary approach to inter-house competitions – a fee payable in order to enter a competition and a fee payable by spectators (I feel that this mercenary approach detracts from healthy competition based on pleasure in participating - Thatcherism in the schoolyard?). "Computer Week" using borrowed equipment gave all pupils a chance to get "hands on" experience of technology.
1987: Miss S.E. Tyler, deputy head, retired after 29 years of service to the school.
1988: A computer network was installed and pupils could use it for word processing and desktop publishing. To me, this is an interesting about face from the early 1980s when school rejected desktop computers as being "glorified typewriters"! O levels were replaced by GCSEs; previously there had been 2 levels of exams taken at age 15/16: the more rigorous "O Levels" (offered by CCHS) and the less rigorous GCEs (General Certificate of Education: offered at Comprehensive schools for pupils considered unlikely to attain O Level standards).
1989: Miss Brooks retired as Headmistress.

The 1990s
The 1990s is considered the start of the Information Age in earnest with the rise of the internet. Other technological advances include compact mobile phones and genetic modification. At the same time, there is increased interest in conflicts between economic/scientific development vs the environment. The Conservative government makes changes in the way schools are funded. Although the Labour Party are later returned to power, this time around they don't threaten to dismantle the selective education system.
1990: Bernice McCabe became Headmistress.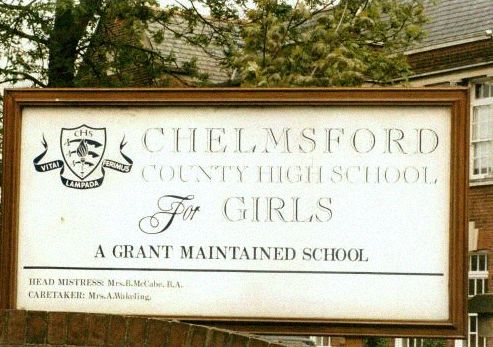 1991: In August 1991, a Sixth Form girl from Chelmsford High School was murdered. Dinah McNicol had sat her A-levels and was waiting for the exam results when she went to a pop festival in Hampshire. Her fate was not known until 2007 when she was found to have been the victim of serial killer Peter Tobin. CHS head teacher Nicole Chapman talked to the pupils about Dinah in special assemblies during the week after her remains were found. The school set up a memorial fund with proceeds going to the Police Fund for Widows and Pensions and the Missing People charity. Dinah was a pupil between 1985 and 1991 and had passed all four of her A-levels in English, history, religious sciences and geography.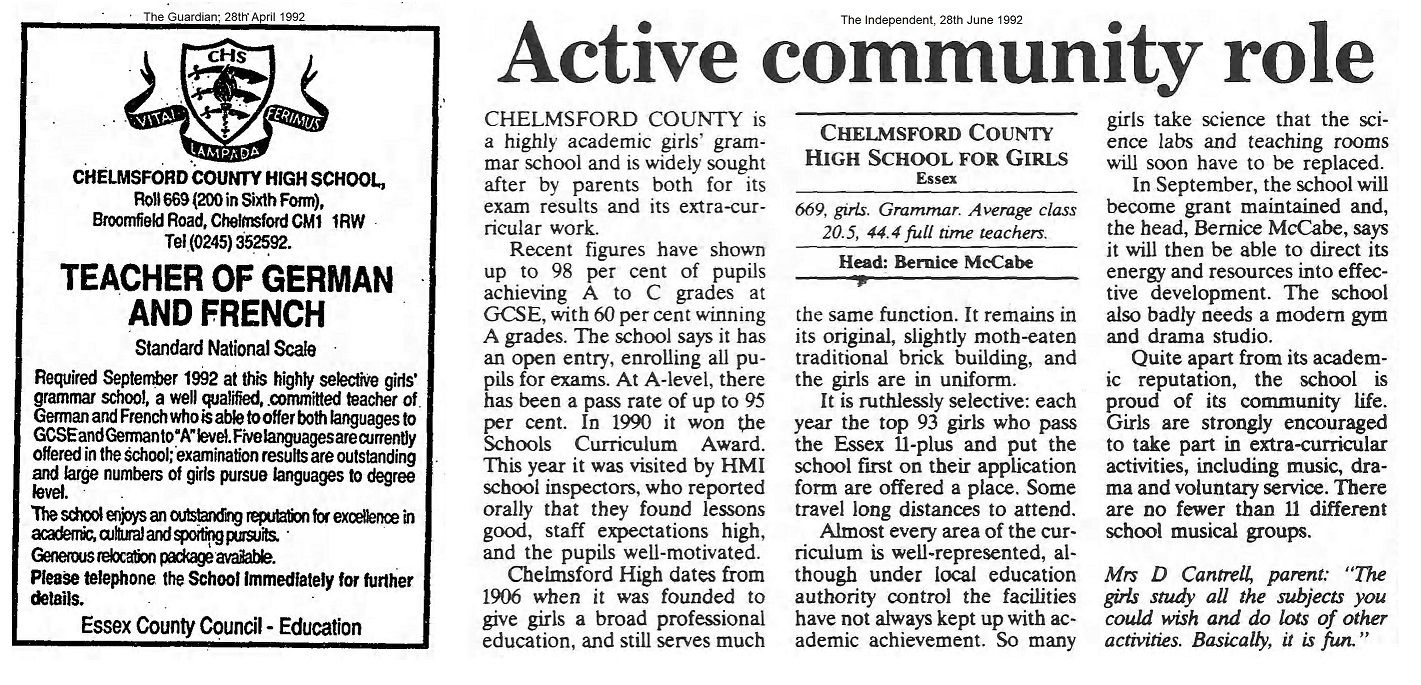 1992: CCHS became a Grant Maintained school (controlling its own funds) and appointed a School Bursar. Visited in March 1992 by Margaret Thatcher and local Conservative Party MP Simon Burns.
1995: The Cadbury Science Building opened. The former science building, Bancroft Wing, became a languages building.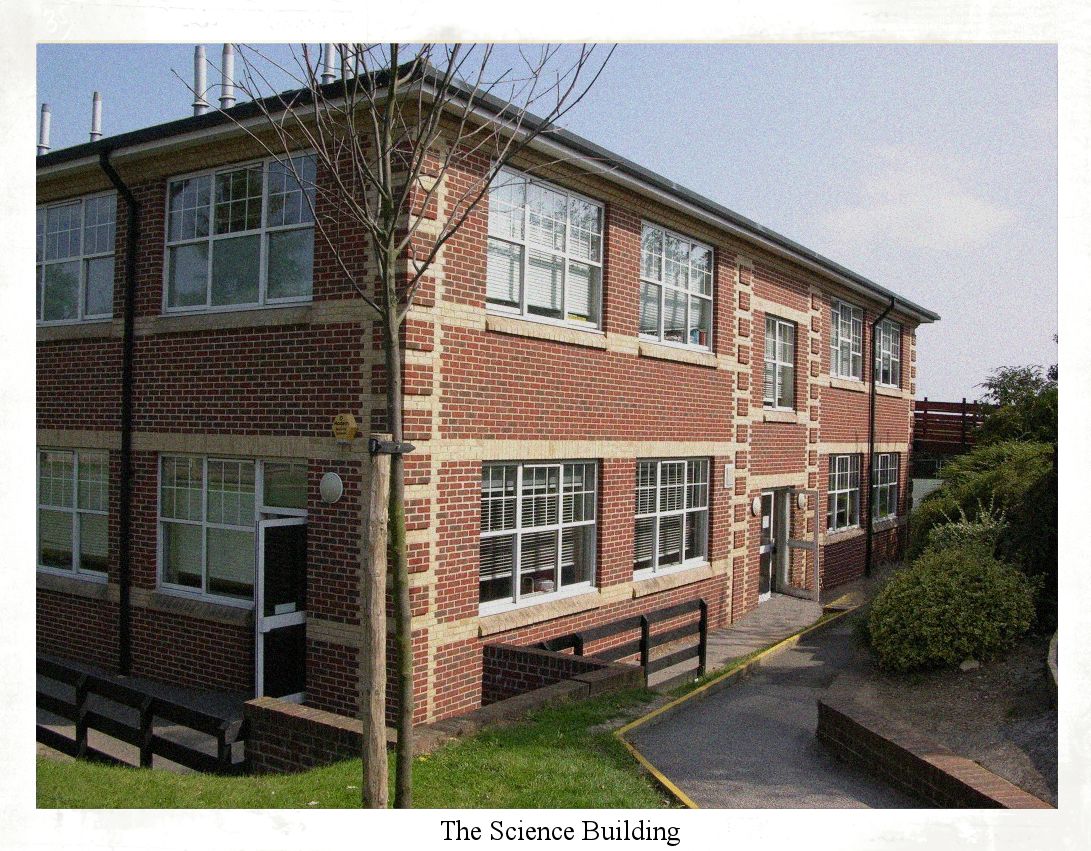 1996: First year intake increased from 3 to 4 classes. The Fourth School House, G (blue) (standing for Grammar) was restored as a result (though to my mind it's easier to arrange inter-house contests with 4 Houses).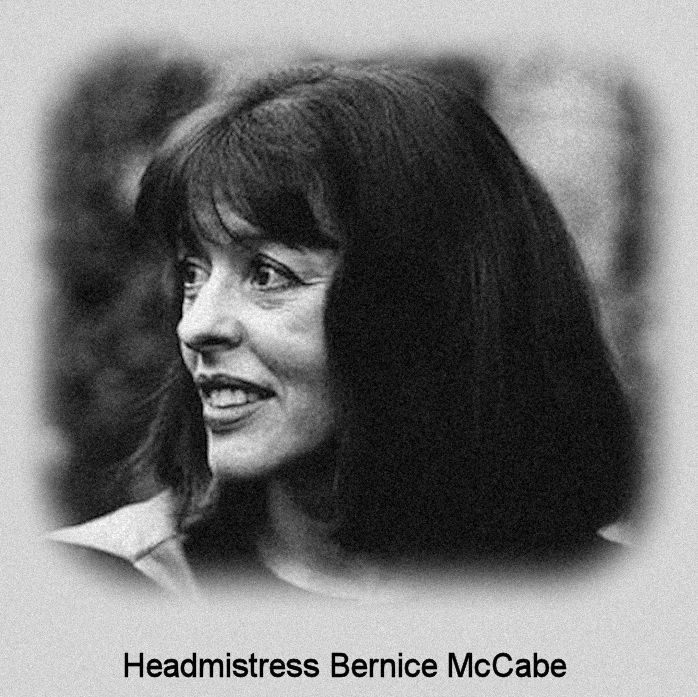 1997: Headmistress Bernice McCabe left CCHS to take up the post of Headmistress in the North London Collegiate School for Girls. She is replaced by Mrs Monica Curtis.
1999: School bell decommissioned in the belief it reduced, not improved, punctuality. School gains Foundation Status in place of Grant Maintained Status.
The 21st Century
Health and Safety forces changes to assembly. Full assembly is relegated to Fridays only. Fire Regulations prevent the whole school assembling in the Hall, so lower school have School assembly in the Gym while upper school have assembly in the Hall. Remaining days are House Assemblies and Form Assemblies. Daily hymn-singing had been dropped from assembly, but was reintroduced following an Ofsted report that school was not meeting obligations to provide a "Daily Act of Collective Worship". The school is now so large, with so many new buildings, that there is a 5 minute "transit time" to allow pupils to get from one lesson to the next.
The school uniform for Years 7-11 (1st Form to 5th Form) was based on navy, lilac and dark blue with a tartan skirt in those colours. Sixth Form uniform was reintroduced and was based on a black business suit; the blazer to be worn at all times. The four Houses reverted to having names; pupils voted for names of famous and inspirational women. C (green) became Marie Curie, G (blue) became Tanni Grey-Thompson, H (red) became Audrey Hepburn and S (yellow) became Stewart. House-points were introduced and inter-house competitions included pancake races, shows, decorated classrooms, karaoke, sports day and winter games. A House Shield is presented in December.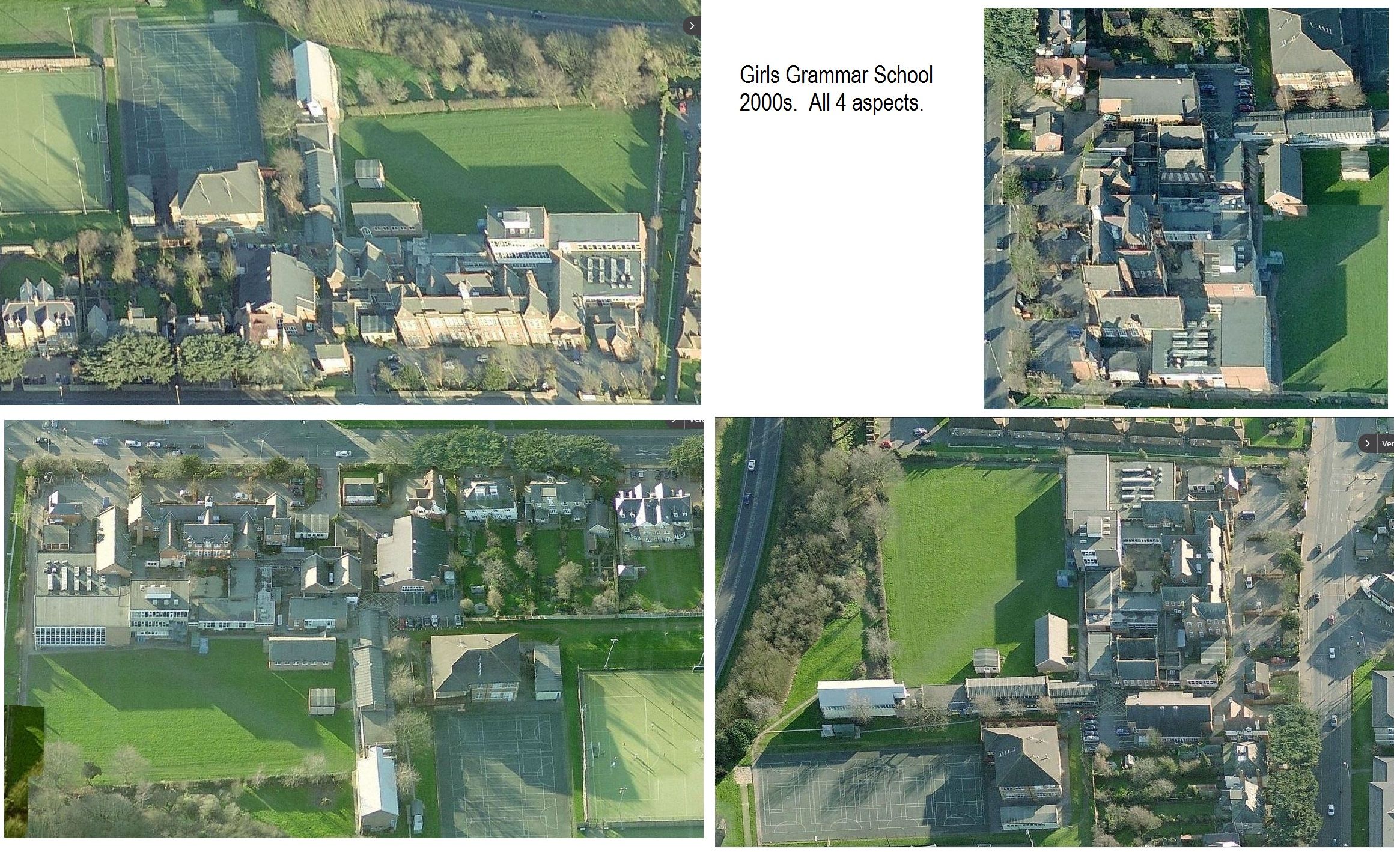 2000: CCHS got Technology College status.
2001 - 2005: CCHS got Beacon School status (quite apt as the school crest is a flaming torch!)
2002: CCHS gets Sportsmark Gold for its PE curriculum and for providing out-of-school-hours sports.
2004: Astroturf pitch created on the former "KEGS Cricket Field".
2005: Sixth Form common room extended with toilets and showers (quite a radical change from my schooldays when no-one wanted to use the poorly heated showers after PE). CCHS got Music College status. Beacon School scheme was discontinued.
2006: Mrs Curtis retired (ill health); Deputy Head Glynis Howland became Acting Headmistress. CCHS got Language College status
2007: This was the school's Centenary year. HRH Sophie, Countess of Wessex visited the School to celebrate with staff and students. In March 2007, a new music building began construction. The new building occupied most of the space on the school field (the "top field") behind the school hall. It was built in the shape of an orchestra, and comprised two large teaching rooms, practice rooms and a fully equipped recording studio. In the same year, Monica Curtis retired early due to ill health and Glynis Howland, one of the Deputy Headmistresses, became Acting Headmistress. The post of headmistress was advertised in the Summer term, but no appointment was made. The post was re-advertised in September 2006 and Nicole Chapman was selected as the school's new headmistress. She took up the post on 1 April 2007.
2008: The music building is formally opened in January 2008 by Dame Evelyn Glennie. It took up most of the top sports field behind the school hall - again reflecting the diminishing importance of outdoor sport in the education system?
2009: The School introduces the International Baccalaureate (IB) Certificate as an alternative to A levels, and becomes an IB World School. At his time it is the only grammar school in the East of England offering the IB course. The Dining Hall is extended and, a Cookery Room and classroom are built on the site of the demountable classroom 25 which was situated outside the old music room (Rm 25 was my form room when I was in the Upper Sixth).
2010: CCHS got Healthy School status and planning permission for a new Languages Centre and to extend its dining facilities. The Languages Centre will be sited at north end of the school (where Room 25 prefab was sited). Right from the very early days, languages were an important part of CCHS.
2011: The school converts to academy status at the start of the year. It also revised its catchment area because some students travelling in from long distances were struggling to keep up. The proposed new catchment radius was 12.5 miles (20 km). The head teacher of Chelmsford High School for Girls, Nicole Chapman, said the impact on some of the pupils travelling long distances had been noticeable: "There are girls who are getting up really early in the morning who struggle through the day. [Imagine] if you're an 11-year-old getting up at half past five in the morning, travelling for sometimes an hour and a half and the same journey back. The pacing in our lessons is pretty intensive, fast and challenging, and some of them really struggle." She also said that many of those children missed out on after-school activities such as music and drama groups. The changes would affect admissions for 2013.
Chelmsford County High School for Girls wins the regional heat of the Bar National Mock Trials competition at Norwich Crown Court. Dressed in legal wigs and robes, young legal minds competed to make it through to the final of this national contest, which was to be held at London's Old Bailey. They took the roles of barristers, witnesses, jurors and courtroom staff in typical cases (e.g. assault). The event was run by the Citizenship Foundation. 16 regional winners would enter the final in March 2012. (Eastern Daily Press, 20 November 2011) Back in the 1980s, I had to study my Law A Level at a College of Higher Education as it was not on offer at CCHS. The same was true of Computing O/GCSE and A levels, now standard parts of a secondary school curriculum.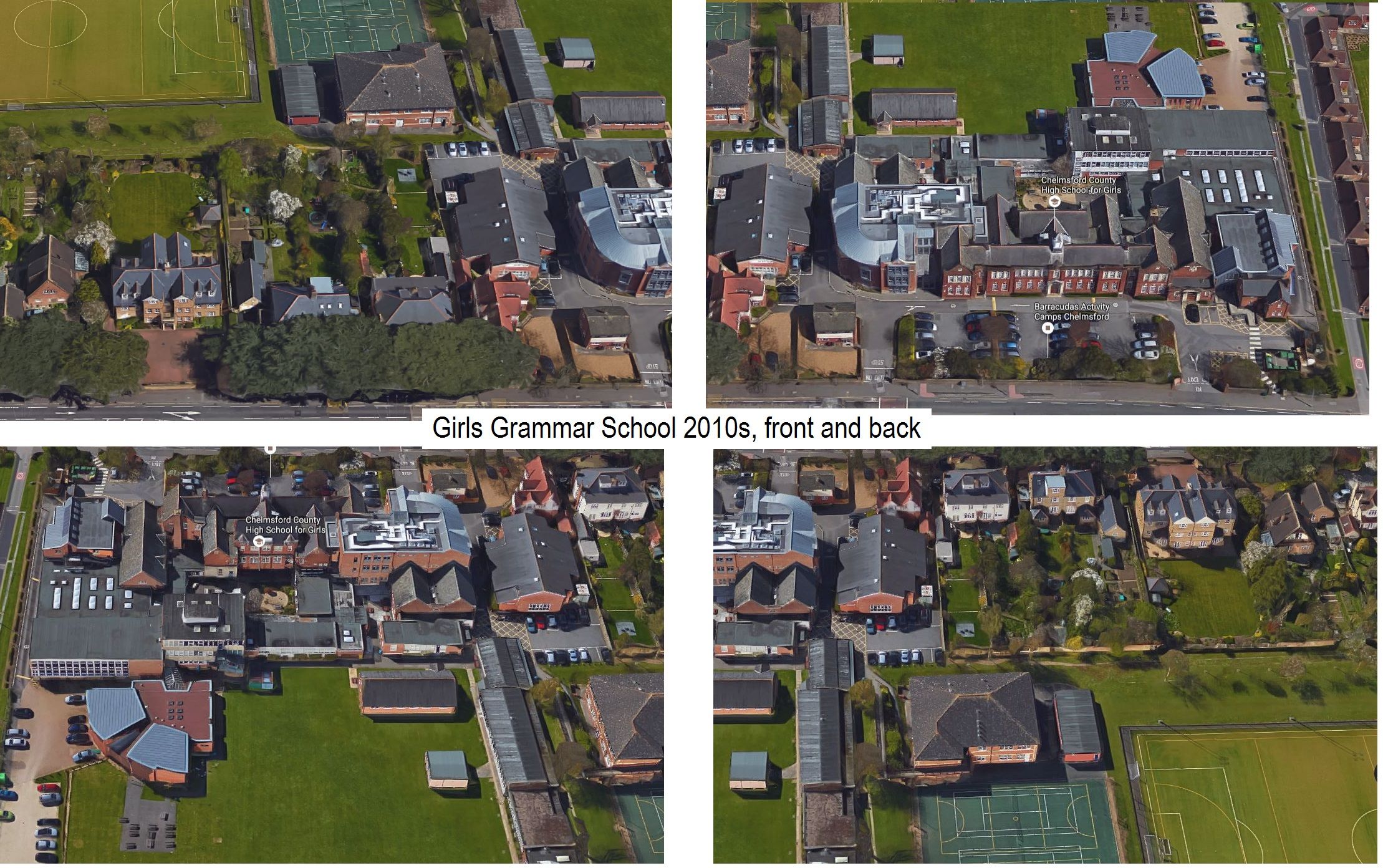 2013: Completion of a state-of-the-art Languages Centre which included a modern Languages Lab. Fundraising began for a new sports hall, to be followed by a new science centre and a Sixth Form centre.
Also in 2013, an LP record made by girls from the school Folk Group in 1970 sold on eBay for £227 and has become a collector's item. This deserves further investigation. Since 1995, "Classroom Projects" curator, Jonny Trunk of Trunk Records, was releasing lost and unusual music. The project includes school recordings between 1959 and the late 1970s featuring children who were encouraged to experiment with music. The students adapted old folk songs and wrote their own compositions, a far cry from the image of classical violin and piano lessons or formal choir. The original vinyls have become collectible items. Tracks from the album can now be found online. Part of the attraction was that the records were privately pressed, handmade and homemade and were made in limited numbers. Part of the attraction in the specific case of the CCHS record is the interest in folk music, especially anything slightly psychedelic or with wistful female vocals. CCHS's Folk Group's version of Portland Town ticked all those boxes, featuring young girls singing about sending children to war and the children not coming back.
A side: There But For Fortune, Skye Boat Song, Geordie, Portland Town , Wild Rover
B side: Quando Eu Era Pequenina, California Dreaming, Tumbalalaika, Wayfaring Stranger, Turn, Turn, Turn
Vocals – Bridget Reed, Christine Whitlock, Christine Wright (2), Diana Bunyan, Jane Griffiths (2), Jane Poulter, Kathy Fox, Kay Smedley, Linda Eastwood, Sally Golding (2), Susan Cullis, Susan King (5), Vivienne Fogg
In September 2013, the school planned to scrap the traditional 11-plus examination in favour of a new assessment paper designed to test a student's "ability to understand concepts and process information". The change had become necessary because so many parents were paying for private coaching to prepare their daughters for the entrance exam, sometimes years in advance. This put parents of more modest means at a disadvantage because they could not afford private tuition. The new entrance exam could not be prepared for in the same way and would be a less predictable test of ability to understand concepts and process information. The new exam was prepared by Durham University's Centre for Evaluation and Monitoring (CEM) and was already used by selective schools in Buckinghamshire and Birmingham.
"It's not right that entry should be subject to an ability to pay, " said Mrs Chapman in a report in the East Anglian Daily Times and other papers. "There are parents who give their child too much coaching at a young age and there's a danger they are stealing their childhood." It was intended to be a "tutor-proof" exam. In another interview, Mrs Chapman said, "What really saddens me is when people who live in the council estate across the road say, 'I won't apply, because we can't afford private tutoring.'" She noted that at the same time, many girls had been coached to pass the 11-plus, but struggled once they arrived at the school.
Seven applications were received for each place at the school. The new exam was introduced in September for pupils applying to enter the school in 2014. This is an interesting contrast to the earliest years when entry to the school depended on income or on winning a scholarship. The Sutton Trust, which champions greater social mobility, found that the best state schools were just as socially exclusive as many independent schools, because parents paid large sums either for tutoring or to move to a good catchment area. According to Mrs Chapman, tutors might claim to have access to CEM's questions, but they did not have access. The tests were unpredictable and tested skills that could not be prepared for. Tutors disagreed. For example, one of the new questions was to underline the antonym (opposite) for "heroic" out of the following choice of four: "liability", "maverick", "renegade" and "craven" (the correct answer). While not an easy question for even a bright 11-year-old, antonyms and synonyms can be drilled into pupils (as it was in my days at primary school as soon as we could read), or even learned using brain-training apps. The supposed unpredictable verbal reasoning skills can be learned in the same way as times tables.
In October, Mrs Chapman attended the annual conference of the Association of Maintained Girls' Schools, in London, and defended single-sex lessons as being the only environment where female pupils could "totally be themselves" with no need to "pander" to gender stereotypes.
2014: The intake in Year 7 (First Form) is 120 (risen from 90 in 1976), selected by entrance exam out of around 800 applicants. Most Year 11/Fifth Form students stay on the Sixth Form with around 30-40 transferring into the CCHS Sixth Form from other schools – about 150 girls in each of the Sixth Form years. Sixth Form offers a choice of either the International Baccalaureate Diploma (6 subjects) or A Levels (4 subjects). The growth of the school meant an increase in staff. The Headmistress is now assisted by one Deputy Head and 3 Assistant Head Teachers with additional special areas of responsibility, plus a Bursar/Business Manager (in 1976 the headmistress had 2 deputy heads). (Information based on a job specification for an Assistant head teacher role).
2015: In January, the school governors voted unanimously to expand CCHS intake by 30 pupils, beginning in September 2015. This reflected an increasing demand for places at the School and a desire to provide a grammar school education to even more girls. The School House system expands from 4 to 5 as the School intake increases to 150 students in Year 7 (was 120 in 2014). The new house is "F" or Frank House (Purple) (Anne Frank).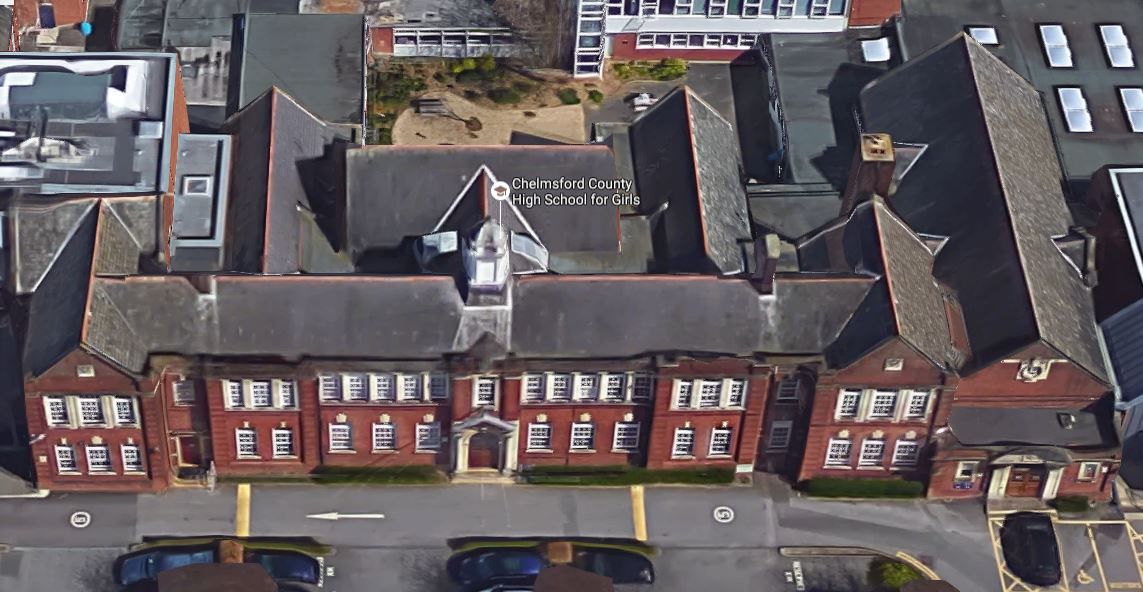 2016: Ninety Year Ten girls from the school raised money by holding fundraising activities to pay for a caravan, which will eventually become home for unaccompanied seven and eight-year-old refugees in Calais, France. The project was under the auspices of the Jungle Canopy charity.
2020s: extension and rebuilding.
SOME NOTABLE PUPILS
Margaret "Joan" Anstee, (b. 1926) passed away on August 25, 2016, aged 90. She grew up in Writtle and was educated at Chelmsford County High School. This paved the way for a glittering career in the diplomatic services for over 40 years from 1952 to 1987 that saw her meet or become friends with several world leaders. As well as several books about her life and work in Bolivia and Angola, she published her memoirs entitled "Never Learn To Type."
Joy Bome was awarded an MBE in 2001 "for services to the community, especially music, in Chelmsford, Essex".
Karen Buck (b. 1958) joined the Labour Party in 1978 and has been a Labour Member of Parliament (MP) since 1997, firstly for Regent's Park and Kensington North, then in 2010 for Westminster North. She was also Parliamentary Under-Secretary of State at the Department for Transport.
Anne Cullen became an actress and played Carol Grey in The Archers.
Rachel Elnaugh (b.1964) is a British entrepreneur and founder of experience gift company Red Letter Days. She was an investor on the first two series of BBC's "Dragons' Den". Her family's business was "Elnaugh's Electrical" on Baddow Road, Chelmsford. After CCHS, she wanted to take art history, but was unable to get a university place so she became an accountant and tax consultant.
Sarah Perry (née Butler, b. 1979) is an English author, academic, and journalist. She has had two gothic-style novels published. Born into a family of Strict Baptists, she grew up with almost no access to contemporary art, culture, and writing.
Catharni Stern (1925 – 16 June 2015) was an English sculptor and art teacher. After CCHS she went to the Mid-Essex School of Art, Chelmsford before studying for a degree at the School of Veterinary Science in Liverpool. Due to injury she returned to Chelmsford Art School to do a course in Commercial Art. After one year, she moved to the Regent Street Polytechnic to study Fine Art and then spent a further two years studying sculpture at Chelmsford.
Sarah Tyacke (née Jeacock; b. 1945) became a historian of cartography and travel, and a former librarian and archivist. From 1991 to 2005 she was Keeper of Public Records and Chief Executive of the Public Record Office of the UK and oversaw the office's transition into National Archives in 2003.
You are visitor number: