School History
HISTORY OF CCHS
While writing my own personal memories of CCHS, I got interested in its earlier history. It is an integral part of Chelmsford and I became interested in the history of my home town (a city since March 2012) after dismally flunking my third form "Chelmsford and Basildon Project" in Integrated Studies! While queuing in the corridor on the way to morning assembly I often admired the photos of former headmistresses that hung on the wall near the school offices.
The 1960s
The 1960s tend to be associated with the Sexual Revolution, pop music and either very short skirts or flared trousers. Fashion was very diverse, ranging from hippies to Mods and Rockers. The Cold War and the Nuclear Threat were ever-present and the Space race began. Feminism (Women's Lib) and Gay Rights movements are both on the rise and the British Empire is on the wane, especially in Africa. A woman's place is no longer in the home!
Building work commences in 1960 resulting in large expansion of teaching facilities and in a kitchen, hall and dining hall large enough to cope with the 600 pupils plus staff.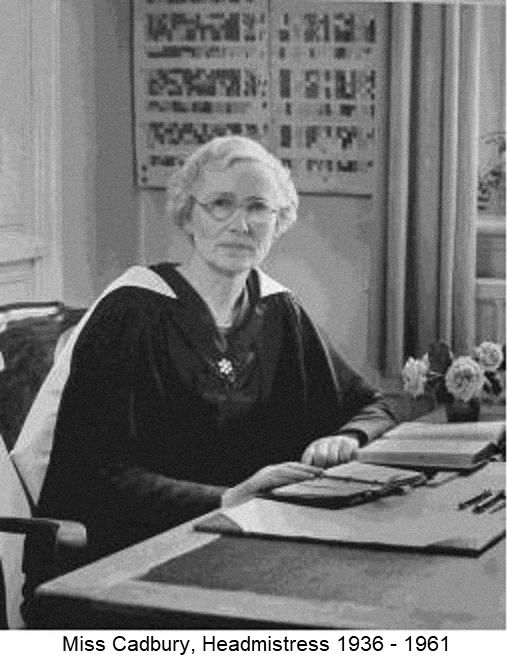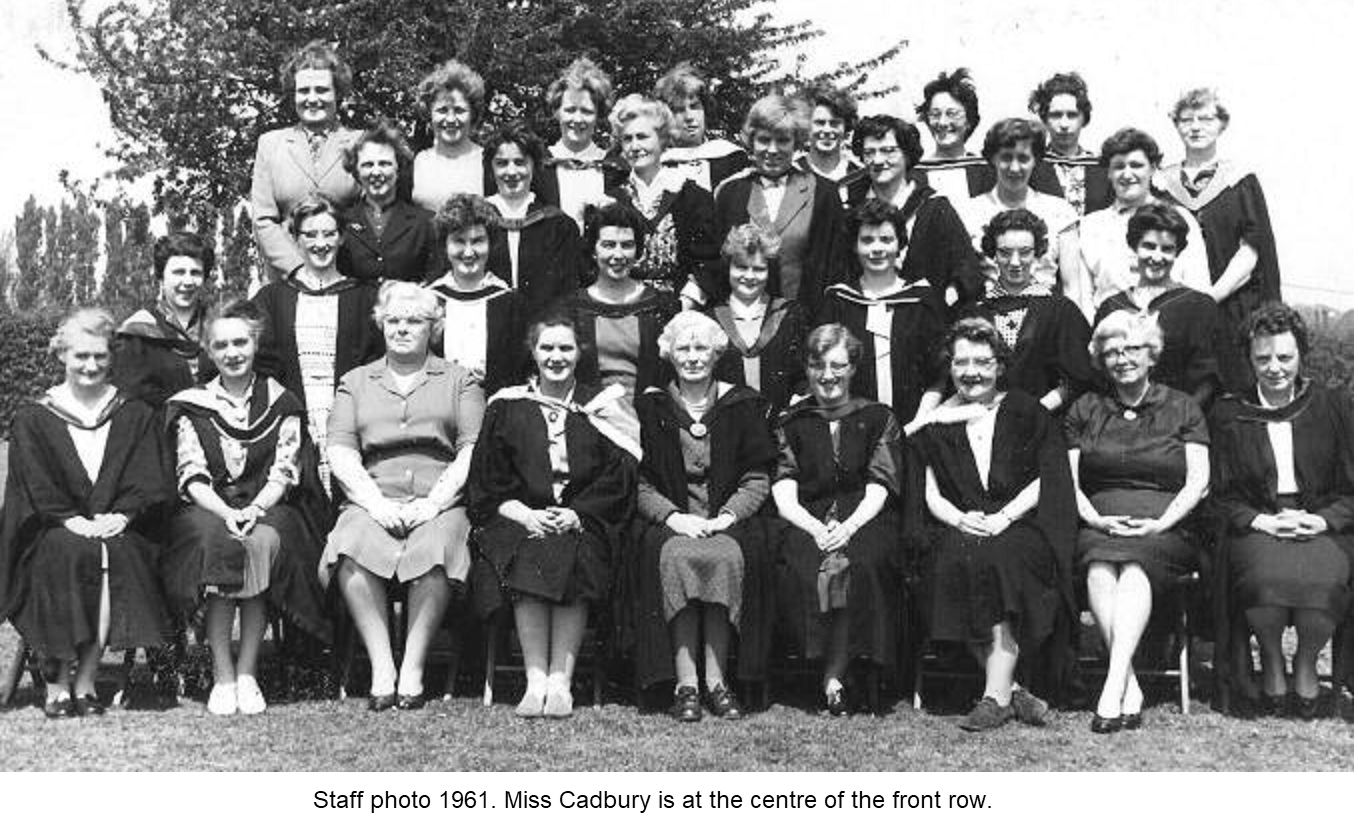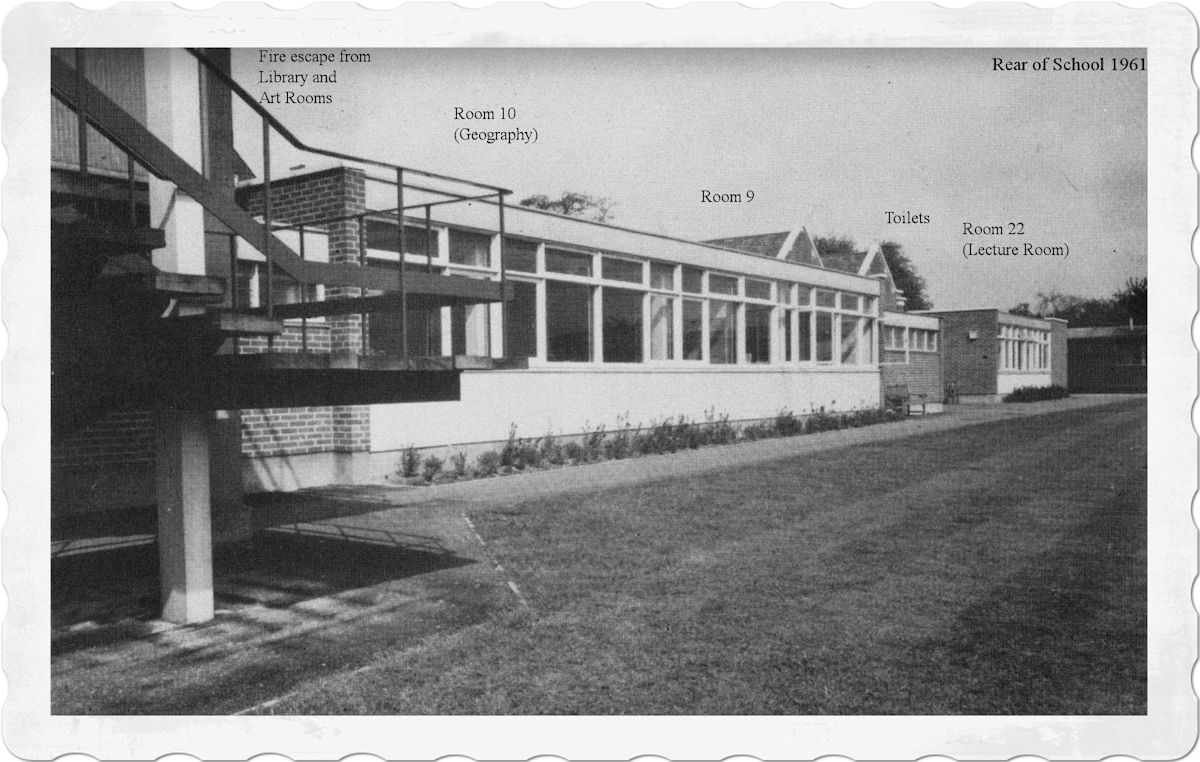 1961: Miss Cadbury retires. Miss Phyllis Pattison becomes Headmistress. New classrooms (eastern corridor) and the three storey library/art/science block (raised on pillars above part of the Quad) are completed. The covered area beneath the library also allowed hardier pupils to take break-times in the open in inclement weather (and became a useful storage area).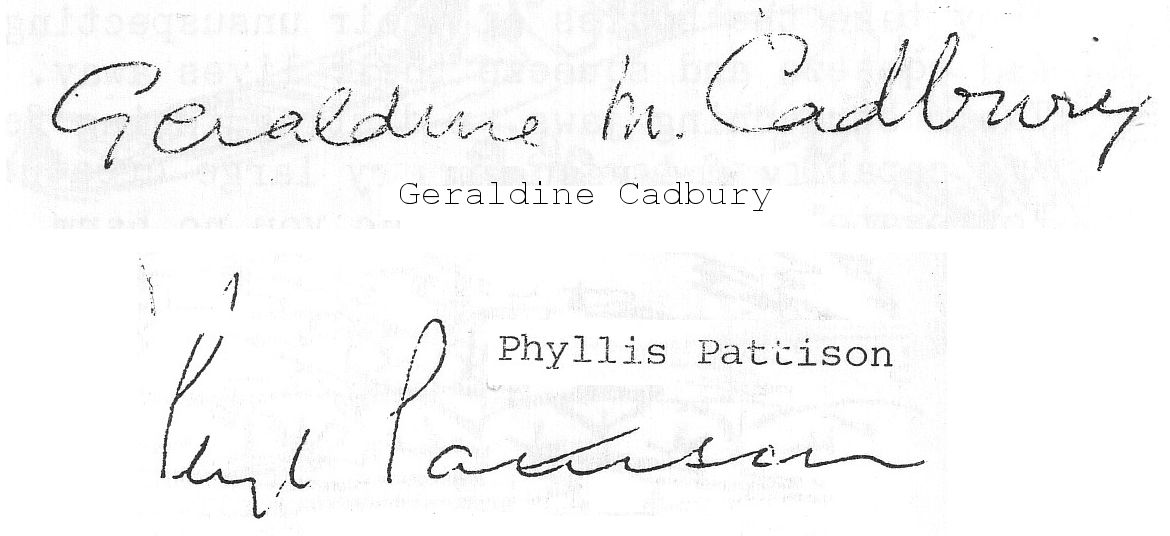 708 A DAY IN THE LIFE OF CHELMSFORD GIRLS' SCHOOL
1961. 18.5 min, Colour, 16mm, Silent
Chelmsford is fondly remembered as a happy school, and this delightful evocation of the life there makes it easy to see why. With a good eye for atmosphere and interesting detail, it covers almost every aspect of the Secondary Modern curriculum, with classes for Housekeeping, Needlework, Maths, Biology, History, Music, English, Geography, Dancing, Science, Cookery and Art. Gym, Games, Exams and the School Play are also featured, together with such staples as Assembly, the Register, free milk and school dinners. This was clearly a school of which staff and pupils were justifiably proud, and the picture the film presents is likely to induce a profound sense of nostalgia in anyone for whom those were the days.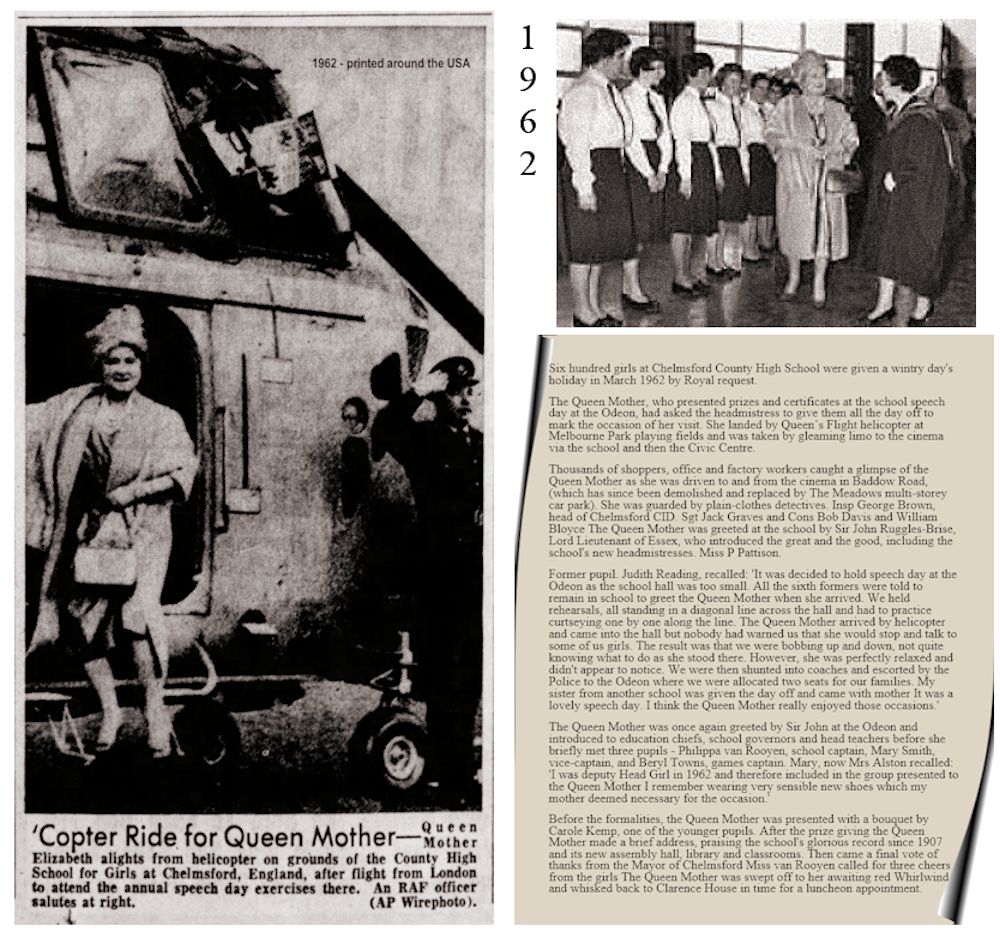 1962: Her Majesty Queen Elizabeth the Queen Mother visits the school and is Guest of Honour at Speech Day at the Odeon Cinema. This is the result of a promise she made to Miss Pattison: that if Miss P became a headmistress, the Queen Mother would visit the school! Former Headmistresses Miss Bancroft and Miss Cadbury are also present. The Royal Helicopter lands on the school hockey pitch. After Speech Day finishes, a day's holiday is declared. Work experience is first introduced. A more modern Caretaker's House is to be built at the northern end of the school, the original Lodge at the southern became Sixth Form rooms. A tender of £2676 was received for building the new caretaker's house.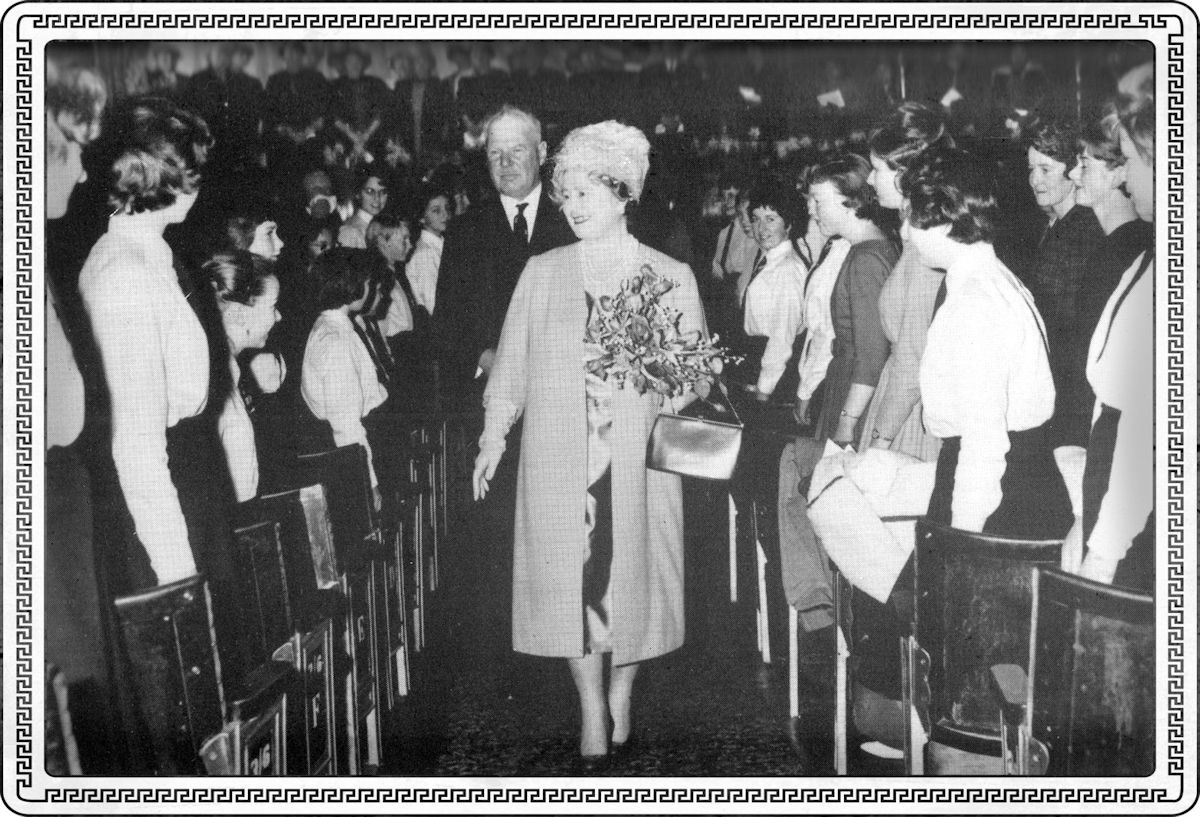 HONOUR FOR MRS. OLSEN. East Kent Gazette, 23rd February 1962.
Today (Friday) is a big day for Mrs. Elsie Olsen, prospective Conservative Parliamentary candidate for the Faversham Division. I hear that she is to be presented to the Queen Mother when Her Majesty visits Chelmsford County High School for Girls to present the prizes. Mrs. Olsen, who counts among her public work that of a county alderman for Essex – she is chairman of the County's Children's Committee – is also vice-chairman of the school governors at Chelmsford.
London Evening Standard, 23rd February 1962.
The Queen Mother was voted "smashing" by 600 girls at the Chelmsford County High School today, when she visited them to distribute prizes. The first thing the Queen Mother told them was that she had asked the headmistress to give them a day's extra holiday next Monday to mark her visit. The Queen Mother flew by helicopter from London and landed on the lawn outside the school buildings. Sir John Ruggles-Brise, the Lord Lieutenant for the County, said the arrangements had been changed because of the weather and the Queen Mother would now be meeting everyone inside the school building. After meeting the school's new headmistress. Miss Phyllis Pattison and a "guard of honour" of sixth formers, the Queen Mother drove to the civic centre to meet the Mayor of Chelmsford, Alderman Mrs. J. P. Roberts, on her way to the Odeon Cinema where the speech day ceremony was held, because the school assembly hall is not big enough.
Queen Mother Goes by Helicopter Birmingham Daily Post - Saturday 24 February 1962
Queen Elizabeth the Queen Mother travelled by helicopter from London to Chelmsford yesterday, to present prizes at the County High School for Girls. She took off from Buckingham Palace In a slight snow shower and landed in the school grounds. After presenting the prizes the Queen Mother said: "Many of you may find your real vocation in marriage, your home and your family. No one to-day needs her skill in more varied ways than the housewife and the strength and prosperity of this dear country of ours depends to a large extent on the stability and happiness of the homes of our people." The Queen Mother returned to London by helicopter.
Evening Standard, 20th September 1962. Raiders broke into Chelmsford Girls' School. Little of value was stolen.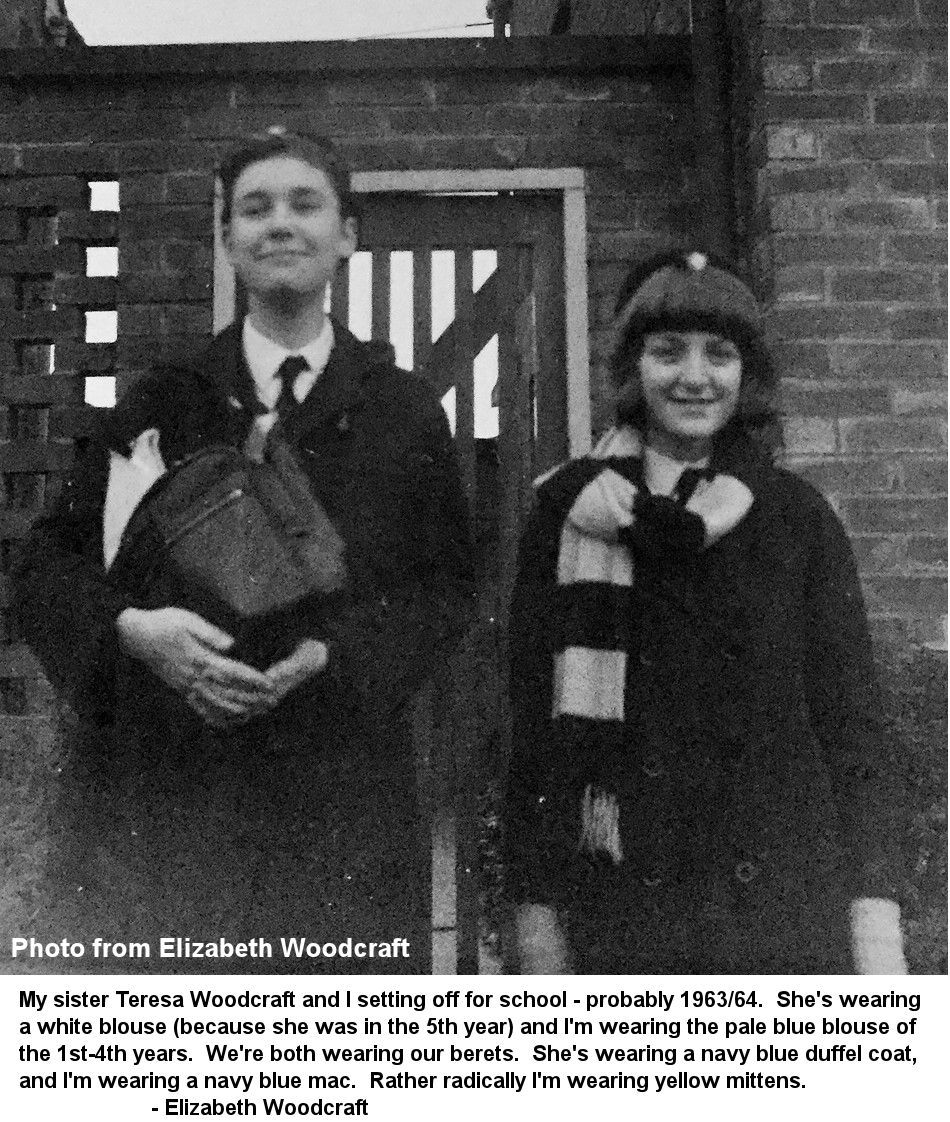 1964: School swimming pool, in a building adjoining the far end (eastern end) of Bancroft Wing, is opened by Miss Cadbury.

1965: Former headmistress Miss Vernon-Harcourt (Mrs Price) dies. Miss Pattison takes leave of absence due to illness and Miss McKenna is Acting Headmistress.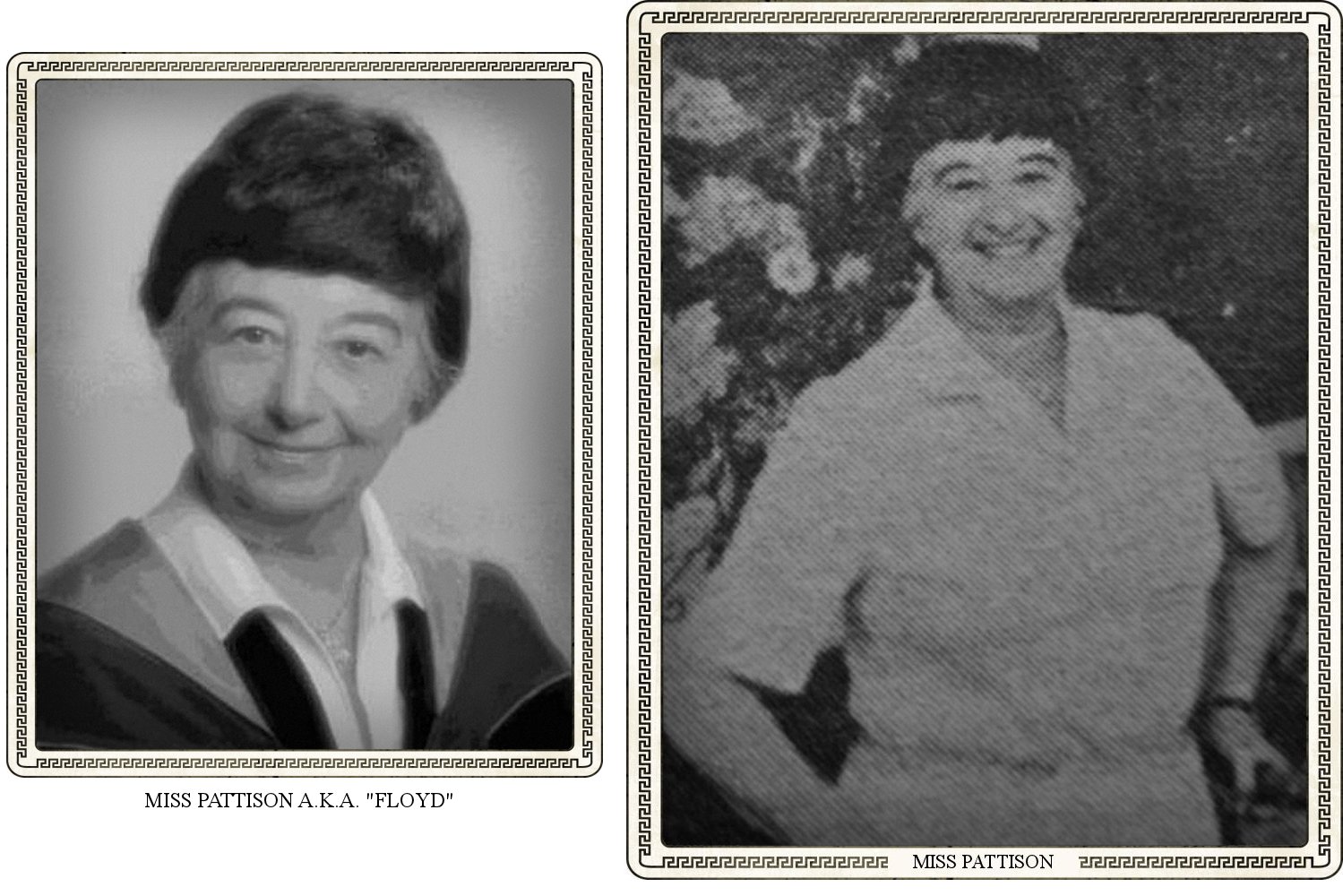 Evening Standard, 1st February 1965
THOUSANDS HIT BY BUS STRIKE IN ESSEX. Thousands of workers and schoolchildren in South-East Essex were delayed by the 24-hour unofficial token strike of Eastern National bus crews at six garages from Southend to Wood Green. Works' services were cancelled at Chelmsford depot and hundreds of factory workers had to make other arrangements to get to work from the surrounding areas. Chelmsford County High School for Girls was closed for the day. It was so unusual for the school to close that it made the London Evening News!
1966: Miss Pattison resumes as headmistress.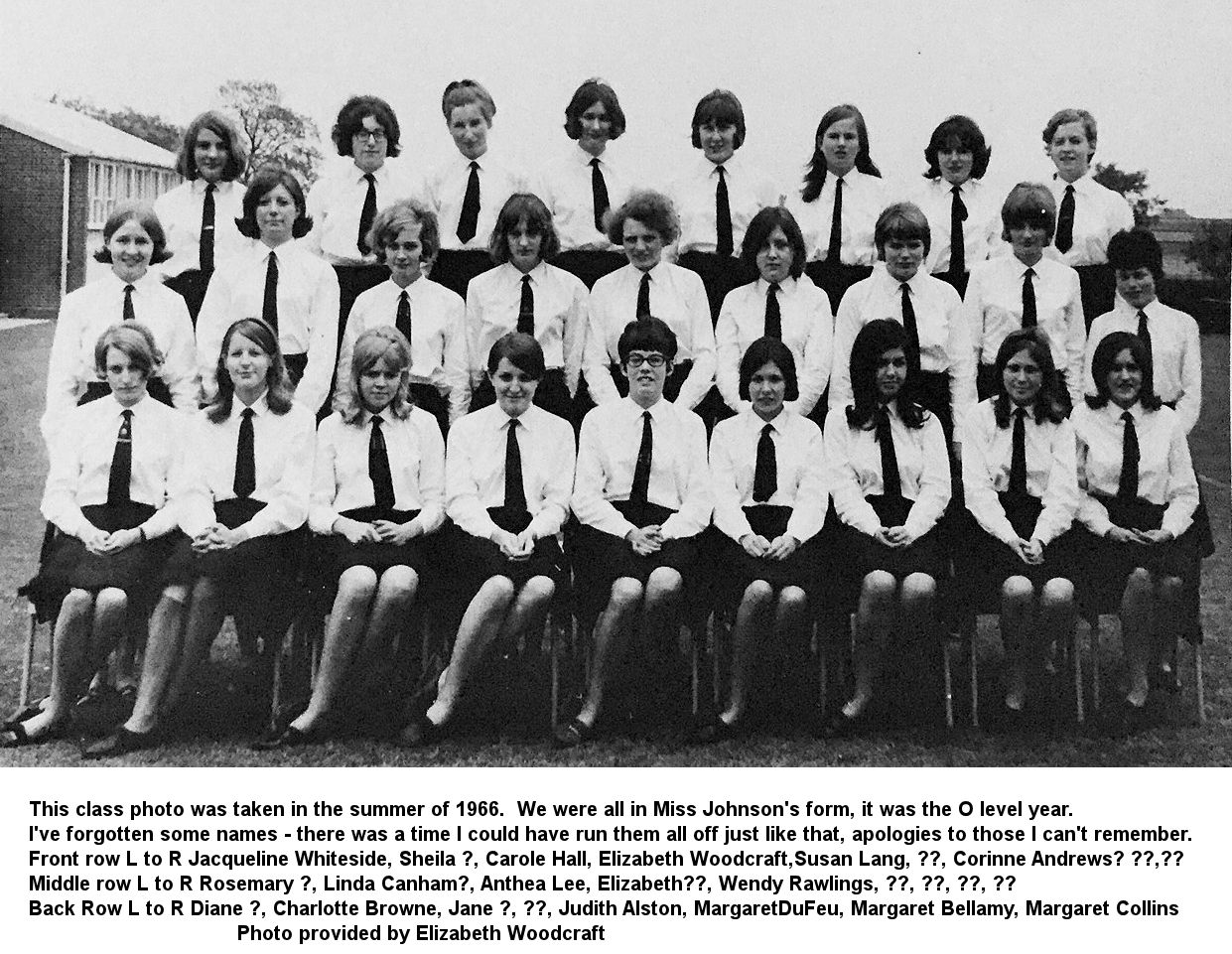 1967: School's Diamond Jubilee. Speech day is attended by 3 headmistresses of whom Miss Cadbury is Guest of Honour (the others being Miss Bancroft and Miss Pattison).
1968: School orchestra re-forms.
1969: Deputy headmistress Miss McKenna (Acting Head during Miss Pattison's illness) retires.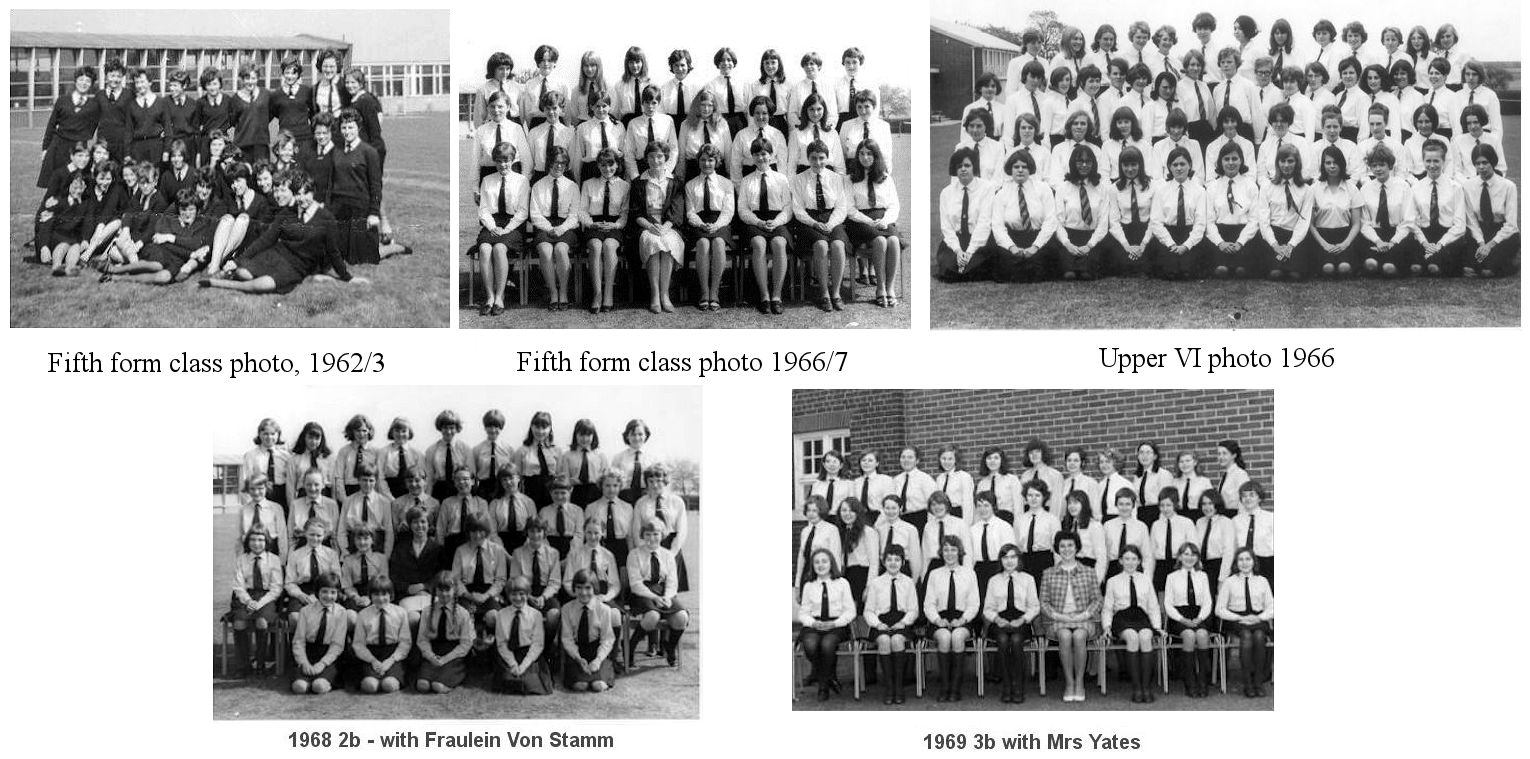 Daily Mirror, 9th October 1969.
HIGH LEVELS. Some education experts attribute the high percentage of O and A level passes to the Comprehensive system of schooling. Who are they kidding? The schools which attained the high standard were manly the so-called old-fashioned grammar and high schools. For example one of the highest at 87 per cent., came from Chelmsford High School for Girls. – (Mrs.) F. Smedley, Chelmsford, Essex.
The 1970s
During the mid 1970s, a stand-off between striking coal-miners and the Conservative government led to power cuts and the "three-day week" to conserve electricity (excepting "essential services"). The Conservatives lost the election in 1974 and Labour gained power. The Labour government promote the comprehensive system and threaten to end selective education (Grammar Schools). Women become more economically independent. An Oil Crisis affects public and private transport and parts of Britain experience summer droughts, leading to water rationing. Computers become more important in science and business (but not yet in the home). Feminism/Women's Lib becomes more militant while punk rock is seen as a negative influence on young people.
Uniform was based on French navy and became a blue-on-blue striped nylon tunic (1st and 2nd forms) or below-the-knee skirt (3rd - 5th form) with long-sleeved blouse and diagonally striped blue-and-white tie. In summer the skirt was worn with an open-neck short-sleeved blouse while lower school could wear a school-regulation patterned blue dress instead of the tunic. The hard-wearing "upholstery style" fabric was unpopular as it was hot, stuck to brickwork and attracted static. Lower school wore long white socks, but neutral nylon tights were allowed from 3rd form upwards. There was a blue blazer with crest, blue v-neck jumper, blue gabardine coat and a blue-and-white longitudinally striped scarf. The official outfitter was Horne Bros in Southend-on-Sea; they visited school during the year to take orders. Staff were vigilant for any infringements of uniform rules. The young ladies of the sixth form were allowed "smart casual".
1970s: Three demountable classrooms (prefabs) are built and named Rooms 23, 24 and 25. Rooms 23 and 24 are temporary, but Room 25 (to the left of Rooms 4 and 5) survived into the 2010s, despite being scheduled for demolition in the mid 1980s!
1970: Format of Speech Day changes: school officials take the chair to give School Reports and Vote of Thanks.
In 1970 the school Folk Group makes a privately pressed record of folk songs . The vocalists are: Bridget Reed, Christine Whitlock, Christine Wright, Diana Bunyan, Jane Griffiths, Jane Poulter, Kathy Fox, Kay Smedley, Linda Eastwood, Sally Golding, Susan Cullis, Susan King and Vivienne Fogg.
A side: There But For Fortune, Skye Boat Song, Geordie, Portland Town , Wild Rover
B side: Quando Eu Era Pequenina, California Dreaming, Tumbalalaika, Wayfaring Stranger, Turn, Turn, Turn
Another release from around the same time is a 7" EP, the self-titled "Chelmsford County High School".
A Side: Choir - Elizabeth I And II (Arranged By Geoffrey Russell-Smith, Written By George Hall); Madrigal Ensemble - To A Butterfly (Written By Christine Wright, William Wordsworth)
B Side: Instrumental Ensemble – Romance (Written By Christine Wright; Madrigal Ensemble (Credil Songe, Written By Anon, Written By Elizabeth Bungay)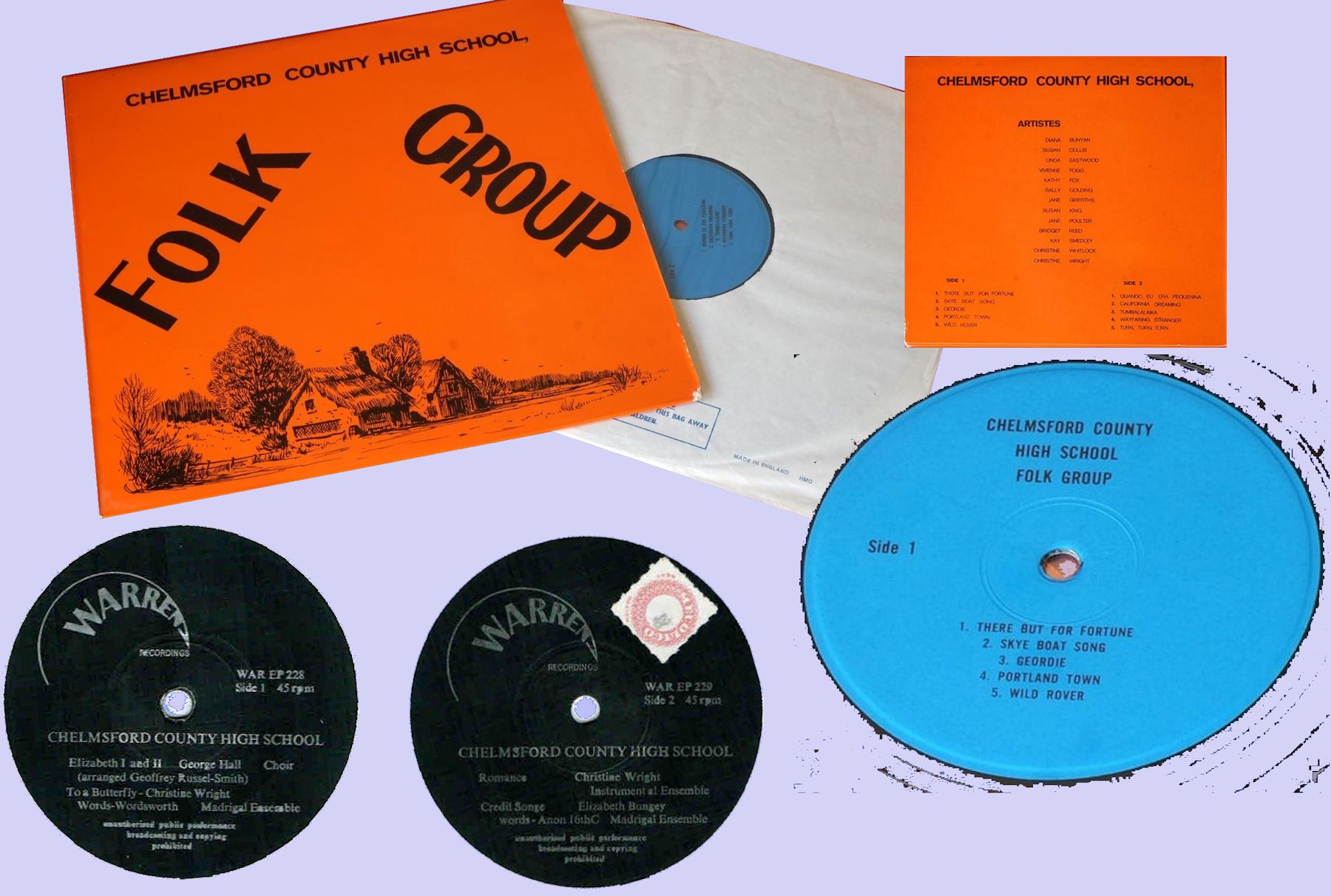 1971: Former headmistress Miss Bancroft dies. School now accommodated 670 pupils, 40 full-time staff, 13 part-time staff, 2 Deputy Headmistresses and 2 Senior Mistresses.
ANDREWS – HUGHES. North Wales Weekly News, 19th August 1971
The wedding took place at St. Michael's Parish Church, Abergele, on Saturday, of Miss Suzanne M. Hughes, daughter of Peggy Gwendolyn Margaret Hughes of Swaythling, Nentydd Roade, Abergele, and Mr. Christopher Boyce Andrews, son of Mr. and Mrs. Harold Andrews, 26 Eastover, Langport, Somerset . . . the bride is to take up an appointment as economics teacher at the Girls' County High School in Chelmsford, Essex, next month. The bridegroom is to take up a post as a history teacher in Essex.
1972: Deputy Head Miss Johnson retires.
1973: Miss Cramphorn dies. Chairman of Governors is Mrs J Galbraith.

1974: School continues the tradition of tree-planting: The Old Girls; Association plants trees in memory of Miss Vernon Harcourt, Miss Bancroft and Miss Cramphorn, all of whom had played important parts in the history of CCHS.
1975: School acquires No 120 Broomfield Road and converts most of it to teaching rooms. Upper Sixth "form rooms" move into it. There is also an Upper Sixth Common Room.
1976: There are already concerns that government policies would result in CCHS becoming a comprehensive school or moving from its location to merge with a comprehensive school. Mr Hodge retires. (I join CCHS as a First Former)
1977: Queen's Silver Jubilee and CCHS's 70th Anniversary. There was a school "Cavalcade" to celebrate; this included portrayals of life throughout the history of the school, from an Edwardian family evening around the piano to the (then) modern day.
1978: Due to government policies, the selective education system was under threat. The school fought for its future and at one point looked set to be acquired by the Church of England and become a mixed Church of England Comprehensive. Many pupils wrote to the Chelmsford MP (Norman St John Stevas) - not a boilerplate "fill in the blanks" type letter, but heartfelt individual letters as to why the school was important. Former Deputy head and one-time Acting Head Miss McKenna dies.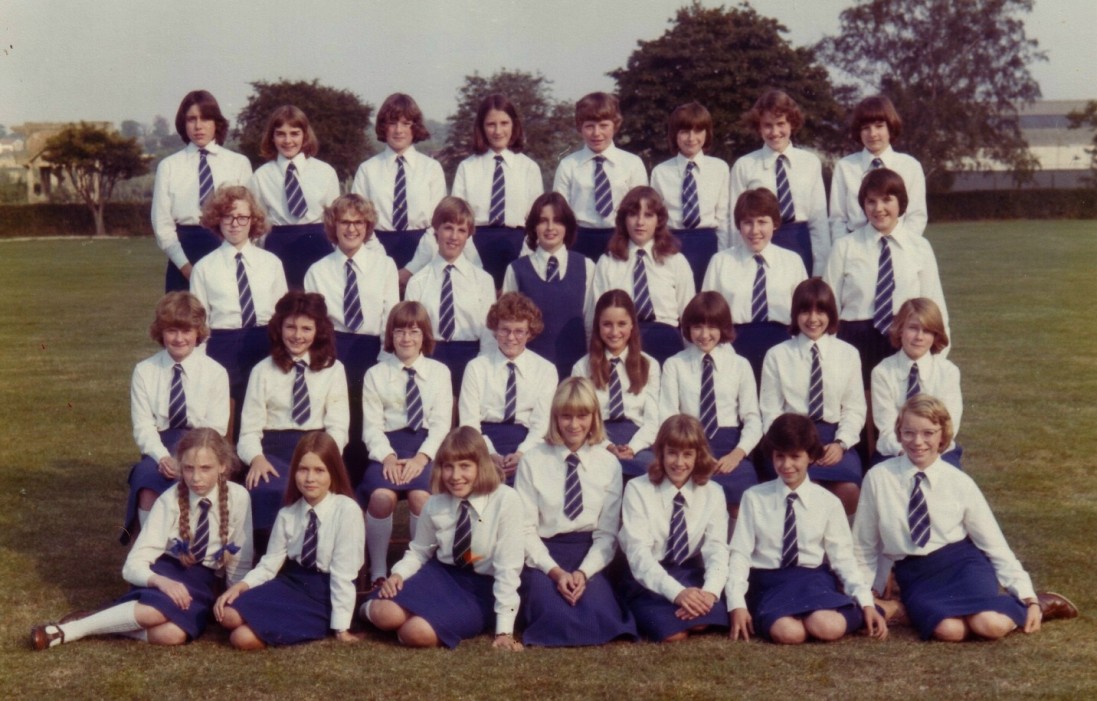 Form 3S and a School panorama. The panorama is best opened in a new window – it's a very long photo!
1979:A SCHOOL FOR HIGH FLYERS. The Observer, 27th May, 1979
Chelmsford County High School's prayers were answered earlier this month when Essex County Council decided, hot on the heels of the Conservatives' election victory, to withdraw comprehensive plans for the town's only girls' grammar school. Ironically the decision means that the Church of England is denied the chance of taking over the High School to form the county's only Church of England secondary school. Miss P. Pattison, the headmistress of the High School, was not unnaturally thrilled at the reprieve of this highly selective school. It boasts an impressive academic and sporting record – and so it should. It takes at the most the best three girls from any primary school within about a 20 mile radius. Most of those who get in, according to county education officials who make the selection, have scores on intelligence tests which puts them at the very top of the ability range. The school then gets them through an average of eight O levels (grade A – C) an two A levels a head as well as producing a large part of the county hocky team and a sparkling array of other sporting champions.
Parents, Miss Pattison says, were extremely anxious to keep the single sex grammar schools. (There is also a boys' grammar school, King Edward VI's in Chelmsford.) And 4,000 local primary school parents signed a petition for the school's preservation. But what chance have those 4,000 primary parents of getting their children into the High School? This year 43 children at Perryfields Junior School in Chelmsford took the voluntary 11-plus test, hoping to get a place in the two grammar schools. Because the test is voluntary not all the brightest children take it. Sometimes they may prefer a co-ed comprehensive. Similarly, since anyone can try, at least half of those who do take it would not have been likely to get a grammar school place even when the top 20 – 25 percent of children got through. As it is, only one got place. The rest will go on to the well-established comprehensive which shares the junior school's site and in the view of headmistress, Miss Endi Hall, their chances of doing will academically will not be jeopardised.
If a move were made to expand the number of grammar school places in Chelmsford to meet the demand, the rather nervous politeness apparent all round in recent weeks would be rudely shattered. Chelmer Valley High School on the northern side of the town was formed five years ago from a Technical High School and a rather smaller secondary modern. It has enviable new buildings with a music block which has helped it become a leading music school. It has craft and practical workshops which make it possible to offer boys and girls courses which would not be available to them in the grammar schools and its exam results are good. They are not having any trouble attracting a good number of high quality entrants.
The talent creamed off to the grammar schools – given their wide catchment area – costs Chelmsford's six comprehensives perhaps a dozen high fliers each. It may even be less. Miss Pattison at the Girls' High School says that 49 of the 90 children she took last year would, she understands, have gone to private schools if they had failed to get in. The head of Chelmer, r F.W. Cooper (whose wife teaches at the High School and whose daughters went there) can therefore afford to be polite and tolerant of any loss. Similarly Mr Reg Richardson, his deputy, who is also a teacher representative on the county education committee, is fairly relaxed. (He is himself an alumnus of the boys' grammar school in Chelmsford.) But he says, the story would be very different in the county's comprehensives if any thought to expand the grammar schools.
Mrs Beryl Platt, chairman of Essex Education Committee was reassuring last week. "We have always aimed for stability and for a compromise that would be acceptable all across the political spectrum. I think it is most likely now to stay as it is." The proof of this intention will probably come first from Colchester. The education committee has promised the chairman of governors of the Gilberd School there that they will look again at plans for that to go comprehensive in 1980. But Mrs Platt pointed out last week that the plans were of much longer standing than the 1976 Act; that the £1.3 million building contract for the new school has begun ad that when reorganisation notices were published there were no objections.
1979: Miss Pattison retires. Her long-time friend Miss Donaldson (head of sports) also retires. There is a school revue in her honour with music and short plays put on by the various societies and clubs. Miss Tyler is Acting Headmistress. Mrs Lorimer remains Deputy Head.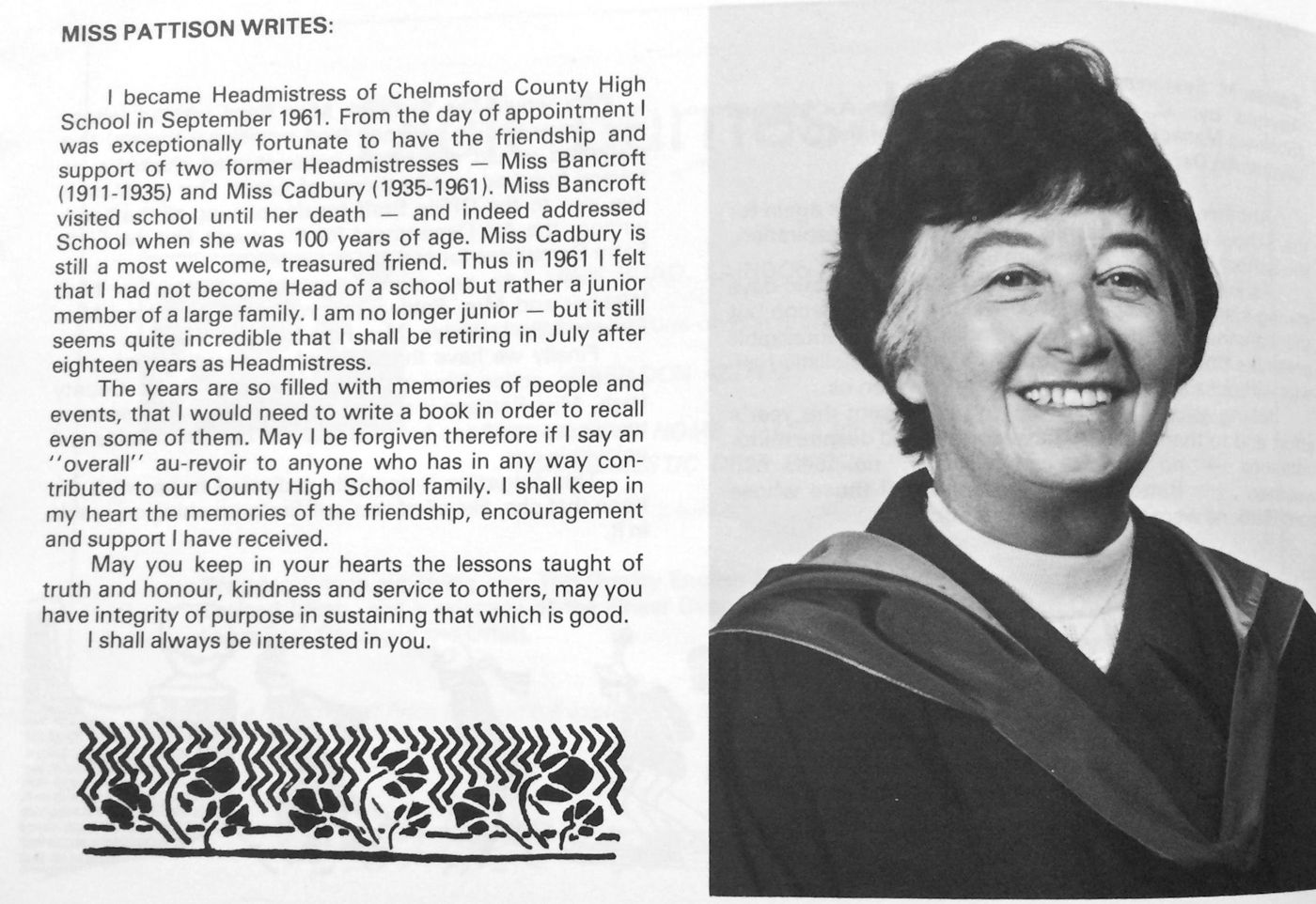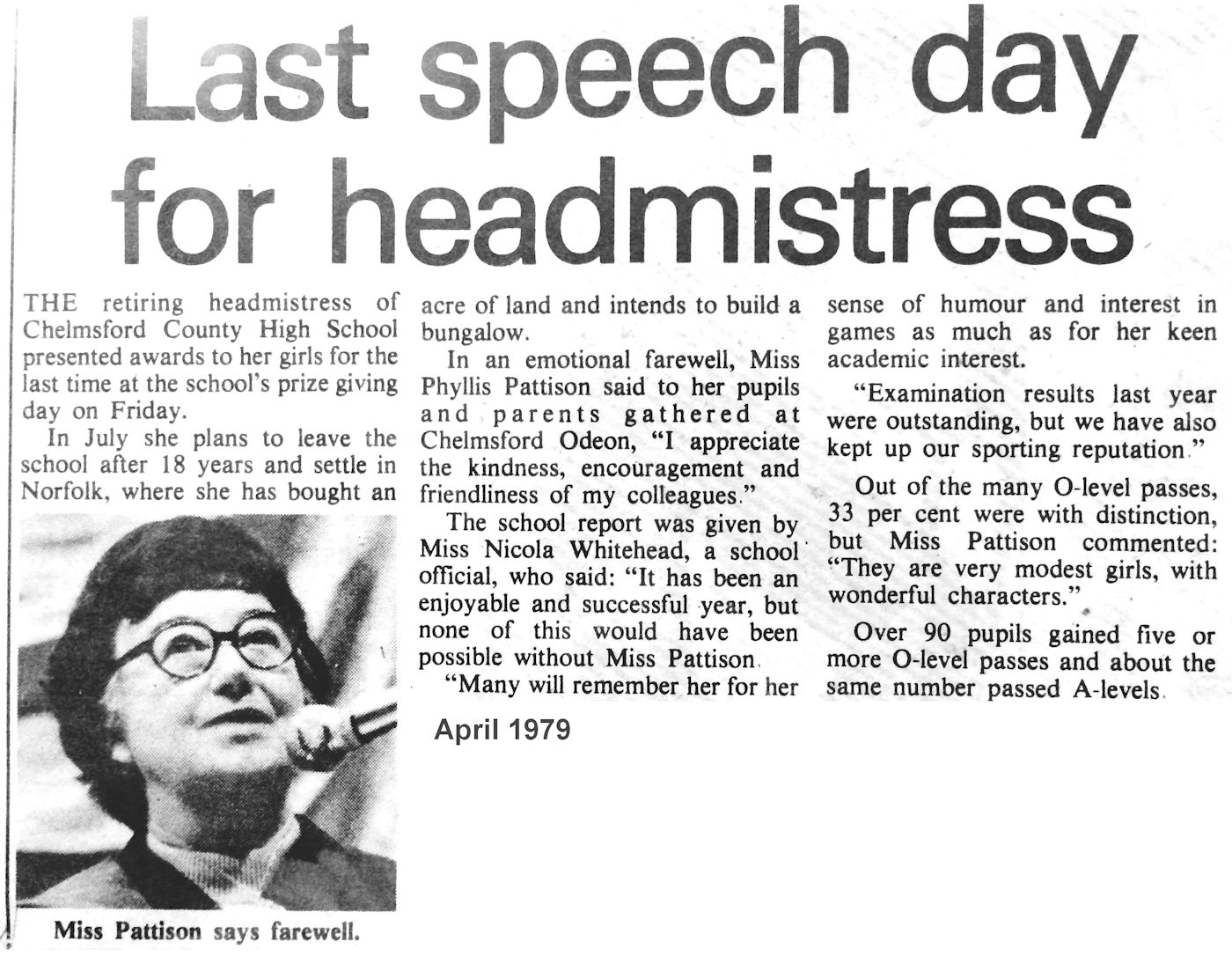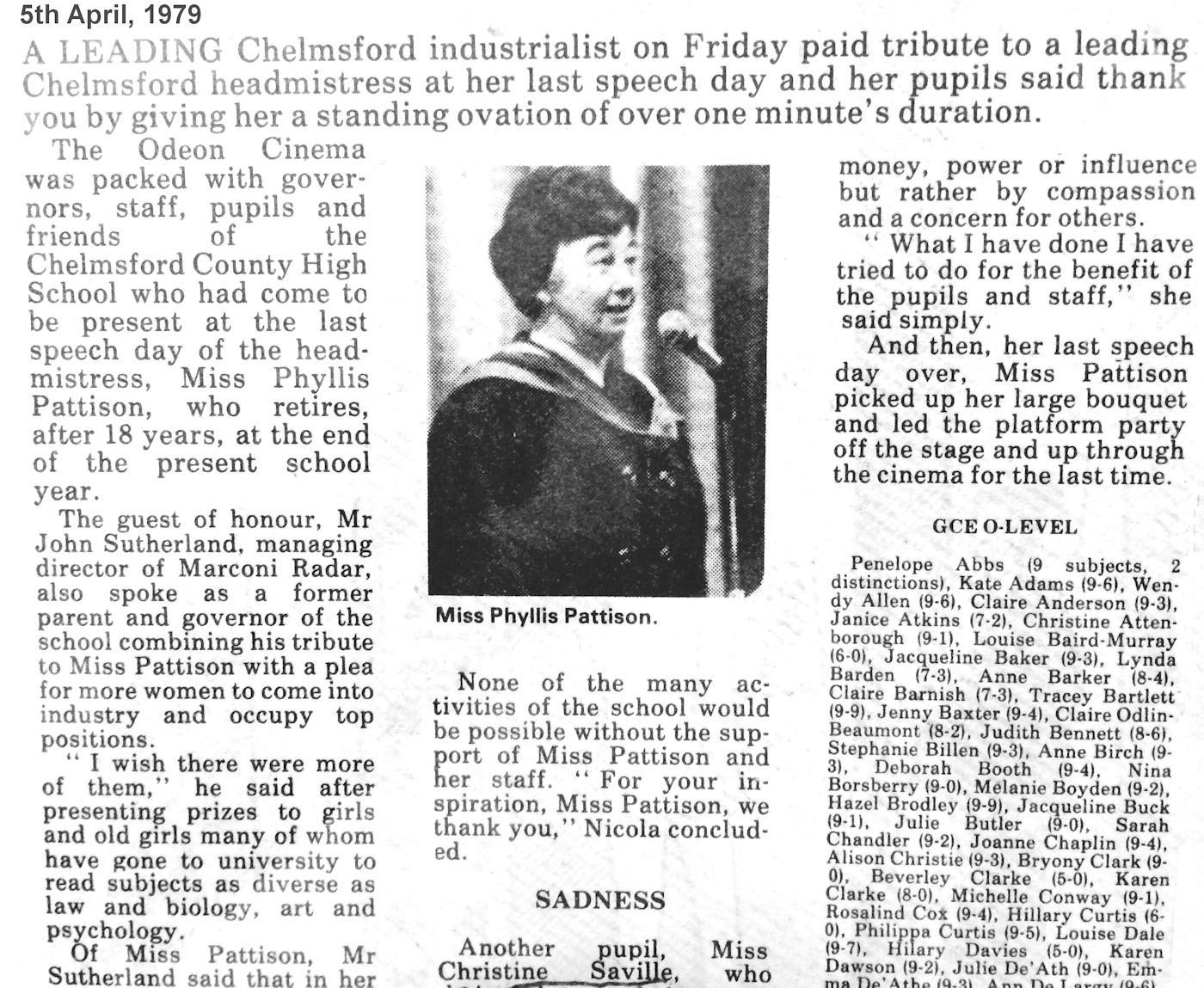 A floor plan drawn from memory. This was how it looked during my time as a pupil. The original school housed around 80 when it first opened and was designed to accommodate 150. CCHS at the time of this floor plan accommodated around 700 pupils as well as between 50 and 60 members of staff (full-time and part-time).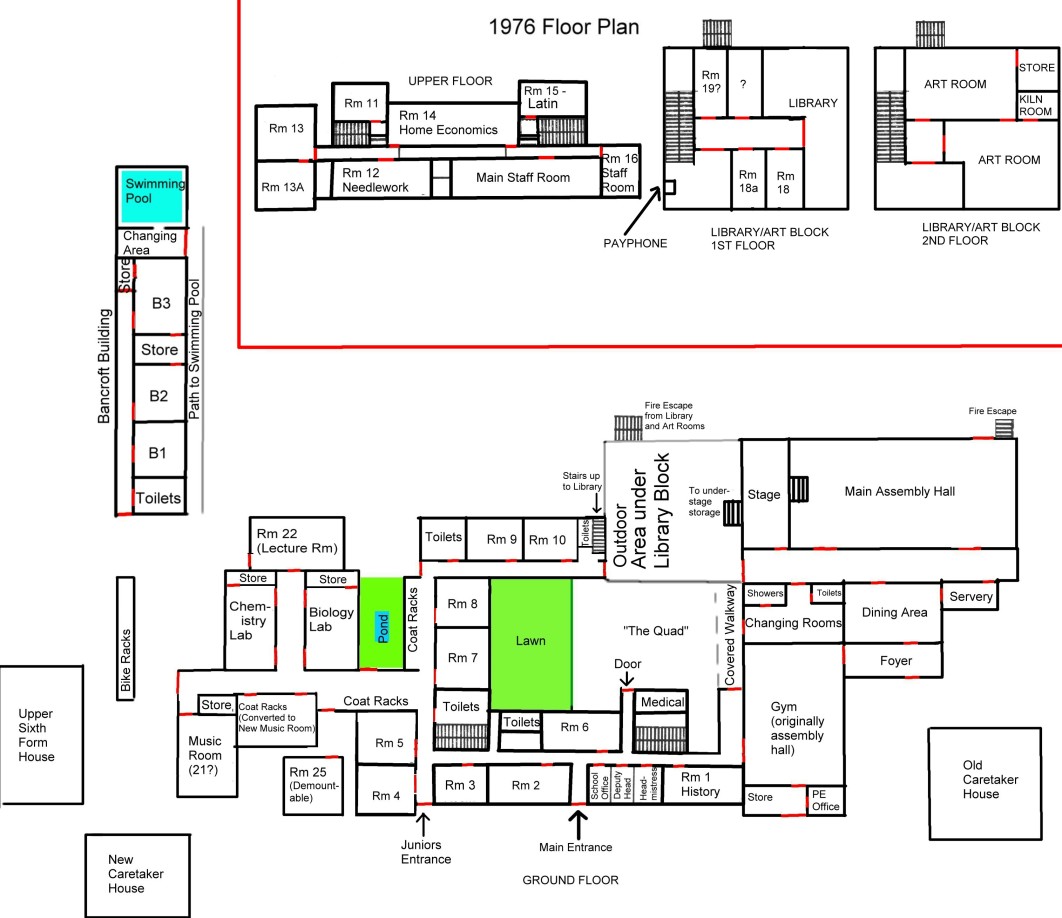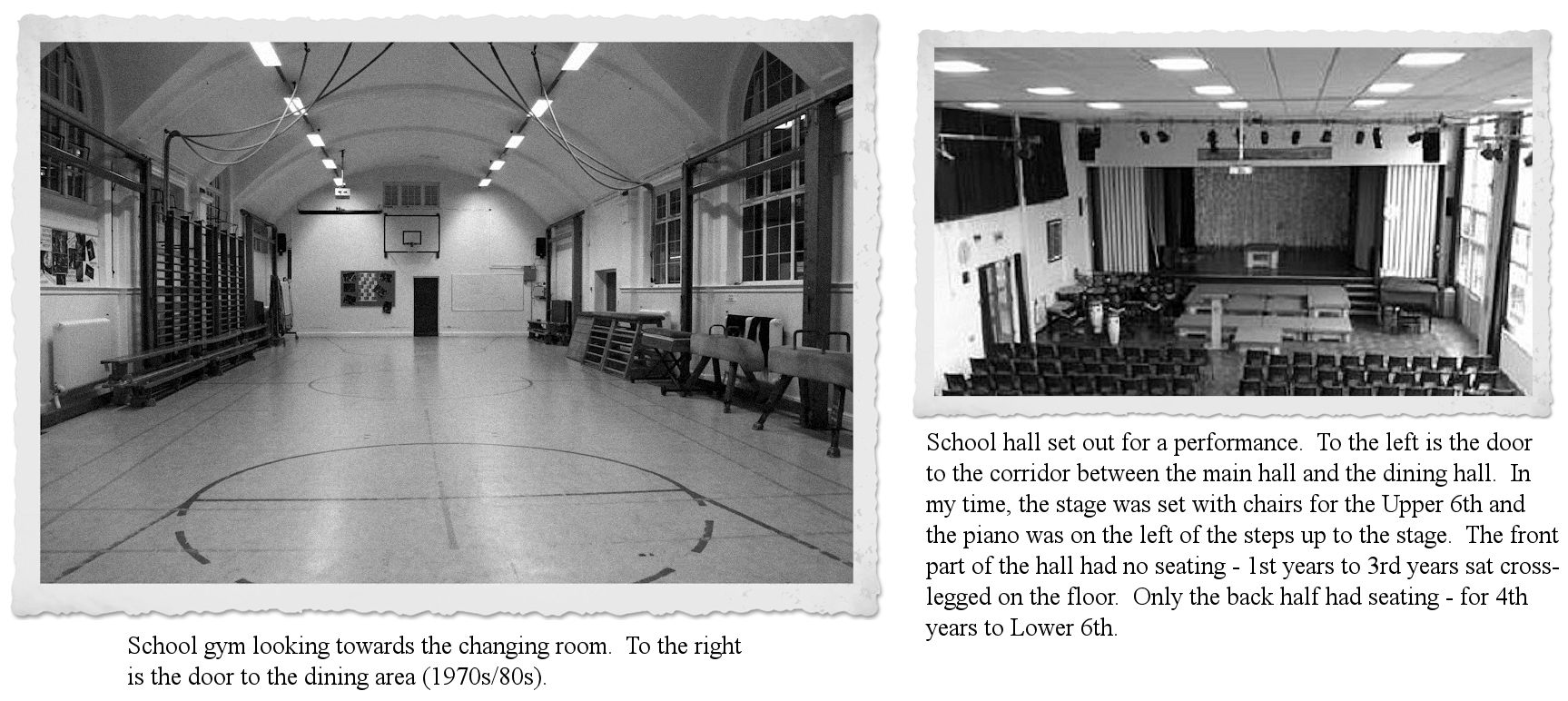 You are visitor number: