UVX 7S (Eastern National Fleet No CR 1103)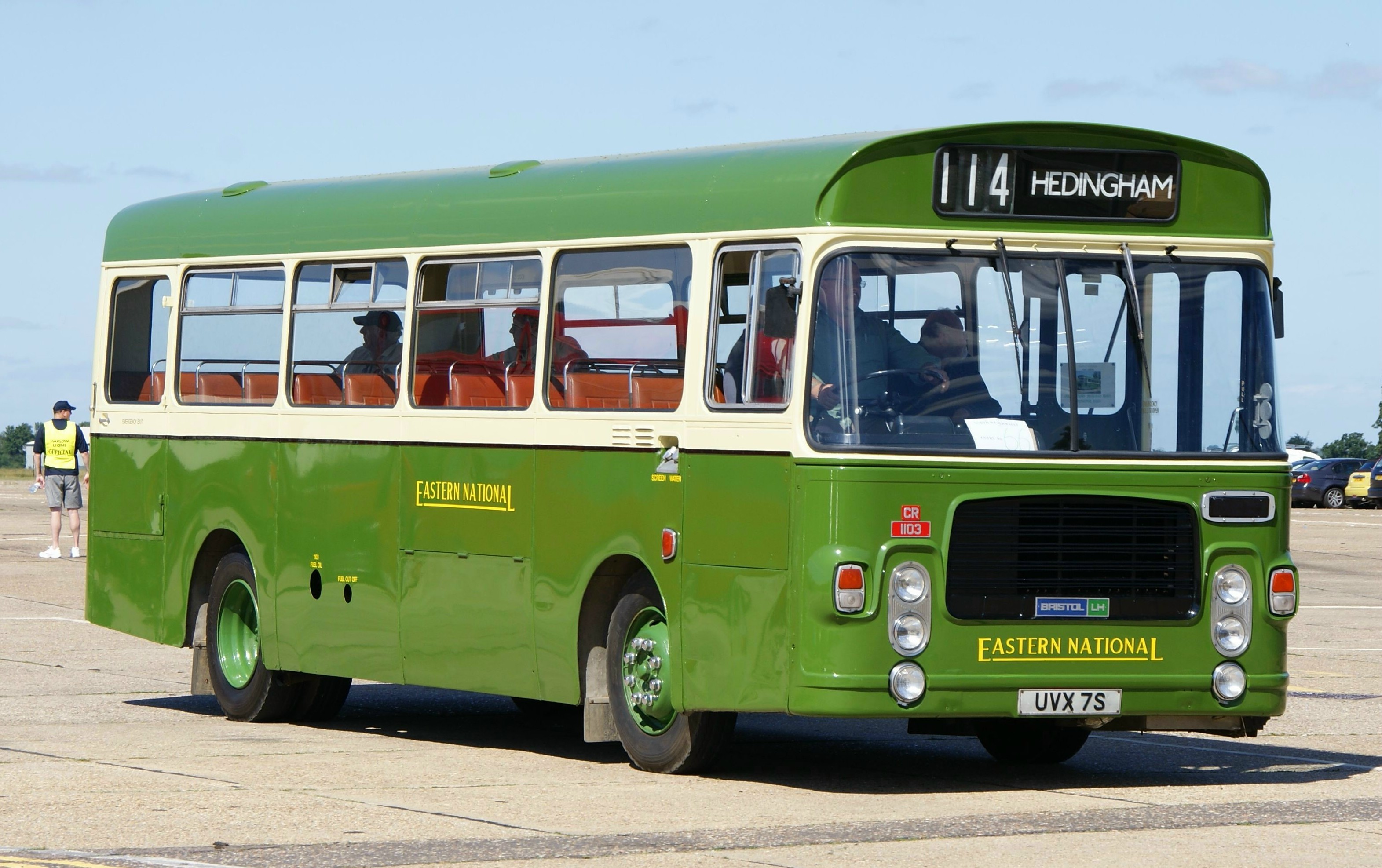 TECHNICAL
Chassis: Bristol LH6L, No 1409 (9.5 Metre version)
Body: ECW B43F, Number ECW 22362
Engine: Leyland O.401, 6.54 Litre, 138BHP
Transmission: Manual 5 Speed Synchromesh, Overdrive O.79 :1, Rear Axle Ratio - 5.57 :1
HISTORY
UVX 7S was one of 4 identical Bristol LH's that entered service with Eastern National in September 1977 (UVX 4S - UVX 7S). All 4 had the less common 4-headlight style front. Her original livery was National Bus Company (NBC) Leaf Green, initially with a white band along the side. These were Eastern National's only Bristol LH's (Light Horizontal, referring to the engine) and were operated out of the Colchester (CR) Depot. They were intended for the lightly loaded and more rural routes in the area, but ended up operating on general routes out of Colchester. They were lively performers, but not all drivers liked the manual gearboxes and lack of power steering. Those that did, described them as fun to drive.
The 4 Bristol LH's were sold as a batch to neighbouring Hedingham & District Omnibuses who put them into service in October 1982 wearing Hedingham's red and cream livery. UVX 7S had Hedingham fleet number L114. All 4 were mainly operated out of the Little Tey depot and were in service around the Colchester area though UVX 7S also spent time at the Hedingham depot.
In July 1999, UVX 7S was withdrawn from Hedingham's Tollesbury depot, still in excellent working condition, and sold to company employee Dave Arnold of Maldon, who rallied her for several seasons. Dave Arnold also acquired sister vehicle UVX 4S which, being in good condition but less smartly turned out, was cannibalised - sadly the engine and other large parts were too large for storing as spares for UVX 7S. The remaining sister vehicles, UVX5S and UVX6S, went to Silver Star and were later scrapped.
UVX7S spent a number of years in storage, albeit kept in working condition, and in June 2006 ownership transferred to Fred Lawrance of Colchester. In August 2007, UVX 7S was repainted in 1959-style pre-NBC Tilling Green and Cream, but retaining the Hedingham black front grille. As a 1977 vehicle, she never wore this livery while in service, but Fred considered it more elegant than the bland NBC all-over leaf green. This inauthentic and somewhat customised livery has since been a bone of contention among enthusiasts.
Although the vehicle was lively and performed impeccably, she turned out to have dangerously low engine oil pressure and needed a bottom end engine rebuild (this was when UVX 4S's engine would have been useful!). She has also been reunited with her original Eastern National "1103" fleet number plaque, kindly donated by the enthusiast who had previously purchased it. As part of the Colne Estuary Preserved Buses collection, she was rallied in Essex and further afield and nicknamed "Boadicea", alluding to her past and present travels around the Colchester area!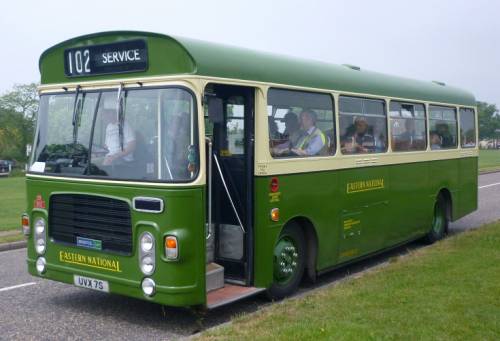 In January 2011 ownership was transferred to Sarah Hartwell who will retain this livery and rally her mainly in the local area. Sarah fell in love with Eastern National's Bristol vehicles while commuting to secondary school 1976 -1983 and though she never rode UVX 7S during this time, the LH's excellent condition and known history made her an ideal bus for a novice preservationist. UVX 7S remains part of Colne Estuary Preserved Buses where Fred Lawrance continues to provide advice and take an interest.

Spring 2011 marked my debut in UVX7S aka "Boadicea" with a few practice runs under supervision and a rally at Great Yeldham. She's also been further afield with more passengers, albeit driven by friends with PSV licences. Not everyone likes "heavy" steering or manual gearboxes, but to someone who's never had power steering in a car, I felt at home with the controls. In October 2011, she underwent a through mechanical overhaul which ironed out a few issues and has made her quieter and smoother to drive. In 2012 an overhauled starter motor cured her intermittent starting problems.

As with all older vehicle, there are idiosyncracies to get used to. She's a lovely vehicle to drive and we've trundled round local country roads and to Clacton seafront just for the pleasure of it. Some ambitions are worth the wait. And for nostalgia's sake - she often displays 311 HALSTEAD on the destination blind.

As with all older vehicle, she has some idiosyncracies (notably when changing from 4th down to 3rd gear!). She's a lovely vehicle to drive and we've trundled round local country roads and to Clacton seafront just for the pleasure of it. For nostalgia's sake - she often displays 311 HALSTEAD on the destination blind. Every owner needs an affectation, so "Boadicea" still sports Fred's bling wheel nuts, to which I've added an oversized pair of large furry dice to match her livery - something else for the purists to complain about! Interior period detail is in keeping with 1977 being the Queen's Silver Jubilee.

Since going into preservation, UVX 7S has been seen at a number of bus and classic vehicle rallies. The list below is incomplete and gleaned from the internet as I don't have full details of her outings with previous owners.

With Dave Arnold

Hedingham Omnibuses Red & Cream Livery
September 1999 - Showbus, Duxford
September 2000 - Showbus, Duxford
2001-2006 - in storage

With Fred Lawrance (Colne Estuary Preserved Buses)

2006-2007 - off-road for restoration

2008-2010 - Tilling Green & Cream "Retro" Livery
September 2008 - Showbus, Duxford
October 12th 2008 - Castle Point Transport Museum, Canvey Island
June 2009 - Clacton Bus Rally
July 5th 2009 - North Weald
July 2009 - Worthing Bus Rally
Sept 6th 2009 - Norwich Bus Rally
October 2009 - Castle Point Transport Museum, Canvey Island
June 6th 2010 - Clacton Bus Rally
July 11th 2010 - Haverhill Classic & Vintage Vehicles
July 18th 2010 - Alton Bus Rally

With S Hartwell (Colne Estuary Preserved Buses)

From 2011 - Tilling Green & Cream "Retro" Livery
May 15th 2011 -Yeldham Transport Museum Open Day
June 5th 2011 - Clacton Bus Rally
July 3rd 2011 - North Weald Rally
July 17th 2011 - Alton Bus Rally
July 24th 2011 - Colne Valley Railway
August 27th 2011 - Clacton Aerodrome
Sept 10th 2011 - Colchester Heritage Running Day
September 18th 2011 - Showbus, Duxford
(Attendance at Ipswich Transport Museum and Castlepoint Transport Museum was cancelled due to injury)
May 6th 2012 - 42nd Ipswich to Felixstowe Classic Vehicle Run
May 7th 2012 - East Anglian Rail Museum Vintage Transport Day, Chappel, Essex
May 20th 2012 - Gt Yeldham Transport Museum
June 3rd 2012 - Clacton Rally
June 17th 2012 - ECW Event, East Anglian Transport Museum, Lowestoft
July 1st 2012 - North Weald Rally
15th July 2012 - Alton Bus Rally (event cancelled)
22nd July 2012 - Colne Valley Railway Bus Rally
12th August 2012 - Brislington Rally
8th September 2012 - Colchester Hythe Mini rally & Running Day
16th September 2012 - Showbus, Duxford
14th October 2012 - Canvey Island Transport Museum Rally & Open Day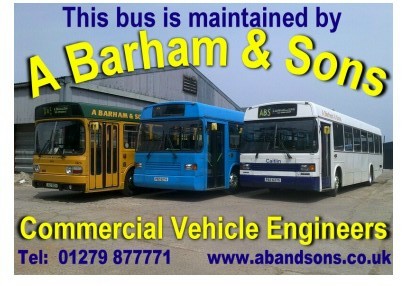 You are visitor number: