SAVANNAH FRAUDSTERS OFFERING NON-EXISTENT F1 KITTENS
Messybeast / Pictures of Cats Scammer Alert June 2017

Beware of fraudsters selling F1 Savannah cats online and being approached by email. Cat blogger Michael Broad was approached by an email offering him F1 Savannah kittens at $3,000 each. The price in dollars means this came from North America (yes, I know Australia uses dollars, but Savannahs are not bred there). He was immediately suspicious. For a start, Savannahs are available in the UK so there is no need to import them. F1 Savannahs are covered by CITES restrictions and animals coming from the US may be quarantined for six months. Additionally, being in the UK, Michael would need a special licence to keep an F1 Serval-domestic hybrid.

The sellers called themselves Hilary Jones and Liana Brogass. Michael played along with them and told them that he was interested in buying a kitten. He asked what the process was. Hilary Jones (the name could be either male or female) responded by asking for an advance payment of $1,500. This was the first red flag. Never send money to anyone upfront unless you are absolutely certain about the person and the contract. No reputable breeder will ask for payment until they have gone through the contract with you and, in this case, discussed CITES export and import documentation. Hilary Jones (no doubt a pseudonym) was therefore a fraudster and con-artist.

Michael also asked for details of the breeding cattery. Jones said there was no website but the cattery was called 'Hilary Pets House.' There is no record of this on the internet. All breeders have or should have an internet presence of some sort, either a personal website or a listing on a breeder referral website. Jones claims the kittens are TICA-registered. TICA has no record of a Savannah breeder called Hilary Pets House.

The final proof was that one of the photos attached to the emails was taken by Michael himself. It showed an F1 Savannah cat, Focus, bred by A1 Savannahs some years ago by Kathrin and Martin Stucki. Jones had obviously collected some photos of F1 and F2 Savannahs from the internet and was pretending to be the breeder. I have come across this with another fake breed, the American Mystery Cat, which used doctored photos traceable to other websites. Jones may have emailed a number of people hoping they would fall for the scam.

Another red flag was that Jones would not let Michael see the kittens in real life (e.g. Skype) to verify their existence. The idea behind the fraud was quite obviously to ask for a large sum upfront, receive it and then disappear. The other F1 Savannah cat seller, Liana Brogass, may be an associate (much like Ashera fraudster Simon Brodie had an associate) or might not exist. Michael also suspected a notorious cat hater and troll who hates Michael as much as he hates cats, especially after his real identity (Jim Stevenson) was revealed on Michael's site the previous day.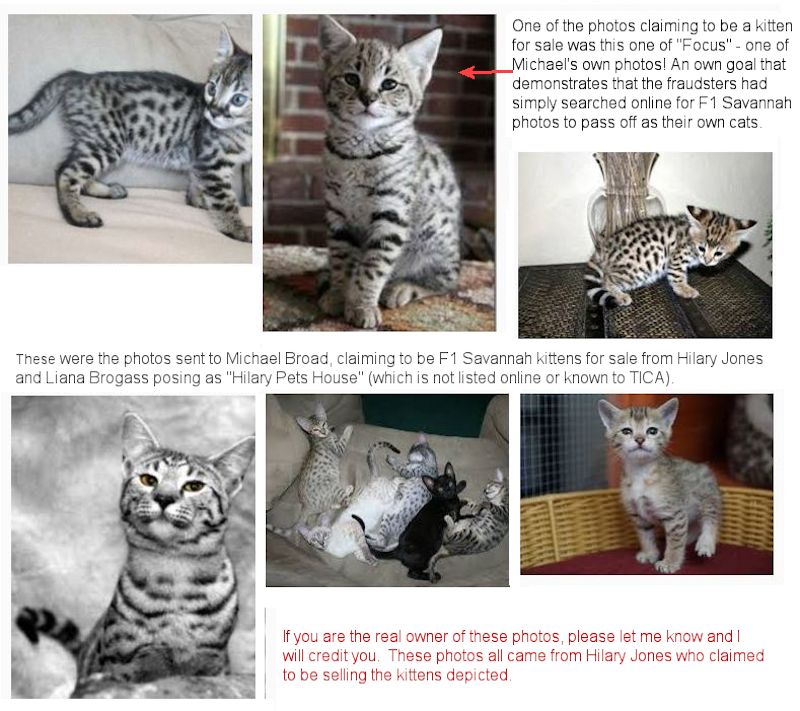 Here is a transcript of the email correspondence between Michael and "Hilary Jones"

Hilary Jones: Hello, We are proud to announce to you that we currently have 4 Stunning F1 Savannah Kittens. They are all ready for reservation and adoption now. These babies are full of joy and character, love to play and full of energy. These F1 Savannah kittens are 11 Weeks old and we have 2 Males and 2 Females available. They are TICA Registered–Select Exotics lineage, excellent dark spots and friendly, playful personalities! They are well trained and very friendly and playful with good temperament with kids and other pets and animals. We are offering 1 Kitten for an Adoption fee of $3,000. We accept payment plan. They will come along with all paperwork and all necessary accessories. Find attached in this email, updated pictures of both the males and females F1 Savannah Kittens for your review and get back to us with your choice. Warm regards.

Michael: Hilary, one of the photos was taken by me! I took it at A1 Savannahs and the cat is Focus. Could you explain this? Hillary please tell me the name of your cattery. Are you well-known? F1 Savannahs are pretty rare. Do you breed servals?

Jones: hello good day am sorry am writing to you but now but its because i have been very very busy with the commands from people all over the world who are buying my F1 Savannah kittens.as of the picture please i dont know what you are talking about since am a breeder and my cattery name is HILARY PETS HOUSE. if you are interested in having one of my kittens then please kindly tell me thank you. my mobilenumber is [redacted] you can give me a call or text me if you wish.

Michael: Hilary, you have not explained why one of the kittens is of a cat bred by A1 Savannahs in Oklahoma, USA, some years ago. I visited A1 savannahs and photographed the cat. Therefore this cat cannot have been bred by you. And therefore I'm afraid you are not telling me the truth. And therefore I cannot proceed with publishing anything about your cattery unless you can clarify the position with some certainty.

Jones: Micheal what more do you expect from me i have explained all i can to you but you seem not see reasons with me and such i don't know what more to say

Michael: Hilary, if I wanted to buy one of the kittens what happens next

Jones: Micheal, if you intend to buy one of the kittens you would have to give me your complete address then make a 50% upfront payment so that i can do all paper work changing ownership from my names to yours and equally pay for delivery as well and when you receive the kitten you then complete the payment. This is the procedure all of my clients do follow in having their kittens. Thanks, Hilary.

Michael: I need to see the kittens first hand before purchasing. Where can I see them?

Jones: Micheal the way you sound its like you are doubting me so if you are not interested in having one of the kittens as you earlier mentioned then please stop taking my time because i have important things to do as well as i have serious people who are buying my kittens and they are satisfied with my terms.so if you know you are not ready please leave me alone. Thanks, Hilary.

Michael: You are a liar, con artist and a fraudster and I will write about you tomorrow on my website: PoC [Pictures of Cats]

Jones: okay, thank you very much and do as you wish.

"Hilary Jones" is the name of a well-known British doctor and TV personality. It is also the name of a female drummer. "Liana Brogass" does not come up on any internet searches.

You are visitor number