THE HISTORY OF SILVER LONGHAIRS
This page unravels some of the early history of the breed. From the extant pedigrees and descriptions, I've created family trees to show the relationships between cats and the degree of inbreeding used to establish the chinchilla silver.
In the 1880s, there was no central body methodically compiling pedigrees. Many catteries kept their own records, which were often lost when the cattery closed or the owner died. The National Cat Club did not allocate registration numbers until a cat was a proven prize-winner. Studs could be registered, for a fee, but many owners simply advertised a stud's services in cat fancier publications. In addition, there was a practice of mating a queen to two studs to ensure she conceived; a practice that casts doubt on the paternity of many kittens. Frances Simpson provided templates for catteries to record pedigrees and matings (with spaces for two studs' names), but often kittens were sold as "pure bred" based on the reputation of the breeder. The loss of cattery records explains the many "parentage unknown" or "unrecorded" entries on the family tree.
The early Silver Tabbies and Smokes had the essential characteristics of the modern equivalents, but were very different in conformation and quality of markings from today's show-quality silvers. Some silvers were probably genetically blue, while others were "spoiled silver tabbies" with barred legs, ringed tails and dark blotches on their coats. Frances Simpson lists some of the best ones of the time:
Sylvie, a cat of unrecorded parentage and owned by Mrs. Christopher, was a strikingly beautiful silver that caught the eye of judge Harrison Weir at the Crystal Palace in 1886. She was exhibited as a very light blue tabby, there being no class for chinchilla at the time. Another spectacular chinchilla of the early 1880s was Miss Florence Moore's Queenie, a daughter of Judy (a heavily marked silver tabby prize-winner of Mrs. Brydges' noted strain) and Fez (a light silver male with indefinite stripes). Mrs. Brydges had owned some of the first long-haired cats ever imported into England in the 1830s, but had never bred a chinchilla herself.
The first class for Chinchilla Long-haired cats was instituted at the Crystal Palace Show in 1894.
A CONFUSIONS OF COLOURS
According to Frances Simpson, the silver tabby class once included blue tabbies. Simpson wrote in 1903, "It is curious to read in the old catalogues of the Crystal Palace shows the titles given to the various cats by the owners, some describing their cats 'chinchilla tabby', 'light grey tabby', 'silver grey', 'silver chinchilla', 'blue or silver striped'. We may infer that these cats were either blue tabbies or silver tabbies or something betwixt and between. I distinctly remember the large number of cats which, in these enlightened days, we should find difficult indeed to classify. It is difficult to give a correct idea of the real colour and appearance of these cats. The hair at the roots is a peculiar light silver, not white as one might imagine until some pure white is placed beside it, thus shades to a slightly darker tone - some sort of bluish lavender - to the tips of the coat [a light-coloured smoke!]. The Cat Club introduced the term 'self silver' but this is suggestive of one colour only, without shadings whatsoever. Another class was added called 'shaded silvers', but the tabby markings are not shadings."
Simpson stated that silvers came from blues and silver tabbies while Miss Langston of Allington, a cat breeder for over sixty years, stated that ghost tabbies (tabbies with faint markings) were the ancestors of the chinchilla. Crossings between silver tabbies and blues were common due to the belief that this removed the dreaded brown and cream tones (tarnish) from silver tabbies.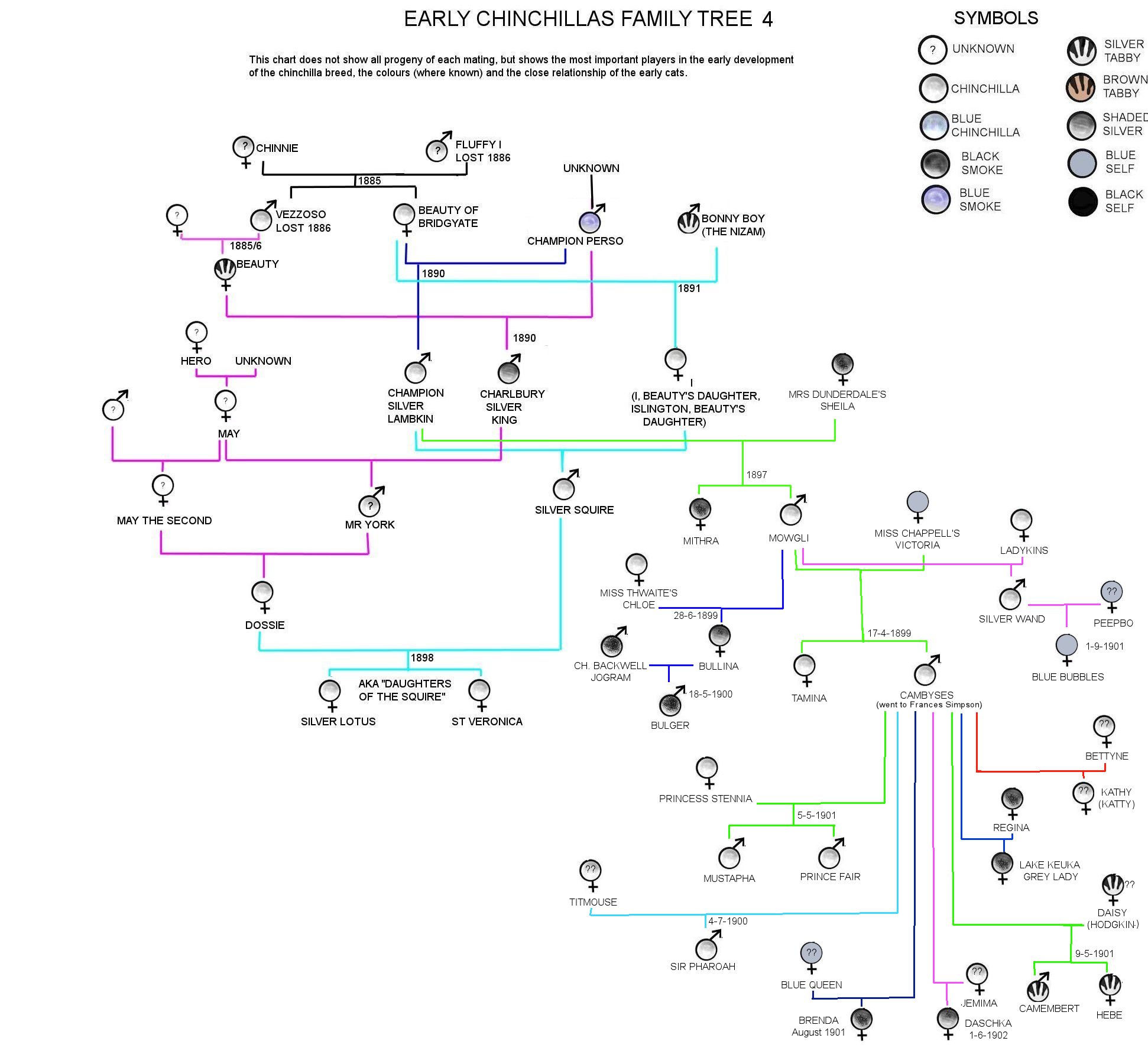 Smokes and Silvers were interbred and there were references to "Silver Smokes" at the turn of the century; either a Smoke-Silver cross or a description of a smokey-looking Shaded Silver. A good chinchilla might be described by members of the public as "a grubby white," alluding to the lightness of the silver markings.
CHINNIE, THE MOTHER OF ALL CHINCHILLAS
All Chinchilla lines ultimately trace to a female called Chinnie (b. 1882). The colour of her parents has not been recorded for posterity and there appear to be no surviving photographs of Chinnie herself. In those days, cats of unknown parentage simply meant they lacked pedigree papers. At that time, many cats were sold without pedigrees, the term "pure-bred" being sufficient in dealings between breeders. From descriptions, Chinnie was either a Silver Mackerel Tabby Long-hair or a Silver Spotted tabby Long-hair as she evidently had weak tabby markings. She may have been the offspring of a Silver and a Blue.
Chinnie was bred by Mrs. Hurt of Sandal Mayner near Wakefield. Her dam (name unrecorded) was bred from prize winning parents and her sire (name unrecorded) was bred from a bought female and an itinerant tom cat that frequented Babbicombe. This wasn't some scruffy tom-cat, but a "splendid tom cat." Given the practice of letting studs roam freely, he have been a strayed pure-bred so he should be considered a "foundation cat" - an unregistered cat that met breed criteria. Chinnie had some silver tabby because she is known to have Radford lines behind her. The letter from Chinnie's breeder to her purchaser describes the cat:
THE VICARAGE
SANDAL MAYNER NEAR WAKEFIELD
October 14, 1882
To Mrs. VALLANCE,
MADAM The kitten I have to sell is quite pure bred. The mother I bought for is when quite a kitten from prize parents. The father is one we bred partly from Mrs. Radford's breed and partly from a splendid tom cat that was found living wild at Babbicombe, and that we had in our possession for some months, but unfortunately, he is lost again, now I am afraid permanently. I think this kitten promises to be very like the mother. She is very handsome and has good points brush ear tips and so on, but I consider her rather small. But the kitten may be finer, as the father is a large cat. Miss Grant's are related to ours, on the father's side, but Mrs. Radford's very distantly, if at all. I do not think these Angora kittens are delicate. We have never failed in rearing them. The more new milk they have and the better feeding, the finer cats they are likely to make. We do not have much trouble in keeping ours at home, as we live some distance from the village. We always give ours their principal meal at 6 p.m. and keep them shut up in a hay loft until next morning. If you have a box wherever the kitten lives with sifted sand or cinders in it, kept in a corner, you will find that the best way to ensure habits of cleanliness. If I hear nothing from you to the contrary, I will send the kitten on Wednesday morning 19th, by the early train from Derby station, and if you are not satisfied with the kitten, I am willing for it to be returned within a day or two, if the return journey is paid and I am let know beforehand when to expect it.
I remain yours truly,
GRACE HURT
Chinnie was bought by Mrs. Vallance, and was considered unusual enough by the standard of the day for her owner to want to perpetuate her colouring by mating her to a suitable male. Chinnie was a medium sized cat, "but was remarkable for symmetry of form rather than bulk". She was apparently shown for a bit but her wins were not spectacular, there being no classes for chinchillas. This would account for Chinnie, and other early chinchilla silvers, having no registration number.
CHINNIE'S CHILDREN
Chinnie's mate, Fluffy I (parents unknown, but bred in 1883 by Miss Acland from imported cats) was described as "a very pure Silver with undecided tabby markings." Fluffy I had won first prize and medals in the Silver Class at Maidstone, Cheltenham and Ealing, and second prize at Ryde. Both Chinnie and Fluffy I were "a very pure silver with undecided tabby markings" and showed "the quality of coat and cherub face."Sadly there are no known pictures of Chinnie, Fluffy, or their offspring. The earliest picture of a Chinchilla is their famous grandson, and prolific sire, Silver Lambkin.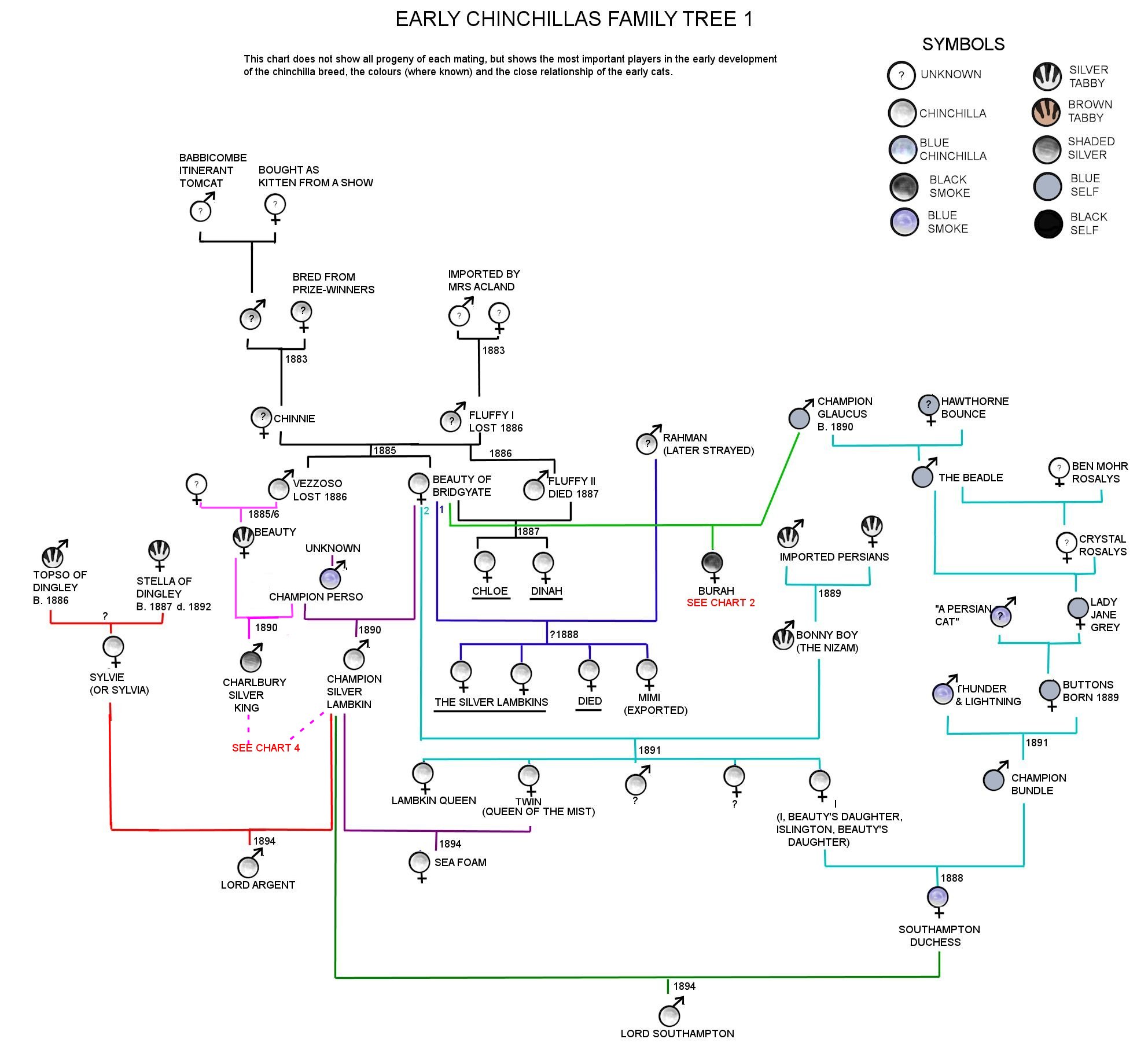 The first recorded mating of Fluffy I and Chinnie in 1885 produced a male, Vezzoso and a female, Beauty, who became Beauty of Bridgyate. Vezzoso won Best in Show at the Albert Palace in 1885, was first in the Silver class at Louth and Maidstone, second at Frome and third at Lincoln. Vezzoso "a marvel of lavender loveliness" apparently "belied his exquisite appearance by being very undomesticated" and, like his maternal grandfather, the Babbicombe stray tom-cat, he disappeared in 1886: "lost in the woods" meaning he had either strayed or fallen victim to a snare (a sadly common fate).
The second recorded mating between Chinnie and Fluffy I was in 1886 and produced Fluffy II, who took first place at crystal Palace, Best in Show at Brighton and second place at the Albert Palace and Ealing shows, before dying from internal injuries received in an accident in 1887. That meant that only surviving offspring of Fluffy I and Chinnie was was Beauty. She was bought as a kitten by Miss Howe of Bridgyate near Bath and subsequently, by a breeding arrangement with the Misses Gresham (later Mrs. Bridgwater and Mrs. Balding), had three litters of kittens. In 1886, Fluffy I was rumoured to have met foul play; supposedly he was destroyed in the village.
BEAUTY'S CHILDREN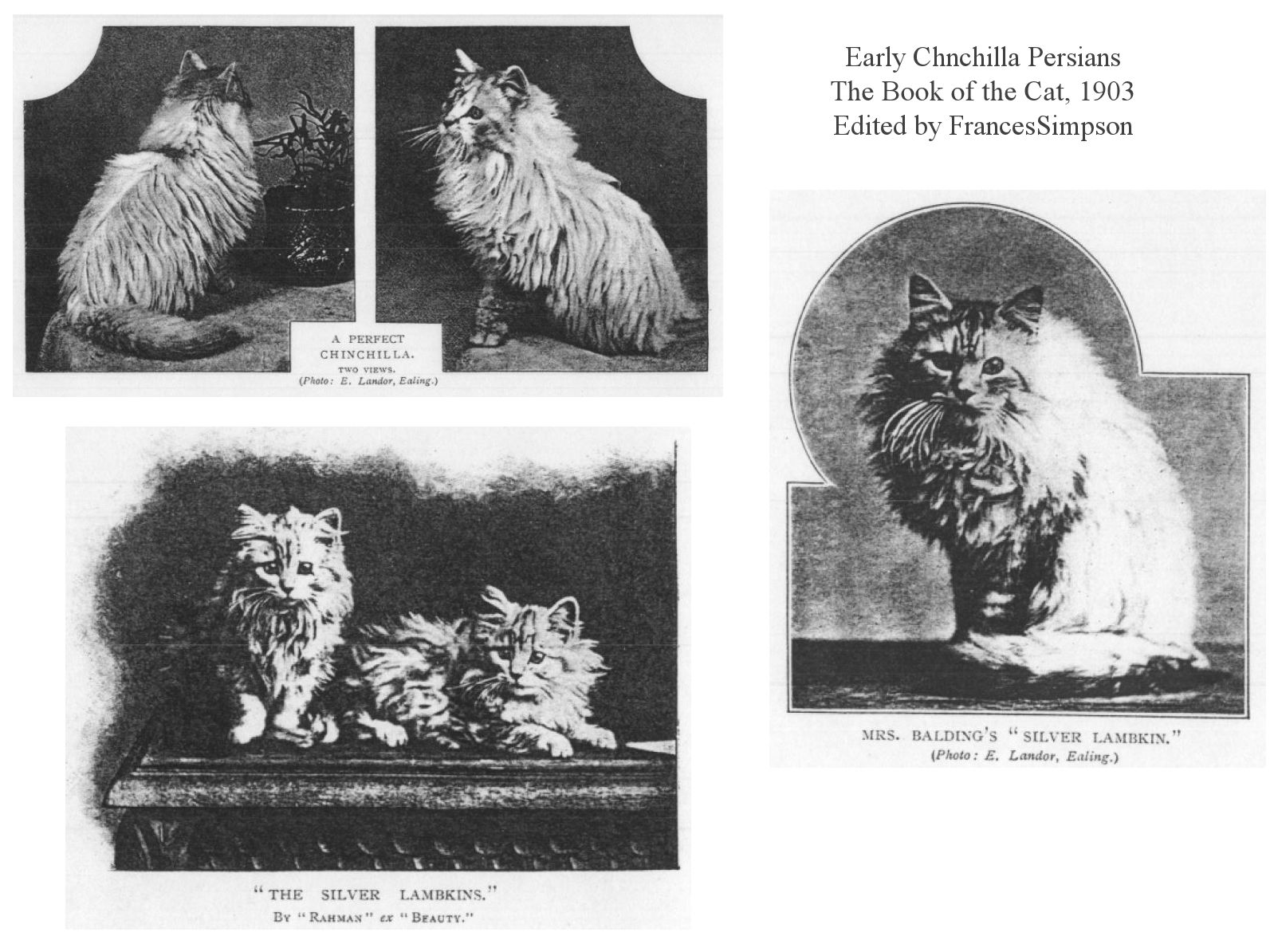 The first mating of Beauty was to Rahman (who later strayed from home and was lost); this produced four females. Mimi was exported to America and the remaining three, including prize-winning pair "The Silver Lambkins", all died young.
The second mating of Beauty was to a famous Smoke, Mrs. Shearman's Champion Perso, and produced the famous Ch Silver Lambkin (b 1890 and named after his deceased half-sisters). Silver Lambkin was considered the pinnacle of perfection for the chinchilla in his time. Ch. Perso was a green-eyed light smoke; green-eyes being preferred over orange eyes at that time. Champion Silver Lambkin was quite heavily marked by modern standards, with barred legs, forehead markings and a heavily marked tail.
Miss Florence Moore's Chloe and Dinah, winners at the Crystal Palace, Brighton, and Bexley, 1887 (the only chinchillas at those shows), and Miss Gresham's "The Silver Lambkins," winners at Crystal palace in 1888, could all trace descent to the Brydges stock. Chloe and Dinah's were descendants of Judy, while The Silver Lambkins' sire was Mrs Brydges' Rahman. On the other side of their pedigrees, both pairs had Beauty of Bridgyate and Fluffy II (her younger full-brother) on the other side of their pedigree.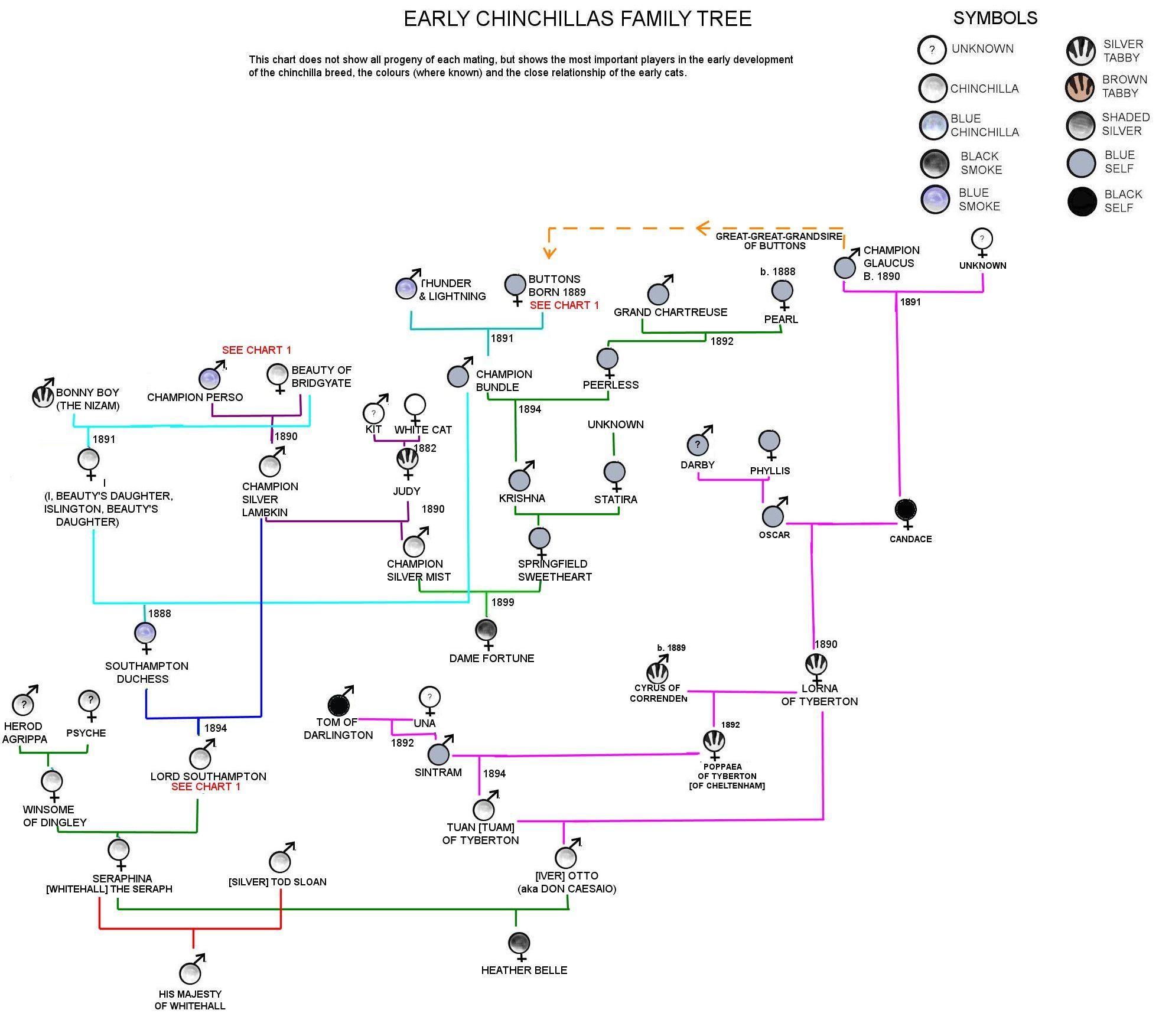 The "Silver Lambkins" were two female half-siblings of Silver Lambkin. Though they left no issue, they deserve recognition as important Chinchillas because they were considered such promising kittens in pair classes. They swept the boards at the Crystal Palace in 1888, winning over forth-six other kitten pairs in all coloyrs. Had they survived to breed, one wonders what contribution they would have made to the developing breed.
Beauty of Bridgyate's third mating was to Bonny Boy (aka Nizam), a good Silver Tabby, who was Best in Show at Brighton in 1892 and sold to the Hon Mrs. McLaren Morrison, who re-registered him with the name Nizam and made him a Champion. He was of uncertain parentage, though he may have been bred in Wales. This mating produced one male and four females. Of the females, one was sold as Lambkin Queen to Mrs. Martin and two, and Twin and I (so named because they were almost indistinguishable and won prizes wherever shown), were retained by Mrs. Balding. Twin was eventually sold to Mr. Lawton and renamed "Queen of the Mist" but she subsequently died after swallowing a needle. I was later known as Islington Beauty's Daughter (aka I, Beauty's Daughter). , She was also mated to a blue, Glaucus, a descendent of Perso, resulting in a smoke female called Burah. Islington Beauty's Daughter was mated to Ch Bundle, a blue, producing (Lord) Southampton. Lord Southampton became a popular stud cat during the 1890s. Sadly the First World War disrupted record-keeping and none of his descendants are identifiable through Stud Books. It is very probable that his line continued into post war silvers through cats that weren't recorded in the Stud Books.
THE LAMBKIN DYNASTY AND THE THREE FOUNDING FATHERS
In the same way that three Arab studs led to the modern Thoroughbred (Darley, Byerley and Godolphin, if you were wondering); there were three influential studs behind the Chinchilla Longhair: Silver Lambkin, Lord Argent and Lord Southampton. In 1903, Frances Simpson wrote that of the many silver stud cats, the most influential were Silver Lambkin, Lord Southampton and Lord Argent. In a time when written pedigrees were of less importance, some breeders described their cats as being "the Southampton Strain" etc.
Silver Lambkin's stud services were advertised thus in the fanciers' magazines and yearbooks of the day: THE STUD CATS, THE PROPERTY OF MRS. BALDING. SILVER LAMBKIN. - Pure colour, immense coat. From Beauty, by Perso, Imported medal winner. Silver Lambkin has long since proved his value as a Stud Cat, his progeny having won over 130 first prizes, often with medals and specials. That he is as good as ever is shown by his kittens' wins during the past twelve months. Progenitor of nearly all the leading Chinchilla Cats. Sire of, amongst others, The Silver Squire, Silver Mist, Lord Southampton, Lord Argent, Mowgli, Silverhair, Mercury. His progeny include Silver Sultan, The Seraphs, Bittern, Silver Chieftain, Lord Kitchener.
Champion Silver Lambkin was bred to many of his brother's and sister's offspring. Their offspring were again bred into the lines of his two most famous sons, Lord Argent and Champion Lord Southampton. The Southampton lines came from breeding Silver Lambkin to Southampton Duchess. Several of Ch Lord Southampton's progeny were exported to America to found silver lines there.
Silver Lambkin was mated to Sylvie (a very lightly marked Silver of unrecorded ancestry) resulting in Lord Argent. Sylvie was an exquisite example of the emerging breed and was the mother of one of the most famous chinchillas of the time, Zaida.
Sylvie is sometimes identified as "Sylvia", a daughter of Topso of Dingley and Stella of Dingley. Dingley Cattery was well known for producing tabbies. However, several silver females would have been called Silvie/Sylvie/Sylvia etc, and this was a time when prefixes were optional and when cats were often renamed by their new owners.
Lambkin Queen, Silver Lambkin's half-sister, produced, among others, Ferry Victor, Silver Dawn (b 1896) and St. Anthony. She was mated to Puff, resulting in a female called Silver Dawn, who was mated to her uncle, Silver Lambkin, resulting in a son called Silver Owl. Silver Owl and Burah (Beauty of Bridgyate x Glaucus) produced Girlie. Girlie was mated to Koh-i-Noor, a son of Lord Argent, resulting in Rob Roy of Arrandale (b 1898) who became another influential Chinchilla stud and whose descendants, male and female, frequently had variations on the name "Rob."
Lady Decies (the former Miss Gertrude Willoughby) bought Champion Lord Southampton from Mrs. Greenwood for the huge sum of £60 (the highest price commanded by a cat at that time) and he joined her Fulmer cattery (his full name was Ch. Fulmer Lord Southampton). He was considered remarkable for "true lightness of colour and slight markings of his kittens." Lord Southampton had blue on his mother's side through her sire, Champion Bundle, a light blue (father: Thunder and Lightning; mother: Buttons, both blues). Lady Decies also owned the equally famous Ch. Fulmer Zaida, known as the "incomparable Zaida," by Silver Laddie ex Silvie.
Simpson tells us that other famous progeny of Ch. Silver Lambkin included Silver Mist, Watership Caesar (exported to the USA 1901/2), Silver Tod Sloan, Mrs. Bluhm's Silver Lily, Silver Squire, and Mowgli (sire of Simpson's silver tabby male, Cambyses). Mowgli was bought by Mrs. Smyth, of Forest Hill, who also owned the stuffed figure of Beauty of Bridgyate. Mrs. Bluhm's strain of chinchillas were notably light in colour. Mrs. Wellbye bred light coloured chinchillas including Silver Lotus and Veronica, who were prize-winning daughters of Silver Squire and Dossie.
Mr Hawkins' Sweet Lavender was very light in colour, as was Mrs. McLaren Morrison's Ameer (a son of Lambkin Queen). Both were probably blue chinchillas! Ameer's brother, Mrs. Martin's' St. Anthony,was in the pedigrees of several winners.
Lord Southampton was mated to one of his daughters, Miss Cochran's [Windsor] Dimity (mother: [New Forest] fairy, a silver tabby) resulting in The Absent-Minded Beggar (a shaded silver) in 1899.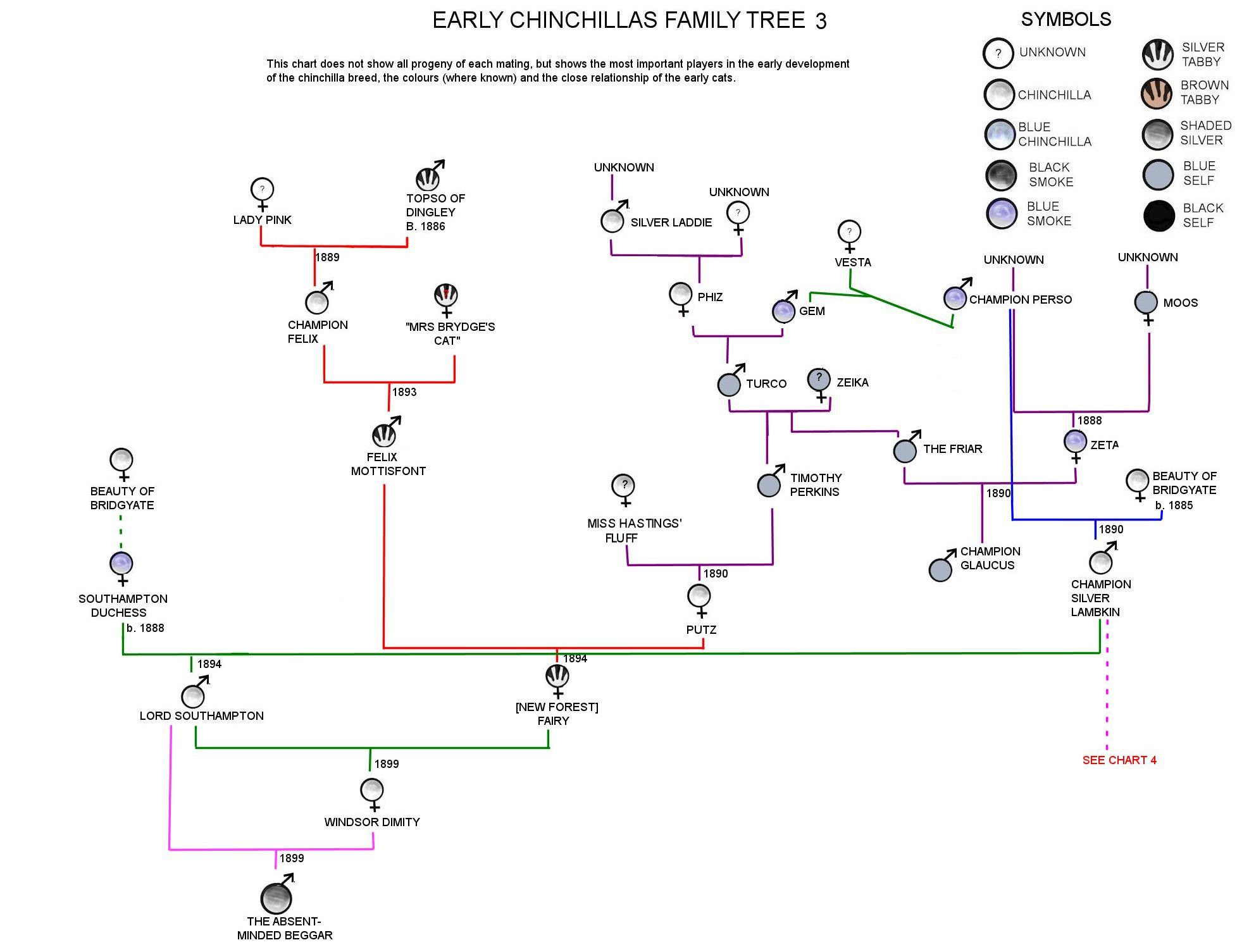 By 1903, the famous trio of Silver Lambkin, Lord Argent and Lord Southampton were being superseded by descendents such as Silver Starlight, Tintagel, Cambyses, The Absent-minded Beggar, Pathan of Dingley, Jupiter Duvals, St. Anthony, Rob Roy of Arrandale and The Silver Sultan.
Lord Southampton sired Miss Leake's Seraph, Mrs. Bluhm's Silver Sultan, Mrs. Neild's Absent-minded Beggar, Miss White Atkins' Tintagel, Mrs. Tynvhitt Drake's Musa, Mrs. Rickett's Empress Josephine, Mrs. Earwaker's Buxton Cloud, Mrs. Geo. Walker's Woodheys Fitzroy, Mrs. Barnes' Nour-mahal (winner of the Chinchilla Club challenge for the best kitten, 1899 and a daughter of Champion Fulmer Zaida) and Green-eyed Monster (thus named, I assume, because green-eyes were so iften frowned upon!).
Silver Laddie's ancestry is unrecorded, but he was another noted stud, siring Miss Horsman's Aramis, Miss Snell's Silver Starlight (sire of Puck III and many others), Silver Cherub, Lady of Quality (another superlative chinchilla), Charterhouse Pixie (mother of Tod Sloan), Fulmer Zaida and many others. (Silver) Tod Sloan (Silver Lambkin x Charterhouse Pixie, i.e. a grandson of Silver Laddie) and Seraph (a daughter of Lord Southampton) produced His Majesty of Whitehall; this stud was notably massive in conformation and sired many good quality kittens. Silver Tod Sloan was the sire of Fluffy Tod.
Lord Argent also sired shaded silvers (or dark chinchillas) such as Lord Nugent who went on to sire some good Smokes (therefore he carried non-agouti).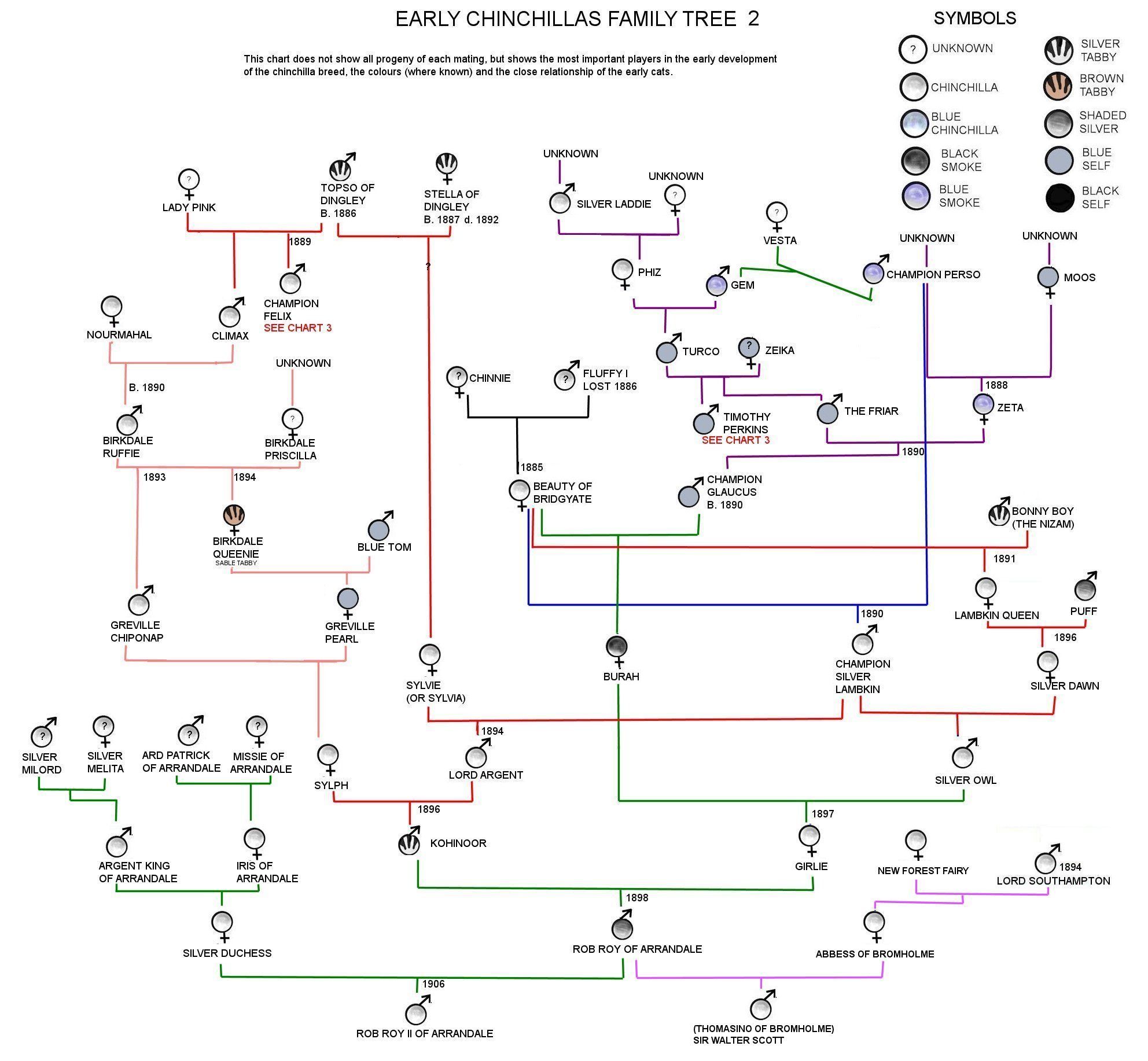 Such was Silver Lambkin's fame that his death was widely reported in the British and American press, and his body was donated to the Natural History Museum.
CAT LOVERS PUT OUT CRAPE FOR A PUSSY – Pittsburgh Daily Post, 25th November, 1906 - Father of All the Chinchilla Persians Has Gone to the Heaven of Mouse Catchers.
LONDON, Nov. 24.— An obituary as long as a bishop's is published in the London papers on the death or a famous prize cat called "The Silver Lambkin," which reached the venerable age of 17 years. "The Silver Lambkin" was the ancestor of nearly all the chinchilla Persian cats there are. His descendants have won prizes all over the world since 1892, and six years ago a son of his won the gold medal at the Boston cat show. This famous pussy created the craze for the delicate gray, fluffy breed of cats known as "chinchilla." His progeny became the most fashionable and valuable cats, one of them being sold at the highest price — $315 — ever paid for a cat. The feline patriarch belonged to Mrs Balding, of Gamlingay, who is considered the leading English authority on cats, and is an honorary life member of the Cat club.
DEATH OF A FAMOUS TOMCAT – December 21, 1906 - From The London Mail. "The Silver Lambkin," the celebrated chin¬chilla cat known to every cat fancier the world over, has just died at Gamlingay, Cambridge¬shire. In every country where cats are bred his progeny holds a leading position. It is now six years since one of his many sons won the gold medal at Boston. Born in 1880, this re¬markable animal attained a great age as compared with most highly bred cats, and from the time he was three years old to the present his descendants have won at the Crystal Palace at every succeeding show. In four years he raised the color to which he belonged from one or two unique specimens to the most fashionable variety in the country. The ethereal loveliness of the chinchilla became sought after by fashionable ladies. Sixty guineas, the highest price ever paid tor a cat, was given for one of "The Silver Lambkin's" sons. Princess Victoria of Schleswig-Holstein ranks chinchillas among her favorite pets, and is patron of the Chinchilla Club, founded by the owner of The Silver Lambkin Mrs, Balding. This lady is considered the leading authority on cats, and holds the position of honorable life member of the Cat Club, formerly occupied by the late Harrison Weir. The embalmed remains of "The Silver Lambkin," have been accepted by the Natural History Museum. A model which appears upon the club silver challenge cups is a portrait of this interesting animal.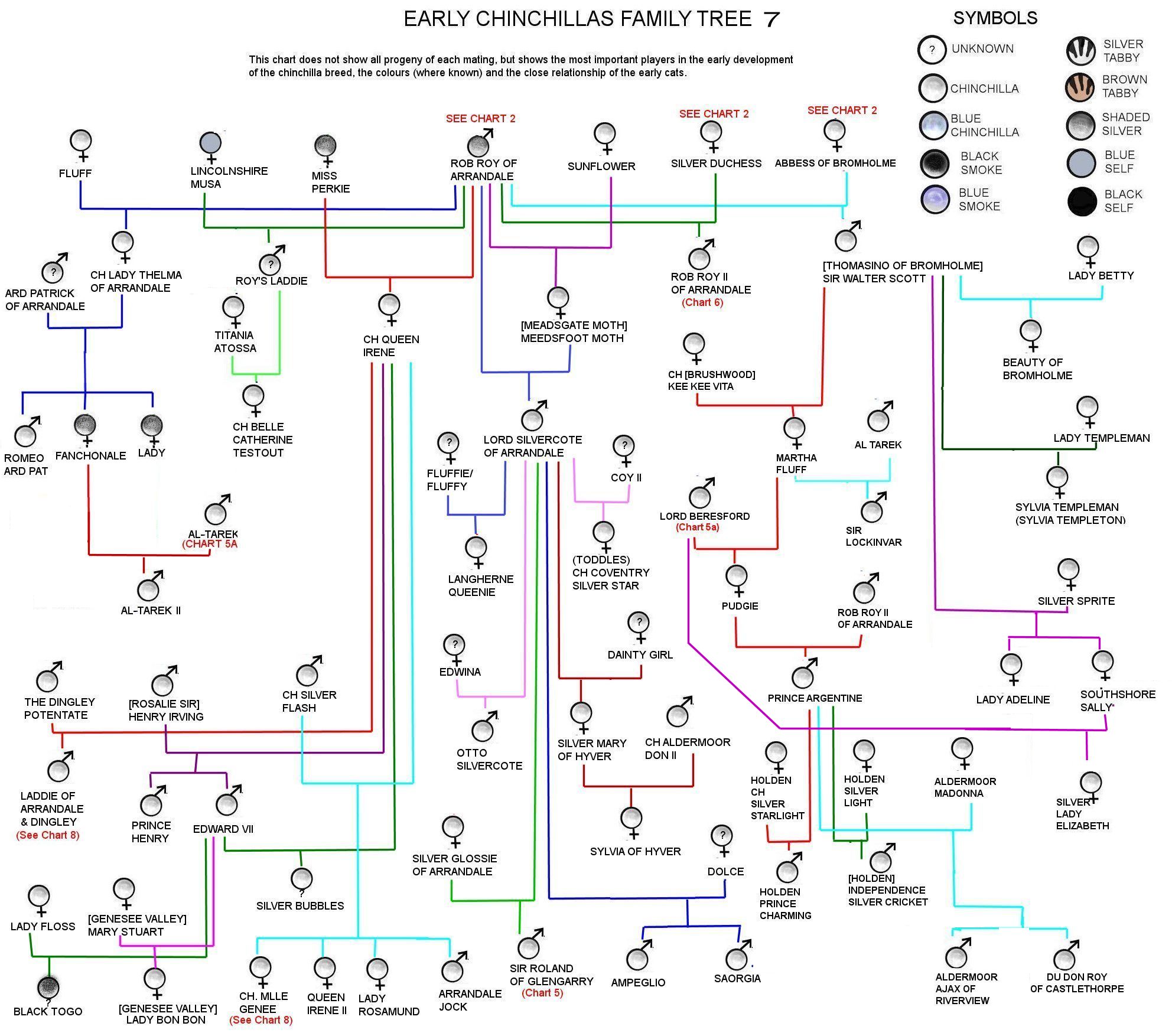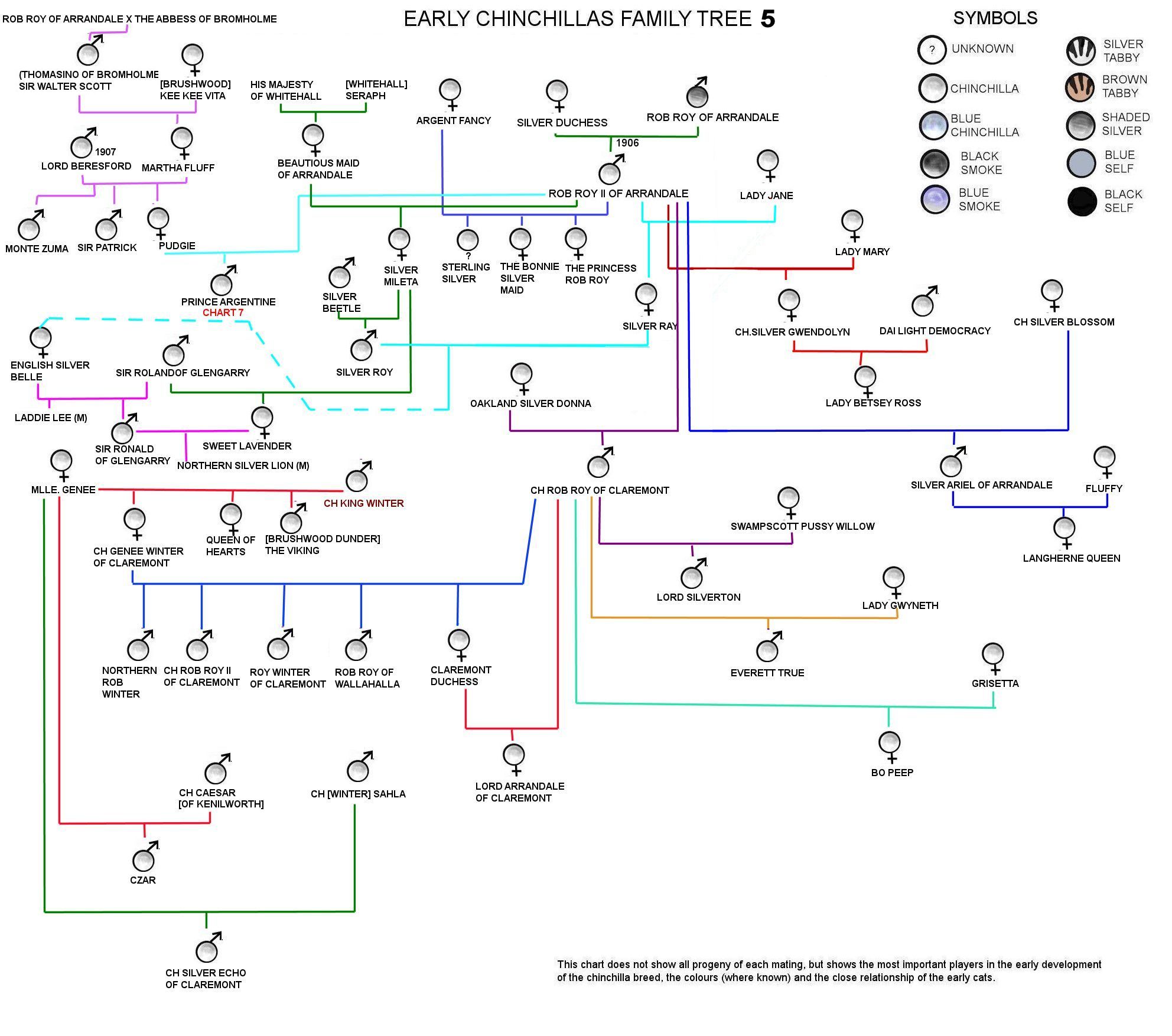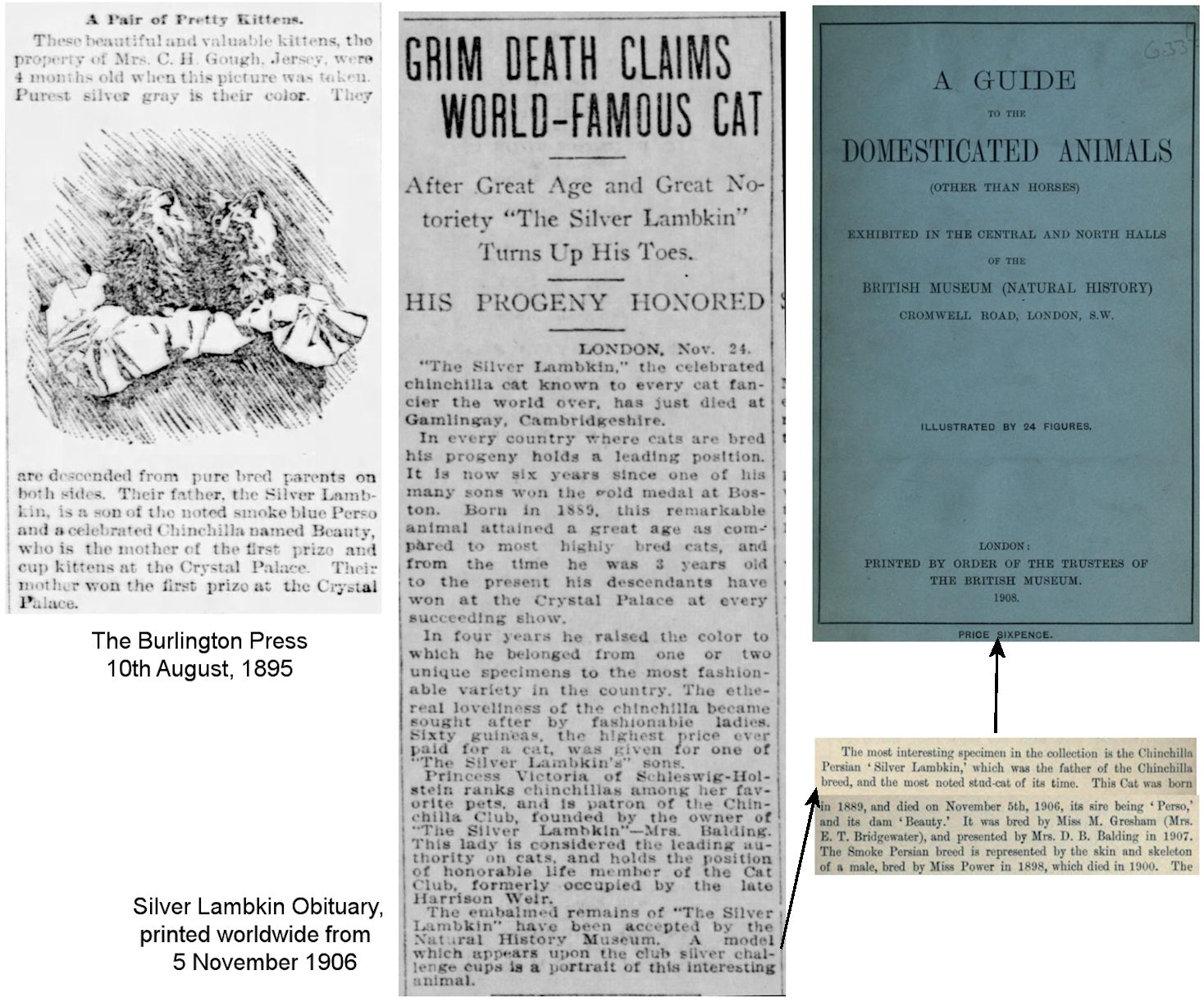 "WRONG CLASS"
The degree of tipping led to the formation of three classes: Silver Tabbies, Chinchilla (light tipping) and Shaded Silver (heavier tipping). This added complications because different judges disagreed on where to draw the line between Chinchilla and Shaded cats. Exhibitors had to second guess the judges, but risked getting a "Wrong Class" card. So they entered their cat in the other class at the next show, only for a different judge to disqualify it as "wrong class." One owner hedged her bets by entering her cat in both classes under the same judge; it gained prizes in both which meant the judge considered it was both a Chinchilla and a Shaded Silver at the same time! The old Silver Tabby and Chinchilla classes were quickly resumed and judges encouraged the lighter coloured cats, so that Shaded Silvers were less often seen. Yet in 1894, the Chinchilla Class at the Crystal palace Show was won by a heavily marked Silver Tabby rather than a Chinchilla Silver. Sea Foam (Silver Lambkin x Twin), a true Chinchilla, was placed second. Why wasn't the Silver tabby disqualified as "wrong class"?
According to Mrs. Balding (1903), an early silver fancier, judge and the owner of Champion Silver Lambkin "It is something like twenty years ago that, amongst the competitors in the classes for long-haired tabbies at the Crystal Palace and other important shows, was occasionally seen an alien with the ground colour of the silver tabby but with very few stripes on the body. These cats were evidently sports from the silver tabby, so much so that the class for that section was the only one open to them; and, although they invariably showed great quality, breeders were loath to exhibit them in the medley of different colored tabbies, where one of their chief beauties - the absence of stripes - became a disadvantage. Their only chance of distinction lay in putting in an appearance at provincial shows, where the authorities were sometimes to be induced to attach two cat classes to the rabbit division - one for long-haired of any colour and the other for short-haired. In this indiscriminate assemblage, no colour having been stated, chinchillas, when present, wrought great havoc. However, it cannot be denied that the judges of the day gave precedent to the well-marked silver tabby". So it seemed that even when a separate Chinchillas class was established, some judges remained in "silver tabby mode."
THE INCOMPARABLE ZAIDA
The most successful of the early Chinchillas was Lady Decies's Ch Fulmer Zaida (b. 1895), daughter of Silver Laddie and Silvie, both of unrecorded parentage. Between the ages of six and ten years old "the incomparable Zaida" won 17 consecutive Challenge Certificates, and produced some first-class kittens, amongst which was Miss Stisted's Pearl, yet she leaves no modern-day descendants as far as is known. Champion Fulmer Zaida's sire, Silver Laddie also played a part in all of the old silver pedigrees. Mated to Islington Beauty's Daughter, he sired Charterhouse Pixie, who was bred to her mother's half-brother, Silver Lambkin. His sons included Silver Starlight, the sire of Puck III and Aramis. Zaida was, however, apparently his greatest triumph since contemporary writings refer to her as the "incomparable Zaida". While Zaida might not be the modern ideal of chinchilla perfection, she was an example of what careful selective breeding could accomplish.
The Tatler, the celebrity magazine of its time, on 27th August 1902, printed this photo of another valuable Chinchilla in a short article referring to "A Fashionable Breed of Cats." It explained to its readers "Almost everyone knows what a chinchilla is, but few people know how to distinguish a chinchilla cat from a tabby, for a first class specimen of this most fashionable variety is quite unlike the little rodent of the Zoo. The chief point in a chinchilla cat is that it must be of as pale and unmarked silver colour as possible. This feature is fairly well exemplified in "Omar," and though unequal to Lady Decies' incomparable female, 'Zaida,' who must have won hundreds of pounds in prizes for her owner, was sold to a lady in New Jersey for £40. This was quite a moderate price for him, several chinchilla cats having changed hands at far higher prices." The photo shows Omar to have quite distinct tabby markings by modern standards, but he has the lovely old-fashioned head.
"ACROSS THE HERRING POND" Part I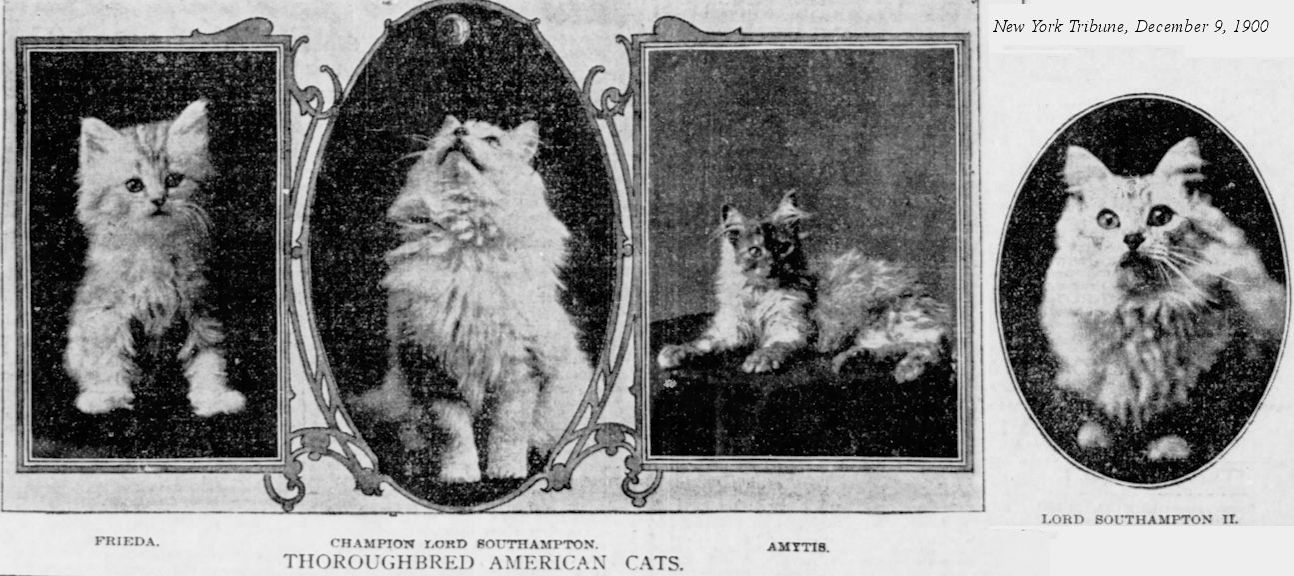 Argent was the cattery name of Mrs. F. Champion, who founded the Silver Society in 1900. Soon afterwards, she emigrated to the USA, taking some of her Argent cats with her. Ch Argent Splendour was born in 1902 and, went to the USA. His mother, Argent Puffy, was a daughter of Lord Argent. On his father's side (Argent Moonbeam II), he descended from both Lord Argent (via his son Argent Moonbeam) and Lord Southampton.
Ch Argent Glorius (b. 1906), was sired by Champion Lord Sylvester (a masked silver) and his mother was Argent de Vere, a daughter of Argent Moonbeam II and Lady Vere de Vere. Lady Vere de vere was one of Lord Argent's daughter. Ch. Argent Glorioso was a son of Glorius and Argent Fancy. Argent Fancy was a daughter of Argent Splendour and Argent Pretty Lady .... and Argent Pretty Lady was the daughter of Silver Flash and his own paternal grandmother, Argent de Vere.
Silvers were being established in the USA using both American-born cats and British imports. One of the most famous was The Blessed Damozel (b 1899) who was sired by Lord Southampton. The Blessed Damozel's mother, Peggy, was a daughter of Ch Silver Mist. The Blessed Damozel had a half sister, Silver Rime, daughter of Ch. Lord Southampton and Silver Moon. Both half-sisters were bred to a Lord Southampton grandson, Ch. King of the Silvers. Silver Rime's son, Jack Frost, and The Blessed Damozel's daughter, Biji, were then bred together and this resulted in one of the most famous American-bred silvers, Champion King Winter (b 1906) and an influential stud who soon eclipsed his relative Al-Tarek (who had poorer conformation, but reliably sired silver kittens).
The mothers of King Winter and Al-Tarek were full sisters, but Al-Tarek's sire was a son of Lord Southampton whereas King Winter's sire was a grandson of Lord Southampton on his mother's side and a great-grandson of Lord Southampton on his father's side. With the arrival of King Winter, the "Southampton lines" in America gave way to the "Winter lines." It was a continuation of the same bloodline, but now bore the name of a home-grown cat.
The Chicago Daily Tribune (Jul 15, 1909) recorded one of the imports thus: "Pays Record Price for Cat in England. Mrs. George H. Lynas, who lives in Logansport, Ind., has just purchased in London Rob Roy II., England's champion male chinchilla Persian cat, for $525, a record price abroad for a domestic cat. Miss Frances Simpson, an international cat fancier who lives in England, negotiated the purchase, which makes a notable addition to Mrs. Lynas' already large list of high pedigreed Persian and silver Persian cats. Mrs. Lynas has won many prises with her exhibits at cat shows in this city, Indianapolis, Grand Rapids, and other places. Rob Roy II will be brought over on the steamship Majestic."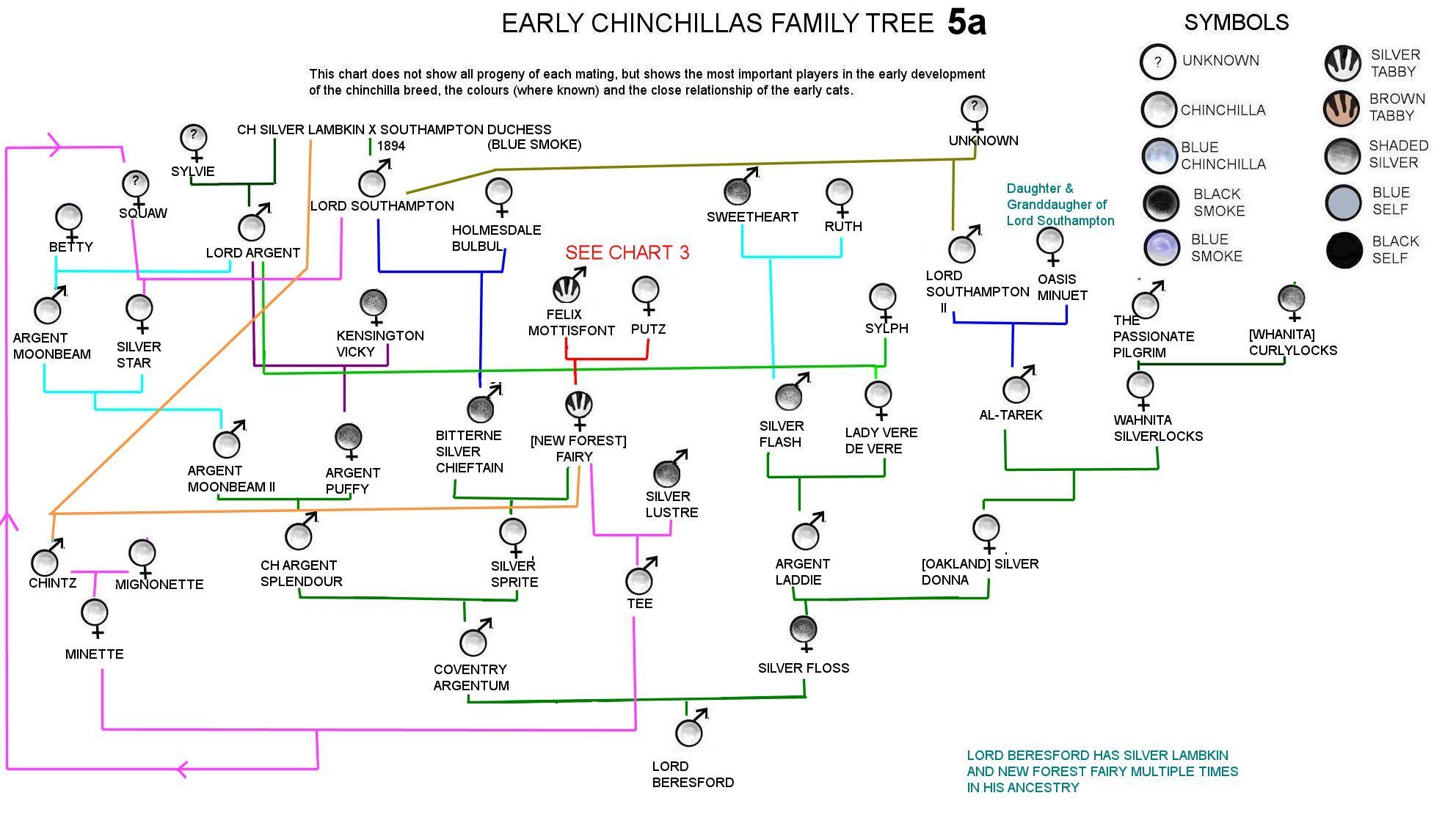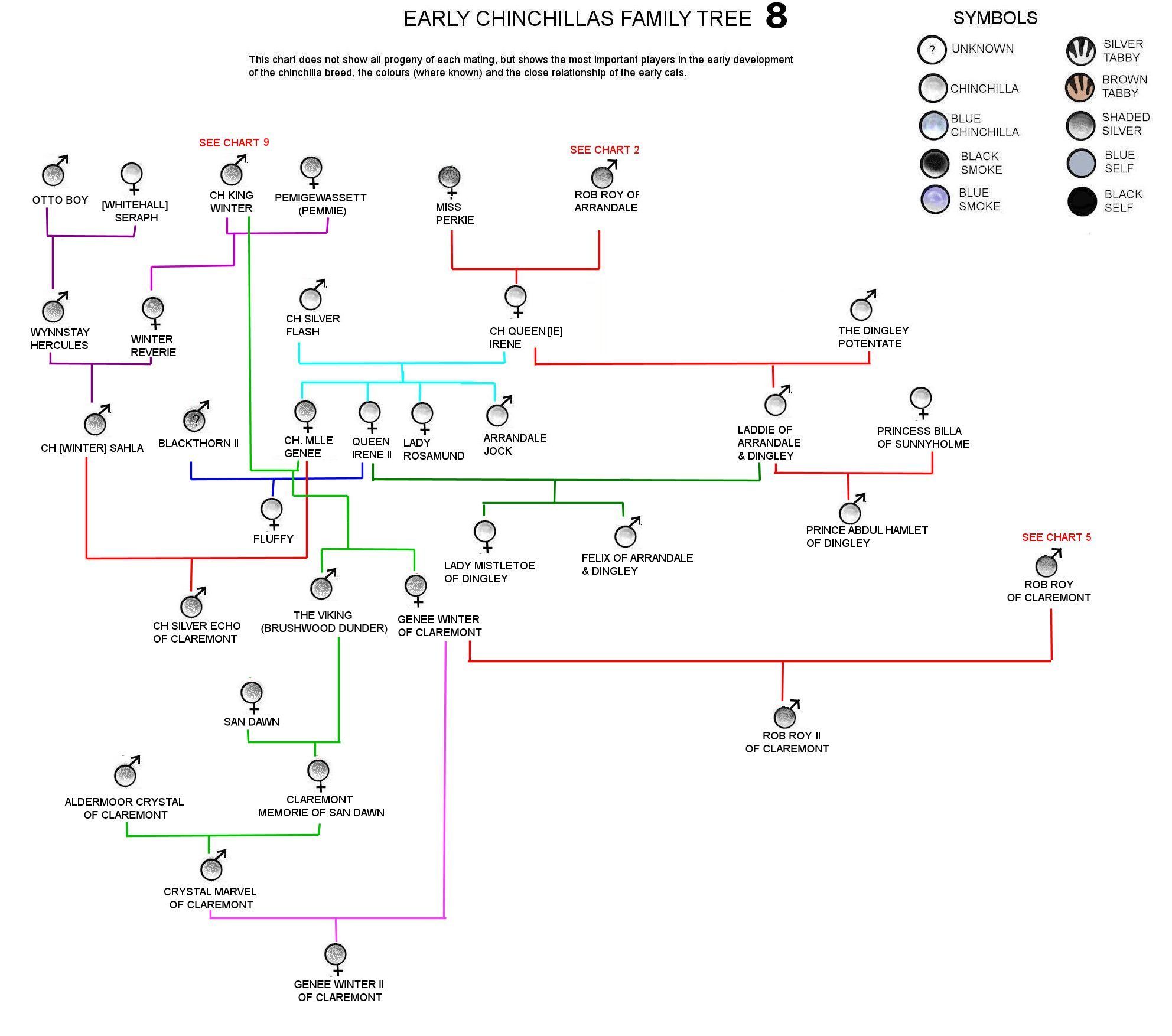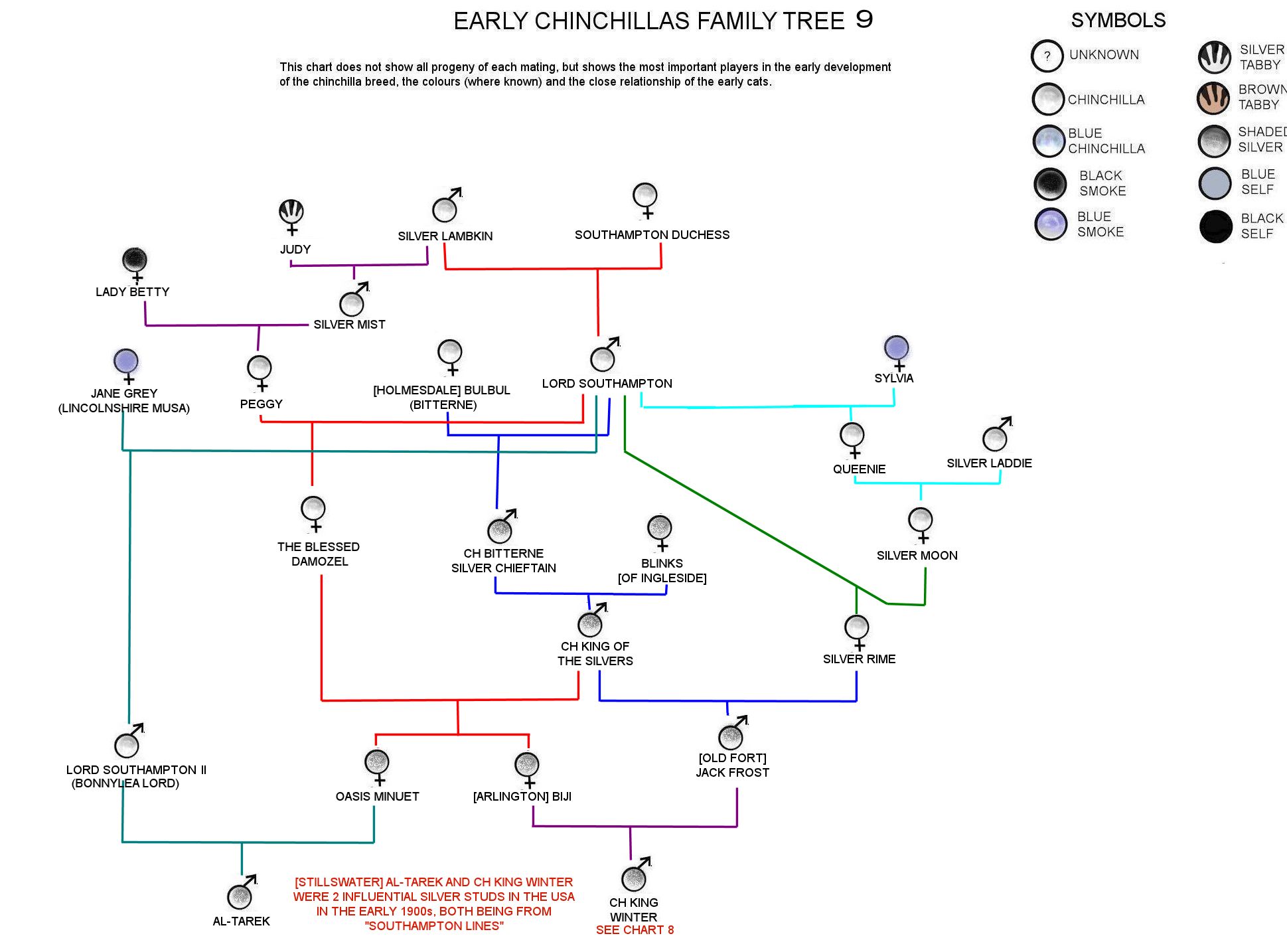 A CONFUSION OF COLOURS (REVISITED)
As well as inbreeding, there was outcrossing to Blues, Silver (Classic) Tabbies, Smokes and others. From Chinnie, the gene pool got mackerel tabby. From Nizam (Bonny Boy) and the solid-coloured Perso, Bundle and Glaucus came blotched tabby. Both patterns are visible on new-born kittens, but the markings vanish by around 10 weeks.
Ch Bundle and Glaucus, and probaby a few blue Chinchillas misidentified as silvers, contributed the recessive gene for blue dilution. Some of the very earliest Chinchillas may have been genetically blue rather than black, suggested in Frances Simpson's description of Chinchilla shading being "a sort of bluish lavender to the tips of the coat" and "delicate tips of silvery-blue." Mrs. Balding, who bred Silver Lambkin, described the best colour as being "palest silver, lavender tint and lighter" and C.A. House referred to "pure silver is of a bluish tinge." Mrs. Leslie Williams The Cat - Its Care and Management, (1907)) described the self-Silver as being faint grey without any black tips to the hairs. Only in 1930, was black tipping specified.
"ACROSS THE HERRING POND" Part II
This is based on an article by Martha Wise in 1970, in which she lists prominent early silvers in the USA.
Lord Argent was exported to the USA where he founded the "Argent" line of silvers. The first photo of an Argent cat is that of his grandson, Ch. Argent Splendour, (born 1902, Argent Moonbeam II x Argent Puffy). Argent Puffy was Lord Argent's daughter while Argent Moonbeam II was Lord Argent's grandson (sire's side) and Lord Southampton's grandson (dam's side).
Argent Glorious (born 1906), was by Ch. Lord Sylvester. Ch. Argent Glorioso (born 1908), was a son of Argent Glorious x Argent Fancy, making him a grandson of Ch. Argent Splendour through Argent Fancy (Argent Splendour x Argent Pretty Lady).
Regal Pale Face (English Import into USA), born 1904, was by Silver Starlight (son of Silver Laddie) x Marguerite (who traces back to Bitterne Silver Chieftain, Lord Southampton).
The Blessed Damozel (Lord Southampton x Peggy, Peggy being a grand-daughter of Ch. Silver Lambkin) was born 1899. The famous Ch. King Winter (born 1906), was a grandson of the Blessed Damozel. King Winter's sire and dam, Jack Frost x Biji, were offspring of Ch. King of the Silvers, a Lord Southampton grandson.
Ch. Madamoiselle (Mlle.) Genee (born 1910) was by Silver Flash x Queen Irene. Unlike many of the other famed American silvers, her ancestors went back to Silver Cloud, Burah, Silver Owl and Silver Dawn. Genee Winter, was by Ch. King Winter x Mlle. Genee.
Ch. Silver Echo of Claremont, (born 1917) has Ch. King Winter on one side of his family and Mlle. Genee on the other. Silver Echo was an important sire of his time. Ch. Hampton Brushwood Winter Wonder, (born 1915), was another grandson of Ch. King Winter.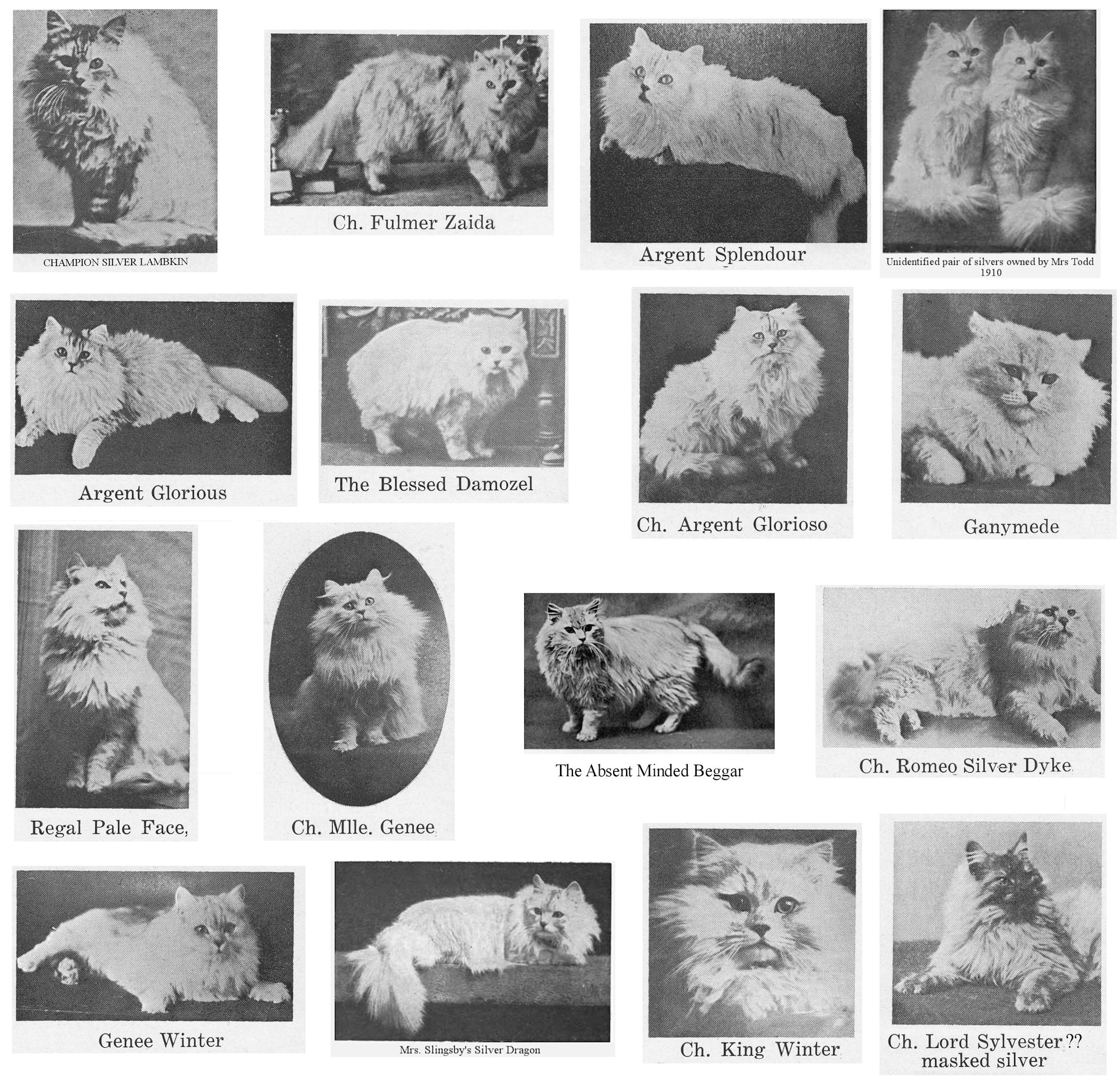 Ch. Romeo Silver Dyke, was a grandson of Al-Tarek on his sire's side and a grandson of Tintagel on his dam's side. Both of those grandparents were sons of Lord Southampton.
Ganymede was born 1911. He was mated to Wahoo Elvaine , resulting in Le Wanna Benymede (born 1921). Le Wanna Benymede was a grandson of Ch. Romeo Silver Dyke through his dam.
Ch. Winter Starlight II of Pequossette, (born 1919) was also a grandson of Ch. King Winter grandson. His sire was Winter Starlight, his dam, Theda Bara. The Pequosette line was another important line in the USA. Ch. Phy-Ray-Oh of Pequossette and Ch. Cloe of Pequossette (littermates, born 1921) helped found the famous Pequossette lines. They were by Lord Arrandale of Claremont ex Princess Lola (who carried Aldermoor and Mandalay lines). Lord Arrandale was a son of Hampton Winter Wonder, ex Brushwood Persis of San Dawn. Other Pequosette cats included Pequossette Son O'Pax (son of Winter Pax), Pequossette Dante (son of Ch. Dreamland's Dante of Allington), Paxette O'Pequossette (by Winter Pax ex a daughter of Winter Starlight II).
Ch. Bebe of Ramona, was a granddaughter of Romeo Silver Dyke, ex Bobinette of Claremont. Bobinette was a daughter of Ch. Rob Roy II of Claremont and traced back to Rob Roy of Arrandale on her sire's side. Her dam was Ch. Claremont Memorie of San Dawn. Bebe was bred to Ch. Merchy Jr. of San Dawn and her son Ch. Hanford's King of Silverize was another important silver sire.
Gr. Ch. Dawn O'Pax of Central Crest (born 1923), was a sensational cat of his time. His sire was Ch. Winter Pax, his dam, Ch. Vanity Fair Psyche O'Winter (a daughter of Lord Arrandale of Claremont ex Winter Fantasie, by The Viking ex Mandalay Marvel).
Gr. Ch. Silver Lion of Rosewood (born 1927) was sired by Southern Silver Lion and was the grandson of Northern Silver Lion (a Canadian cat of English ancestry). Silver Lion's dam, Lady Beautiful of Monrovia, was by Ch. Silver Echo of Claremont ex Claremont Memorie of San Dawn. Silver Lion and his Ch. Hazlett's Sonny Boy contributed to Rosewood, Scotia and Kerry Lu lines. Ch. Hazlett's Sonny Boy and his daughter, Ch. Wahoo Lady Cozette founded the Beverly-Serrano line of Chinchilla Persians.
Ch. Honey Boy of Corso (born 1931), was a son of Ch. Pequossette Honey Boy ex Kildare Lady Toti. He had a full-brother, Buddy of Corso, and half-sister Chewanna's Melody Sue. Pequossette Honey Boy was by Ch. Phay-Ray-Oh of Pequossette ex Lady Diana III of Pequossette (half-sister of Ch. Winter Starlight II of Pequossette through their dam, Theda Bara). Lady Diana III's sire was Pequossette Chief who was by Winter Starlight ex Mandaly Mistress, making him a half-brother of Winter Starlight II on the sire's side.
Ch. Bonnie Maid O'the Mist (born 1932) was a half-sister of the famous Gr. Ch. Rosedere Don Claire of Arlington. Their sire was Dreamland Beau Claire of Rosedere (a Canadian cat of English parentage). Beau Claire was by Ch. Bonny Langherne (import) x Ch. Lady Peridot (import). Bonny Langherne's line and Lady Peridot's ancestry can be traced back to Aldermoor and Hyver lines, with Rob Roy of Arrandale in the Langherne lines. Bonnie Maid's dam, Bonnie Lass of Ballochmyle, was an American cat, by Ch. Phay-Ray-Oh of Pequossette ex Silver Frills (a Winter Pax daughter, with Silver Echo of Claremont and Mandalay Marvel behind her dam). Bonnie was the cattery name of Mrs. Townsend, founded in the 1920s.

Audrey O' the Mist (born 1939) was descended from Dreamland Beau Claire of Rosedere. Her sire, Templin's Bonnie Lad of the Ozarks, was from a father-daughter mating of Beau Claire to Rosedere Merry Claire of Dreamland. Merry Claire's dam, Bonnie Silver Rose, was by Ch. Starlight Heart Bandit I ex Templin's Rosemary of Rosewood. Rosemary was a daughter of Gr. Ch. Silver Lion of Rosewood ex Juno of Rosewood (not to be confused with the unrelated June of Rosewood).

Ch. Delphi Don Juan of Kerry Lu (born 1938), was another descendant of Dreamland Beau Claire of Rosedere, via his famous son, Gr. Ch. Rosedere Don Claire of Arlington. Delicia of Pequossette, Don Juan's dam, was the founder of the Delphi lines. She was a daughter of Ch. Pequossette Dante ex Paxette O'Pequossette. Paxette, as her name suggests, was a daughter of Ch. Winter Pax. Her dam was Ch. Harmony II of Pequossette, a daughter of Ch. Winter Starlight of Pequossette II. Delicia's sire, Pequossette Dante, was a son of Ch. Dreamland Dante of Allington and traces back to Langherne and Hyver lines. Her dam, Nevajo Idalia of Pequosette traces back to Lord Arrandale of Claremont, Princess Lola and to Hampton Winter Wonder.

Ch. Duffy of Allington (1930s) never left England, but some of his descendants did, including a grandson, Arlington's Leo of Allington, and double great-grandson Fanfare of Allington.

Ch. Wahoo Lady Cozette (1937) was by Ch. Hazlett's Sonny Boy ex Cleopatra of Hillandale. Bred to Arlington's Leo of Allington (import) she was the dam of Ch. Chiquita Linda and Caprice of Laguna. Chi Chi of Beverly-Serrano was her daughter by Ch. Starlight Heart Bandit II. Ch. Wahoo Lady Cozette was also bred to Ch. Pequossette Dante and later to Ch. Ho Yan of Beverly-Serrano who was both her half-brother and grandson by Ch. Hazlett's Sonny Boy ex Caprice of Laguna. The same breeding also produced Mitzi of Beverly-Serrano.

Ch. Chiquita Linda (born 1939), the daughter of Ch. Arlington's Leo of Allington (import) ex Ch. Wahoo Lady Cozette, was bred to Ch. Starlight Heart Bandit II resulting in the important sire Gr. Ch. Duffy of Beverly-Serrano. Ch. Starlight Heart Bandit II (born 1933) was by Ch. Starlight Heart Bandit I x Little Chubby. Ch. Starlight Heart Bandit I was by Wedge of Wedgewood x Silver Cleora of Gayland. Wedge was by Ch. Roblyn II of Minnesota, who traces back to Rob Roy II and Rob Roy of Arrandale. Wedge's dam was Brushwood Persis of San Dawn. Silver Cleora was a daughter of Ch. Hampton Winter Wonder x Silvereen of Gayland.

Gr. Ch. Duffy of Beverly-Serrano (born 1941), was a prolific and long-lived son of Ch. Starlight Heart Bandit II ex Ch. Chiquita Linda. Among his offspring were, Gr. Ch. Michael of Beverly-Serrano, Gr. Ch. Don Roberto of Beverly-Serrano, Ch. Melody of Beverly-Serrano, Aphrodesia of Pickford Square, Silver O'Sheen of Kerry Lu, Ch. Silver Crest Alcyone of Skyland. Gr. Ch Duffy x Mitzi of Beverly-Serrano produced Gr. Ch. Michael of Beverly-Serrano (born 1944). of Beverly-Serrano was from a father-daughter mating between Ch. Hazlett's Sonny Boy x Caprice of Laguna.

LOST BREED - MASKED SILVER

Everybody's Cat Book, Published 1909, By Dorothy Bevill Champion
CHAPTER IX

Masked silvers are a "new" variety, and at present very few are bred, as, in the case of many of the darker varieties of silvers, fanciers are all striving after pale chinchillas, and neglecting the darker colours. There are now several fanciers who have made up their minds to breed this variety in real earnest; therefore, we mayhope to see some beautiful specimens in a few years' time. The illustration on opposite page gives a good example of what a masked silver should be (Lord Sylvester at top of page).

Hitherto very few good specimens have been bred, most of those exhibited being on the order of "spoilt" smokes. The ideal masked silver is a very beautiful animal ; in colouring, or, I should say, marking, they should resemble the Siamese cat; that is to say, they should have a black mask or face, black feet and legs. The body should be as pale silver as possible, with neither a dark spine line nor tabby markings; the silver should be free from any cream or yellow, the eyes deep golden or orange [like the Smoke]. There is no doubt, if more attention were given to this variety, the correct colour could be fixed.

In breeding masked silvers, it must be remembered that no tabby markings should be introduced. Shaded silvers, chinchillas, smokes and blues, crossed, are liable to produce a good masked silver, and if you have a queen who produces a masked silver in every litter, keep her for breeding this variety. Blacks bred from silvers or smokes also make a good cross, but do not use blacks which have been bred from oranges, or tortoise-shells, or any colours which are liable to spoil the purity of the silver ground colour.

Masked Silvers were introduced in America in 1901, but they ceased to be recognised in 1910 with only 19 cats being registered. They didn't breed true and breeders didn't have the benefit of modern genetics knowledge to determine which cats carried the "factors" necessary to produce them. The standard for the Masked Silver required "a pale silver cat having dark face and legs. The lighter the body and darker the face and legs, the nearer approach to type." Despite the breed being dropped in 1910, there was a CFA standard for Masked Silvers until 1925.

Point scale of the Masked Silver Persian Cat

10 Head and expression
15 Coat and condition
20 Dark mask and legs
15 Shape
20 Color
10 Brush or tail
10 Color of eyes
Total points 100

Two Masked Silvers were imported into the USA from England: Champion King of the Silvers (b 1898, sired by Bitterne Silver Chieftain) and Champion Lord Sylvester (b 1899, sired by Lord Argent). The latter was considered a perfect example of the breed. Miss Adamson's Masked Silver Shaded Silvers, Chinchillas, Smokes and Blues were crossed to produce Masked Silvers. Mrs. Champion, importer of those two earliest Masked Silvers into the USA, wrote that Blacks bred from Silvers or Smokes also made a good cross, but not those from Reds or Tortoiseshells as they would be apt to spoil the purity of the ground colour.

Cats that meet the description of Masked Silvers still sometimes occur in Smoke lines, but are not recognised as a separate breed.

You are visitor number