THE MYTH OF ZEBRADIA, THE NOT-SO-UNIQUE "STRIPED" HORSE OF HIBALDSTOW
On 10 June 1976, a male foal was born in Hibaldstow with a white coat and black stripes. He was named "Zebradia." He was featured in the Scunthorpe Evening Telegraph, 12th July 1976 and in the Fortean Times where he was described as "remarkable." He also attracted the interest of the Queen. But how remarkable was this foal? As it turns out, it was more of a publicity stunt and there was nothing unique about Zebradia – in fact horses with these markings (known as "leopard") had been bred in Britain for over 30 years.
According to "Zebradia, the Wonder Horse of Hibaldstow (Nigel Watson)" in the Fortean Times in 1977, "On the 10th June 1976 a rather remarkable foal was born in Hibaldstow, South Humberside - remarkable because his appearance is more like a zebra than a horse. Mr Bill Sargent, the owner of the foal, christened him 'Zebradia' for obvious reasons. 'It's only once in a lifetime ought [anything] like this happens, I reckon. I've been breeding horses for years and I've never seen one like it. I've had coloured ones, black and white, blue and white, and lemon and white, but never one like that with stripes on,' he said. Zebradia's parents were a mare called 'Spotty', and a five-year-old stallion called 'Wheelgates Bill', a pure-bred Cleveland Bay, both owned by Mr Sargent. Although one newspaper report (Scunthorpe Evening Telegraph 12 July 1976) claims that Zebradia's markings "have astonished veterinary experts," no thorough veterinary examination or report has yet been carried out."
I looked up "Wheelgates Bill" in the Cleveland Bay studbook where his pedigree is registered. He was a Cleveland Bay stallion, born 18-May-1972, bred by William Sargent of Brigg. I couldn't find anything about his mating to a mare called "Spotty," but in the 1960s, Danish Knabstrupper mares were imported into Britain to create the British Appaloosa Horse. The Cleveland Bay would have been a logical cross to create a good riding and carriage horse. Zebradia's dam was obviously a spotted mare, presumably with round spots rather than elongated spots. I found numerous adverts in various newspapers from the 1970s offering spotted horses and ponies for sale. I also found quite 1970s photos of horses and ponies that looked much like Zebradia; Chipperfields' Circus had a troupe of "Hungarian Spotted Ponies" while the Canwell Show in introduced a class for Spotted Horses and Ponies in 1970, and in 1976 there was a spotted showjumper at the Balmoral Show.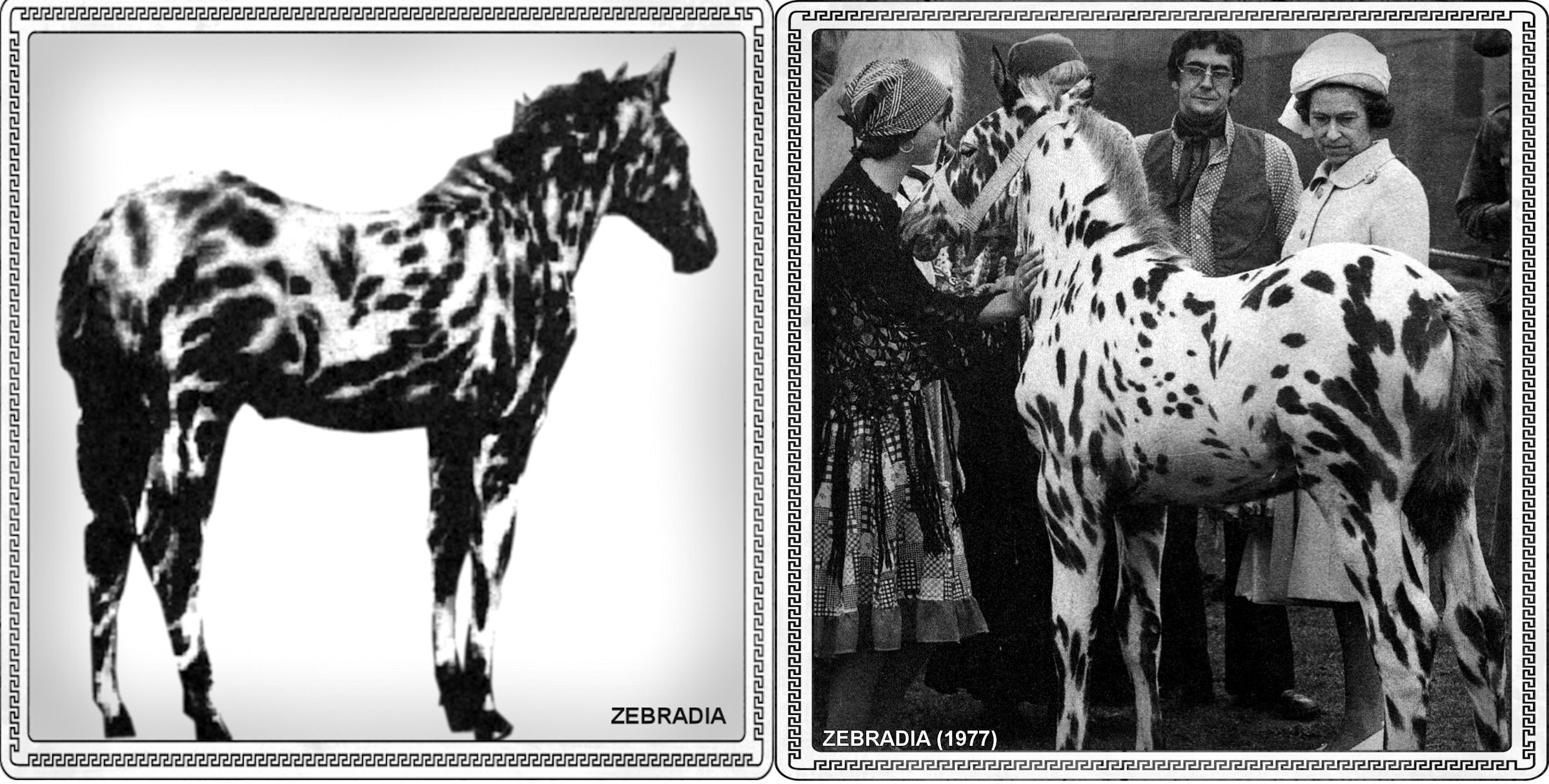 So Zebradia was far from unique, and had elongated spots rather than stripes, but returning to the account: "Roger Hebb and myself visited Mr Sargent on 4 October 1976 and were able to see the foal for ourselves. Mr Sargent is the owner of an ice-cream business and an ice-cream parlour is situated next to his house and the stables. The combined attraction of ice-cream and the unusual horse meant the area was inundated with children, particularly at weekends. For the foal's sake (it developed a predilection for ice-cream) and for peace of mind the foal is kept with his mother in a secluded field a few miles from Hibaldstow. We found Zebradia to be a particularly frisky varmint as we tried to photograph him in the failing light. The session was like sparring with Mohammed Ali! Surprisingly, the shots came out quite well. Zebradia is still something of a celebrity in the area. In July the children of Class 10, Kirton Lindsey County Primary School, presented Mr Sargent with a book of paintings, stories and poems celebrating the wonder horse. It should be noted that Zebradia is only remarkable for his markings – he does not possess any other strange features. Zebradia will probably grow into a 16.2 hands high stallion." (1.64 metres at the withers)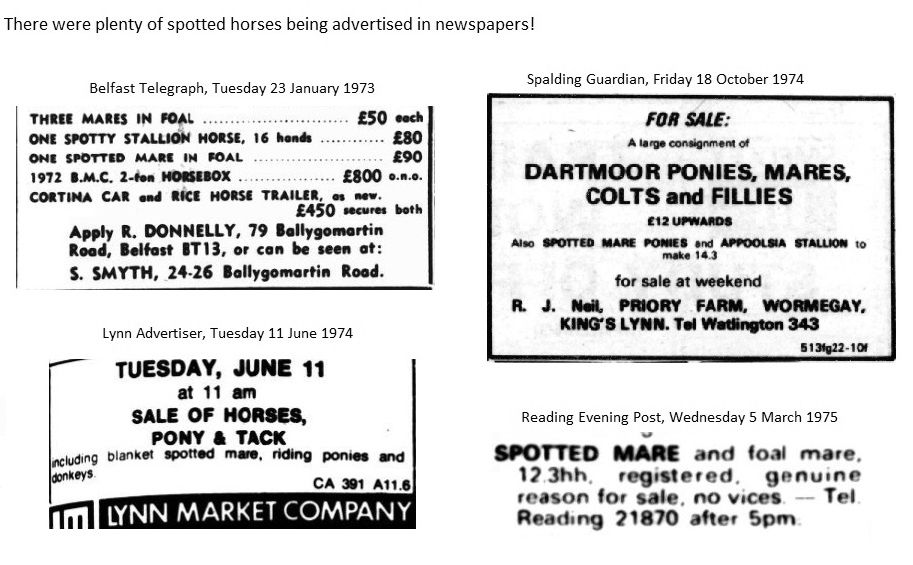 In 1977, a spotted filly was born to the same parents and named "Elizabeth Anne" (it being Queen Elizabeth's silver jubilee year). That year, Zebradia - worth £1,000 - appeared in the Scunthorpe Evening News being looked over by the queen.
It didn't take much digging to find out that spotted horses like Zebradia were not as freakish as the Fortean Times would have people believe. The Knabstrupper horse was described in various horse books of the time, including "The Observer's Book of Horses.". I was eleven at the time, and I was well aware of spotted horse breeds such as the American Appaloosa and the Danish Knabstrupper. Lets' go back 4 years before Zebradia's 5 minutes of fame. The Coventry Evening Telegraph, 29th August 1972 "Stone Age Horses put organisers in spot" mentions the agricultural show at Kenilworth, Warwickshire, having two classes for the Leopard Spotted Horse Society, the first time the show had had such classes.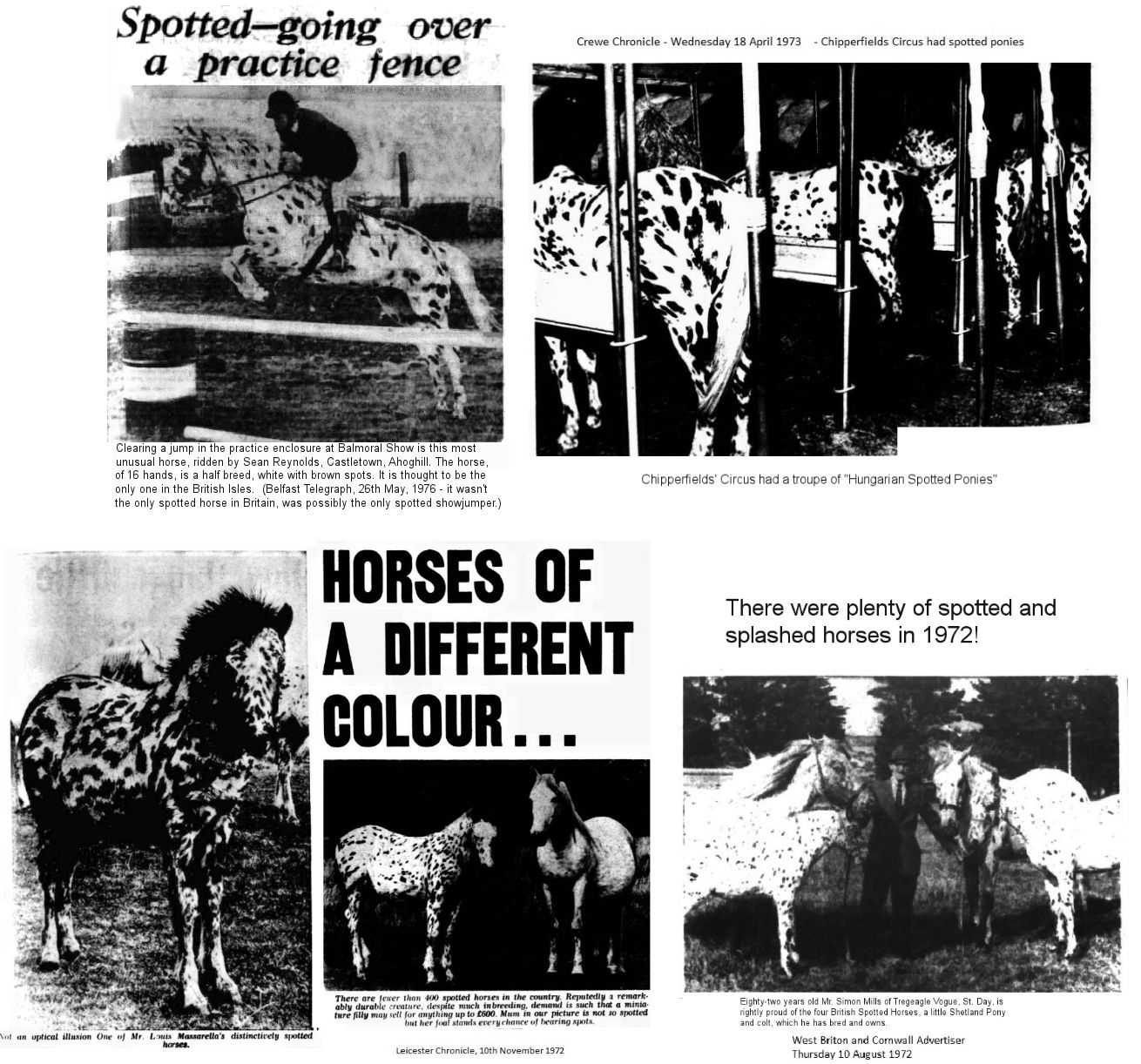 Bill Sargent's claim of a unique striped – or rather spotted – horse was not the first such claim. In the Walsall Observer, 8th September 1951, Mr. W. Roberts made a similar claim in an article entitled "Horse That 'Came Out All In Spots' - Only One Of Its Kind In The Country": "I have got something you have never seen before in your life," said Mr. W. Roberts when he called to tell us about a spotted horse. [. . . ] a real, live horse, complete with spots, hundreds, if not thousands of them. "Sunkiss," for that is his stud registered name, is basically white, with a mass of dark brown circular markings. This variety of colouring is known as "leopard spotted" and is chiefly found in America. [. . .] According to Mr. Roberts, "Sunkiss" is the only leopard-spotted stallion in this country, the only other in the British Isles being in Ireland. There are, however, Mr. Roberts says, three mares in England bearing similar markings, one being the dam of "Sunkiss." Mr. Roberts told me that "Sunkiss" came to Mrs. F. Loverock, of 13, Baker's Lane, Aldridge. two years ago as a yearling from Penkridge where it was bred. He broke it in himself and is the only rider. [. . .] "Sunkiss," about 14.1 hands high, is used for stud purposes only. Are his progeny spotted as well? Some have been, but the percentage depends on Mendel's law of heredity."
His claim of Sunkiss being the only one of his kind in the country was promptly debunked by Barbara Truman, also of Walsall, in her letter printed in the Walsall Observer, 22nd September 1951: "In your issue of September 8. you featured an article on a spotted horse, belonging to Mrs. Loverock. Of Aldridge. I am sure Mrs. Loverock herself would have been the first to point out to you that although this is a very rare type of horse, there are quite a number of them in the country. In 1947, The British Spotted Horse Society, of which I am a member, was formed to promote the breeding of spotted horses of riding type. In 1949 these three types [leopard, blanket and snowflake pattern] were represented by about 40 animals and no doubt by now this number has been increased somewhat. [. . .] In view of the foregoing, no doubt next time your contributor will make sure of his facts before rushing into print with exaggerated claims."
And in the Walsall Observer, 6th October 1951, W.E. Roberts – who sold the original story to the paper – replied "I was most interested in Mrs. Barbara Truman's letter on the subject of spotted horses. There are, as she says, several spotted horses in the country and that owned by Mrs. Loverock, of Aldridge, is entered in the stud book of the British Spotted Horse Society. The animal in question is a stallion and is a superb specimen of the 'Leopard' class of spotted horse." Which was close enough to a retraction of his claim of it being "the only one in the country."
According to "Horses of a Different Colour " (Leicester Chronicle, 10th November 1972, pg 5): "Late night revellers returning home recently by way of Leicester Forest East could be forgiven for believing that perhaps they'd had a drop too much. Those spotted horses they've been seeing [are] 100 per cent genuine flesh and blood live animals. They are the property of one of Leicester's best-known businessman, Mr. Louis Massarella, whose interest in the breeding of these distinctive-looking animals goes back more than 30 years. So unusual are the markings that there are believed to be no more than about 350 similar horses in the whole of Britain. The chances of you seeing even a few of them are therefore pretty slight.
Mr Massarella [. . .] bought his first spotted horse - a stallion - back in 1940. His early attempts at breeding met with little success. Without a spotted mare it seemed his efforts were doomed to failure. Had it not been for the experience and enthusiasm of one of Britain's leading Arab breeders - the late Lady Wentworth - it might have stayed that way. She bought a Danish spotted mare and put it to one of her non-spotted Arab stallions. The result was a gratifyingly spotted foal called - appropriately enough - "Spotlight." Spotlight in turn produced "Flashlight," who in his turn sired a beautiful spotted stallion by the name of "Snow Leopard." It was this stallion which was later bought by Mr. Massarella and sired "Inkspot." That was in May, 1964 - since when Mr. Massarella's spotted horses have appeared at regular intervals. Says Mr. Massarella: "'Inkspot' is an inbred spotted stallion - in fact he's literally soaked in spotted blood. The result is that 19 out of 20 of his progeny are spotted."
The account then mentions the American "Appaloosa" and goes on to mention that Mr Massarella was a member of the British Spotted Horse and Pony Society which was breeding different sizes of spotted horse by crossing them to different breeds e.g. Shetland ponies.

That explains how Zebradia came about – an outcross of a Cleveland Bay stallion to a spotted mare. But why would the queen take an interest in Zebradia? The queen visits several county shows where she is shown notable exhibits. Zebradia, being a local celebrity if not actually unique, would have been an obvious exhibit to introduce to the horse-loving monarch. The queen had previously taken an interest in the spotted Knabstrupper breed.
Back in 1962, and might be explained by the case of a Knabstrup stallion named "Rolf" who was brought to the attention of the Queen, well known as a horse lover. Rolf lived on a farm and was subject to Ministry of Agriculture regulations regarding breeding licences for stallions. Rolf would need to be crossed to mares on the farm, but the Knabstrupper was not a breed they recognised and did not conform to their standards for working horses, so they refused a breeding licence. "Defective" farm stallions had to be gelded or destroyed (Rolf would have been okay had he been at a riding stables etc).
Rolf's story was reported in the Daily Mirror, 6th September 1962, pg 1. "Rolf is 'Too Beautiful' to Live. By Don Short. Rolf, the six-year-old stallion, pictured above with his owner, Mrs. Margaret Schweizer, is living on borrowed time. The Ministry of Agriculture has ruled that he must not become a father and must be doctored or destroyed. Mrs. Schweizer, 33, said yesterday: "It is nonsense to suggest there is anything wrong with Rolf. We are not going to have him doctored. I think the real trouble is that the Ministry is ignorant about his breed. They think he is too beautiful - not the rugged type of stallion." The date for carrying out the Ministry's order expired last Friday. And down on the Schweizers' farm at Iver Heath, Bucks, they have, been expecting Ministry officials to arrive to enforce the order. Swiss-born Mr. Karl Schweizer, 35, bought Rolf for £500 as a Christmas present for his English wife last December.
The black-spotted white stallion was imported from Denmark, where his strain - the Knabstrup – is an exclusive one. But in Britain the breed is hardly known and when Mrs. Schweizer applied for a licence to allow Rolf to become a sire it was rejected. The Ministry ruled that Rolf's "physique was defective." Yesterday Mr. Schweizer said: "To say Rolf would be injurious for breeding purposes is nonsense. He has foals in Denmark and they are first class. His sire was one of Denmark's prize stallions." The National Farmers' Union has taken up Rolf's bid for freedom with the Ministry of Agriculture. In London yesterday a NFU spokesman said: "We are hoping or a reply from the Ministry this week." Late last night there was a hint that the Ministry was investigating "new facts" about Rolf's ancestry that could lead to a reprieve. A Ministry spokesman said: "We have not rescinded the order. We are merely giving farther consideration to the case and for the moment no steps will be taken to enforce the order."
And this was followed up in the Daily Mirror, 7th March 1963, pg 18. "Lovely Rolf is reprieved. Rolf, the 6-year-old stallion whose good looks might have been his doom, has had a reprieve. It follows an appeal by his woman owner to the Queen. The Ministry of Agriculture had ruled that Rolf's physique was "defective" and that he must not become a father. And the Ministry also ordered that he must be doctored or destroyed. "They think he is too beautiful - not the rugged type of stallion," said Rolf's owner, Mrs. Margaret Schweizer, when she heard the Ministry's decision. But now Mrs. Schweizer, 33, of Iver Heath, Bucks, has been told that Rolf is reprieved until the end of next January at least. This will give Ministry experts a chance to examine eight foals sired by Rolf. The foals are due to be born within the next two or three months. The black-spotted white stallion belongs to an exclusive Danish breed called Knabstrup. He was imported by Swiss-born Mr. Karl Schweizer in December, 1961, as a Christmas present for his English wife. Mrs. Schweizer said yesterday: "Knowing how the Queen loves horses. I wrote to her after the Ministry's decision on Rolf. Now I am delighted at his reprieve."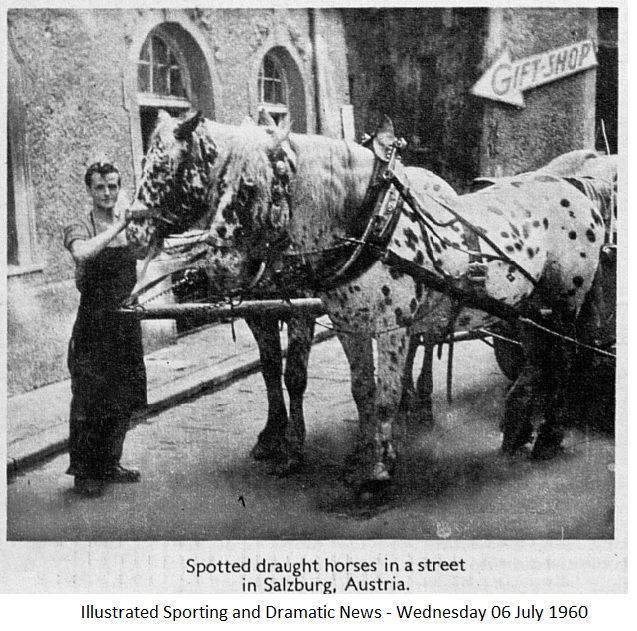 You are visitor number: