HAIRLESS HORSES
Below are several hairless horses including Bluebell the $25,000 "hairless wonder" and Wild Nell who was billed as the "india-rubber skinned mare (both from the 1890s) and an unidentified hairless horse from the 1900s. One of the most famous was Caoutchouc, a hairless feral horse captured in Australia and exhibited in Australia, New Zealand, the USA and UK. Newspapers at the time claimed he was the first hairless equine to be exhibited, however a hairless horse from South Africa predated Caoutchouc by several years.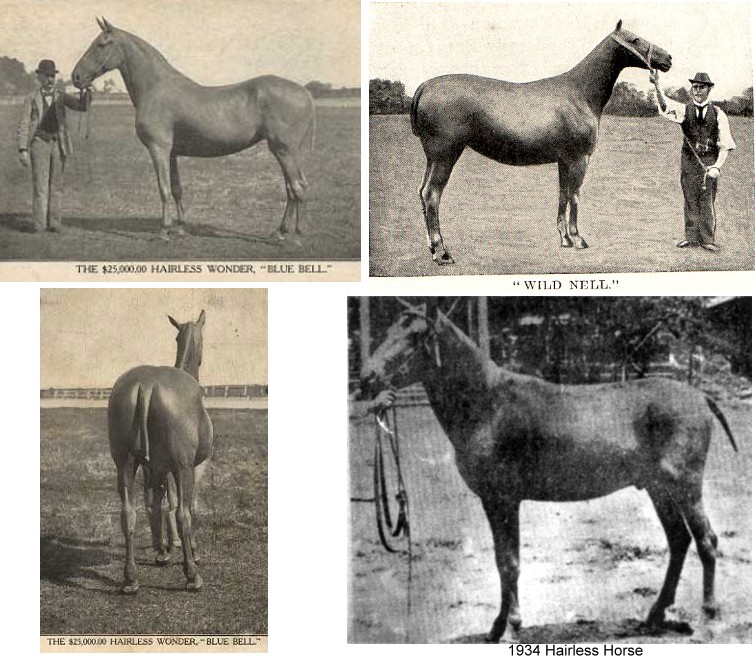 One of the earliest accounts of a hairless horse seems to be Lashmar's specimen discovered in South Africa in 1860 and reported by C O G Napier in 1868. A merchant named Lashmar noticed a hairless blue-grey horse amidst a grazing herd of quaggas. Seeing a horse among zebras is not in itself unusual as escaped domestic horses will associate with zebra herds. His observation was reported by Napier in "Land and Water" magazine, dated Feb 22nd, 1868. Recognising its value as an exhibit, Lashmar had captured the animal and was studied it more closely. It had warm, smooth, delicate skin that felt like india-rubber and formed wrinkles as the horse moved. It was entirely hairless, not even a mane or tail, and appeared to lack hair roots (follicles). The skin was a blue-mauve over most of the body, with a buff face and a large buff patch over half its back as well as several smaller blotches. Lashmar sent this specimen to South Africa's Cape Colony and it arrived in England in 1863. It was broken in at Astley's (a circus famed for its equestrian acts and trick-riding) and even used for fox-hunting, being ridden Lord Stamford's hounds (hunting being a popular way of keeping horses and riders fit when not performing). Professor Spooner of the London Veterinary College examined the hairless horse and delivered a lecture about it to some of his students. It was purchased by Mr A Moffat in Feb 1868 and exhibited at the Crystal Palace in London, but by then its slatey-blue colour had faded to a much less interesting isabelline-grey (suggesting it was genetically a grey horse as these become paler with age). Moffat reported it as standing 14 hands 2 inches (at the withers), symmetrically shaped and it performed well in harness. It required warm clothing due to its lack of hair and Moffat washed it down each day, to keep it in good health. Its life after exhibition and its ultimate fate are unknown, but hairless horses captured the public's imaginatio as several others were exhibited in the 1890s including "Blue Bell" (presumably named after Lashmar's example!) and "Wild Nell", the latter being described as an india-rubber skinned mare. The blue/lilac and buff of Lashmar's hairless horse are the same colours that are seen on many hairless dogs and cats and these same colours can also be seen when hair/fur is shaved away. The blue skin colour (the blueness of which would have been exaggerated by its exhibitors) is where grey/black fur normally grows, while the buff areas would normally by white furred (cream furred in some cats and dogs). The coloured areas of Lashmar's hairless horse eventually faded, which would be normal for a grey horse as these can start out iron-grey and end up almost white.
Upper Hunter Courier, New South Wales, carried two reports of a hairless horse during December 1871 (these were widely reprinted in the early part of 1872). The first report noted This equine sensation is an established fact. We have been honoured by an interview, and must certainly say that it is one of the most remarkable freaks of nature we have ever met. Its first appearance is provocative of genuine hearty laughter. The animal, which is well-known and not devoid of good points, is entirely destitute of mane, forelock or tail (as far as hair goes). Seen from behind it gives one the idea of a shapely rhinoceros. Its belly is exactly like so much india-rubber, and the saddle - even when well secured by breastplate, crupper and girths - slips round after a very short time. It would be curious to know whether the absence of capillary adornment dates from its birth, or is of later occurrence.
The second report, from the Upper Hunter Courier, New South Wales in December 1871, concerned the sale of the hairless horse. BIDDING FOR THE HAIRLESS HORSE. The hairless horse that has had greatness thrust upon him, is shortly to be exhibited by the same entrepreneur who "ran" Chang (the Chinese giant). The vicissitudes through which the animal has passed during the past few weeks, since he was first introduced to public notice through the columns of this journal, are worthy of remark. He was bought for the small sum of 10 shillings, the owner being ashamed of his looks, although as a hack he was worth considerably more. £10 was then asked for him, with no bidders, but the different criticisms put him up in value, until he reached £20, at which price he was for sale a few days ago, when a telegram from Sydney "not to sell till communications were forwarded by post" took him out of the market. The offer, made by the Sydney agent (which was accepted) would astonish some who look coldly on the unbefriended and hairless animal. We cannot state the figure, but we may say that a share of him changed hands at the price of a good racehorse, and he is likely to be one of the wonders of the age.
Things then took a murky turn as detailed in The Sydney Morning Herald, Thursday 21 December 1871. William Farmer v. Joseph Lenehan was another proceeding in respect of "the hairless horse." The now defendant a few days ago obtained an order for its delivery to him at his property : he swore that he never sold it. To-day, Farmer deposed that he purchased tho horse of Thomas Quin, and had it in his possession for three months prior to the last month. Thomas Quin deposed that the horse in question was given to him in January last by Lenehan; Lenehan said that the horse having lost his hair, he was ashamed to be seen upon him; witness sold it to Farmer for 10s. The Justices made an order for the delivery of the horse. Mr. Roberts conducted complainant's case.
Caoutchouc, the Australian Hairless Horse was a black-coloured "india-rubber horse" that lacked all traces of hair, not even an eyelash. He was more famous than Lashmar's hairless horse, being exhibited around Australia and New Zealand during 1872 and 1873 where he was advertised as the first of his kind. Local newspapers advertised Caoutchouc's arrival and exhibition in town and provided a brief, and possibly fanciful, history with some saying it took 6 months to capture the unique animal and others saying he was considered "nothing special" by his original owners. Caoutchouc was supposedly captured as a wild brumby near the Balonne (also spelled "Ballon" and "Balloon") River in southeast Queensland, Australia and used for a short while as a working horse before being sold to an entrepreneur for ten pounds. The new owner stated he would not sell the horse even for 1500 pounds. Having been displayed in exhibitions and fairs around Australia, the hairless horse was sent to San Francisco, to be exhibited across the USA and then in the United Kingdom. He was exhibited at the Alexandra Palace, Muswell Hill, London in 1875 and advertised as a "marvellous equine phenomenon, Caoutchouc or hairless horse. Just imported from Queensland, Australia, and never before Exhibited in England, is on view daily. Admission threepence." His name, caoutchouc, was from the Brazilian Tupi word for "rubber" and described the "india-rubber" feel of his nude skin. "Captured as a brumby" sounds like the Australian equivalent of the American "captured as a wild mustang" though feral horses were often pests and worth little money.
The Argus (Melbourne, Victoria) 16th July 1872. THE HAIRLESS HORSE,CAOUTCHOUC. This beautiful and curious equine animal is now on exhibition at 108 Bourke-street east, opposite Theatre Royal. His skin Is a beautiful black, totally devoid of hair. Ladies can stroke him without soiling the most delicate kid glove. To children be is a peculiarly welcome sight, and no fond parents will ever regret giving their little ones a sight of Caoutchouc. Opposite Theatre Royal. Admission - with photograph of horse - 1s, children 6d.

The South Australian Advertiser, Friday 20 December 1872 wrote: On Thursday the far-famed hairless horse, Caoutchouc, arrived in Adelaide, and was provided with accommodation at the Globe Hotel Stables, preparatory to lodgings more suitable for the purposes of exhibition being found for him. This animal is quite as great a curiosity as he has been represented to be. From the tips of his ears down to his hoofs there is not the sign of a hair to be seen. He has not even eyelashes. In color he is a jet black, so that he would not look so strange at a distance as upon closer inspection. Though he is simply washed with water, his skin shines as if oiled, feels soft like India rubber, and appears rather tender, considering its long exposure to all weathers and hot climates. About the make of the horse there is nothing remarkable. He is a gelding, aged, strong, broad in the quarters aad chest, rises fairly in the wither, has a good shoulder, good hocks, large well-formed feet, a fine head, with a broad forehead. His fore legs are his weakest point, as they slightly bend in, in front, and are small just below the knee. His tapering smooth pachydermatous-looking tail is perhaps the most comical part of him. Altogether he is a smart cobby-looking horse, is good in saddle, and carries a lady. At a steeplechase in Victoria some months ago Caoutchouc was a competitor, and on his appearance was greeted with shouts of laughter. He jumped well, but of course had not pace enough to make a show in the company in which he started. He was foaled on a Queensland run far north, is a part of Australia where hairless natives have been found, and was first seen when about two years old running with a mob of wild horses, and his capture, near the Ballon River, was only effected with great difficulty and after many unsuccessful trials.

Grey River Argus, Volume XIII, 12th July 1873.THE HAIRLESS HORSE. The hairless horse, now being exhibited in the Colony, is the last phenomenon the Southern Hemisphere, can boast of. This singular animal was captured in the neighbourhood of the Balloon River close to the boundary of civilisation, in the territory of Queensland. , It was with a mob of wild horses, and nearly six months were spent in unavailing efforts to effect its capture before it was finally cut out, and driven into a stockyard. It comes, from the locality where a tribe of hairless natives have been found, and it has been affirmed that in the district where these are, the animals are also divested; of the common covering of nature. At any rate, the horse is one of the most remarkable freaks of nature which is occasionally brought to light, apparently only to perplex the philosopher and to provoke the unbounded astonishment of the beholder, who looks upon them merely as an object of wonderment. The animal is a gelding rising six years old. He was captured in a wild state, and, still retains a portion, of that proud spirit vhich captivity cannot subdue. He has been declared by the savans of New South Wales and Victoria to be the most remarkable deviation of nature from her conventional groove that ever came before their obsertion. The skin is entirely devoid of one solitary hair, and in color, is a beautiful glossy black, giving him, the appearance of being cast from Indiarubber - hence his name - Caoutchouc. The horse was exhibited in Timaru on the; 27th and 28th of June, and attracted a good many people. A sight of the horse is undoubtedly a very good shilling's worth, for he is a remarkable beast as evidencing the pranks good Dame Nature sometimes plays. Caoutchouc, with a skin glossy and healthy, and as hairless as a porpoise, is a shapely animal, possessing a good head and neck, broad chest, and with a capital fore-arm, he is the cut — and a very good cut too - of a light hack. He is perfectly quiet and seems to object but little to the pinchings and. handlings his visitors naturally inflict upon him to see if "a hair" cannot be found — but all to no purpose. He is the only known specimen which Nature has forgotten to put on the usual covering, and consequently Caoutchouc is worth his veritable weight in gold. His proprietor has, we hear, been offered L1000 [1000 pounds] for him, but the offer'was refused, it being his intention of taking the horse to England for exhibition.

The Auckland Daily Southern Cross, Vol XXIX, November 28th, 1873 stated: THE HAIRLESS HORSE "CAOUTCHOUC." As our readers will perceive, from an advertisement in another column, a hairless horse called "Caoutchouc," from his India-rubber appearance, will shortly be exhibited for a short time in this city. Caoutchouc is truly a most wonderful specimen of the equine race. Examine him as closely as one may, not a vestige of hair can be discovered on any part of the animal. His skin very closely resembles that of an Australian black fellow, and is as smooth and delicate-looking as satin. His history, as well as his appearance, is strange. About six years ago he was captured out of a mob of wild horses, by some stockmen, near the Balonne River, Queensland. Strange to say he was captured in a locality where hairless natives are said to exist. After being caught he was used as a stock horse, and his peculiar appearance was thought nothing of by the persons who captured him. A surveyor, however, conceived the brilliant idea of exhibiting him, and bought the horse, not allowing his intention to be known, for £10. His present owners bought him from the surveyor for a large sum of money, and have frequently refused offers of £1,500 for him. Professor Le Stage of Sydney, and Professor Black of Otago, are both of the opinion that the bareness of the horse is natural. he is the very reverse of repulsive in appearance, and is perfectly tame. His head is rather large, and the absence of hair on his tail gives him a peculiar look, but on the whole he is as good-looking an animal as people could desire to see. he will hold his first levee on Saturday next in the building at the corner of Queen and West Queen streets. After being on view here for a limited period, he will be taken to San Francisco, thence through the various States of America and afterwards he will "do" the United Kingdom. Up to the present time he has been exhibited at every place of importance throughout Australia and New Zealand, and has been the cause of much wonder. It may safely be said that he is the first of his race to be presented to the admiring gaze of the public in undress uniform."

Nevada State Journal, May 24th, 1874. THE WONDERFUL CAOUTCHOUC or HAIRLESS HORSE The only animal of his kind known to exist and by the press and public wherever he has boon ex- the greatest wonder of the animal kingdom This wonder will exhibited in Reno on W SANDERS Corner of Virginia and Second Streets.

The "beautiful and wonderful" Caoutchouc was described in various newspapers as he travelled around the USA, for example this description in the Jefferson County Journal (New York) during 1874. A HAIRLESS HORSE. An equine curiosity arrived recently at San Francisco, in the shape of a hairless horse from Australia. The name of this remarkable animal is Caoutchouc, and he was captured in the neighbourhood of Balloon River, Queensland, when about two years old. He is now about six years of age, of a pure black from the tip of his ears to the hoofs, but without a single hair on any part of his body. The color is not unlike that of a black horse very closely clipped, and the microscope fails to detect a single hair from the nose to the tail. He is a gelding about fifteen hands high, well made and very compact, with very fine, clean legs, powerful forearms and thigh, and a clean broad-like, not unnaturally broad head, from which sparkle a bright pair of eyes beaming with good temper and docility. His owners, Out and Witchell, paid a handsome price for him, but refused £1,500 in the Colonies before leaving for this country. This freak of nature was examined by several eminent veterinary surgeons in Australia, and they came to but one opiniion in regard to this horse, which was that there was no deception practiced, and that in reality he was born without the least particle of hair upon him, and consequently is one of the greatest curiosities in the way of horse flesh extant. - Live Stock Journal.

By the 1890s, it seemed that every self-respecting circus had to have a hairless horse as one of its exhibits. "Yorkshire in Olden Times", edited by William Andrews in 1890 mentions the phenomenon of the hairless horse in its history of itinerant entertainers "That such freaks of nature as have had their representatives in our own time in the spotted boy, the Siamese twins, and the hairless horse [...]" showing how widely hairless horses were being exhibited at this time. During July and August 1891, the Evening Capital Journal (Salem, Oregon) advertised Sells Brothers circus that included "The only wild Australian Hairless Horse" also described as "their hairless horse a genuine wonder" while in 1892, Ringling Bros billed "Bird, the Demon or Hairless Horse" among their exhibits. Could the Sells Brothers' exhibit really have been Caoutchouc who would have been in his twenties by then?

Sharon Herald, Pennsylvania, September 23, 1914. Claude Reznor buys the Hairless Horse. The "hairless horse," one of the feature attractions at the Forest City Fair, North Randall, is be to exhibited at the Portage County Fair at Ravenna (Ohio), which opens today. The animal was purchased yesterday by Claud Reznor, Sharon, Pa., from "Sam" Strong, "Al" Bailey and Charles Clark, Hermit Club members, and will remain at Ravenna until the fair closes Thursday evening. Strong purchased the horse, the only one of the kind in the world, from Thomas Cathan, a farmer living near Gates Mills. More than 8,000 persons saw the animal at the fair last week. Reznor paid $1,000 for the animal.

Somewhat more recent is this report from The Observer, LaGrande, Oregon, November 11th, 2003. Harry is a big, black hairless — that's hairless — horse. "His hair follicles are there, they just don't grow hair," owner Suzi Romine of La Grande says, shrugging. In sharp contrast to Harry's smooth, dark hide the scraggly, faded gray-blond strands of his sparse mane and tail look like they've been severely over-processed by an indifferent hair stylist. Combined with a few long whiskers on his chin, Harry is definitely odd looking. And though he may capture your attention by his strange looks, he will completely win you over with his heart. While most hairless horses don't survive long term due to complications, Percheron Harry was one of the rare hairless horses that survived well into adulthood. He was probably the result of a brother-sister mating, and had some patches of hair when born. Unlike the India-rubber skinned horses in historical reports, Harry grew some straggly hair on the mane and lower legs.

You are visitor number: