HAIRLESS HORSES
Towards the end of the 19th Century, when hairless horses were being exhibited in sideshows and state fairs around the USA, several newspapers ran articles about supposed races of hairless horses. "The Tartars have a species of hairless horses, which all have beautifully striped white-and-brown hoofs and "glass eyes." Pliny the Elder mentions a breed of horses "from a land far to the north of Lybia" which was distinguished on account of a woolly mane which extended from between the ears to the root of the tail! However, these travellers' tales usually owed more to imagination than to reality.
Other anecdotal accounts include, "It is recorded in some natural histories that at the beginning of the present century there was a race of hairless horses belonging to the South Sea Islands. The natives held them sacred, and on the great festal days these god-horses were brought forth and the people prostrated themselves before them in supplication for future blessings," and "Only three hairless horses are known outside Japan, and even here they are not numerous. On Tanega island, off the southeast tip of Japan, a man has been breeding them for forty years. Originally brought from Korea by a Japanese invader more than three centuries ago, hairless horses were common at one time in southern Japan. They died out, though, and the breeder on Tanega island had to start with a single male, which he crossed with an ordinary horse."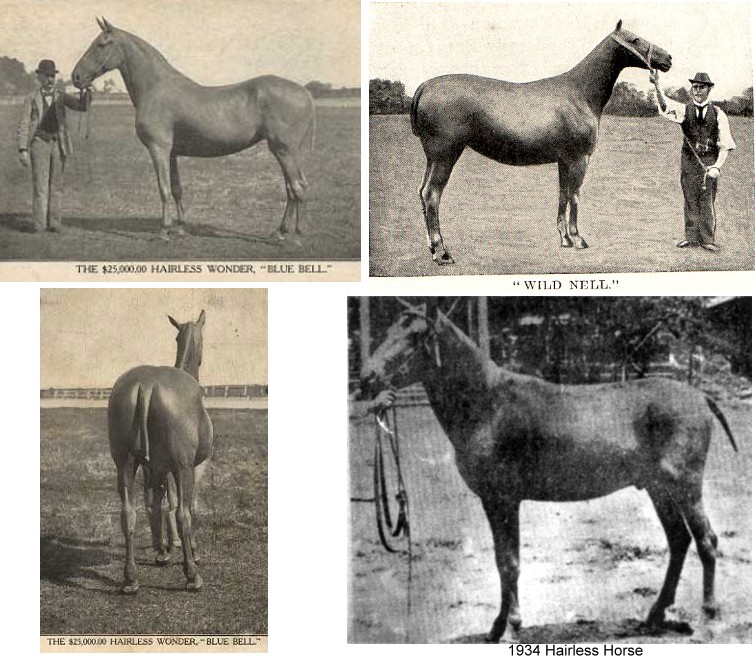 BRIEF MENTIONS OF HAIRLESS HORSES
One of the earliest newspaper reports is from The Sun (New York), February 1st, 1838. A Hairless Horse. — There is a horse exhibiting it Tattersalls, New York, that has not a particle of hair on any part of his body, and whose skin resembles that of an elephant It is said his dam was frightened at an elephant, and his owner was so much frightened at his appearance that he gave him away to a neighbor, who, after he was three years old, sold him for $2,300.
Then in 1851, we have this report: "HAIRLESS HORSE - A Wild Horse from South America, caught by Crossman, the Indian, is now to be seen for 1 shilling, in Broadway above Houston [street]. We can assure the public this is no humbug, but a natural curiosity. The owner this day has been offered six thousand dollars for it and refused it." – New York Tribune, April 29, 1851
From 1864 there is "A HAIRLESS HORSE — The Correspondencia, of Madrid, describes a curious horse, which was on exhibition in the Prince Alphonzo Circus at Madrid. It has not a hair on the whole body, while its skin, which is white like that of a European, is so transparent his veins may be distinguished through it. The horse cannot be used for labor in consequence of this fineness of skin which would be exposed to abrasion." (Santa Cruz Weekly Sentinel, September 17, 1864)
Gen. Kaufmann has just presented to the Zoological Garden at Moscow a hairless horse from Central Asia. The animal belongs to a hybrid species, and is considered a great rarity; it is well formed, but its skin is red and without the slightest trace of hair, and in cold Moscow it has to be kept covered with blankets. – various, May, 1880
According to Reno (Nevada) Gazette, June 1880: "One of the natural peculiarities of this country is an alkali grass, which takes all the hair off of an animal. It is found in some places on Steamboat creek. A horse or cow that runs there a month or so loses every bit of its coat. An old horse that has been running there has haunted the Virginia road in the vicinity of Brown's station a week or so. He is not quite naked yet, but soon will be. A little hair sticks On the side of his neck, a few stragglers around the root of his tail, half a dozen in one ear, and a few other spots remain. His stumpy tail is as bare as a billiard-ball, and looks like the butt end of a leather whip. The mane is all gone, and the heavy skin stands up a corrugated ridge. The skin is brown, and looks like that of an elephant. A hairless horse is a funny-looking beast."
The hairless horse, owned by Martin Snyder, near Prospect, this county, was in the city to-day, and attracted no little attention. Its skin is as "bare as a baby's back", and of a dark lead color, almost black. It is a curiosity. Upon interviewing Mr. Snyder, we learned that the animal is past three years old, and last spring, when the time came for horses to shed, the colt had a fine coat of roan-colored hair, which it continued to shed until every hair was lost. The colt is sound and well, working on the farm daily. – The Marion Star (Ohio), August 14, 1880
A hairless horse was lately shipped to Ygnacio valley, Contra Costa county, from Arizona. Various, October 1880
There are several hairless horses mentioned in brief over the next few decades, most with a fanciful history of being captured in a far-off land, and some clearly borrowing from the history of the famous hairless Australian horse, Caoutchouc.
For example, the Oakland Tribune of May 11, 1882 mentions Joe Williams, "the great Australian hurdle rider, in his hurricane Indian hurdle act on his hairless horse Tammiak. The most wonderful horse in the world, captured from a band of Apache Indians on Llanos or Staked Plains of New Mexico and the only specimen in the known world."
And "At Epstean's Dime Museum this week [.. .] Sirius, the hairless horse " (The Inter-Ocean, December 20, 1891).
By the 1890s, it seemed that every self-respecting circus had to have a hairless horse as one of its exhibits. "Yorkshire in Olden Times", edited by William Andrews in 1890 mentions the phenomenon of the hairless horse in its history of itinerant entertainers "That such freaks of nature as have had their representatives in our own time in the spotted boy, the Siamese twins, and the hairless horse [...]" showing how widely hairless horses were being exhibited at this time. During July and August 1891, the Evening Capital Journal (Salem, Oregon) advertised Sells Brothers circus that included "The only wild Australian Hairless Horse" also described as "their hairless horse a genuine wonder" while in 1892, Ringling Bros billed "Bird, the Demon or Hairless Horse" among their exhibits. Could the Sells Brothers' exhibit have been Caoutchouc who would then have been in his twenties?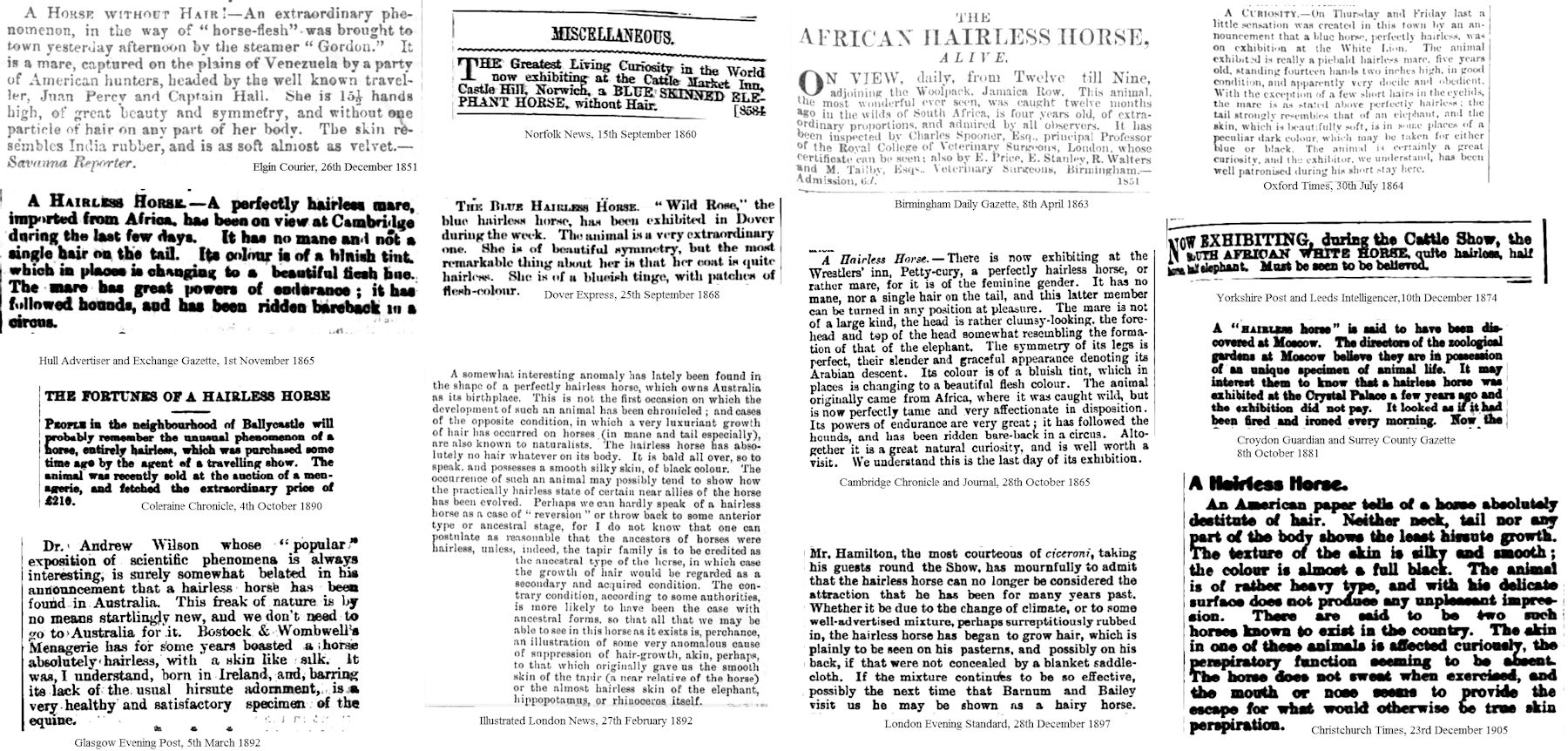 The Evening Herald, October 2, 1897 gives us "There is a hairess horse. It is the genuine article. He was purchased in the Indian Territory and has no more hair on him than a Mexican dog. He is considered only a freak in nature."
"Ashamed of a Hairless Horse. A farmer near Jackson raised a colt that was bare of hair as a Mexican dog. The parents of the freak were of the ordinary covered kind, and no theory is advanced as to the cause of the offspring's ridiculous nudity. The animal grew to horsehood but seemed so "sort of repulsive like" that the owner was ashamed to drive him to town and kept the hairless monster at work on the farm. A Jackson man heard of the horse and for $40 became the owner and now has an offer of $500 for him, a sum which he has refused on the ground that the freak is worth much more. In all respects except his shameless en dishabille, the hairless horse appears respectable and well behaved." (Detroit Tribune, July 1904)
From March 1905 we have (various papers) "Like all persons interested in zoology, Mr. Rothschild delights In freak nature, and he owns a hairless horse. It is a pinkish tan, something the coloring of a Mexican hairless dog, and its flesh is as smooth as a child's cheek." This was in England.
The New York Times of August 5, 1905 reported a train crash from which a hairless horse had to be rescued: "the baggage car hung suspended between the trestle and the tender. The baggage car turned almost completely over. It contained a hairless horse, said to be a very valuable animal. The horse and its groom, named Hallman, got a severe shaking up. The horse was taken from the car by means of ropes."
The Macon Times Democrat of August 1, 1907 reported that a firm of Pittsburg owned and exhibited a hairless horse.
The following two reports, being close together in time, might refer to the same animal:
"FOR SALE — The wonder of the world, a hairless horse: It Is the best freak of its kind in existence; it has an elephant's skin; good circus or wonderland horse. 500. Station A, Bay City." – Detroit Free Press, March 31, 1907
"Daniel Armpriester, formerly of this city, and now proprietor of the hotel and horse exchange at Mt. Aetna, has a curiosity which has aroused interest throughout Berks and Lebanon counties. It is a hairless horse. The animal has only a few straggling hairs on his tail. He has a hide like an elephant and is a most unique looking quadruped." – Lebanon Courier, July 10, 1907
"Some persons may have heard about the freak of nature which did not fulfil expectations. It was a hairless horse with a skin like a Mexican dog and the tail of a rat. There was no doubt about it being genuine, for when the hot days came, the poor beast suffered tortures from the onslaughts of stable flies. Naturally, the showman, valuing the animal highly, wanted it to live in comfort. So he bathed it with kerosene. Well, both the expected and the unexpected happened. The flies kept away and the horse grew a coat of long hair." (The Washington Post, March 15, 1908)
The Bucks County Gazette of August 22, 1911 mentions "Crackerjack, the elephant-skinned hairless horse," as one of the attractions of a circus that had come to town.
Sharon Herald, Pennsylvania, September 23, 1914. Claude Reznor buys the Hairless Horse. The "hairless horse," one of the feature attractions at the Forest City Fair, North Randall, is be to exhibited at the Portage County Fair at Ravenna (Ohio), which opens today. The animal was purchased yesterday by Claud Reznor, Sharon, Pa., from "Sam" Strong, "Al" Bailey and Charles Clark, Hermit Club members, and will remain at Ravenna until the fair closes Thursday evening. Strong purchased the horse, the only one of the kind in the world, from Thomas Cathan, a farmer living near Gates Mills. More than 8,000 persons saw the animal at the fair last week. Reznor paid $1,000 for the animal.
From 1919 (Arizona Republic, 18 May, 1919) we have E. H. Bostock of the Glasgow Hippodrome and his various anomalous equines. These included a hairless mare with a skin resembling India rubber (Wild Nell). The animal's name came from the title character of a "wild west" play that was well-known at the time.
Various papers carried the short report from Valley, Washington, February, 1939 "While of no value as a contributor to horsehair cushions, a velvety-black horse owned by Charles Phillips, Washington farmer, is attracting attention for miles around. The horse has not one hair on either mane or tail. The animal is a favorite exhibit attraction at county fairs."
Also in 1939 "Kansas City, Mo – Fred Witherow of Knox county owns a mare that hasn't a single hair on her body. Recently she foaled a normal mule colt." (The Emporia Gazette, August 24, 1939)
As a hairless horse, the one now on exhibition at A. B. Lawrence's old store is all it's claimed to be. It is five years old, was raised in Canada, and is now owned in North Grafton. (Fitchburg Sentinel, Dec 16, 1966)
DETAILED ACCOUNTS
1860 - LASHMAR'S HAIRLESS HORSE
One of the earliest accounts of a hairless horse seems to be Lashmar's specimen discovered in South Africa in 1860 and reported by C O G Napier in 1868. "A blue and pink coloured hairless horse is an attraction now in London. It has just been imported from Africa" (Various, August 1865)
A merchant named Lashmar noticed a hairless blue-grey horse amidst a grazing herd of quaggas. Seeing an escaped domestic horse among zebras was not unusual, but its hairlessness was. His observation was reported by Napier in "Land and Water" magazine, dated Feb 22nd, 1868. Recognising its value as an exhibit, Lashmar captured the animal for closer study. It had warm, smooth, delicate skin that felt like india-rubber and formed wrinkles as the horse moved. It was entirely hairless, not even a mane or tail, and appeared to lack hair roots (follicles). The skin was a blue-mauve over most of the body, with a buff face and a large buff patch over half its back as well as several smaller blotches. He sent the animal to South Africa's Cape Colony and it arrived in England in 1863. It was broken in at Astley's, a circus famed for its equestrian acts, and was used for fox-hunting, being ridden Lord Stamford's hounds, Hunting was a popular way of keeping horses and riders fit.
Professor Spooner of the London Veterinary College examined the hairless horse and delivered a lecture about it to some of his students. It was purchased by Mr A Moffat in Feb 1868 and exhibited at the Crystal Palace in London, but by then its slatey-blue colour had faded to a much less interesting isabelline-grey, This suggests it was genetically a grey horse becoming paler with age. Moffat reported it as standing 14 hands 2 inches at the withers, symmetrically shaped and it performed well in harness. It required warm clothing due to its lack of hair and Moffat washed it down each day, to keep it in good health.
Lashmar's horse's life after exhibition and its ultimate fate are unknown, but several other hairless horses were exhibited over the next several decades including "Caoutchouc," "Blue Bell" and "Wild Nell", the last being described as an india-rubber skinned mare. The blue/lilac and buff of Lashmar's hairless horse are the same colours that are seen on many hairless dogs and cats and these same colours can also be seen when hair/fur is shaved away. The blue/slate skin colour is where grey/black fur normally grows, while buff/pink areas would normally have white or cream fur. The coloured areas of Lashmar's hairless horse eventually faded, which is normal in grey horses - these can start out iron-grey and end up almost white.

1872 - CAOUTCHOUC, THE AUSTRALIAN HAIRLESS HORSE
Caoutchouc, the Australian Hairless Horse was a black-coloured "india-rubber horse" that lacked all traces of hair, not even an eyelash. He was more famous than Lashmar's hairless horse, being exhibited around Australia and New Zealand during 1872 and 1873 where he was advertised as the first of his kind. Local newspapers advertised Caoutchouc's arrival and exhibition in town and provided a brief, and possibly fanciful, history with some saying it took 6 months to capture the unique animal and others saying he was considered "nothing special" by his original owners. Caoutchouc was supposedly captured as a wild brumby near the Balonne (also spelled "Ballon" and "Balloon") River in southeast Queensland, Australia and used for a short while as a working horse before being sold to an entrepreneur for ten pounds. The new owner stated he would not sell the horse even for 1500 pounds.
According to one story (from "Forest and Stream") "Now and then a very curious specimen is found among the desert horses of Australia. The oddest of these that I ever saw was a huge, ungainly beast without a hair upon it. It was cut out of a wild herd and roped in by a station hand, who sold it for a plug of tobacco to some man riding along the road past the homestead. The latter tamed the hairless horse, taught it a few commonplace tricks, and showed it all over the colonies. He was said to have taken $100,000, though he spent it as fast as he got it. I saw the animal many times. It was rather well shaped when it filled out, and having no mane, but a high neck and crest, it had something of the appearance of horses in antique sculptures or bronzes. Its skin was perfectly smooth and shiny and a dark mottled brown in color, and the poor thing seemed very intelligent and docile."
And according to another version, published much later (Cincinnati Enquirer, September 1, 1895) "Many years ago, when the wonderful country of Australia, with its discoveries of god was attracting general attention, I dispatched an agent thither with instructions to find and bring me, if possible, some hitherto unknown animal or some unparalleled freak of nature. He fulfilled his mission by cutting out of a wild herd and lassoing a hairless horse, a huge awkward beast, without the slightest vestige of a hair upon any part of its body. His skin was of a dark bluish cast, and singularly smooth and shiny. He gained flesh after a time, and was then transformed with his high neck and crest – though he was wholly destitute of mane – into quite a handsome animal, looking very much like a statuesque horse that had been cast from some kind of metal. He was remarkably intelligent and docile. "
Upper Hunter Courier, New South Wales, carried two reports of a hairless horse during December 1871 (widely reprinted in the early part of 1872). The first report noted "This equine sensation is an established fact. We have been honoured by an interview, and must certainly say that it is one of the most remarkable freaks of nature we have ever met. Its first appearance is provocative of genuine hearty laughter. The animal, which is well-known and not devoid of good points, is entirely destitute of mane, forelock or tail (as far as hair goes). Seen from behind it gives one the idea of a shapely rhinoceros. Its belly is exactly like so much india-rubber, and the saddle - even when well secured by breastplate, crupper and girths - slips round after a very short time. It would be curious to know whether the absence of capillary adornment dates from its birth, or is of later occurrence."
The second report, from the Upper Hunter Courier, New South Wales in December 1871, concerned the sale of the hairless horse. "BIDDING FOR THE HAIRLESS HORSE. The hairless horse that has had greatness thrust upon him, is shortly to be exhibited by the same entrepreneur who "ran" Chang (the Chinese giant). The vicissitudes through which the animal has passed during the past few weeks, since he was first introduced to public notice through the columns of this journal, are worthy of remark. He was bought for the small sum of 10 shillings, the owner being ashamed of his looks, although as a hack he was worth considerably more. £10 was then asked for him, with no bidders, but the different criticisms put him up in value, until he reached £20, at which price he was for sale a few days ago, when a telegram from Sydney "not to sell till communications were forwarded by post" took him out of the market. The offer, made by the Sydney agent (which was accepted) would astonish some who look coldly on the unbefriended and hairless animal. We cannot state the figure, but we may say that a share of him changed hands at the price of a good racehorse, and he is likely to be one of the wonders of the age."
Things took a murky turn as detailed in The Sydney Morning Herald, Thursday 21 December 1871. "William Farmer v. Joseph Lenehan was another proceeding in respect of "the hairless horse." The now defendant a few days ago obtained an order for its delivery to him at his property: he swore that he never sold it. To-day, Farmer deposed that he purchased the horse of Thomas Quin, and had it in his possession for three months prior to the last month. Thomas Quin deposed that the horse in question was given to him in January last by Lenehan; Lenehan said that the horse having lost his hair, he was ashamed to be seen upon him; witness sold it to Farmer for 10s. The Justices made an order for the delivery of the horse. Mr. Roberts conducted complainant's case."
A comprehensive "History of the Hairless Horse, Caoutchouc" was published in the Hawaiian Gazette, of February 18, 1874.
"The hairless horse is the last phenomenon the Southern Hemisphere can boast of. Some six years ago some stockmen in the neighborhood of the Baloane River, in Queensland, caught several glimpses of a singular looking animal in a wild mob of horses. Many were the conjectures as to the nature and breed of this peculiar quadruped, his black shiny coat, without a vestige of hair, giving them the impression of an animated model of a horse which had been cast in India rubber. At length, after many fruitless attempts to secure him, he was captured, castrated, and broke in as a stock horse. The curiosity which this strange looking quadruped at first excited in the minds of his captors soon wore off, hairless horse was employed in ordinary station work, his unique appearance seldom attracting any attention from the rough stockmen who were daily on his back. Occasionally a stranger from a neighboring run would view with astonishment the singular beast, as urged on by spur he headed some rambling bullock, and some quaint remarks would be exchanged between the riders as to his appearance and qualities. "Guess stranger you have rid hard. Your horse has left his hair behind." The frequent reply would be, "Always does when out for a hard run. Will pick it up again when he gets home." Many similar amusing conversations took place, of which Caoutchouc was the subject; and the fact that he was captured near where a tribe of hairless natives exist is marvelous. But he was not destined long to remain in his present state of seclusion.
Fate had intended him for a nobler destiny than usually befalls the Australian stock horse. A party of surveyors called at the station to enquire the road by a short cut, which would save them a considerable distance. One of the stockmen kindly offered to show them the road, if they would wait till he got his horse from the paddock. He soon appeared mounted on this extraordinary animal, now no longer an object of curiosity or interest to those acquainted with him, and the astonished strangers prepared to follow him while he led the way. Strange to say no one up to this time had ever dreamed of exhibiting the animal. By some it was thought he was no great curiosity, and by others that it would not "take." One of the party, a gentleman named Farmer, immediately saw that a fortune lay in the animal which was being so carelessly ridden by the stockmen, who not appreciating, or ignorant of his real value as a curiosity, was freely descanting on his merit for running, jumping, heading, & &. But this discerning individual kept his own counsel, and determined upon his course of action as he silently followed his party. His plan was arranged, and he promptly proceeded to put it into execution. Some few weeks afterwards Mr. Farmer again put in his appearance at the station, saw the stockman, and enquired could he sell him a horse to carry him to Sydney, and asked for the same horse on which the stockman had showed his party their road shortly before. Great was the stockman's glee at the idea of the stranger riding this indiarubber looking horse through the streets of fashionable Sydney. But he was assured that it was of no consequence what appearance the animal had, provided he was equal to the journey, a distance of several hundred miles. After some bargaining and chaffing about the " figure he would cut" the horse was eventually purchased for ten pounds, and the stranger and his charge went their way.
After getting within the confines of civilization, he at once commenced to exhibit him. He was now commencing his public career, and crowds of people visited the wonderful stranger, and his value rose in proportion. Previous to this, an offer was refused for him of £500 in Newcastle, N. S. W., and a party from Berlin afterwards offered £1000 for a half-share in the quondam station stock horse. Shortly afterwards he was disposed of to his present owners for a good sum of money, and since then they have frequently refused £1500 for him.
We had almost forgotten to state that one of his capturers, grieved at the loss of the prize which he had allowed to slip through his fingers, commenced an action for recovery of the same, on the plea that he had not been agreeable to the sale, and that his partner in the matter had sold him without his consent, and this statement was borne out by the fact of his name not appearing on the receipt. This action cost Mr. Farmer, his first exhibitor, over £100 to defend, and when the case was called, "Mr. Stockman" was not to be found. Meantime, Mr. Farmer had placed the horse in charge of two men for safe keeping during the trial, and they took advantage of the circumstances to demand £50 before they would give him up. Such has been the somewhat extraordinary career of this equine curiosity, but the vicissitudes of his life have now apparently terminated, and he has entered the list against other wonderful instances of unaccountable freaks of nature. From Auckland he will take his departure from the Colonies for America, after which he will proceed to Europe, and do the capital and chief provincial cities, where, doubtless, he will create as much, or more, interest, both amongst the savans and the unlearned, as he has done in his own hemisphere. We will not here describe him further than to say that he is a most extraordinary looking animal, a complete perfect horse, minus the hair. We would advise all who are interested in natural history, and in the strange eccentricities in which nature sometimes chooses to develop herself, to interview him, and examine this singular and unique production of the Australian continent.
The Argus (Melbourne, Victoria) 16th July 1872. "THE HAIRLESS HORSE,CAOUTCHOUC. This beautiful and curious equine animal is now on exhibition at 108 Bourke-street east, opposite Theatre Royal. His skin is a beautiful black, totally devoid of hair. Ladies can stroke him without soiling the most delicate kid glove. To children be is a peculiarly welcome sight, and no fond parents will ever regret giving their little ones a sight of Caoutchouc. Opposite Theatre Royal. Admission - with photograph of horse - 1s, children 6d."
The South Australian Advertiser, Friday 20 December 1872 wrote: "On Thursday the far-famed hairless horse, Caoutchouc, arrived in Adelaide, and was provided with accommodation at the Globe Hotel Stables, preparatory to lodgings more suitable for the purposes of exhibition being found for him. This animal is quite as great a curiosity as he has been represented to be. From the tips of his ears down to his hoofs there is not the sign of a hair to be seen. He has not even eyelashes. In color he is a jet black, so that he would not look so strange at a distance as upon closer inspection. Though he is simply washed with water, his skin shines as if oiled, feels soft like India rubber, and appears rather tender, considering its long exposure to all weathers and hot climates. About the make of the horse there is nothing remarkable. He is a gelding, aged, strong, broad in the quarters an chest, rises fairly in the wither, has a good shoulder, good hocks, large well-formed feet, a fine head, with a broad forehead. His fore legs are his weakest point, as they slightly bend in, in front, and are small just below the knee. His tapering smooth pachydermatous-looking tail is perhaps the most comical part of him. Altogether he is a smart cobby-looking horse, is good in saddle, and carries a lady. At a steeplechase in Victoria some months ago Caoutchouc was a competitor, and on his appearance was greeted with shouts of laughter. He jumped well, but of course had not pace enough to make a show in the company in which he started. He was foaled on a Queensland run far north, is a part of Australia where hairless natives have been found, and was first seen when about two years old running with a mob of wild horses, and his capture, near the Ballon River, was only effected with great difficulty and after many unsuccessful trials."
Grey River Argus, Volume XIII, 12th July 1873. "THE HAIRLESS HORSE. The hairless horse, now being exhibited in the Colony, is the last phenomenon the Southern Hemisphere, can boast of. This singular animal was captured in the neighbourhood of the Balloon River close to the boundary of civilisation, in the territory of Queensland. , It was with a mob of wild horses, and nearly six months were spent in unavailing efforts to effect its capture before it was finally cut out, and driven into a stockyard. It comes, from the locality where a tribe of hairless natives have been found, and it has been affirmed that in the district where these are, the animals are also divested; of the common covering of nature. At any rate, the horse is one of the most remarkable freaks of nature which is occasionally brought to light, apparently only to perplex the philosopher and to provoke the unbounded astonishment of the beholder, who looks upon them merely as an object of wonderment. The animal is a gelding rising six years old. He was captured in a wild state, and, still retains a portion, of that proud spirit which captivity cannot subdue. He has been declared by the savants of New South Wales and Victoria to be the most remarkable deviation of nature from her conventional groove that ever came before their observation. The skin is entirely devoid of one solitary hair, and in color, is a beautiful glossy black, giving him, the appearance of being cast from Indiarubber - hence his name - Caoutchouc. The horse was exhibited in Timaru on the; 27th and 28th of June, and attracted a good many people. A sight of the horse is undoubtedly a very good shilling's worth, for he is a remarkable beast as evidencing the pranks good Dame Nature sometimes plays. Caoutchouc, with a skin glossy and healthy, and as hairless as a porpoise, is a shapely animal, possessing a good head and neck, broad chest, and with a capital fore-arm, he is the cut — and a very good cut too - of a light hack. He is perfectly quiet and seems to object but little to the pinchings and. handlings his visitors naturally inflict upon him to see if "a hair" cannot be found — but all to no purpose. He is the only known specimen which Nature has forgotten to put on the usual covering, and consequently Caoutchouc is worth his veritable weight in gold. His proprietor has, we hear, been offered L1000 [1000 pounds] for him, but the offer was refused, it being his intention of taking the horse to England for exhibition."
The Auckland Daily Southern Cross, Vol XXIX, November 28th, 1873 stated: THE HAIRLESS HORSE "CAOUTCHOUC." As our readers will perceive, from an advertisement in another column, a hairless horse called "Caoutchouc," from his India-rubber appearance, will shortly be exhibited for a short time in this city. Caoutchouc is truly a most wonderful specimen of the equine race. Examine him as closely as one may, not a vestige of hair can be discovered on any part of the animal. His skin very closely resembles that of an Australian black fellow, and is as smooth and delicate-looking as satin. His history, as well as his appearance, is strange. About six years ago he was captured out of a mob of wild horses, by some stockmen, near the Balonne River, Queensland. Strange to say he was captured in a locality where hairless natives are said to exist. After being caught he was used as a stock horse, and his peculiar appearance was thought nothing of by the persons who captured him. A surveyor, however, conceived the brilliant idea of exhibiting him, and bought the horse, not allowing his intention to be known, for £10. His present owners bought him from the surveyor for a large sum of money, and have frequently refused offers of £1,500 for him. Professor Le Stage of Sydney, and Professor Black of Otago, are both of the opinion that the bareness of the horse is natural. he is the very reverse of repulsive in appearance, and is perfectly tame. His head is rather large, and the absence of hair on his tail gives him a peculiar look, but on the whole he is as good-looking an animal as people could desire to see. he will hold his first levee on Saturday next in the building at the corner of Queen and West Queen streets. After being on view here for a limited period, he will be taken to San Francisco, thence through the various States of America and afterwards he will "do" the United Kingdom. Up to the present time he has been exhibited at every place of importance throughout Australia and New Zealand, and has been the cause of much wonder. It may safely be said that he is the first of his race to be presented to the admiring gaze of the public in undress uniform."
A HORSE WALKING MATCH for $250 a side – A Remarkable Colt – etc. Mr. Ott, one of the owners of the hairless horse, has an excellent opinion of this equine curiosity, as a walker, the animal having had much experience in that line while traveling from one city to another in Australia, while on exhibition there. Yesterday be bantered C. S. Crittenden to walk him against his celebrated walking horse, Irwin Davis, for $250 a side, five miles out. The banter was promptly accepted, and the race will probably take place on Saturday next, over the half-mile track at Agricultural Park. – San Francisco Chronicle, April 7, 1874
CAOUTCHOUC, THE HAIRLESS HORSE. This wonderful animal passed Reno for Virginia Saturday night. The horse is really a great living curiosity. He is a bronze black in color, has not one hair on any part of his body, and his skin is soft as a kid glove. He is of fine proportions, showing great muscular power, and completely fills the usual expression of being as "handsome as a picture." He was captured some years ago n Australia from a band of wild horses, and was exhibited through the principal towns of the Colony previous to being brought to California. Horses were not originally native to Australia, but were introduced there from England from the best stock of the mother country. Their rapid increase on the great stock ranges have caused herds containing thousands to become as free and wild as the mustangs of our great plains. In one of these herds this horse was discovered and caught. He is not the representative of any particular breed, but in his case nature has taken one of those strange freaks which occasionally puzzles the naturalist. There is no deception about this horse. He always has been hairless, and no doubt always will be. Barnum's woolly horse was a base fraud in comparison to him, and Barnum never will be happy until he becomes his owner, if he once gets his eyes on him. – Nevada State Journal, May 19, 1874
The "beautiful and wonderful" Caoutchouc was described in various newspapers as he travelled around the USA, for example this description in the Jefferson County Journal (New York) during 1874. A HAIRLESS HORSE. An equine curiosity arrived recently at San Francisco, in the shape of a hairless horse from Australia. The name of this remarkable animal is Caoutchouc, and he was captured in the neighbourhood of Balloon River, Queensland, when about two years old. He is now about six years of age, of a pure black from the tip of his ears to the hoofs, but without a single hair on any part of his body. The color is not unlike that of a black horse very closely clipped, and the microscope fails to detect a single hair from the nose to the tail. He is a gelding about fifteen hands high, well made and very compact, with very fine, clean legs, powerful forearms and thigh, and a clean broad-like, not unnaturally broad head, from which sparkle a bright pair of eyes beaming with good temper and docility. His owners, Out and Witchell, paid a handsome price for him, but refused £1,500 in the Colonies before leaving for this country. This freak of nature was examined by several eminent veterinary surgeons in Australia, and they came to but one opinion in regard to this horse, which was that there was no deception practiced, and that in reality he was born without the least particle of hair upon him, and consequently is one of the greatest curiosities in the way of horse flesh extant. - Live Stock Journal.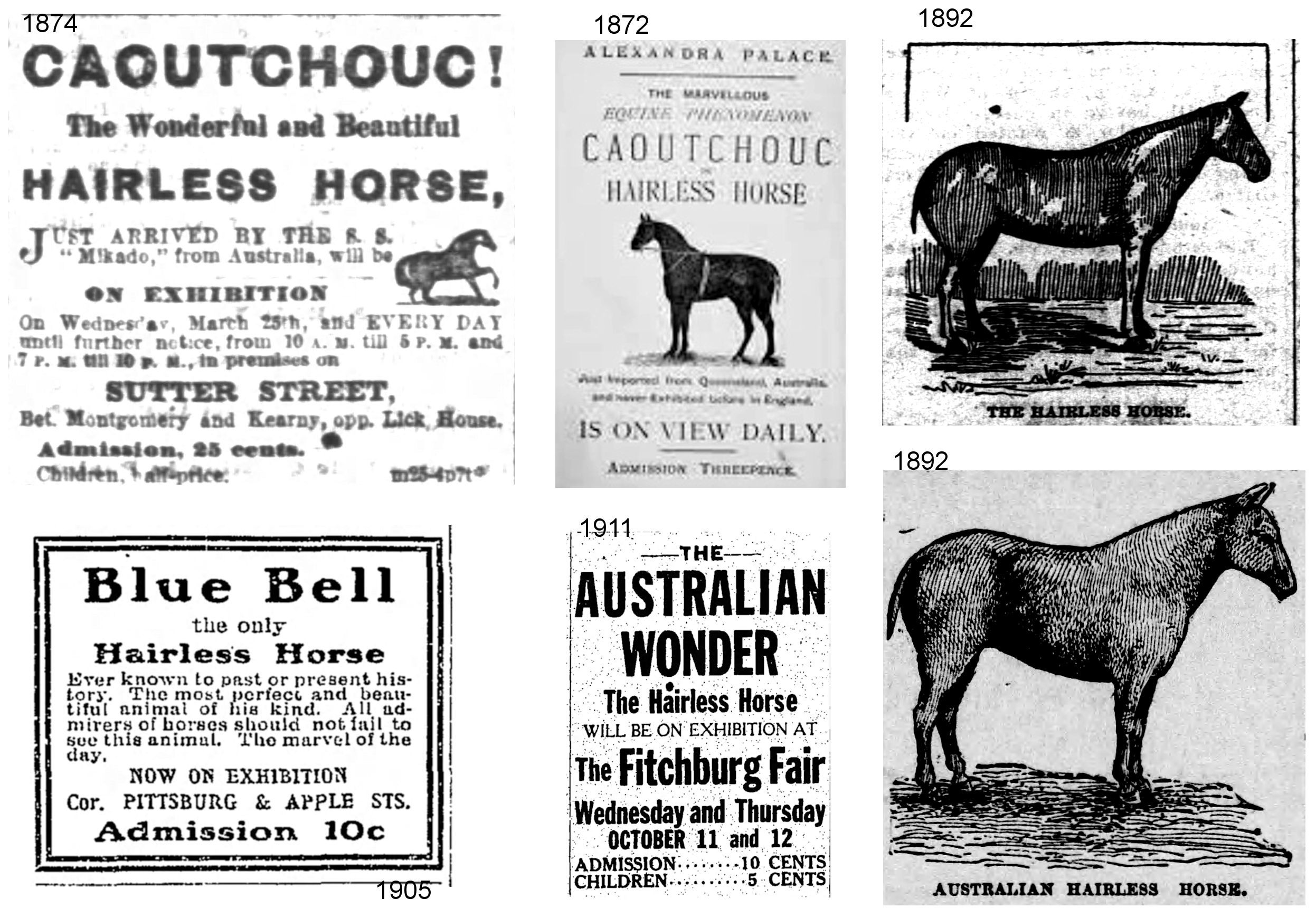 AN EQUINE WONDER. There arrived from New Zealand on the steamer City of Melbourne, the famous hairless horse, Caoutchouc, known as the "India-rubber horse." He is about eight years old, and was captured from among a herd of wild horses in Queensland, when two and a half years old. During the past two or three years he has been on exhibition in Australia and New Zealand, and is on his way to America and Europe, his owners Messrs Oat and Witchell having stopped here to exhibit him till the arrival of the steamer Mikado, when he will go on to San Francisco. We have examined this singular specimen of horse-flesh and find him to be one of the most perfect and symmetrically formed horses we have ever seen - really a handsomely-formed animal, his only deformity, (if such it can be called,) being the entire absence of hair on his body, mane and tail. Be looks just as if a thin skin of India-rubber had been stretched over him from the tips of his ears to the hoofs of his feet. But there is no humbug about him, and he appears just as when born. Every admirer of fine animals will be delighted to visit and examine this remarkable horse, for there is nothing unsightly about him. Hundreds of ladies including the wives of Governors, visited him in Australia, and we advise all who can, to go and see him. – The Hawaiian Gazette, February 11, 1874

Having been displayed in exhibitions and fairs around Australia, the hairless horse was sent to San Francisco, to be exhibited across the USA and then in the United Kingdom. He was exhibited at the Alexandra Palace, Muswell Hill, London in 1875 and advertised as a "marvellous equine phenomenon, Caoutchouc or hairless horse. Just imported from Queensland, Australia, and never before Exhibited in England, is on view daily. Admission threepence." His name, Caoutchouc, was from the Brazilian Tupi word for "rubber" and described the "india-rubber" feel of his nude skin. During July and August 1891, the Evening Capital Journal (Salem, Oregon) advertised Sells Brothers circus that included "The only wild Australian Hairless Horse" also described as "their hairless horse a genuine wonder" - could this have been Caoutchouc who would then have been in his twenties?

The Scientific American gave a description of Caoutchouc: This horse is absolutely destitute of hair. Neither neck nor tail nor any part of the body shows the least hirsute growth. The texture of the skin is silky and smooth ; the color is almost a full black. The animal is of rather heavy type, and with his delicate surface does not produce any unpleasant impression. There are said to be two such horses known to exist in this country. One of them was foaled in the west ; the one we illustrate is credited to Australia. The skin of one of these animals is affected curiously, the perspiratory function seeming to be absent. The horse does not sweat when exercised, and the mouth or nose seems to provide the escape for what would otherwise be true skin perspiration.

1875. COSWAR'S HAIRLESS HORSE (LOUISVILLE)

Capture of a Wild Hairless Horse With a Perfectly Smooth Glossy Black Skin (from the Louisville Commercial). W. G. Coswar's Residence, McLean County, October 22 [1875].— A very singular animal was captured a few days ago in this vicinity by W. G. Coswar, and having no name for him, we have called him the "hairless horse." This, perhaps, is one of the greatest phenomena the Western Hemisphere can boast of. The animal was captured in the neighborhood of Green River, seven miles north of Calhoun. He was discovered scampering through the woods, trying to reach some horses that were grazing just inside the farm, and by opening a way for him, the animal was soon captured. On examining him, he was found to be entirely destitute of a single solitary hair. In color he is a beautiful glossy black, and has the appearance of being cast from India rubber; the skin is so smooth and clean, that any lady can rub him without soiling the finest kid glove. It seems that he has been captured before, and in a wild state, and still retains a portion of that proud spirit, which captivity cannot subdue. We have no idea where he came from, unless he escaped from some menagerie, and we have read of no such animal with any show. He is one of the most remarkable freaks of nature that ever came to light occasionally to perplex the casual philosopher, and to provoke the unbounded astonishment of the beholder.

1891. THE STURGEON BAY HAIRLESS HORSE, WISCONSIN

This horse was foaled in 1885 and reports differed as to whether it was born hairless or had lost its hair due to disease.

T.J. Crommel, of Sturgeon Bay, [Wisconsin,] has sold a half interest in his hairless horse for S1,200. The animal will be placed on exhibition. – April 1891

The Sturgeon Bay Advocate gave the history of the hairless horse, claiming that it lost its hair from a disease contracted by being kept in very poor quarters while a colt and soon after its hair came off and never grew again and the owner was disgusted with it and sold it for a trifle. It was owned by a Bohemian farmer in Door county. – September 1891

HAIRLESS HORSE EXHIBITED AT MENOMINEE. Menominee. Mich., Sept. 12.— At the Menominee County fair, held in this city this week, a hairless horse was an object of much curiosity. Nature evidently slipped a cog when this particular equine was ushered into the world. He is a fine looking animal, 6 years old, with a sleek, smooth hide, but with not a hair to break the monotony of the glossy black surface. His stumpy tail, maneless neck and "winkerless" eye-lids are prominent points of this lusus naturae in the horse family. He was foaled near Sturgeon Bay, Wis., in a Belgian settlement, and for a few years after his birth crops failed and the superstitious foreigners, concluding that the freak had "hoodooed" them, disposed of the animal to Menominee parties for $40. Five thousand dollars has already been offered the lucky purchasers for the horse, but the offer has been declined on the well-grounded belief that more could be made by placing him on exhibition. – September 19, 1891

In this latter tent was seen the hairless horse from Michigan. The animal has no hair whatever on body or tail. It is slate colored, with flesh colored spots on the head. – The Cincinnati Enquirer, September 28, 1891

1892. INDIANA HAIRLESS HORSE

There are said to be two such horses known to exist in this country. One of them was foaled in the west; the one we illustrate is credited to Australia. - The Daily Democrat, Feb 15, 1892

Greensburg, Ind., has a curiosity in the form of a hairless horse, which is a genuine wonder of its kind. This horse, which is entirely destitute of any hirsute adornment whatever, is three years old, weighs about 700 pounds and has an intelligent looking head well set upon shapely shoulders. Its sire was a Morgan horse and its dam an Appaloosa mare. The full-blooded Morgans are of that equine species generally termed in common vernacular "pie-bald," but none were ever known to be hairless. The horse is healthy and thrifty and gives promise of living the full time of all horses. Its owner, Mr. George S. Littell, is very proud of his freak and has refused good offers for it. Being naked the animal suffers greatly from cold, and it is necessary to keep him swathed in blankets and leggings to make him comfortable. In fly time he is at the mercy of the insects, save for the linen duster he wears.— New York World, April 1892

A second hairless horse, a counterpart of the Indiana curiosity, has been discovered in Australia. Horses without hair are extremely rare, and so far as is known at present the two mentioned are the only ones on the globe. The Australian equine is well built and of perfectly normal proportions. The texture of the skin is soft and silky, the color a dark brown. This hairless animal has never been known to perspire, which would in a measure accounts for the absence of hair, were it not for the fact that dogs do not perspire and are yet covered with hair. As is the case with dogs, mouth, nose, and tongue of this anomaly promote perspiration and secretion when the horse is put to labor. – The Daily Republican, June 24, 1892

1905. BLUE BELL

Numerous local papers ran the press release "Don't fail to see Blue Bell, the world's greatest living curiosity. She stands 15 hands 3 inches, weighs 1400 lbs and is one of the prettiest specimens of horse flesh one ever saw. There is positively not a single hair on her. The hide is so thin on the neck that it is transparent through two thicknesses while on the rump it is so thick that it cannot be even creased. The tail and other features greatly resemble the same parts of an elephant. She is seven years old and was raised in Butler county. Pa. Will be on exhibition at Mechanic and Baltimore streets. A fit exhibition for ladies or children."

In press releases of 1906, Blue Bell was described as a freak that was bound to arouse wide scientific interest. Despite the fame of Caoutchouc, it seemed no-one had come forward to say that the duplicate had ever been known of this remarkable phenomenon. The press release, which appeared when the fair arrived in town, went on to say:

The "Hairless Horse," from the standpoint of shape is a beautiful animal weighing 1400 pounds, named Blue Bell. In intelligence, gentleness, strength and horse sense she is in every respect a model of the equine family. But she is absolutely hairless. There isn't a single hair on her body, neither on head or ears, or on legs or fetlocks, nor has she any mane or switch [tail]. Her color is blue, and she is well named. The first impression of one who sees her is that she is of a dark elephant hue.

The history of this horse is one of interest not only to the general public but to students of scientific subjects as well. She was bred by Mrs. Kenter of Butler County. One day she drove to the town of Butler to see a circus. The mare she had hitched to her buggy was frightened by an elephant and ran away. A colt soon after was the "Hairless Horse," the freak Blue Bell.

The skin of the breast and saddle of Blue Bell is almost as thin as silk. In the flanks and back it is as thick as that of an elephant, and the tail resembles that of an elephant. Students of natural history have frequently heard of freaks of this character, and to them the appearance of an animal like Blue Bell, while interesting, is not incredible. There 1s also Scriptural authority for an oddity like the "Hairless Horse." Those who doubt this are requested to read the 30th chapter of Genesis, to learn how Jacob raised cattle ring- stroked, spotted and speckled.

Mrs. Kenter not long ago sold the horse to Robert Rumbaugh, who recently sold her to Frank Fraunfelter, the well-known Easton horseman, owner of Picknell and Minnie Norvel. Mr. Fraunfelter's campaign has been handicapped by the accident to his driver, Mai Quintin, who suffered a broken leg in a spill at the Bethlehem Fair. He accordingly bought Blue Bell. Crowds have been attracted to her tent, and her fame is spreading rapidly. Mr. Fraunfelter has been requested to exhibit her at many places and has had several offers from museums. –

Other reports in 1906 described the seven year old Blue Bell (meaning she was foaled in 1889), the Hairless Horse, displayed by Rumbaugh and Hart, of Greensburg, as the only living hairless horse in the world — part horse and part elephant standing 15 hands, three inches high.

And then we have this, which appears to conflate the story of Blue Bell of Butler County, Pa., with that of Caoutchouc, Australia! "A Hairless Horse
A very interesting equine curiosity, in the shape of a horse absolutely without hair, arrived recently from Australia, says the San Francisco Call. It was exhibited to a few connoisseurs of horseflesh by the owner, R. A. Cunningham. The horse, or rather the mare, for it belongs to the latter gender, is a pronounced phenomenon. Her skin is black and as smooth and as fine as a human being. She stands a little over 15 hands high, and is about 7 years old. It would be difficult to find a handsomer or more shapely animal. She looks well bred and is strongly developed. In action the movement of every muscle is plainly discernible by reason of the animal's utter nakedness. Were it not for her abnormal appearance the horse would make a most excellent carriage horse. Anything more peculiar than the appearance of this beast, with her smooth, shiny skin, black as ebony, attempting to whisk from her back with a hairless, stumpy tail, the flies clustering there it is impossible to conceive. The softness and smoothness of every portion of her anatomy, even where the mane ought to be found, precludes the idea that the hair has been gotten rid of artificially, as by shaving. The black-leading process which has not infrequently been used in the preparation of freaks of this character, has not been resorted to here. Viewed from behind, something in the make of the animals back suggests the elephant. Mr. Cunningham purchased the mare in Echuca, Victoria, from a farmer, who utilized her as a buggy horse. She was driven every day a distance of ten miles, her tender skin being protected by rugs and blankets."

1931. JAPANESE HAIRLESS HORSES

TOKYO. (UP). Not particularly noticed by thousands of visitors, a hairless horse had occupied an enclosure in Tokyo's municipal zoo in Ueno park for the past several years. A few days ago. Harold J. Coolidge, a Boston lawyer in Tokyo to present to Tokyo imperial university a collection of American Indian relics from Peabody museum at Harvard university saw the animal. There is now a chance that it may cross the Pacific to an American zoo. Only three hairless horses are known outside Japan, and even here they are not numerous. On Tanega island, off the southeast tip of Japan, a man has been breeding them for forty years. Originally brought from Korea by a Japanese invader more than three centuries ago, hairless horses were common at one time in southern Japan. They died out, though, and the breeder on Tanega island had to start with a single male, which he crossed with an ordinary horse. When Coolidge heard that the breeder had seven or eight more, he suggested to the officials of the zoo that they exchange the one they now have with an American zoo for an American bison, which they lack. Small in stature, like most horses in the orient, the animal has a dull black skin, free of hairs except for a few scattered patches on its back. There is no mane, and the tail is short and flat. Because the tail resembles that of an ox, the hairless horse is known in Japan as the oxen-horse.

2003. HARRY THE HAIRLESS PERCHERON

Somewhat more recent is this report from The Observer, LaGrande, Oregon, November 11th, 2003. Harry is a big, black hairless — that's hairless — horse. "His hair follicles are there, they just don't grow hair," owner Suzi Romine of La Grande says, shrugging. In sharp contrast to Harry's smooth, dark hide the scraggly, faded gray-blond strands of his sparse mane and tail look like they've been severely over-processed by an indifferent hair stylist. Combined with a few long whiskers on his chin, Harry is definitely odd looking. And though he may capture your attention by his strange looks, he will completely win you over with his heart. While most hairless horses don't survive long term due to complications, Percheron Harry was one of the rare hairless horses that survived well into adulthood. He was probably the result of a brother-sister mating, and had some patches of hair when born. Unlike the India-rubber skinned horses in historical reports, Harry grew some straggly hair on the mane and lower legs.

A HORNED HORSE (1877)

A Horned Horse – St Louis Globe Democrat, August 3rd, 1877. Curious Freak of Nature – A Study for Naturalists Mr. H. Howard, corner of Seventh street and Clark Avenue, is the owner of a horse that has two rudimentary horns growing from the interior of the base of the ears, strongly resembling the horns of a buffalo. The horns are of equal size, about six inches long and curved like those of the bovine species. Inside the ears there is a soft, flexible ligature, covered with hair; the points are tipped with about two inches of hard, black horn, and project forward. When the ears are moved the horns become more rigid in the soft parts, and stand out like the horns of an ox or a buffalo. The horns drop off every spring, about the 1st of May, and are succeeded by new ones of the same size. The horse is a bay mustang, about fourteen hands high, and rather poor in flesh at present. He is perfectly gentle, and will readily enter a house or other inclosure, and allow himself to be handled. Mr. John Grimsley, who knows something about a horse, examined his mouth yesterday, and pronounced him seven years old. He says the animal is the most wonderful thing in the equine line he ever saw, being a greater curiosity than Fremont's Woolly horse, or the hairless horse exhibited in the city some years ago.

The animal was purchased several days ago by Mr. Howard of a Texan drover named D. J. McCarthy, who gave a written statement of his history in the following words: "Statement of pedigree of horned horse Billy by D. J. McCarthy: Billy was foaled in the year 1871, on the prairies of Western Texas. He has run with 300 or 400 wild horses until 1870. He was captured with some more mustangs in in 1876; stolen by Indians December 8, 1870, and run to the Rio Grande River ; was recaptured by some Mexicans and sold to the above named. N. B. The horns he sheds once a year, in spring, same as deer or elk, 6 and a half inches every year."

The former owner of Billy accounted for the presence of the horns by supposing that his dam, while in foal, became frightened at a buffalo. However this may be, the horns are there, and if anyone has a better theory than McCarthy's let him promulgate it. Sheriff Finn, who has seen more horses than any other living man, having once witnessed the passage over a prairie in Mexico 6,000,000 wild mustangs, declares that he never heard of a horse in this country with horns. Justice Young saw Billy yesterday, and although familiar with the unicorn, the behemoth, the leviathan and the hippopotamus, was unable to account for the freak of nature which placed a pair of useless horns upon the head of this Texan mustang. Billy would be an acquisition to the Zoological Garden. He is a fast runner, and his former owner prized him highly as a capital animal for herding purposes.

You are visitor number: