VENUS CROCHET/TATTING HOOK
A miniscule crochet hook given to me by friends. It is metal, Venus brand, made in England, size 0. I'm guessing it was used for tatting (crocheting cotton into durable lace). I found one mention of Venus crochet hooks in a 1914 advertisement and another in 1940 in a crochet pattern in a newspaper. Being very fine, they had protective steel caps to protect the hook when not in use.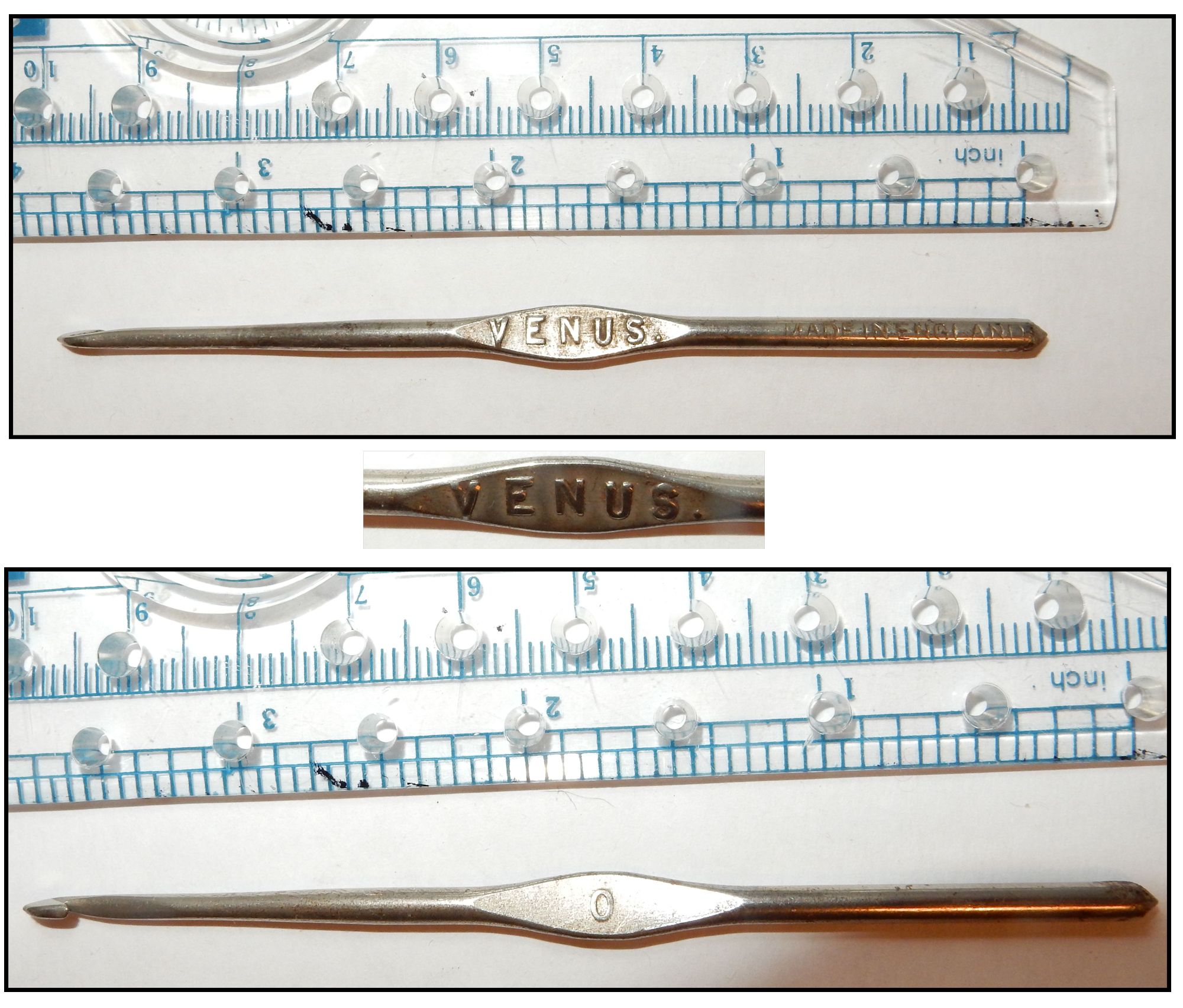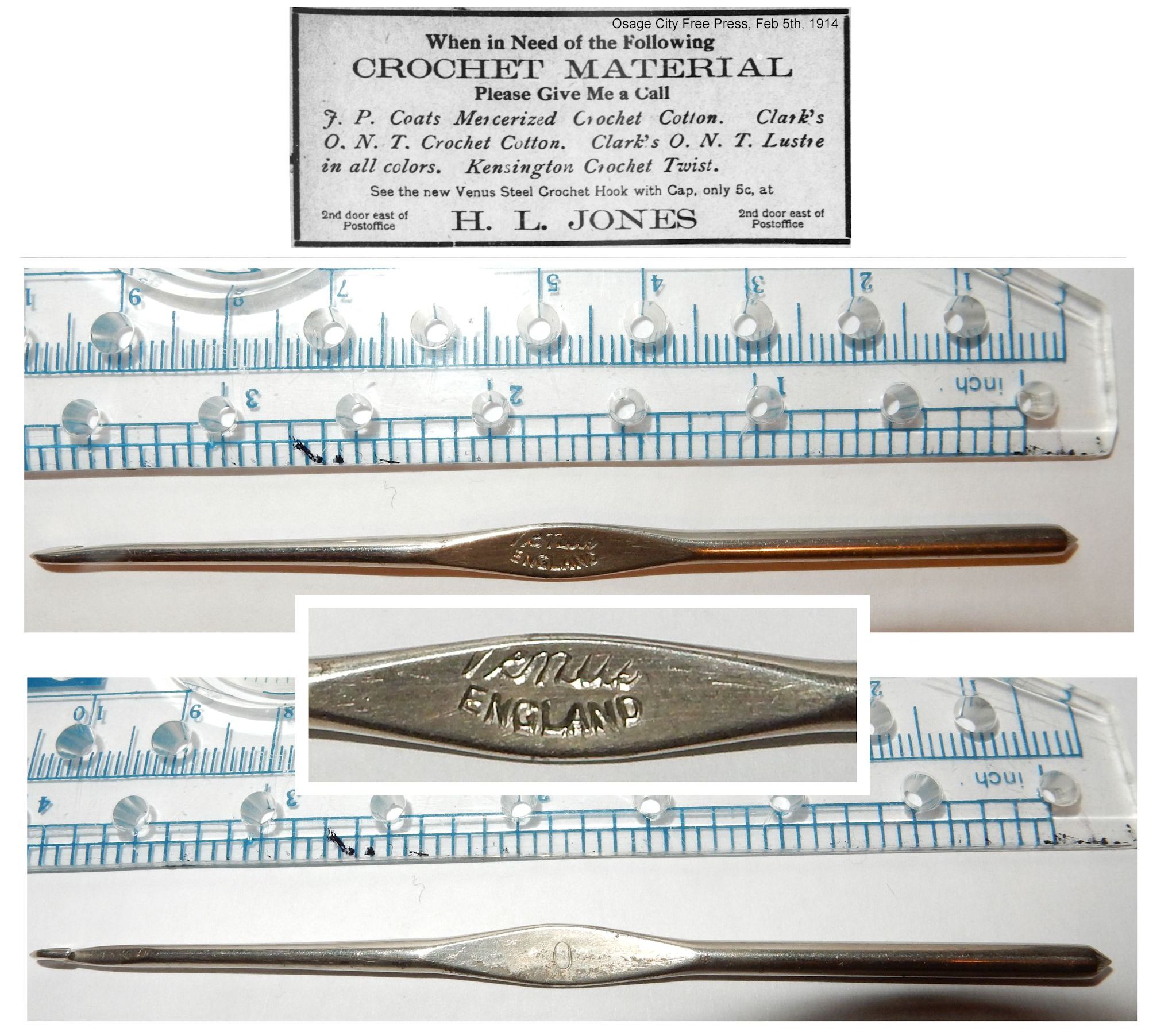 MILWARD CROCHET/TATTING HOOK
Back in 1676, when needle-making was a cottage industry, James Milward was a needle maker on Fish Hill. In 1730, 40 year old Symon Milward founded Henry Milward & Sons, naming it for his infant son, Henry. From then on, Milward's became well known as the makers of good quality needles. At one time Milward's was the largest needle manufacturer in the world, producing knitting needles, surgical needles, and fish hooks.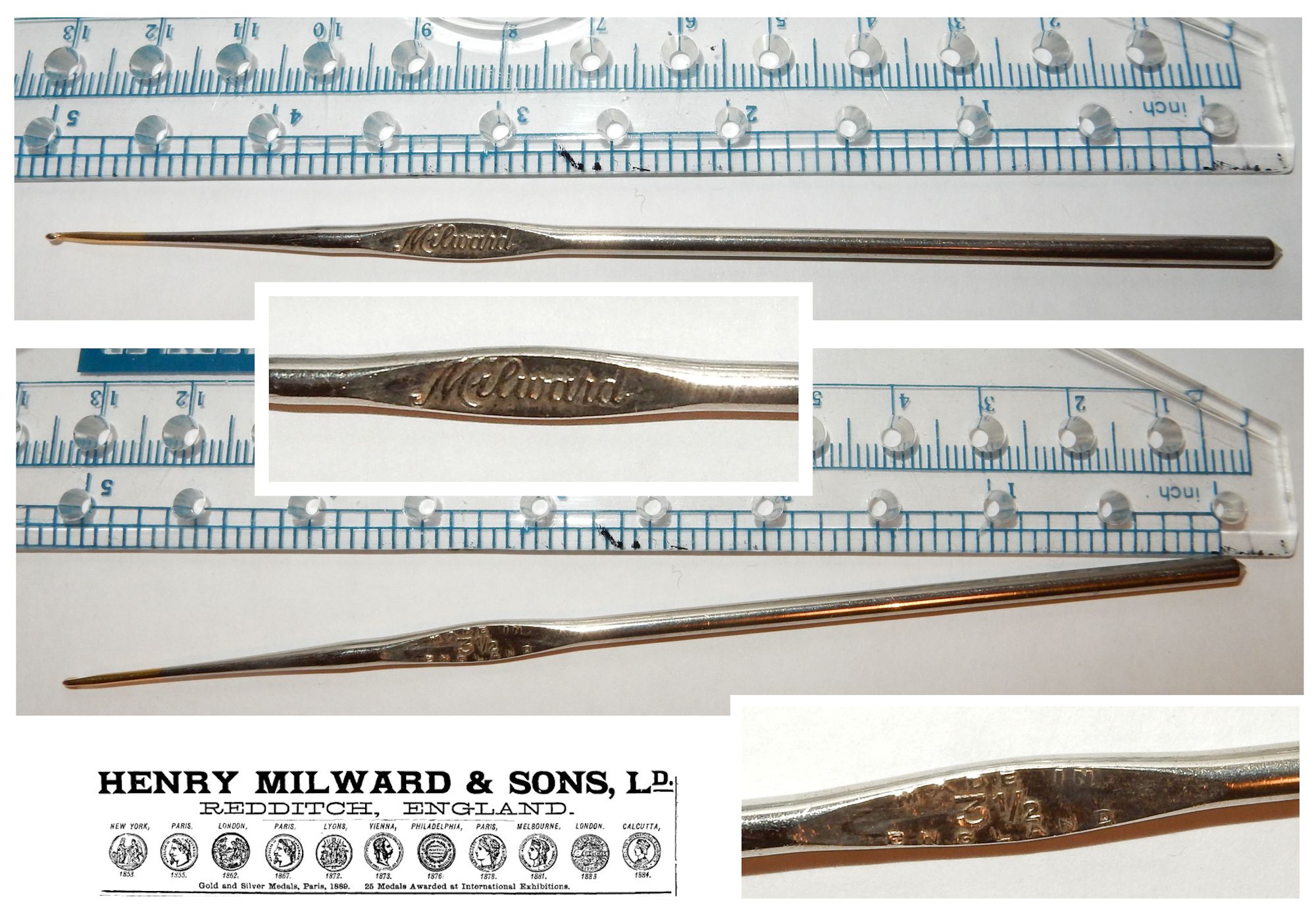 The industry became mechanised during the Industrial Revolution. In 1850, H Milward & Sons operated from Washford Mills, Ipsley Street, Redditch. By the late 1800s they were the largest manufacturer in the whole district. Redditch became the hub of the British needle industry. Small needle businesses amalgamated, often through inter-marriage. Henry Milward & Sons expanded through amalgamation with W. Avery, Kirby Beard (dates not certain), W. Barfleet & Sons (1902), John James & Sons (1912), Crescent Manufacturing Company (1926), and Kirby, Beard & Co (1929). Colonel Henry Milward, an avid angler, created Milward's Fishing Tackle Company which lasted until 1965, when hedied.
Meanwhile, William Hall of Studley amalgamated with Thos. Harper, Samuel Thomas, H. Wilkes and William Vale (and others) to create Amalgamated Needles & Fish Hooks. This company and H E Milward & Sons were the 2 largest needle makers in the region. In 1930, Milward's of Redditch and Hall's of Studley joined forces under a single holding company, Amalgamated Needles and Fish Hooks Limited. In 1932 they formed a separate manufacturing organisation called The English Needle and Fishing Tackle Co. Ltd (ENTACO). Milward's needles continued in Redditch (with satellite factories in other towns in the region) until the 1950s. Needle manufacturing was split between Studley and Redditch during the war. In 1952 Arrow Works opened and produced some of the Milward's brands.
In 1973 the entire share capital was purchased by Coats Patons Ltd as part of Needle Industries. In 1989, Milward's (a division of Needle Industries) took over Abel Morrall's Aero Needles. Although Milwards owned many companies, each retained their own trade mark and name. Needle Industries continued until the 1990s when Coats sold it to its management, but retained the Milwards brand name for its own use. Following the management buyout of Needle Industries, ENTACO was registered in 1991 and operated out of the old Victoria Works, adjacent to Needle Industries. ENTACO were also involved in a cartel with Prym and Coats at the later end of the 20th century.