BOOKS OF WONDER
When I was a child, my father had 2 sets of encyclopedias that he kept in the spare bedroom. One was the blue-bound 1920s edition of "The Children's Encyclopedia" which he'd bought and the other was the 1930s "Wonderland of Knowledge" that his parents subscribed to when he was young. As a precocious reader, I was enthralled by these books from a quite young age. Rainy days were spent lying on the spare bed with my nose in a book of knowledge. As an adult, I gained custody of my father's 2 sets as well as collecting my own sets of books of wonder/knowledge (unlike conventional encyclopedias they are sectional not alphabetical). I was captivated by reading about historical topics and events "as they happened". Over the years, I've found a few other such sets of books to bury my head in on rainy days - I don't go out of my way looking for them, but sometimes an interesting book or set turns up at a boot fair or charity shop.
Arthur Mee's The Children's Encyclopedia
| | |
| --- | --- |
| 1911 edition of The Children's Encyclopædia with brown binding; plus volume 5 of the same edition in blue binding | 1913 advert for The Children's Encyclopædia (The Strand Magazine) |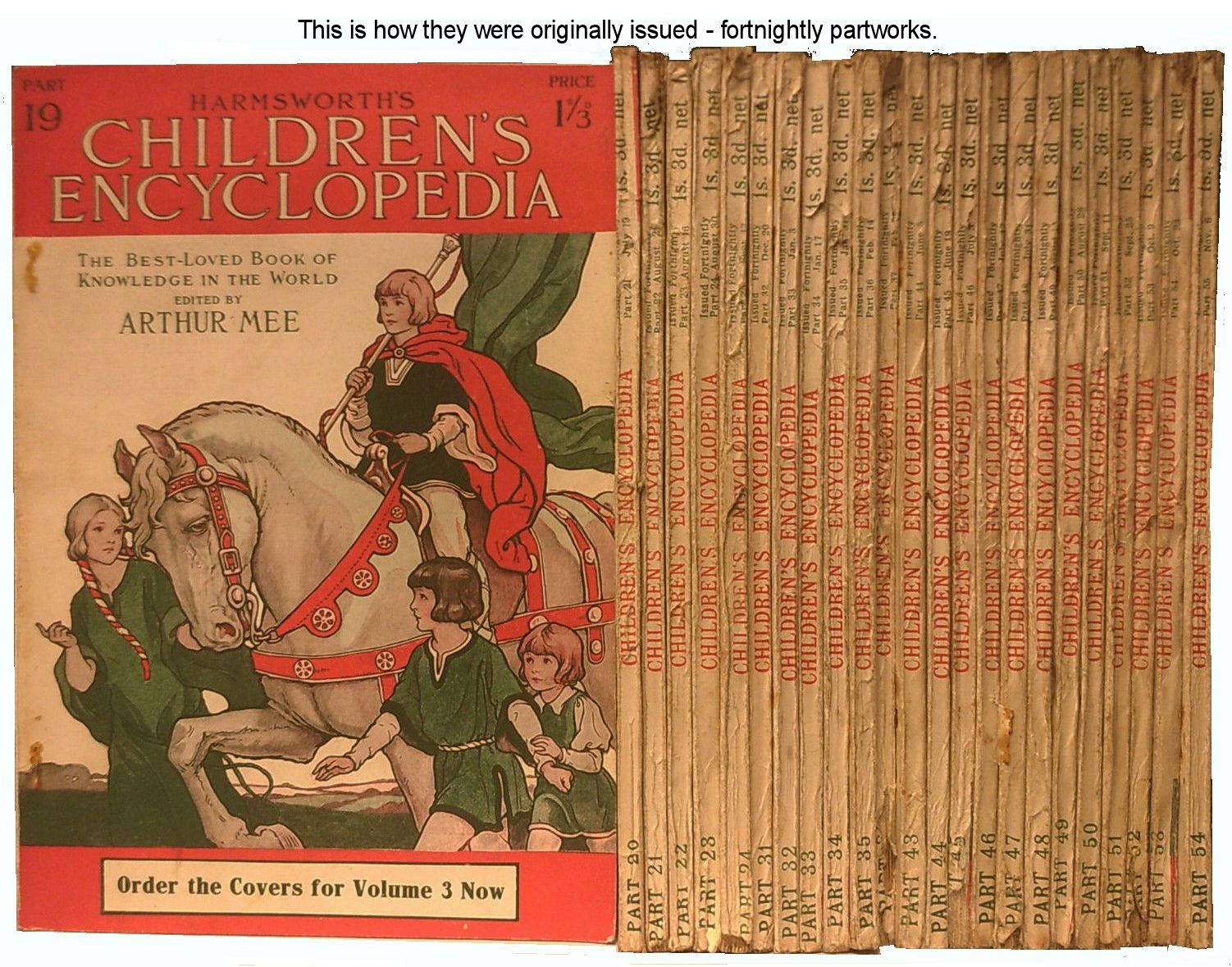 Arthur Mee's "The Children's Encyclopædia" was first published by the Educational Book Company, part of the Amalgamated Press of London. Some readers would have collected it as a weekly partworks between from March 1908 and February 1910 and bound these into volumes. The first 8-volume edition, already bound, was published in 1910. Later editions used the spelling "Encyclopedia" and were expanded to 10 volumes. The last edition was published in 1964. In the USA, "The Children's Encyclopedia" was published in 1910 by Grolier under the name "The Book of Knowledge", bound into as many as 20 slim volumes. This can cause confusion because, in Britain, Waverley published a series of encyclopedias called "The Book of Knowledge" (alphabetically arranged encyclopedias) which were edited by a series of different editors including Harold FB Wheeler (The Book of Knowledge, circa 1935), Sir John Hammerton (The Book of Knowledge, 1955) and Gordon Stowell (The New Book of Knowledge, 1959).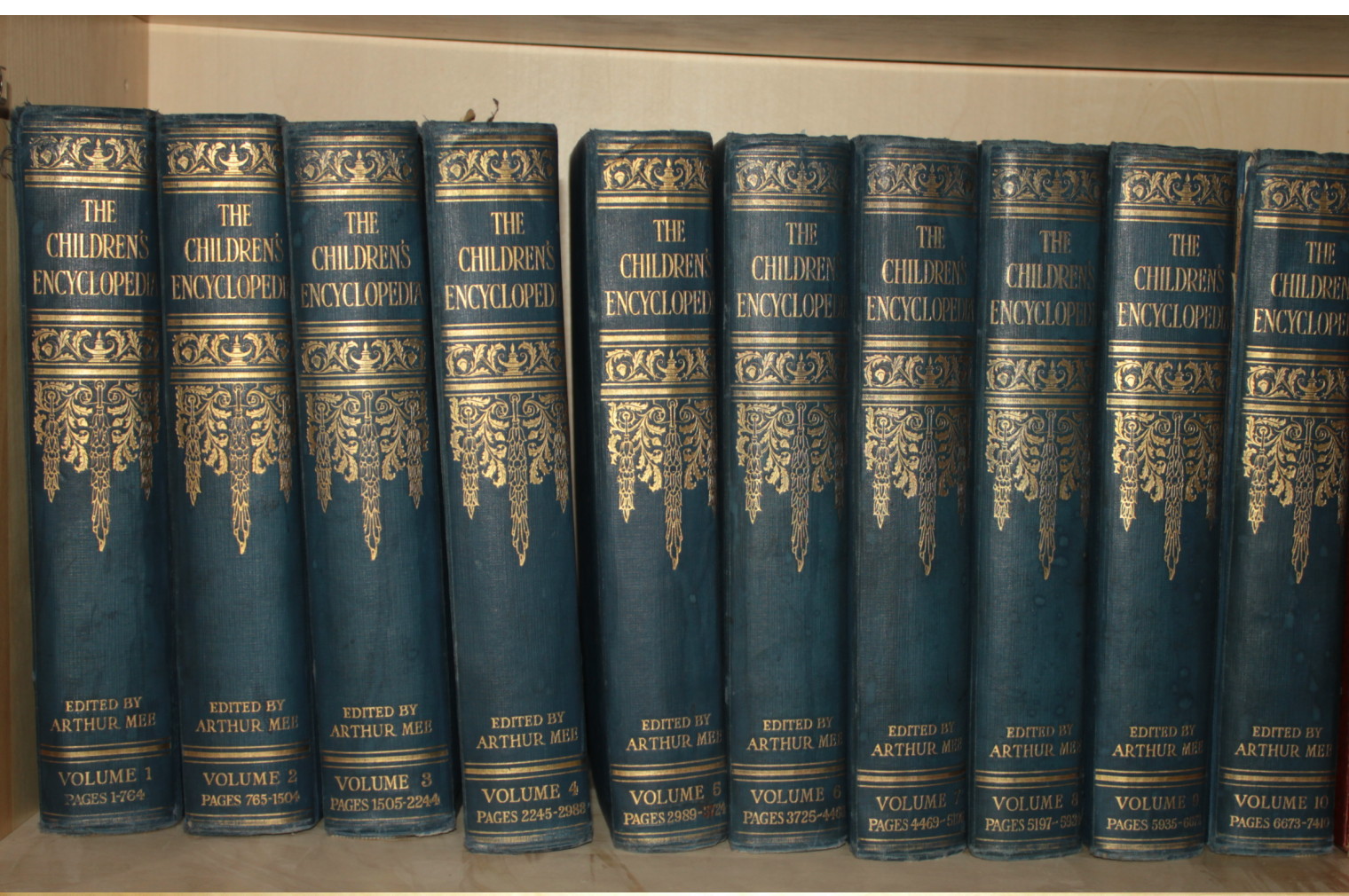 1920s edition of The Children's Encyclopedia with blue binding
"The Children's Encyclopedia" was not alphabetical in format, but was originally divided into sections (better suited to being issued as a partworks that could be read as magazines, collected and bound). The last volume contained an alphabetical index. The sections avoided scientific terms, but included topics such as geology, biology and astronomy in sections such as: Familiar Things; Wonder; Nature; The Child's Own Life; The Earth; All Countries; Great Lives; Golden Deeds; Bible Stories; Famous Books; Stories; Poetry; School Lessons; Things To Make and Things To Do. As the years passed, different editions had some changes to the sections. Being aimed at children, the books contained numerous illustrations, photographs, engravings, maps and diagrams. After the initial run, it was reissued in a monthly format as the "New Children's Encyclopædia" and later as "Children's Encyclopædia Magazine", "Children's Magazine" and, finally, "My Magazine" (1914). From September 1910, the magazine included a news supplement called "The Little Paper" which was the forerunner of Arthur Mee's "Children's Newspaper" launched in 1919.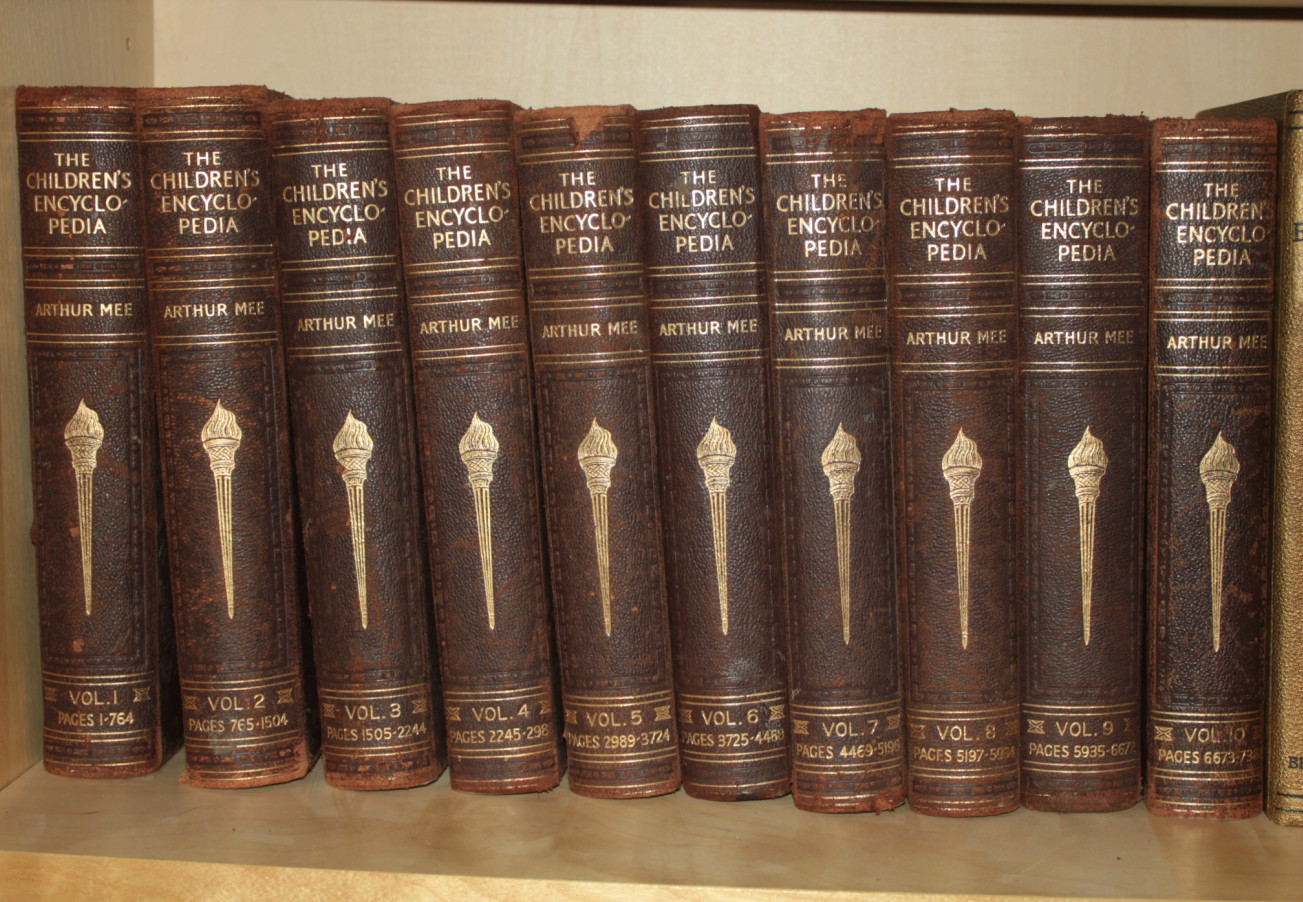 1940s edition of The Children's Encyclopedia with red-brown binding
"The Children's Encyclopædia" sold around 800,000 copies in 12 editions before being extensively revised in the early 1920s. It was then reissued in October 1922 as a 59-part, 7,412-page, 10-volume set "The Children's Encyclopedia" (losing the ae digraph). Arthur Mee died in 1943, but new editions of "The Children's Encyclopedia" continued to be produced. By 1946, it had gone through 14 editions under the imprint of The Educational Book Co and thee were foreign editions in French, Italian, Spanish and Chinese. The final edition was the much revised "Arthur Mee's Children's Encyclopedia" in 1964.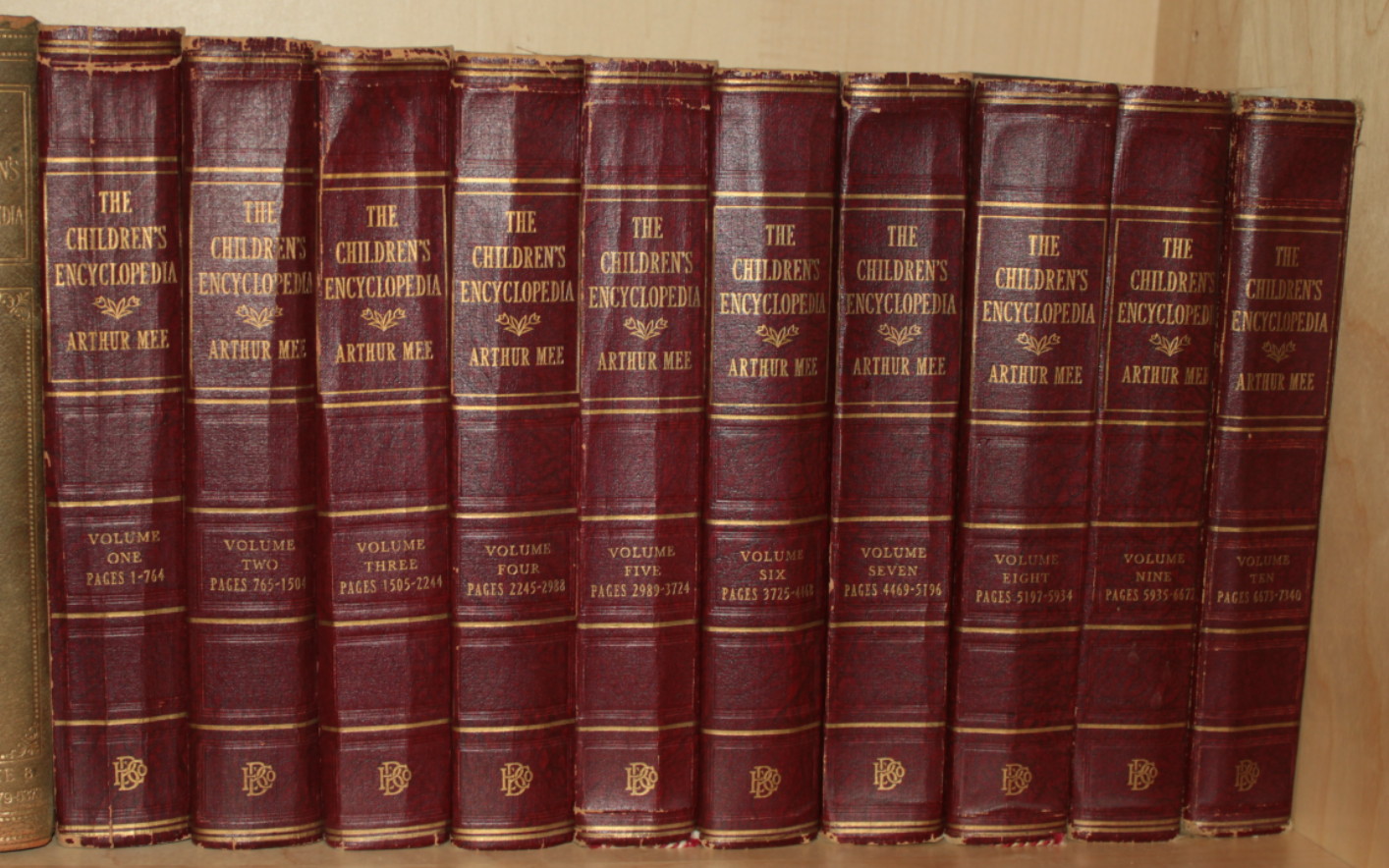 1950s edition of The Children's Encyclopedia with red binding
The earliest edition reflects a more genteel way of life around the Edwardian child. The motorcar is a rarity as can be seen in a section about the rules of the road where horse-drawn carts are depicted. Later editions recognise that many boys are fascinated by steam trains. A menagerie race where the pets include a tame fox cub, geese, cats and dogs is a pleasant outdoor diversion. the reader learns about the people and products of the British Empire. Later editions also have to tackle the world wars which were fought against "evil men" while sections about where fur coats come from are lost.
My sets reflect the major revisions:
1909-11 (8 vols, brown binding)
1923 (10 vols, blue binding)
1947 (ish) (10 vols, red binding)
1957 (ish) (10 vols, red binding)
The 1940s and 1950s sets turn up quite often in charity shops and secondhand book stalls, often for around £20-£25. I found a 1957 set (with coronation colour supplement) being offered for only £5 at a Methodist Church book sale. My 1909-11 edition was £50 in an Oxfam shop. Volume 6 of a circa 1946 set in Portobello Road's Oxfam Bookshop (£10). It's a different edition from the ones I bought today because it refers to the "Hitler War". It also has pages missing (which I can now repair by scanning the corresponding pages of my new set). 1920s - 1940s sets of The Children's Encyclopedia also turn up free of cost in book exchange shops.

Arthur Mee's The Children's Treasure House

This 12-volume series is described as "A Companion to the Children's Encyclopedia". I picked up volume 2 in Oxfam and have recently ordered the remaining volumes online (about £2 each). Unlike the encyclopedias, the volumes are organised by subject. Most volumes have a core theme, although Vol 7 appears to be a mixture of items that overflowed from Vols 1 - 6. The titles of the volumes are:

1. Immortal Heroes of the World: Some of the greatest people who have ever lived
2. Nature in All Her Glory: The book of the changing year
3. The Motherland and the Empire: Round the world with the flag
4. The Realms of Gold: Books, pictures, and beautiful rare things
5. How and Why: Questions, answers, and explanations
6. The Panorama of the World: The earth's great places and peoples
7. The Storyteller: Five hundred tales and fables
8. Our World and the Others: The age-old story of earth and sky and sea
9. The Bedtime Book: One thousand cheerful things
10. The Amazing Animal Kingdom: Wild life and its adventures
11. The Great Poetry Book: Nine hundred poems of the world
12. The Fireside Lesson Book: Easy studies out of school

Most of my set of "The Children's Treasure House" is bound in red, but because I've collected these volume-by-volume, a few are bound in green. Currently I don't have Vol 12.

The second of 10 children, Arthur Mee was born on July 21, 1875, at Stapleford near Nottingham, England. His father, Henry, was a Baptist artisan and political radical. Mee started work at 14, reading copy to the proof-reader on the local paper. By the age of 20 he edited the evening edition. At age 21, he was the literary editor of the Daily Mail in London, where he expounded the patriotic, moral, temperance-driven views of his Baptist upbringing in 6 lengthy columns weekly, He also edited a picture magazine and worked on two political biographies. Mee was incredibly productive and helped to write "Harmsworth's Self-Educator" (I have the 1914/15 edition of this) as well as the "Children's Encyclopedia", "My Magazine", "The Children's Newspaper" and a numerous other books. He died on 27 May 1943.

Mee had a childlike wonder and curiosity about everything and was optimistic and enthusiastic. This was reflected in his accessible writing style and popularity with young readers. The structure of the encyclopedia encouraged its readers to explore many topics. It reflects the attitudes of its time i.e. English and Christian superiority, but the books contain stories and information from around the world and also evolution. His sections on great deeds were progressive in including women as well as men. Despite this, Mee had no particular affinity for children and he had only one child.

"The Book of Knowledge" and "The New Book of Knowledge"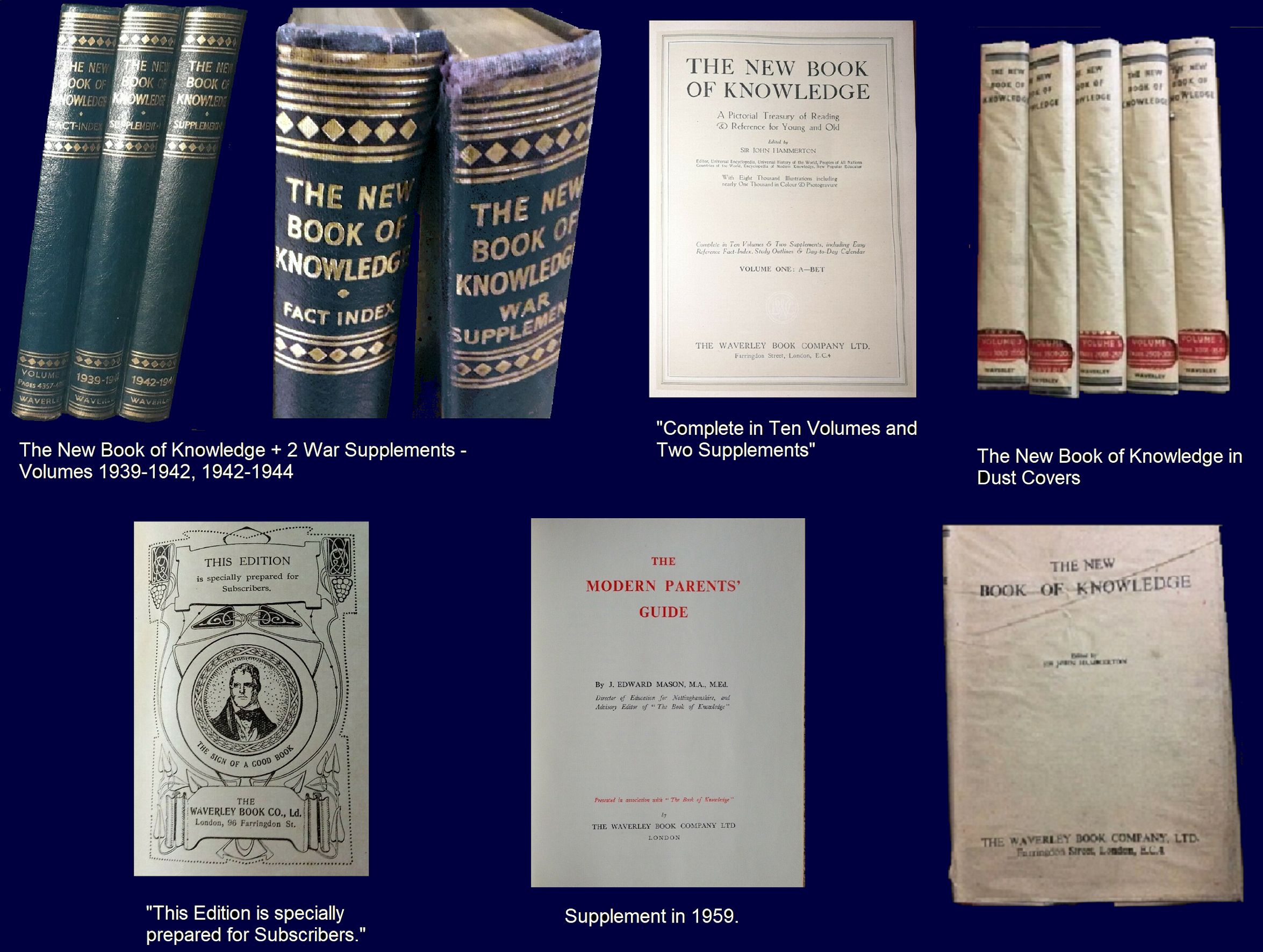 While Arthur Mee's "The Children's Encyclopedia" was know as "The Book of Knowledge" in the US, this title applied to a completely different set of encyclopedias in Britain (as a result they were known elsewhere as "Cassell's Book of Knowledge" to avoid confusion). These were 8-volume and 10-volume sets arranged as alphabetical encyclopedias. The Book of Knowledge was printed in London by The Waverley Book Company and was a multi-volume family encyclopaedia with entries were designed to appeal to both adults and children. Some sets came with additional supplements to reflect important events e.g. WWII, Coronation, Fact Index, Dictionary/Book of Words or "The Modern Parents Guide" (which was otherwise sold as a separate publication). Some sets were special subscriber editions.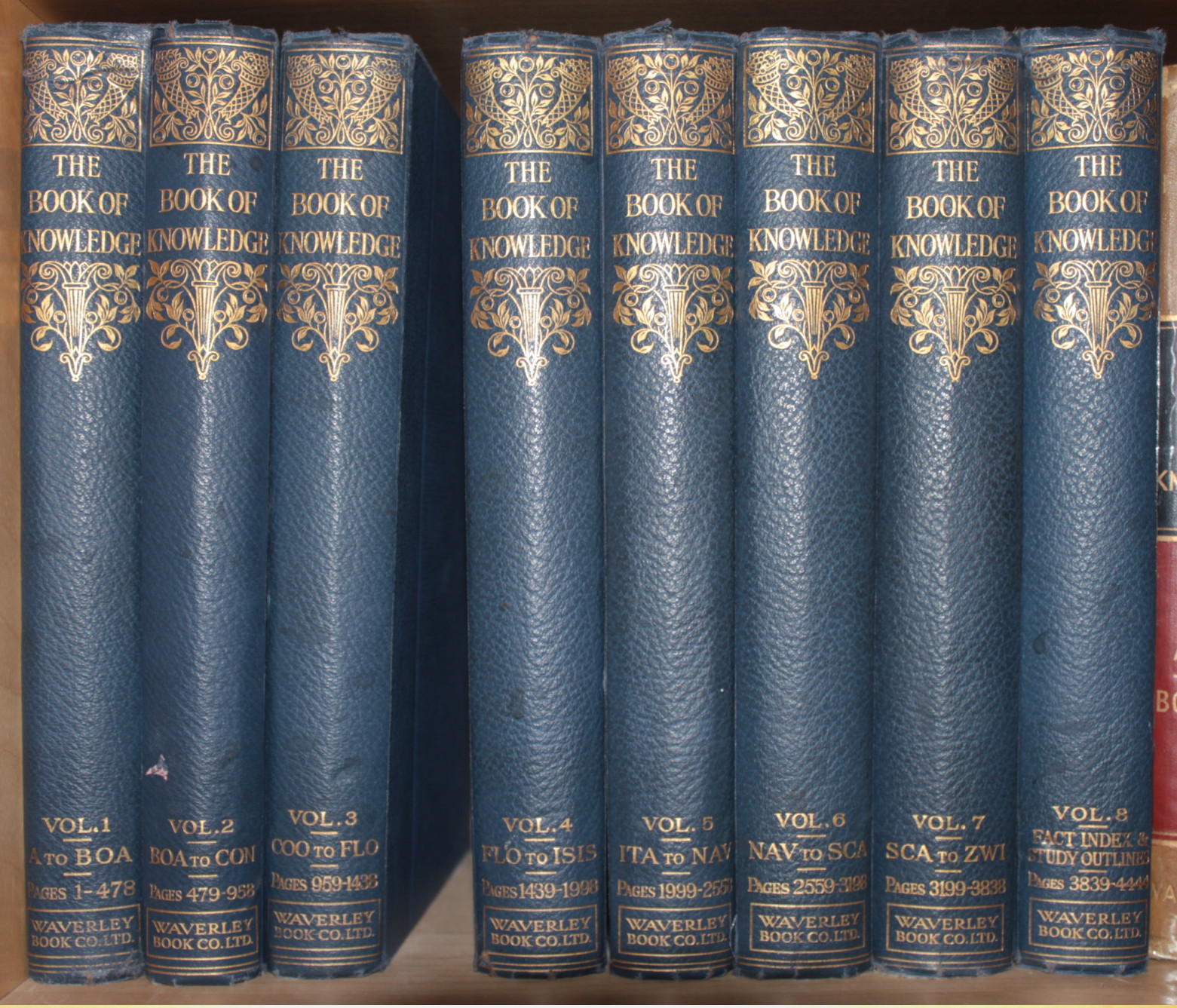 1935 Edition of The Book of Knowledge (Editor Harold FB Wheeler )
Different colours and styles of binding were available, at least for the first to fourth editions. The The sets can be quite hard to date as they often lack a publication date, though there are some clues in articles about historical events such as The Great War or Second World War. Some later sets had a publication history inside Volume 1 (reproduced below). I have 3 different editions, one for each editor.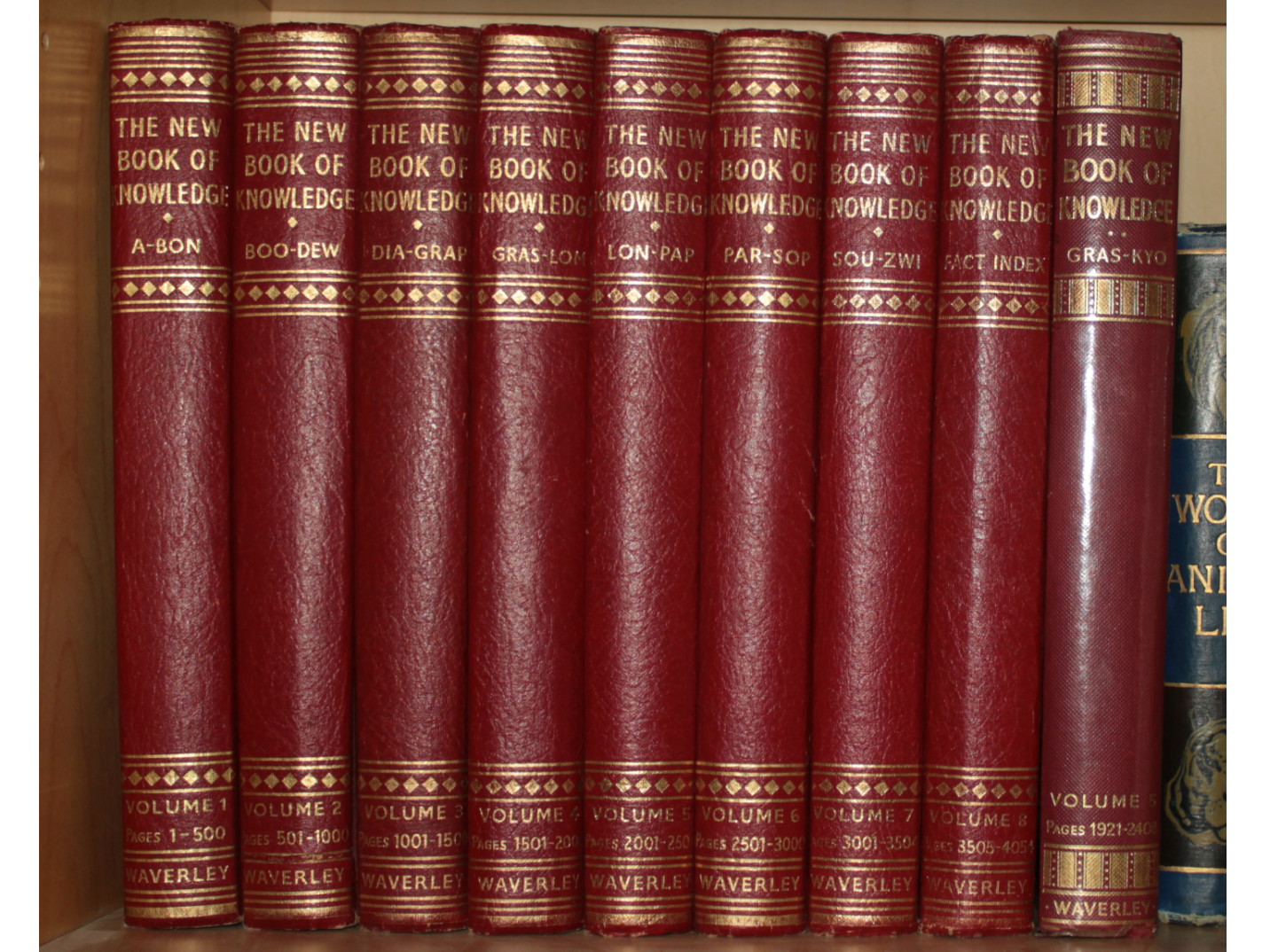 1950s Edition of The Book of Knowledge
The Book of Knowledge (8 volumes)
First Edition (edited by Harold FB Wheeler): 1922.
First Edition revised: 1923, 1924, 1925, 1926.
Second Edition (edited by Harold FB Wheeler): 1927.
Second Edition revised: 1928, 1929, 1931, 1933, 1935, 1936.
Reprinted as The New Book of Knowledge (some sets in 10 volumes, plus 2 further "War Supplement" volumes 1939-1942, 1942-1944)
Third Edition (edited by John Hammerton): 1938.
Third Edition revised: 1940, 1942, 1943, 1945, 1946, 1948.
Fourth Edition (edited by John Hammerton): 1949.
Fourth Edition revised: 1950, 1951, 1952, 1953.
Reprinted as The Book of Knowledge
Fifth Edition (edited by Gordon Stowell): 1954.
Fifth Edition revised: 1955, 1956, 1957 (twice), 1958, 1959.
Sixth Edition(edited by Gordon Stowell): 1959 (includes "The Modern Parents Guide" as an additional accompaniment).
Sixth Edition revised: 1960, 1961.
These are my editions:

The Book of Knowledge (circa 1935) edited by Harold FB Wheeler (blue binding)
The New Book of Knowledge (1955) edited by (Sir) John Hammerton (red binding)
The Book of Knowledge (1959) edited by Gordon Stowell (red and light brown binding)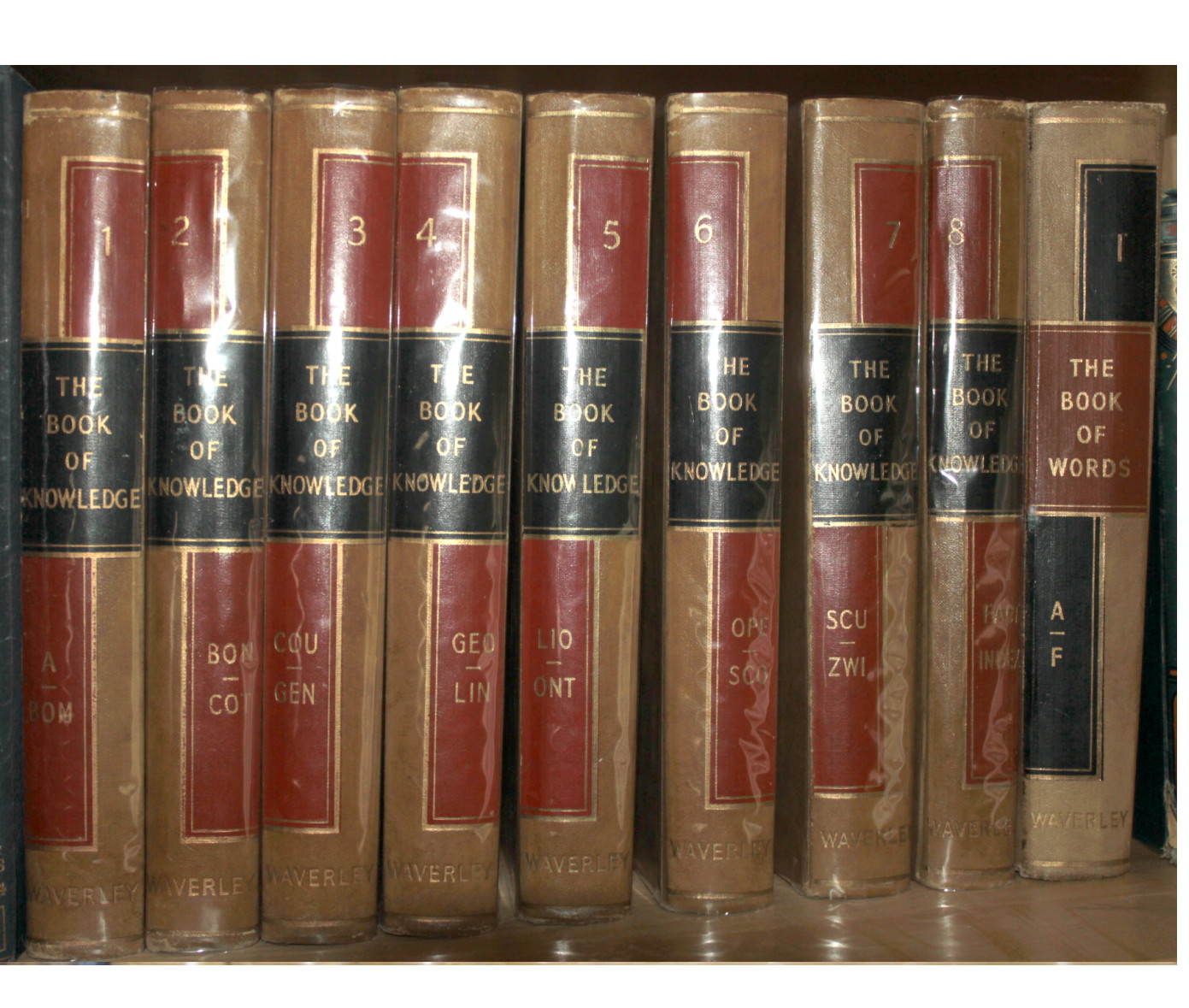 1950s Edition of The Book of Knowledge and The Book of Words
These turn up fairly often in charity shops for about £25 a set. They also turn up for free in book exchange shops.
The New Universal Encyclopedia
Similar in style to the "Book of Knowledge", this 10 volume encyclopedia was published 1949/50. John Hammerton was the editor of the first volume, but died a couple of weeks after it was completed. I got my from a free book exchange (I made a £5 donation). I have seen sets in similar condition offered for £25-£50. The New Universal Encyclopedia was revised by Gordon Stowell in 1959 and bound in 15 volumes; it was reprinted in 1965.
The New Universal Encyclopedia was the successor to "Harmsworth's Universal Encyclopaedia" edited by John Hammerton and published in 1921/2 (sets vary from 9 to 12 volumes depending on how the subscriber got the fortnightly part-works bound). This was aimed at a middle-income market and was prefaced with a series of "New Horizons" articles including "Where we Stand" (John Galsworthy); "The Nations and the New Era" (Lord Robert Cecil MP); "Science and the Future" (Lord Moulton); "The Aerial Age" (Viscount Northcliffe); "Industry and the Future" (Lord Askwith); "The Future of Labour" (George Nicoll Barnes).
For those on a tighter budget, there was the "Concise Universal Encyclopedia". In the 1920s, this was a single 1,100 page volume. The 1930s edition was expanded to 1458 pages.
The Wonderland of Knowledge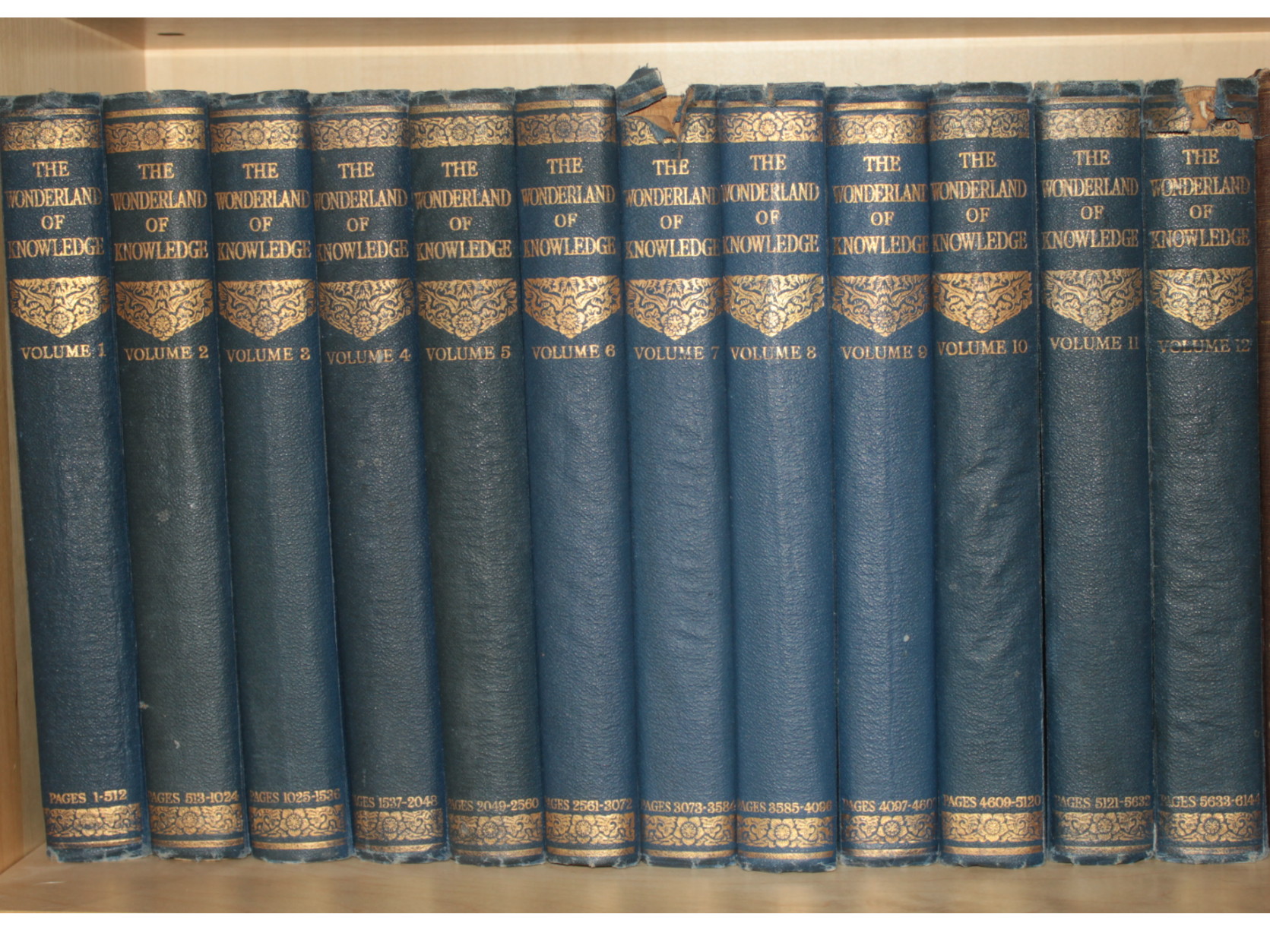 1937s Edition of Wonderland of Knowledge (Editor Ernest Ogan)
The "Wonderland of Knowledge", edited by Ernest Ogan, was published in 1937 as a children's encyclopedia and follows a similar format to Arthur Mee's books. My set is inherited from my father who got it when he was a lad. While some online sources suggest values of up to £75, I've seen full sets of these, in good condition, in London charity shops for around £25.
The Wonder Encyclopedia for Children and The Golden Encyclopedia for Children
The first of the Parrish and Crossland "Wonder Encyclopedias" was the single volume "Wonder Encyclopedia for Children" published in 1933. It was edited by John Redgwick Crossland and John Maxey Parrish. My copy cost £3 at a second-hand market. Some of the delights include artists impressions of the volcanoes on the moon (which we now know to be craters) and the mountains of Mercury.
In 1934 it was reprinted as a 2 volume set called "The Golden Encyclopedia for Children," edited by John R Crossland and JM Parrish and published by British Books Ltd, London. This set cost me £40 in Oxfam and is in very good condition, but checking online the asking price is upwards of £90 for the set depending on condition and whether it's the 1933 edition or a later reprint.
In 1936 it was reprinted as a 2 volume set called "The Wonder Encyclopedia for Children," (same editors) , which I found for £12 online.
In 1934 they also edited a book of stories for younger readers called "The Golden Wonder Book for Children," which is not an encyclopedia.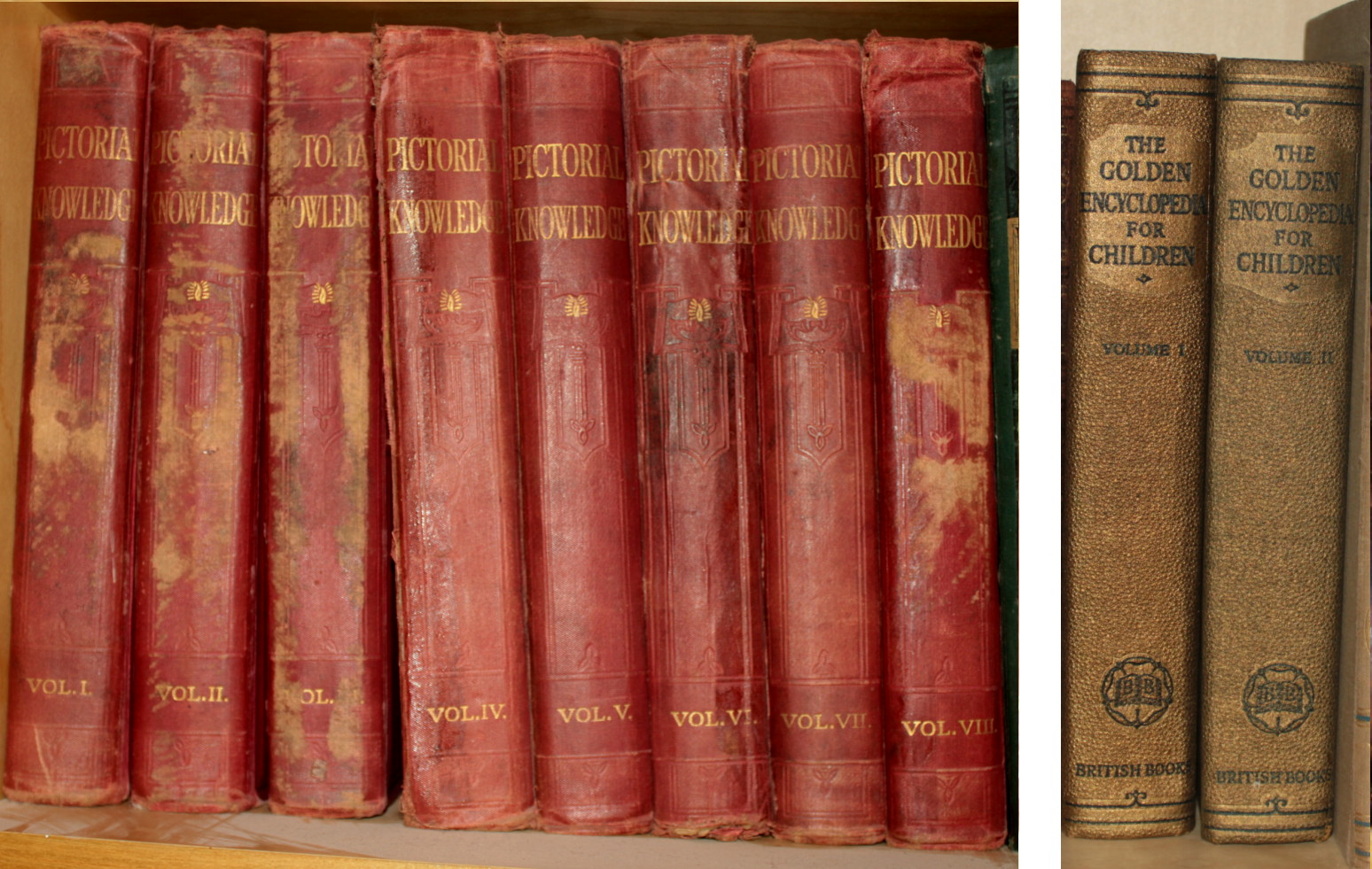 Newne's Pictorial Knowledge and The Golden Encyclopedia for Children
Newne's Pictorial Knowledge
8 volume 1936 edition of "Newnes' Pictorial Knowledge An Educational Treasury And Children's Dictionary" edited by HA Pollock (main editor) Enid Blyton (associate editor), AC Marshall (Technical Editor) and AHJ Humphreys (art editor). There are 10 volume editions around as well with different editorial staff (RH Poole, Peter Finch, Enid Blyton).
At the back of each volume is a colour fold out model or colour plate e.g. a spider's body or a steam train. Unlike Mee's "Children's Encyclopedia" the subjects are not broken up across volumes so you get a volume largely dedicated to countries and another largely dedicated to engineering topics (coal mining, electricity etc). My set is admittedly a bit tatty, but is still a fascinating read. My set came from an Oxfam shop for about £10.
The World of Wonder, 10,000 Every Child Should Know
I don't normally go for magazines, but this nearly complete set of "The World of Wonder, 10,000 Things Every Child Should Know" (1933, edited by Charles Day) was on offer at a boot fair for £5. I've never seen any of these "books of wonder" still in part-work form. The covers are tatty but present on most issues, including the advert for binding options. They had been sitting on damp grass and have been slowly dried out at room temperature. These will be bound in magazine binders to preserve the covers as well as the content. The set was complete in 52 issues (I'm missing 49, 51 & 52) and there were two binding options offered. They could be bound in a single large volume in brown rexine (leather-look) for 6s 3d, or as two volumes in blue boards for 3s 6d each. The latter worked out 6d more expensive in total, but spread the cost into 2 instalments over the year. I've seen bound 2-volume sets for sale online for £45. Should I pick up a bound volume at a boot fair, it would be easy to replicate the missing issues.
Charles Ray (1875-1962) was a prolific editor of encyclopedic works, mainly for children, especially during the 1930s. He worked as an editor with the Amalgamated Press in London, and contributed to The Children's Newspaper edited by Arthur Mee from 1919. He probably contributed to the Children's Encyclopaedia (part-works 1908-1910). Ray retired in 1939 aged 65, and he died in Cromer, Norfolk in 1962. Other works he edited, all published by the Amalgamated Press in London, include:
The World of Wonder. 10,000 things every child should know (part-works 1932-1933)
The Boy's Book of Popular Science (1934)
The Boy's Book of Wonder and Invention (1935)
The Popular Science Educator (1935-36)
The Boy's Book of Everyday Science (1936)
The Book of the Great Adventurers (1937)
The Boy's Book of Mechanics and Experiment (1937)
Arthur Mee's Harmsworth Self-Educator
This is best described as a grown-up version of The Children's Encyclopedia. I have the 7-volume edition printed between 1914 and 1915 (the first edition was 1905 - 1907). The covers (cloth on board) are in poor repair from being stored in a damp place, but the pages are intact (except for a couple of fold-outs). Mee was appointed general editor of The Harmsworth Self-Educator (A Golden Key to Success in Life)in collaboration with John Hammerton. It covers all manner of topics for self-improvement and education - history, geography, art, music, engineering, nature and general sciences.
This was Arthur Mee's first major project as general editor and was initially published as a magazine series in 48 issues between 1905 and 1907. The could then be bound into volumes by the subscriber. Each volume contains standard groups such as: "Success", "Civil Service and Professions", "Languages", "Clerkship", etc, with several articles on each topic. Some articles are textbook-like, while others use more creative language, and even humour, to get the information across. A reader intending self-improvement could teach himself how to start, run or wind up a company; how to run a fishmonger's, florist's, fruiterer's or greengrocer's (etc) shop; how to dress furs for different uses and how to management different types of livestock. There were phonetic language lessons and diagrams explaining electronics, engineering, motor engines and even the principles of powered flight.
Later editions may be titled "The New Self-Educator" on the title page. My 1914-15 set was 50p per volume at a boot fair (£3.50 for the 7 volume set), though I've seen better quality copies on sale for £10+ per volume. I had to address some mould damage on the covers, but luckily the contents were intact.
By coincidence, I found vols 6, 7 and 8 of the 1905 - 1907 edition, in excellent condition and a nicer binding, in a book exchange shop a few days later. I could have had these for free, but I made a donation to the shop.
Harmsworth Popular Science
Harmsworth Popular Science was magazine published fortnightly in the early 1900s and completed about 1913.  It built into a 7 volume encyclopaedic series of science and technology articles.  The bound volumes may have contained edited or revised versions of the original magazine articles.  A red cloth & leather 7 volume set was edited by Arthur Mee and published in London by the Educational Book Company.  Other sets were bound into volumes by the subscriber.   Though written and edited in the waning days of the British Empire, it was humanist and modernist in tone.  Topics fashionable and progressive at that time included eugenics (which did not then have the negative connotations it now has) and free market economics. Britain (especially the industrial midlands) was considered by Britons to be "the workshop of the world" hence Harmsworth Popular Science celebrated British technical and cultural innovations and innovators, such as Charles Darwin to Guglielmo Marconi.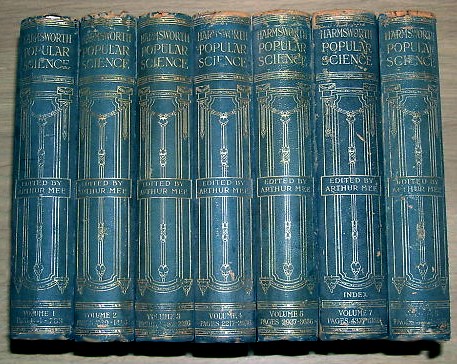 In common with many Educational Book Company & Harmsworth encyclopedic sets, the first Volume contains a foreword (in this case "The Story of This Book") that outlines the various groups of articles (originally sections in the magazines).   Eugenics would later be perverted and discredited by Nazi Human breeding programs, but Group 12 "Eugenics" was full of optimism for the future of mankind. Group 10 "Commerce" reflects the insular nature of Britain at that time.
Group 1 THE UNIVERSE "The Making of worlds"
Group 2 THE EARTH "The Earth we live on"
Group 3 LIFE "Life takes possession"
Group 4 PLANT LIFE "The Earth Alive"
Group 5 ANIMAL LIFE "The forerunners of Man"
Group 6 MAN " Man Appears"
Group 7 HEALTH "Man Builds up Strength"
Group 8 POWER "Man finds Power"
Group 9 INDUSTRY "Man Uses Power"
Group 10 COMMERCE "Man Buys and Sells"
Group 11 SOCIETY "Man organizes society"
Group 12 EUGENICS "Man Creates The Future"
The main editor was Arthur Mee.  There were several scientific editors and contributors for the different topics covered.
Caleb Williams Saleeby, Fellow of the Royal Society of Edinburgh, Doctor of medicine, Scientific author, lecturer at the Royal Institution
Leo Chiozza Money, Member of Parliament (of GB) Author and political economist
W Beach Thomas, Journalist and agricultural expert
John Derry, Journalist and educationalist (1854-1937)
Edward Wright, Writer on philosophy
Gerald Leighton, Professor of pathology and bacteriology at Edinburgh University (1868-1953).
T Thorn Baker, Electrical expert. Lecturer at the Royal Institution.
H. Hamilton Fyfe, Author and journalist
Ernest A Bryant, Author of the natural history section of The Children's Encyclopedia
Ronald Campbell Macfie, Master of Arts, Author of "Science Matter and Material"
Joseph Horner, Author of technical works; member of the Institute of Mechanical Engineers
My 7 volume set cost £75.  Individual volumes seem to cost upwards of £10 depending on condition.
Harmsworth Magazine
I only have the first 4 bound volumes of this educational magazine which began publication in 1898.  These cost around £12 each.  Later volumes seem to be rarer and much more expensive!  I mainly got them because I like the quality and scope of Harmsworth publications.  They're general interest with an educational (and sometimes moral) approach.  
The Wide World Magazine: An Illustrated Monthly Of True Narrative: Adventure, Travel, Customs And Sport: Vol I
I spotted this volume in a charity shop in Chelmsford for £21.50. It still contained a book dealer's card valuing it at £50. It's advertised online for £75 - £150 depending on condition. My copy lacks the index at the back; it looks like it was never bound into the volume.
The Wide World Magazine was published by George Newnes, Strand, London as a true adventure magazine for men. It contained stories of exciting overseas adventures copiously illustrated with black and white photographs and drawings. Most were tales of derring-do for the armchair adventurer. Others focused on curious customs in lands not yet civilized by the British. "The Romance of the Mission" feature gave an exciting and romanticised view of missionary work. Wild animals were ferocious brutes, native people were "savages" and adventurers carried the white man's burden of civilizing the natives. All this was greatly exciting to the intended audience, though The Times retrospectively described the magazine as being about "brave chaps with large moustaches on stiff upper lips, who did stupid and dangerous things".
The Wide World Magazine (later "Wide World for Men") became a hugely successful British monthly magazine that ran from April 1898 to December 1965. It was founded by George Newnes, owner of the more staid "The Strand Magazine", and described itself as "an illustrated magazine of true narrative" featuring "true-life adventure and travel stories gathered from around the world. Its motto was "Truth is stranger than fiction". It had no pretensions to being great literature, but carried ripping yarns for its male target audience. In its lifetime, it missed only four issues: May 1941 (the print works was destroyed by German bombs), May 1947 (printing problems meant two issues were combined), September-October 1950 (industrial action by printers) and April-May 1956 (industrial action). In 1949, the editor established the "Wide World Brotherhood", the only rule of which was 'to treat fellow members as brothers and give them any help possible' - a sort of grown up (and armchair) version of the Boy Scouts! It ceased publication in December 1965 (Vol 135, Issue 807), perhaps being seen as " 'Boys Own' meets 'National Geographic' ". Intriguingly, issue numbers of the southern hemisphere editions lagged one number behind the British edition; this situation somehow arose between the wars. Volumes 3 - 14 are available electronically from archive.org. Later volumes are often available via Amazon.
When it appeared in April 1898, it vowed to contain no fiction and stated "The Wide World Magazine may safely be trusted to carry into every home, by means of the infallible camera and the responsible traveller, the almost incredible wonders of the Wide World." Some famous names occasionally wrote for the magazine, including Arthur Conan Doyle and Henry Morton Stanley. While it didn't knowingly publish any fiction, it was not immune from being hoaxed. In Vol 1, in August 1898, it published the first instalment of "The Adventures of Louis de Rougemont", billed as "the most amazing story a man ever lived to tell." De Rougemont has supposedly spent thirty years in the Australian outback and his "Adventures" turned The Wide World Magazine into a huge-selling sensation and then into a laughing-stock. De Rougement had persuaded Newnes that he had spent 30 years in the wilds of Australia and had been a cannibal chief. Newnes told his readers: "We have absolutely satisfied ourselves as to M. de Rougemont's accuracy in every minute particular". The fantastical tale was exposed as a hoax by the Daily Chronicle, to the embarrassment of The World Wide Magazine and to Newnes himself. Despite vowing not to publish fiction, Wide World Magazine published the remaining instalments and acknowledged it had been duped: "Truth is stranger than fiction, But De Rougemont is stranger than both" (The Wide World Magazine, June 1899, No 14). Newnes realised that readers wanted to see how the story turned out. De Rougemont had lived in Sydney, Australia, but was more swindler and scoundrel than adventurer.
Baron Corvo's "How I was buried alive" (by an elephant), was another piece of fiction masquerading as fact. "Baron Corvo" was a pseudonym of Frederick William Rolfe, a talented writer whose books were published under various pseudonyms. Corvo claimed to have been trapped in a pit under a dead elephant which putrefied above him while maggots rained down on him. After trying to dig his way out through the rotting flesh he was supposedly rescued by hungry natives attracted to the corpse.
Footnote:
Louis De Rougemont was born Henri Louis Grin, in 1847 in Switzerland. He went into domestic service, including, briefly, butler to Sir William Robinson, the Governor of Western Australia, but had attitude problems (and tried to smuggle valuables in their baggage). Other ventures included doctor, "spirit photographer" and inventor. He was involved in kidnapping Western Australian Aborginal men for forced labour on Australian sugar cane plantations. Grin (also known as Grien or Green) was once wanted as an accomplice in the murder of one of these men in the mid-1870s. Grin lived for decades in Sydney where he married a fancy-goods salesgirl, Miss Ravenscourt. The couple had four children (three others died in infancy), but Grin abandoned his family and went to London. He collected material for his exploits from the Reading Room of the British Museum.
His fictitious memoirs under the name Louis de Rougemont described exploits in search of pearls and gold in New Guinea, and thirty years living in the Australian outback, worshipped as a god by an Aboriginal tribe. Inaccuracies meant arguments over his authenticity raged in the letters pages of the Daily Chronicle and other London newspapers. When quizzed by the Royal Geographical Society, de Rougemont claimed he was forbidden to discuss the location of gold he'd supposedly discovered or Aboriginal languages he had supposedly learned. Meanwhile, the Australian public saw the whole thing as proof of British gullibility: flocks of flying wombats, vast gold reefs in the desert and cannibal natives.
In September 1898, the Daily Chronicle unmasked de Rougement as Louis Grin in its feature "Grin or Rougemont, or The Story of a Modern Robinson Crusoe.". Grin wrote to The Daily Chronicle claiming no-one could confuse him with Louis de Rougemont. His letter was duly published. Wide World Magazine exploited the situation with a Christmas double issue. De Rougemont left Britain and in 1899 he turned up in South Africa as a music-hall attraction called "the greatest liar on Earth". At similar shows of Australia in 1901 he was booed off the stage (Australians already knew him as a scoundrel) or was treated as comic entertainment. De Rougemont, who never resumed his birth name, made stage appearances for several years. During the First World War he tried to invent a meat substitute. De Rougemont died in England in 1921, aged 74, under the anglicized name Louis Redman.
Cassell's Natural History
I have the People's Edition Vols 1 & 2 bound into a single volume. Date is 1901 and overall editor is P Martin Duncan. Most of the species described are illustrated by engravings and there are a few full-page photographs. There are 6 volumes in the full set:
Vol I: Apes, Monkeys, Lemurs, Bats and Insectivores
Vol II: Land and Marine Carnivores, Cetaceans, Sirenia, Elephants, Hydracoids and Ungulates
Vol III: Ungulates (continued), Rodents, Edentates, Marsupials and Birds
Vol IV: Birds (continued), Reptiles, Amphibians
Vol V: Fish and Invertebrates, including. Tunicates, Molluscs, Insects, Coleoptera, Hymenoptera
Vol VI: Invertebrates (continued)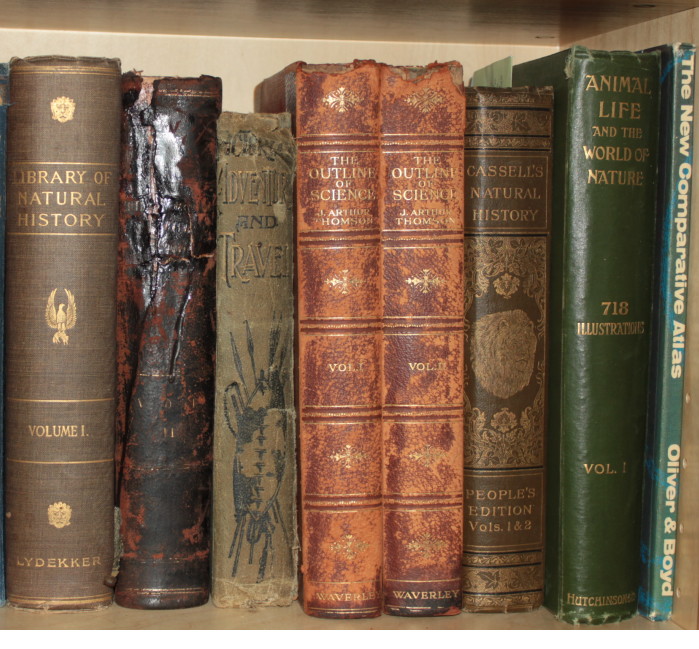 Lydekker's Natural History
Lydekker (1849-1915) was a British authority on mammals of the world, particularly game animals. In 1882 he took a position with the British Museum of Natural History and his "Royal Natural History" was published at a time when illustrated encyclopedias were in great demand by the general public because lithography allowed mass production of good quality print and images at an affordable price. Lydekker edited the "Royal Natural History" (preface by Philip Lutley Sclater (1829-1913)) which was published in 6 volumes by Frederick Warne and Co between 1894 and 1896. The books were also published under the titles "The New Natural History" and "Library of Natural History"; it being quite common to reprint such books in different bindings for different audiences. Although it was common at that time to reuse images (hence many books of wonder contain the same images), many of the plates in Lydekker's Natural History were specially commissioned from leading wildlife artists. I have Volume II of this 1894 natural history encyclopedia, found as a nondescript book, with peeling spine, in an Oxfam shop for £20.
Vols 1 and 2: Mammals
Vol 3: Mammals, Birds
Vol 4: Birds
Vol 5: Reptiles and Fishes
Vol 6: Invertebrates
The Illustrated Natural History
Rev JG Wood's "The Illustrated Natural History" published in 1871 (reprint of 1853 edn). Rev John George Wood (1827–1889), was a popular British writer and lecturer on natural history and zoology. He was a populariser, who wrote accessible books, rather than a scientific investigator so he relied on correspondents and information from other books. The 4 volume "Illustrated Natural History" went through several reprints after 1853 and seems to have been popular on both sides of the Atlantic. I have volume 1 (Mammalia)
Harmsworth Natural History: A Complete Survey of the Animal Kingdom
Edited by Richard Lydekker, with Sir Harry Johnston and JR Ainsworth Davis; published by Carmelite House. A fascinating three volume set covering animal life from 1910, found in a secondhand bookshop for about £20. This seems to be the logical follow-up to Lydekker's "Royal Natural History".
Outline of Science
I have a 2-volume set. It was edited by Scottish naturalist John Arthur Thomson (1861-1933). He was a popular science writer, although some of his views were controversial. Thomson's target audience was the general public and he covered a wide range of scientific subjects in clear, concise and easily understood language. He covered topics as diverse as astronomy, biology, evolution and even the theory of relativity, which was cutting edge at the time he wrote the books.
Science of Life
This comprises nine books bound in a 3 volume set edited by HG Wells (editor), Julian Huxley and GP Wells and published by Waverley in 1929-30. The set describes all major aspects of biology as known in the 1920s. The full title is "The Science of Life: a summary of contemporary knowledge about life and its possibilities" and like many books of the time it was available as a partwork which could be bound by the subscriber (so you'll find a variety of bindings). It was originally published in 31 fortnightly parts published by Amalgamated Press between 1929 and 1930. In 1931, Cassell published it as a single volume (reprinted 1934 and 1937, revised edition 1938) and then in separate volumes between 1934 and 1937 entitled:
Book I The living body
Book II Patterns of life
Book III Evolution - fact and theory
Book IV Reproduction, heredity and the development of sex
Book V The history and adventure of life
Book VI The drama of life
Book VII How animals behave
Book VIII Man's mind and behaviour
Book IX Biology and the human race
Animal Life and The World of Nature
I have a single volume of this from 1902–1903. Published by Hutchinson's. The full title is "Animal life and the world of nature : a magazine of natural history throughout the world" and it was originally a periodical.
Wonders of Land and Sea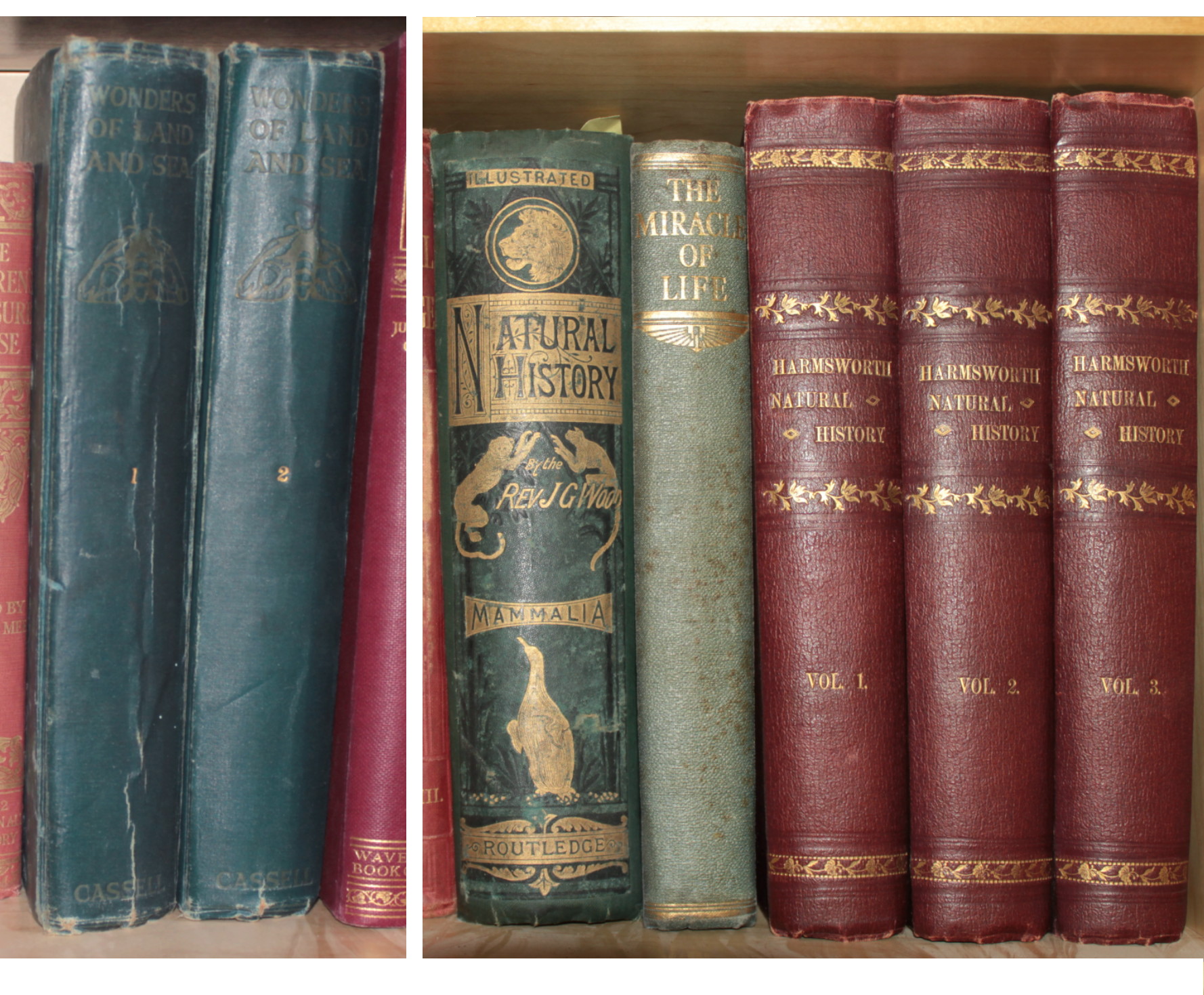 A 2-volume set, edited by Graeme Williams and published by Cassell in 1914. I found this in a local charity shop for £10.

Both volumes are divided into five books: "On the Land", "In the Underworld", "On The Sea", "In the Depths" and "Man and Progress" and each of those books is divided into "Natural" and "Artificial".

Wonders of Animal Life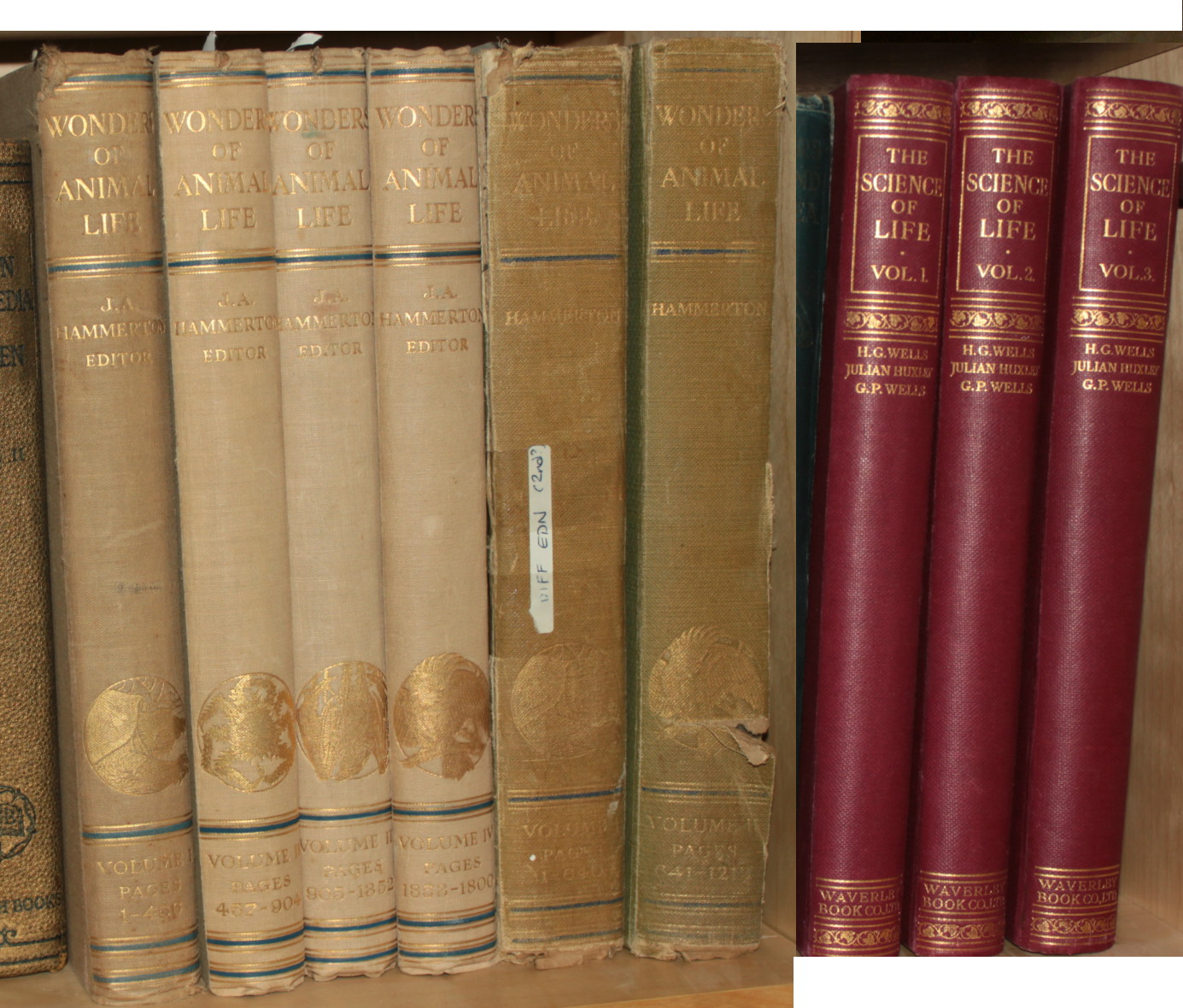 I originally found the 4-volume set in Oxfam, Chelmsford, then a few months later found a 2-volume slightly later issue in Oxfam, Portobello Road, London being sold at £5 per volume. Both are published by Waverley during the 1930s. There are some different photos between the two editions while the editor, John Hammerton, has become Sir John Hammerton.
The Romance of Nature. Wild Life of the British Isles in Picture and Story
I found this 4 volume set, written and edited by Frances Pitt, and published circa 1939, at a car boot fair for the princely sum of £3 the set. The book doesn't contain a publication date, and dates on the web vary, but some of her photos and text mention dates and ages that point to a 1939 publication date. Miss Frances Pitt (1888-1964) was one of the first people to write accessibly about hybrids between Scottish Wildcats and domestic cats. She was a naturalist, wildlife writer and photographer. This 4 volume set collected together her articles and arranged them according to habitat e.g. "woodland" or "marsh and fen". Although she understood scientific topics such as Mendelian inheritance, she wrote in nontechnical language that appealed to the general reader. As well as field observations she included anecdotes, which reviewers seemed to consider twee. I found it very readable and, at the time, it would have been a good introduction to nature studies for younger folks.
1870-90 - Pouchet - The Universe
Mine is the 11th Edn (c 1890) of the English translation of this science book.
Pictorial Adventure and Travel
Published in 1902 on rather cheap quality paper.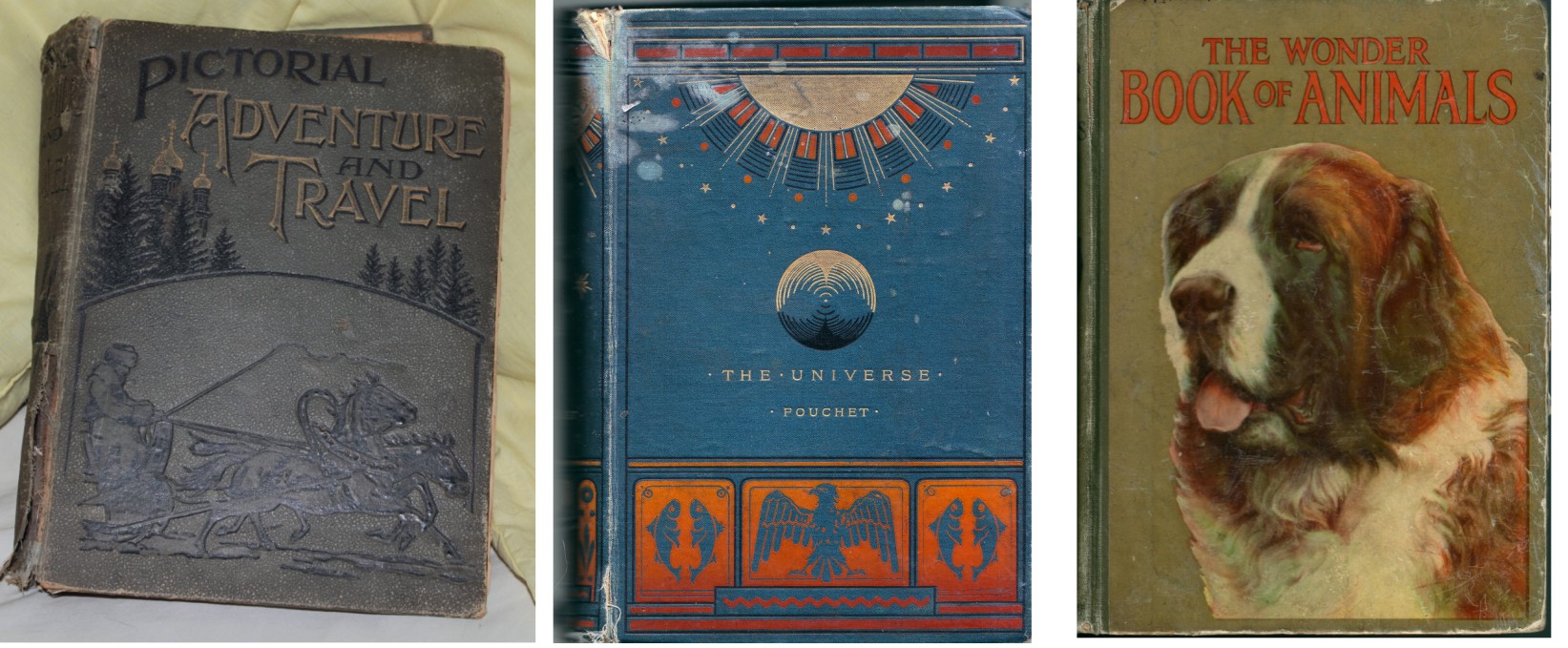 The Wonder Book of Animals
1925. A children's book with some great historical photos, especially those of working animals.
The Silver Jubilee Book - The Story of 25 Eventful Years in Pictures
This is a pictorial account of the years 1910-1935, with special sections on transport and fashion. 1910 marked the Accession of King George V and Queen Mary to the British throne. 1935 marked their Silver Jubilee.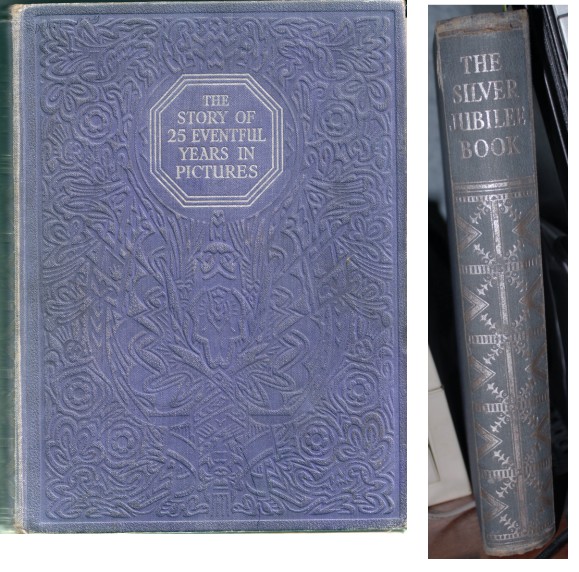 The Pageant of the Century - H V Morton (Odhams)
A 673 page pictorial account of the years 1900-1933. This has some fascinating photos showing the evolution of motorcars and aviation and a number of behind the lines photos of the Great War.
Wonderful London - St John Adcock (Fleetway House)
"Wonderful London - The World's Greatest City Described by its Best Writers and Pictured by its Finest Photographers" is a 3 Volume set (I currently have vols 1 & 2) edited by St John Adcock c1926 and illustrated with around 1200 sepia photos and photogravure. The books are a collection of essays about areas and aspects of London, illustrated by gorgeous photos. Some of the photos are in "then and now" format showing the reader how a street had changed between the 1880s and the 1920s. There are photographic studies of once-familiar characters such as sweeps and hawkers, of children playing in the street, sheep being herded through the city, and museums and London Zoo. Some of the photos have been taken from what was then an exciting new vantage point i.e. aerial photographs. Many of the places depicted have been lost to slum clearance, rebuilding after war-time bombing and the march of progress, while others are barely recognisable. Compared to modern views of the same areas, it looks almost unhurried.
The Joy of Old Encyclopedias
Today, these old encyclopedias give an insight into the social values of the society at the time of publication. The articles reflect the views prevalent at the time of publication. Although "The Children's Encyclopedia" supported evolution, it also promoted Christianity and steered clear of contradicting Biblical views. At the same time as praising the British Empire, "The Children's Encyclopedia" told its readers that inferior races (i.e. non-white races) should be treated with respect and that imperialism was justified only if it improved the lot of its subjects.
In general, the earlier editions of these encyclopedias very obviously show pride in Britain and the British Empire. There is a strong emphasis on Christian values, with Christianity being considered the only true religion. The white race was held up as superior and entitled to guide the more "savage" races, while terms such as "pickaninny" were used in ways that are nowadays considered offensive. In "Cassell's Natural History" for example, a black African is depicted almost as though he is one of the catalogued creatures.
One of the more fascinating aspects for me are descriptions of ways of life that no longer exist and animals that have become extinct since the book was published. The early editions of these books described the now-extinct thylacine as a blood-thirsty, sheep-killing predator. Similarly, the Great Auk and the Quagga were described as extant rather than extinct.
The Publishing Companies
Most of my encyclopedia sets were published by Harmsworth, The Educational Book Company or Newnes. Other sets were published by the Waverley Book Co.
The Amalgamated Press was founded by Alfred Charles William Harmsworth, 1st Viscount Northcliffe (1865–1922) in 1901 to gathering his numerous publishing ventures together under a single name.  From 1912 The Amalgamated Press was based at Fleetway House, Farringdon Street, London.  In 1959 it was bought by the Mirror Group and became Fleetway Publications. In 1961, Fleetway Publications acquired Longacre Press and George Newnes and became the International Publishing Corporation (IPC).  The component companies continued to use their own names until 1968 when they were reorganised into IPC Magazines, although the Fleetway Publications name was used for some publications until 1987.  The Amalgamated Press published numerous encyclopedic and educational books as well as magazines and comics.  It employed Arthur Mee and John Hammerton, and its subsidiary, the Educational Book Company, published the Harmsworth Self-Educator, The Children's Encyclopedia, and Harmsworth's Universal Encyclopaedia.
Alfred Harmsworth also owned the Daily Mail and the Daily Mirror and, therefore, greatly influenced British popular opinion.  He bought several failing newspapers and made them into an enormously profitable chain, primarily by appealing to the popular taste. He began with The Evening News in 1894, and then merged two Edinburgh papers to form the Edinburgh Daily Record.  In May 1896, he launched the Daily Mail "the busy man's daily journal" in London.  In 1898, he founded the Harmsworth Magazine (later London Magazine 1898-1915), edited by Beckles Willson, one of Britain's best editors.  Harmsworth founded The Daily Mirror in 1903, rescued the Observer in 1905 and The Times in 1908. "Carmelite House" was also part of Harmsworth.
Sir George Newnes, 1st Baronet (1851–1910) formed the publishing company George Newnes Ltd.  In 1881 he founded Tit-Bits, a Manchester-based magazine that contained extracts from books and other publications and, later on, popular competitions. In 1884 he moved publication to London and Tit-Bits reached a circulation of 700,000 by the end of the 19th century, paving the way for popular journalism.  Alfred Harmsworth, founder of the Daily Mail, was a contributor to Tit-Bits.  Newnes published several magazines, including The Strand Magazine launched in 1891. The company was reconstructed in 1897 and began publishing books as well. Politically, he was Liberal, and this is reflected in several of his magazine.  His publishing company, George Newnes Ltd, continued until 1963, when it became part of IPC Media.
Cassell & Co was founded in 1848 by John Cassell (1817–1865), a former carpenter, temperance preacher and merchant. His early publications were magazines, often with religious, moral and/or social leanings. Thomas Dixon Galpin and George William Petter were partners in Cassell's printing firm. When Cassell became bankrupt in 1855, the partners acquired the publishing company and Cassell's debts. Between 1855 and 1858 the printing firm operated as Petter & Galpin. Cassell was reduced to being a junior partner in "Cassell, Petter & Galpin" when he became insolvent in 1858. In 1878, Robert Turner became a partner in "Cassell, Petter, Galpin & Company." Petter resigned in 1883. In 1888, following Galpin's retirement and Petter's death, the company name became "Cassell & Co, Ltd" and mainly published magazines. Sir Thomas Wemyss Reid was general manager until 1905 when Arthur Spurgeon took over and concentrated on the book business. In the 1920s, the magazine titles were sold off to Amalgamated Press. In the 1990s, Cassell & Co became part of the Orion Publishing Group; its academic and religious publications became part of the Continuum International Publishing Group.
Odhams Press was founded in 1890 as a newspaper publisher, becoming Odhams Press Ltd in 1920 when it merged with John Bull magazine. John Odhams lived in Sherborne, Dorset in the 1830s and his eldest son, William, became a compositor locally. In 1834, William went to London to work for The Morning Post. In 1847, he went into partnership with William Biggar and in the 1870s he founded "William Odhams" which he sold in 1892 to his two sons, John Lynch Odhams and William James Baird Odhams. In 1898 this became Odhams Limited and in 1920 it became Odhams Press in 1920. By 1937, Odhams was producing several magazines including the first colour weekly, Woman. Odhams moved to purpose built premises in Watford in 1954. In 1961, Fleetway Publications Ltd (formerly the Amalgamated Press) took over Odhams and in 1963, the Odhams holdings were amalgamated with those of Newnes, Fleetway and others, forming the International Publishing Corporation (IPC). Between 1964 and 1968, Odhams operated as a subsidiary of IPC, publishing boys' comics, but in 1968, a downturn in the British economy meant that several Odhams titles were closed while the rest were transferred to IPC Magazines Ltd. This meant that the Odhams subsidiary bore the financial burden of closures and in 1969, Odhams ceased to operate.
"William Collins, Sons" was a Scottish printing company founded 1819 by Presbyterian schoolmaster, William Collins, in Glasgow in partnership with Charles Chalmers. Chalmers left the business in 1825. In 1841, Collins was a printer of Bibles. In 1848, his son Sir William Collins developed the company as a publisher of religious and educational books. It became "William Collins, Sons and Co Ltd" in 1868. In the 1900s, Sir Godfrey Collins took charge and the company diversified into fiction and children's books as well as educational books. In 1990, Collins merged with Harper and Row, becoming HarperCollins.
London: Waverely Book Company Ltd address at 7-8 Old Bailey, London and its publication seem to go back to the 1900s or 1890s. The later address was 96 - 97 Farringdon Street, London EC4. Another "Waverley Book Company Limited" is registered as having been set up on 04 Jan 1926 in Dublin.