FELINE MEDICAL CURIOSITIES: DWARF CATS, GIANT CATS, FAT CATS
Copyright 2001 - 2008, Sarah Hartwell
Note: Contrary to suggestions on some bulletin boards, the images here are not photoshop. With the exception of those labelled as artist's impressions these are photos of medical conditions. Offsite links to images on these pages is not supported - bandwidth costs money!
GIANT CATS
Giantism and its various causes are more fully discussed in
Giant Cats
FAT CATS
There is a difference between size (a giant cat with normal proportions) and sheer weight (obesity). Where available, I have given some measurements to indicate whether the cat was a big specimen overall or simply very obese. Unlike dogs, there is less size variation since cats don't possess the genes for huge size. Hybridization of domestic cats with wild species may produce larger cats. Most "giant" cats are grotesquely obese. An indoor lifestyle is producing more and larger feline couch potatoes - bored compulsive nibblers, overweight, unstimulated and bone idle. Feline obesity is more common in the USA where more cats live indoors, but it is on the increase in Britain. Overeating, genetic causes and metabolic disorders are the main causes. Hypothyroid conditions cause cats to gain weight because they do not burn off calories.
Male

Female

Neuter (either sex)

Average Adult Weight

6.2 Ib (2.81 kg)

5.4 lb (2.45 kg)

7 - 11 Ib (3 - 5 kg)

Average Adult Length
(See Note 1)

Total: 28-29 in (71-73 cm)
Tail: 11 in (28 cm)

Total: 26 in (66 cm)
Tail 9.5 in (24 cm)

No data

Ragdoll

15 - 20 lb (6.8 - 9.07 kg)

12 - 15 lb (5.44 - 6.8 kg)

No data

Maine Coon

12 - 18 Ib (5.44 - 8.16 kg)
Up to 20 lb not uncommon

8 - 10 lb (3.63 - 4.53 kg)

25 - 30 lb recorded
(11.33 -13.6 kg)

Total Length

Tail length

Weight

Note 1: Clarence (1970s) owned by Mrs Milinda Los of Burnaby, British Columbia, Canada

41.5 in (105.4cm)


13 in (33 cm)

17 Ib (7.7 kg)

Note 2: Thomas O'Malley (1970s) owned by Hilda John of Cardiff, South Wales

41 in (104 cm)

12 in (30 cm)

37 lb (approx 17 kg)
Media reports of 40 lb (18.14 kg) Maine Coons are either myths or obese individuals. The heavy-boned Persians and Himalayans may also exceed 20 lb (9.07 kg). In February 1952 a cat-owner from Southsea, Hampshire, England owned a 35 Ib (15.8 kg) black Persian called "Khita" whose 3 brothers each exceeded 20 lb (9.07 kg). Male Siamese can reach a considerable size and weight. In 1977, Becky Bisby of Raytown, Missouri, USA had a chocolate-point neutered male called "Sam" who weighed 20 lb (9.07 kg). In October 1981 a male Russian Blue named "Kasha" belonging to Nettie Sohmers of Yonkers, NY, USA weighed in at 25 lb (11.3 kg). In 2003, Laura K Baker's cat, Brody, weighed in at 25 lb aged 7 years. However, Brody is a rare Klinefelter (XXY) tortoiseshell male cat and his size is due to Klinefelter syndrome.
A 19th Century Lithograph called "Large Cat" records what it describes as "this noble specimen, domesticated at 175, Oxford Street ... very docile though his unusually large size conveys to the beholder, at first sight a contrary impression." Measured at 25.75 lb, the 7 year old cat was said to be "extremely active and rarely inconvenienced by his great bulk." The winner of the 1871 Crystal Palace (London, England) cat show's 'Heaviest Cat' title was a tabby cat weighing 21 lb (9.52 kg).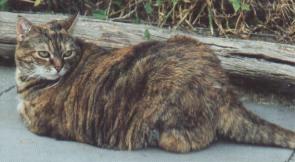 Obesity caused by over-feeding and little exercise.
Chelmsford CPL.

In 1936, "Ginger" of High Holborn, London was reported as "Heaviest Cat in London" at 23 lb 8 oz. He beat 23 lb "Billy" of Lancaster Gate, London. In 1938, Mr E Kay of Sheffield, England has a 21 lb cat called "Bill" who measured 27 in round the chest. Mary Kennedy of Ayr, Scotland had 2 cats "Dusty" and "Rusty" each weighing 21 lb. Their mother was also reported to be a heavyweight, suggesting a hereditary cause or over-indulgent owner. "Tibby" (undated) of Northfleet, Kent, England weighed 28 lb and had a huge appetite. Another undated 28 lb giant was "Joseph".
In 1959, "Tiddles" owned by Mary Maynard of Wymondham, Norfolk, England was weighed at 36 lb. "Ginger", exhibited at the 1969 Herts & Middx Cat Show (England) weighed 26 lb. In the 1970s, "Thomas O'Malley", owned by Hilda John of Cardiff, Wales weighed 37 lb and had a waist 2 inches bigger than that of his owner. His mother, brother and sister were all normally sized, suggesting that Thomas had a metabolic disorder.
"Poppa" the tabby owned by Gwladys Cooper of Newport, Gwent, South Wales weighed 44 lb (almost 20 kg) in 1983. Her other 2 cats weighed 24 lb (approx 11 kg) and 14 Ib (6.35 kg). "Tiger" the Persian cross owned by Phyllis Dacey of Billericay, Essex, England began growing abnormally at a year old; in 1979 he weighed 42 - 43 lb (19 - 19.5 kg) with a 12.4 in (31.75 cm) neck, 33 in (83.8 cm) waist and a total length of 37 in (94 cm). He was treated for a hormone imbalance (hypothyroid) and lost weight rapidly. He died of kidney disease in 1980, aged 10 years, weighing 18 lb (approx 8 kg). "Dinkie" the ginger tom owned by Miss K Dowding of Minchinhampton, Gloucestershire, UK, weighed 42 lb (19 kg) in April 1955 and had a neck 18 in (46 cm), waist 32 in (81 cm) and total length 40 in (101 cm). "Gigi" the female tabby belonging to Miss Anne Clark of Carlisle, Cumbria, UK fluctuated between 37 - 40 lb (approx 17 -18 kg), peaking at 42 Ib (19 kg) in 1970 and had a waist 37 in (94 cm), total length 36 in (91 cm).
The most famous feline fattie was 32 lb (14.5 kg) "Tiddles" who lived in the ladies' lavatory at Paddington Station, London, England for 13 years. Tiddles was adopted in 1970 as a stray 6 week old kitten by lavatory attendant June Watson. He dined on chicken livers, lambs' tongues, kidneys, rabbit or steak brought in by his admirers and had his own personal fridge. Tiddles continued to grow in girth and received fan-mail from around the world as well as appearing in news reports. His weight was due to overeating, but vets' attempts to put him on a diet failed (largely thwarted by titbits from admirers). Tiddles easily became 'London Fat Cat Champion' in 1982 at 30 lb (13.6 kg). He was put to sleep in 1983 after vets found fluid round his lungs. Tiddles had essentially eaten himself to death - killed by kindness - and photos show a grotesquely overweight and sad-looking cat, immobilised by his own girth. In my opinion, over-feeding a cat to this extent (despite veterinary advice) constitutes cruelty.
A ginger and white male called "Spice" owned by Loren Caddell of Ridgefield, Connecticut, USA reached 43 lb (almost 20 kg) in 1974 and peaked at an unconfirmed 46 lb (almost 21 kg) before being prescribed a special diet and medication for acute hypothyroid. He died in 1977, weighing 35 Ib (almost 16 kg). In 1977 a weight of 53 lb (24 kg) was claimed for a male tabby named "Boots" living in Hamilton, Ontario, Canada but photographic evidence failed to substantiate this claim.
| | | |
| --- | --- | --- |
| Tiddles of Paddington Station | | |
In 1982, the American "National Enquirer" tabloid staged a 'Heaviest Cat' competition. It was won by a 41 lb (almost 19 kg) neutered tabby called "Baby" owned by Mr Maefred Slawson of Constableville, NY. Baby reportedly had a gargantuan appetite. Neutered male tabby "Himmy" owned by Thomas Vyse of Redlynch, Cairns, Queensland, Australia peaked at 45 lb 10 oz (20.7 kg) in 1982. Himmy had a neck circumference of 15 in (38 cm), a waist of 32 in (81 cm) and a total length of 38 in (96.5 cm). Despite his weight, Himmy was reported to be a moderate eater and probably had an underactive thyroid. He had to be carried about in a wheelbarrow and died in 1986 of respiratory failure.
In 2001, there was a claim of 87 lb by a giant mutant cat from Canada. "Snowball" was reported to be the offspring of two cats found near a research facility in Canada and to be properly proportioned, not obese. Photographic analysis indicates a fake and the "former employee" apparently did not appear in the records of the company he apparently formerly worked for! The photo is included here to demonstrate what can be done a photo.
A previous Guinness World Record Holder for longest (and contender for the heaviest) cat is Snowbie, owned by Lorna Sutherland of Ellon, Aberdeenshire, Scotland. In 1997, 4 year old Snowbie measured almost 41 inches (103 cm) from nose to tail-tip. Some sources originally gave his weight as 98 lbs (44 kg), though other sources cited his weight as a more realistic 32 lb in 1999 (note: possibly a submitted weight of 44 lb was erroneously logged as 44 kg). Guinness's printed edition gave a believable 47 pounds and other sources have claimed an he has tipped the scales at 53 pounds; in fact fluctuations of several lbs are very possible with such obese cats. Snowbie was neutered at 3 months old, after which he apparently just kept growing. He stands 13 inches (33 cm) tall with a 12 inch (31 cm) tail. He also has a pampered lifestyle and like Paddington's Tiddles, probably an over-indulgent diet.
Guinness no longer record fattest or heaviest cats although other publications still list modern fat cat records. On 21st February, 2003, what was believed to be the world's current fattest cat was discovered in Russia. Five-year-old Katy weighs over 20 kilogrammes (over 44 lbs/3 stone 2lbs). According to her owner, Katy has lost interest in everything but food after being put on contraception. She has a 68.6 cm (27 inch) waist and according to her owner she ploughs through sausages at the rate of one-and-a-half per minute. The previous record holder, an Australian named Himmy, was 2 kilos (4.4 lbs) lighter.
A fat cat photo circulated on the internet and by email as "Munchkin the Monster Cat" and many thought it was a photo-manipulated fake. The cat is genuine and his real name was Sassy. Sassy was born in Virginia, USA and moved to Canada in 1991 with his owner. He started gaining weight after being neutered and also slept a great deal. The Blair Animal Hospital could not find any problems or underlying reasons for his weight gain. Sassy was fed diet cat food, but in 1999 his weight had reached 35 lbs (15.9 kg). In 2001 Sassy was 40 lbs (18.1 kg), but he lost 8 lbs (3.6 kg - the bodyweight of an average cat!) shortly before he died. Sassy was a moderate eater and did not eat table scraps, though he apparently enjoyed a little chicken or tuna.
Tubcat became an Internet sensation in 2002 and was touted as the fattest kitty ever. Matt Tedrow has provided some details. Tubcat's picture initially appeared in US Weekly, p. 96, on October 1, 2001. The cat's real name is Tulle, and the 12-year-old girl holding him is Tahabita (spelled Tabitha elsewhere) Pedersen. They're from Denmark, and Tulle was 6 years old and 43 lbs when the picture was taken (only 4 lbs less than Himmy). Tulle hit 19.2 kilos, but died of diabetes (and may have had heart problems), a common side-effect of obesity, in January 2008.
Although Tubcat/Tulle is dead, he unfortunately started a trend of people putting up photos of their own obese cats, some of which may have been deliberately overfed to outdo Tubcat. Although Guinness have wisely ended their fattest cat category, Tubcat and similar sites contribute to the sad trend in overfeeding cats and causing premature death in pursuit of publicity.
| | |
| --- | --- |
| Sassy | Tubcat |
In April 2004, Mikesch, a German cat weighing 6 times a cat's normal weight was taken to a Berlin animal shelter while the elderly owner went into a nursing home. The man had been feeding Mikesch 2 kilograms of mince each day compared to a normal diet of 300 grams of food daily. Mikesh's weight reached 18.5 kg and he was unable to take more than 4 steps without becoming exhausted. Mikesch's heart, joints and breathing were all suffering due to his excessive weight and the cat could not clean himself properly. Mikesch was put on a strict weight-reducing diet. Although Guinness World Records no longer recorded fat cats, the unofficial record in April 2004 was a cat called OT from Minnesota who weighed in at 18.55 kg.
In February 2006, another immensely fat cat was reported, this time in China. The 33 pound nine-year-old cat has a 31.5 inch waist and resides in Qingdao, Shandong Province. Surprisingly for a country where cats are most often kept as working animals, this is a cossetted pet who has to be helped onto a bed to pursue his other favourite pastime of sleeping. Obesity has not yet taken a toll on the cat's health and his appetite, rather than any medical cause, is to blame for his obesity. His main diet is a whopping 6 lbs of chicken and pork daily, but he is not interested in fish.
A 44 lb (20 kg) cat named Princess Chunk was found wandering the southern New Jersey community of Voorhees in July 2008. The Camden County Animal Shelter sought the owner and were trying to get the cat on a diet as well as getting her to take some exercise on a leash. However, the obese cat went to New York to appear on talk shows, potentially fuelling the misguided idea of feline fat acceptance. The cat turned out to be a male named Powder that had been abandoned by a woman whose home was repossessed. Whoever adopts Powder will need to get the cat's weight down if the pet is not to develop heart disease, joint problems and diabetes.
The average adult male cat is 28-29 inches long (71-73 cm) including a tail of 11 inches (28 cm). The average adult female cat is 26 inches long (6 cm) including a tail of 9.5 inches (24 cm). There is great variation between breeds. Snowbie measured almost 41 inches (103 cm) from nose to tail-tip, including his 12 inch (31 cm) tail. Guinness have now distanced themselves from animal obesity records and instead record "Longest Cat". The world's longest cat, outdoing previous holder Snowbie, is 8 year old Maine Coon Leo (full name Verismo's Leonetti Reserve Red), owned by Frieda Ireland and Carroll Damron of Chicago weighed in at 15.8 kg (35 lb) and measured 121.9 cm (48 in) from nose to tail. Leo's diet includes dry cat food, green vegetables, basil, parsley and blue cheese. Leo's vet, and Guinness judges, stress that Leo is not overweight and that he holds the record for his length, not his weight.
A red longhair called Clarence, born in December 1974 and owned by Mrs Milinda Los of Burnaby, British Columbia, Canada, measured 41.5 inches (105.4 cm) long and had a 13 inch (33 cm) tail. A British cat called Thomas O'Malley, born in 1972 and owned by Mrs Hilda John of Cardiff, South Wales, measured 41 inches (103 cm) long and had a 12 inch (30 cm) tail. A male cat called Pinky, owned by Darren Kreit of Southgate, London, was recorded as having a disproportinately long tail in 1978; Pinky's tail was 14 inches (35.5 cm) long.
DWARF AND MIDGET CATS
Dwarfism, miniature breeds, the various causes and the implications of keeping dwarf and midget cats are more fully discussed in Dwarf and Midget Cats
Dwarfism and midgetism has been recorded in cats. Achondroplasia dwarfism affects the arm and leg bones giving a normal-sized body with short legs. Midgetism (pituitary dwarfism) produces a small individual with normal body proportions. Another form of dwarfism produces a compact cat with shorter than normal legs and a short body; the proportions of legs, body and head are visibly "wrong" but the cat is neither a Munchkin-type nor a midget. Other causes are metabolic disorders (lack of growth hormone) and congenital defects (birth defects) which cause the individual to stop growing. I have seen dwarf cats in severely inbred feral cat colonies.
Some genuine feline dwarfs have weighed under 4 lb (under 2 kg) when fully-grown. A diminutive female shorthair called "Kitu" owned by Wanda Mitka of Laverton, Victoria, Australia was examined at the University of Melbourne School of Veterinary Science in 1979. Kitu was 7.87 in (20 cm) tall at shoulder, but perfectly formed and in perfect health. Her diminutive stature was due either to a genetic mutation or a congenital problem (birth defect) causing her to simply stop growing. Smaller yet was a male Siamese/Manx cross called "Ebony-Eb-Honey-Cat" owned by Angelina Johnston of Boise, Idaho, USA. In 1984, aged 4, he weighed only 1 lb 12 oz (792 g) but ate as much as a 12 lb (approx 5.5 kg) cat in the same household.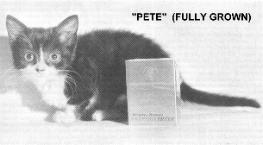 A "boisterous" dwarf male cat named "Pete" (b 1973) owned by Jackie Reed of Bognor Regis, Sussex, England weighed only 12 oz (339 g) at the age of 3 months compared to 3.4 lb (1.6 kg) for his normal-sized littermates. Pete's weight never exceeded 2 lb (907 g) when he was full grown. A 2 year old dwarf female owned by Mrs M Wildgoose of Gillingham, Kent, England weighed only 2 lb 15 oz (1.3 kg) in 1983.
More recently, the worlds smallest cat was reported to be a male blue point Himalayan (Colourpoint Persian) named "Tinker Toy" who stands 7 cm (2.75 inches) at the shoulder and 19 cm (7.5 inches) long - presumably excluding tail. Information about his weight does not seem to be available so it isn't possible to compare his size to that of "Pete".
In November 2003 the Guinness Record was held by 2 year old Itse Bitse who measured 9.52 cm (3.75 inches) high and and 38.1 cm (15 inches) long. In July 2004, there were 3 other contenders for the Guinness title of "World's Smallest Living Domestic Cat". In July 2004, there were 3 other hopefuls for the Guinness title of "World's Smallest Living Domestic Cat". Mr Peebles, from Pekin, Illinois, USA, weighs only 3.3 lbs (1.5 kg) at 2 years old (normal weight for a 2 year old cat is 8 - 10 lbs/3.6 - 4.5 kg). Mr Peebles is now full grown and his small size is due to a genetic mutation; he also has spinal problems and a disproportionately large head. Mr Peebles' vital statistics were confirmed as 6.1 inches (15.5 cm) tall and 19.2 inches (48.76 cm) from his head to the tip of his tail (his tail is just over 7 inches /17.8 cm) which, unfortunately for his claim, is larger than Itse Bitse. A 7 year old cat called Maggie, from Colfax, California, USA, is claimed to weigh less than 3 lbs (1.36 kg) and to be smaller in size than Mr Peebles. A 2 year old cat called Gizmo from Marlton, USA, weighed in at only 2 lbs (0.9 kg) and her small stature is believed to be due to a genetic mutation. The vital statistics of Maggie and Gizmo have not yet been independently verified.
Genuine miniature cat breeds are a new development in the cat fancy though there are several small cat breeds. Adult Singapura males weigh approx 6 lb (2.7 kg) and females weigh as little as 4 lb (1.8 kg). Some healthy adult female Siamese cats weigh as little as 5 lb (2.26 kg) though some male Siamese can reach 20 lb (9 kg). Some Siamese breeding lines give smaller, more "fragile-looking" cats than others and the old-style Siamese cats are more robust than the rather skinny modern version of this breed. The Mei-Toi was once advertised as a genetically miniature cat with no accompanying details. Latest information is that the Mei-Toi is now bred with Munchkins. The Munchkin's short legs are due to achondroplasia which stunts the growth of the long bones; they are therefore normal-sized cats with short legs. The Toybob is a Russian miniature breed, no larger than a normal 3-4 month kitten. Toybobs have short, solid bodies and excellent muscles, with a short tail or pompom-like bobtail.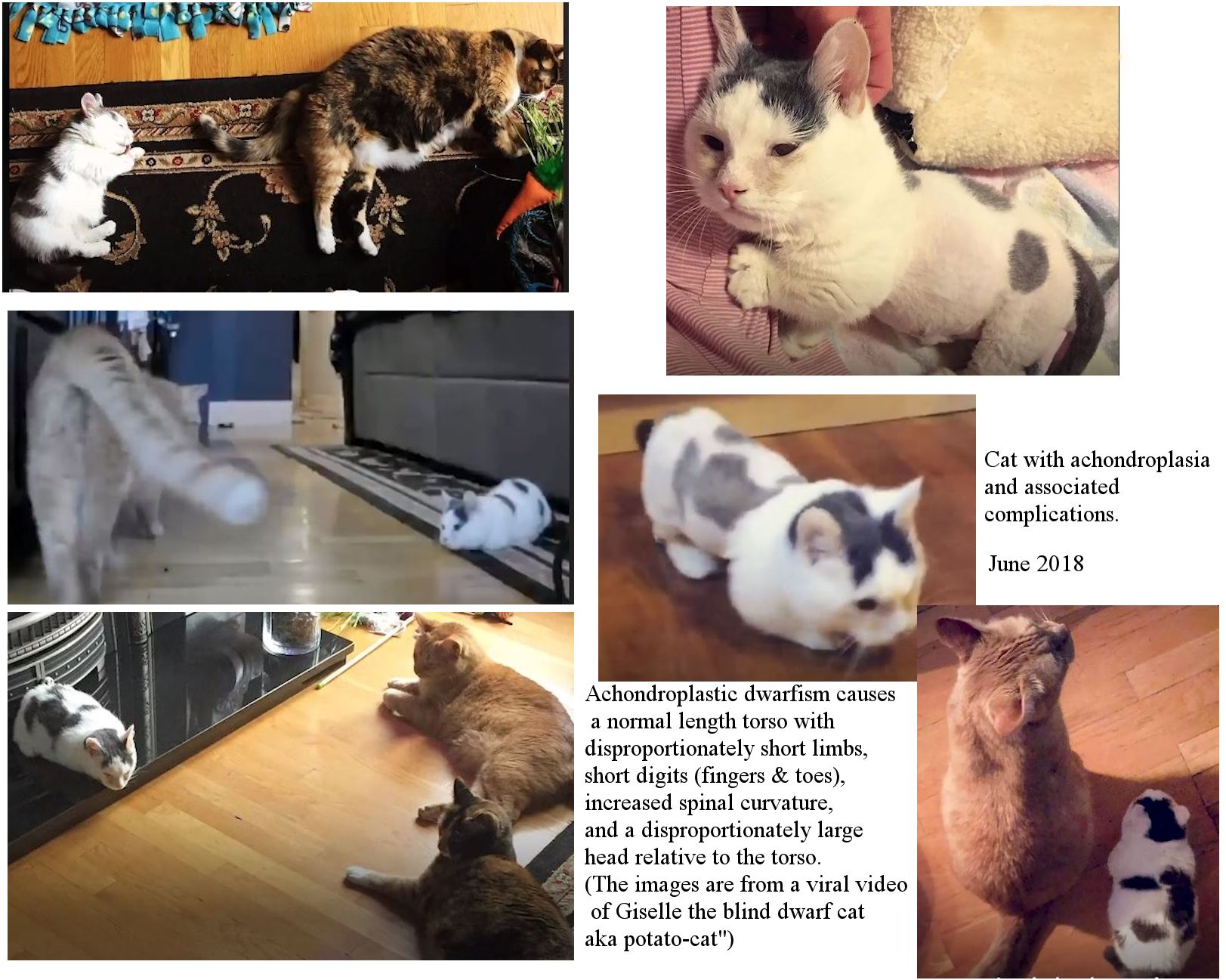 Through a carefully selected breeding program begun in the mid 1980's, a breeder from Staten Island, New York, USA successfully "down-sized" Persians and Himalayans (i.e. by breeding only the smallest cats in the bloodline) to consistently produce genetically smaller versions. All other physical features and personality traits remained the same as their larger counterparts. The miniaturisation is variable and cats bred vary according to the size they reach at 9-10 months of age. Mini females™ weigh 6-8 lbs and Mini males™ are 8-10 lbs. The Pixie™ females are 4-6 lbs with Pixie™ males weighing 6-8 lbs. The smallest category, Teacup females are a mere 2-4 lbs while the Teacup males are 3-6 lbs. It is not always possible to determine which kittens in a litter will reach which of these size categories. Miniature kittens are more vulnerable (e.g. to temperature fluctuations) than normal sized kittens. Being miniature poses health problems to pregnant cats so the breeding females must be 4-8 lbs in weight and breeding males are 4-10 lbs. The trademarking of the "Mini" prefix may be a problem since this prefix is a standard part English and "Mini-Himalayans" have occurred in the past (unconfirmed reports from Europe).

The other diminutive Persians are Bonnie Arnold's Toy Persians which mature at about 3-4 pounds, compared with the normal 14 pounds. In contrast to the down-sizing breeding program, these are the result of a sudden mutation. Her Teacup Persians and Toy Persians began in 1995 when a spontaneous genetic mutation occurred within the sperm-producing cells of a 14 lb breeding male Persian called "Treker". 76% of kittens sired by Treker are miniatures. Toy Persians mature at around 5 lb while Teacup Persians mature at 3-4 lbs pounds (it is not always possible to determine which kittens will end up which size). Despite their small size, the diminutive cats are apparently perfectly healthy.

Several other miniature cats have been reported in the last several years; these include miniature Siamese and number of miniature random-bred cats. Genetically small cats are now being used in some breed programs to create Mini-versions of popular breeds: Mini-Bengals, Mini-Munchkin, Mini-Keuda - in fact once the mutation for miniature cats has appeared, it can be introduced into any breed. There are problems where miniature (dwarf or midget) female cats are allowed to breed - if the kittens reach full term and are not miniature, a caesarean section is needed as their larger heads cannot pass through the miniature mother's birth canal.

MORE ANOMALIES

If you have come to this page directly from a search engine, please check out

FELINE MEDICAL CURIOSITIES for the full index of topics including
What Causes Medical Curiosities?
Extra or Deformed Toes, Paws and Limbs, Split Foot, Twisted Limbs, Mummification of Limbs, Accidental Part-Amputation of Limbs, Curly Tails
Conjoined Kittens
Anomalies of the Fur and Skin: Green Kitten, Hairlessness, Curly Fur, All Black Siamese (Porphyria?), Pink Cats
Facial Deformities: Hydrocephaly, Cleft Palate, Anomalies of the Eyes and Ears, Two-Headed/Two-faced Kittens
Anomalies of Size: Dwarf Cats, Giant Cats, Fat Cats
Miscellaneous Anomalies: The Dancing Cats of Japan
BOOKS ABOUT ANOMALIES
If you are interested in medical curiosities, books worth reading are "Mutants: on the Form, Varieties and Errors of the Human Body" by Armand Marie Leroi and "Anomalies and Curiosities of Medicine Vols 1 and 2" by George M. Gould & Walter L. Pyle. The Gould & Pyle books were published in 1896 and are in the public domain. You can download text-only versions of Gould & Pyle from several websites so don't waste money on text-only versions of the book; but if you want the versions with photos, consider the Kessinger editions. The Leroi book explains why and how some deformities and anomalies happen - the mechanism is the same in cats as it is in humans.
You are visitor number