EARLY TWENTIETH CENTURY NEWSPAPER REPORTS (1906-)
NOTED ARTIST AUTHOR DEAD – The Winnipeg Tribune, 4th January, 1906
London, Jan. 4.—Harrison W. Weir, today. He was born in Lewes, Sussex, May 5, 1824.
The late Harrison W. Weir was first a pupil of George Baxted in 1837, to learn the process of color painting, but he disliked it and began as an artist untaught. He first exhibited at the British Institution an oil painting of a wild duck in 1843, and afterwards at the Society of British Artists and the Royal Academy. He was for many years a member of the New Society of Painters in Water Colors — now the Institute — from which he resigned some years ago. He was a noted animal painter and draughtsman. Mr. Weir, recently had the distinction of being the only surviving member of the original staff of the Illustrated London News. He was also on the staffs of the Field, Pictoral Times, Pictorial World, Graphic, Black and White, Poultry and Store Keeper. He was the author and illustrator of "The Poetry of Nature," "Every Day in the Country," "Our Cats and All About Them," and "Our Poultry and All About Them," the writing and illustrating of which occupied his attention for upwards of twenty years. He was a designer of rare cups. Goodwood, Ascott, etc., for Garrard & Co., for over thirty years. He was the originator of the cat show at the Crystal Palace, London.
CATS – The Pittsburgh Press, January 21, 1906
Gotham's Millionaires Blow Money for Cats While One Who Loves 'Em Rescues Waifs,
New York society entertained itself with a cat show recently. One might get a good cat for anywhere from $50 to $75 — although for the most aristocratic ones $250 was not an amazing price. Fifty dollars for just a cat! But those poor New York multimillionaires have to have something to spend their money for. Why not a cat?
Down in Palmyra, N. Y.t there is a cat refuge. It is owned by C. H. Jones, who loves cats — just cats, from the $250 variety down.
"I like every cat that is sent to me," Said Mr. Jones, "and keep it until I can find a good home for it. If it is not such a one as I can conscientiously recommend, I keep it myself all the rest of its natural life. I never chloroform anything. But you would be surprised to know what fine cats some of these waifs turn out to be."
$1,000 CAT
Democrat and Chronicle, 23rd January, 1906
At the recent cat show in Chicago one of the exhibits was valued at $1,000; yet the average householder does not hesitate to hurl discarded fruit cans at a neighbor's cat. It is evident that there is either over-appreciation or undervaluation in this industry.
THE SULTAN'S PETS. Globe, 16th February 1906
The Sultan of Turkey is fond of animal pets, l and lavishes upon them a tenderness which does not extend to the Christian peoples of his empire. He is a frequent purchaser of choice singing birds in the European markets, especially in that of Berlin. But His Majesty has now been smitten with the craze for prize cats, and the cat show in Berlin particularly struck his fancy from the published reports. His agent in the German capital was thereupon instructed to forward one or two of the handsomest specimens. These have recently arrived at the Yildiz Kiosk, where they will henceforward, presumably, live the luxurious life of an oriental seraglio.
McCHESNEY'S IDEA OF HUMOR
Asbury Park Press, 27th February, 1906
Council last night was in receipt of a communication from W.W. McChesney. Clerk Burroughs had only half finished reading it when audible smiles filled the council chamber and Mr. Minot asked for relief, which was granted by Dr. Kinmonth, who asserted that council wasn't compelled to listen to burlesques and move that the letter be buried in the scrap basket. Mr. McChesney's missive which proved so troublesome recommended a cat show in the auditorium and set forth plans whereby the city might receive great revenue from a performance in which cats, mice and women alone participated.
CATS' AGE
Diss Express, 6th March, 1906
Herr Pohl, president of the German Society for the Protection of Cats, has just published the results of his investigation in regard to the age which it is possible for these animals to attain. Cats, he says, are like human beings in one respect. The more peaceful and better regulated their life is, the longer they are likely to live. As a proof, he points out that a favourite cat in the Royal Castle of Nymphenburg has lived to be forty-two years old, and consequently may fairly claim to be considered the dean of cats in Germany.
SULTAN GETS GERMAN CAT – The Inter Ocean, 11th March, 1906
BERLIN, March 10 — The Sultan of Turkey has for a long time evinced a predilection for things German. Probably the sedulous manner in which the Kaiser has cultivated his friendship account a for Abdul's taste. As is known, the Ottoman ruler is a great lover of domestic pets. He has decided that his future purchases in this domain shall be made in Germany. All the Sultan's canaries and other singing birds are sent from Germany, and now the report in a newspaper of a cat show in Berlin has awakened Abdul's interest. He expressed a desire to own a German cat, and one was forthwith sent to Yildis.
THE LATE MR HARRISON WEIR
The Leavenworth Times, 16th March, 1906
The late Mr. Harrison Weir bequeathed "the large silver bowl and black stand that a few lovers of cats presented to me in commemoration of my having instituted the first cat show held at the Crystal Palace," to the mayor and corporation of Lewes, England, of which he was a member.
THE ARISTOCRATS OF THE CAT FAMILY
The Indianapolis Star, 18th March, 1906
Although the little girls are supposed to be greater lovers of the pretty furry tabbies than the boys, there are probably very few of the latter who would refuse to own one of the handsome animals pictured above. These furred aristocrats were among the prize winners at a great cat show where over 300 pedigreed pets were shown.
There is a big difference between the back yard cat that is seldom allowed inside the house and the petted darlings of indulgent mistresses. These pedigreed cats are worth large sums and the boys and girls would open their eyes in surprise at the prices for which some of them are sold.
Imagine a great long-haired white beauty, whose every movement is grace and who has been taught ways as dainty as those of her mistress. And then there are the aristocratic short haired species. The young people generally like the lovely fluffy beauties best, however.
In the long-haired kinds the blue classes are amongst the most sought after. Then there are the white Persians and the great orange-eyed fellows. Other fine classes are the chinchilla, the silver tabbies, the smokes, the creams, the oranges, the tortoise shells, the neuters, the blue Persians and the exquisitely brown-marked tabbies so much admired.
NEW CAT IN BOX OFFICE
Los Angeles Herald, 1st April, 1906
Joy reigns supreme at the Burbank Theater, Maquita, the pussy, which was presented to the Burbank by Ella Wheeler Wilcox and which is incidentally a very much spoiled kitten, is the proud mother of one tiny, white, hungry Angora kitten. For more than a year Maquita has been the pet of the Burbank forces and every morning they brought her liver before they did anything else. When "Mizpah" made a hit, the pet kitten was named "Mizpah" after the play, but when the "Judge and the Jury" scored a much greater success than "Mizpah," ihe name was peremptorily changed to "Marquita," the name of the heroine in the pretty play of the west.
Black as darkness itself is Maquita, while her one lone child is as white as Maquita is black. The sire of the new arrival is Peerless, the Angora that carried off nearly all the prizes at the cat show.
In the box office where the fond mamma and helpless offspring lie in a drawer, for the last twenty-four hours everyone connected with the selling of tickets has been tiptoeing about in an agony of apprehension for fear the twain might be disturbed. The name of the youngster has not yet been decided upon by the Burbank force. Whether to name it William, after the leading man, or Blanche after the leading woman is not yet settled, but one of the two it is sure to be.
ANOTHER DOG [AND CAT] SHOW – Pittsburgh Daily Post, 8th April, 1906
A Cat Show and Pet Animal Show! Admission Free! At Fox's
Pet Shop, Oliver Avenue and Smithfield Street. You will see a new importation of Angora Cats and Kittens — one pair of heavy-weight 9-month old Blue Persian Cats. [Plus other pets for sale] The place for you to visit is Fox's Pet Shop,
Oliver Ave. & Smithfield St. (Old Virgin Alley.)
CAT ADOPTS RAT
Detroit Free Press, June 10, 1906
"Miss Phoebe Snow," the pet cat, of the ferryman who tends the little row-boat ferry across the "gap" in the Lackawanna railroad yards In Hoboken, gave birth to six kittens ten days ago. Last Friday one of the kittens died. All day Saturday Miss Phoebe appeared downcast and in the afternoon she started on a hunt for rats. A few minutes later she returned with a big rodent of the kind known as "wharf." The cat again disappeared and came back in a short time with a baby rat tenderly carried in her teeth. Straight by the ferryman she marched and over to the basket where her five remaining* kittens lay, and beside them she placed the young rat. As an experiment, the rat has been taken from Miss Phoebe several times, but on each occasion she has deserted her kittens long enough to find the missing youngster and return it to the basket. That the cat killed the mother rat to obtain the little one who has finally taken the place of her dead kitten is the belief of the ferryman and more than one of his friends.
BATHES CATS
Vancouver Daily World, 4th July, 1906
Miss Virginia Smith, of New York, bathes cats for member of the Four Hundred who take to feline pets. At one cat show all but one of the prize winners were her clients, and she is prosperous.
NEW CAT IN BOX OFFICE
Los Angeles Herald, 1st April, 1906
Joy reigns supreme at the Burbank Theater, Maquita, the pussy, which was presented to the Burbank by Ella Wheeler Wilcox and which is incidentally a very much spoiled kitten, is the proud mother of one tiny, white, hungry Angora kitten. For more than a year Maquita has been the pet of the Burbank forces and every morning they brought her liver before they did anything else. When "Mizpah" made a hit, the pet kitten was named "Mizpah" after the play, but when the "Judge and the Jury" scored a much greater success than "Mizpah," ihe name was peremptorily changed to "Marquita," the name of the heroine in the pretty play of the west.
Black as darkness itself is Maquita, while her one lone child is as white as Maquita is black. The sire of the new arrival is Peerless, the Angora that carried off nearly all the prizes at the cat show.
In the box office where the fond mamma and helpless offspring lie in a drawer, for the last twenty-four hours everyone connected with the selling of tickets has been tiptoeing about in an agony of apprehension for fear the twain might be disturbed. The name of the youngster has not yet been decided upon by the Burbank force. Whether to name it William, after the leading man, or Blanche after the leading woman is not yet settled, but one of the two it is sure to be.
ANOTHER DOG [AND CAT] SHOW – Pittsburgh Daily Post, 8th April, 1906
A Cat Show and Pet Animal Show! Admission Free! At Fox's
Pet Shop, Oliver Avenue and Smithfield Street. You will see a new importation of Angora Cats and Kittens — one pair of heavy-weight 9-month old Blue Persian Cats. [Plus other pets for sale] The place for you to visit is Fox's Pet Shop,
Oliver Ave. & Smithfield St. (Old Virgin Alley.)
WOMAN TRYING SUICIDE, LEAVES ROOSEVELT ALL; Mrs. Grover in a Note Says President Will Care for Her Body. THEN DRINKS CHLOROFORM Would-Be Suicide a Fanatic About President's Personality
The New York Times, December 10, 1906
Mrs. Lulu B. Grover, a middle-aged woman living at 2,089 Lexington Avenue, who was evidently a fanatic about the personality of President Roosevelt, attempted suicide some time yesterday, leaving a letter saying that the President would look after her two white kittens. She said she had already notified him, and he would know just what to do. […] Mrs. Grover visited the Harlem court about a year ago to ask for a summons for some person she thought wanted to carry away her two Angora cats.
WHEN IS A CAT?
The Scranton Republican, Pennsylvania, November 21, 1906
LONDON . Nov. 20. Cat fanciers In Great Britain, who are growing numerous, are riven by the profound question, "can a kitten become n cat before it Is a year old." - The Southern Counties Cat club has decided that the period of adolescence ceases at nine months, and [illegible] Its members are going to call cats "cats" and kittens "kittens" in those lines whatever happens. Other clubs differ and the frequent cat shows look likely to continue to no [illegible].
THE FAMILY CAT
By Walter Louis Ray
Photographs by C. F. Conly, Sarah Weaver and William F. Wood
Suburban Life Magazine, December 1906
DESPITE the fact that the cat is visibly nearer its wild and treacherous ancestors than any other of our domesticated animals; and that it is useless, in an age when use, in most things, is the criterion of popularity and value ; it is still strangely true that this same cat is the most domestic of animals, and the most popular, if numbers tell the story.
The following hints as to their care come from one who has brought up many of these animals in the way they should go. To most people it will be startling to hear that cats should not have milk. It is not a natural, save in the beginning, food for them, nor a desirable one. Meat for food, and water for drink, is the latest approved cat diet. Be sure and keep water about; many a cat goes thirsty.
Not even is it best to give kittens milk. As soon as they are through nursing, give them meat at once; don't wean them with milk. At eight weeks, the desirable food is raw meat chopped fine. Beef is perhaps the best sort, if one is going into the thing scientifically, so to speak; though there is no harm in general table scraps, where there is not too much grease with them. The best vegetable (for the diet should not consist wholly of meat) is rice. This, cooked not too soft, and mixed with finely chopped raw meat, and given to them twice a day, has been found by a successful cat culturist to be the most satisfactory and healthful diet, as it never tends to produce the common diseases to which cats arc subject, and which are usually laid to other causes than the diet. A sick cat can often be cured if put strictly on this diet.
Ordinarily speaking, cats may be kept clean by brushing; long-haired ones also need combing. Unlike dogs, they really do not need regular washing, though it is quite possible to train a cat to a weekly bath if she is taken early enough.
If you treat puss like a human being, she will treat you like one — if not, beware of her; she, despite her civilized habits, is near the savage.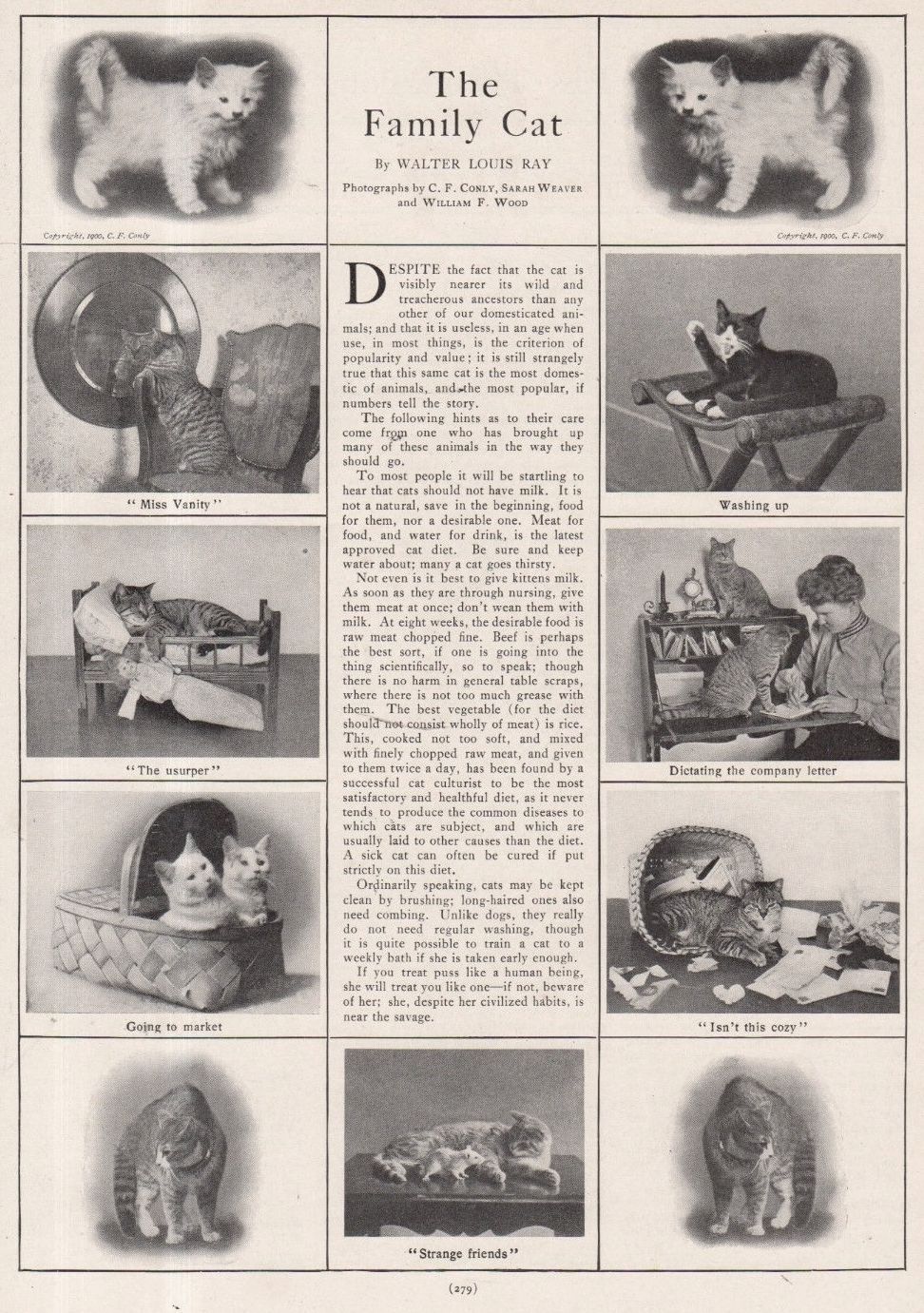 THE WHIRL OF SOCIETY
The Inter Ocean, December 1, 1906
Mrs. Clinton Locke's Cat club has one rule which shuts out the very poor from membership, although it may not tend to exclude the nouveau riche. Before you can join you must have become the owner of a cat which is pedigreed. Cats which are pedigreed come high, unless you are fortunate enough to win out on the Mansfield Angora cat raffle over at the Streets of Paris piffle next week. At any rate, you must own a real cat, not an alley Tom.
There is a young matron in town who met some of the Cat club women recently, and found she had made, innocently, such a pronounced hit with all of them that she was asked forthwith, and not only asked, but urged, to join the Cat club.
"But I haven't a cat," the young matron said, with a well concealed shiver at the thought of the sleek, furry creatures which were no favorites with her.
"My dear, the simplest thing in the world," said the Cat club ladies with one voice. "Here is an address. That cattery is to be depended upon, and the pedigrees furnished are simply lovely. Now, do hurry. We have our meeting tomorrow, and we could propose your name and perhaps vote you in right away."
"If the constitution and by-laws of the club will let us," wet-blanketed one of the women.
The other woman said something which breathed anathema upon the law akin to, though not precisely, what Senator Tillman said in his speech the other night, and repeated:
"And perhaps vote you in right sway."
When the young matron went home she asked her husband if the Cat club was worthwhile, and how much a woman would have to spend for a pedigreed cat. When he said $40, she gasped and called up the cattery. It was even so, $40 at least; and, if she wished, a great deal more.
"I hate cats, anyway," said the young matron. "We'll put $60 with the $40, dear, and buy that dear little rug Eve wanted, and save the money that way."
When they slipped the chain lock across the street door that night they heard a faint, weary meow. The man of the house opened the door upon a soft, gray skeleton of a kitten with blue eyes, in which shone a great world sickness. The young matron looked at it with all the dislike she felt for cats, and then something in the kitten's face moved her, and she bent down and picked it up. As she cuddled it she moved toward the pantry. "I'll give it some warm milk." she said.
It took the young matron and her adoring husband until 2 a.m. to get that kitten fed and settled for the nighi new mistress watched it all day with a great cat love blossoming in her heart. Early the next morning one of her new friends called her up.
"The Cat club meets this afternoon." she was told. "Have you your cat?"
"Yes, I have a cat," began the young matron, "but -"
"Then that's all, dear," said her new friend, and the conversation ended abruptly. "We voted you right in," the young matron was told by some ten women later. "We knew that you must love cats to have got one so soon, and that cattery is so reliable."
"But " began the honest young woman, and then stopped short.
"If they ever ask to see my darling Johnny Bear's pedigree," she told her adoring husband later, "they just can. But as long as they don't care. I don't. And not even Dickie Mansfield's Angora could be half so beautiful as you, my beauty."
And the little alley kitten, with a contented little body distended with milk, and ribs becoming swiftly covered with flesh, winked lazily up from the Oriental rug which he had helped to buy.
Perhaps a genealogical society will yet make little Johnny Bear eligible for the cat show, as it helped numerous specimens of alley humanity into historical societies and revolutionary dames and the like. - Willie Dearborn.
CAT SHOW IS MEWS-ICAL – Detroit, Free Press, 22 December, 1906
One pun made yesterday saved several dollars for the cat show. Police Secretary Charles A. Nichols was the target for the play upon words and he capitulated under fire. The police were notified to call at the show and see if a license had been procured. It had not, so the patrolman asked one of the ladies to step over to the secretary's office and explain.
"This is a charitable affair," she said. "We ought not be asked to take out a license."
Secretary Charlie took down the book of ordinances. He looked through it with a ponderous air and settled on the section that prescribed exemption for musical shows for charitable purposes.
"But this is mews—ical!" exclaimed the lady before the secretary could finish the reading.
"You save the money," said the secretary, and the lady hurried back to her mews—ical bunch.
LEGACY OF TWO KITTENS ACCEPTED BY ROOSEVELT; But the President Declines Mrs. Grover's $2,000 Estate. HE BELIEVED HER A CRANK Woman Suicide Wanted Her Body Cremated and the Kittens Well Cared For.
The New York Times, December 22, 1906
Announcement was made yesterday by United States District Attorney Henry L. Stimson that President Roosevelt has accepted the two cats willed to him by Mrs. Lulu B. Grover, the woman who committed suicide on Dec. 8 in her apartments at 2,089 Lexington Avenue. Mrs. Grover took chloroform and died after being removed to the Harlem Hospital.
In her room the Coroner found many photographs of President Roosevelt, together with several poems lauding the Presldent for his kind heartedness. A will written by her was also found. In it she bequeathed all of her estate to Presldent Roosevelt There was also this letter:
Saturday Night, Dec. 8, 1906. - To the Coroner or the First Police Officer that Finds My Body Here: I beg of you to telephone to President Theodore Roosevelt. He will have my body cremated. I have written to him, have made my will, and all I have is his. He will have everything attended to just as I wish it to be, and all will be right. He knows where to find everything. Please find inclosed $5, and a thousand thanks for your kindness. Please do not let my poor kittens be frightened or annoyed. President Roosevelt will take them as soon as he receives my letter I mailed to-night to him. Please let them stay here until then. My heart is broken, so I take my own life in the familiar way I know by drinking chloroform. No one is to blame but myself. I trust my spirit and future life to a merciful and loving God, who knows and judges our sorrow. - LULU B. GROVER. 2,089 Lexington Avenue.
[…]" The Public Administrator found that she left some jewelry and a little cash, a little more than would cover her funeral expenses. There was some money in a, savings bank, but all told the estate amounted to not more than $2,000.
[…]However, the only benefit President Roosevelt received from it was the two cats. When I took up the matter I found that the Public Administrator had taken possession of the two cats and was in a quandary as to what he should do with them. He could not give them away, he said, because they had been willed to President Roosevelt. " Consequently the care of the two cats worried him greatly, and he appealed to me to relieve him of the burden. I communicated with President Roosevelt about the cats, and he said to send them on to Washington and he would take care of them. So I sent the cats to the President. Of course if any of the woman's relatives turn up and claim the cats President Roosevelt will hand them over."
TWO CATS FOR ROOSEVELT - HE ACCEPTS BEQUEST OF NEW YORK SUICIDE
Boston Evening Transcript, Dec 22, 1906
New York, Dec. 22 - before Lulu Grover committed suicide by the use of poison in her Harlem home on Dec. 8, she expressed in writing that the President should receive her personal property. She added the hope that Mr. Roosevelt would order the disposal of her body and take her pets, two Angora cats. It was learned that although Mr. Roosevelt was never known to the woman her wishes were respected. Acting under the Preseident's orders, United States District Attorney Henry L. Stimson, in conjunction with the public administrator, personally supervised the cremation of the body and forward the two pet Angora cats to the White House. [....] Little was known of Mrs. Grover further than seh described herself as a magazine writer, of independent means, and an admirer of the public career of the Chief Executive.
This odd case was reported in a number of papers including The Washington Post, 10 December 1906 as "WOMAN TRIES SUICIDE - Writes Note Asking that President Be Notified THEN SWALLOWS CHLOROFORM" which described her as a widow who was on good terms with her neighbors and that the neighbors found her unconscious after hearing her groaning. The eccentric Mrs. Grover appeared to have an obsession with the President. Despite her claims, she was not related to him.
CHICAGO CATS - St Louis Post Dispatch, 28 December, 1906
Society in Chicago has just gone through the "amewsing" throes of a cat show. We in St. Louis are threatened with one. None but felines of high degree will be submitted to exhibition. Alley cats and plain pussies, back-fence toms and cellar tabbies will be barred. To get into a cat show the mouse catcher must have a pedigree as long as a road ditch. Divorce and remarriage is so common to the race as to threaten the purity of the race.
But there are things about a cat show which catch. Some of the pedigrees are delightful subjects of study. What shall we say of the large blue-eyed, pink-lipped, fox-tailed Angora cat of Mr. D. L. Parrish, who we are informed comes out of Russia. His registered name is Catchamouscky. His sire was Grabaratsky, his mamma a Countess of Watchtheholeski. They were bred upon the steppes of the famous Russian nobleman, Duke Slopemupski, who is a first cousin of the Count Drinkaviski, who is well if unfavourably known in America. Mr. Parrish secured his famous Angoras from the Countess Blowemupski, the nihilistic leader who married the equally famous Dr. Skippedoutforhisshealthski, whom police rushed from Russia. So you see a cat show will not be without its entertainment and from of instruction, and now that we are told every day that we are a growing city and quite in the class of New York and Chicago, let us have it.
From "THREE ACRES AND LIBERTY" by Bolton Hall, 1907
Many people make money by breeding dogs. Not much land is required and very little capital, as kennels can be multiplied as demand increases. There is always a profitable market for dogs, and some of the lap species, like the King Charles spaniel, bring fabulous prices. Hunting dogs, such as setters, pointers, retrievers, really require a game country and a practical hunter who can train the puppies, to make much of a success of it; with these, if properly handled, the business is a safe one, as there is little other technical skill required beyond ordinary care, such as is given to domestic animals.
Cats are a better venture than dogs because they are sold to women who will pay any price for what strikes their fancy. Fashions in cats change about as fast as fashions in coats, but cats breed faster than coats wear out, so it is quick business. Just now, coon cats, tortoise-shell cats, and bizarre colors of Persian cats are mostly in vogue, but the tailless Manx cat, and even freaks like the six-toed cat and Iynx cats always find a ready market. Of course, these can be raised in the city, but if it is done in a large enough way to make a living out of it, the Board of Health and the neighbors will raise -- something else.
CAT HE DISLIKED CAUSED HIS DEATH
The Washington Post, 11th February, 1909
Pittsburg Dispatch to the New York World. John Moerscher, a druggist, objected when his family got a black cat, but finally let it stay. Late Tuesday night, in the darkness, Moerscher stepped on the cat, fell down stairs, and died Wednesday of a broken neck.
FOR A CAT CEMETERY
The Brooklyn Daily Eagle, February 22nd, 1907
Women of Newton, Mass., have petitioned the legislature to set apart a tract of land for aged and indigent cats which have passed beyond this vale of yowls and squalls. There is no opposition to such a bill from the legislative committee, and it looks as if we will have a cat cemetery in our midst.
It would be a good thing, a cat cemetery. Personally we know of a whole bunch of cats in our neighbourhood alone, every one of whom ought this minute to be sleeping 'neath the daisies in a cat cemetery. These cats with which we have a passing acquaintance have outlived their usefulness. Somebody has called the cat a "fireside Sphinx," which conveys the impression that a cat spends its life sitting sleepy-eyed on the hearth and blinking lazily at the backlog, never opening its mouth. The cats we know are not that kind – they all go in for voice culture. They sing duos, and quartos, and sextos every night just as we are dozing off into slumberland. Then we have to get up and throw away household articles which we really cannot afford. Think of throwing coal away at $7.75 per ton!
It is continuous opera on our back fence day and night. No self-respecting cat in our neighbourhood can walk out of a morning to get the air without having to engage in at least three affairs of honor before he concludes his promenade. We never saw so many cat feuds as there are where we live.
Two cats meet midway of the back fence. It is a narrow boardwalk with no room to take a siding. If it were double-tracked many a bitter controversy would be avoided. But it is a single-tread, narrow-gauge fence, and so when the cats get within about a foot of each other they pause. Their tails begin to swell and switch and the feathers on their backs in rise. There they stand with their ears laid back, their eyes blazing and the names they call each other we would not pollute this column of pure reading matter by repeating. Each T. Cat tells the other T. Cat what he thinks of him and his ancestors for seven generations back, and this takes considerable time.
The climax comes when one cat calls the other a flea-bitten remnant of decayed aristocracy. No cat with any pride will stand for that, and so they get together. The atmosphere is rent into screeches and filled with tufts of hair, toenails and eyebrows. They fall from the fence with a dull, sickening thud closed in deadly embrace, and the fight goes on until one or the other hollers "Plenty!"
Then both return to the fireside with bunged eyes, ears fringed like a lambrequin and coats which look as if the moths had been getting a square meal. Let us have the cat cemetery. — Boston Post.
CAT WAS LOST IN A TREETOP
The Post Standard, 22nd March, 1907
AUBURN. March 21.— A hungry looking cat with an excellent pair of lungs excited the, sympathy of a number of women in Court street to-day. The cat was perched on one of the topmost boughs of a tall tree in front of the County Jail - and was mowing piteously.
A rescue party composed of women was formed, and one woman started after the cat by means of a long ladder. When the woman started to reach for the "poor kitty" the frightened animal leaped onto the roof of the jail, a distance of about ten feet. The ladder was then changed and a man was secured to go to the roof after the cat. After chasing the animal around the roof several times the man became angry and made several remarks derogatory to pussy. Finally the cat leaped from the roof to the ground and ran up Court street at a rapid pace.
MOST PAMPERED PUSS ON EARTH GETS LETTERS AND HAS PRIVATE MAIL BOX
The Washington Post, May 12, 1907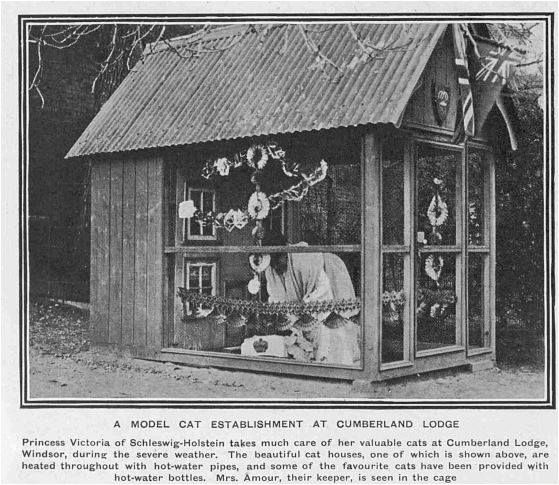 London, May 2. Princess Victoria Of Schleswig-Holstein, who is the favorite niece of King Edward, and who recently was reported to be engaged to the Czar's younger brother, is the acknowledged leader of the "cat cult" In England. Father Bernard Vaughan may or may not have been aware of this fact when he fulminated so violently against the cat and dog worshipers of society. It is doubtful, however, if even the Mayfair Savonarola could convince her highness that she is imperiling her immortal soul by lavishing her affections on cats. At Cumberland Lodge, in the royal domain of Windsor, where she resides with her parents, Prince and Princess Christian, she maintains a veritable feline paradise, where her furry pets revel in luxurious idleness, relieved of all the obligations imposed on common pussies of earning their board and lodging by catching rats and mice.
She has the only cat in the world probably which can claim the distinction of a private address and letter box. "Her Royal Highness Princess Imp" is the name of this aristocratic favorite. Perhaps the most pampered cat in existence, she is a perfect specimen of that much prized, high-caste breed, the Chinchilla, which is distinguished from the plebeian members of the numerous tribe by its superb fluffy coat. Every morning the postman on his early rounds brings her a letter addressed "H. R. H. Princess Imp, Seymour Lodge, Windsor." She is not a learned cat, and she makes no pretense of reading the letter, which, by the way, is sent by her loving mistress. On the contrary, Princess Imp promptly tears the "missive" up. It is a diversion to which she has grown so accustomed that if perchance a day passes without bringing her her usual correspondence she sulks in her boudoir and refuses to be comforted.
"Seymour Lodge" Is the name of the house where she resides with the family she is engaged in rearing. It is a dainty miniature two-storied villa. Over the front door, which leads into a little garden with graveled walks, is mounted a shield, in which is emblazoned a crown, surmounting the letters "V. S. H.," Princess Victoria's monogram. From the roof of the structure hang little colored gelatine balls, filled with peas, with which the kittens delight to play, and with which their royal mother occasionally diverts herself. The windows of the little house are hung with muslin curtains, tied back with blue ribbons, and a staircase leads up to the first floor, on which are the dining room and bed rooms. Each cat has its own little wooden bed, with its full complement of sheets, blankets, and quilt and bedding deemed necessary to insure the repose of a royal pet.
In a miniature mansion near-by are housed five female Persian cats, each one of which occupies a separate flat. The windows of their abode are hung with muslin curtains, tied up with bows of pink and green. Overlooking this structure is the residence of a royal tomcat — Prince Puck III — who is also a member of the august Chinchilla family, and the winner of many prizes at cat shows, and the father of a numerous progeny which have gained similar distinctions. He isn't even put to the trouble of choosing his wives. They are all carefully selected for him, and he can serenade his lady loves without ever being called to do battle with masculine rivals.
If "Princess Imp" and the rest of Princess Victoria's cats lack anything to make them supremely happy it is not their royal mistress' fault. Their meals are carefully prepared for them, and are always served on time. The milk supplied them comes from the King's own cows. Their special attendant is an old maid — Miss Armor — who finds her duties a labor of love, for old maids are proverbially fond of cats. Not to make any bones about it, Princess Victoria is an old maid herself. There is never any discreet concealment of royal birth dates, and half a dozen annuals in that portion devoted to the royal family record the fact that she was born in 1870. Even the stern moralist might be moved to regard that as an extenuating circumstance when pondering upon her extraordinary devotion to cats. And if she lavishes much superfluous affection on cats, that does not prevent her from being very fond of babies and children, and devoting much attention to them. Her mother's pet hobby is a creche for poor children at Windsor, which she has maintained for twenty years. And in making these little waifs of poverty happy, Princess Victoria is her chief assistant.
If Princess Victoria kept all the cats that are born in her "cattery," Cumberland Lodge, of course, would soon be overrun by them. She sells those she does not care to keep. She displays no false pride about it either. She advertises openly the fact that she has cats for sale - in papers devoted to the cat cult. The money she makes in this way comes in very handy, no doubt, for she is not particularly well off for a princess. She is dependent on what her parents allow her, and neither of them is rich. Her mother has only the $30,000 a year which Parliament settled on her when she married.
Queen Alexandra goes in for cats quite extensively, as well as for dogs. Of late years she has shown greater partially for her feline pets than for her "bow-wows." Her special favorite is a handsome Persian, who has been christened Sandy, because it was his good fortune first to see the light of day at Sandringham. For several years he has always accompanied his royal mistress on her travels. He enjoys the privilege, too, denied his numerous relations, of disporting himself in the royal dining room, or in any other apartment of the royal palaces her majesty may be occupying.
Most men dislike cats, and King Edward is no exception to the rule. If he had his way Sandy would not long enjoy the privilege, which is supposed to be specially reserved for his kind, of looking at a King. But the Queen insists that her pet cat shall be treated with just as much consideration as the King's pet terrier. Therefore, his majesty tolerates Sandy's presence. The Queen, according to the latest census of her four-footed creatures, has about fifty cats, but of these, less than a dozen can claim to be really on terms of personal intimacy with her majesty. They have a groom all to themselves, who carefully superintends their toilets twice a day. They have often sat for their photographs to the Queen herself, for she is an expert amateur photographer, and Louis Wain, the great cat artist, has painted their portraits. When any of them develop ailments, the royal "vet" is summoned to make a careful diagnosis, and the result is immediately communicated to her majesty. A room In the Buckingham Palace stables has been designated the "cat hospital," and here the royal pussies undergo medical treatment when they need it, and are tended with far more care than is bestowed on most of his majesty's juvenile subjects when things happen to go wrong with them.
Their diet, too, is much better looked after. Their fish is supplied by a fish-dealer, of high repute; fresh milk for their consumption is furnished daily from the royal dairy at Sandringham - in short, they are treated as members of the feline aristocracy in high favor with her majesty. The queen never sells any of her cats, for, unlike Princess Victoria, she never runs short of money. She gives away most of the kittens to her friends, and the fact that they are gifts from the Queen is sufficient to insure them a life of luxury for the rest of their days. In this way, unwittingly, perhaps, her majesty has been responsible for a great deal of what Father Vaughn so scathingly denounces as cat worship.
But the woman who has done the most to spread the cat cult is undoubtedly Lady Marcus Beresford. She is the founder of the Cat Club, and her catteries were established as long ago as 1890 [note: this article appeared 3 years after she reportedly liquidated her cattery]. At one time she had as many as 150 cats and kittens. She goes in for every variety of blue-blooded cat, but however much they may differ, in the luxurious quarters she has provided for them they enjoy the felicity, to use her own language, of "meeting on a common ground of aristocracy, feline, though it be." She justifies the attention bestowed upon them by declaring that in the behavior and daintiness they show themselves just as much superior to common cats as are well-bred people to plebeian folk.
Many of her pets are housed in a pretty little home, covered with creepers, which is called "Cat Cottage." No expense has been spared in the fittings of the rooms, and every provision is made for warmth and ventilation. There is a small kitchen for cooking the meals for the cats, and this is fitted with every requisite. On the walls are racks to hold the white enameled bowls and plates in which the food of the cats is served. Their diet is varied [so] that their appetite may not become jaded by monotony. On certain days they are regaled with fish and rice. At other times the enamelled bowls are filled with minced meat. In hot weather a good deal of vegetable matter is mixed with their food. Goats are kept to provide milk for the delicate young kittens. A medicine chest is furnished, which contains everything that is needed for prompt and efficacious treatment In case any pussy becomes sick. On the entrance hall of the cottage appears a list of the inmates of the cattery, with their names, pedigrees, and particular charms duly set forth. There is also appended a set of rules to be observed by both the cats and their attendants.
But Lady Marcus Beresford takes most pride in what she calls her "garden cattery," a dainty structure, covered with roses and ivy. "In this," she writes, "there are three rooms, provided with shelves and all other conveniences which can add to the cats' comfort or amusement. The residences of the male cats are most complete, for I have given them every attention possible. Each married cat has his separate sleeping apartments, closed with wire and with a run attached. Close at hand is a large square grass run, and in this each gentleman takes his daily but solitary exercise. One of the stringent rules of the cattery is that no two males shall ever be left together, for if they were it would be a case of 'when Greek meets Greek.' I do not wish it to be understood that the gentlemen cats are forced to lead solitary existences, for they have their reception days for lady visitors, who seem to open their eyes with astonishment at the luxurious arrangements provided for guests."
The woman who gets most glory out of cats is Lady Decies, who has a cattery at Birchington-on-Sea. She has won more prizes at cat shows than any other Individual exhibitor. Several of her cats are valued at $5,000 each, which is a good deal more than the average British workman can earn in a lifetime. She has no children of her own; but her devotion to cats is not all selfish. She has established a home for stray cats, where vagrant pussies are sheltered and given an easy exit from this world by means of a lethal chamber, in case they are not reclaimed or provided with a home elsewhere.
Among other prominent cat devotees who have not been convinced of the error of their ways, are Lily Duchess of Marlborough; the Duchess of Wellington, Viscountess Maitland, and many other leading lights of society. There seems little likelihood that the cat cult will decline in England. For one reason, because there is money in it. For another, because its leaders don't care a hang what religious teachers and professors of morality may say about them or their fads
FRIED CAT AND DOG
The Sun, 22nd July, 1907
A dyspeptic Atchison man went into a restaurant the other day and ordered fried catfish. "Fried cat!" bawled the waiter to the cook. Instantly the weak stomach rebelled. "Cancel that order," the customer said, "and give me an order of country sausage." "Sidetrack the cat and make it dog!" yelled the waiter, and he is wondering yet why the man grabbed his hat and left. — Atchison Globe.
HOME PETS
Manchester Courier and Lancashire General Advertiser, 6th September, 1907
"Home Pets" (London: Greening and Co., 6s. net) by various authors, including Dr. Gordon Stables, Mr. Herbert Compton, and Miss Frances Simpson, is a handy little volume on this popular subject, dealing with the selection and care of dogs for town and country, rabbits, cats, white mice, and other creatures.
KAT AND KITTEN TALES BY ISABEL ALLERDYCE - The Des Moines Register – 3rd November, 1907
If you had been down here last week
You would have seen a sight,
The village cats were all astir
morning until night,
such washing and such brushing up
Were going on all day.
Their whiskers, too, were neatly trimmed.
And oh, how pleased were they
As they entered Farmer Jones' yard
And sat all in a row,
Each thinking he would take the prize
At Our Cat Show.
Felines of every kind were there.
Big, little, slim and stout.
And Mrs. Tiddles' kittens, too,
Were running all about.
Marla and Miss Mandy Jane
With Angelina sat,
And Mrs Jones' tortoiseshell
With Tom, the butcher's cat.
There were blacks, and grays, and
Angoras white as snow,
A Persian, too, from Teheran,
At Our Cat Show
Down in a comer at the back
A common little cat.
Who attracted no attention.
He was too plain for that.
Looked wonderingly upon the scene.
As if he thought it queer
(He had a scar upon his nose,
A big slit in one ear) ;
He sat and purred contentedly,
And did not seem to know
He was the very homeliest thing
At Our Cat Show.
The famous Tabby Cat was Judge -
Big, solemn and sedate —
The wisest cat for mile around
And when he rose to state
The winner we all pricked our ears,
Each hoping he would be
Called to receive the ribbon blue
And bear it off with glee
He hemmed and hawed and cleared his throat.
He was so calm and slow,
You could have heard a needle drop
At Our Cat Show.
And when at last the wise old Judge
Spoke out and told us that
The ribbon was awarded to
That common little cat
Who had a scar upon his nose
And in his ear a slit.
The others all looked so surprised
I thought they'd have a fit,
And murmurings of discontent
And mutterings deep and low.
Among the audience could be heard
At Our Cat Show.
Maria And Miss Mandy Jane
Looked daggers at the Judge,
While Angelina tossed her head
And gave them both a nudge,
As who should say, "well there my dears!
What do you think of that?"
"'Twill kill all future showa, that's sure,"
Said Tom, the butcher's cat.
I laughed until I nearly died
To see them take on so,
And thought we'd have a quarrel for sure
At Our Cat Show.
The Judged called out for order then,
And with a look severe
Remarked in slow and solemn tones,
"You doubtless think it queer
To see the ribbon given to
A cat so vary plain,
But 'handsome is as handsome does,'
I always will maintain;
And yonder homely little cat,
Although you do not know,
Is worthier far than any one
At Our Cat Show.
One winter's night, right in this town,
Not very long ago,
He rescued from a dreadful death
Some people whom you know;
Through fire and blinding smoke he ran,
And mewed and scratched and cried,
Until they heard, and but for him
They surely would have died.
So 'handsome is as handsome does,'
And now the facts you know,
You must admit he's worth the prize
At Our Cat Show.
When Tabby stopped and sat him down,
The cheers were long and loud,
And all to shake the winner's paw
Then hurried in a crowd;
They were so pleased to meet him there,
And hoped he'd come again,
And whispered in each other's ear,
"He's not so very plain,"
He was the lion of the hour,
And when 'twas time to go,
We gave three hearty cheers for him
And Our Cat Show.
NOTABLE CAT LOVERS. Globe, 27th November 1907
While it is possible to obtain as much as £1,000 for a specimen of high pedigree, there is, naturally, a business side to the cult of the cat. Among those whose soft-footed representatives are to be seen carefully caged at most of the big shows are Lily Duchess of Marlborough, Viscountess Maitland, the Duchess of Wellington, and Lady Decies. It is said that Lady Decies, who has a cattery at Birchington, has won more prizes at cat shows than any other exhibitor.
FINE FURS OFTEN FALSE
Detroit Free Press, 8th December, 1907
The Humble House Cat Plays an Important Part in Supplying the Demand, and Even the Rabbit is Not Immune.
Ponies and cats have gained a high place in the wardrobe of society. No animal, in fact, with a furry coat is safe these days owing to an increasing demand for garments with a fur side outside or a fur side inside. This is due largely to the popularity of the automobile, for motor enthusiasts buy and wear out a lot of fur garments […] The demand for women's fur motor coats of a not very expensive grade grew to proportions most pleasing to the fur dealers, who met it quickly. Hence the cat and the pony. To be sure the former was not exactly a newcomer, having been used more or less for years for linings, but now it was assigned to more important uses and cat skins from every part of the globe found ready sale.
Not under the name cat, though. In France both the foreign and the American breed of cat is called genette and most persons, including the dealers, prefer the French name. At the present time the United States furnishes by far the larger number of these cats.
These animals are now caught in such large numbers in some sections of the country that it is possible to export almost as many skins in a season as we use in this country, which is more than 100,000. At first hand the skins fetch only a few cents each, but by the time they are fit to grace the shoulders of metropolitan women their cost has soared remarkably. Black skins are in demand, especially by dealers in very low priced, made up fur pieces, but it is the striped or tiger variety with well-defined black streaks most generally demanded for the outside of coats.
[The article then discusses Russian pony fur, rabbit, hare, skunk and squirrel]
BREEDING OF CATS
The Winnipeg Tribune, 11th December, 1907
Question of Color Discussed by an Export.
The art of color breeding is much more pimple than it was a few years ago. There is now no necessity to mate blue with anything but a blue or a chinchilla with any other than a chinchilla.
All fanciers may not have queens of different colors, and yet they would like a little variety in their catteries. The owner of a black queen may wish for some blue kittens, or the mistress of a blue queen may desire some creams as a change. These two crosses are quite safe. Light smokes may be crossed with chinchillas, but it would be very undesirable to cross with blues or blacks. A black and orange cross frequently results in one or more tortoiseshells. Brown tabbies ought to be kept to themselves. White cats should not on any account be bred with any other colors, as the white is almost certain to come out in single hairs or patches.
Do not be disheartened if a young queen is unfortunate with her first litter. She may crush some of the kittens by lying on them, not because for want of affection, but from awkwardness. Her nervous anxiety may also lead her to carry the kittens around in her mouth, in order, as she imagines, to find them a perfectly safe bed. Keep the little family quiet and in the dark, shut the mother in with them for a few hours, and let her go free when all is quiet and no-one is about.
It Is a remarkable thins that the Asiatic cats are subject to abnormal formations of the tall. The Siamese cats frequently possess kinked tails. In Burma cats are found, some without tails, others with crooked or twisted stumps. Japan also possesses tailless cats.
There are said to be cats in China with pendent ears. Then there is the cat from the east of Africa called the Mombassa cat, which is said to have a short coat but very wiry.
A very taking variety is the Abyssinian, whose color should be a reddish fawn, each individual hair being ticked like that of the wild rabbit, and should not be a large coarse cat. It is popularly known as the Bunny cat.
Kink tailed, screw tailed, fork tailed, and absolutely tailless cats have all been exhibited in English shows in recent years. Tortoiseshells are the most difficult variety to breed. They invariably come either too light or too dark, or the colors not well blended. A tortoiseshell Tom is as scarce as the extinct Dodo.
In the spring the Persian or longhaired cats commence to lose their coats, and it is really not until October that the new fur comes in. About December and January the cats are at their best. That is the reason that the shows are invariably given during the winter.
I really think that of all the longhaired breeds smokes look the worst when out of coat. The light frill disappears, and they are Just a multitude of lines and streaks, and altogether present a very dishevelled and mussed up appearance. There are several things to be remembered in trying to breed good creams. The colors must be kept level whether it is dark or light shade, and to keep it pure, not tinged with blue or dull.
Manx cats are very shy breeders, and more frequently the litter will consist of one solitary kitten. Siamese cats are certainly the most intelligent and least dignified. They are dog like in their nature, and are easily taught to do tricks. When they are ill a sprinkling of white hairs usually appears on the face and head, and the eyes change from blue to a pale opal.
ONLY CATS, AFTER ALL
The Des Moines Register, 27 December, 1907
Animal fanciers in New York City have grown very excited over what they term the improvement in the breed of cats. A cat show, conducted recently by a party of gentle spirits, is said to have been the most wonderful exhibition of its sort ever witnessed in the world. Not only were there a great many cats present, but each creature represented the highest achievement along specified lines in feline culture. There were Angoras and Persians of silky, well-groomed fur and a native air of refinement; there were cats marked in stripes and plaids; there were tiny cats and husky, raw-boned cats and well-bred kittens. It was a fastidious collection, and no one who passed between the long rows of stalls would deny that the "uplift" movement of the last generation had not been felt by the feline family.
Professional cat men, after the show, expressed their belief that in time cats may attain even a higher degree of refinement. Of course we are glad that pussy is going to have so much done for her. We approve of the efforts to improve the feline branch of the animal kingdom. But it seems that the professional cat grooms are proceeding along unimportant lines. The exhibitors have become enthusiastic over the softness of their pets' fur, their aristocratic markings and patrician features. They have awarded prizes to the animals with the tenderest eyes, the most tuneful purrs and the closest trimmed scratchers; but — and we await anxiously an answer — has anyone operated successfully upon one of the beast's vocal cords. Has any one succeeded in making one of the creatures' nocturnal yowls less horrible. Have any of the brutes been taught to go to bed at a decent hour of the night?
We have heard nothing of such im¬provements. And with these inherent racial defects, a cat is a cat, and all the breeding and grooming and care in the world will not change his diabolical nature.
LONDON TOWN, UNLIKE PARIS, IS HEAVEN FOR THE CATS
The York Daily, 23rd December, 1907
London, Dec. 22. — A lover of cats once said that he summed up the general character of the inhabitants of a city by the way the stray cats received his overtures of friendship. In Paris the cat literally walks alone, as Kipling prophesied it always would. It is impossible to get near enough to one to stroke it. French cats are only seen darting from one alley to another, and apparently always in a state of panic. This arises from the fact that the French are not lovers of animals.
In London it is quite different. London is an elysium for cats. The cats you meet in the street are always sleek and happy and are most friendly. A cat is really a sort of necessary finish to a London home. Just as the poor little wild bird in a three frame cage gives prestige to a French menage, so a large, well groomed, well fed cat seems to give respectability to an English household.
Stray cats are always well treated here. Of course the day comes when they are gently picked up by a man in uniform and placed in a cart and taken to the cats' home. Here they are kept a few days, well looked after and fed. Then if no-one claims them they are sold, if valuable, or else painlessly translated into whatever sort of angel a cat becomes.
Such being the situation it was natural that the nineteenth show of the National Cat Club of England should have been an event of importance. Some 430 cats, accompanied by adoring owners, competed for prizes. The Countess of Stafford is president of the league, and Louis Wain, the cat portrait painter, is the chairman. There were six judges, and they had their hands full in keeping peace, not among the cats but among the cats' owners who did not win prices. The cats themselves were haughtily indifferent as to results.
They were divided into 104 classes. There were two main sections and these were subdivided into open, novice, kitten, team, brace and breeders classes, according to sex and colors, white, black, blue, chinchilla, smoke, silver gray, brown tabby, red tabby, silver tabby, orange, cream, tortoise shell and any other color. The short haired varieties included Siamese, Abyssinian, Manx, Dutch and British mousers. The long haired were the Persians, Angoras, etc. The greatest price ever known to have been paid for a cat was secured in London. It was $5,000.
Just as every dog has his day so does every cat. This year the Siamese reigned supreme as being fashionable and most successful.
LITERARY EXTRACTS. QUEEN ALEXANDRA AND HER TASTES. (From the Tatler.)
Dundee Evening Telegraph and Post, 7th May, 1908
HER LOVE OF ANIMALS. The Queen, delights in pets of all sorts. She possesses poultry, rare birds, horses, dogs, and cats, with which she constantly takes prizes at all the principal shows. Her Borzois hounds, her charming Pekinese spaniels, and her Persian and Russian and Siamese cats have become famous in the sporting world. To her is due the popularity that these breeds have attained inrecent years, while the formation of the dips' Kennel Club was the outcome of her efforts.
BABY SCARE WAS KITTENS.; Four of Them Left in a Basket in Areaway of Dr. Rose's Home.
The New York Times, November 24, 1908
Edna Pietjen, a servant in the house of Dr. Edward L. Rose, at 120 West 132d Street, went out on the sidewalk last night, when her attentio was attracted by a basket on top of the areaway. The basket had a paper covering, and Edna Pietjen heard noises in it which she could not understand. Her report to Dr. Rose made him suspect the worst. He telephoned to Police Headquarters for a man to take charge of a basket that he didn't want. Lieut. Miller of the West 125th Street Station detailed Policeman Max Morris, some six feet and odd tall, to investigate the basket. Policeman Morris tore off the paper cover. he and the nieghbors saw four little black kittens, which he took back to the station.
RIOT CALL FOR THEODORE.; He Is a Harlem Police Cat and Disperses Mobs of His Kind.
The New York Times, January 14, 1909
One of the many letters to Capt. Carson of the West 125th Street Station said, without a trace of burlesque: "The tenants of this house, the Ormonde, 417 West 114th Street, simply cannot get to sleep five nights in the week, on average, until they have turned and rolled and cursed themselves into a state of fatigue. Why, sir, this bunch of cats in the back yard begin at 8 o'clock and they go on until long after midnight, and sometimes until daybreak. Often they cry out with voices that sound like humans in distress. Faintly dozing along, we jump up and rush to the window. Nothing but cats - dozens and dozens of them. Time and time again i have rushed to the window at 3 A.M. thinking that murder was being committed. But it wasn't.
"I understand, Sir, that there are ordinances against unnecessary noises. These noises are not only unnecessary, but they are violent, and as you and your policemen are supposed to enforce the laws, I think it devolves upon you to stop these violent noises to which i refer."
Wherefore, Policeman Heinrich Metz, under orders, stole out of the station at 10 o'clock last night with a mysterious bundle under his arm, which was Theodore, the station cat. Policeman Metz found the rear yard at 417 West 114th Street thick with cats. He turned Theodore loose, with the view of having him whip the tar out of the leaders. But all the cats saw Metz and scattered. Returning to his station, the policeman reported; "I have dispersed the mob."
Theodore will be turned loose among the trespassers again to-night.
AN ARMY OF DISEASED CATS.
The New York Times, January 28, 1909.
To the Editor of the New York Times: I live in the east side tenement district, where the cellars and yards are overrun with half-starved, often diseased cats. It is useless to depend on the ordinary tenement dweller to report such cases to the Society for Protection of Animals, for they won't do it. Such a condition is bad for the community for three reasons: (1) Ethically, to grow callous to suffering is certainly a step backward spiritually and morally; (2) Such an army of underfed, diseased creatures is a menace to the general health; (3) Needless suffering inflicted on an inoffensive and helpless creature. A.B. New York, Jan 27, 1909.
HOTEL'S CAT HAS THE GOUT.; Tix, Press Agent for Nineteen Years, Is Under a Doctor's Care.
The New York Times. February 08, 1909,
Philadelphia, Feb 7 - Tix, it was reported at Green's Hotel to-day, was just about able to be about, his gout being particularly bad. He spent much of the day reposing on a velvet cushion in the sun or near a steam radiator, and when he walked about it was with a halting and uncertain step. He grunted and complained just as any old Angora fellow will who has always dined off the fat of the land and been feted and petted by friends for years. Dr. Alexander Glass of Sansom Street, who is treating the famous old cat, thought that his patient might pull through his present acute attack, but was of the opinion that his days were numbered, because he has of late been losing much of his old snap and vigor, and no longer takes enjoyment in walking around the register and the bookkeeper's desk.
For many years, Tix has been a sort of assistant auditor at the hotel, and has soberly looked over the accounts and kept an eye on the number of folk that were patronizing Mr. Newton. he has always been press agent and advertising manager of the house, both of which places he has filled to the entire satisfaction of his senior partner, Mr. Newton. He has also looked after the bar, walking its entire length several times a day, gingerly skipping over glassware with never a mishap. Tix was born nineteen years ago. In those nineteen years he has become famous.
BISHOP SAYS NEVER BE CATS.; Gives Advice to Girls of Fashionable School in West End of London.
Special Cable to THE NEW YORK TIMES, March 02, 1909.
London, March 1 - The Bishop of London gave some remarkable advice to -day to the students of a fashionable girls' school in the West End. The curse of that part of London, the Bishop declared, was not what might be called immorality, but rather the prevalence of catty spirit. By which he meant, he said, the way in which many people spent their lives saying ill-natured things about others. He had known the reputations of good men and women taken away by this catty spirit so prevalent in West End drawing rooms.
"Never be cats," the Bishop advised his young audience. "There is all the difference in the world between an old maid and an old cat. Some of the old maids in London are the most loving and gracious people in it, and you needn't be afraid of being an old maid so long as you are not an old cat."
CATS AND "CATTINESS."
The New York Times, March 7, 1909
Doubtless Mrs. TAFT in her new capacity as first lady in the land, will receive patiently and graciously the demands of her sisters in Indiana in regard to her entertainments at the White House. If she obliges them to the extent of banishing wine from her table, they may as well ask her to dismiss her man cook and do her own housework. But she may content herself with receiving their petition and managing her household in her own way.
The Bishop of London, with a degree of asperity quite unusual to him, has lately said that London society is dominated by the "catty spirit." Exactly what the "catty spirit" he finds in women may be we do not know. But the London correspondent of THE SUNDAY TIMES informs us, in his cable dispatches, that Lady DOROTHY NEVILL, defending the feminine part of society from the Bishop's charge, defines cattiness as the denotement of a small mean mind. This might by some be applied to the ladies of the Middle West who have undertaken the direction of Mrs. TAFT's private affairs.
But we fancy that Dr. INGRAM refers chiefly to the evil tendency to gossip, to say cruel things of one's neighbors, to meddle with the affairs of others, and we protest that these traits are not characteristic of the cat, a peace-loving animal which minds its own business, and is perfectly contented if it can have the best of everything in sight. Shrewish scandal-loving women have been called cats by the unthinking simply because the cat's voice , in moments of emotional excitement, is pitched rather too high, and is of disagreeable tone. But the cat rarely meddles with other people's affairs. Wherefore, we should not dream of calling the Indiana petitioners catty unless we were prepared to accept Lady DOROTHY NEVILL's definition of cattiness , which is effective by zoologically inaccurate.
SOLEMN SCIENTISTS WATCH TWO-LEGGED MAMMA PUSSY
The Spokane Press, March 18, 1909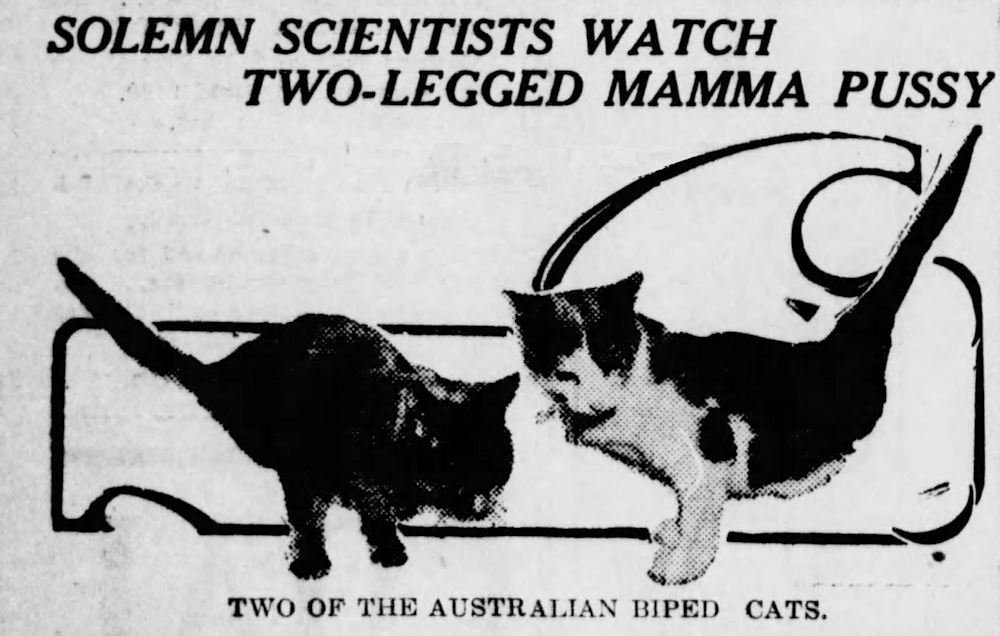 Australia the country of natural freaks, has developed what may prove to be a new species of cats. Mrs. Helen Reineger, the wife of a farmer residing near Sidney, Australia, owned a blue maltese female cat. The feline presented the farmer's household with three litters of two-legged kittens. The diminutive furry balls mewed, played, jumped about and frisked like other young cats. They even climbed trees and chased mice. But their movements were not as swift as their quadruped relatives.
A foreman on the farm thought two-legged cats were unfit to survive, and he drowned the first two litters. He also killed three of the last litter. Mrs. Relueger ordered two of the kittens spared to "see if she could raise them." They are now 10 months old and full grown. The queer animals mated and the female will soon demonstrate, by giving birth to a litter of kittens, whether a new species of cat has been suddenly evolved contrary to the slow laws of evolution, or if she will "breed mack and her brood revert to type," or four-legged cats.
The cats are now in the possession of M. Slotkin, an importer, 386 Madison street, Chicago. He heard of Mrs. Reineger's freak pets and made her an offer of $100 for them, this was accepted. Shipment across Australia, over the sea to Bremen, Germany, thence across to New York and finally to Chicago, with incidental expenses of feeding and care, cost $50 more. Almost immediately on their arrival here bids were made for the cats by zoologists and showmen all over the world.
The advent of the coming litter is watched with deep interest by naturalists as a possible demonstration of departure from the laws of evolution which may upset Darwin's theory of gradual change or verify his proposition that freaks are exceptions that forecast future species and are followed by reversions to normal type. The possibilities give rise to many novel and sensational scientific theories.
LAUNDRY COMPLAINTS.; Many, Many Homeless Cats.
The New York Times, March 18, 1909.
To the Editor of the New York Times: In your issued of to-day appears a letter from a real estate dealer who appeals for help to have his neighborhood rid of wild, ownerless cats. is there any neighborhood in our city that is not infested with these howling, sleep-destroying, nerve-racking animals? Halt the crusade on homeless dogs and let the crusaders catch and destoy a few thousand homeless felines, of which there are at least 300,000 in our city. - J.A. New York, March 16, 1909
CENTRAL PARK.; The Disposal of Homeless Cats.
The New York Times, March 19, 1909.
To the Editor of the New York Times: For the edification of your correspondent "J.A.," I would say that there is an impression abroad that the Society for the Prevention of Cruelty to Animals stands ready to dispose of homeless cats. I regret to add that a communication to that society from the writer asking for relief from these unhappy starving creatures in the vicinity of my residence was ignored. Perhaps additional complaints may awaken the above-named society. - E.R., New York, March 18, 1909.
CHRISTOPHER DIDN'T FIT.; The Reason Was in the Form of a Basketful of Kittens.
The New York Times, April 1, 1909

There were seven arrivals at the Plaza yesterday, but under the tules of the hotel they were not allowed to register. They were accommodated, however, and Assistant manager Little is looking for a small farm in New jersey where they might find a suitable future home. Mr Little won't talk about it, but Mr Searles, representative of the Hot Springs Company, did. Just after Christmas, a patron of the hotel presented to Mr Little a handsome Angora cat. The cat was named Christopher. It soon became the pride of Mr. Little's heart, and incidentally the pet of the hotel employes. Many a choice bit was taken from the table that Christoper might have the meal of an epicure.
Yesterday morning, when Mr. Searles arrived at the office there was a mewing and catawauling that set him investigating. In the waste basket there was evidence of a visit from the stork, for there were seven little beauties among the scrap paper. Mr. Little was informed of the arrival, and, of course, changed Christopher's name to Chrissie. He says he is now thinking of starting a cat farm in New Jersey. Five of the seven kittens are tabbies.
SAID A CAT GOT GIRL'S SOUL; Witness Tells of a Strange Conviction Expressed by Mrs. David Hughes.
The New York Times, April 22, 1909

Mrs Alice Connoly, wife of First Assistant Corporation Counsel Theodore Connoly, was the principal witness yesterday in the contest over the will of Mrs. Louise Beauchamp Hughes, wife of David M. Hughes, who built the Second Avenue Elevated Railroad. Relatives of Mr. Hughes, who received $120,000 under the will of his widow probated in 1899, seek to have a will dated 1902 set aside on the ground that the testator was incompetent at the time it was made. The case is being tried before Surrogate Cohalan.
Mrs Connoly testified that she was friend of the dead woman for about thirty years and told of a meeting with Mrs. Hughes at the Broadway Central hotel in the Spring of 1902, about the time the last will was made. "When I saw her," said the witness, "she was talking about the soul of her adopted daughter, and said she believed she would never again meet her Louise either in this world or the next, because she had made up her mind that her soul had gone into the body of a cat."
SAD END OF CITY PRISON CAT
San Francisco Chronicle, 31st August, 1909
The sad end of the City Prison cat that drank itself into such a state of melancholia that it dashed itself from the top of a skyscraper suggests a new field for the Pacific Cat Club. This worthy organization should devote part of its energies to the promotion of feline temperance.
U. S. PAYS SALARIES TO HARD WORKING CATS
Los Angeles Herald, September 11th, 1909
Busy Felines Draw from Eighteen to Thirty-five Dollars Each Year
If all the cats regularly in the service of the United States could be assembled in one place they would approach the proportions of a full brigade and display sufficient variety and attractiveness for a highly interesting cat show. There would not, perhaps, be any pampered and pedigreed Persians among them, plumy-tailed, languorous and haughty; they are of necessity plain business cats, with their work cut out for them, more intent on capturing mice than prizes. But they include handsome cats, homely cats and odd cats; the pert and bob-tailed Manx, the gentle and Quakerly Maltese, the tigerish brindle, the tri-colored tortoise shell, and the modern "cold storage" cat — that curious [note: and entirely mythical!] breed originating among the great cold storage warehouses of Pittsburg, and since then exported to guard the great cold comissary stores in Manila. Ranging the great chilled rooms, their artificially developing arctic qualities — their fat, chunky bodies, heavy fur, short tails, long and strong eyebrows and whiskers — make them as comfortable as outside in the tropic temperature they would be miserable. Trick cats there are in the list, too, and numerous pets, whose non-feline fellow employes have adorned them with gay ribbons, silver bells or morocco collars, or other forms of their interest and affection.
Toby and Fritz, the two sleek favorites of the New Haven post office — one jet black, the other black and gray - are on the pay roll for appropriations amounting to $25 a year. In New York the post office cats cost the government $60 a year. Post office cats are numerous, for rats and mice have a peculiar fondness for gnawing paper, and no respect for the penalties pronounced by Uncle Sam against wanton destruction of mail.
Many other government buildings also maintain cats. The army has its regular corps of them employed chiefly in the commissary depots of large cities. Each pussy, according to the figures given out a few years ago, draws equal to $18.25 a year; for it has been found that no cat, no matter how faithful and triumphant a mouser, will thrive on a diet of mice alone. Neither will a cat of proper spirit and ability relax its campaign against the enemy through being properly fed. On the contrary, it becomes an even more formidable foe.
So the officer in charge of each department forwards to the war department an official request for an allowance for so many cats. Bids are then posted, calling for "fresh beef, suitable for feeding cats, bone excluded," at a price not over 5 cents a pound. And this ration, for the better preservation of pussy's health, is occasionally varied with canned milk or fish.
In fact, although dogs, widely reckoned the most useful animals, are, as assistants to the police, employed experimentally in only a very few cities, the humble and unobtrusive cat has long made good her place in national employment, both in the civil service and the army.—St. Louis Republic.
SAYS CATS SOOTHE INSANE; SENDS PRIZE FELINE TO ASYLUM
October 31, 1909
Chicago, Oct. 30. — That the care of animal pets, especially cats, has a quieting and beneficial effect on the insane was the statement made In an address before the Beresford Cat Club by Mrs. Clinton Locke, president of that organization and vice-president of the Cat Association.
"I firmly believe that the care of animals, particularly such decorative, lovely pets as cats, will soothe the troubled minds of the insane," said Mrs. Locke.
"For that reason and because this opinion is advanced by friends of mine interested in the care of the insane, I have sent one of my finest animals, a beautiful white female, to an asylum in Pennsylvania, where a test is being made of this use of pet animals and birds. Cats are better than dogs. They will stay at home and do not need constant watching. They are more useful and then they are so much more quiet." I
THE CATS' BALL.
By Lyde J. Asper.
The Pittsburgh Press, 2nd December, 1909
O, you should go,
To see the show,
Of fine and far-famed cats,
At City Hall,
They hold a ball,
Though not for catching rats.
So many mews
Will sure amuse,
If in a musing mood;
In special trays,
It doth amaze
Grand waiters bring their food.
These Cats of State
Are quite elate —
They boast a family tree.
That bushy tail?
It tells a tale —
And so they're full of glee.
Now hear the purrs,
Of Persian furs,
Abyssinian Manx. Siam;
Some black as night,
And some as white
As any little lamb.
If e'er you seek
One that's a freak,
Here's "Tom," not far from town.
Then pay your fee,
And him you'll see —
A cat of great renown.
What are those yells,
Of Tortoise Shells—
They're round as Mother's muff;
Why do they shout,
And run about ?
Because they're in a huff.
And there's Rob Roy,
Oh, he's a toy!
From England's shores he comes ;
"He takes the cake,"
Which soon he'll break,
And this is why he hums
AN APPRECIATION OF PUSSY
Los Angeles Herald, Volume 37, Number 163, 13 March 1910
Most dog lovers, those of the more radical type In particular, contend that the dog's mission in life is to teach mankind that the universe Is ruled by love, says Chambers' Journal. Montaigne was fond of his dog, but it was of his cat that he wrote: "My Cat awaits no one's mirth. We entertain each other with mutual follies, and if I have my time to begin or to refuse my cat also has hers." Miss Ellen Terry tells us that when Sir Henry Irving lost his pet dog Fussie, which fell through a trap door, the wardrobe cat came down and sat on Fussie's cushion and awaited the great actor, even as Fussie had done when the play was over. Andrew Lang says it is the cat alone among animals that attains to the contemplative life. Miss Frances Simpson In her "Book of Cats." writes: "At a very remote period In the history of animal life the carnivorous and predacious animals, to which the existing cat belongs", occupied a position In the scale of creation as Important as they do today. We find locked up In the rocks of the tertiary and recent pleistocene formations the bones and teeth of these ancient cats along with those of the animals upon which they fed." This assertion Is claimed to be scientific nonsense, for no less a an authority than All Ghaznit, the erent Arabian commentator, avers that the cat was first created in the ark. "The good old ship," he says, "was overrun with mice and Noah prayed to Allah and the tiger (not the lion) sneezed forth a cat, and so when the animnas left the ark pussy preceded them all with his tail erect, and it has remained erect ever since." The Arabian prophet declared the cat a clean animal, but not the dog. It was his cat Muezzi that gave repose to the home of the many-wived Mohammed and when his cat was asleep on his loose sleeve he cut off the sleeve rather than disturb the slumbers of pussy. The line of cats In history is as long as that of the names. Among the sights at the British Museum is "The Old Cat," and several wall paintings of the worship of Pasht, as pussy was called in the old Egyptian times. In the Old Guildhall In London there are many records of Sir Richard Whittington and his cat. A cat in repose always sat with Cardinal Wolsey on the wol sack. Cardinal Richelieu found comfort with his kittens. Samuel John«on had his Hodge, the poet Gray his Selima. Pope Leo XII his Micetto, Vlctor Hugo his Mouche and Charles Dickens his Wilhelmina. It is the little cat soul that seeks for friendship In a lonely world, and it Is not until you respond in the approach of pussy that you feel what a comfort he is at all times.
PERSIAN CATS.
Greencastle Herald, 17 June 1910
How They Are Classified-Points of a Fine Animal. Long haired Persian cats may be classified as blacks, blues, whites, silvers, oranges, cream or fawn, tortoise shell, tortoise shell and white, brown tabbies, any other color. The silvers are subdivided into minor classes as follows: chinchillas, shaded silvers, silver tabbies, masked silvers, smokes. The coat of the long haired Persian cat should be long and thick, its texture fine and soft. There should he tufts of hair projecting from the inside of the ears, also around the jaws. There should be a frill of long hair around the throat, extending back to the shoulders and down the chest to where the front legs join the body. There should be tufts of hair growing upward from between the toes. The head should, be massive but round, with great width of skull between the ears, says Country Life in America; the ears should be small and set low. From the forehead to the nose the line should be slightly concave, the nose itself being short. The back should he broad and level but not too short, legs short, paws round, brush or tail of medium length, wide and carried low. The ryes should be large, round, luminous and set level. The expression of the face, taken as a whole, should he gentle and sweet. The general appearance of the animal should be cobby and its movements easy and graceful. In disposition the Persian cat is naturally inclined to be loving and gentle, but as they are very high strung it is an easy matter to spoil their dispositions entirely by rough or unkind treatment.
CATS
Otago Daily Times, 27 August 1910
Cats. "Whatever you do, don't be cats," - the Bishop of London is reported as saying to the pupils at a girls' school. Unless the Bishop knows more things against the character of the cat than are generally known, his advice would bear revision. In manv points the pupils of a girls' school might model themselves on the cat. The cat is strictly domestic, a lover of hearth and home, keeps its face and hands clean, attends strictly to business in front of a mousehole, is musical (solo or duet), a student of astronomy and the midnight heavens. Unlike the dog - an animal always thrusting himself upon you and asking what you think of him - the cat is totally free from vanity, living its own life in its own world, using you for what you may be worth, concealing its own thoughts and sublimely indifferent to yours. I should hesitate before telling a school-ful of girls, crudely and baldly, not to be cats.
CAT IN BRICK WALL 30 YEARS
The Concord Daily Tribune, 6th September, 1910
A cat sealed within the masonry of a Washington church 30 years is exhibited in a Washington shop. The beast crept in a crevice to sleep, it is thought, and masons who were repairing the structure sealed it in a wall without knowing it. The cat was discovered Saturday when the wall that had been its tomb was being removed. The body was as well preserved as if it had been embalmed.
START WAR ON RATS TO STOP THE PLAGUE
The Inter Ocean, 13th November, 1910
HOLBROOK, Suffolk [England], Nov. 12 – [the article details efforts to control rats carrying the plague bacillus; traps, ferrets, dogs and poison were used. Rabbits were also affected.]
At the village of Stutton they are doing things by full measure. A massacre of the domestic cats is in progress. Cats which are the pride of families have met an untimely doom because they did their duty and were rat killer. The rector led the way. When his cat became ill he had it poisoned. This cat has now gone to be examined for the plague bacillus. After the rector the schoolmaster, Findley Baker, saw to the removal of his home cat and the publican and other residents followed the example.
THE AMERICAN CAT - HOW IT REPRODUCES THE CHARACTERISTICS OF THE TRANSATLANTIC "HUMAN."
By Norman Fraser
The Bystander, 4th January 1911
Illustration: The Tammany Tiger Cat By Louis Wain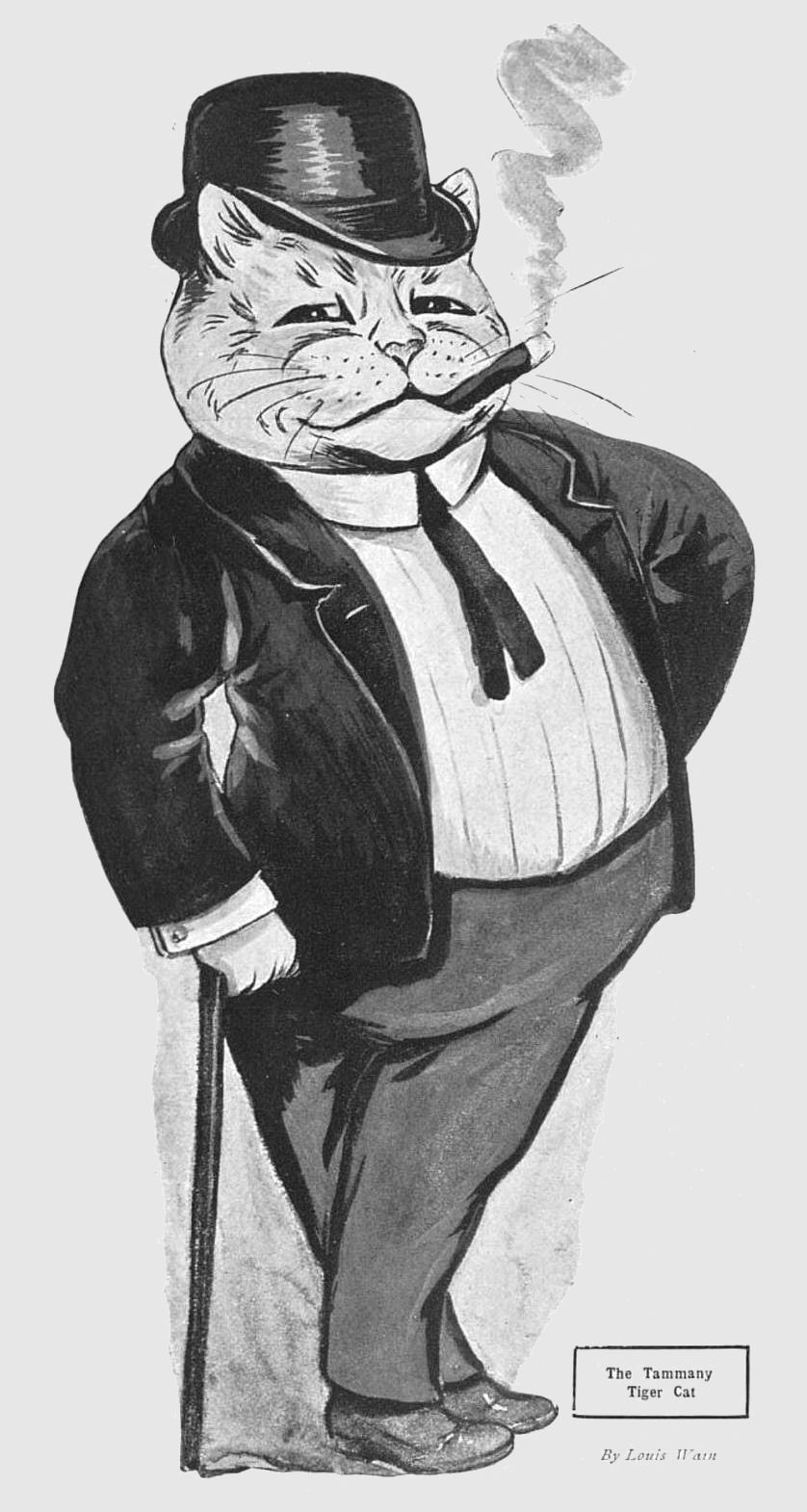 PLEASE understand that what I don't know about cats, American or otherwise, would fill the British Museum. I am merely a human gramophone recording Mr. Louis Wain, who lately returned from a long engagement on the staff of the New York American, Mr. W. R. Hearst's famous newspaper. If this article leads to war between us and the United States, on Mr. Main's head be it.

The American cat, it appears, is apt, like the American man, to run to physical extremes, and is usually either colossally fat or indecently thin. Mr. Wain reminds me, however, that it is rather misleading to speak of the "American cat." With the exception of the Maine cat a puss of cerulean hue and the tiger or wild cat, there are no breeds peculiar to the United States. On the other hand, distinct types of puss are to be found there, which, in an amusing manner, often reproduce the characteristics of the humans among whom they live.

The cat of the east side of New York, for example, is a thin, big-boned, herring gutted, slab sided, long-nosed, lantern-jawed creature, possessed of a demon of restlessness. It is, in short, a "cat on hot bricks," never still, always rushing up and down the stairs of the huge tenement-houses, where it leads a chequered, feverish existence. It eats incredibly, and suffers much from dyspepsia. Its end usually is not peaceful, for after it has ceased to amuse as a kitten it is kicked to death or flung out of the window. Dead cats are common adornments of the eastern side-walk, and no dust-bin is complete without one.

The down town or business cat is a night-bird if the metaphor may pass. He is thinner than the east-sider and block-headed. He is never seen by day, but when night falls and the restaurants and eating-houses put out their refuse he appears and gorges on offal. He also devours other cats. A snapper-up of unconsidered trifles and a marauder is the down-town cat. He often runs to fat, and then has his human prototype in those huge, soft, silky men with enormous paunches and thin legs who haunt hotel lounges and other public places. They never seem to do anything or to have any ostensible business, but Heaven help the human mouse who comes within reach of their paws. Scratch these men of Turanian type and you h will quickly discover the Tartar that is in them.

The prototype oi the female down-town cat is the American fakir business woman, who is nothing; if not sly, treacherous, predatory, and merciless. While strictly moral (in the limited sense of the term) she encourages her employer to think that she is otherwise, lures him into disclosing valuable business secrets, and then sells him to the enemy. She is quite conscienceless, her only love is cupboard love, and she is the natural antidote to the man-sneak who preys on women, and she runs him to earth.

THE CAT CAME BACK
Alton Evening Telegraph, March 6 1911

A year ago this month E. W. Schmidt concluded he had one too many cats at his residence on Eighth street so he took one cat to his office and kept her in the cellar. The office is on Henry street, between First and Second streets. The cat stayed there about a week and finally disappeared and Mr. Smith thought he had seen the last of her. This morning the cat was back having taken a whole year to get home. She was sitting on a window ledge and ready and anxious to be given her breakfast. Mr. Schmidt would like to know where the cat has been and how she found her way back home.

CATS AND THE BIRDS
Our Dumb Animals, June 1911

When the household cat, properly trained, does not have to depend upon her hunting skill for a living, she should not be classed as bird murderer. Could any creature be more justified in taking bird life than the cat, wild with hunger, once a pet but cruelly and unlwfully abandoned? A writer in the Cat Journal thus defends his client in the cat vs. bird case:-

"Let me say that my cat, Dick, early learned to carry home all the game he caught but during his many years of hunting was known to have killed only two birds - a jay and a quali. How many boys haveshot so few? Hundreds of martins, swallows, wrens and bluebirds have reared their young around Dick's home, but he never molested them. The birds spoken of have little box houses built for them all about the farm and they gather materials around in the yards for their nests. The continually war with each other and often fall to the earth in fierce combat which is very tempting to the cats. No-one admires the feathered songsters mor than the writer, for what would the wildwood be without them? Certainly dreary. Now here is a fact: More birds die by the 22-caliber rifle during cherry season in California than be all the cats during all the seasons of the year. And what a multitude of our winged friends are poisoned by grains and grass seed charged with vitriol or strychnine and sown in the fields for their destruction! You can train your cat to leave the birds alone if he is a good one like Dick. Don't pick up a renegade and expect him to behave. Only the untrained, unfed, homeless cats kill birds, and they do so only when they want something to eat. Is this worse than the sportsman shooting birds just for the sport?

NEW CAT CEMETERY OPENED
The New York Times, July 11th, 1911

Bide-a-Wee Pets Moved to New Home Bought by Mrs. Orme Wilson.

WANTAGH, L.I. Workers connected with the Bide-a-Wee Home at 410 East Thirty-eighth street, new York, are completing the work of removing their cat and dog charges from the place they have rented at Freeport for the Summer domicile for a number of years to their new Summer home at this place, the purchase of which has been made possible by a gift of $3,000 from Mrs. Orme Wilson.

There are fifteen acres of the new property, five of which will be devoted to an animal cemetery similar to the one in Hyde Park, London. Twenty-five dollars buys a permanent plot in the cemetery.

The gift of Mrs. Wilson was made as a living memorial to Pansy, a little griffon bruxellois of whom she was very fond. Among those who have taken plots in the animal cemetery are:

Miss Florence Ferguson, Mrs E K Robinson. Dr. Richard T. Bang, Mrs Julia F. Rogers. Dr. R. Ottolengui, Mrs. A. V. T. Billington, Mrs. George H. Gould, Mrs. H. U. Kibbe, Mrs. W. Orr Barclay, Miss Eleanor Hartshorne, Mrs. E. L Ludlow, Miss Mary Latimer, Frank K Sturgis, Miss Margaret H. Garrard, Miss Emily Stevens, Mrs. Winfield Scott, Mrs. H. K. Pomroy, Miss Louise Castree, Jefferson Seligman, Mrs F. M. Wilson, Mrs. J B. Dickson, Mrs. Jasper Lynch, Miss Vera Cravath, Mrs. H. M. Day, Mrs. Phillips A. Clark, Miss Ellen Glasgow.

MILLIONAIRE'S CAT BURIED
Warren Times, August 15, 1911

Feline Cemetery Overcrowded With Friends of Tiger's Owner.

Philadelphia, Aug. 15. — Lying in a silk-lined mahogany coffin, its head resting on a satin embroidered pillow,

Tiger, the pet Angora cat of William Gray Brooks, a Philadelphia millionaire, was buried in the cat cemetery at Radnor. The attaches at the Morris refuge for cats sent out invitations to the neighbors of Mr. Brooks to attend the funeral and so many of them responded that the cat cemetery was overcrowded A headstone will be erected above Tiger.

NEWPORT HAS HISTORIC FELINE
Corvallis Gazette Times, 23rd January, 1912

Cats occupy a very conspicuous place in the life of Newport. They may be seen by day and heard by night. This is not a tail of fancy cats. Maine coon and blue, longhaired Angora, or the tailless Manx cats do not live here. It is a common tale of common cats. The Cheshire cat, Dick Whittington's cat, and Poe's black cat are all famous, but Newport has one named Malty that bids fair to rival all three.

Malty got badly squeezed in the swinging doors of a Newport hotel and his mistress, wishing to heal his wounds, bathed him a number of times in peroxide of hydrogen. Imagine Malty's surprise when he found himself turning into a blonde! When he sported a new color in cat's fur he aroused the jealous envy of all the felines in Newport, including Swede, a large yellow cat, for 15 years the acknowledged Don Jaun of all the local members of the tiger family.

But Uncle Charlie Williams had a cat that was not slouch. He had the plain name of Tom, and though not a prizewineer, he was a prizefighter of considerable class. Tom whipped every dog that came to town, and Uncle Charlie said that Tom could "lick" (beat) a wildcat with one eye shut. The boys couldn't catch any wildcats, so couldn't dispute Uncle Charlie, but they caught a young bear and thereby hangs a tale.

Bruin wore a fancy collar and was kept chained to a pole. He had nothing to do but eat and grow conceited. Pretty soon the boys thought it was time to find out if he or Tom were the best scrapper and consequently arranged a fight. Both refused to toe the scratch. Therefore they tied a heavy piece of twine around Tom's neck, and after passing it through Bruin's collar, they pulled the string.

The first round was around the pole. Bruin ran so fast that they both got dizzy, and every time he stopped, Tom spit in his eyes and scratched his nose and made him hit it up again. When the chain was wound around the pole, the crowd were betting even. The second round started without a pause for rest. One of the bystanders was particularly interested. It was Uncle Charlie, who had just some. He joined in with the shouts and laughter as he adjusted his glasses carefully.

Just then a magnified view showed him that one of the belligerents was his Tom. His countenance changed like magic. Raising his cane he brought it down with a crash on the head of the fellow who held the tightened string.

"What does this outrage mean?" he asked as he raised his cane once more.

Tom, now loosened, recognized his master's voice and jumped into his arms before the bear could figure out what had attacked him. The crowd dispersed quickly, and Uncle Charlie picked up three parts of his can and walked off home, holding Tom fondly in his arms.

THE CAT AND TRE DUCKS. ACTION AT MELTON COUNTY COURT.
Leicester Chronicle, 3rd August 1912
At Melton Mowbray County Court on Friday, before his Honour Judge Wightman Wood, Eliza Hubbard, wife of John William Hubbard, roadman. Waltham, sued Wilhelmina Hornbuckle, widow, Waltham, for £2 2s, value of a cat alleged to have been killed by the defendant. There was a counter-claim for a similar amount for ducklings alleged to have been killed by plaintiff's cat. Mr. J. Atter appeared for plaintiff, who said she formerly possessed a cat, which was very valuable as a ratter, and for killing mice and moles. It had been brought up with chickens and ducklings, and had never been known to touch any. On the morning of June 12th, the cat was seen coming from the direction of Mrs. Hornbuckle's, and it was apparently very ill. The next day plaintiff made a complaint to Mrs. Hornbuckle who admitted that she had put down some poison, because the cats had been fetching her chickens. Her cat died on the 17th June and three others died the same week.

Mr. Atter produced a letter from defendant acknowledging that she had put down poison, but stating that she did not think she could be held responsible for the loss of the cat as the poison was on her premises. His Honour pointed out to defendant that it was a criminal offence to put down poison where cats or dogs could get at it. An Act of Parliament to that effect had been passed, and, whether or not she knew the law, she had no defence. With respect to her counter-claim, Mrs. Hornbuckle said she had lost 16 ducklings between the 25th May and the 11th June. On one occasion she saw plaintiff's cat going down the yard with one of her ducklings in its mouth. That was the only occasion she had actually caught it with a duck. His Honour found for plaintiff for 15s on the claim and for Mrs. Hornbuckle for 1s 6d, the value of one duckling, on the counter-claim [so Mrs. Hubbard won 13s 6d after the counter-claim was deducted] .

BUYS CASKET FOR CAT; CEMETERY BURIAL DENIED
Atlantic City, Dec 21, 1912

Mrs. Katharine Carter, of New York, a guest of a South Carolina avenue hotel, is incensed over the refusal of trustees of the Atlantic City cemetery, in Pleasantville, to permit Tiger, a pet cat she valued beyond price, to be interred in the burial ground. Mrs. Carter, a member of a wealthy Southern family, prominent in Memphis, and her pet first came into prominence here a year ago when several of the big hotels refused to permit the woman to register unless she made arrangements for the care of Tiger outside the hotel premises. Mrs. Carter insisted the cat should occupy her room and offered any price, but hotel managers were obdurate.

Tiger died Tuesday, and its owner purchased a casket of rosewood, trimmed with German silver, and arranged for an ostentatious funeral. These plans were halted by the attitude of the cemetery officials, who said that cats and dogs equally were barred. Tiger wore a diamond-studded collar and had his nails manicured regularly. Carefully heated baths failed to save the animal from tuberculosis.

BREEDING SPOILS CAT. - AN ENGLISH WOMAN SAYS HER PRIZE WINNERS WON'T LOOK AT A MOUSE.
The Duluth Herald, 15th February 1913

London Mail: The old adage that 'breeding always tells" does not appear to apply to cats. At the show of the Southern Counties Cat club there were nearly 500 show cats, and each showed every sign of gentility. But the well-bred cat gives the impression that it is careless of mice and disdainful of the plebeian pursuits of the ordinary kitchen species. Miss G. Cheetham, whose blue Persian Oaklands Steadfast was pronounced the best cat in the show, with four firsts and three special awards, said: "I breed exhibition cats simply for the pleasure of producing the most perfect cat, not for any ulterior purpose such as one has in breeding greyhounds or bloodhounds or spaniels. Highly bred cats are no more intelligent or clever than ordinary back garden cats, and certainly many of mine will not so much as look at a mouse."

GAVE UP NINE LIVES FOR ONE.
Big Gray Cat Made a Cushion for Child Who Fell from. Fifth Floor.
New York Times, February 21st, 1913

Sadie Kantor, 4 years old, dropped out of the fifth floor window at 126 East 103d Street yesterday afternoon. In the fall to the stone paved courtyard in the rear of the building she was bruised from the contact with a network of clothes lines, but she landed comfortably on a big, gray cat, sleeping in the yard, and while she crushed out nine lives, not a bone was broken in her own little body.

It was Sadie's fourth birthday, and with five brothers and sisters and several friends she was enjoying a feast. It was close in the room and some-one asked Sadie to open the window at the rear and let in some fresh air. Sadie got the window up, but in struggling to raise it a little higher her hands slipped and her little body plunged through the opening.
At the fourth floor one of Sadie's shoes caught in a clothes line and was torn from her foot. At the third floor she held on with one hand for a moment to another line. Her little body struck several cross lines at the second floor, and then she plumped down right on top of the cat. The girl's mother ran screaming down to the yard, expecting to find the child dead. Instead she, was standing up and petting the dead cat. Poor kitty," she said.

Dr. Urdang from the Siddenham Hospital, who examined Sadie; said that beyond a few slight bruises she was unhurt.

SHEEP IN OPEN SPACES. Pall Mall Gazette, 17th June, 1913
Sir,—l think all humane dog owners will agree with me that sheep should not be allowed in our open spaces. Sheep are very timid creatures, and are expectant of being chased that a dog must be more than canine to disappoint them. There is always the risk that the dog, if a large one, will injure the sheep, or, if a small one, may be killed by the sheep-dog, in addition to 'which the sheep may injure themselves in their flight, and must in any case suffer considerable mental torture, against which last, as hon. sec. of the Society for the Prevention of Mental Cruelty to Animals, it is my duty to protest.
Yours, etc., S. Claude Tickell. 15, Gloucester-road, Regent's Park, N.W.,
June 16.

PUSS'S PERILS. Pall Mall Gazette – 20th June, 1913
Sir, - The hon. Secretary of the Society for the Prevention of Mental Cruel Animals has an eye that roams far and wide. And well that he should look upon the questions that may affect the happiness of animals with such freedom of mind, as well as such keenness of vision. But would he give us a little information as to the society itself, for example, the terms of subscription, or the conditions of membership, or, the special objective of the committee? It is own belief that, although some the views put forward by Mr. Tickell have been exaggerated - or forced, there may be a real work for the society do for which it will require the necessary funds; as per usual. How, then, may members be enrolled? Where is the secretary to be found? What form of procedure must be gone through in order to qualify as "an advisor in action"? If Mr. Tickell will kindly tell us something about the points have touched it might, perhaps, be the means of increasing the roll.
Yours, etc., June 19.
No Hullabaloo.

THE S.M.P.C.A. Pall Mall Gazette - Monday 23 June 1913
Sir, - Your correspondent, "No Hullabaloo," and the humanitarian public generally may be interested to hear that the Society for the Prevention of Mental Cruelty to Animals consists at present of only three contributors, of whom one is anonymous, its sole official is its honorary secretary, and its sole procedure letters to the Press. As soon as it every has any appreciable funds an honorary secretary and a committee shall be found, but it is difficult to get a treasurer while there is nothing to treasure, or a committee while there is nothing for it to commit itself upon.

I justify the existence of the society on the ground that whereas various animals have special societies to represent them, for instance, the Canine, feline, and Equine Defence Leagues, and the Society for the Protection of Birds; and various kinds of cruelty have special societies to combat them, for instance the anti-vivisection societies and the Council of Justice to Animals, which concerns itself with humane slaughter; hitherto no society has existed specially to combat mental cruelty, especially when dissociated from physical cruelty, as in the case of deprivation of all human and sub-human companionship.

It was at the beginning of the last century that the Legislature first recognised the right of animals to be protected from physical cruelty. Let us hope that the beginning of this century will see the recognition of their right to be protected from mental cruelty. The honorary secretary is prepared to act as a stipendiary lecturer on the whole field of cruelty to animals, with special emphasis on mental cruelty, when funds permit, subject to the treasurer's and committee's approval. Meanwhile, he will continue, by the courtesy of the Press, his endeavours to bring home the reality of mental cruelty to an unimaginative and therefore unsympathetic public. Yours etc.
S. Claude Tickell,
Hon. Sec., S.M.P.C.A., 15, Gloucester-road, Regent's Park, N.W.,

THE S.M.P.C.A . Pall Mall Gazette, 25th June 1913
Sir, - I should to thank Mr. Tickell for the open and very clear statement he has made to you upon the origin and actual condition of the S.P.M.C.A. To him it would appear, and to him alone is due, the conception and the development of this benevolent institution. "Palmam qui meruit ferat." He is entitled not merely to a full share, but to the very fullest share, of praise that can be given. How far he may be able, in view of what he himself has told us, to secure any great development in the direction of public sympathy and support or general enrolment, is a question that seems to at present admit of only one reply; but whatever developments the future may or may not bring forth, I seize this opportunity of endeavouring to express to the hon. sec. my thanks for the very kind way in which he has acknowledged my letter. He has met it by a very full statement of the position of affairs, which can only, I think, be gratifying to those who are interested in this correspondence. Yours, etc.,
No Hullabaloo.

PREPARING A MEDAL FOR SLAYER OF CATS
Greensboro Daily News, Jun 22nd, 1913

Neighbors Grateful to Skilled Rifleman Who Has Private Animal Cemetery.

Seattle. June 21. — In gratitude for past favors in relieving the neighborhood of the cat nuisance, neighbors and friends of Bailiif Joseph Hensman, of Judge Kenneth Mackintosh's department of the Superior court, are preparing to present Mr. Hensman with a handsome medal commemorating his peculiar services. In the region around the Hensman home, at No. 417 30th avenue, the bailiff is known as "Death on-the-trail" when it comes to attending to feline disturbers. Hensman has a 22-rifle that he uses exclusively in this work. He has been known to go into a dark cellar, full of corners and hiding places and come out with a deceased cat within three minutes.

He made a little private cat cemetery of his own in relieving his particular neighborhood of noisy cats, and has added to the number of little green mounds through answering the appeals of his more remote neighbors. The stuff about a cat having nine lives has no bearing when Hensman is on the trail. One yowl is about all, and then the obsequies. And he makes it a point of sportmanship to hit them between the eyes, or just behind the ear. Hensman'e most notable achievement is the bagging of a hobo cat that weighed 15 pounds and was as big as a small calf and as solid as a mudguard. He made the mistake of singing on Hensman's back porch out of mere bravado, and now he has passed away, and occupies the green mound at the left as you go into the cat cemetery.

ARISTOCRATIC CATS. Pall Mall Gazette, 15th October 1913
To-day's Show at Reading- The Reading Championship- Cat Show is held in the Corn Exchange, Reading, to-day, and the Hon. Mrs. Clive Behrens and the Hon. Mrs. lan Maitland are giving special prizes. It reminds us of what a remunerative hobby is the keeping of beautiful cats, and that, as far as mice are concerned, the aristocrats can hold their own with the plebeian roamers of the tiles.

Points. Select the shade you fancy most and then see that the cat you buy is good of its sort. A self-coloured cat—white, blue, black - should be sound in colour and have no sign of markings. Shaded silvers, according the standard set by the Specialist Club, are pale clear silver, shaded on face, legs, and back, but having as few tabby markings as possible—brown or fawn tinge in coat is a great drawback - eyes green. Chinchillas are pale silver, and as unmarked as it is possible to breed them. Silver tabbies, pale clear silver with distinct black marking's. Smokes are rapidly gaining great favour. They are black, shading to smoke-grey underneath. This undercoat to be as light as possible, the ruff light, orange or copper eyes, mask and paws jet black. Tortoiseshell cats require three colours —black, orange, and yellow. No white. The shades should be well broken, bright and well defined, but free from tabby markings. Eyes bright orange or hazel. Points to look for in any cat are a broad head, width between the ears, short nose and face, small tufted ears, low on the legs, and a short, full tail. Of course, you cannot expect perfection without paying for it, but you may as well know what strive after.

Feeding. If you intend breeding for profit, Miss Frances Simpson, one of our best known judges, suggests that a thoroughly good blue queen (female cat) and also a silver queen, both perfectly healthy and possessing pedigrees, make a sound beginning, as they are favourite colours, and the sale of kittens therefore easier. They should be mated with fashionable sires. Unless you intend showing, it is better to dispose of the kittens in the "pretty stage." Soon after three months they lose their nest fur and go through "hobbledehoydum," making up for this lapse from beauty when they come up in all the glory of their first coat after the baby moult. Every fancier has theories concerning diet. A very good all round rule for the pet cat is to treat him one of the family. Don't leave him entirely to the servants. If a cat is not greedy and insistent, he is very apt to be forgotten, then some days are fat and others lean. He wants just the same as you do. His breakfast—not too heavy a meal —a little bit of that nice kidney, or rissole, or even bacon appeals. Best of all, if you can train him to it, a saucer of porridge. Don't forget the sugar, and "after you with the cream, please."

ARTIST BOEHM A SUICIDE.  He Kills Himself After Planning to Slay His Cats
New York Times, February 2nd, 1914

Briarcliff, Feb 1.  Henry Richard Boehm, an artist, committed suicide in his cottage here this afternoon by shooting himself through the heart.  It is believed that he temporarily was insane.  A few minute before he ended his life, Boehm, his wife, and Dr Bradley, a veterinary surgeon, of Ossining, were talking in the parlor of the cottage.  The Boehms had a number of valuable cats. According to Mrs Boehm they were planning to go to New York to live, and, as they could not take the cats, they called Dr Bradley to get his advice about killing them.  While the discussion was in progress, Boehm left the room.  Then the report of the revolver shot was heard upstairs.  Boehm was 44 years old.  Mrs Boehm also is an artist.

"MOVIE" SNAPS HER AND $5,000 CAT; SHE SUES
The Des Moines Register, 12th July, 1914
Miss Connelly Asks Edison Company to Pay $5,000 for Unauthorized Pictures.
NEW YORK. July 11 - Miss Delta E. Connelly, a cat fancier of Roosevelt, L.I., has sued in the Supreme Court in this district, for 16,000 damages, the Thomas A. Edison company, lnc, because a mov¬ing picture of herself and her $5,000 Per¬sian has been displayed on moving picture screens.

The cat, claimed by Miss Connelly to be the handsomest of its breed in the United States, is named Sandalphon. A year ago last January she put him on exhibi¬tion in a cat show in Madison Square Garden. As usual, Sandalphon carried off the prize and returned with his mis¬tress to Roosevelt. Miss Connelly then had no idea that she was to be a feature in film shows throughout the country. The moving picture men were busy at the cat show and turned the camera on Miss Connelly, without her knowing it, she alleges.

A few months later, friends of Miss Connelly advised her that she and Sandalphon were shown in many poses. These friends represented to Miss Connelly that she did not appear to advantage in the picture, and was the laughing stock of every audience where the pictures were shown.

Then Miss Connelly went to see herself and her cat. She saw Sandalphon in her arms. She was petting and fondling him. The picture was captioned, "$5,000 Worth of Cat." An appeal was made to the Edison com¬pany to have the picture suppressed, but the company refused.

LEAVES HOUSE TO HER PETS.  Dead Woman's Dogs and Cats Occupy Home That Was Hers.
New York Times, February 3, 1915, March 23, 1915

Elizabeth, NJ, March 22.  Occupying a house in Ashwood Avenue, East Summit, a company of dogs and cats which were the pets of the late Mrs Mary Romaine Wright, will be allowed to enjoy undisturbed their present abode until they voluntarily seek another home.  Such a request is contained in the will of Mrs Wright, made known for the first time today.  Mrs Wright's daughter, Mrs Frederick C Kelley, is named to see that the strange request is carried out In accordance with the dead woman's desires, her late home is kept heated and the animals fed regularly.  Mrs Kelley said today she hoped the animals would become sufficiently attached to her to make their abode at her house, which is only a short distance from the Wright homestead.  Mrs Wright was well known in this vicinity as a friend of dumb animals.  With her husband, the late Seaman L Wright, she lived for more than forty years in the old homestead.

100 CATS GUARD NEW YORK POLICE - Rats and mice Routed by valiant Representatives of the Feline Tribe - Men Now Sleep in Peace - Station House Pets Credited with Wisdom Far Beyond Average of their Species.
The New York Times, May 7, 1915

New York's police force is the owner of more than 100 cats, distributed among the various station houses where they have their own police duty to perform. This consists of ridding the houses of mice and rats. Most of the cats were contributed by generous policemen. Others just naturally strayed into the stations. Were it not for the presence of these cats some of the station houses which are in the neighborhood of stables and rookeries would be overrun by rats. Policemen who have faced all kinds of danger unflinchingly do not hesitate to say that it makes them feel decidedly uncomfortable to be awakened from their slumbers by a rat who is using the floor of the dormitory for a playground, and it is mightily reassuring to be able to drop off to sleep with the knowledge that the station house cat is faithfully patroling.

The station house cat, policemen assert, possesses characteristics distinctly different from those of the common house cat or any other species of the tiger family. For example he is not given to nocturnal prowlings. he spends most of his time in the station house, and when he does go out into the night he does not stray far. Most of the cats, Police Lieutenants, who have studied them assert, have a strong antipathy for an intoxicated person, and when such a prisoner is brought into the station the cats walk away in disgust. Instead of being called "Tommy" or "Kitty" they are usually addressed gruffly by the police as "You" and "Hey You."

In the Morrisania Police Station there is a beautiful white cat named Peter. He is the pride of the station house, and was born there five years ago when he was adopted by Lieutenant Peter Brady, after whom he was named. Peter has strong likes and dislikes. His favorite resting place is the top of the station house desk. When a Lieutenant whom Peter dislikes is on duty nothing will induce him to remain near the desk, but he will seek a far corner of the station. Peter was a great favorite with the late Lieutenant Frank O'Rourke. When O'Rourke wanted his pet he would blow a police whistle, which would bring Peter to the station. There was a certain Lieutenant that disliked Peter as much as the cat disliked him. This Lieutenant went in the back room of the station one night for a few minutes, leaving Peter in charge of the place. When the Lieutenant returned he found that the ink had been spilled all over the pages of the blotter. The Captain wanted to know how it had happened, and the Lieutenant blamed it on Peter.

There is a large gray cat in the Alexander Avenue station. Many names have been suggested for this cat, but as the men have not been able to agree on one they are now conducting a voting contest and the cat will be presented with the winning name. In the large West 152d Street station there is a large cat, which spent his early life in a butcher shop. He makes daily visits to the butcher shops in the neighborhood and when he is absent and the police want to set him on the trail of a mouse who is disturbing their equanimity, they know that he can be found at a neighbouring butcher's.

In a Brooklyn precinct there is a battle-scarred cat named Gray Whiskers. Some time ago an old building opposite the station house was being torn down and under cover of night a regiment of rats swarmed from the ruins into the station house. The men in the dormitory were awakened by the sound of many feet and saw by the light from a full moon that the visitors were rats and that they were being hotly pursued about the place by Gray Whiskers, which was giving them no quarter. No count was kept of the number of rats which Gray Whiskers dispatched, but those he failed to slay he routed completely from the station house, so terrifying them that, according to the police, no rat since has had the temerity to show his nose in the place.

CAT LEFT FOR THE HOLIDAYS. HUDDERSFIELD DENTIST CHARGED WITH CRUELTY. THOUGHT IT WAS OUT.
Leeds Mercury, 28th August 1915

At Huddersfield yesterday, the Royal Society for the Prevention of Cruelty to Animals summoned Mr. Arthur Hughes, dentist. Woodland-mount, for cruelty to a cat, which had been left in the gentleman's residence without food. Mr. J. D. Eaton Smith said that on July 31st Mr. Hughes and his family locked tip the house and went for a fortnight's holiday. He had made arrangements with a neighbour to look after his dog, but made no provision for the cat. A neighbour heard the cat mewing in the house on August 4th, and placed meat under the bottom of the door. Mr. Hughes was communicated with, and the cat was liberated on August 8th. It was not suggested that Mr. Hughes had wilfully caused cruelty, but he had not made reasonable arrangements for the feeding of the cat. Mr. Hughes said he was under the impression that his wife had made arrangements for the cat to be looked after. The house was searched for the cat before the doors were locked, and the maid and three children went out to look for it. He supposed the animal was out and would go and sleep with the dog, which it usually did. The Bench imposed a fine of 7s. 6d.

CATS FOLLOWED HIM. SAILOR'S LITTLE JOKE NOT ALTOGETHER A SUCCESS.
Army of Felines Swarmed on Ship Responding to Call Which They Recognised as a Summons to Usual Meal.
The Maurice Times, 8th January 1916

According to Walter Jones, chief steward of the White Star line Adriatic, Belgian butchers have opened shops for the sale of horse flesh to their compatriots in London, Man-chester and Glasgow, but so far none has been started in Liverpool. "There are two shops in Liverpool where they sell roast and boiled horseflesh," said Mr. Jones, "but they have been established for more than 100 years to supply the cats and dogs of the city with their daily noontime meal. The meat is carried round the streets by the 'cat's meat man,' as he is termed, who sings out in a high pitched voice: 'Meat—meat—meat—cat's meat,' and causes, the felines of all ages and sizes to sally forth from their home directly they hear the familiar cry. With their tails in the air, the cats surround the barrow, meowing plaintively until their portion has been served them, cut into small pieces, stuck on a skewer. The dogs eat their meat boiled, but are not such good customers as the cats, although their food costs a penny and the other is only a halfpenny a portion.

The chief steward said that when he made a voyage recently on the Arabic he had an interesting experience with the Liverpool cats which illustrated their fondness for the roast horsemeat. "About three hours before the ship was due to sail," he said, "I sent Tom Twitchets, a steward, to get three pennyworth of cat's meat as a treat for the ship's pet cat Tiddles, a fine ratter, and very popular with the crew, It appears that after buying the cat's meat Twitchets drank two or three glasses of beer and smoked a penny cigar, which made him feel the world was his own. Nearing the landing state he sighted two cats sitting on a doorstep, and in the lightness of his heart he called out: 'Meat, meat, meat, cat's meat," imitating the well-known cry, and waved the parcel he held in his hand. The two cats immediately followed him with their tails in the air mewing loudly, which brought cats from houses on each side of the street until Twitchets said he became so scared that he started to run to the ship. Dashing up the steerage gangway he was followed by the army of felines numbering dozens, according to Bill Gargle, the assistant potato peeler, who counted them. There were, black cats, white cats, red and white cats, magenta and gray cats, puce-colored cats, tailless cats, black and white, red, rusty brown and every kind of cat you could possibly think of. Twitchets rushed to my cabin, followed by the feline army, and I drove him out back to the pier and let them fight for it, as it was the only way to get rid of them.

Mr. Jones went on to say that numbers of the cats got lost, and sailed in the Arabic with him to New York. He saw a different colored feline outside his cabin door every morning, so did the purser, doctor, and the engineers, who complained bitterly about the cats going down into the engine room to sleep on the mats. Twitchets, the steward, was blamed by the crew for bringing them on board the ship, and Bill Gargle gained the reputation of being the biggest liar in Liverpool because he swore that he counted 444 cats when they swarmed up the gangway. Several of them were drowned when the Arabic sank on August 19, ; Mr. Jones said.

PIG EXHIBITED IN GOLD DRAWING ROOM; Tiny Suckling Among Chickens and Kittens at Food Bazaar at Mrs. Payne Whitney's. COOK BOOK QUICKLY SOLD Some of the Old-Fashioned Recipes In Mrs. Whitney's Work Complied to Aid a Hospital Charity.
The New York Times, January 28, 1916

The food bazaar held yesterday afternoon at Mrs. Payne Whitney's house, 972 Fifth Avenue, for the benefit of the Social Service Department of the New York Hospital, was largely attended. When the doors were opened at 2 o'clock there was a group of early-comers waiting to buy a copy of Mrs. Whitney's cook book, which she compiled for the occasion.

[...]In one corner of the gold and red drawing rooms, with its rare Italian statuary and tapestries, there were kennels containing pedigreed puppies and kittens and crates of Japanese chickens and leghorns, and in a crate all by himself was a tiny suckling pig, that grunted contentedly during the whole afternoon. [...]

WATER AND OIL WILL NOT MIX
The Wichita Beacon, October 27th, 1916. By Gertrude E. Martin.

Neither will cats and birds - at least not in a manner that is satisfactory to the birds and bird lovers. Cats are generally recognized as the worst enemies of our native birds. It has been estimated by Professor Forbush, that a cat is responsible for the death of about fifty song birds a year, and one cat, to his knowledge, destroyed six birds' nests in a single day. If children are led to notice these facts, they will be willing to choose other pets. All wild, stray, or worthless cats should be destroyed. People who have cats they value, ought, out of kindness to the birds, to see that they are provided with other food than young robins, orioles, thrushes, and cardinals. The Bluebird Magazine gives this rule: "If you wish to attract' the birds, first start a kitty-cat cemetery in your back yard."

TRUE STORIES ABOUT CATS - CATS THAT UNDERSTAND
The Brooklyn Daily Eagle, August 3rd, 1919

"I declare," said Grandpa, who had just come to make us a visit, "I shall have to speak French at the table, for that cat is a perfect witch and understands English all too well. I have no comfort eating my dinner at all, for as soon as you mention the word 'cheese' she is up on my lap, and then she wants all my cheese to cat."

You know that I said in one of the previous little talks about cats that each one had some peculiar kind of "stunt." Now Maltie's was to understand certain words we had taught her, one of them being "cheese." She just adored cheese. I never saw a cat so devoted to it as she was.
We had taught her also the word "milk," but she didn't care as much about milk as she did cheese, and so didn't "carry on" when we said "milk" as she did when we said "cheese." We would say at the dinner table, "Sister, will you have a piece of cheese?" or "Mother, please pass the cheese," when up would came a gray, furry ball into your lap; it was difficult to keep Maltie from getting on to the table after the cheese. Sometimes she did jump up on the table if we tried to "fool" her about it, hiding the cheese plate suddenly under a napkin. Then Maltie would stand on the corner of the table, looking from one face to the other earnestly, and if we repeated the question, "Will you have some cheese?" she would go back and forth from the one who said it to the one who answered her "Yes, I will take a piece of cheese," looking out with the most human expression from her eyes imaginable. We kept her once running from one corner of the table to the other several times, mean things that we were to tease her so. Doesn't this show that cats can learn our language?

It was told about from one friend to another about the "educated cat that had learned the English language," and Maltie had plenty of people come to see her do her "stunt." She never failed to do it, not being contrary, as some animals are, but always ready to prove we had told no fairy tale about her abilities. Cats are wonderfully keen about "getting on to" spoken language. Now, Phoebe Snow, for instance, a 10-year-old cat, is never called "kitty" or "pussy," but always "Phoebe," and, if you speak her name in a low voice, she turns to see what you want.

TRUE STORIES ABOUT CATS: The Brooklyn Daily Eagle, September 7, 1919

"Bobs" was the only baby that Phoebe Snow had. Because it was the only one, Phoebe would not let that dear little black kitty stay in one place for long. She was suspicious of everyone, because she thought that every-one who came near her, was going to take her beloved furry baby away from her. In vain did we all get the nicest boxes and baskets, line them with warm flannel, and lay the baby and its mother in them. She would take the poor little cold baby (for it was winter), and carry it to the strangest places, such as the linoleum under the ironing table, or the landing of the kitchen stairs, also covered with linoleum. That kitten's cries resounded through the house all day. "There! Phoebe Snow is moving her kitten again," we would say, as a pitiful cry rent the air.

At last the Wise One of the family thought of the bottom section of a telescope bag. It proved to be a real inspiration. It was well padded with flannel warmed at the fire, and the Wise One put the kitten into it and set it before the kitchen fire, saying, "Now Phoebe Snow, will you let that kitten stay here, and give it a chance for its life?" Phoebe concluded to do so. She got into the nest warily, and lay down beside the kitten. As we took turns watching her, she did not dare to go contrary to us. I think, though, it was the odor of catnip about the bag which decided Phoebe. It had been brought from the country full of catnip.

Well, that kitten grew up to be a fine big animal, and was very masterful. You see, there was only one of him, and he had his own way, and ruled everything. There was a cat in the neighborhood that Bobs just hated, and would "go for" whenever he saw him. One morning that cat was in the front yard, Bobs saw him and rushed for him. The Wise One ran out to intercept the fight and put her hand down to push away the visitor before Bobs should get there. Too late, Bobs rushed, in frenzy at the cat, and instead of getting it, fastened his teeth deep in the Wise One's hand. Then there was a time! At last Bobs came to a sense of what he had done and let go the hand. If ever remorse was pictured in any face, it was in his. He rubbed against the Wise One, he purred, he "loved" her, he did everything to show he had not I meant to hurt her.

"Have the cat killed." "Send it right away." "Give it chloroform," were some of the speeches of the neighbors who had passed by and seen the encounter. But the Wise One did nothing of the kind "Bobs is not mad," she said. "He was only giving vent to his animosity toward that strange cat. He didn't mean to hurt me, he only made a mistake and got the wrong party." So Bobs was not killed or sent away, and though the Wise One had a very sore, puffed-up and angry-looking hand, she didn't have hydrophobia. Bobs lived for many years and was always a most devoted and loving cat to his mistress.

FUR COATS. Globe , 21st January 1920
The big demand for fur has been followed by a raid on the suburban cat, and many householders are mourning the loss of their pets. Does this explain the increased supply of that type of fur coat described as "Roof Tiger ".

ODD FACTS ABOUT THE WORLD'S MANY KINDS OF CATS
San Francisco Chronicle, 19th September, 1920

"I love little Pussy, her coat is so, warm,
And if I don't pull her tail she will do me no harm."

How familiar, to at least three generations, this old nursery jingle has been, inciting love for puss and "putting over" propaganda for the A. S. P. C. A. on unsuspecting youth at the same time. Among our English cousins who live on the Isle of Man the old rhyme is pointless, for the good and sufficient reason that their cats have no tails to pull. Just why nature discriminated against puss in this way, placing a topknot of hair at the end of the backbone instead of the usual snaky, waving appendage, seems to be shrouded in mystery. Of course, there are a few cats with tails on the island, generally imported from England or Scotland, but the tailless Manx cats are most in evidence. In northern Russia and in Japan there are a few of the tailless cats which, like the Manx variety, have hindquarters higher than the forequarters.

The royal cat of Siam has a long, thin tall, and in some instances it has a kink in it like the tail of a prize bulldog; these famous and beautiful cats are white when born and change gradually as they grow to a silky chocolate color, the coat shading to a cream tan under the belly, black face, legs and tail and big, blue eyes. Being semi-albinos they are rather delicate and hard to raise. They are first cousins to the Malay kink-tailed cats, which seem of a hardier race.

There is a hairless cat of Mexico, descendant of a famous Aztec breed, which is almost extinct, but they are strange enough in appearance to be interesting if a trifle repulsive. The common domestic cat of Paraguay has a shin coat, indefinite in color, of short hair laying flat to the body, like that of a dog. The cats weigh but three pounds and have a strangely elongated body.

India boasts a spotted cat of unusual appearance. Domestic cats of Abyssinia have long, pointed, very hairy ears, one special variety being called the "bunny" cat because it is marked exactly like a hare. Cats have been known in India for over 2000 years, though the domestication of cats from wild ancestors originated in Egypt, where they were worshipped as emblems of the sun because "their eyes change with the sun's course, and also each month change with the moon." When a favorite cat died in an Egyptian home its owners always shaved their own eyebrows by way of appropriate mourning.

From Egypt the cat evidently entered Greece, a fact proven beyond doubt by a wonderful cat fresco found in the ruins of Pompeii. Cat killers in Wales, Switzerland and Saxony were punished in old times; the penalty in Wales being the payment of enough wheat to cover the body of the cat when it was held up by the tail, its nose touching the ground.

Among less civilised people cats are highly respected for being self-supporting and always bringing home their prey. In some localities they are trained to catch birds, the sale of which is a source of income to the owner of the cat.

White cats with blue eyes are very apt to be deaf, and in some cases the eyes are not both the same color. It is said that in China there is a cat with pendant ears, and in South America a breed that is voiceless, unable to wail; but it is difficult to find authentic proof as to the existence of either variety.

Most peculiar in appearance is the mombas cat of Africa. This animal has short, stiff, brushlike hair and orange-colored eyes, and is highly prized by the natives. The seven-toed Maltese cats with blue eyes are considered the finest of that breed. There are three shades of the tortoise shell cats, the species having black and nut-brown coloring, with green eyes, is held to be the most rare. The orange Persian cat is considered the most beautiful, though the black, white and blue phases of the breed are oftenest exhibited. The Angora has the finest hair of the long-haired cats and is a beautiful beast, though the Persian seems more popular. The coon cat of Maine has fine hair, almost as long as that of an Angora; it is only one generation removed from its wild ancestors, and though domesticated, it is in no sense a lap tabby. It is very intelligent and can be taught tricks and to follow its master like a dog.

The red tortoise shell cats are the suffragists of catdom, for there seems a great preponderance of females; in fact, a male of this breed is rarely to be found.

The ordinary life of a cat ranges from 12 to 18 years, during eight of these years the female is a breeder, averaging four litters a year. It is an untruth to believe that to be a good mouser a cat must be hungry. A well fed cat will do twice the service in this line, as mousing is the animal's sport and not the satisfaction of hunger.

HINDY IS DOUBLE CAT SHOW WINNER.
Boston Post January 15, 1921
Helps Award Prizes to High Brow Cats and Collects for Children's Hospital Fund
By "Hindy" Boston Post Staff Cat

HOTEL VENDOME, Boston, Jan. 14 [1921]. I won two prizes at the 16th championship show of the Boston Cat Club today and I'm on my way home with the bacon. I've a winner's ribbon, awarded to the best cat in every class and I've a Boston Cat Club medal, too. Not only that, but I had my picture painted by a regular artist and I raised more than $25 for the fund for the Children's Hospital. That's more than any other cat here did. The show closed at 10 o'clock tonight and I will immediately start out into the rain, back down towards Pie Alley, soon as I get this story dictated.

The show was a howling success. It was the biggest and best that this club ever had, as I knew it would be as soon as I'd started up here. I cleaned up the show, and the patrons too with my collection for the poor sick children, and I'm coming back next year, you bet. They gave me my prizes just before dark. Mrs. Raymond G. Coppins, she's the president of the Cat Club, and Mrs. George B. Brayton, she's the manager. Well, they and the three nice ladies on the committee on awards, Mrs. Charles Brown, Mrs. H. A. Nissen and Mrs. Helen Holt, and that Miss J. R. Kroeh, who was the judge, looked me all over and right away they knew there wasn't another cat in my class in the whole blamed show. So right away they started to smile and then they gave me a winner's rosette and pinned it on my cage. The rosette goes to the best cat in every class and there was nobody entered against me, you can bet.

Of course, they announced for the public that Mrs. Brayton's Peg o' My Heart was the winner of the award as the best cat in the show, but I'm giving you Post readers the inside stuff, and don't you forget it, about this cat show here. You see, I told the Judges that Peg (it's all right for me to call her Peg for short, 'cause I'm going to call on her soon's I get a chance) was a feminine cat and we've got to kid these women folks along. So I said to them, careless like, that I didn't care much about having a great big sign over my cage reading "Best Cat in the Show." And besides when Peg hears that I fixed it all up for her don't you think that it ought to put me in right with her? I doped it out that way.

Then, of course, Mrs. Brayton's big cat, "The Conqueror," was the winner in the champion class, male. But you see, and this is more real inside dope I'm telling you, I told the judges that "Conk" is all right a cat — 'course he's got nice fluffy fur and a swell cage and his nails manicured and all that. But I told them that "Conk" wasn't in my class at all. And they agreed with me right away. I didn't want to cause embarrassment by competing against him. For there wouldn't have been any question about the result if I had. The judges agreed with me on that. He's a blooded, high-brow cat 'n everything, but you all know me. I guess I don't have to tell you any more about how I fit in my class when I let you all know that they picked me out to collect money for the Children's Hospital.

They put a money box in a corner of my cage and inside of an hour I had it filled with half-dollars and quarters and bills. I had them put a sign reading "Hindy's Collection for the Children's Hospital" over it and you ought to have seen the bills and change come in. And there was a crowd round my cage all day.

Say, I'll let you in on some more inside stuff. There's another swell lady cat that was up here that I kind of like. Her name's Winter-Dai and she belongs to Mrs. Frank E. bell out in Brighton. She's some Pip, I'll tell you. Mrs. Bell brought her over to see me this morning. And I'll tell you that she's a knockout with me. She won first prize in the Silver Neuter class, beating out Neptune and Silver Rene, who are no slouches for looks either.

I don't think much of the feed up here. They bring round a little paper plate, sanitary, they call it, and they have about enough meat on it for a canary bird. The Post reporter that type-writes my stories for me got me three plates tonight, but believe me when I get through with the show and down town again I'll have a feed of cooked liver and milk and stuff right away.

I think I understand why these high-brow cats don't eat very much. They are doped half the time with disinfectant. Why, there's been a woman running around here all the two days every few minutes with a squirter and some kind of smelly stuff. I told her I didn't need any of it – haven't I lived down on Newspaper Row for years and years without any, and ain't I the champ of all cats? But she said I needed it more than the others if anything and I let it go at that. 'Course being the best cat in the show I didn't want her to think that I was not up on all those things.

And say, before I close this story, I want to tell you about Aida. She's another good-looking girl cat that has been across the aisle from me. She belongs to Miss Blanche B. Parker, and she copped second ribbon in the Black Female novice class. She's a swell looker too and I've go her down on my list that I'm going to get around to see just as soon as I get time. But it may be quite a while, for I suppose things down on the Row have all gone to smash, with me leaving that no-account Graveyard Tom in charge for two whole days.

Yeh! I want to tell you about my picture too. Miss Mary Miles, who paints pictures of famous animals, was up here this morning and as soon as she lamped me she got busy. And this afternoon my photograph in water colors was hanging over my cage. I'm going to take it back down to the Post and raffle it off among the boys there and send all the money 1 can get for it that way up to the Children's Hospital for their fund. They wanted me to announce officially that just before the show closed Gerda Ahlblad of 56 Main street, Watertown, won the "Raffle Kitten." Her ticket was No. 706 and the five-months-old smoked Persian kitten donated by Mrs. Eileen Francis goes to her. The kitten is a son of Conk, the champion cat that I told you about. Well, that's about all the dope for now. Except my medals and I'll show them to you when I get back. Oh, yes, there's also the list of the winners that had prizes awarded to them today.

HINDY BACK HOME WITH GREAT APPETITE. BULLETIN — Hindy arrived back a the office of the Post at 11:35 last night. He declined to be interviewed on his personal experiences at the cat show, announcing only that he had more important affairs to attend to. A half minute later 15 pounds of yellow feline was dashing down the stairs towards Child's. "Poorest feeders up at that show I ever saw," he told Chick Storey. "Gimme some liver, some milk and cream. Lots of it, in a hurry." A half hour later he was asleep under a chair on the tile floor.

A CURE FOR CATS' NERVES. Pall Mall Gazette, 8th December 1921
It is cheering to know that cat shows are good for cats, although they may not enjoy them. 1 learnt this from Mr. Louis Wain at the National Cat Club Show at the Crystal Palace yesterday. "Cats are highly sensitive and nervous." said Mr. Wain, "and it is good for them to be in a show and get used to seeing a lot people round them. Some breeds are nearly extinct owing purely to nerves." There were over one hundred exhibitors, and the judges were Lady Alexander, Mrs. Stephen. Miss Simpson, and Miss Savory. Sir Claud Alexander, I saw, was also going round with the judges. The Hon. Mrs. MacLaren Morrison's Sambo, a beautiful black puss, was a first prize-winner, and Mr. Dillon's white male, who rejoices the name of Mintey Guiding Star, was another. He, by the way, was sitting with his back to the public, and didn't seem to think much of the nerve cure!

MAINE COON ANGORAS - The Davenport Democrat and Leader, 3rd December, 1923
Up in Maine a veterinary surgeon advertised beautiful Angora cats of any colour. Upon receipt of orders he would dye ordinary long-haired bushy-tailed Maine coon cats to correspond to the colour desired. He also sold guinea fowls as peacocks.

A REAL CAT THIEF. SOMERSET OWNER ROBBED OF VALUABLE ANIMAL.
Western Daily Press, 1st December, 1927

A valuable long-haired cat from Somerset, which was to have been shown at the National Cat Club's championship show at Crystal Palace yesterday, was stolen on Tuesday night while its owner was taking tea with a friend at Croydon. The animal "Curzon O' The Combe," had travelled with three others in baskets in a car from Combe Head, Chard, in the care of its owner Miss Langhorne, and a friend. Miss Langhorne was greatly upset by the loss.

"We had driven up from Chard with the four cats and had stopped to have tea with some friends in Nottingham Road, South Croydon," she said. "We left the cats in the car. When we came out again, Curzon and the basket had disappeared. Curzon was rather a valuable cat – he was priced in the catalogue at ten guineas, and had won prizes at shows, notably last year at Crystal Palace when he took a second."

Immediately on discovering her loss Miss Langhorne informed the local police and also telephoned to Scotland Yard.


CATS FOR FUR
Cat Gossip 5 December 1928

It will be remembered that some months back a Continental firm advertised in the columns of a contemporary, seeking an English agent to supply them regularly with cats. We understand that they received a large number of replies from would-be cat-suppliers in England — and Rumour, which, as we once remarked, is a lying jade, put it about that the contract had been secured by one of our foremost and leading Fanciers —we do not know who has the contract, but are satisfied it is not the party in question. Many will be interested to know that the advertisers were a great firm of fur-animal breeders in Saxony. We have seen their booklet illustrating a number of fur-animals on their fur-farm, and amongst these we find the Blue Persian Cat! (supplied, presumably, by an English breeder).

Now there is, on the face of it, no more cruelty in breeding animals for furs than in raising poultry for the table; it is far preferable to trapping; and it is clear that fur animals on a fur-farm properly run are kept in the best possible conditions and humanely killed. From the illustrations we judge that the animals on the farm in question have a better lot than those kept by some few Fanciers, if we are to credit the reports we hear as to cats kept in tea chests and the like. All the same, though in these commercial days we fear there are many who care not how money is made as long as it is made, we are sure that to a majority of cat-fanciers the idea of breeding cats for furs is intensely repugnant.

"Fanciers" nowadays are fast becoming unworthy of the title — it is grim business all the time; "Fanciers" not only breed to kill, but also to supply vivisectors. May the day be far distant when the Cat Fancy sinks to the low level of some fancies, when we may expect to see (though never in Cat Gossip) the Fancy Press embellished with charming diagrams illustrative of "How to skin and paunch cats for furs;" and every week there will be Answers to Correspondents instructing the novice "at what age kittens are best killed for pelts," and "how to kill and bleed cats without injury to the pelt." To our thinking, when a "Fancy " is run on those lines, the word "Fancy" becomes entirely a misnomer, and should be replaced by the word "Trade," a word which many regretted to see appear in a recent official notice regarding business done in cats! Commercialism keeps many Cat lovers away!

FOUND – A CAT 10,000,000 YEARS OLD
The Ottawa Journal, 6th February, 1929

The skeleton of the world's oldest and biggest cat, nicknamed the "Jumbo Pussy," is now on view at the University of Chicago, and feline pets of employes there pause in wonder before it and perhaps with pride reflect, "Such an ancestor is enough to make anybody a little bit chesty [puffed up]. Nothing puny about MY forebears!"

The "Jumbo Pussy's" technical scientific name is Dinictus squaliden. It measures four feet from tail-tip to ear-tip, and is estimated by cat authorities to be at least 10,000,000 years old. Credit for assembling it goes to Paul C. Miller, associate curator of paleontology at the university, who spent 13 weary, back-straining summers searching for the rare and priceless specimen. Eventually, to his scholarly delight, he came upon the "Jumbo Pussy" in Hat Creek basin, Sioux county, Nebraska.

In vivid contrast to this imposing tabby is the Paraguay cat, which, when adult size, weighs only about three pounds and is not more than a quarter the size of the average modern domestic breed, The body, however, is fairly long, and the hair, especially on the tail, is short, shiny and close.

FROM "CAT GOSSIP" 1 May 1929
What is really the history of the mysterious tortoiseshell? Older works usually refer to them as Spanish. A pair of "Dwarf Spanish" cats, now often shown on the Continent, appear from their photo to be just ordinary tortie-and-whites. Why are tortoise toms almost invariably sterile? Not only in this country has this been noted, but Jumaud, in his "Les Races de Chats" (1926), makes the same observation of a male in Neuchatel (Switzerland). The Naturalists' Library (1834) refers to a "wild tortoiseshell cat from South America," which was in the Museum at Erlangen. "Its hair was extremely long, soft, and silky. The ground colour is white, but the animal is variously clouded with shades of brown and yellow." Was this a freak, or a domestic cat run wild, or the progeny of such?

CATS POISONED.
Bath Chronicle and Weekly Gazette, 20th April 1929

Sir, —Of your charity I beg you find space for the following. Several cases oat poisoning in Henrietta Park district have been brought my knowledge, and Miss Brown, 14, Pulteney Street, is grieving at the loss her pet, 'found dead in Henrietta Park. A fine Persian cat was also found dead her area, evident case of poisoning from the condition the poor little creature, which must have died in great agony. It is such a cowardly, cruel way of venting spite a defenceless creature. Dogs, cats and birds, trusting the human beings they look to for food, will easily pick up poisoned meat, etc., in innocence, and it is to warn the public to keep their pets at night and give any help they can to sift this matter that I have been allowed to give the name at least one distressed owner. Any information will gladly received by the R.S.P.C.A. or by me.
MARY BEGG, Hon. Sec., Bath Society the Promotion Kindness to Animals. 7, The Circus. Yardlands.

WILD CAT AT LARGE ESCAPE FROM CAGE ON SHIP
Derby Daily Telegraph - Saturday 29 June 1929

A wild cat is believed to be at large in Liverpool. The animal escaped from its cage on the deck of ship that arrived in the Mersey from South America, and was missed when the vessel berthed in Toxteth Dock. The crew were considerably alarmed when the cage was found to be broken open and empty. A party was instantly organised, and carrying defensive weapons they searched every likely corner of the ship but without success. As a last resort, a large piece meat was placed in the hold. Within twelve hours it had disappeared, probably consumed by the wild cat or carried away to its new lair. The captain of the ship, owing to the savage nature of the creature, felt it his duty to report the matter to the police. They gave advice as to further search, and issued a warning to police along the line of the docks. No trace of the animal has been found, and it is hoped the solution of the mystery will prove to be that the pussy has met an untimely end by falling overboard into the dock.

A RETICENT CAT
The Age, 25th June, 1932

It is claimed that a puss which was on show at the International cat show at Vienna has a vocabulary of the three German words "Ja," "Nein," an "Anna," which it can pronounce distinctly. It can also "sing the airs of two nursery tunes when they are played on the piano."

I have heard of the pussycat songster before,
Though more with regret, than approval;
It has sung on the roof when I wanted to snore
Till I longed for its lethal removal;
If you say that I ought to admire such a cat,
Well, all I reply is "I canna" —
But I freely admit that I take off my hat
To the cat that says "Yes," "No," and "Anna."

For that is a really remarkable change
In habits regarded as feline,
One notes with respect a colloquial range
As brief and direct as a bee-line;
It falls with an air of both wisdom and grace,
This curt, conversational manna—
A lesson for all is implied in the case
Of the cat that says "Yes," "No," and "Anna."

A good deal of trouble would often be stopped
If more of us made it a fashion
To copy that taciturn puss and adopt
An equally reticent, ration,
For scandal would shlow a most striking descent
And dwindle from Hull to Havana,
If all of the cats in the world were content
To say nothing but "Yes," "No," and "Anna."
- Lucio, in the Manchester Guardian

SIAMESE CATS HOLD CONVENTION FOR SURVEY OF THE HUMAN RACE
The Ottawa Journal, October 15, 1935.

From the London Times. The sevenscore Siamese cats, which met last week in London for their annual survey, through show-room bars, of the human race, had much matter for common consideration. Since they were last assembled together, disturbing and perplexing events had crowded upon the land of their fathers; and the news had been such as to exercise the sombre thoughts of cats upon the death of princes and the fall of kings.

The issue of their reflections is likely to remain a secret, for the heart of a cat is not worn upon his brown velvet sleeve; but it is safe to assume that all revolutions are suspect in those bright blue eyes, as tending to violate that sense of dignity and tradition which makes the inner quality of feline life. Nevertheless, it does not seem that the vicissitudes of dynasties have been complicated by any graver outrage; there is no suggestion that indignity has been offered to the exalted feline personages who lap the cream of religious veneration in the palaces and temples of Bangkok.

The exiled relatives of those personages, basking in the enjoyment of an almost equal reverence from their own devotees, may further reflect that no inroad has been made upon the hereditary right of their race, which corresponds to privilege of peerage among bipeds.

A cat is entitled to look at a king; and, in spite of abdication and the advancing democratic tide, there is still a king to look at, not only in Siam, but in all other countries that have had the good taste to commit their international honor to the keeping of their cats. Persian cats have not parted with their Shah, nor Abyssinian» with their Negus - to whose flecked and brindled subjects the purr of solidarity in the present crisis must surely have gone forth from their Asiatic kindred at Chenies street; and the Manx and the British short hair are at one with the Eastern branches of the family in their continued enjoyment of the only worthy object of feline contemplation.

Indeed, if the continuance of kingly rule in these favored countries be contrasted with the spread of republicanism in those which have no distinctive breed of their own, the inference is irresistible that monarchy owes its survival among human institutions to the deep and secret diplomacy of cats. Here then is the explanation of that impenetrable serenity which abashes the visitor to every cat show — a serenity belonging to the most conservative of worldly forces, and proceeding from the assurance that men and women pass, and even their rulers are but mirrors for the complacency of cats; but cats go on for ever.

THE LAUGHING CAT
Various, 1937 - 1938

LIFE, May 1937 compared a photo of a laughing T Roosevelt to well-known photo of a laughing cat. Under the cat, the text says "This laughing cat, also apparently the recipient of good news, has been featured innumerable times on calendars, cards and novelties since 1925 when a Chicago amateur brought it to the office of Underwood & Underwood, who recall neither his name nor the cat's."

LIFE, June 1937

had this response from the photographer: "Laughing Cat. Sirs, The 'Laughing Cat' photo published in LIFE (May 17) and attributed to a Chicago amateur whose name has been forgotten is in reality a flashlight I made may years ago. A local representatitve of a news picture agency asked for a copy for her personal use for framing and I granted her one. A few days later it was published throughout the country. It has since been reproduced millions of times, and never as yet with a credit line. I am enclosing a contact print from the original negative still in my possession. - RUSSELL E FROCLICK (Globe-Democrat), St Louis, Mo.

POPULAR MECHANICS, Aug 1938 had a slightly different version of the story and a different name: "Of course, you don't have an opportunity every day to photograph a shipwreck. But more homely subjects are packed with human appeal and potential earning power. Take the "Laughing Cat." It happens to be from the camera of a professional, Russell Hamm, now staff photographer of the Chicago Daily News; but it could as easily have been yours. Hamm had been sent down near St. Louis to make a feature picture of a mother cat with her litter of fifteen kittens. When he had finished, the woman owner remarked that she was training another cat to make facial expressions. Hamm asked to be shown. The lady set up a mirror in front of her pet and immediately the cat grinned and grimaced. The photographer took a shot at the reflection in the mirror and went home. From the developing tank came "The Laughing Cat," so genuinely humorous that newspaper, magazine and trade journal editors around the globe bought and printed it, and in fifteen years that picture has earned $13,000!"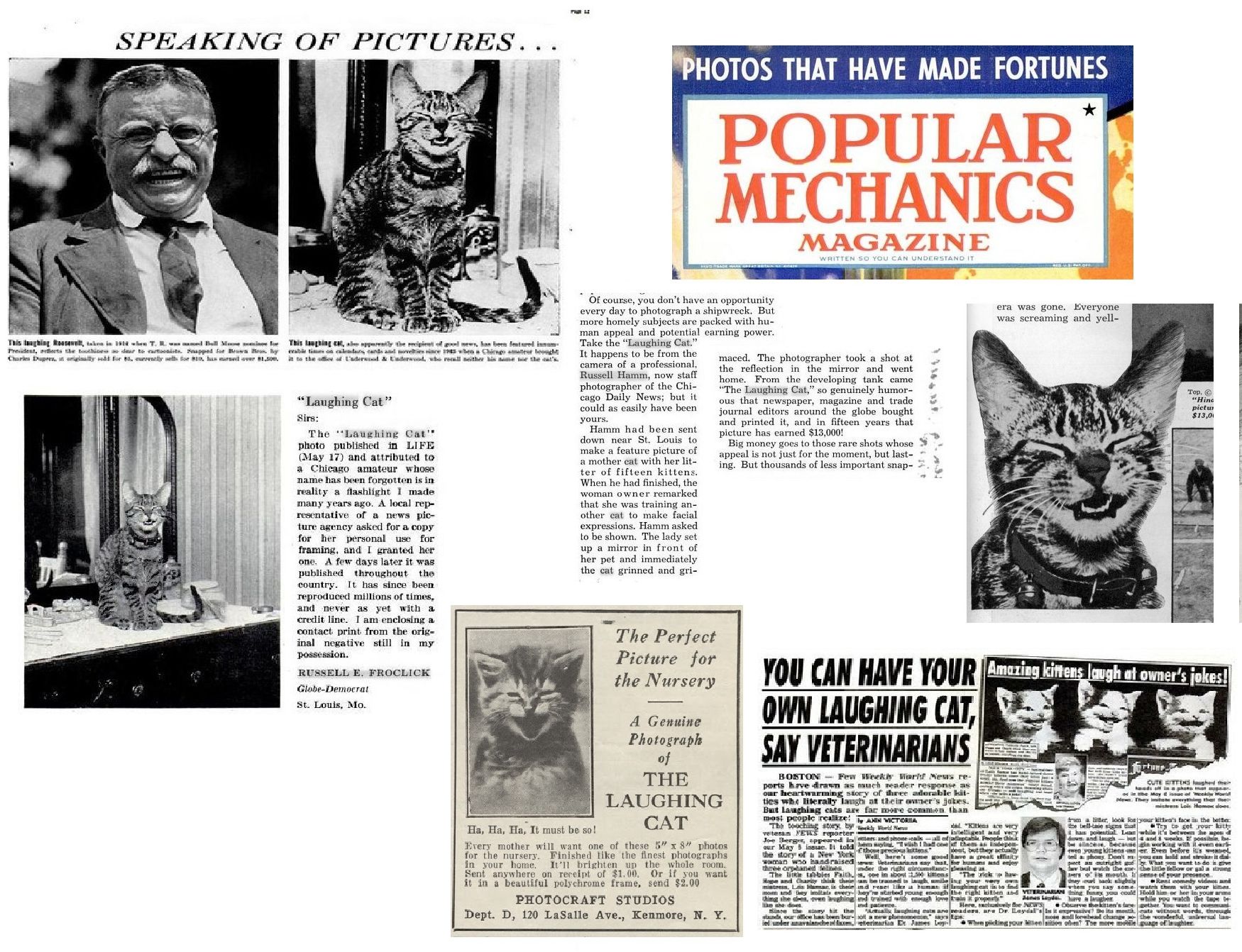 In fact there were a couple of different "laughing cat" photos reproduced as prints and claiming to be the "genuine laughing cat." These cashed in on the laughing cat craze while avoiding the issue of Hamm's (or Froclick's) royalties. Somewhat later, laughing cats were back in the news in this article from The Weekly World News (a mix of extraordinary news and fake stories).

CATS. Bellshill Speaker, 16th December 1938
It is impossible to determine the exact cat populations of this country, but there is an impression that animals of the feline species are more popular her than elsewhere. Whether it is correct is purely a matter for conjecture, but if it is, then Germany must hold a good second place. I hear that cats as pets are growing rapidly in popularity there and in Berlin alone n fewer than 18,000 are treated every year for various complaints at the numerous dispensaries that are available. This month, the German Association of Cat-breeders is holding its first International Cat Show in Nurnberg. Cats of every breed, from Germany, France, Belgium, Switzerland, Holland and Denmark will foregather there, but, unfortunately, owing to the stringency of our quarantine regulations, n cat will be able to do battle for the honour of Great Britain. There would be no difficulty about British cats going to Germany, but our law stipulates that no animal coming from a foreign country can be allowed to go to its owner until it has spent six months in a quarantine camp. Owners f British cats apparently do not want to be "robbed" of their pets for so long a period after the show.

NAZI CATS NOW UNDER CONTROL. Coventry Evening Telegraph, 16th January 1939
Cats now come under Nazi regulations in Germany. They must be made more "rat-minded" and are expected to reduce the birth-rate of their natural enemy. This decision was reached by the newly-established "Reich Professional Group of Cat Breeders" which is affiliated to the "Reich Association of German House Animal Breeders." The organisation says that 150,000 people would be required to repair the damage done by rats in Germany in one year.

CATS. Chelsea News and General Advertiser , 14th July 1939
Mrs. Cook-Radmore, secretary and show manager f=of the Chelsea Cat Club, won the prize for the best kitten in the Kensington Kitten Club Show at Tattersalls on Wednesday, with her blue female Albany Audrene. Mrs. Cook-Radmore, in an interview, has revealed some of the worries of cat breeders. She said; "I am in dispute with the income-tax authorities because they say that a cattery is a business. Actually it is a luxury hobby. Cat breeders, most of whom are women, are to be suddenly faced with income-tax demands, many will give up their hobby and cat shows may be severely hit. It is impossible to make money out of breeding cats. Between January and July this year I have sold two male kittens at two guineas each and two tabbies at 7s 6d each. These sales have to meet the upkeep of 27 cats in show condition."

JEALOUS CATS
The Children's Newspaper, Feb 14, 1943

ANY high-born cats at the Southern Counties Cat Club Show in London must have been furious when a tortoiseshell and white cat of unknown origin, named Noxa Teena, won three first prizes. No one knew anything about her father and mother, but her appearance had been good enough for the judges. " What a common cat!" hissed unsuccessful rivals with long pedigrees. But Noxa Teena's self-satisfied purring probably told them, in cat language, some- thing about sour grapes.

NO GRINNING MATTER
The Age (Melbourne), 11th February, 1946

London, Feb. 10 (A.A.P.). The mayor of Chester, in Cheshire, is wondering how to avoid disillusioning an American soldier who has written to him saying that at a recent cat show in Chicago he noticed that there was no class for Cheshire cats. The soldier asked if the mayor could supply or tell the soldier how to obtain a Cheshire cat. The mayor is now puzzling how to explain tactfully that the cat that Alice in Wonderland knew was no more real than the March Hare.

CAT THAT WAS STARVED MUCHELDEAN MAN AND WIFE FINED
Gloucester Citizen, 4th May 1946
Photographs of a starved, emaciated cat were exhibited at Littledean Magistrates' Court, on Friday, when a charge of causing unnecessary suffering to the animal, by failing to give it nourishing food and proper care and attention, was heard against a Forest of Dean husband and wife. The couple, Francis E. Trigg (39), and Phyllis M. Trigg (27), of High-street, Mitcheldean, did not appear to answer the charge. In their absence they were fined a total of £3 and an order was made against them to pay £2/19/6 coats. "It was a very serious offence," remarked the Chairman (Mr. C. de Courcy Parry) at the end of the case. Mrs. Lily Gertrude Price, Lion House, Mitcheldean, who lives three doors away from the home of Trigg and his wife, told how the cat frequently went to her for food during the past two years. On March 25 she saw it come out of a shed. It was weak and emaciated, had no fur its hind legs and could hardly move along; in fact, it walked in spasms. "It was in a shocking condition and I never want to see an animal in such a condition again," she added. George M. Pettigrew (Newnham), veterinary surgeon, stated that the cat had to be destroyed. There was no trace of disease and, in his opinion, the condition of the animal was due to starvation. It was definitely a case of cruelty. F.C. Buckland (Mitcheldean) produced a statement made by Francis Trigg, who said that five years ago he was asked to look after the cat by a boy who joined the Army. His wife also made a statement in which she claimed she always looked after the cat. Lately It seemed ravenous and always wanted food. She fed it on March 28 and Intended to take it to Inspector Parry the following day. The constable added that Trigg and his wife had five children. They were in poor circumstances and lived in a place little better than a hovel.

POISON GAS EXPERIMENT
The Winnipeg tribune, 17th May, 1946
German Cats Flown To Britain For Test

Cats were smuggled out of Germany and shipped to England shortly after the outbreak of war just to prove an experiment in poison gas. This story of daring British efficiency was recalled in an interview by Lt.-Col. Athol R. Gordon, now returned to his medical practice in Winnipeg after more than six years overseas with the R.C.A.M.C.

"German cats were wanted for experimental purposes because there was a report that German phosgene RAS was more lethal than ours," recalled Col. Gordon, at one time in command of chemical warfare laboratories of the Canadian Army in England. "The physiologists wanted to be sure that the German cat, upon which the German experts based their claim, was of the same resistance and calibre as our cats," explained Col. Gordon. "The conditions of two experiments must be similar before an assessment of the potency of an agent can be made."

German cats were duly collected by intelligence agents, taken back to England the same night by plane, and exposed to English phosgene. The British expert came out with this cryptic conclusion: "The German cat is a poor thing."

CAT-BEASTS ARE BEING SOUGHT IN AUSTRALIAN WILDS
The Victoria Advocate - Oct 17th, 1946

A recent report that a man had «hot "two unknown puma-like animals" at Tugun, near Maryborough, Queensland, has set Australian zoologists speculating again about the possibility of the existence of a giant Australian cat. If one were proved to exist it would be a discovery of first-class scientific importance. Reports persist about "large beasts of the cat-like tribe . . . the size of a mastiff, with tiger stripes." Australian zoologists don't write off the possibility of a large Australian marsupial (pouched) cat existing in some of the wilder and little-touched corners of Australia. There's little doubt, for example, that marsupial wolves exist in the wilder and more remote areas of north-western Tasmania. The marsupial wolf once was all over the mainland but has now become extinct there; a few specimens have been preserved. Its last stronghold is Tasmania where it was fairly frequent when the first white settlers came.

NOS AMIS LES CHATS"
Fur and Feather, 11th July 1947

The delightful and instructive book, "Nos Amis Les Chats," has reached me from the author, M. Marcel Reney. It is most clearly written and will be very helpful both to novices and to older breeders, and will indeed be a "friend" to all cat breeders. Monsieur Reney goes fully into all details if health and the care of the young kittens from birth and throughout their lives. Long and short hair breeds are all catered for, and there are many charming photographs of Seine. French and English cats. Two delightful studies of Mrs. J. M. Fisher's Tiger Tim of Hadley, and Ursa of Hadley, show the lovely marking of the Brown Tabby. There is also a lovely picture of Champion Mint of Hadley, a cream of exceptional type and colour. Unfortunately Mrs. Lantenoise lost him last year. The difficulty of feeding him during the war was the main cause of his death. A picture of Mn. Chamonin's Champion Talisman de la Chrosnaie, a good blue Persian which has never been beaten, is on the cover of this book. It does not show him at his best He is indeed a very lovely creature of the palest blue, and carries a wealth of coat of finest texture, tiny ears; and excellent fame. "Nos Amis Les Chats" will be of the greatest interest and hells to many breeders. I am delighted to have a copy. – Kathleen York

WHERE DO ALL CATS IN AUDRA COME FROM?
Mexico Ledger, 19th February, 1948
They're Petss But They're Not Tamed

Did you ever consider where all the cats in Mexico and Audrain county originally came from? It is estimated there are 30,000,000 cats in the United States today and apparently they are of no particular breed. You even hear tales about kitty mating with native wild animals such as was supposed to have resulted in the Maine coon cat, the hippety-hopping, bobtailed rabbit cat of Southern swamps, and hybrids from martens, even skunks. Biologists, however, deny the probability of cats wooing outside their own family circle.

Nine out of ten of these cats are more or less vagrants in city streets, or prowlers of the open spaces; upward of 25,000,000 felines have been loosed in this country by thoughtless people. In the cities, particularly, many are bearers of contagious diseases.

Nine Lives? Experts scoff at the phrase and point out that the house cat is susceptible to such human ailments as common colds, tuberculosis, rickets, pleurisy, laryngitis, plus distemper and mange. Loose kitty in the city is likely to be an unhealthy specimen, writes Frank Dufresne in Collier's.
But it is in the wood lots and on the farm lands that the Egyptian immigrant is reviled by the blackest names. Bird lovers and game administrators condemn them to death without mercy. They say that of all the Carnivora the cat is the most completely armed to deal out death.

Or all the animals domesticated by man, none has retained so much of its wild instincts as the house cat. None can return so quickly to its original way of life in regions so distant from the land of its feral ancestors.

Most of our common, short- haired cats came from North Africa, home of the wild Caffre cat from which they were domesticated at least as far back as 2400 B.C. Kitty's forebears got away to a noble start over there because the Egyptians held them in godlike reverence. They were associated with the moon and the sun, and with the goddess of love and pleasure. Ancients of the Nile kept their cats in temples, pampered them with carefully prepared foods, groomed them tenderly. When the last of their nine lives slipped away, the bodies were wrapped in scented linen and laid away in special cemeteries. One unfortunate man who killed a cat by accident was stoned to death by his fellows.

If the cats had stayed in Egypt this blissful existence might have continued indefinitely, but the Romans and Greeks, doubtless believing that good fortune attended the keeping of cats, started sneaking them across the Mediterranean. The outraged Egyptians organized special expeditions to bring back their cats, but the damage was already done. Kitty had started on a prowl that was to take it completely around the world. It was to learn the ways of the peasants as well as the prince. Plenty of places it ran into trouble. Witch trouble, mostly.

It was a dark day for cats back in 1662 when a witch named Isobel Gowdie on trial in Scotland stood up in court to blame it all on the cats. She said that when she and her sister hags wanted to do a Grade-A job of deviling the populace they changed themselves into cats. So you could never tell for sure whether the sphinx-like creature crouched on the hearth was a cat purring contentedly, or maybe Isobel Gowdie muttering curses. Kitty's standing, never too secure in early Europe, fell to an all-time low.

The Scotch folks tried to drive out the evil spirits of cats by roasting them alive on spits. England developed the idea by using brick ovens. In Belgium cats were tossed out of high towers on the second Wednesday of Lent. Never the ones to be outdone, the Irish tied the tails of two cats together and threw them over a clothesline to claw each other until only the1 tails were left. From this pastime came the legend of the Kilkenny cats.

About the time when tabby was having such a brutal time of it in Europe another series of pussies started coming off the assembly lines in China and India. The wild Pallas cat of Asia is credited with siring the Persian long-hairs — the Fancy Dans of the kitty kingdom. As in Egypt, the early cats of the Orient lived royally. Mandarins prized them; rajahs fondled them on silken laps.

Only in Japan did kitty run into trouble, and even then amends were made. In one Nipponese village there is (or was before the B-29 era) a statue dedicated to cats sacrificed to make catgut strings for the native musical instrument samisen. Here incense was burned to assure departed cats that the manufacturers regretted the necessity of making them into banjo strings.

Yankee tea traders sailed back from the Far East with the first highly prized long-hairs, and while reasonable attempt was made to keep them separate from the already established European shorthairs, all you have to do is look at the nondescript strays in your own neighborhood to realize the futility of it. Not without cause did the pyramid builders link their felines with the goddess of "love and pleasure."

SIAMESE ALL AND CHAMPIONS TOO – The Age [Australia], June 24th, 1950
An unusual "get together" yesterday by six natives of Siam. The Siamese boxing team which is visiting Melbourne is holding three prize Siamese cats which will compete in the first all-Siamese cat show at Melbourne Town Hall today. The boxers are, from left, Klong Phupinjo, Perg Pattaphongee and Chai Sitphol. The cats are owned by Major S. T. V. Coles, of St. Hilda.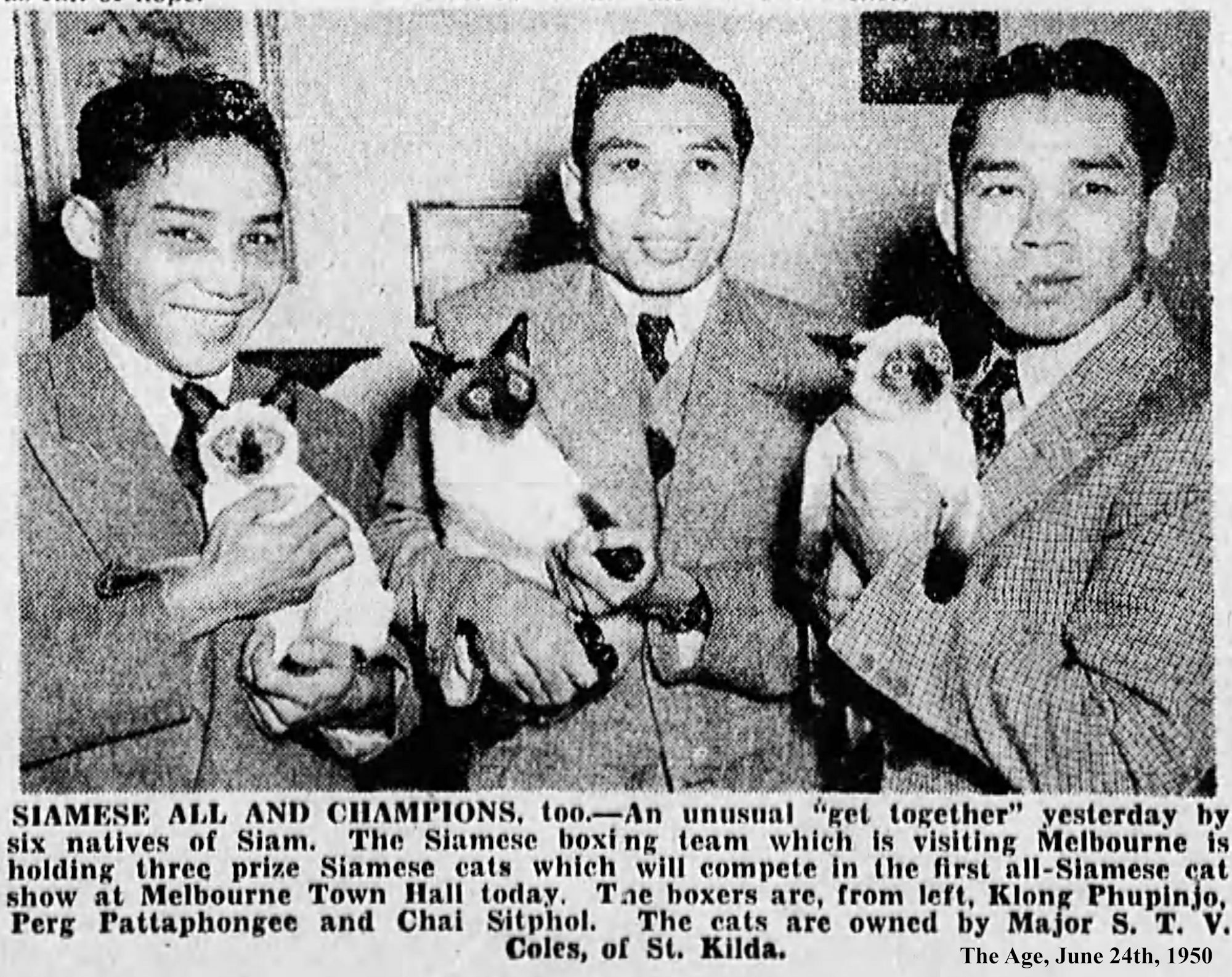 NOVELISTS-CAT LOVERS WRITE FELINE HISTORY
Independent Press Telegram, 20th August, 1950
Cats and people, by Frances and Richard Lockridge
So far as the cat question is concerned, the world seems to be divided Into two kinds of people — those who love cats and those who abhor cats. Aimed primarily for the cat lovers is this authoritative and - to this reader — intensely Interesting volume by the Lockridges, who up to now have been better known for their mystery novels than for their knowledge of cats. However, the Lockridges own one to three cats all the time, usually Siamese, and it may be remembered that a cat always has an important part in the unfoldment of their novel plots.
From the depths of exhaustive research, they have dug up the history of the cat which they call "Felis domestica" of the subfamily Felinae and the family Felidae, the superfamily Feloidea, the subfamily, Fissipedla and the order Carnivora of the cohort Ferungulata and the class Mammalia." They tell stories that demonstrate to their satisfactlon that cats have intelligence and thinking apparatus, and they give good instruction on the selection, care and feeding of cats, whether the pet is of the friendly, purring striped "alley" variety or one of the fancier show models such as the Persian, Siamese, Abyssinian, Burmese or Russian blue.
The Lockridges look back to the early mists of time when there were no cats. They trace the development of the cat down through the time when the cat joined the man and dog companionship at the fireside and to the present. Helen Stone drew the clever black-and-white illustrations.
JUST CATS
Everybody's Weekly, 1950
Beverley Nichols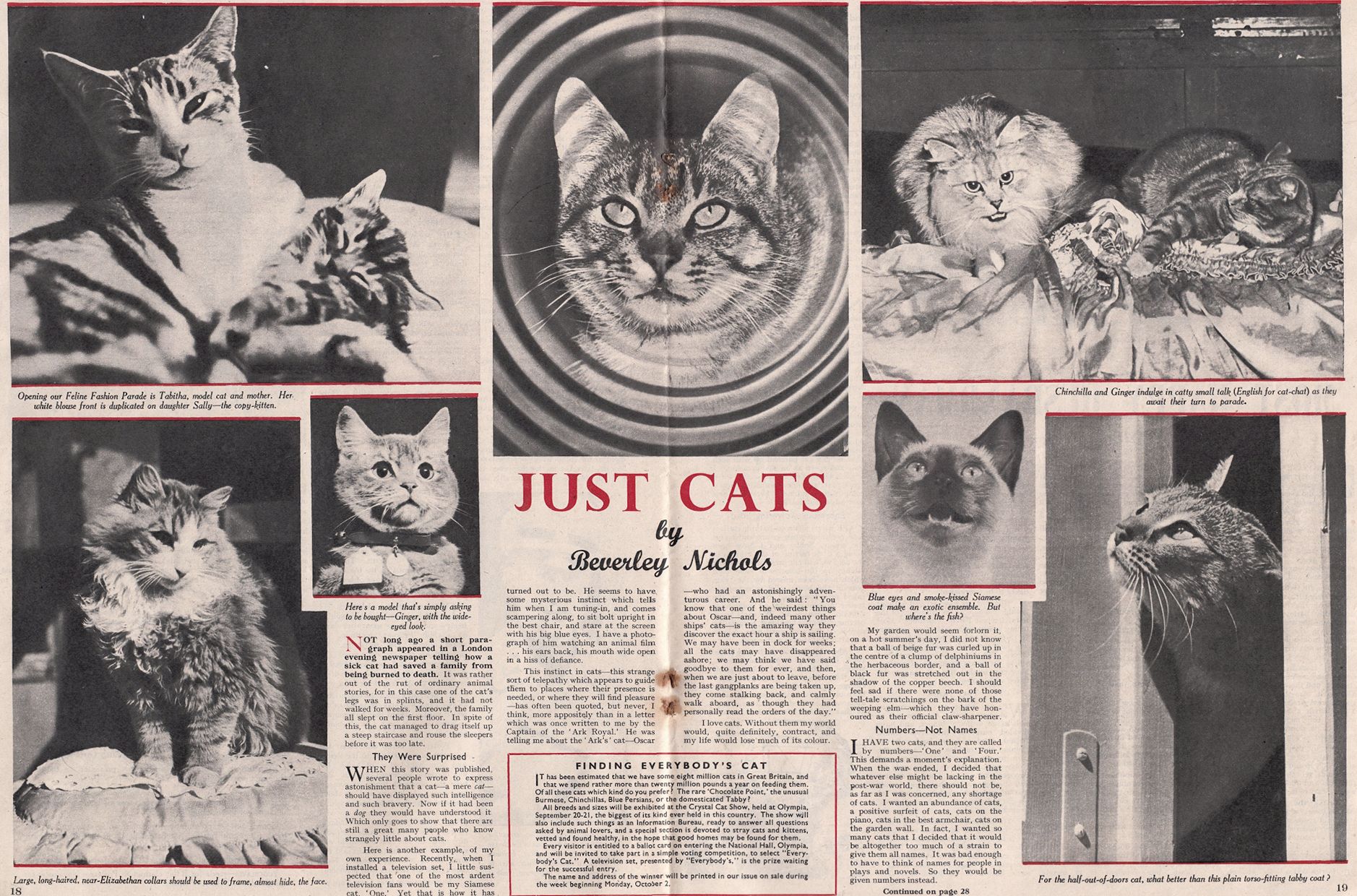 NOT long ago a short paragraph appeared in a London evening newspaper telling how a sick cat had saved a family from being burned to death. It was rather out of the rut of ordinary animal stories, for in this case one of the cat's legs was in splints, and it had not walked for weeks. Moreover, the family all slept on the first floor. In spite of this, the cat managed to drag itself up a steep staircase and rouse the sleepers before it was too late. When this story was published, several people wrote to express astonishment that a cat — a mere cat — should have displayed such intelligence and such bravery. Now if it had been a dog they would have understood it. Which only goes to show that there are still a great many people who know strangely little about cats.

Here is another example, of my own experience. Recently, when I installed a television set, I little suspected that one of the most ardent television fans would he my Siamese cat, 'One.' Yet that is how it has turned out to be. He seems to have some mysterious instinct which tells him when I am tuning-in, and comes scampering along, to sit bolt upright in the best chair, and stare at the screen with his big blue eyes. I have a photograph of him watching an animal film ... his ears back, his mouth wide open in a hiss of defiance.

This instinct in cats — this strange sort of telepathy which appears to guide them to places where their presence is needed, or where they will find pleasure — has often been quoted, but never, I think, more appositely than in a letter which was once written to me by the Captain of the 'Ark Royal.' He was telling me about the 'Ark's' cat — Oscar — who had an astonishingly adventurous career. And he said: "You know that one of the weirdest things about Oscar — and, indeed many other ships' cats — is the amazing way they discover the exact hour a ship is sailing. We may have been in dock for weeks; all the cats may have disappeared ashore; we may think we have said goodbye to them for ever, and then, when we are just about to leave, before the last gangplanks are being taken up, they come stalking back, and calmly walk aboard, as though they had personally read the orders of the day." I love cats. Without them my world would, quite definitely, contract, and my life would lose much of its colour.

My garden would seem forlorn if, on a hot summer's day, I did not know that a ball of beige fur was curled up in the centre of a clump of delphiniums in the herbaceous border, and a ball of black fur was stretched out in the shadow of the copper beech. I should feel sad if there were none of those tell-tale scratchings on the bark of the weeping elm — which they have honoured as their official claw-sharpener.

I have two cats, and they are called by numbers — 'One' and 'Four.' This demands a moment's explanation. When the war ended, I decided that whatever else might be lacking in the post-war world, there should not be, as far as I was concerned, any shortage of cats. I wanted an abundance of cats, a positive surfeit of cats, cats on the piano, cats in the best armchair, cats on the garden wall. In fact, I wanted so many cats that I decided that it would be altogether too much of a strain to give them all names. It was bad enough to have to think of names for people in plays and novels. So they would be given numbers instead. Continued on page 28 (unfortunately that page is missing)

FINDING EVERYBODY'S CAT. IT has been estimated that we have some eight million cats in Great Britain, and that we spend rather more than twenty million pounds a year on feeding them. Of all these cats which kind do you prefer? The rare 'Chocolate Point,' the unusual Burmese, Chinchillas, Blue Persians, or the domesticated Tabby?

All breeds and sizes will be exhibited at the Crystal Cat Show, held at Olympia, September 20-21, the biggest of its kind ever held in this country. The show will also include such things as an Information Bureau, ready to answer all questions asked by animal lovers, and a special section is devoted to stray cats and kittens, vetted and found healthy, in the hope that good homes may be found for them.

Every visitor is entitled to a ballot card on entering the National Hall, Olympia, and will be invited to take part in a simple voting competition, to select "Everybody's Cat." A television set, presented by "Everybody's," is the prize waiting for the successful entry.

The name and address of the winner will be printed in our issue on sale during the week beginning Monday, October 2.

MISS OLIVIA DE HAVILLAND'S CATS
Clovis News Journal, November 6, 1951

Just about a year ago Miss Olivia de Havilland, temporarily snugged in a Manhattan hole), telephoned to ask if I would take her pair of Royal Siamese cat brothers off her hands, because they were used to the open spaces and the hotel was becoming a little nettled at having Siamese cats show up in the laundry chutes and crawling out from under the broilers In the kitchen. These cats have turned out to be handsome creatures and it is a pleasure to have them around the place even though two sofas and a chair have had to be re-upholstered, thanks to their steel claws.

WOMAN SEEKS UNUSUAL GIFT FOR HUSBAND
Biddeford Saco Journal, 30th November, 1961

A Massachusetts woman is searching for an unusual Christmas gift for her husband this year — a coon cat. The woman ha» written to the Biddeford-Saco Chamber of Commerce in the hopes that someone in the area may know where one is available. She said in her correspondence that a friend brought a coon cat to her and her husband from Maine about 10 years ago and that the animal died recently. The woman mentioned that the idea of giving a replacement of the cat to her husband for Christmas was just an idea at first but then became a challenge when no one seemed to know where one could be found.

"All I want is a good healthy cat, a Maine coon cat," the woman said.

Anyone with information on this matter may contact the chamber office, Clayton W. Cartmill, executive secretary, said.

THIS WEEK IS FOR CATS
Independent Press Telegram, 2nd November, 1952

The world is divided into two kinds of people — those who love cats and those who can take cats or leave them. Among the most enthusiastic cat lovers is Guy Bogart of Beaumont, national president of National Cat Week Nov. 2-9. National Cat Week was founded in 1945 by Charles A. Kenny, founder of Cats Magazine. Its presidents have included Washington columnists and authors, Bascom N. Timmons and Drew Pearson.

In 1949 Bogart was named California chairman of the week and instituted the Friends of the Cats as a committee to take part in defeating the first marauding cat bill before the California Legislature. The past two years he has served as national president.

Besides his own cats, Bogart's favorites include rare Blue Point Siamese, Abyssinian, Russian Blue and Burmese cats owned by Howard and Blanche Warren of Casa Gatos, Idyllwild.

Says Mrs. Warren of their interest in cats: "Our love of cats started many years ago when we had many cattle to feed and kept tons of grain which naturally attracted rats and mice. We had many so- called 'alley cats,' which I prefer to call American bred cats, as part of our personnel. We started our hobby of fancy cats in this way: Mr. Warren was building a home for my sister in Hollywood-by-the- Sea. There was a beautiful Siamese cat next door who came over each morning and apparently checked in the men, talking to each one, then returning home until the next morning. We were so fascinated that we, too, wanted a Siamese cat.

When we moved to Bellflower in the spring of 1938, we located some Siamese, both Blue Point and Seal Point. We took a female of each and a Seal Point male. At that time the Siamese were quite rare and especially the Blue Points. One day a friend told us of a cat show in Hollywood. We entered our Blue Point. We enjoyed the show but got only a red ribbon — we wanted the blue ribbon. That meant only one thing — we must get better cats. The real fun of having a winner is raising it. Knowing the laws of genetics, we knew it took blue genes on both sides to produce a Blue Point. We wanted to produce a color bred Blue Point and after four generations we succeeded, and were told that ours were the first color Blue Points produced in the United States.

In 1947 we bought our first pair of Burmese. They won every show and in 1947 went 'All-American,' meaning the best Burmese shown in the United States that year. In 1949 we sent a pair of Burmese to England for a pair of Abyssinians. After receiving this first pair of Abyssinians, we sent to England for two more females as the first Abyssinians in the United States were very inbred. The first of these cats brought into this country were imported in 1930. Abyssinians, believed to have been the cats worshipped by the Egyptians, are restless cats, ever on the move. Thus they keep their long, slim figures. The Abyssinian is gentle and affectionate and has a very quiet mew.

When we heard of Russian Blue cats we wanted them and were the first to improve them on the Pacific Coast. The Russian Blue wears a sealskin coat, a gorgeous silver blue, each hair tipped with silver, giving it silver shadings. In the sun, the Russian Blue has a lavender sheen. The Russian Blue is a quiet cat. It is said that only one in a litter may have a voice. I have never heard two Russian Blue studs argue."

In 1945 the Warrens organized the Long Beach Cat Fanciers with Warren as president and the next year held a cat show in Masonic Temple, believed to have been this city's first cat show. The couple moved to Idyllwild In 1950. They built a large cattery at Idyllwild to accommodate cats in the winter at well as the summer. It is 20 by 35 feet and the sides are all glass.

ALERT RECIPIENT IF YOU'RE GIVING KITTEN AS A GIFT
The Racine Journal Times, 19th December, 1954 (and others)
By H. H. Miller

Many kittens will find their way into homes during the holiday season. Some will be prepared for in advance which is the ideal way to welcome a pet of any kind. Others will be "surprise" gifts and though it's more pleasing to the donor to have a kitten dressed in a big, red bow pop out of a basket, the new owners aren't always as enraptured as they may appear unless they've had cats before and know the ways and needs of a kitten.

The gift bearer may not have as much fun but he's much wiser if he announces his intention and, if possible, finds out the kind of cat his friends would like. If they want a ratter, they should have an ordinary short-haired cat or a Maine coon cat. The name "coon" doesn't mean these cats are part raccoon. It comes from Captain Coon, who was a ship's commander and who is believed to have brought over the cats from which the Maine cats are descended. They are large, heavy cats with big heads.

If the prospective owners want an ornamental cat to decorate the home and if they have the desire and the time to care for it as it deserves, then they can have a Persian or one of several other fancy breeds. No matter what kind of kitten it is, the owners will be made even happier if the gift includes a book on cats and their care.

It takes about a week for a kitten or puppy to adjust itself to its new surroundings. It would be best for all concerned, therefore, if it could be delivered some days in advance of Christmas.

The proper handling of a kitten is most important. There's a belief that a kitten or a puppy should be picked up by the scruff of the neck. Just because you've seen mother cats and dogs carry their offspring that way doesn't mean that people should do it. No animal mother does it when the youngsters are big enough to leave the nest. It takes hard pressure to clamp a kitten between the fingers, and it's not only uncomfortable but the kitten can get an abdominal rupture or popped eyes. When lifting a grown cat, or a puppy, one hand should support its body with the other hand bracing the feet. It can be held by one hand if you brace its body against your side. No animal likes to dangle.

Kittens and pups take best to people who don't make sudden swift movements toward them, who speak softly, and make them comfortable.

Housebreaking is probably the first thing that comes into the minds of new pet owners. There is little to house training either a kitten or pup, if you make up your mind to take the preventive approach. Once mistakes are made it's harder to correct than to see that mistakes never happen in the first place. A kitten is better broken to a sanitary pan at first, even if you have a yard. The pan should be shallow and large. Keep it convenient until he's well trained, and keep it in the same place. If the cat is grown or older you simply let it out in the yard.

RARE KITTENS FLOWN TO ROCK COUNTY
Janesville Daily Gazette, 13th October, 1954

MILTON JUNCTION — Three Maine coon kittens came by air express to Rock County Airport last week, consigned to Wanaki Cattery here. The Maine coon cat is a special variety derived originally from Oriental cats imported by sailing vessels in the late 1700s and developed through the last century. One general characteristic is long, silky hair that is flatter to the body than that of standard Persians. Sometimes there are coon rings circling the body from neck to tail tip, and frequently there are extra toes on the front paws. The coon cat is a dainty-boned animal, with a delicate face. It rarely grows to be as large as the usual Persian. It is so adjusted to Maine climate that it seldom survives in warm regions.

Dr. Rachel Salisbury, who was born in Maine, is adding them as novelties to her stock of Persians and they will be used for exhibition only in the Wanaki Cattery. These three are a gray male and two tortoise shells, one with coon rings clearly marked.

A four-months old tortoise shell Persian kitten named Ginger Godric, from Wanaki Cattery, won first prize in her class and a rosette as best-of-color kitten at the weekend cat show in Milwaukee sponsored by the Cat Fanciers' Association.

MILTON JUNCTION MAINE COON CATS WIN MEDALS, CITATION
Janesville Daily Gazette, 26th February, 1955

Three Rock County kittens, and their owner, have been honored by the Puss'n Boots Company with medals and a citation. The kittens, Maine coon cats, were imported to Wisconsin by plane from Maine last fall to become members of the Wanaki Cattery, operated by Dr. Rachel Salisbury of Milton Junction. They are a soft-furred variety, the length of the fur varying with the individual. One, Jennifer, has long fur, as soft as eiderdown. Her sister, Jezebel, who, unlike her Biblical namesake, is an extremely likable character, has shorter but very thick fur. Both have the Maine Coon cat characteristic of ringed tails. Unfortunately, the third kitten, Jeremiah, did not survive to receive his handsome bronze medal award.

Unlike Dr. Salisbury's regal Persians, whose blue blood manifests itself in a certain royal aloofness from the casual visitor — until properly introduced — the Maine kittens accept the attentions of the caller with true Yankee democratic spirit. They are quite certain of their welcome and romp around or on the guest with hoydenish abandon. In fact,
Jezebel blandly assumes at times that her mistress is spending too much time with book or typewriter and plumps herself down on one or the other with disarming confidence in her welcome.

The Puss'n Boots Bronze Award Citation reads as follows:
"Presented to Dr. Rachel Salisbury on behalf of Jennifer, Jezebel and Jeremiah. Jennifer, Jezebel and Jeremiah are in a class by themselves. They're Maine Coon cats, distinctive American breed descended from sailing ship cats of the 1700s, and rarely seen in regions warmer than the Pine Tree State. And they were flown to Wisconsin for special exhibition. To Jennifer, Jezebel and Jeremiah, exhibit mainstays who did not, however, stay in Maine — this award."

The bronze medals are large and handsomely engraved — one for each kitten — and bear Dr. Salisbury's name as well as those of the furry recipients.

COON CATS SET UP GO-OP AT MILTON JUNCTION HOME
Janesville Daily Gazette, 26th May, 1955
By Harris Drew

MILTON JUNCTION - A new type of cooperative has sprung up in Wisconsin, this time at the Wanaki cattery operated by Dr. Rachel Salisbury in Milton Junction. Dr. Salisbury calls the new setup the Maine Coon Cat Co-op.

It may be recalled that a few weeks ago Dr. Salisbury was awarded a Puss'n'Boots citation and medals for each of three Maine Coon cats which she had shipped to her by plane from Maine. The three young cats, marked with ringed tails, like raccoons, were a distinct novelty in this part of the country. Unfortunately, Jeremiah, the male, died and was gathered unto his fathers. His sisters, Jennifer and Jezebel, are the subject of this story.

Now it came to pass, that Jezebel brought forth her first-born kittens and took up housekeeping in a certain box. Thirteen days later Jennifer came across with her contribution to the kitten population. The next morning Dr. Salisbury found the newest mother striding back and forth in her cage with one of the new kittens in her mouth, frantic to get out. Dr. Salisbury opened the door of the cage and Jennifer, still carrying the kitten by the scruff of the neck, hopped down and made a bee line for her sister's box, depositing herself and kitten therein. The other kittens were brought to her and the two sisters have settled down in the same domicile, sharing their families and family duties. The kittens are bathed and fed indiscriminately, the young fry dining happily at whichever cafeteria is handiest, the mothers lying sometimes with the head of one resting on the other and with an affectionate arm across the other's neck.

Dr. Salisbury says this communal home and family idea is a rare phenomenon, mother cats usually being quite jealous of their own offspring. She wonders if Jennifer and Jezebel have been snooping around in the Salisbury library and have learned about the Iroquois long house or the history of Utah.

CATS — YOU CAN'T CONQUER THEM. "CLAWS IN VELVET PAWS"
By Thomas Hudson
The Age, 5th November, 1955

The cat is the only domestic animal man has never conquered. Take a small baby, a puppy, and a kitten, place them on the floor and bring danger near, the baby will cry for help, the puppy will roll over on his back and beg you not to hurt it. But the kitten will arch its back, spit, and prepare to fight.

The cat, with the dog, is the domestic animal par excellence. It had its epoch of glory in past history. The ancient Egyptians declared it sacred. A city called Bubastis was dedicated to its race, and the goddess Bast — or Pasche — had the head of a cat. Then the bodies of cats were made into mummies, and whoever killed a cat was severely punished.
Our modern breeds of cats are obviously the descendants of wild kittens brought home by prehistoric hunters as pets for their troglodyte children [note: this is not correct].

It is a far cry from the temples of Egypt, from the deserts of Asia to a modern cat show, where, enthroned on a silken cushion, the cat enters into competition with its fellows for blue ribbons or purple rosettes. Hardship has not killed him; luxury not seemingly affected him. He lived on, taking life as he finds it, glad to serve, to love, and to live upon his human friends, giving them in return the privilege of his society.

I have never been without a cat. My present aristocrat, Susie of Surrey, is a Persian. She and I have been friends for many years, but always on an understanding of complete equality — truly Australian. Like all cats she would tolerate no less a relationship. She understands me perfectly, yet on many occasions, when I have been desirous of showing her off, she flatly refuses to humor me.

A famous feline of No. 10 Downing Street frequently sat on Winston Churchill's table at some of the most momentous war-time conferences in London. When Colonel Lindberg was about to set off on his historic 1927 trans-Atlantic flight at Curtiss Field, Long Island, he remarked of his favorite cat, "Too dangerous a Journey to risk Patsy's life !"

James Mason, the British film star, is a great lover of cats. With his wife, Pamela, he has written a book entitled "The Cats In Our Lives," which can be procured at most booksellers today.

A few years ago there arrived In Australia a man who has won fame in two worlds — the literary world and the cat world — Michael Joseph, English author and publisher, and president of the Siamese Cat Society of the British Empire. Who's Who in London lists his recreation with the one word: "Cats."

In its physical make-up a cat is one of nature's most remarkable mechanisms. My Persian, Susie, can leap nearly seven feet in the air in an endeavor to catch a passing butterfly. A comparable feat for a human — in proportion to size and weight — would be to leap over a house.

"Quick as a cat," of course, is a byword. Any boxer would envy the lightning-like "left" or "right" jab of a cat warding off a dog. Its claws, 18 curved needles in velvet pads, keep themselves sharpened to lightning keenness, for it is a mistake to imagine the cat is sharpening its claws when it scratches them on your best piece of furniture if you don't provide a piece of convenient wood. It is merely keeping them spotlessly clean. In fact, if you closely examine a cat's claws after this operation you will find it actually blunts them. An outstanding cat trait when thoroughly domesticated, is cleanliness.

Since the cat in a wild state had to hunt by stealth, not by chase, it was essential to remove all possible trace of tell-tale odor and so, to this day, the cat will wash itself all over and over, every bit of its fur, and nature itself keeps those 18 curved needles at fighting keenness.

Cats' nocturnal love affairs, accompanied by the caterwauling challenges of rival males, are known only too well. It is a curious fact that many a silken-haired aristocratic lady of fashion will frequently show a marked predilection for some scraggy, smelly, battle-scarred free-booter of the alley.

Make no mistake about it, cats know how to show off. They know how to walk into a room. Their pace is regal and dignified. Note how, when they choose a chair, sofa, or a rug for a siesta, they do it as gracefully as Dame Sybil Thorndike times her entrance in a play.

And how about the care of cats ? More attention should be paid to the diet of a cat. And maybe this Is a mild bombshell to cat owners: Once it is over kittenhood never give your cat a drop of cows' milk even if you keep a cow !

I pay tribute to Milo G. Denlinger, a breeder of the highest repute in America, for this sound advice. Denlinger claims — and how right he is — that milk feeding can cause chronic dysentry, and a cat so fed is rarely free from worms. They are also subject to skin trouble, from poverty of blood; in fact, a milk-fed cat is always in a semi-starved condition. You may not agree, but change your cat on to a meat diet with no milk and see the difference.

Feed your cat strictly on a meat diet. No cereals, such as oatmeal, rice, etc., and no potatoes. Mix green vegetables with its meat regularly, and see it has access to grass every day. Puss knows the very blade to chew for her wellbeing! Raw beef is best, preferably minced — or cut up small — with bones given daily, or at frequent intervals.

In summer keep all meat in the ice-box. Many owners think it injurious to feed a cat with ice-cold meat in the summer. I have never found this do any harm whatever. In winter, of course, take the chill off. Remember, all cats suffer extreme discomfort on a hot day. See there is always that clean, fresh water available. Never give cats stewed meat, stew gravy, or beef tea. All cooked meats cause dysentery just as milk foods. [Note: not true.]

Give a thought to your cat's teeth! That is why bones are essential. Remember a cat is a carnivorous animal, and must be treated as such to be kept healthy. Bones are just as indispensable for the cat as for the dog. Without them the teeth get furred up and decay, giving the animal months of pain before they finally drop out. No bones to kittens — by the way - until they are three months old.

Finally, If you don't think a cat can retrieve a ball like a dog, start» your next kitten with one of those fluffy little woollen golf balls. My Susie is fully grown, and it's still her favorite plaything, but, mark you, only when she wants to play"

You can't conquer cats!

A "HOTEL" HOLIDAY FOR THE CAT
The Age (Melbourne), 29th December, 1955

Cats are condescending animals, and in many cases their wishes are considered almost as important as those of human members of the family to which they belong. It is holiday time for the family and, though the main reason is the necessity of boarding the cat while the family has a change of scene, it is holiday time for the cat, too.

Dog kennels are an accepted thing, but in recent years cat kennels, "catteries" or cat "hotels," as they are variously named, have appeared in many Melbourne suburbs. So much so that you now have the choice of sending your cat either to the seaside, out into the country air, or to the nearest cattery to your suburb.

This particular way of dealing with the problem of leaving your cat while the family is absent from the house, if there is no kindly neighbor to feed him, has become very popular and over the Christmas period all cat "hotels" were booked out.

Now, when many families take long holidays during the school vacation, those who are looking for a home-from-home for their pet are catered for by cat kennels scattered at all points of the compass round the metropolitan area. The majority of these are run by women who also breed cats and dogs.

Bush Setting . . .

Knowing all her boarders by name is a special rule for Mrs. D. C. Green, who runs the Glentarna Kennels at Bayswater. Here Mrs. Green has space for 50 cats and is helped in caring for them by her daughter Beverley and her husband, when he is home from work. One of her first questions to owners when they bring their pets is to find out if the cat has any particular diet or preference in the meat line. Goat's milk is provided and a variety of meats, cooked and uncooked, for the individual tastes.

Mrs. Green herself specialises in breeding German shepherd dogs, Scotties and wire fox terriers. But her boarders this season are all cats. The kennels are in a spacious four-acre farming property, and long runs, with shade and sun, are provided for exercise. The cats sleep on straw-filled bunks in small houses, about six feet high. Six cats go to every section, and care is taken as to who is put with whom. There is a special section for kittens as well.

Her boarders have included families of cats from suburban homes, farm cats and factory cats. The latter took their holidays while the factories closed over Christmas. The tariff for a feline boarder is £1 a week, and slightly less for those owners who send more than one cat, or who send their pet for more than a month.

. . . Or Sea Air

Down by the Bay at Mordialloc, kennels run by Mrs. P. Crook have an attractive Gaelic name, the Fruachan Kennels, so named because she breeds Scottish terriers. They take both cats and small dogs.

Mrs. Crook, who charges 25 shillings per week for a cat, is one who is a great believer in water as a cat's drink. The accepted saucer of milk for the cat is, she feels, largely a matter of habit and many cats show a preference for water. An "animal transport" — a small van — is run by Mrs. Crook. In this way she calls for and returns home her boarders if the owner wishes.

Siamese

Difficulty in finding a place to board her own Siamese cats while she went away gave Mrs. R. W. Patterson, of Hawthorn, the idea of taking in other Siamese as boarders. Now at "Rewa" Siamese Cattery she specialises in this type of cat. Mrs. Patterson, who breeds her own seal-point Siamese cats successfully, takes cats from only two owners at a time. She will take more than one from each owner, but will not mix these with those from another home, as Siamese are notoriously fussy creatures.

Other "boarding houses" for cats may be found in Glen Iris, Canterbury, Chelsea, Eltham, Doncaster, Ivanhoe and Croydon. Details of kennel names and telephone numbers are available At the Animal Welfare League Lort Smith Hospital.

The Age (Melbourne), 31 July, 1919: A L.K.C. [Australian Ladies Kennel Club) Champion Cat Show, Masonic Hall, Friday, all Day. Admission 1 shilling.

PERSIAN CATS SHOW TRADITION OF LUXURY
The Eugene Guard, 30th August, 1958
By Olga Burns

The "cabbit" is supposedly a cross between n rabbit and a cat, and while it is true that there are some cats that do hop like rabbits, I have never yet seen any evidence that such an unusual cross has occurred. The possibility is not less likely than that cats would mate with raccoons. That cross, too, is supposed to have taken place, but if the so-called "Maine coon cat" was shown was the product of such mating, the only part of the raccoon to show was in the coat. The animals' coat was lovely. It had thick, long silky hair, but except for the bushiness of the tail, there was nothing whatever to suggest a raccoon in its ancestry. Its qualities as a mouser, by the way, were said to be in keeping with those of the most efficient felines.

I was reminded of this recently when a friend told me that a half-grown Angora kitten of hers was getting along happily with her daughter's pet rabbit. After a somewhat cautious approach to each other, the two began to play together quite happily and showed such signs of becoming firm friends that she wondered if this happy state might continue. There is no reason whatever why it shouldn't, and it very probably will. Though a cat will normally hunt a rabbit as readily as anything else, if it is brought up with one, he will probably never turn against it. There are even cases in which cats and rats have been raised as friends and remained so.

In the case of an Angora, however, it seems to me there is an even greater probability of a happy relationship. An Angora, like the Persian with which it is now lumped together under the title Long Hair, is a luxury cat. He has an inheritance of being admired and cared for in a way that would make anyone envious. And though many will regard it as heresy to suggest that acquired characteristics can be inherited, I can't help the feeling that Angoras must have inherited some characteristics acquired since their ancestors emerged from the rigors of Central Asia to enjoy the relatively comfortable life of Asia Minor.

Both the Angora and the Persian are believed to be descended from the "manul" or Pallas' cat found in the desert areas of southeast Russia and Northwest China. He is a long haired, bushy-tailed type with rather light stripes. According to some students, when the Turks brought these cats with them in their conquest of the Byzantine Empire, those that settled around the city of Angora, a little over 200 miles from Constantinople, discovered that not only their cats but other animals as well improved mightily. The change was particularly noticeable in their coats.

"The fineness of their hair may perhaps be ascribed to some peculiarity in the atmosphere," one observer wrote, "for it is remarkable that the cats, dogs and other animals of the country are to a certain extent affected in the same way, and that they all lose much of their distinctive beauty when taken from their native districts."
Be that as it may, it is a fact that the Turks treated their Angora cats with the utmost care. They didn't have to hunt mice for a living. And though such treatment did not eradicate their instincts, it seems a safe assumption that an Angora with that heritage will not make things hard for a rabbit, especially when enjoying the comparative luxury of a modern American household.

ANTI-CAT LAW FACES TEST – The Indiana Gazette, 14th September, 1960
The hamlet of Rutledge Tuesday sought a court injunction to force two spinster sisters to comply with a borough law limiting the number of cats in a domicile to four adults. Officials said in a petition Elizabeth Van der Graft Williamson, 72, and her sister, Ethel, 75, have 50 cats which possess "noxious and offensive odors" and create "unreasonable noise."

CALIFORNIA COON CAT Independent Press Telegram, 2nd February, 1964
By Eleanor Avery Price

When Mrs. Gail Collier, 1930 Knoxville Ave., took her cat, Socks, to the veterinarian lately for a checkup, the doctor remarked "What a fine coon cat." Mrs. Collier wasn't certain just what a coon cat is, but she was very proud of her large, long-bodied and heavily-coated cat, so she let it go at that.

But not I. For a long time I have been intrigued over the mystery that shrouds a cat called a Maine Coon Cat. So I asked questions of cat fanciers and I looked in encyclopedias. I came up with conflicting accounts, but here is the general story about the coon cat.

It seems that in the 18th and 19th centuries, seafarers of Maine returned now and them with handsome longhaired cats in a variety of colors from countries they visited. A segment of the population became interested in showing cats, and they probably had the first cat show ever held in America. Featured were some of the longhaired beauties whose coats were more luxurious than before, since Maine's cold weather stimulated the growth.

The cats became very popular, and the rush was on for them under the name Maine Coon Cats. They were considered household pets, whereas short-haired cats were mostly barn animals. Perhaps the favourite was the striped and banded longhair because he more nearly resembled the raccoon. However, the Maine Coon Cat is not a cross between a cat and a raccoon, and he wears a coat of many colors, including pure white and tri-colored.

When the cat fancy boomed in other states, exhibitors were interested only in pure-bred cats – Persians, Manx, etc. So the ruffed cat as a show animal practically disappeared. In the West, I have never seen a cat entered as a Maine Coon Cat as it is not recognized. But a few cooners have obtained state championships in the east. Most are now so haphazardly bred that they are part Manx, Siamese, etc., but in some Maine households the original strains are maintained.

In short, the Coon Cat is a longhaired domestic cat but not a Persian. If you go to Maine you might knock on the doors of country homes and find an honest-to-goodness Yankee Maine Coon Cat, but similar cats are available all around you, only we would have to call them California Coon Cats. Longhaired domestic cats in cat shows are listed under Household Pets. Look for them at the Cal Coast Cat Show Feb. 15-16 in Long Beach Auditorium.

MAINE COON CAT
The Bridgeport Post, 3rd November, 1968

In the 18th and 19th centuries, seafarers of Maine returned occasionally from foreign ports with thick-jacketed, big cats in a variety of colors. The imported cats' coats grew heavier as they adjusted to the cold Maine weather. A segment of Maine's population became interested in exhibiting these cats and thus started the first cat show in the United States. A rush then began for these cats as household pets, since shorthairs were mostly barn animals.

The favourite color may have been at first the striped and banded because this more nearly resembled the raccoon. However, the Maine coon cat wears any color, black and white being common. Actually, this feline is a semi-longhair domestic, not a Persian. Many have been interbred with other cats, but a few fanciers maintain the original strains.

If your cat is healthy, he has grown a winter coat and looks quite beautiful for National Cat Week. Now it's up to you to keep him that way. Brush the shorthair very gently with a rubber or natural-bristle brush. Rubber more effective removes dead hair. If you see dirt specks (usually from fleas) on his skin, remove them with a fine-tooth steel comb. Complete the grooming with strokes of you dampened hand in the direction his hair lies.

A longhair needs careful combing against the hair. His steel comb should have both wide-set teeth and fine teeth. Break up large knots with a wide-tooth comb by working from the bottom of the knot up, and straighten out small mats with the fine-tooth comb. Also, remove dirt specks.

With a natural-bristle brush, gently groom in the opposite direction to which the coat lies. Don't be too rough, or you'll ruin the coat. A little baby talcum sprinkled into the coat, then brushed out, will help clean the pet.

From a pet shop, buy a malt-flavored intestinal lubricant so that swallowed hairs won't collect in balls. It may also correct bad breath and prevent dry stool.

THE VERNON LOYS AND THE 'ANIMAL REALM' – IN THE 51ST STATE OF MIND?
The Upland News, 11th January, 1973

By Patricia Reid. Sometimes it's difficult to tell whether people "have" their pets or if, in reality. It's the pets that have their owners over a barrel. Visiting the Vernon Loys in Upland is like dropping by an idealistic animal realm. [. . .] Ella Loy, the "mother" of all the animals, can be found inside the house gingerly petting "Pegu Lashio" or "Kaleua Lampi" or any one of the other 9 Siamese or Burmese or Havana Brown cats living inside. The Loys have bred and sold these rare cats for some 10 years and were one of the first people in the area to have the Havana Brown variety of Siamese cat. The names are after geographical cities or areas in the countries the cats are from.

Ms Loy explained that the Siamese cats are never allowed outdoors, but they have two large long-haired "domestics" cats which are "gopher cats" and spend most of their time outdoors with the ducks – although, of course, they're allowed inside and do visit the other cats frequently.

It's impossible to glance in any corner of the house without spotting a tiny ball of fur curled up, or hear a cat playing with a favourite toy or scratching on a giant "maze" carpeted scratch board in the back room [. . .] At one time they had 45 kittens in their "Cattery". Ms. Loy told many stories about the closeness between the dogs and cats – they mix easily, often sleep together and one of her Toy poodles even nursed three kittens once.

MEET RUMTUM —HE'S A RARE CAT
The Sydney Morning Herald, 28th June, 1976

Rumtum Toad, one of the world's rarest cats, sat for his photograph in yesterday's sunshine and looked mildly astonished at all the fuss. Rumtum is intelligent and good-natured, with amber eyes almost matching his attractive dusty apricot coat. Formally named Brahramam Rumtum Toad, his official description in cat show language is "six-months-old red Abyssinian longhair kitten." On Saturday he was the first of his breed to appear at an Australian cat show. It was the 46th annual cat show of the Federal Cat Club of Australasia, held at Sydney's Town Hall over the weekend.

At the home of his owner, Mrs Pat Sheumack, of Burwood, the kitten is simply Rumtum, a name which seems to match perfectly his good-natured temperament. Mrs Sheumack explained it would be some time before Rumtum actually would compete in shows. "For one thing, we have to decide whether he's to be called long or short-haired. He's medium really," she said.

LOOSE WILDCATS?
The Chillicothe (Ohio) Constitution Tribune, February 21, 1986

From other outdoorsmen, farmers and observers, and even our own findings, there no doubt is a hybrid mix of cats roaming our countryside at the present. They are a mix of the small short-tail domestic species bred from the "wild cat" variety. It seems some of the residents in the county west of Chillicothe had these type of cats and they took to the wild. When they crossed with the common house cats that roamed free over the lands, a species of cat resulted that is larger than usual and lives off the land. From actual sightings, tracks in the snow and capture, we may have a new predator problem.

SHOWING THEIR FELINES. CATS NOW OUTNUMBER DOGS AND OWNERS THINK THE TREND IS PURR-FECT – The San Bernardino County Sun, 30th December, 1986
By David Inman, Gannett News Service

Cats? Man's (and woman's) best friend? That statement is enough to give longtime cat fans like Carol McKenney a feeling of vindication. "It used to be everybody said cats were sneaky, aloof, that kind of thing," says McKenney. "We always knew they were wrong, but now other people are realizing it, too."

McKenney and her husband, Jack, have owned cats for 22 years and now share their home with five. "I love animals of any kind," she says. "My father raised dogs. But cats are my kind of pet. They don't grovel. When you walk in at night, they aren't all over you, lapping you in the face."

But keeping cats isn't enough for Carol McKenney. The couple's home is also filled with cat figurines, cat sweat shirts, cat pictures and cat stationery. How does her husband feel about all this? "He's the one who started me on the figurines," she says.

Donna Crane's Chatco Collection, a catalog business based in Batesville, Ind., sells nothing but cat-related items. In business since 1980, Chatco now sends out more than 100,000 catalogs each year.

"And that number has doubled each year," Crane says. Her customers can choose from 70 offerings — including earrings, money clips, napkin rings and a wrap skirt, all decorated with cat designs. "Most of our customers are cat owners," she says. "They're just people who appreciate the graceful form of the cat. Or they want to let other people know that they're cat people."

As for herself, Crane says, "I have two cats. I hold myself to two because I live in town. If I lived out in the country, I'd be like the old woman who lived in a shoe."

Cat industry observers differ about when the real cat craze began. Was it a few years ago, when Garrison Keillor, on public radio's "Prairie Home Companion," first ran bogus commercials for Bertha's Kitty Boutique: "Oh, if you keep a cat, or keep two or three, you know' that cats are humans, too, like you and me. And have needs as we do, and if they could speak, they'd say, 'I need some stuff from Berthas Kitty Boutique.'"

Was it when "101 Uses for a Dead Cat," a popular cartoon book from the late 1970s, fell off the best-seller lists?

Or maybe it all started very quietly in 1972. That year, for the first time, the national cat population continued to rise — about 5.6 percent annually — while the dog population held steady or declined slightly.

The pet cat population has doubled since then, according to the Pet Food Institute. And last year, for the first time, there were more pet cats in America (50 million) than dogs (49 million), according to Pet Age magazine, a Chicago-based trade publication.

"For the immediate future, certainly the next five years, according to members of the industry and marketing experts "momentum is behind cats," editor Karen Long writes.

Big money can be tied up in a cat. If you get a California Spangled domestic cat, for example, you're probably going to pay at least $1,400. That's how much the new breed is going for in this year's Neiman-Marcus catalog. It took Paul Casey, a former Hollywood scriptwriter, 15 years to develop the breed, which looks like a miniature wild cat and includes several bloodlines. The cats come in silver, bronze, black, charcoal, gold, red, silver blue and brown. There's also a "snow leopard," born white, that develops its markings as it gets older. Neiman-Marcus, advertising the animals as "leopards for your living room," offered them as its exclusive his-hers Christmas gift for 1986, and was swamped with orders.

PRODUCTS THAT ARE THE CAT'S MEOW – The San Bernardino County Sun, 30th December, 1986
Gannett News Service

Can't get enough of cat-related items? Consider these offerings — from an electronic cat to a book about cats in advertising — from several cat-alogs.

- "The Cat Sold It!," a softcover picture book looking at advertising agencies' uses of cats as illustrative subjects in campaigns. (Crown Publishers Inc., New York. $9.95,96 pages; 113 illustrations.) "They're (cats) some of the real stars of the advertising world and have been pictured in almost every possible kind of advertising," write authors Alice L. Muncaster and Ellen Yanow Sawyer.

- Fluffy Kitty, a motorized cat with microphone ears that responds to commands. It purrs when it's stroked, roams around the house (when it's in "explore" mode) and meows. Housebroken; doesn't shed because it's made of fire-resistant acrylic fur. Uses six "D" batteries, not included. It's $54.95 plus $6.95 handling and service charges from Potpourri, Dept. 134,204 Worcester St., Wellesley, Mass.

- Cat chalkboard, set of four fur mice and beverage napkins, for $15, $9.98 and $5, respectively, plus $3.85 for postage and handling. From The Chatco Collection, P.O. Box 59, Batesville, Ind.

- The Electronic Cat Door, made to be opened exclusively by a specially coded key worn on your cat's collar. Measures 8 3/4 inches square. It's $124.95 from Hammacher Schlemmer & Co., Midwest Operations Center, 11013 Kenwood Road, Cincinnati, Ohio.

- "Cats Cats Cats" sweat shirt, white and covered with black paw prints, $24.95 plus $3.95 postage and handling from Potpourri.

- Cat Bag and Kitty Cucumber and Friends stickers. Cat Bag features more than 200 cat stickers and is $9.95; Kitty Cucumber is more than 220 stickers of cats in old-fashioned clothes and goes for $10.25. From The Official Sticker Co., 348 N. 30th Road, Box 802, La Salle, 111. 61301. Shipping and handling is $2.25 for orders 10 or less; $3 for orders $10.01 to $30

MORRIS II: THE BURT REYNOLDS OF CATS STILL HAS SEVEN LIVES LEFT – The San Bernardino County Sun, 30th December, 1986
by Barbara Hoover
Gannett News Service

"Oooh, look at those fat legs!" squeals the blond model. "He's so cute!" "He does look finicky. Do you think he's lonely?" worries the brunette model, as if she'd be quite willing to solve the problem.

Morris, the Burt Reynolds of cats, still mesmerizes the girls. And the boys, the moms and the dads. Morris, inimitable spokescat for 9 Lives cat food, was getting his picture taken amid the models in a Detroit fashion studio. He poses elegantly on a stool, 14 pounds of muscled beefcake rippling under a red-gold fur coat that would delight Liberace. His magnetic amber eyes could make Don Johnson snarl with envy. Morris cuddles up to handler Bob Martwick, who leads him into ever-cuter positions with the help of dry cat food morsels.

Yum, Morris, look this way. Yum, Morris, look that way. Ow! Morris, take it easy! (A fang grazes a photographer who's trying the food ploy.) And a little later, there's another Ow! as Morris' claw gouges the blond model, who pokes a finger into the steel carrier where Morris has prepared for a nap.

Morris may be beautiful, but he's not always nice. But, hey, is Burt or Don always nice? After all, Morris has had 18 years of stardom, enough to earn him the right to be a little, well, finicky about attention.

Of course, it hasn't been the same Morris all that time. This is Morris II, now about 7 years old, the original Morris having trotted off to the big litter box in the sky in 1978. But, like Lassie, Morris can endure as long as his fans do — with the help of a judicially chosen lookalike.

Martwick, who supplies animals for ads and commercials in the Chicago area, rescued the first Morris, a battered orange tomcat, minutes from doom in an Illinois animal shelter in 1966. "I thought he'd make a few magazine ads and that would be it," recalls Martwick. But in 1968, Morris hit pay dirt doing his finicky routine for a 9 Lives commercial.

As soon as the cat food folks realized what a star they had in Morris, they began looking for a successor. They haunted animal shelters, they took pictures, they held kitty auditions. No cat came close to matching Morris' streetwise beauty or charisma. For a whole Morrisless year after his death, the search went on.

Finally, the future Morris II was spotted in an East Coast animal shelter and brought in to audition with two other orange cats. "No cat could look exactly like the first Morris — he was unique," says Martwick. "He had green eyes and a scar in one of them which gave him a squint. The second Morris has amber eyes, but he looks the most like the first Morris. And when he auditioned, he was just so good with the camera."

Just like the first Morris, Morris II has got it pretty cozy. He lives with Martwick and a dog named Charlie in the apartment above Martwick's boarding kennel set on six acres in suburban Chicago. Morris, Martwick's biggest star, has the run of the place, standing guard in the office, greeting visitors. He goes on supervised outdoor walks — "we can't let him just go out by himself, he's too valuable," Martwick says.

And in his leisure time Morris sleeps and plays with his toys — especially his favorite mouse and catnip ball. He's also adept at opening doors, especially those of cabinets where dry cat food is stored. And he's not bad at opening the bags of cat food, either.

Morris does not like other cats. "Like most cats, Morris is a loner," Martwick says.

And he's as busy as ever, still getting thousands of fan letters, mostly from adults who want an autographed picture. Morris obliges with a paw print.

"Nobody ever thought Morris would last this long," Martwick says. "We're still doing commercials — we did three last month and there are three more scheduled for next month.

Morris also flies around the country a lot, promoting this and that. He even does a lot of meowing in behalf of vaccination and neutering.

"Morris felt that if he was going to advocate neutering, he had to have it done himself," Martwick says. "There are millions of cats put to sleep every year. It's especially important to neuter males. One male cat with access to plenty of females can father thousands of kittens in a few years."

When Morris makes "purr-so-nal" appearances (as his PR firm likes to say) on these important issues, people listen. Or at least watch. Not long ago, Morris even upstaged New York Gov. Mario Cuomo's wife, Martwick says. Mrs. Cuomo was on the podium saying thanks to Morris for doing a film or the New York Medical Association to promote human health. "While she was speaking, all the TV cameras were taking pictures of Morris," Martwick says.

How does Morris handle this stardom that just won't quit?

"Zzzzzzzzzzz," says he, curled gracefully in the carrier.


NEWS ARTICLE ON PUREBRED CATS
By Gina Spadafori, McClatchy News Service, 1990ish

In any given week, I hear animal stories that would break your heart. Tales of abuse and abandonment, of stupidity and selfishness. After a while you get sort of used to such stories, and each time you hear one, the wall around your heart gets just a little higher. The trick for any caring person is to keep those walls from getting in the way of helping, and from protecting you from the anger the stories should provoke.

I can still get plenty angry, believe me, and sometimes the oddest things set me off. Like Connoisseur magazine and the Neiman-Marcus catalog. I've never really looked at Connoisseur magazine, and that's really not surprising. I hardly belong on the same mailing list with the "if you have to ask you can't afford it" crowd and, honestly, that's the way I like it. But I just had to check out a recent September issue, which featured a cover story on rare cats.

In case you didn't know it, purebred cats are in, really in, and the rarest, oddest varieties are the most sought after. ". . .As long as you (can) buy a member of your family," the article points out, "you might as well buy an attractive one; and ... with cats, as with ice cream, there is simply no point in not having the best." There's nothing wrong with purebred cats, of course; I am extraordinarily fond of a friend's Maine coon cat, a true character if there ever was one. But the belief that a living thing is a "collectible," like a piece of art or a rare vase, is more than a little misguided. It's the same kind of mind set that prompts some people to change pets when they have their home redecorated, looking for one that better matches the new decor. Such people exist, believe me.

"Artists work in paints; I work in genetics," is how one breeder sums up the process of developing a rare breed of cat. It's an interesting attitude, but nothing a month of working in the euthanasia room at the local shelter wouldn't change. What happened to the cats and kittens along the way whose genes weren't designer enough? Where did they go?

"There are 54 million cats in the United States today," says the magazine. "If you own a cat of which there are only two hundred in the world, you cannot help feeling honored when it climbs in your lap." People who share this belief are missing a very important point: Every pet is special, no matter which way their ears or coats curl. I always feel honored when one of my pets climbs into my lap, because each one is an individual, unique in personality and markings, like no other creature in the world. What could be more special than that?

And then there's the Neiman-Marcus Christmas catalog. At least this year the firm's annual paean to conspicuous consumption isn't selling live animals, as was the case in 1986 when a "California spangled cat," a rare breed that looks like a small leopard, was the big-ticket item. (There are still plenty of dead animals for fur fans, though.)

You are visitor number