BLUE PERSIANS – AN EARLY HISTORY

2015-2016, Sarah Hartwell
As a fancy breed, Blue Longhairs (Blue Persians) originated in England. At first they were described as grey or lavender or slate colored or smokey colour. Some believed they came from crossing black and white longhairs; reasoning that the white colour lightened the black into blue. Others wrote that blues, most likely blue tabbies, came from brown tabby sires. Those breeders knew nothing of recessive genes and the blue could have come from any pair of cats that were genetically black and carried the dilution gene. This included cats where the colour was masked by epistatic (dominant) white, leading to the idea that black + white = grey, as it is in paint.
Blue was sufficiently rare that some Blue Longhair (Persian) foundation cats were blue tabbies rather than blue self (i.e. solid, no markings). As the cat fancy progressed, the solid blues were selectively bred (a relatively simple process because solid x solid breeds true) and the blue tabbies had no place on the showbench.
The earliest blues were frequently tabby striped and/or had white patches (particularly on the throat and lower belly) with the longer muzzles characteristic of the earliest longhairs. Their eyes ranged from green through yellow to orange/hazel and the coat colour varied from nearly black through various shades of grey to lilac. It's very likely that some of those early cats were genetically lilac/lavender, while others might have been poor smokes.
It's impossible to discuss the early blue longhairs without mentioning Frances Simpson who bought one of a pair of exhibition blues about 1883 and developed her own line of Blue Persians.
She purchased Mrs Ackland's "Betsey" who was then bred to Mrs Ackland's "Lewis" resulting in the Blue Persian female "Mater" in 1885 (National Cat Club registration No. 1094). Simpson advocated 3 generations of mating Blue Persian to Blue Persian to produce perfect offspring and guarantee only blue kittens; preferably the paler shades of blue without any vestige of white markings. She discouraged mating Blue Persians to Silvers as this resulted in indistinguished Smokes. Descendants of "Mater"' and "Rajah" helped to establish the breed. First noted is "Fanny", b 1886, L.F. Blue (National Cat Club reg 1284). One daughter of Fanny was "Blue Stella" (National Cat Club reg 1402) sired by "Champion. Glaucus."' Blue Stella was sold to Mrs. W. Wells and was a forebear of the Rev. P. Cosways 'Imperial Blue'. Fanny also produced Bluebell (National Cat Club reg 1004), sold to Mrs E S Walker. Mater x Rajah produced Queenie in 1887. Sold to the Hon. Miss E. Montague, she became "Farnham Royal Queenie" (National Cat Club reg 1022) who was mother of "Farnham Royal Silver" (who, despite her name, was a Blue) who was mother of "Blue Boy The Great (of Islington)." The pair also produced 'Queen Victoria' in 1888, (National Cat Club reg 1439). This was a Blue Tabby, demonstrating that 'Rajah' was not a Blue Persian male, but a Brown Tabby. Queen Victoria was sold to Mrs. Louisa Herring, of Lestock and won numerous Firsts.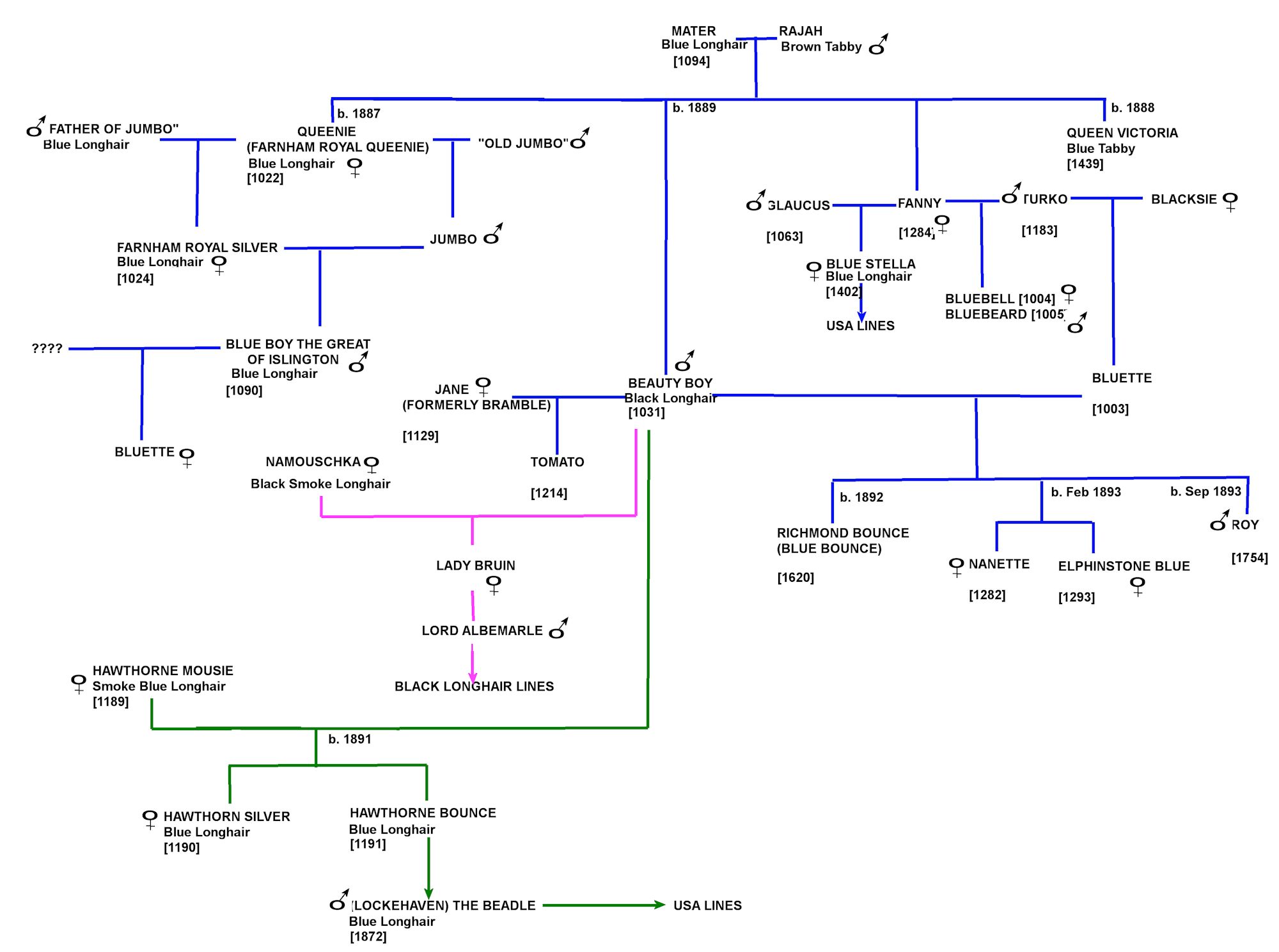 (Click for large size chart.
Mater x Rajah produced "Beauty Boy" (BlackPersian) in April 1889 (National Cat Club reg 1031). He was mated to several females belonging to other breeders. Later in 1889 she acquired the Blue female, 'Bluette' (not to be confused with a female of the same name, the much traded Bluette by Birkdale Boy ex Dainty). Beauty Boy's offspring include some well-known cats: Mrs. Dean's blue female, 'Hawthorne Bounce' born in 1891,(National Cat Club reg 1191) who was mother of 'The Beadle' who was exported to Mrs. Clinton Locke and became "Lockehaven The Beadle" (Beresford Cat Club reg 125), a founder of Blue Persian in North America. In Sept 1889, Simpson registered the L.F. Blue "Bluette" (National Cat Club reg no 1003) acquired from Miss Jevons as a mate for 'Beauty Boy.'. 'Beauty Boy' x 'Bluette' produced Richmond Bounce' in 1892 (National Cat Club reg 1620). A cat called 'Blue Bounce' (National Cat Club reg 1998) was sold to Mrs. Harton and was probably a re-registration of Richmond Bounce as the birth-date is the same. The pairing also produced 'Nanette' (National Cat Club reg 1282) and 'Elphinstone Blue' (National Cat Club reg 1293) in 1893. These were sold to Mrs. A.A. Clarke. A repeat mating produced Roy later in 1893. He was sold to Mr. J. Richard, Junior.
Another of Beauty Boy's progeny was Miss Stisted's 'Tomato' (National Cat Club reg 1214) . Beauty Boy x Mrs. Little's 'Namouschka' (Black Smoke Longhair) produced 'Lady Bruin' who founded a black dynasty via her son 'Lord Albemarle' . After his stint with Simpson, 'Beauty Boy' was sold to Mrs. Louisa Herring. In a day and age where slower transport restricted the distances a female could be sent (she might stop calling during a 2-day journey, not to mention the problem of food, water, poop and pee – things railways did not take care of!), it made sense to move studs around the country. Late in 1890, Frances became joint owner of a Blue male called 'Bootles' bred by Mrs. . In 1890 he won a 2nd at the Crystal palace. The owners sold him to Miss Molony of Lindfield and as 'Lindfield Bootles' he became a well-known sire
(Woodburn) Billy was a blue tabby longhair registered with the National Cat Club as No. 1394. He was born in 1887, sire, dam and breeder's name unrecorded. He came to prominence in the ownership of Mrs. Theodore Fry of Woodburn cattery, Darlington for whom he won multiple prizes during his show career. He would have been a popular stud, and was the only cat registered by Mrs. Fry. His registered offspring were Hebe (ex Hermione) and Topsy (ex a cat belonging to Mr Cleminson). His descendants included blues, silvers and brown tabbies.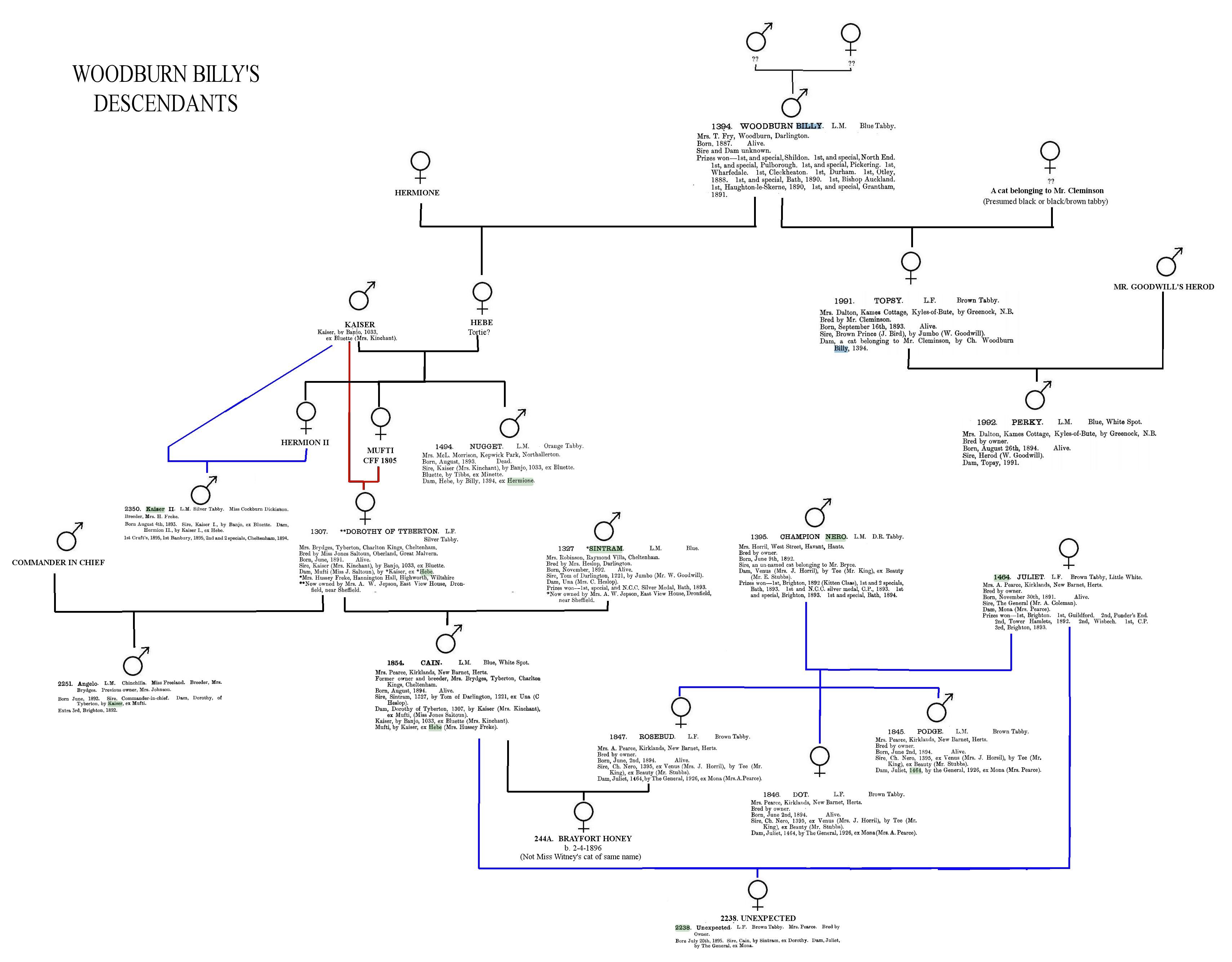 (Click for large size chart.
Miss G.E. Jay (Holmwood) also began with a blue tabby stud, [Holmwood] Skittles (b. 1890, NCC registration 1266). He appears to have been sired by a black/brown tabby and seems to have been bred to silvers. His descendants included blue tabbies and shaded silvers, but I haven't been able to trace his line beyond his grandchildren.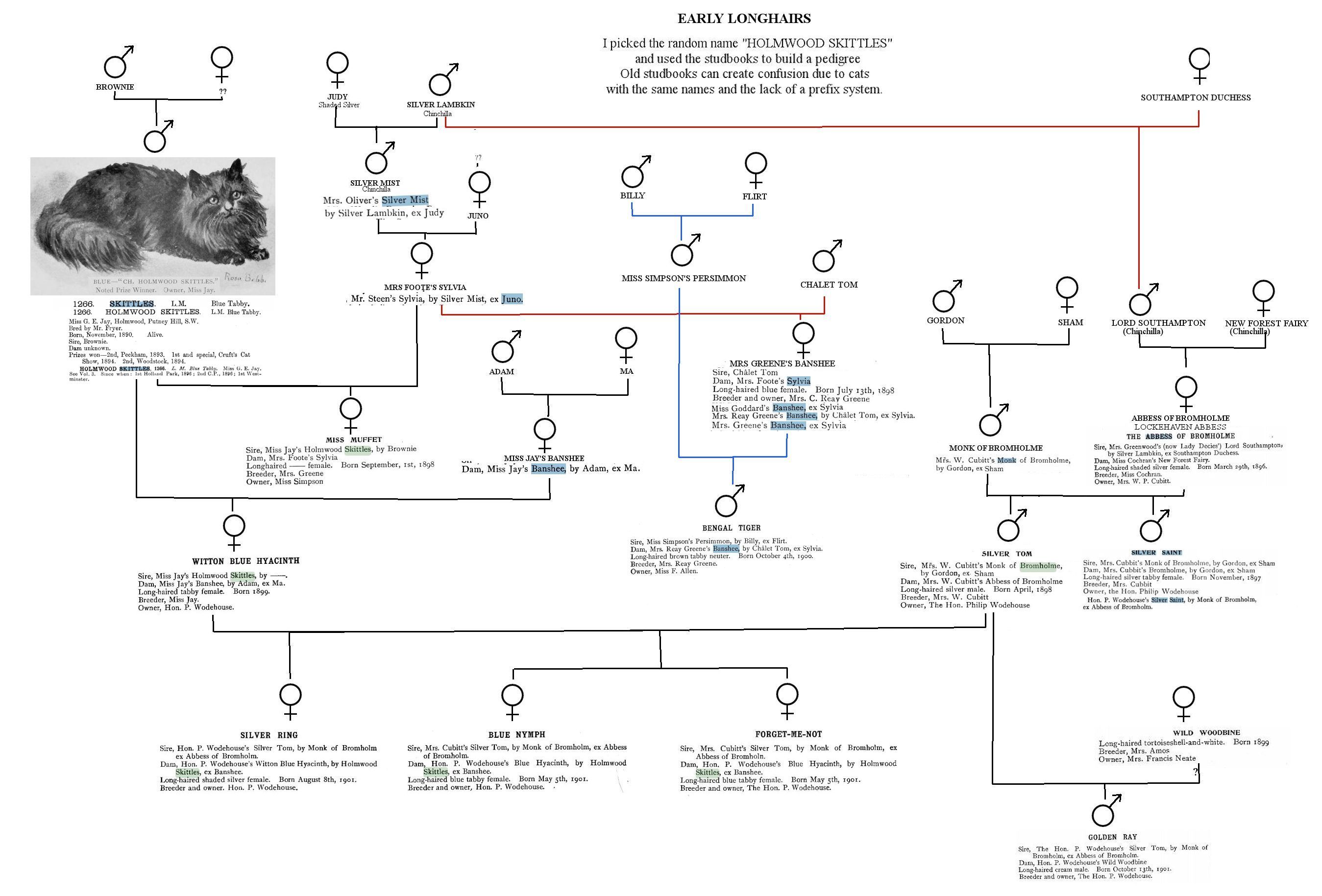 (Click for large size chart.
Blue Persians generated such interest that by 1889 a separate division, Blue Self Coloured without white, was established. Prior to that, the blue class was "with or without white." In 1890, numbers were such that the Blue Persian class was further split into "male" and "female" classes and by 1891 fifteen males and seventeen females were entered in one show. In 1894 one of the greatest blue males of all time was exhibited. This was Wooloomooloo, who appeared at the Crufts cat show. C.H. Lane in his book "Rabbits, Cats And Cavies" shows Miss Dean as his owner while later books see him owned by Mrs. W. Hawkins. Two other famous early blues exhibited sometime between 1894 and 1903 were Ch. Holmwood Skittles (above) and Ch. Mabel of Lozells (Mr Witt).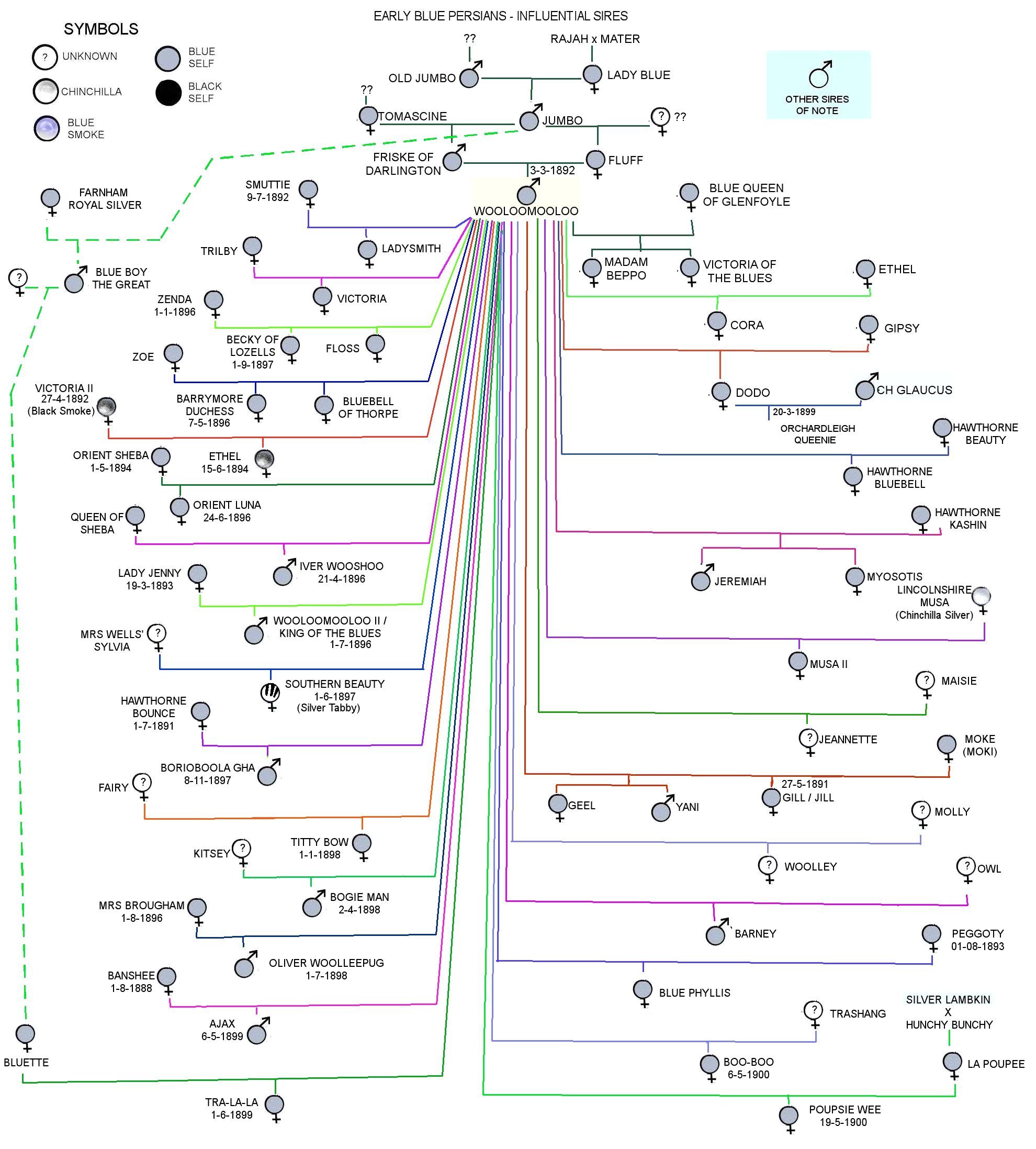 (Click for large size chart.
The Blue Persian Cat Society was founded by the seemingly indefatigable Frances Simpson in April, 1901, and by 1902 had 183 members including Miss Simpson who was its second – and more famous - Honourable Secretary. By 1903, when Simpson's "Book of the Cat" was published, the colour was so well established that any blue with colour faults – white or tabby marking, washed out colour or a pale undercoat indicative of smoke - was relegated to the Any Other Colour class.
The other best known devotees of the breed were Miss Dean, Mr. Witt, Miss Jay and Mrs. Paul Hardy were devotees of the blue. Mrs. H. Thompson owned Winks, the first female blue winner. Simpson owned Beauty Boy, a black longhair that contributed to blue lines in the UK and USA. Other famous studs were the aforementioned Wooloomooloo, Turco (Mr. A. Clarke), Glaucus (Miss Bray), and Moko (Mr Witt). Then there were Darius and Darius II, sires of Orange Blossom of Thorpe and Canada's Albert Edward. Other early studs included Blue Boy II, Ronald, Monarch, Goliath, Royal Bobs and King David. Among famous females, were The Mighty Atom (Miss Jay) who was twice Best Cat at the Crystal Palace Show, My Honey (Mrs. Wells) and Juliet (Mrs. Paul Hardy). Mrs. Hardy also owned two famous studs, Wooshoo and Mark Anthony.
Linechasing some of these cats from old records means navigating a confusion of prefixes and variant spellings. Mrs. Smith's Fluffy, Mrs. Jones's Fluffy and London Fluffy might be the same cat changing hands or might be 3 completely different cats. It gets easier when registration numbers are used. In some cases, the information must be gleaned from magazines and show catalogues. All the moving around helped prevent localised inbreeding. I've compiled family trees showing the influence of some of the studs mentioned.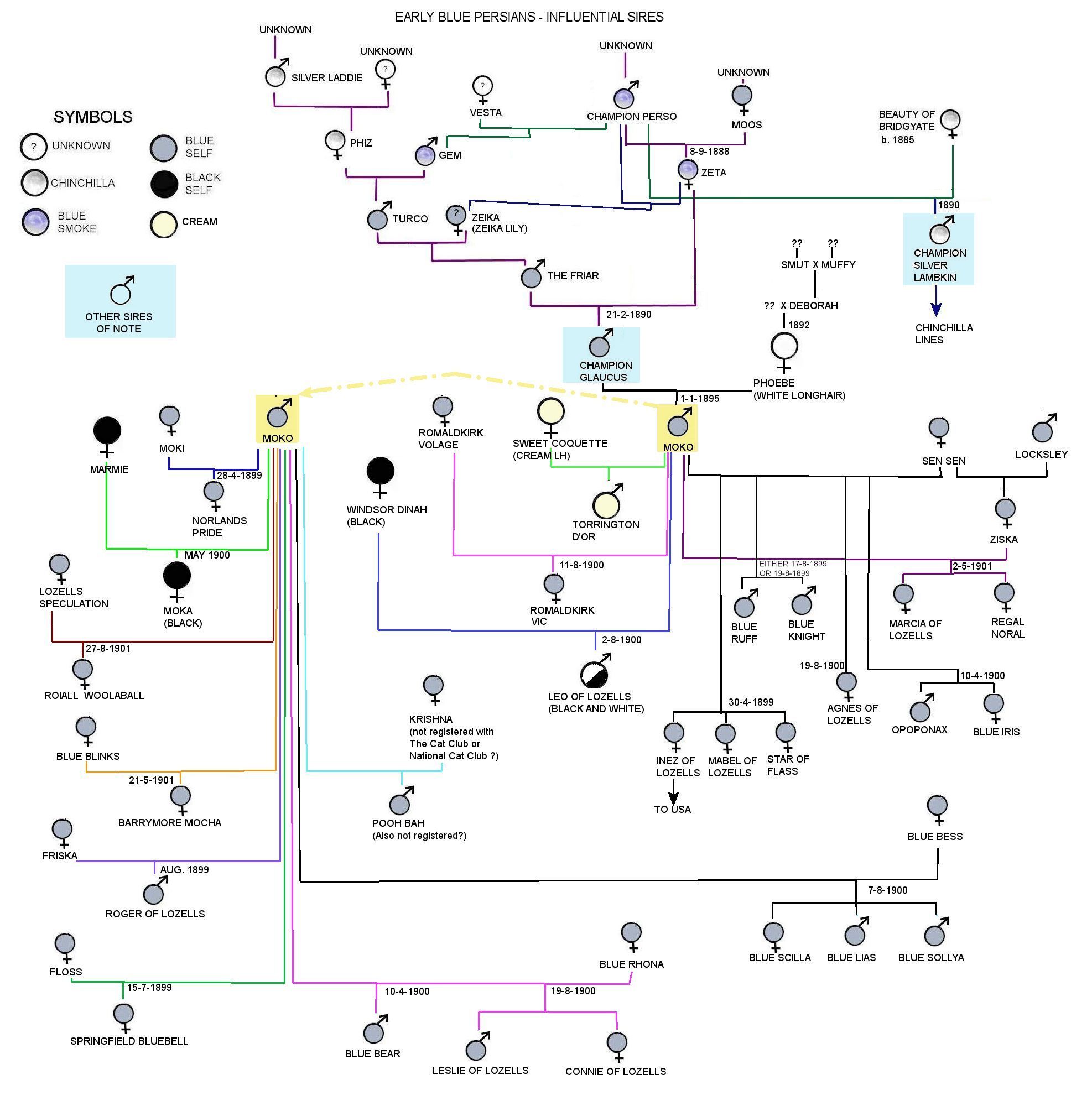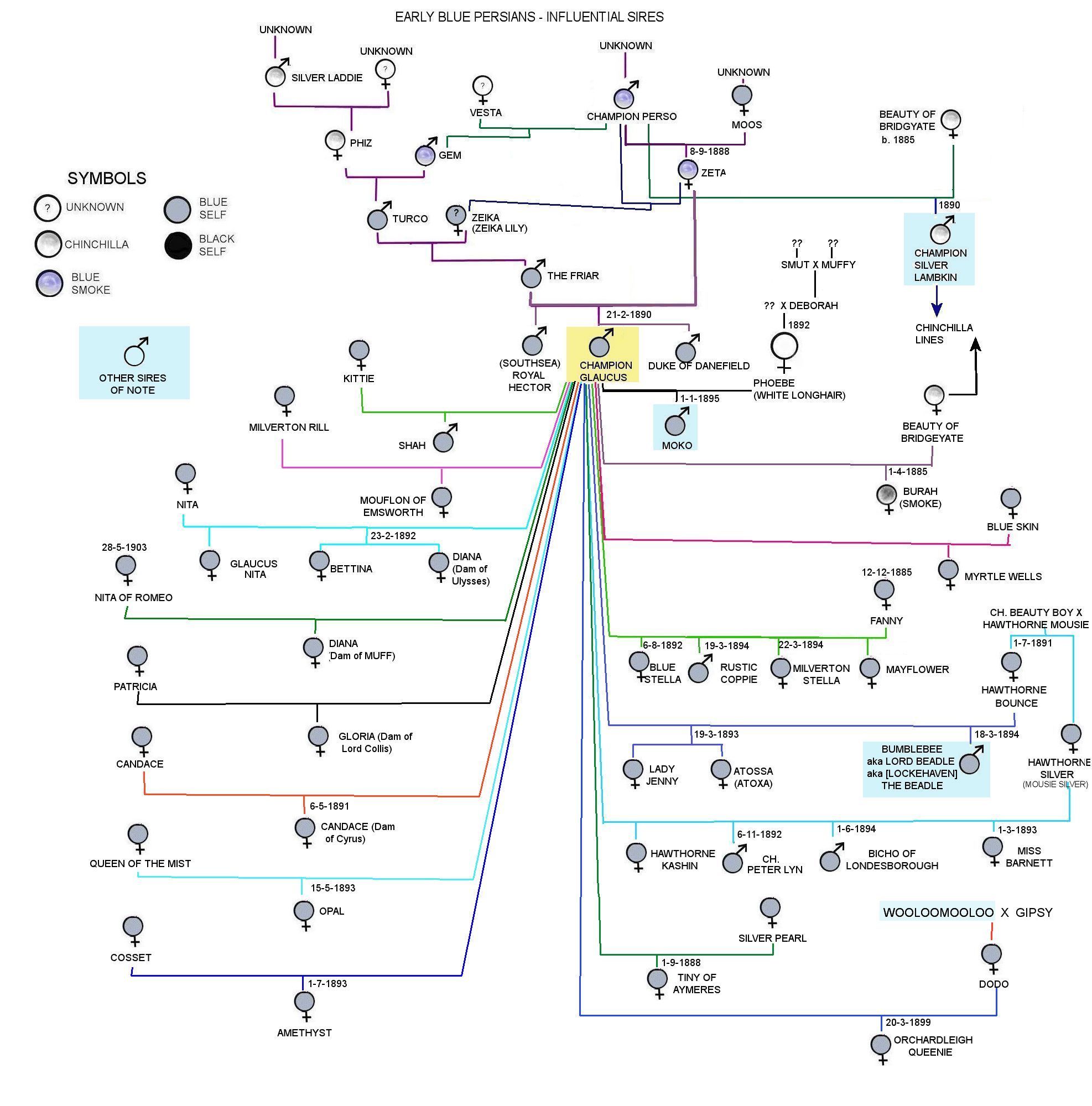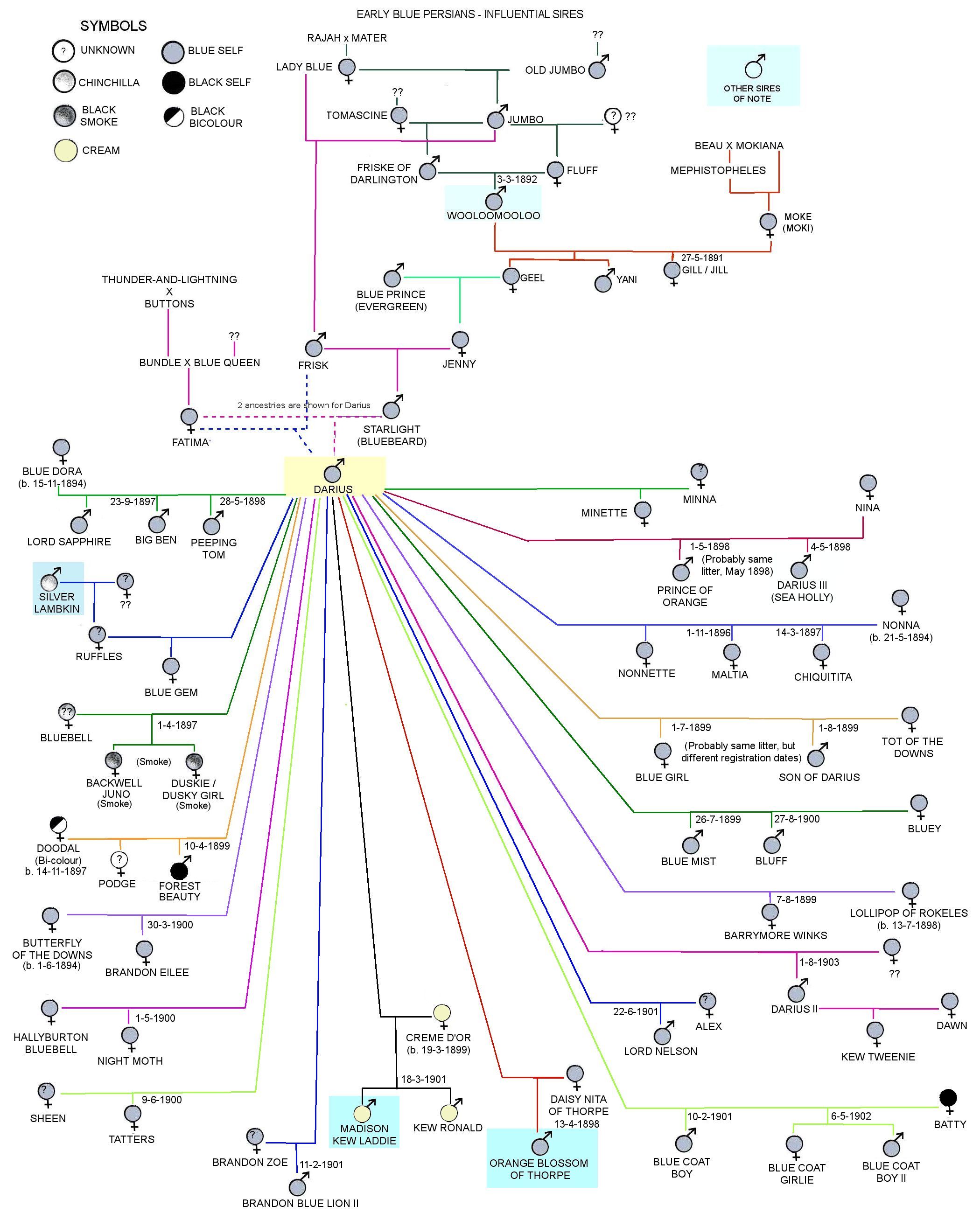 (Click for large size charts
Moko's sire was Miss Bray's Ch. Glaucus, a notable sire, and his dam was Mrs. Hunt's Phoebe, a white longhair. 'Dick Whittington' in the 'Cat Gossip' section of 'The Ladies' Field' wrote that Moko was bred by a non-exhibiting lady named Miss Simpson. It was common for a valuable cat to be co-owned, or for a cat owned by one person to be housed and bred by another. Miss Simpson sold him to Lady Marcus Beresford, who sold him to Mrs Greenwood. Moko was acquired by Mr. Witt and became a well-known and valuable sire before being sold to Mrs Barnett, of Birmingham. When Mrs Barnett gave up cat fancying, Moko went to Mrs Singleton, of Yeovil and was later sold back to Mr Witt! As the family tree shows, Moko's progeny included cream, black, and black-and-white longhairs as well as blues. One of his unregistered blue longhair sons, Mrs J.H. Boulter's Pooh-Bah (dam 'Krishna' also unregistered) was described in glowing terms in both Our Cats and Fur & Feather during 1903 and Mr Witt apparently coveted Pooh-Bah for his stud potential, perhaps as Moko's natural successor. Perhaps Mrs Boulter did not register her cats with either of the national registries due to cat fancy politics.
Blue Longhairs then made it to North America, several of them being brokered by Frances Simpson who purchased good quality breeding stock on behalf of her American contacts. In the USA, Mrs. Clinton Locke ignited the interest in the Blue Persian when she imported Lupin (Romaldkirk Cattery) and Melrose Lassie. She also imported a cat known in England as Bumble Bee and renamed him [Lockehaven] The Beadle. Dr. Ottolengui acquired two daughters of Lupin x Melrose Lassie from Mrs. Locke; these were Lady Lola and Isis.
Around 1910 in England, well known Blues included Blue Cap, Neila Billi of Thorpe, Sir Archie II of Arrandale, Big Ben, Moccasin and Kew Blue San Toy II. By 1910, Blue Persians were spreading across the United States. On the East Coast, Dr. Ottolengui had Saratoga Osiris and Kew Iris. Mrs. McCoun had imported a grandson of Orange Blossom of Thorp called Ch. Shiraz. Miss Pollard had Scotland Yet, Honoria of Highgate and Regal Androvna. On the West Coast, Mrs. Hiller had Sir Koko, Mrs. Weaver had Blue Coat Delaware, Miss Seymore had Neila Billi II while Mrs. Kidwell had Barbe Bleue (Bluebeard). In 1911, the well-known Miss Elsie Hydon of Lavender Cattery acquired her first blue, a female called Avril.
World War I decimated the fancy in England and after the war only a few Blue Longhair studs were available. The only one listed immediately after the war was Ch. Azure of Hadley. Later on, others were Mischief of Bredon, Dion of Allington and Gentleman of Henley. In 1919 Milford o'Mendip was born and went on to sire Eros of Allington, Sweet September of Hawkhurst and Sweet Lavender of Dunesk.
The Allington and Dunesk catteries became famous for their Blue Persians. Two litter sisters of Miss Evelyn Langston's Ch. Mair of Allington, Ch. Morfydd and Ch. Myfanwy, were exported to Mrs. A. G. Ohlin of Wimauma Cattery in the United States.
In 1923 Mrs. M. Brunton began her Dunesk lines with a prolific female called Meadowsweet who produced kittens until she was 14 years old (and lived to the ripe old age of 19). Her notable offspring included Sweet September, Wild Violet, Rambler Rose and also Wanda of Dunesk who went to the USA.
Also in 1923, but on the other side of the Atlantic, Mrs. Annie B. Revington began a long and successful career in the fancy, which included such cats as Grand Champion Dixi-Land Montpelier Victor and Champion Dixi-Land Wycliffe Encore. Mrs. Revington and Mrs. W.H. Garvin exhibited stock of Dunesk descent at the 1944 Cotton States Show. These included Dixi-Land Lovely Lady (Bonne Lovely Lady) sired by Dixi-Land Tamrix who was a son of Glenn Echo September Sunshine of Dunesk and Wanda of Dunesk. Lovely Lady was bred by Mrs. Revington and acquired and exhibited by Mrs. W.H. Garvin.
Mrs. Revington had imported (Dixi-Land) Wanda of Dunesk from Mrs. Marguerite Brunton. Before being shipped to the USA, Wanda had been bred to Benjamin of Westfield, resulting in Dixi-Land Salute (M), Dixi-Land Southland Harmonie (M) and Dixi-Land Kurtsy (F) born in the USA in September 1938. A number of early Persian imports into the USA were "imported in utero" as, barring mishap, this imported several cats for the price of a single passage and imported the sire's bloodline as well.
In the 1930s, Miss Hydon imported several Blue Persians into the USA including stud cat Lavender Chu Chu, sire of Grand Champion Lavender Liberty who, in turn, sired Grand Ch. Lavender Liberty Beau.
Mrs. Delle Smith's Boris II of Khyber (later Khyber Boris II of Dixi-Land, born 1940) was another influential Blue Persian in the USA and produced a number of kittens with Wanda of Dunesk.