THE EARLY HISTORY OF THE AMERICAN SHORTHAIR

Domestic cats are not native to the Americas hence the American Shorthair is descended from the cats taken to the USA by settlers and ships' cats that jumped ship. These were a mixture of types and colours – longhairs, shorthairs, tabbies, self/solid and bicolours – some taken along as family pets and others as ratters. These became the barn cats and household cats of the New World. Several shorthair cats arrived on the Mayflower [R.D. Layman, "The American Shorthair Cat" in the Charter issue of International Cat Fancy Magazine, p. 19]. According to American Shorthair breeder Valerie Anne Edwards, the American Shorthair breeder Mrs Kay Thomas McQuillen had a family bible containing a note by her great-great-grandmother, Mrs Heaney, regarding a three-coloured Shorthair female (tortoise-and-white) that accompanied her on the Mayflower and had kittens soon after arriving at Plymouth Rock. Later on, trading links with various countries ensured that American cats came from a broad genetic base. Sailors were superstitious men and many considered polydactyl cats cats to be lucky hence a correspondence of polydactyl cats on the American east coast and the south-west coast of England though this trait is not accepted in the American Shorthair.
According to the Dell Encyclopedia of Cats (Hazen, Barbara Shook, Delacorte Press, N.Y. 1974), Shorthair cats were sent to Pennsylvania in 1749 to control a severe rat plague, but I haven't been able to locate contemporary news reports of this. Cats were also moved around within the United States. According to Ida Mellen in "A Practical Cat Book" (1939, p. 4-20) during the San Francisco Gold Rush of 1849, miners paid approximately $50 each for proven hunting cats from the SS Ohio. Shorthairs sold from $50 to $100 each during the San Francisco rat plague of 1884. News reports of the time tell that baskets of cats were sent by train to the miners.
In the latter half of the 1800s, British cat lovers took an interest in cats as a "fancy" animal and, encouraged by early cat shows, began the selective breeding for colour and conformation that led to early Persians and "Shorthairs" (British Shorthairs). The early Shorthair breed was much less cobby than the modern version.
Meanwhile in America, owners began to select pretty kittens from their working cats. Natural selection had ensured the vigour and health of the cats, but humans selected for colour, pattern, conformation and temperament. Some imported cats had brought the recessive longhair gene with them, giving rise to the Maine Coon cats which were popular in the harsher northern states and in Canada, but the shorthaired cat was also valued by farmers. For some reason grey (known as blue in the cat fancy) cats were believed to be superior hunters and were known as Maltese cats, not because they came from Malta but because of a grey-blue cloth dye known as Maltese blue.
Back in Britain, formal cat shows – beauty contests - began in 1871. The shows led to the formation of cat clubs and judging standards. Most of the cats at the early shows were shorthairs. At the 1896 Championship Cat Show, "Champion Jimmy," a large and eye-catching silver classic tabby male owned by Mrs Louisa Herring was valued at £2,000 ($10,000 American dollars at the time), though this amount was to prevent someone buying him as cats had to have a value in the show catalogue or be marked "not for sale." British Shorthair cats of that time were closer in type to the modern American Shorthair. Jimmy, his sire and his progeny became influential studs and Jimmy is an ancestor of silver tabby American Shorthairs. Another important early silver tabby Shorthair stud was Mr Alfred Park's Champion "Silver Mine," born in 1895. These cats prove that silver tabby American Shorthairs were not artificially created in the 1950's by crossing to a chinchilla Persian, but that silver was already present in American domestic shorthair gene pool.
The cat show habit spread, and in the US, Mr James T Hyde organized the First National Cat Show at Madison Square Garden in 1895. Mr & Mrs Buchanan's seven year old bicolour neuter, Grover B., was listed at $1,000 in the show catalogue. 46 Shorthair adults and 25 Shorthair kittens were entered in that first formal show and many had higher catalogue prices than the Siamese and Persian cats, though that was most likely because they were cherished family pets rather than cats bred for show and sale. At the Second Annual show at Madison Square Garden in 1896 there were 35 shorthairs and a 3-year-old brown tabby male, named Nicodemus, was listed at $2,500 while 2 3-year-old bicolour neuters were listed at $1,000 each; again these would have been cherished pets with a deliberately prohibitive price.
The first Shorthair registered by the Cat Fanciers Association (CFA) was Champion Belle of Bradford (Import), an orange tabby male born 1-June-1900 in England. He was registered as "Bell of Bradford" in the English studbook and he was bred by Mr R Kuhnel; his sire was Champion Bradford Perfection and his dam was Ballochmyle No Fool. In the USA, Belle of Bradford was owned by Miss Jane Cathcart who was a major promoter of the Shorthair breed in the early 1900s. During Belle's nine year show career in the US he was only defeated once, and that was by Mrs J C Mitchelson's 9-month-old orange tabby male, "Connie." This defeat was so significant that a photo of Connie, appeared on page 105 of the April 1906 Cat Journal with an article about him. Connie never bred as he caught a deadly virus as that show and died aged 10 months. Mrs Mitchelson purchased Connie's half-brother, Billy, from Mrs La Salle for breeding program
This means that the first (American) Shorthair CFA Champion was Champion Belle of Bradford (Import) not Mrs Mitchelson's silver tabby stud, Champion The Buzzing Silver. The Buzzing Silver was the first SILVER tabby Shorthair CFA champion, beating Mrs Mitchelson's Champion Silver Boy and Miss Jane Cathcart's Champion Pretty Correct (Import). The Buzzing Silver was born in England on 9-June-1906 sired by Champion James II, a son of Champion Jimmy.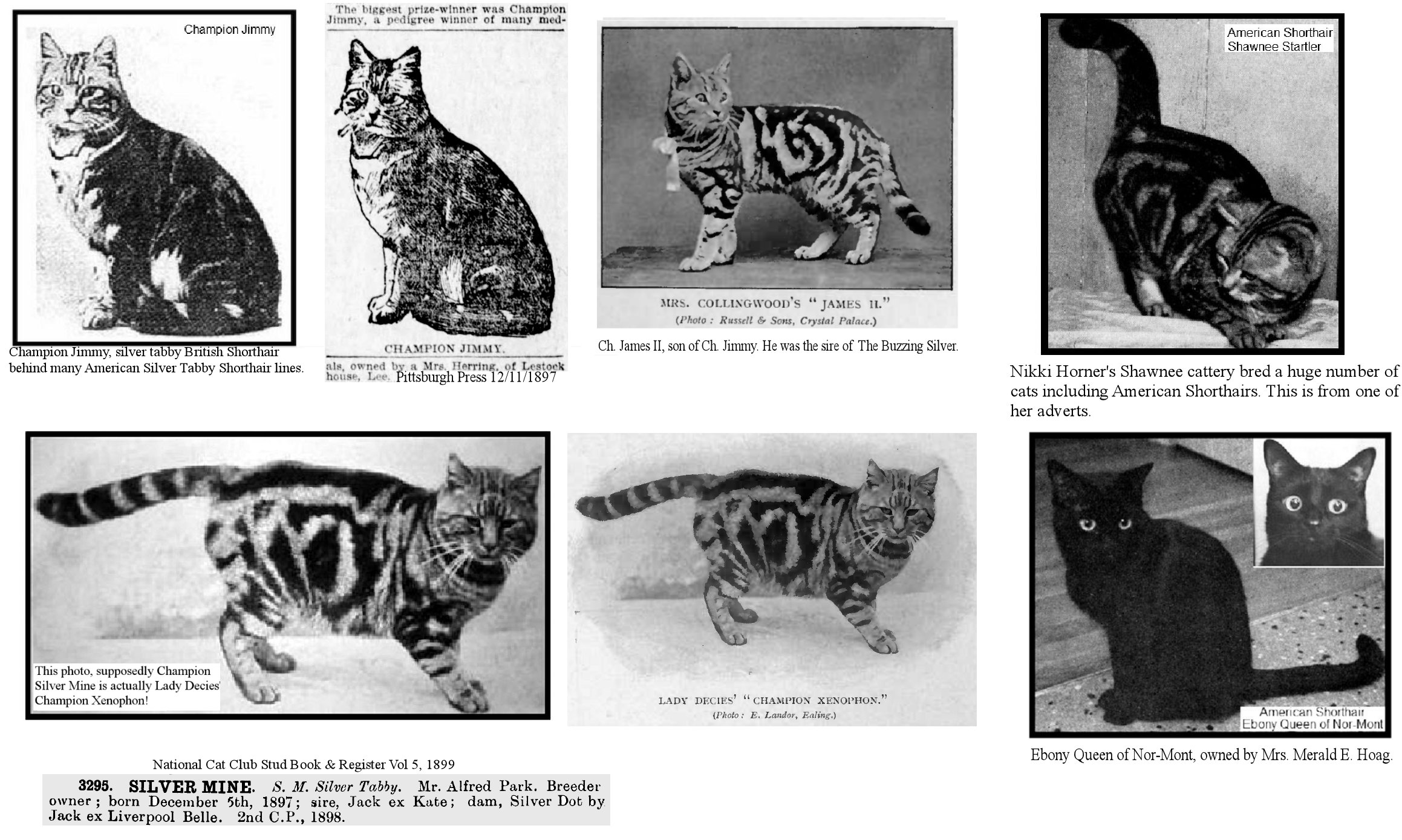 The Short-Haired Cat Society of America
Fanciers Form a New Society to Raise Standard of the Short-Haired Cat, Democrat and Chronicle, 25th August 1906: An organization that bids fair to be a national association and was formed to be such, has been started in this city by ten persons. It is called the Short-Haired Cat Society of America. The officers are: President, Miss Jane R. Cathcart, of Oradell, N. J.; vice-president, Mrs Mary S. Sage, lecturer for the Humane Society; secretary and treasurer, Mrs Elizabeth L. Brace, assistant editor of the Cat Journal . . . Miss Cathcart and Mrs Brace are the only persons in this country, it is said, who breed only shorthaired cats. Many other fanciers are breeders of both longhaired and shorthaired cats, keeping them separate and the breeds of each exclusive. Miss Cathcart has raised the best smoke shorthaired cats yet produced in the country, Mrs Sage the best blue female and Mrs J. See Bain, of North Chatham, the best blue male. The society will be affiliated with both the American Cat Association and the Cat Fanciers' Association. The reason for this is that persons who have expressed a willingness to join the new organization are scattered in all parts of the country. Those of the Middle West and of the Far West would naturally prefer to exhibit in the shows of the American Cat Association.
The Black Shorthaired Cattery
A prominent early breeder of Shorthairs was Miss Jane Cathcart who had the "The Black Shorthaired Cattery." Her love of cats began in France when her French Poodle, Black, brought a stray cat home. Miss Cathcart acquired further cats, relocated to Oradell Stock Farm in Oradell, New Jersey around April 1905 and named her cattery "Black's Shorthair Cattery" in honour of the Poodle. It was later known as "The Black Shorthaired Cattery". Miss Cathcart imported the best cats she could find in many colours and bred these with her own bloodlines. Her American-bred white male, Champion Kombo, won "Best Shorthair" at the Hartford show in 1909. An advertisement in the February 1906 issue of The Cat Journal, states that Kombo's sire, Jumbo was undefeated in the blue colour class during his two-year show career. The Black Shorthaired Cattery was featured in The Washington Post, Sunday, October 1, 1905, and in Democrat and Chronicle, 8th November, 1905, which says she also had a cattery in France.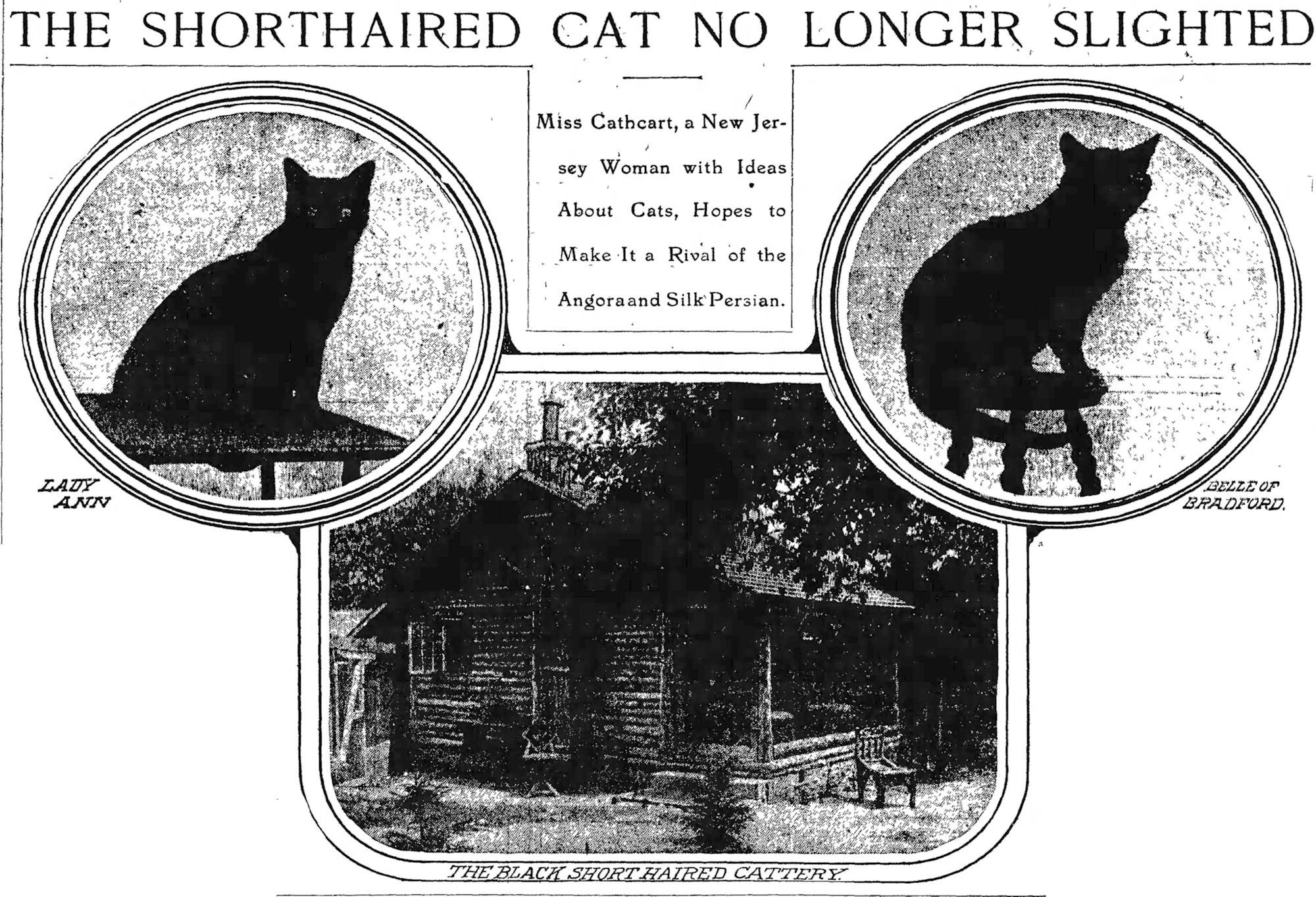 From the Washington Post article: "All of my breeders are prize cats, some of them champions. I suppose Champion Belle of Bradford, who has never been beaten, is our finest animal. He - of course, he's a tom. The name? Well, I suppose Champion Beau of Bradford would be more correct. Anyway, he has won over a dozen firsts in England . . . He is that red tabby over there with the beautifully striped markings. He was pronounced almost unbeatable in his class at the Toronto exhibition a few weeks ago. My cats took nearly all the prizes there in the shorthair class. Tommy Rot, this little black rascal with four white socks, took first prize as a house cat at the Atlantic Cat Show last winter. Lady Ann, this rolypoly English black, is one of my best. She has taken many firsts in England, but I have never shown her here. Her four kittens - just see how they frolic around her - will be prize winners, you may be sure. Prissy, this small English black, is one of my best cats and a great prize winner. She will soon have a litter of kittens by Champion Belle of Bradford, and with such parents they should be very good, indeed. The odd-looking white puss with the brown ears and paws? Oh, that's Baquette. She does look as if she were half dog. She is an imported Siamese pussy from prize-winning parents. I imported them all from France and England in April, you know. The cattery practically dates from then. I go abroad this winter and will bring back several Manx and Abyssinians in the spring to complete the stud." [The Shorthaired Cat No Longer Slighted, Miss Cathcart, a New Jersey Woman with Ideas, About Cats, Hopes to Make It a Rival of the Angora and the Silk Persian, The Washington Post, Sunday, October 1, 1905.]
And from Daily Arkansa Gazette, 4th November, 1906; New York Sun, 14th October, 1906: "This is Buster Brown . . . He is a champion short hair smoke and a native of America. Placed by the side of a black cat Buster's coat showed a tinge of plum color or dark cinder, though without the comparison the difference was scarcely noticeable. Unlike the black cat, however, his under fur is pure white, the hair shading gradually from white at the roots to black brown on the tips. This is the peculiarity of all smokes, which are extremely rare, and especially so in the short haired class. Buster is a champion of his kind and has been beaten only once and then by his wife Judy B., for whom Miss Cathcart paid $200. Judy B. lacks the handsome well shaped head of her mate but excels him in the fine quality of her coat and its even upper tone; also her tail is thinner. What the English call a whip tail is desired for a shorthaired cat, because a thick tail, breeders say, shows a long haired ancestor. [Elevating The Status Of Cats. Daily Arkansa Gazette, 4th November, 1906; New York Sun, 14th October, 1906, Miss Cathcart Runs and Interesting "Cattery" in New Jersey – Real Value is Apparent.]
Champion Silver Stripes (Import), one of Miss Cathcart's silver tabbies won "Best Shorthaired Male" in London in 1909, "Best Male in Show", and "Best Shorthaired Cat" in Lockhaven-Rochester in 1909 and "Best Shorthaired Cat" on several other occasions. "Best Shorthaired Cat" covered all shorthaired breeds: Shorthair, Siamese, Manx, Abyssinian, Russian Blue and the now extinct Australian.
Miss Cathcart's best known queen, the silver tabby Champion Dame Fortune II (Import, born 19-April-1905), won "Best Shorthaired Cat" in Pittsburgh in 1909, "Best Shorthaired Cat" in New York in 1909, "Best Shorthaired Cat" in Columbus in 1910, and "Best Shorthaired Cat" in Beresford-Chicago in 1910. Dame Fortune II was a daughter of English Champion Sweet William and English Champion Dame Fortune (a daughter of English Champion James II, the son of Champion Jimmy).
Miss Cathcart also imported the first blue-cream Shorthair, Moumouette, daughter a French blue-cream names Bebe Bleue who was bred to English Champion Ballochmyle Brother Bump in England. Moumouette won prizes in many shows in the "Any Other Colour" class that accommodated colours that were not separately recognised, and was bred to Champion Belle of Bradford, resulting in blue-cream "Missy" and tortoiseshell "Mixte." Mixte was sold to Mrs Rita Don and was bred to brown classic tabby Champion Tabrum (Import) producing Champion Beauty and Topsy, brown tabby queens, on 10-Sept-1917. Beauty was bred to the black English Champion Rajah of Coryton (Import), producing Champion Tige, an important brown tabby stud in the 1930's. Mixte's sister, Missy, was exported to England by the Misses Sally and Jennifer White, who bred her to the red tabby stud, Rombaldsmoor Rufus, producing the red tabby stud, English Champion Aldebaran, born 18-April-1906. Descendants of Aldeboran are represented in modern gene pools of both American Shorthair and British Shorthair breeds.
Mixte's daughter, Topsy, was bred to silver tabby Champion Glendale Prince, producing brown tabby Champion Miss Muffet, mother of Champion Billy-Bob, black stud and sire of the black stud, Champion Djer-Kits Cricket and the black queen, Champion Sweet Meadow Eventide, born 1-March-1949.
[Jane Cathcart, The Black Shorthaired Cattery - Vol I, Vol II, Vol. III, Vol. IV, Vol. V, Vol VI, Vol VII, Vol. VIII, Vol IX & Vol X.]
Blue Jacket Cattery
Mrs. J. See Bain did not breed Shorthairs exclusively. Her Blue Jacket Cattery, North Chatham, NY, produced many fine solid colour Shorthairs in black, blue, and white that were exhibited from 1900 through to 1915 and probably later. She only registered Champion Blue Jacket Malta and his litter sister Champion Blue Jacket Queen of Spades, whose parents had been imported from England. Malta sired solid blue Champion Thomas Fence and a green-eyed white named Chico. Only Thomas Fence carried the line forward in North America.
Blue Jacket Malta was exported to England where he became an important stud. Blue Shorthairs were highly prized in Britain, while in the USA they were known as "Maltese" (Maltese Blue was a blue-grey cloth dye) and were common hunting cats on farms.
What's In A Name?
As more breeds were recognised, the Shorthair needed a name to set it apart from other cats with short hair. Domestic Short-Hair was chosen because the cats had been developed domestically and differed from shorthaired British cats. Unfortunately some people interpreted "domestic" to mean "household" or "domesticated" and used this to pass off random-bred shorthaired cats as "domestic shorthairs." The public shied away from Domestic/domestic Shorthairs and by 1939 even good quality Domestic Shorthair kittens could be had for as little as $5. A few dedicated people persevered with selectively breeding quality animals with known bloodlines, but there was little market for their cats and a lot of confusion. In 1961, a group of West Coast breeders and fanciers formed an unaffiliated club, titled The American Shorthair Cat Association for the express purpose of convincing all of the registry organizations to rename the breed "American Shorthair." It took time, but they were eventually successful and all registries now call the breed "American Shorthair."
The ancestry of many American Shorthair bloodlines from the late 1920s to the early 1940s was documented in the UCCA studbooks published in All-Pets Magazine (pedigrees are now in online databases). This short-lived Association split from ACA, but later merged back into it. It was founded by breeder Dr. Frances MacCraken who also convinced farms with pure hunting bloodlines to register their best breeding stock. She also told show breeders about the best farm lines she discovered, so that show bloodlines could regain the broad heads with square muzzles and massive bodies that had distinguished the breed for many decades before emphasis on colour and pattern caused the conformation to be lost.
Another prominent early breeder and exhibitor was Mrs Frank W. Freudenthal of Darien, Connecticut, who acquired a blue tabby female called Capitol, born 10-August-1918 . Capitol was probably blue silver tabby as her parents, Crown Candy Kid and Champion Crown Silver Argie, were silver tabbies. Mrs Freudenthal registered one of Capitol's daughters as Brookside Angela and exported her Mrs Pownall in England. Mrs Freudenthal became well-known for exhibiting winning silver tabby female Shorthairs such as Champion Brookside Pollywog, Grand Champion Aztec's Belinda and Double Grand Champion Benmost Bore's Sheila.
It was possible to register typey cats as (American) Shorthairs. Mrs Francis O. Pratt ("Westbank" cattery, Rye, New York) breeder of silver and brown tabbies obtained Champion Westbank Chief Yonkers from her parents-in-law's farm in upstate New York. Mr Pratt's father had apparently purchased "Greenwich Buzzing Stripes" (aka Buzzy Jr, daughter of 2 imported silver tabbies, Champion The Buzzing Silver and Silvia) and bred her to his best brown tabby Shorthair stud, an inbred descendant of the family's purebred hunting barn cats, selectively bred by the family since the early 1800s. He later purchased "Pratt's Silver Boy" (son of two imported cats, Champion Silver Stripes and Champion Dame Fortune II) from Miss Jane Cathcart as a stud cat for his second barn in 1916. He mated Silver Boy to daughters and grand-daughters of Buzzing Stripes and grand-daughters, creating an inbred line resembling English Champion James II. Without a formal pedigree to connect Westbank Chief Yonkers to Pratt's Silver Boy and Greenwich Buzzing Stripes, Mrs Pratt registered him using an affidavit of pure-breeding and he gained several championship titles and became a successful stud.
Dr. Frances L. MacCraken ("Torchlight" and "Mosque" prefixes, Detroit) had retained the broad heads and powerful bodies of the early American Shorthairs and her cats were used by other breeders to restore the earlier conformation. In addition, one of Dr MacCraken's males had such extreme ticking/tipping that he was used by Mrs C.F. Kunkler ("Springbrook" prefix) in her programme to produce tipped and shaded silver Americans without outcrossing to other breeds. Mrs Kunkler's breeding programme was based on Snooti of Springbrook (born 1940), whose pedigree combined several unrelated bloodlines. Snooti was a shaded silver bred by Mrs Orville Stewart ("Arlington" cattery) from the cross of Arlington Twinkle (son of a Torchlight silver tabby), mated with Mrs Stewart's Arlington Tippy (whose mother was an imported blue British Shorthair queen).
In 1934, a silver tabby American Shorthair stud Champion Prince Mickey of Cobourg won "Second Best Cat" in the Empire Cat Show in New York, beating many Persians. Champion Prince Mickey was a son of Champion Prince Charming of the Mosque (aka Champion Prince Charming of Torchlight) and Champion Lady Mickey, born 14-December-1930. Lady Mickey was bred in partnership by Mrs H. J. Loftus-Price (Toronto, Canada), her nephew-in-law, Mr Price Cross ("Mao" and "Texian" catteries) and Miss S. Grace Hinchcliffe ("Cobourg" cattery, Toronto). Mr Roy Hilyar (Texas) purchased partnerships in various Cobourg cats, exhibiting in the United States, while Miss Hinchcliffe and Mrs Loftus-Price exhibited the cats in Canada. Price, Cross and Hinchcliffe concentrated on the breeding side of matters.
When British imports were allowed, they had to submit a GCCF-certified 3 generation pedigree, proving they had no Persian ancestry. The Jezreel cattery was the last pure-breeding line in England, inbreeding its cats to avoid cross-breeding, and producing cats closer to the American standard than the British standard of the time. The British Shorthair had moved towards a more massive, cobby cat, but the Jezreel cats were "old style" and were considered "pet quality" in Britain. The final four British Shorthairs legally imported as American Shorthairs by June Brown ("Juno" cattery) in the 1970s included Jezreel Tango, Jezreel Taurus of Red Spice, Jezreel Mortimor of Codel and Jezreel Jandorina of Juno. Before these four, Jezreel John Joseph, Jezreel Black Mumba and Jezreel Julysia were used to found Si-Purr line of solid blacks and solid blues and their descendants are still represented in modern bloodlines.
Nikki Horner (at that time Mrs William Shuttleworth) began her American Shorthair programme with the purchase of silver tabby male "Shawnee Startler." Elsewhere it is claimed that she acquired "Katnip Korner Romeo" and renamed him "Shawnee Startler," but the pedigrees show these two cats have different birthdates and different parents. Katnip Korner Romeo (born 20 Jun 1947) is listed as a Chinchilla Persian son of Babe Le Roy of Beverly-Serrano (sire) and Duchess Doreen (dam), both Chinchilla Persians, but Shawnee Startler (born 16 June 1954) is listed as Domestic Shorthair (i.e. American Shorthair) son of Kute Silver of Katnip Korner (sire) and Katnip Korner Snicklefritz (dam). Photos show that Shawnee Startler was a silver tabby shorthair. Results published in the Akron Beacon Journal, 23rd January 1949 states that Katnip Korner Romeo was a shaded silver male.
Nikki Horner searched the country for mates for Shawnee Startler and chose the best female silver tabbies from the best pedigrees she could find. She later ventured into solid blacks, using a black female who popped up in one of her silver tabby litters, mating her with GC Karabee Dark Nite, founding the Shawnee blacks (she later founded the Bombay breed using her black American Shorthairs). Nikki Horner's cats won major titles, much to the surprise of those who still viewed them as household tabbies, and American Shorthair catteries proliferated when people realized that the breed had real show potential.
In the 1970's the mackerel tabby pattern became more popular and the registry was re-opened to suitably typy mackerel pattern shorthairs of unknown ancestry. Major and Mrs T. Tucker located a large, stocky, brown mackerel tabby male, Male Man of De Tracy, whose ancestry was unknown, but he was good quality outcross and there was a plenty of support for him to be registered as an American Shorthair. Established breeders were upset that this unknown cat achieved the CFA National Best of Breed in 1971, but the unpedigreed Male Man produced offspring with excellent conformation when bred to pedigreed females and to his own daughters.
Another cat with unregistered ancestors was Grand Premier Step-An-Fetch-It, a neutered black and white male owned by Linda Leigh Buel. Step-An-Fetch-It achieved national glory as CFA's 1976 "Best Cat in Premiership". He had the correct breed type and coat, but sadly was not bred with pedigreed lines.
Saints and Sinners
To eliminate tabby markings in the Shaded Silver American Shorthair, other breeds were added. Wayne Park used a chocolate point Siamese to introduce the agouti (ticked) tabby pattern gene to get rid of the excessive leg barring and clear up the coat. This meant that pointed cats and chocolate-silvers occurred, and the shaded silver American Shorthairs were often more "refined" in type. Other breeders use Burmese to introduce the ticked tabby pattern, but this apparently gave the red colours a "muddy" appearance. Some breeders used Abyssinians to get the ticked tabby gene, but this adversely affected ear conformation and colour distribution. The use of Chinchilla Persians meant that later breeders had to decide whether their cats would be American Shorthairs or become Exotic Shorthairs ("… the shorthaired Persian known as the Exotic Shorthair was conceived to make saints out of sinners. The Exotic Shorthair was quietly envisioned as a dumping ground for the hybridized Silver American Shorthair. No doubt there were those who felt that the breed would be short-lived and ultimately tossed over the side taking with it the registered hybrids." Rosemonde Peltz, Cat World {USA], Jan-Feb 1976)