THE CASE OF MARY CHANTRELL - A NINETEENTH CENTURY CAT HOARDER


Sarah Hartwell, 2014

THE CASE OF MRS MARY CHANTRELL (MISS MARY DEAR)

Mary Chantrell was a persistent cat and dog hoarder in England whose repeted convictions were vividly described in news reports around the world. The earliest report I could find was in 1855; it stated that Mr Robert Dennis Chantrell was before the courts about a number of starved cats and dogs, which numbered between one hundred and two hundred, many being skeletons, but which he said were his wife, Mary's, models for her artistic work.

Luton Times and Advertiser - Tuesday 03 July 1855
At Brighton, on Monday, a lady named Mary Chantrell was fined £5 and costs for keeping cats in a state of starvation.

ROTTINGDEAN. THE "ASYLUM" FOR CATS.
Sussex Advertiser - Wednesday 31 January 1866

At the Hove police court, Monday last, Mr. Moody, landlord of the Horse and Groom, St. James' street, made application for a search warrant to enable him to seek for three cats which he had and which he stated to the magistrates, he believed to be at Miss Dear's, at the Rottingdean "Asylum." He had applied for admittance there, but had been refused. The Court, however, have no jurisdiction in Rottingdean, and the application was heard in the Brighton Court on Tuesday, when a warrant was grantedby M. D. Scott, Esq. The warrant was executed by Sergeant Baldwin the same; afternoon. The following is his report; " I executed a search warrant in the house of R. D. Chantrell, for a cat belonging to Mr. George Moody. I could not find the cat. Mr. George Hope was with us. He owned one, which he took away by the consent of Miss Dear. In the house and premises I found about 150 cats, and about 50 dead ones, some dried up, some putrifying, and several dead dogs in the same state. There were six dead cats in Miss Dear's bedroom. There were fifteen dogs in the house, and a fox. The whole place was in a very filthy state, and the stench was awful."

THE ANNUAL MEETING OF THE BATH AND WEST OF ENGLAND SOCIETY.
Western Daily Press, 6th June 1866
(At Salisbury) Class 35— Skye Terriers.—Dog or bitch.—1st, ; 2nd, 15s.— 1st, Mrs Pain, Ugford Cottage, Salisbury; 2nd, Mrs Mary E. Dear, Ivy Cottage, Rottingdean, near Brighton.
[At one point some of Mary's dogs were healthy enough to win prizes at a local show. The paper referred to her as "Mrs" Mary E. Dear.]

A RURAL MENAGERIE
Leeds Mercury - Friday 24 May 1867

Mr. Robert Dennis Chantrell, a retired architect, residing in Ivy Cottage, Rottingdean, appeared at the Lewes Police-court on Wednesday to answer a summons charging him with having a nuisance upon his premises. It was alleged that not only were there a live fox, a goat, a great number of cats, dogs, rabbits, fowls, but that there were dead animals lying about, and such a collection of filth as was injurious to health. The solicitor who supported the summons applied for an order to have the nuisance abated. Mr. Penfold, of Brighton, appeared for the defendant who was accompanied in court by a young lady named Miss Dear, who is his ward. It appeared that the animals complained of were the property of Miss Dear, she being an animal painter. Mr. Noakes, a surgeon, and who is also the local inspector of nuisances, gave evidence as follows :-

"I visited defendant's premises on May 9, first going into the garden. I saw there a number of cats running loose; there were twenty or thirty of them. There were skeletons and dead cats lying about the yard. I went into the kitchen and saw there twenty or thirty more cats, lying and sitting about on chairs before a fire, and in other places. I next went to an outbuilding and saw more cats, some loose and others in cages; there were about forty or fifty there. Pieces of raw meat and bone were lying about, and the smell was offensive. In the yard there were twenty or thirty dogs loose, a fox, a goat, and a number of fowls; the yard was in a dirty state. I then went into another house opposite belonging to defendant, and in one room upstairs found the excrement of cats, which had not, apparently, been cleared out for months. I never saw a room in such a filthy condition in my life; there were cats in the room and the door was closed. In a lower room I found more cats. I saw some dead cats; there was a skeleton, and one or two half dried up. If the place was cleansed and the animals still remained, I do not think the nuisance would be remedied. I believe the cats die daily, and the defendant continues to buy them. The smell is likely to cause such diseases as cholera, and already has caused illness. Defendant has been there some years. Miss Dear is an artist, and has shown me some of her paintings."

Police- constable Holland and other witnesses also gave evidence in support of the application. Holland said that on Sunday night week the smell was fearful; at 150 yards off it was so bad that it made him vomit. Frequent complaints were made about it by the inhabitants and strangers. He had seen as many as twenty persons a day waiting outside the house, to be paid for cats they had taken there. Mr. Penfold admitted the nuisance, but asked that time should be given for cleansing the premises, and contended that it would be cruel to make Mr. Chantrell and Miss Dear remove the animals, to which they were both very partial. Miss Dear was painting animals for exhibition at the Royal Academy, and required to have a considerable number to enable her to carry out her profession. The reason she had so many cats and dogs was owing to her kindly feeling, and seeing them lie about uncared for, she had a place expressly fitted up for them, and annually spent a large sum for their keep. She had frequently given from 5s to 10s for cats, and has pestered by people bringing them to her. Some persons had half-strangled the animals before her eyes, to compel her to buy them.

The chairman of the magistrates said that the nuisance being admitted, an order would be made for its abatement within three days by cleansing the premises, and making provision for the cleanly and wholesome keeping of the animals on the premises, If the offensive smell was not removed, they would order the immediate removal of the animals on a second complaint being made.

The defendant took out summonses against two persons for damaging his house. He said it had been damaged to the extent of' £10. The following is a copy of a notice he is said to have placed in one of the windows of his house: "The resident owner of this property is a Londoner. No stranger can reside in this village and hope to escape insult or injury from its lawless savages. Many who have attempted to live here have left in disgust. - Ivy Cottage, Rottingdean."

(They did bring a case against some of the boys who caused damage, but the sum was far less than £10)

Newcastle Journal - Saturday 25 May 1867
Proceedings have been taken against a Mr Chantrell, a gentleman living the sea coast, near Brighton, for creating a nuisance by having in his possession from to 200 cats and twenty dogs, &c The defence set up was, that the niece of the accused was an artist, and kept "the felines" as models.

AN EXTRAORDINARY COLLECTION OF CATS.
Londonderry Standard - Wednesday 29 May 1867

At the Lewes Petty Sessions a few days ago, an information was laid Mr. Noakes, surgeon and inspector of nuisances, against Mr. R. D. Chantrell, a gentleman residing at Rottingdean, village between Brighton and Newhaven, calling upon him to abate a nuisance which existed on his premises. The complainant stated that he was requested the Newhaven Board of Guardians to impact the defendant's premises, which did. He first visited the garden, and there noticed nearly thirty cats running about loose, two dead cats, and skeletons of several others. In the defendant's kitchen he discovered similar number of the feline race, making themselves very comfortable on the chairs and before the fire. A stable or outhouse was next inspected, and here between forty and fifty cats were found, some loose and some in cages. In this place raw meat lay about in all directions, and was being very demurely gnawed by many of the pusses. In a yard adjoining the defendant's house Mr. Noakes saw upwards of twenty dogs, a fox, goat, turkeys, geese, ducks, and fowls of every description. He next paid visit to a house in the defendant's occupation, and attached to his residence. On going upstairs he was ushered into the presence of another nationality of cats, kept in a most disgusting state of filth. On descending to the lower regions, he was greeted with the same scene—cats without number, all in an unhealthy state and exceedingly dirty. There were also half-dried skeletons of cats lying about the grounds, and the smell arising from the whole collection was most offensive. The total number of cats he should estimate at from 100 to 200. Defendant's solicitor admitted the animals were a nuisance. They were the property of Miss Dear, a young lady, who is an artist, and resided with the defendant, who was her guardian, and had purchased the large premises he occupied in order that she might have her models of animal creation continually before her eyes; in fact, she had established a sort of asylum for cats in consequence of the large number which she saw lying dead upon the beach, and even offered premiums to anyone who would bring any animals of the feline species to her city of refuge. The beach ordered the nuisance abated in three days,

MORE ABOUT THE CATS
Brighton Gazette - Thursday 30 May 1867

On Tuesday se'night [week] before the Lewes Magistrates, mr Robert Dennis Chantrell, the guardian of Miss Dear, of Ivy Cottage, High Street, Rottingdean, was summoned, on the complaint of Mr J. Noakes, surgeon, of Rottingdean, "for that in or upon his premises situate in High Street, in the Parish of Rottingdean, the following nuisance exists – namely certain animals, to wit, a fox, a goat, cats, dogs, rabbits, chickens, and ducks, are so kept as to be a nuisance and injurious to health, and also an accumulation and deposit of dirt, dead bodies of animals and other filth, which is also a nuisance and injurious to health." Mr H. Jones, jun., appeared in support of the complaint, and Mr Penfold, of Brighton, for the defendant. Jones said he appeared behalf of the Guardians of the Newhaven Union, and the present application was made under the Nuisances Removal Act. The Board instructed Mr Noakes, their Inspector of Nuisances, to visit the premises of defendant, and he went there on the 9th of May; he made a report, which was laid before the Board on the following day, and upon that report the Chairman ordered Mr Noakes to take proceedings against the defendant.

Mr Noakes described the result of his visit to defendant's. He said - l first went into the garden. I saw there 20 or 30 cats running loose. There were also skeletons and two dead cats lying about the yard. From the garden I went into the kitchen, and there saw 20 or 30 more cats, lying and sitting about, on chairs and different places. From the kitchen I went into the out-buildings, and there saw 40 or 50 cats, some loose and others in cages. Pieces of raw meat and bone were lying about, the smell from which was offensive. There was a dreadful smell about the place, both from cats and dogs. The dogs were in the yard, closed up. A number of dogs, a fox, a goat, and a number of fowls were in the yard; there were 20 or 30 dogs loose; the yard was in a dirty state, and there was a very offensive smell. From the yard I went into the opposite house, which I believe belongs to the defendant. In one of the rooms upstairs there was the excrement of cats, which I should think had been there for months. The room was in a most horrid state; I never saw a room in such a filthy condition my life. The excrement did not appear to have been cleared for months. There were cats in the room, and the door was closed. In the lower room I found more cats, and that place was in a very filthy state. I saw no dead cats in that house. I saw some dead cats lying in the out-house and garden. There was a skeleton, and one or two half-dried up. I saw Mr Chantrell there, and he went with me. He said the place was certainly in a dirty state, and should be cleansed. After visiting the house. I made this report to the Board of Guardians: —"Gentlemen, - I have recently inspected the premises of Mr Chantrell, at Rottingdean. I found them in a most filthy and offensive state, and if they are not immediately cleansed and purified, I fear some serious malady will break out and endanger the lives of the inhabitants, as it is now become very obnoxious to the persons residing in and about the neighbourhood. The great number of cats and other animals kept on the premises will at all times make it offensive, &c., and unless they can got rid of, it will, in my opinion, be a continual nuisance, and likely to produce diseases such as cholera, &c."

I again visited the premises yesterday, and found them in the same state as my previous visit. I think there was a greater number of cats than before, and the smell was very bad. There was a dead cat in the kitchen. I did not see Mr Chantrell yesterday, but saw Miss Dear, and asked to be allowed to go into the adjoining house. She would not allow me; but said it was in much the same state as when I saw it before, as she had not had time to attend to it. As near I could judge, I should say there were from to two hundred cats altogether, of all descriptions. I should think there were twenty or thirty dogs. This is a very great nuisance. Some of the dogs are tied up at the top of a field, and they bark day and night, disturbing all the neighbourhood. The houses are in the middle of High Street, and, as doctor, I consider the nuisance injurious to health; indeed I am positive it is. If the place was cleansed, and the animals still remained, I not think nuisance would be remedied. As I state in my report, the same thing would occur constantly. My opinion is, that a large number of animals of this kind cannot be kept there without being very offensive.

Mr Godlee - Not if they were properly looked after?
Witness - No. I believe the cats die there daily, and that Mr Chantrell continues to buy. On behalf of the Guardians, ask for an order for the animals be removed.
By Mr Whitfeld - There are houses on both sides of Mr Chantroll's.
By Mr Penfold - I do not know exactly the extent of the premises; there is field and a garden, there may be three acres. Some the cats were free, and others in cages. It is principally the smell from the cats that I complain of. Mr Chantrell has been there some; Miss Dear is an artist, and has shown some of her paintings. The skeletons I saw were not prepared. I should think they had been left just as they died. Miss Dear did not tell me they were specimens. I do not know that there is any ill-feeling at all in this matter. Mr Chantrell's windows may have been smashed. I will swear there were more than 12 grown dogs there. I have been to the kennels at Ringmer, but there was no smell there. Some of the dogs were chained up in their kennels, but not all. If the yard was swept up I think it would still be injurious to health. I have not heard complaints about some adjacent piggeries. I consider that the nuisance I have described is likely to bring on fever or cholera. There was no smell from the meat lying about. I was not told that meat was sent daily by Mr Lintott, butcher, of Brighton, for the animals. I did tell Miss Dear she ought to reduce the number of dogs. I found a dead cat in the cupboard yesterday. She said that it had died that morning, but not that it had been poisoned.
Mr Penfold - If the smell is so injurious as you say, is not likely that Mr. Chantrell, Miss Dear, and the other inmates of the house would have some disease?
Witness—They might not; but there are others who have been ill through it and have not been able to open their windows in consequence of the smell.
P.C Holland, stationed at Rottingdean, deposed: I know the premises complained of, and I have been to view them several times in the course of the last three years. The last time, I believe, was in February last. The premises were then in a very bad state. They would not admit me into the house, - only out-doors. I saw 20 or 30 dogs ; 11 were tied up in one place. The smell was dreadful. I was there in the winter, when there was snow the ground; the animals then appeared have nothing to live on. I saw a number of cats. An officer of the Royal Society who went with became ill with the smell. There were dead dogs and cats, as well as the bones of dead monkeys and other animals lying about. On Sunday night week the smell was fearful ; at 150 yards off it was so bad that it made me vomit. Frequent complaints are made of the nuisance, not only by the inhabitants, but also by strangers to the village for the first time. I have seen as many as 20 persons a day walking outside, as I understood, to be paid tor cats they had taken to the house.
Mr S. Beard and W. Saxby complained of the nasty smells which arose from the premises of the defendant.

Mr Penfold said he thought a considerable amount of feeling had been brought forward in this case. There might be a strong effluvia on the day in question, but the' object, it appeared, was not to remove the smells, but to compel Miss Dear to destroy her cats. He maintained that providing there was nothing actually injurious to health, she had a perfect right to keep them in any place she thought proper. Mr Chantrell was a gentleman who had resided there with his family several years, and yet they had not been afflicted with those direful evils Mr Noakes was afraid of, so that the smell could not be so very injurious after all. The question was whether the cats should be destroyed, or whether an opportunity should not be given for the place to be cleansed. He would suggest that steps should be taken to have the nuisance removed. Miss Dear was an artist, and Mr Chantrell, who was her guardian, was formerly an architect and surveyor, but now living retired, and had purchased a house, garden, and grounds, covering about two and half acres, at Rottingdean. Both of them were partial to animals, and that was the reason they kept a large number. He contended that it would be cruel to say that the animals must be removed. It had been proved I that at the present time there was a nuisance, but surely Chantrell should have an opportunity to remedy it. Miss Dear was painting animals for exhibition at the Royal Academy, and required to have a considerable number to enable her to carry out her profession. The reason she had so many cats and dogs was owing to her kindly feeling, and that, seeing many lying on the beach and elsewhere uncared for, she had had a place expressly fitted up for them. There was nothing to show that proper food had not been given to the animals. She annually spent large sums of money in keeping, and was to be commended for her kindness to these dumb animals. She indiscreetly, however, announced that she would pay for cats that were brought to her, and ever since had been pestered by people bringing them to her, and some persons had half strangled the animals before her eyes to compel her to take them. She had frequently given from 5s. to 10s. each for cats. Mr Chantrell had had his ducks and fowls stolen, and it would be hard to press the case against him. If the matter was allowed to stand over for eight or ten days, some means would be taken to do away with the effluvia.
Mr Jones said he must oppose the application for the order to be suspended, the matter having already stood over a very long time. Notices were served on the defendant on the 7th February and March last.
Mr Penfold renewed his application, and said he could bring two gentlemen forward to prove that the nuisance was not so great as represented. The Magistrates then retired for consultation, and on returning into Court, Mr Whitfeld said - The nuisance being admitted, an order is now therefore made that the same be abated within three days, by cleansing the premises and by making provision for the cleanly and wholesome keeping of the animals on the premises. The Bench are strongly of opinion that it is practically impossible to provide for the keeping of so large a number of animals in so small an area without their being highly prejudicial to health, and if that is found to be the case, upon a second information being laid, the Bench will order the immediate removal of the animals.
Mr Godlee stated that if in three days the nuisance was not abated, a fine of 10s. would be recoverable for each day it continued.
On the application of Mr Jones, the usual costs were allowed.
Mr Chantrell took out summonses against two persons for doing damage to his property. He stated that damage to the amount of £50 had been done to the front of his house.

ROTTINGDEAN, THE CAT ASYLUM AGAIN
Brighton Gazette - Thursday 6 June 1867

At the Lewes Bench last week, Mr Robert Denis Chantrell, of Ivy Cottage, Rottingdean, summoned a lad named William Mockford for committing damage to the amount of 2s. 6d. to a door, his property, by throwing a stone at the same, on the 3rd of May. [. . .] Mr Chantrell was the owner of Ivy Cottage, Rottingdean, where he had resided for about three years and a half. During the two last months he had been subjected to continual annoyance from boys coming into his garden, and stealing his fruit, flowers, etc., and things had now come to such a pass that not only was his garden robbed, but his house was damaged by stones being thrown at the doors and windows. [The damage caused by children frequently throwing stones at the property was estimated at £50]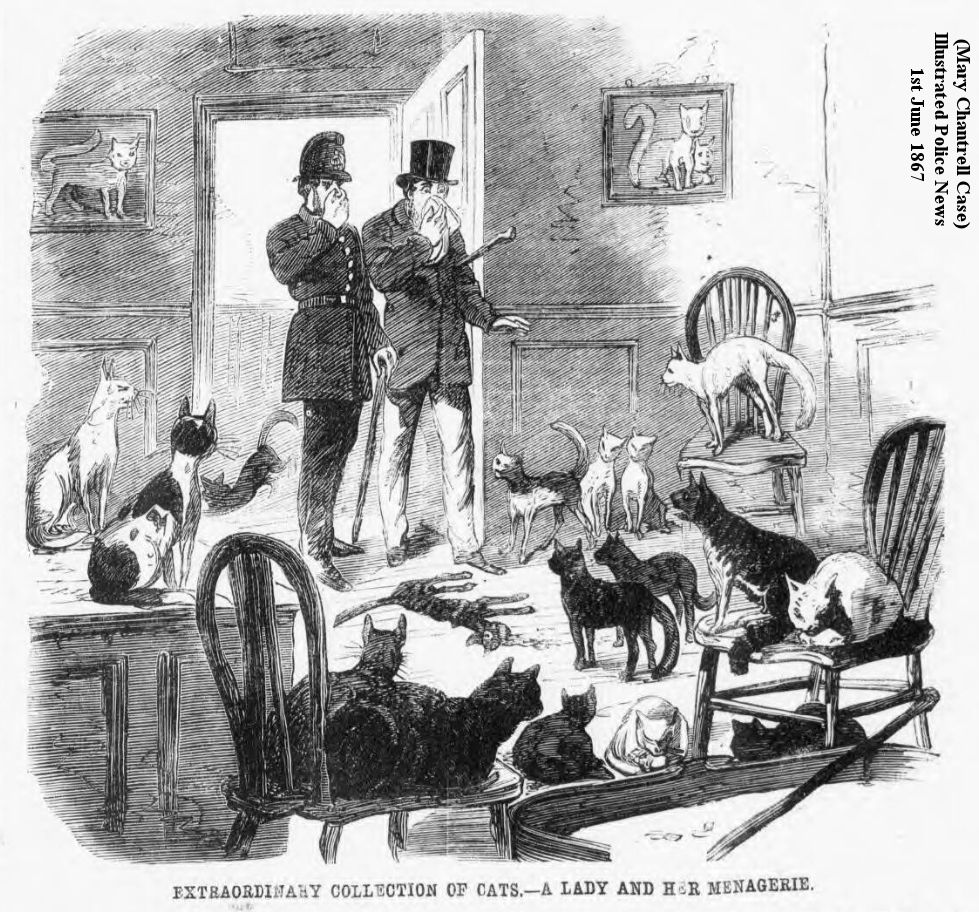 THE ROTTINGDEAN CAT ASYLUM.
Sussex Agricultural Express - Saturday 22 June 1867

Mr. Noakes, Inspector of Nuisances to the Newhaven Board of Guardians, in pursuance of a summons granted last week, applied to the bench for an order to recover 10s. per day from Mr. Robert Dennis Chantrell, of Rottingdean, the amount of penalty incurred by him in consequence of his not obeying an order made by the magistrates on the 21st ult., for the abatement of nuisance which at that time existed upon his premises. Mr. Jones appeared for the complainant. Defendant did not appear.

P.C. Hollands having proved the service of the summons, Mr. Jones said that the case came before the bench the 21st of May last, when it was proved that the defendant kept an extraordinary number of cats and dogs, and the justices ordered that the premises should be cleansed within three days, and that Mr. Chantrell should provide for the cleanly and wholesome keeping of the animals. This order the defendant had disobeyed, and witnesses would be called to prove that the nuisance still existed. He (Mr. Jones) should ask their worships to make an order that the animals might be removed, and also that defendant might be ordered to pay the penalties he had incurred by not obeying the order of the 21st May.

Mr. Noakes was then called, and, in answer to Mr. Godlee, said that the nuisance was worse, if anything, than it was before. He also said that be visited Mr. Chantrell's premises on the 10th inst. He got admission by going round the field and getting over the wall. Bones and sheep's heads and other bones were lying about, and there were about 40 cats up in a loft in a most filthy state; he did not believe they had been cleaned for weeks. He saw the premises, and in the lower parts there were seven or eight cats dead in the cupboards ; there was also a dead goose. He went through the kitchen and into the back parlour ; he opened the door and saw a cat or two lying about in the most offensive state ; it was so offensive that witness could not bear it, and he closed the door. Some parts of the premises had been washed out, but they had not generally been cleansed ; there had been very little done. The number of cats did not appear to be reduced ; the number was quite as great if not larger. There were also 22 dogs, and they had now become as great a nuisance as the cats, for they barked continually all right. The order that the magistrates made had not been obeyed. Defendant's premises were in such a state as be injurious to the health of the neighbourhood, and the house itself was not fit for habitation. In fact the neighbours would leave the neighbourhood if something was not done.

After having heard the above evidence, the magistrates made an order for the payment of £8 5s., the amount of penalty incurred by the defendant in consequence of his not complying with the order of the magistrates including 15s. cost.

Just as the second summons was about to be proceeded with. Miss Dear came into court, and stated the defendant had been unable at the last moment to come to Lewes in consequence of ill-health. She wished the magistrates would reconsider the order they had made, and would postpone the case until the next bench day, because the summons had been served so late that they had not been able in so short a time to go to London in order to engage counsel. After a somewhat lengthened conversation, during which Miss Dear requested the magistrates, amidst loud laughter, to come over and inspect the animals for themselves, the bench consented to postpone the hearing of the latter information, requiring the removal of the animals, until Tuesday next, on the condition that Mr. Noakes should have free admittance to the defendant's premises at all times. After demurring for short time Miss Dear agreed to this condition provided Mr. Noakes did not bring a policeman with him. After the bench had risen she applied for a summons against someone at Rottingdean for throwing stones at defendant's house.

ABOUT MISS DEAR'S CATS
Brighton Gazette - Thursday 11 July 1867

There was not a single case before the Magistrates this morning, but they were entertained for nearly half-an-hour with a novel application from a female, who stated that she had been servant to Miss Dear, and now applied to the Magistrates for advice under somewhat singular circumstances, but her tale was so complicated that it was difficult to unravel. It appeared that the applicant was requested by Miss Dear (recently released from prison for debt) to accompany her to London, and go with her to her lawyer and her banker. Applicant was told that Mrs Hylden, the wife of a horse-slaughterer, would get return tickets for Miss Dear and her. She understood that she was to go to London Bridge, near which her friends resided and she was to meet Miss Dear the next morning to go with her to the lawyer's. When got into the train at. Brighton she had a Prussian cat with her in a basket which Mr Chantrell bad given to her. He had also given her two beautiful Russian cats, and they were worth ten guineas each. The latter she left in the care of Mrs Hylden. She found, when she entered the carriage, the tickets were taken for the Victoria Station. They were single tickets, and she wanted to get one, but Miss Dear would not let her At every station she stopped she told the porters to let her out, but, under Miss Dear's direction, they refused to do so They went up by the half-past nine mail train, and on their arrival at the Victoria Station Miss Dear went to the Police Station, and wanted to give her into custody for stealing her cat. She said that applicant was her servant but the policeman refused to take the charge. This was twelve o'clock at night, and Miss Dear took her cloak from her back and assaulted her, and stole her basket with the Prussian cat in it. Miss Dear tried to give her in charge two or three times, but the policeman refused to take it. She had been most shamefully used, - Miss Dear stole three cats in the streets between two and three o'clock that morning. (A. laugh.) Besides that, the applicant had to pay her own fare back to Brighton. She wished the Magistrates to tell her what do under the circumstances ?

Mr Hollis--Who gave you the cats?
Applicant —Mr Chantrell.
Mr Hollis—But they were not his to give.
Applicant—Oh ! yes, they were, for he purchased them. I said it was a pity to destroy such valuable cats, so he gave them to me.
Mr Scott told the applicant that the assault, &c. occurred out of the Brighton Magistrate'' jurisdiction. She had better apply to a metropolitan Magistrate for redress. She might indict Miss Dear for false imprisonment, also for the assault; and she might bring action of trover for the recovery of her cat and cloak.
This seemed somewhat to puzzle the witness to know.
Mr Scott-There is no doubt it would be an expensive process (a laugh), and the question is whether Miss Dear has sufficient to reimburse you for such treatment.
The applicant politely bade the Magistrates good morning, I which was courteously returned by Mr Scott, amidst considerable laughter. Before she left the Court she desired to know how she was to get her Russian cats from Mr Hylden.
Mr Scott —if you wish to spite him I should advise you to let the cats remain with him, for they will worry him to death. (Laughter)
The applicant than left the court.

A RURAL MENAGERIE.
West Coast Times, (New Zealand) Issue 573, 26 July 1867

The bench of magistrates at the Lewes Petty Sessions on May 21 were called upon, to decide a somewhat extraordinary case. An information was laid by Mr J. Noakes, surgeon, of Rottingdean, and inspector of nuisances to the Newhaven Board of Guardians, against Mr Robert Dennis Chantrell, a gentleman also residing at Rottingdean, a small village upon the sea coast, about equidistant from Brighton and Newhaven, calling upon him to abate a nuisance which existed on his premises in consequence of a large number of cats and dogs and other animals, including a fox and a goat, being kept there, so as to be injurious to health. From the notoriety which the case had attained in the neighbourhood, the court was densely crowded during the hearing by a large assemblage of spectators. The complainant stated that he was requested by the Newhaven Board of Guardians to inspect the defendant's premises, and report thereon. He did so on the 9th May. He first visited the garden, and there noticed nearly 30 cats running about loose, two dead cats, and the skeletons of some. From the garden he went to the defendant's kitchen, and there discovered a similar number of the feline race, making themselves very comfortable on the chairs and before the fire.

A stable or outhouse was next inspected, and here between 40 and 50 cats were found, some loose and some in cages. In this place raw meat lay about in all directions, and was being very demurely gnawed by many of the pusses. In a yard adjoining the defendant's house Mr Noakes saw upwards of 20 dogs, a fox, a goat, turkeys, geese, ducks, and fowls of every description. He next paid a visit to the house in the defendant's occupation, and attached to his residence. On going up stairs he found 1 all the doors shut, but they were immediately opened, and he was ushered into the presence of another nationality of cats. But he stated they were in a most disgusting condition, the excrement of the animals apparently not having been removed for a very long time. On descending to the lower regions he was greeted with the same scene - cats without number, all in an unhealthy state, and exceedingly dirty. There were also half-dried skeletons of cats lying about the grounds, and the smell arising from the whole collection was offensive in the extreme and most injurious to health. Defendant accompanied the complainant in his tour of discovery, and admitted that the place was in a very dirty state and promised that it should be cleansed. On the day after this inspection complainant presented his report to the board, and they immediately authorised him to take legal proceedings against the defendant. Mr Noakes also said that he visited the place again on May 20, and found everything almost without exception in the same filthy state, and the smell particularly obnoxious. The total number of cats he estimated at from 100 to 200. The defendant's residence was in the High street of the village, and there had been a disease very similar to cholera in the next house, which he believed was to be solely attributed to the smell of those animals. The above statement was corroborated by several respectable witnesses residing in the vicinity.

The defendant's solicitor, in reply, admitted the animals were a nuisance, and asked for a period of nine or ten days to abate it. The animals did not really belong to the defendant, but were the property of Miss Dear, a young lady by whom the defendant was accompanied, who was an artist, and resided with the defendant. The defendant was her guardian, and had purchased the large premises he now occupied in order that she might have her models of animal creation continually before her eyes ; in fact, she had established a sort of asylum for cats in consequence of the large number which she saw lying dead upon the beach, and even offered premiums to anyone who would bring any animals of the feline species to her city of refuge. After a brief consultation the chairman (Mr G. Whitfield) said the bench had decided to order the defendant to abate the nuisance in three days, and if a second complaint was made he would be ordered to remove them altogether.

THE LADY AND HER CATS.
Hyde & Glossop Weekly News, and North Cheshire Herald - Saturday 3rd August 1872

This has been a great week for the Society for the Prevention of Cruelty to Animals, inasmuch as the lady who keeps the Rottingdean Cat Asylum has been run to earth and dug out. It may seem flippant to use this expression about a lady, but it is true and appropriate. A fortnight since the Lewes magistrates had under their consideration the cruelty practised at Mrs. Chantrell's Cat Asylum at Rottingdean. Some years ago a Miss Dear was convicted of creating a nuisance by keeping several cats at Rottingdean. The lady found a champion in the person of a Mr. Chantrell, who married her. Mr, Chantrell — who, by the way appears to have in some degree resembled "Mr. Dick" in "David Copperfield" — has since died and left his widow in the enjoyment of a happy family. This family, located at Rottingdean, consisted of 43 cats, 28 dogs, some hens and rata, and other curiosities.. Many of these were found by the officers of the Society for the Prevention of Cruelty to Animals in a starving and disgraceful state. It was first determined to prosecute the servants in whose care the animals were placed; but the summons were dismissed against them. An endeavour was next made to find Mrs. Chantrell. A detective succeeded in discovering her whereabouts in London, but he did not take the lady without a struggle, and the partizans of Mrs. Chantrell, who interfered to prevent her apprehension, were fined by the London magistrates. The good lady, however, was fairly "run to earth," to use a hunting expression, and gave up. She appeared before the Lewes Bench on Tuesday, and the magistrates, after seven hours' investigation, decided that the cruelty had been proved, and fined the defendant £5, and added that should she appear again they must send her to prison. The costs in the case ran up to £15 9s 6d. Notice was given of appeal, and the mob outside hooted at Mrs. Chantrell as she left the court.

THE ROTTINGDEAN CAT CASE
Surrey Gazette - Tuesday 6th August, 1872

At the Lewes Petty Sessions, on Tuesday, Henry Peter Andrews, Inspector to the Society for the Prevention of Cruelty to Animals summoned MARY ELIZABETH CHANTRELL for cruelty to a number of animals, to wit, 45 cats and 32 dogs, at Rottingdean, in June last. Mr. Harris, barrister, for the prosecutor, and Mr. Besley, barrister, for the defendant.

The defendant is the well-known Miss Dear, who was, a few years since, summoned by the Guardians of the Newhaven Union for allowing a nuisance to exist on the premises by keeping such a number of cats. An elderly gentleman, named Chantrell, resided with her, to whom she was eventually married. Her husband died in January last, and she still continued to keep a number of animals, but all has gone on smoothly until these proceedings were commenced. Some slight difficulty arose as to who was the right party to be summoned; the defendant's servants were charged for a fortnight since with the offence, and after a patient hearing the case against them was dismissed. The present defendant was therefore summoned to appear a week ago (the 23rd July) to answer to the present charge. She failed to appear, and a warrant was issued for her apprehension. She had been staying in London, and Inspector Taylor, who knew the accused well, endeavoured to secure her. On Friday last, while in Lothbury, in the City, be saw her, and took her into custody. She told Taylor that she was not to be taken by him, and he was dragged along until they arrive opposite to No. 4, Lothbury, in the City, when she got away from Taylor, and ran into the offices of Messrs. Roy and Cartwright. He ran after her, and was encountered by a clerk. Taylor informed him who he was, and that he held a warrant for Mrs Chantrell's apprehension, which had been properly endorsed at Bow-street. The Clerk asked him to wait until he called his principal, Mr Cartwright. When the latter came he forbade Taylor to enter the premises, and said he would not suffer the defendant to be taken. The officers, with the aid of detectives, watched the house the whole of the night. About 11 o'clock, Mr Colam, the secretary of the Society, and John Davis, a detective officer, went to a lodging house keeper named Krehl, residing in Coleman-street, City, and asked him to desist supplying food to defendant. Scarcely had the officers Into the house when they were ordered out by Krehl, and ultimately an assault was committed on Davis by Krehl and his barman. The following day, both Krehl and his barman figured at the Guildhall Police-court for assaulting the detective officer. The former was ordered to pay 60s and 12s 6d for damages to the officer's hat, and the barman 20s. Alderman White, the magistrate, remarked that both deserved to be sent to prison, but as there was an air of respectability about Mr. Krehl, he should inflict a fine. Mrs Chantrell remained in the offices in question the whole of the night, it is presumed, and on the following evening, Messrs Roy and Cartwright surrendered her to Taylor.

Elizabeth Pettinger deposed - I am servant to Mrs Chantrell. I was at Rottingdean in May and went to London on the 17th May. There were about 42 or 43 cats, and about 28 dogs with the puppies were in a loft ; the dogs were looking very well on the 17th May; I have been with the dogs five years; when I left in February they were all fat and beautiful. I came back on May 1st. They were as bad as they could be. There were 17 puppies; they were born about Christmas; they had: been short of food and were mangey. When I came back on May 1st there were 17 dogs with my own; they were very well, only the puppies looked thin. On the 1st May one cat was bad and mangey; all the other cate looked thinner than when I was at home. On the 1st May I thought the cats had not enough to eat; there was filth in the place. There were only two servants; one had a baby; not hands sufficient to clean it, some parts were clean, some parts were dirty. The place was not over crowded except in the loft; the cats I saw in the loft was not over crowded. I saw Mrs Chantrell last Saturday, and asked her for money. I was there when Mr Taylor came in June, and the police constable, Mr and Mrs Hilden, her daughter and her husband, and Mrs Chantrell and both the servants. Some of the cats were looking well, and some thin. There were about 43 cats on that day. None of them I speak of were well and fat. There was only one cat that looked extra thin. Others did not look so well as they ought. I did not say on the 2ist June that I never saw look so bad. I could not say so. I saw the dogs on the day the officers were there. The dogs were all right, and the puppies were not well. I dressed the puppies when I was over before, and made them all right. I remember being in London with Mrs Chantrell. I read a letter addressed to her from Mansfeld. I took a letter to Roye and Cartwright's Office. I told Mrs Chantrell that the animals were starving, and asked her to let me go down. I saw Mrs Chantrell send down 9s 6d that night. I was not in court when Mrs Chantrell was examined. I never saw the cats and dogs eating each other's dirt. I believe Mrs Chaantrell had two letters from Jane Mansfeld. Mrse Chantrell said she had had letters from Jane. (The two letters were then read. The purport of one was that the animals had had something to cat, that Mr Lambe had been but she would not let him in, that they had had a letter from Roye and Cartwright saying everything was all right, and that all doors were fastened, signed, June 2. The other letter said, "We received 4s safe.") I remember Phoebe and myself being together. Mansfield said to Mrs. Chantrell that she had written letters to defendant informing her that the animals were being starved. Mrs Chantrell said she had not BOL received them. I did not say it was not true. I said, "Yes you did know, because I asked you to let me go down." I referred to the time when 9s 6d was sent. I left my dress at Mr Phillips that day. I went up to London either in February or May for half a hundredweight of meat. Just before Whitsuntide there was no money then to buy food. I knew Mr Phillips would trust us with food, Sometimes he would, sometimes he would not trust us.

[Examined] By Mr Besley—Mr Chantrell died on January 14th, 1872. Mr Lamb, of Brighton is co-executor, and he has put the affairs in Chancery. The animals were treated kindly by Mrs Chantrell when she was there – regular quantities of rice bought every day; 12lbs a day up to when the shop was stopped. Whenever Mrs Chantrell or myself was there proper food was there. Half a hundred of horse flesh, besides sheep's heads and plucks, two gallons of sharps, and sometimes graves [protein residue] and other things. The graves were stopped sometimes; four loaves one day and five another; three quarts of milk. I had considerable regard for some of the cats myself. Up to May 17th they were getting on well. When I came back on May 1st they looked thin. From the appearance of the puppies they seemed to be suffering from being short of food. Mr Chantrell went to London sometime in the week of May 18th. After May 1st Mrs Chantrell told me to get some stuff and dress them. I did so, and they were better. A police-constable came and saw we had done so. I was there a day or two longer than Mrs Chantrell. The same care was taken of the dogs. The two servants promised me to look after them till I came back. Up to May 17th, when I was last housekeeper, there were eight or nine eggs a day laid by the hens; they sold for 1s. for 12. Mrs Chantrell gave orders to get goods from Mr Read's, the grocer; Mr Grenville, the butcher; Hilden, cat's-meat man; the bread from Allwork's, corn dealer's; milk from Mr Young and Mr Wright. When I left on May 17th, Allwork said if Mrs Chantrell did not send some money he would stop the supplies. I told her, and she sent and made all right. I attended when there to the horses. When I left I agreed for Mr Young to do it. The animals had plenty of room except those in the loft; they could not get out. I let them out every other day. Mrs Chantrell has only been home eight days since her husband died on Jan. 7th. Mrs Chantrell used to send both money and meat from London - the meat was horse flesh—because Mr Phillips had none. It is a difficulty sometimes to get cat's meat in Brighton. I never received any complaint from Mansfield, only through the one letter, of any want of food. The animals last Tuesday, when I saw them, were all right then. I left the summons with Mr Guppy, in London. Mrs Chantrell was at Rottingdean the day before I came back on June 22nd. She did not come with me, she was at Brighton then. Mrs Chaatrell blamed the servants, and they blamed her.

Re-examined – I don't think the stove the fowls, or sold the eggs. They said they had stopped laying, and some were setting. When Mrs Chantrell and myself were there all fared well. The starvation began when the shop stopped while she was away. I don't think it was the servants fault; they would not have starved if Mrs Chantreil had been there. I don't think the servants had the means of providing the food, because the shop was stopped.
Professor William Prichard, member of the Royal College of Veterinary Surgeons, deposed – On the 20th June last, I was at the Office of the Society for the Prevention of Cruelty to Animals, and saw the defendant there ; she said that she was being prosecuted by the Society for cruelty to a number of cats, dogs, guinea pigs, rabbits , and fowls, and seemed very anxious the summons that had been granted against her should be withdrawn, on the ground that her servants were in fault. She said she should be very glad for me to go down to Rottingdean. The secretary entered into an arrangement to carry out her wish. Something was said that in the event of my finding the animals in a state of starvation, they were to be destroyed. It was arranged for me to go to Brighton that night, and to Ivy Cottage, Rottingdean, next morning. Mr Andrews was with me and Goble. We attempted to get in the house, but the stench in the passage was too much for me, I was obliged to return. I said to Mr. Andrews, "I have had no breakfast. This stench is so abominable. I must go to the Inn for some brandy and water." I did so. I returned to the house, and with a great deal of serve I forced myself through the stench. The floor of the passage and room was completely saturated with the excrement of animals; the cats and dogs were in a state of starvation, and walking about the house There were about 10 cats and dogs; several of then with bones ready to come through their skins. One cat dead on the table; one so far gone that it could not stand, through want of nourishment. I then went in the back yard. There was a number of dogs of different ages – some tied up, others loose, others in rabbit hutches. There were about 30 dogs and puppies; they had evidently been suffering from want of food, their bodies being so thin with one or two exceptions, that you could count their ribs. I noticed that they had recently been fed to such an extent that their bellies were quite distended. I noticed the bodies were denuded of hair. This would be brought about by want of food and bad ventilation. The animals would suffer being in that condition, and they were then suffering. With one or two exceptions all the dogs and the cats were in a starving condition. I told defendant that those animals were in a state of starvation, and suffering to such an extent in many instances that they ought to be at once destroyed. She refused to do so, and said she would seek further advice. I never saw animals in a worse state than those.

Cross-examined by Mr Besley— I did not go again. On Thursday, the 20th June, in London, I heard the defendant blame the two servants left down there, and was led to suppose by her statements that her servants could not get food from the tradespeople. In substance her language was that she was always kind to the animals, and had no other wish but they shoul be treated properly. I will pledge my professional reputation that I never saw animals suffering so badly from starvation as these.

By the Bench – Rice alone would not keep dogs in good health. Some could eat two or three pounds a day. Cats could not be kept in proper condition under two or three ounces of meat a day. I think they might have been in health a month ago, and if property fed ad properly cleaned there was nothing to prevent them being in good health. If they were kept without food, or had only a very small quantity, they would get in that starved condition in 10 or 12 days.

Mr Andrews, Chief Constable of the Society for the Prevention of Cruelty to Animals, deposed - At the office of the Society the defendant said that the servants ought to be sent to prison.

Cross-examinzed— Defendant said she was very fond of the animals, and blamed the servants highly. She subsequently went into the question of instructing her servants how to get food from different tradesmen to feed them during her absence. She produced letters she had received from her servants. She stated that she did not hear of the animals being in that state till she received a letter from Mr Nash, of the firm of Roye and Cartwright. (The letter was put in from Mr Lamb, complaining of the state of the animals, and urging the solicitor to get Mrs Chantrell to see to them). She told me she had sent to Mr Burgess to pay Mansfield £1 on account of rent. Mrs Chantrell stated to the Secretary that although the animals were in this state she was not responsible, but that she had documents to prove that her servants were guilty. Mrs Chantrell handed over letters to the Society to prosecute the servants. She made out a statement that 98lbs of food a day were allowed.

Re-examined – I never saw a place so offensive.

Henry Taylor, an officer of the Society, deposed – On the 29th June, defendant came to the office and said that she had made special arrangements with tradesmen to supply servants with food. I saw her also at her house on the 3rd July. Phoebe Redworth, Mrs Pettinger, and Jane Mansfield were present. Mansfeld said, "Since you have been in London I have written you two letters to inform you that the animals were being starved, and you took no notice of them." Mrs Chantrell replied she had never received these letters. Elisabeth Pottinger said, "That is not true, those letters were read by you and we read them together, and you knew the state of the animals very well." Defendant made no reply. I heard something said about money having been sent to the servants, but not for the animals.

Phoebe Redworth deposed – I have been in defendant's service ever since last August. The animals on the 15th of June, when she went away, were the same in number as on the 2ist May. They were in pretty good condition when Mrs Chantrell was there from May 1st to the 17th. Jane Mansfeld and myself were left in charge. Mrs Chantrell gave us no money. She gave us no instructions as to what we should do to get food. Mr Hilden brought some when he had it, and I gave the animals all the meat that was brought during her absence. There was not enough to keep them in health. Two letters were written by Jane Mansfield to say the animals were starving. I posted them.

Defendant—I never stole eggs or kept the money. We sold some to Mr Bishop, and with the money we bought necessaries. I have pledged [pawned] things at Mr Read's to get food for the dogs.

Examined by Mr Besley—Mrs Chantrel] was away most of the time, from 27th December to 27th May. Mr Pettinger treated the puppies for skin disease. Some of the cats had the mange. I got a pound from Mr Burgess. I don't know if 30 hens were stolen. The letters we wrote to Mrs Chantrell were directed to a receiving house iin the Borough. Mr Allwork stoppedthe supplies several times.

Re-examined—The dogs have eaten the fowls. I have seen the dogs and cats eat each other. I went to Mr Lamb because the dogs had been three days without having anything to eat.

Jane Mansfield deposed—I am housemaid to defendant. I went to Ivy Cottage on Dec 24th. Some of the animals were very thin through not having sufficient food, in May last. Mrs Chantrell went away; the animals never had sufficient food since I have been there. Defendant gave us no money when she left, but we were to get food how we could. We got some from Mr Read. Mr Phillips declined to send any because Mrs Chantrell owed him money. I wrote to Mrs Chantrell, in London, two letters between the 6th June and 13th. [Mrs Chantrell's evidence that she gave against her servant, as reported in this journal, was then read.]

Examined by Mr Besley—There were about 40 fowls when Mrs Chantrell went away. They were all there, except two or three, in June. It was my duty to clean up. I never counted the letters I sent. I think I got four from defendant. I answered two letters, one on the 1st of June, the other on the 4th.

Professor Pritchard, being recalled and asked what amount of food he considered necessary per diem for a cat or dog said—I would give 2lbs of meat and other food per day to large doge, and a quarter lb a day for smaller dogs. To cats two or three ounces a day of the same kind of food would do.

This was the case for the prosecution.

Mr Besley then submitted that the words under which the defendant was indicted precluded the Bench from dealing with the case, and that it would be a very bad and dangerous precedent for them to adopt to say that a person in London should be held responsible for acts of cruelty done 50 miles away ; if they did so, anyone might walk upon a farm, and finding a sheep or lamb there, might indict the farmer for cruelty, although he might be miles away.

The Bench was unanimously of opinion that the case was within their jurisdiction.

Mr. Besley then, in an able speech, addressed the Bench for the defendant, and called

John Phillips, who at first refused to give evidence because the plaintiff would not pay him his fees; he deposed – I supplied Mrs Mre Chantrell from time to time with flesh. I have done so for some years. The account was paid up to Mr. Chantrell's death. On the 20th May I sent a quarter of cwt. Of boiled horse flesh. I did not supply any more. The reason was because Betty came to me and borrowed money to go to London and did not pay me. On June 9th I sent to Mrs Chantrell that there was meat if they would send for it.

Cross-examined by Mr Harris—The reason I did not supply the meat was because they did not send ready money.

John Hilden said, I am a horse slaughterer at Upper Bedfors-square, Brighton. I have supplied cats' meat to plaintiff [defendant, surely] for the last five years. On the 16th May I sent half cwt; on the 23rd another; and on the 31st three-quarter cwt. If Mrs Chantrell had sent or the servants had called, I would have supplied any amount.

Mr George Grenville—I am a butcher at 87, St. James's-street. Brighton. I have been in the habit of supplying the late Mr Chantrell with coarse meat—for cats and. dogs. The accounts for May and June are for meats supplied. I can mark out what was for offal ; they always for it. If the servants had called I should have supplied any meat they required.

Cross-examined by Mr Harris—I sent it by the carriers. The girls have told me they had not the money to pay the carriage if I sent it.

Mr Read, grocer, of Rottingdean, deposed —The book produced is an account of goods supplied. I have not refused to let the defendant have goods for any length of time, the book is copied from my ledger and the several dates in May and June are those on which I sent the goods. I only refused letting them have rice one day in May.

James Young, a milkman, of Rottingdean said—I have supplied defendant with milk, about two quarts a day. I know Mr Wright, a milkman ; I have seen him deliver milk there. I discontinued the supply on one occasion because they did not pay, but commenced again; it was new milk.

Mr Guppy said—I am a dog surgeon. A number of the dogs and cats were in good condition. I first saw them on July 14th. I should rather say a trifle of meat, with biscuit, two or three for the largest dogs, would be best to feed them on. Only pointers or setters in work would require 2lbs of flesh a day.

John Bishop—I live about 14 or 15 rods from Mrs Chantrell. If I had been sent for, I would have gone and cleaned the place as I had done before.

Elisa Hilden—I was present on the 30th June with Mrs Chantrell, af Rottingdean ; there was abundance of food on that day and the 21st. I slept at the house, and saw the officers of the Society. Defendant complained of her servants' neglect, and he had done all she could for the animals.

Examined by Mr Harris—I did not dislike the smell. It was not offensive. The animals were not very thin.

This ended the evidence for the defence, and The Bench retired to consider their verdict at half-past eight, the case having lasted seven hours and a half. After an absence of ten minutes, the Chairman said they considered a person could keep any number of dogs so long as they fed them properly, not to cause cruelty, or to be a nuisance to their neighbours. They considered the case had been fully established, and they convicted the prisoner in the full amount of the penalty (£5), or in default two months' imprisonment, and if ever she should be brought before them again they should feel it their duty to send her to prison without the option of a fine, and he hoped that the prisoner would act upon the advice expressed by her counsel, that the nuisance should be abated.

Mr Andrews addressing the Bench, stated that the Society could claim one half of the moiety of the fine, but they did not usually enforce the claim, and he would suggest that the half of the fine should be presented to the Brighton Hospital, or any other charitable institution the Bench might think fit. Mr Whitfeld thought they had an infirmary of their own in Lewes that was deserving. The Society was also allowed the full costs usual in these cases. The costs were £15 9s 6d, making om the whole £20 9s 6d.

Mr Besley gave notice that appeal would be made at the next Quarter Sessions. and it only remained for the Bench to fix the amount of bail, which they did—two sureties at £50 each, and defendant in £100.

Mr Read, of Rottingdean, and Mr john Hilden, of 30 Bedford Street, Brighton, offered themselves as bail, and were accepted. The sureties and defendant having been sworn to appear, subject to the above penalties, the defendant was then discharged. After the trial the defendant was hooted and shouted after by a considerable crowd of persons who assembled in front of the White Hart, and afterwards accompanied her to the station. She obtained the assistance of the police who prevented any more hostile demonstrations than cries of "cat's meat," and imitations of cats mewing.

THE ROTTINGDEAN OAT ASYLUM CASE ONCE MORE
Chichester Express and West Sussex Journal, 6 August 1872

Mrs. Mary Elizabeth Chantrell, nee Dear, described as a widow of Rottingdean, appeared (having been apprehended on warrant) to answer a charge, preferred by Mr. Henry Peter Andrews, chief-constable, of the Royal Society for the Prevention of Cruelty to Animals, of having caused and procured be cruelly ill-treated 43 cats, and 27 docs, not providing the animals with a proper quantity of sufficient food and nourishment, at Rottingdean, on the 16th June. Mr. Harris, barrister, conducted the prosecution, and Mr. Besley, barrister, was for the defence.

Mrs. Chantrell, although in custody, was allowed to occupy a seat behind her counsel whom she frequently consulted, and took voluminous notes herself. The witnesses were ordered out of court.

Mr. Harris, in opening the case, said he appeared on behalf of the Royal Society for the Prevention of Cruelty to Animals to prosecute in this case. He read the 2nd section of 12 and 13 Vict, chap. 92, in order to dispose of any objection his friend might raise to whether the animals in question had been ill-treated, abused, or tortured, and remarked that if it was shown that through her neglect in providing them with proper food, they were in a state of starvation, the charge would be brought home to her. The learned counsel then proceeded to detail the condition which the cats and dogs been found at defendant's house, Ivy Cottage, Rottingdean, - they were in a most filthy and starving condition, - and related the circumstances under which the charge was brought. It appears that complaints were made of the state of things at defendant's house June last, and a summons was issued by the Royal Society against her; she thereupon went to the office and saw the authorities there. She said she had been away from her home for some time, that she had left ample provisions for supplying the animals with food, that her servants were to blame, and that she hoped they would be sent to prison. Then the charge was brought against the servants; Mrs. Chantrell herself gave evidence and endeavoured to shift the responsibility from her shoulders ,but the charge was dismissed and therefore Mrs. Chantrell, who he should shew was fully aware of what was going on, and neglected to provide food for the animals,—must be held responsible for the suffering and misery they had endured. That it was not the servants' fault would be seen from the fact that they had continually written to Mrs Chantrell for money to buy food for the animals, and one of the women had actually pledged her dress for that purpose. Having adverted to a promise that the animals should be destroyed if in the opinion of Professor Pritchard they ought to be, which defendant failed to keep, the learned counsel said he would not for the sake of the sex of the defendant allude to her motive for keeping these animals, further than to say that it was a debased and guilty motive, and one which no-one could have thought a human being could stoop low as to act upon.

Elizabeth Pettlnger, housekeeper to Mrs. Chantrell, and living at her house at Rottingdean, deposed - I was there the whole of May ; there were 43 cats and 28 dogs on the premises. Seventeen, eighteen, or nineteen cats were kept in the loft; the dogs were chained up, the most of them, and the puppies ran about. I left to go to London the 17th May.

Mr. Harris—What was the condition the animals then ?

Mr. Besley objected that the time being limited to a month before the information laid, the condition of the animals on the 17th May was not relevant.

Mr. Harris said his object was to show that she knew they were starving before she left. The Chairman said the magistrates thought Mr Harris must confine himself to what occurred within a month of the 17th July. Mr. Harris said the offence was limited to the month, but he might go back any extent for evidence to prove the offence. The evidence might extend over a year. He proposed to ask the condition of the animals on the 17th May. The magistrates, having consulted, ruled that Mr. Harris was entitled to ask the question.

Examination continued—The animals were then getting I letter, and were in good condition. The Rottingdean constable had been in, and so had another man. I went away in Feb., and when I came back on the 1st May the puppies were very bad indeed. There were 17 of them; they were short of food and were manged. There were 17 dogs with my own besides the puppies ; they were very well. Squash, the big Newfoundland bitch, had two spots on her ear, which might have been mange. As to the cats, one was very bad indeed ; mangy and thin, but all the rest were pretty well, but thinner than when I was at home.

A little sparring here took place between the counsel as to whether the witness should be treated by the prosecution as a hostile witness, but nothing resulted therefrom except loss of time.

Examination continued – On the 1st May, the dogs had not enough to eat and some parts of the place were dirty. There was not a sufficient number of servants there to keep the place clean; there were only two servants, one of whom had the baby. If the animals were all put in the loft they would be crowded. When the officers were there I was there once, but not on the 21st June. I was there when Mr Taylor and the police constable came. Mr and Mrs Hilden were there and others. At that time some of the cats were looking well; there were about 43 there then. Fairbosom, Kindmother, black-and-white Tom, Pigeon, Fairy Queen, Tiny Kitten, Smasher, Talbot, Perkin, Bordeaux, Laciana, Tiny Kitten, Smasher, Brisco, Tabby, Jetty, and others (laughter) were looking well; nothing was the matter with them at all. I am sure that none of those I speak of were in a starving condition; only one cat was looking extra thin. I will swear that I have never said that the animals were in a worse state on the 21st June than I had ever seen them. The puppies were still in a bad state. When I was in London I remember reading a letter to Mrs Chantrell from Mansfield. I did not read the letter to Mrs Chantrell; I took it to Roy and Cartwright's office, her solicitors, to give it to her. In the presence of Redworth, Mansfield, Taylor, and others, I told Mrs Chantrell that she did have the letter from Mansfield, as I took it to her solicitor's office. I reminded her that I asked to go down with food for the animals, but she said she would send money down to Mr Hilden. She did not say anything in answer to that. I saw her send down 9s 6d that very night. I don't know that she received more than one letter complaining of the starving condition of the animals. I believe Mrs. Chantrell had two letters from Jane Mansfield. (Letters were then put in from Mansfield to witness and Mrs. Chantrell complaining that the animals were starving). When the policeman and Taylor were at Ivy Cottage I heard Jane Mansfield tell defendant that she had written letters to her in London informing her the animals were being starved. Defendant said she had not received them. I said, "You did know, because I asked you to let me go down." I left dress with Mr. Phelps's for a half cwt. Of meat because I could not get it without, in May.

Cross-examined by Mr. Besley—l received letters in London from Mansfield. I was in London between the months of March and May. Mr. Chantrell's life became the animals - were well treated when Mr and Mrs. Chantell or myself ware at home. Mrs. Chantrell made pets of the puppies, etc . The animals were properly supplied with food at these times, between the 1st and 17th May some of the animals improved very much, but when we came from London they appeared to have been short of food. The servants promised on the 17th May, when I went back to London, to look after the animals.

Mr. Besley at this point asked the witness how many eggs she supposed the hens and ducks were laying a day, and Mr. Blencowe asked what the question had do with the case. Mr. Beslev replied that the servant's had eggs, sold them, and he really did not know what they had done with the money.

Mr. Harris said his friend was accusing the servants of fraud and he really had no occasion to do so. The Bench would now see that some of the questions he had put to the witness, which had been objected to, were for the purpose of proving that the servants themselves had not enough to eat.

Witness continued -I should say there were about nine or ten eggs a day. (Witness then proceeded describe the premises). The animals had plenty of room except those in the loft, which could not get out unless they were let out. I hated the loft; I did not consider a fit place to keep the cats. Mrs. Chantrell has only been at home eight days since her husband died in January. Mrs Chantrell sent money and meat down to Rottingdean from London.

Mr. Besley here put a question to the witness to prove that the summonses did not reach Mrs. C'hantroll in time to allow her attend the court, and that she was also detained legal business in London.

Mr. Harris advised Mr. Besley, for the sake of his client, to say nothing about it, or he might be compelled to say something very unpleasant and very prejudicial to Mrs Chantrell.

Mr Besley repeated the statement.

Cross-examination continued - Was not friendly with Mrs. Chantrell. Hail a suit pending against defendant which she intended to defend. Several hens and four ducks were missing, and guinea pigs.

Re-examined—Did not think the servants had taken these things or the eggs. Several hens were sitting at the time Mrs. Chantrell went London.

Mr. Harris—They not sit and lay at the same time, I believe?—Witness : No, sir (laughter).

Mr. Harris (to Mr. Besley) Please remember that, Mr Besley (renewed laughter).

Re-examination continued—Did not think it was the servants' fault that the animals were starving; the shop was stopped, and they had no means of procuring food. (This witness was under examination two hours-).

Professor . Pritchard deposed -I am a member of the Royal College of Veterinary Surgeons. On the 23rd June last I was in the office of the Royal Society for the Prevention of Cruelty to Animals.Defendant was also there, she was being prosecuted by the society for cruelty, and she seemed annoyed that the summons was taken out against her, and said her servants were in fault. She requested that I might go down, and it was agreed that I should so do. If I found that the animals were in an unfit state they were to be destroyed. Went to Rottlngdean the next morning. Saw defendant there and attempted to get in the house, but when in the passage the stench was so horrible that I was obliged to return back to the inn and have some brandy and water, as I had had no breakfast. On return I went into the house. (Witness then proceeded to relate the state in which he found the premises and animals which he said were evidently starving).—Witness continued - I told her that the animals should at once destroyed, but she said she should she should take another opinion. Ten days after my visit I narrowly escaped attack of typhoid fever, i never saw animals in a worse state.

Cross-examined – I was present when Mrs. Chantrell came the offices of the Society in London, and threw the blame on her servants, who she said could have procured food for them from different tradesmen. I did not hear Mr Colam say that Mrs. Chantrell had better not have the place cleared up till I had seen it. I have known animals suffer from overfeeding, which will produce disease of the skin and irritation.

By the Chairman —I not think dogs can be properly kept on rice alone. Some of the animals I saw there would eat from one to two pounds of meat a day. I not think a cat can be kept in condition unless has it has three- or four ounces of animal food. If they had been properly fed and cleaned the animals might be kept there in a state of health. The wooden floors were saturated with filth to such an extent that the animals must have been in a very bad state for some time.

Henry Peter Andrews, the chief constable of the society, proved being present when Miss Chantrell endeavoured to throw the blame on to her servants.

Cross examined—She professed to have great regard for the animals, and afterwards told me that she made arrangements with several tradesmen to supply both the servants and the animals with food.

Henry Taylor, an officer of the society, also proved that Mrs. Chantrell endeavoured to throw the blame on her ser vants. On the 3rd July, the housekeeper, Redwortb, and Mansfield, were at Ivy Cottage with Mrs Chantrell and witness. Mansfield said, " Since you have been in London I have written you two letters, to inform you the animals were being starved, and you have taken no notice of them " Mrs. Chantrell replied, "I never received them." Pettinger replied, "That is not true ; you received the letters, showed them to me, and we read them together." Mrs. Chantrell made no reply.

Cross-examined - The memorandum I made of the conversation on the 3rd JulyI1 have not with me. I have not it since the 16th. Witness was frequently rebuked by Mr. Besley for the levity with which his evidence was given.

Cross-examined—The two letters produced are not those in which Mansfield said the things were starving.

Re-examined - l have seen the dogs eating the hens, and I have seen the cats eat one another, and the dogs eat one another. For three whole days the dogs had nothing to eat, and then I went to Mr. Lamb.

By The Chairman—As fast as we cleaned the house the animals dirtied it again.

Re-examination continued —Mrs Chantrell would not allow anything to be shut up but the cats. Defendant often went into the loft with the cats, and stayed a long time.

Jane Mansfield said that during the whole time she was there the animals had never had sufficient food. She asked Mrs. Chantrell how it was she did not reply to the two letters, and she said "The truth is never received them." Mrs. Pettinger said,"Oh! Mrs. Chantrell, how often have I begged and prayed you to send money. Have not I often told you I would rather you send down money to get the poor animals food than to take me about to grand dinner parties and theatres." Mrs. Chantrell replied ''surely, Elizabeth, I can what like with own money . I wish you would mind your own business." Witness never stole any of the eggs. Neither did she steal any of the fowls.

Mr. John Phelps was called and sworn, but refused give evidence before he received his fee.

Mr. Pritchard was re-called, and in answer to Mr. Besley, said there were 12 dogs winch would have eaten from one to two pounds a day. They would also require some farinacious food. He should boil down the meat and cakes together, and give them it with the broth. For the small dogs he would give an average of about quarter of a pound each per diem. Two or three ounces of the same kind of food with a saucer of milk would keep a cat in good condition.

Phoebe Redworth, one the servants, deposed-- Had been in defendant's service since last August. Before Mrs Chantrell went to London the 15th May, the animals wore in good condition. I was left in charge with Jane Mansfield. She left us no money, nor did she tell how we were to get food. Mr. Hilden brought food when he had it. All the food that was bought was given to the animals, but there was not enough to keep them in health. I posted the letters from Mansfield to Mrs. Chantrell, complaining that the animals were starving. We never stole any eggs and did not take more than 5s. for them, and that was spent for food for ourselves We had pawned things to obtain food for the animals (Witness then corroborated the evidence given by the former witnesses as to the letters)

Phoebe Redworth, re-called, said Mrs. Chantrell told her not to mind the dogs, but to give the meat to the cats. When she first went there they had sharps and water, and afterwards rice.

Mr. Besley submitted that there was no case, and he asked them to consider well before establishing a dangerous precedent, which might entail great hardship to many persons . He also submitted that Mrs. Chantrell not being at Rottingdean, she could not be made answerable. He held that the act of parliament would be misapplied in the event of a conviction. In winter a farmer whose sheep were thin might be brought up in the same way.

Mr. Harris submitted that no precedent would be established, as cases had been decided again and again on the same point. His friend would able to ask for a case on a point of law were their decision against him, but the bench might be assured that his opinion would not be so strong after their decision.

The Chairman—We are unanimously of opinion that the case comes within the meaning of the act, and that it must go on. The court adjourned at halt-past six for quarter of hour ; on returning, Mr Besley proceeded to address the Bench for the defence. He reviewed the evidence for the prosecution, and maintained that if the collection at Ivy Cottage were done away with, then all dog homes ought to be served t the same. With regard to the evidence given by the Professor as to the amount of food required by the dogs, it is absurd to suppose that dogs required so much nourishment as stated. Had the servants done their duty, the animals would not have been in the condition they were in. He then referred the fact of the widowhood of Mrs. Chantrell, and said that when the head of a family away, affairs became disarranged; but during the lifetime of Mr Chantrell the animals were well cared for. As to the cats, the evidence of the last witness proved that the defendant gave instructions that they were better looked after than anything else. Mrs. Pettinger was really responsible. The society had had every opportunity of "rummaging" all the present defendant's documents, and after doing so, the summonses were withdrawn against her, and the society proceeded against the servants.

Mr Harris said that in justice to Mr. Colam, he must say that it was at the instigation of Mrs. Chantrell the servants were proceeded against.

Mr. Besley proceeded to review and ridicule the evidence given by the two servants. He called Mr John Phelps, who said he should have a guinea before he started (roars of laughter).

In answer to Mr, Besley, witness said had received 7s. 6d. from Mr. Brandreth. a solicitor, at Brighton. He further said, "Will you guarantee me my guinea ?" Mr. Besley : "Oh, no, Mr. Phelps, you won t make me a defendant at the Brighton County Court (laughter). However the solicitor will undertake to pay you your fee. – Phelps: "You won't guarantee me a guinea" – Mr Besley: "Certainly not." – Phelps: "I shan't give my evidence then." (Witness then left the witness box, but Sergeant Osbourne ran after and stopped him. The court was convulsed with laughter.) The witness then got into the box again, and was told by Mr Godlee that he was sworn, and if he refused to give evidence he would be committed for contempt of court. He then gave evidence – he had supplied Mrs Chantrell with hose-meat for years. On the 20th May a quarter of a hundred-weight of flesh was sent. A few days after Mr Goulden, the officer, ordered two half cwts., and he had not supplied any since. The servant frequently applied for food.

In cross-examination witness said that defendant owed him money, and knew perfectly well that he would not supply her with meat unless she sent him money (the way in which this witness answered the questions put to him caused great merriment).

Mr Jn. Hilden, another horse slaughterer, deposed to supplying meat on different occasions to Mrs Chantrell. If her servants had applied to him for meat, he would have trusted Mrs Chantrell to any amount. Mr George Grenville, a butcher of St James's-street, Brighton, had supplied offal meat to Mr. Chantrell. He also would have trusted Mrs Chantrell to any amount.

Cross-examined – He had to send the meat by carriers. He did not know who paid the carriage. The girls had told him they had not even money to pay the carrier to bring the meat, even if he let them have it. The girls have come so late as 10 o'clock at night to fetch meat.

Mr Samuel Reed, grocer, high-street, Rottingdean, deposed that he had supplied Mr Chantrell. Twelve pounds of rice has been supplied daily, except when he refused to trust Mrs Chantrell about the end of May for a day or two.

Cross-examined – The poor condition in which the dogs were, led him to send the food for the dogs.

Mr Young, milkman, at Rottingdean, deposed to supplying two quarts of milk a day to Mrs Chantrell. Had seen Mr Wright delivering milk thee also. Witness stopped his supply on 14th March, and commenced again in May.

Cross-examined – He had stopped the supply again now.

Mr Guppy, canine surgeon, had seen the dogs at Ivy-cottage. Many of them were in excellent condition, but some were not in good order. Two pounds of meat was too much to give a dog a day.

Cross-examined - Pointer and setter in work would eat much as that.

John Bishop, gardener, living at Rottingdean had worked for Mrs. Chantrell. Would have gone and cleared up the place if the girls had sent for him.

Eliza Hilden , daughter of a previous witness, went to Rottingdean with Mrs. Chantrell.. There was abundance of food on the 20th and 21st June. Mrs Chantrell complained of her servants' treatment her dogs, and attended them herself.

Cross-examined - The smell was delicious (laughter). There were some cats rather thin. She did not know that the meat she saw was sent by one the members of the society.

This was the case for the defence, and the magistrates retired. On their return into court, Mr. Godlee said :- We have fully considered this case. Of course agree with the learned counsel that anyone may keep any number of dogs or cats, but so as not to endanger the lives of the animals. We consider that a very great amount cruelty had been committed, and adjudge Mrs. Chantrell to pay the full penalty of £5, in default of payment to be imprisoned for two mouths with hard labour. We also say that we trust from what has fallen from the learned counsel for the defendant, that the circumstances will never recur, that they will be stopped by the animals being destroyed, or kept in good condition. If ever the case came before them again they should not think it a suitable case for a fine, but defendant would be sent to prison.

Mr Harris said that the society had been put to great expense by this prosecution, and although of course they did not think of being fully recouped all they had expended, he hoped the Bench would award such costs they thought fit, to mark their sense of the proceedings of the society.

Mr. Godlee said of course they would be allowed costs on the usual scale in such cases. The costs were then assessed at £15 9s 6d.

Mr Besley gave notice of appeal, and Samuel Reed and John Hilden entered into sureties of £50 each, and Mrs. Chantrell was bound over in the sum of £100 to prosecute the appeal.

Mr Andrews said that the society might claim a moiety of the penalty, but they would waive their right to that, and on behalf of the society he placed it in the hands of the Bench to give to some institution they thought deserving of it. The hearing of the case occupied more than eight hours, and excited great interest. On leaving the court, Mrs. Chantrell and her party were greeted with cries of "Puss, puss," "Mew-mew," etc., from a crowd of about 100 persons who had assembled.

GROSS CRUELTY TO ANIMALS.
Luton Times and Advertiser, 10th August 1872. 

Mary Elizabeth Chantrell, a lady of property residing at Rottingdean, was charged on remand Lewes Police court, at the instance of the Society for the Prevention of Cruelty to Animals, with having ill-treated large number of cats and dogs. The defendant left home for London in (...)

STARVED THEM.
Fulton Country Courier (cutting undated, but undoubtedly July/Aug 1872)

A most astonishing case of cruelty to animals was lately investigated at Rottingdean England, by the Society for the Prevention, &c. Miss Mary Elizabeth Chantrell, a person of property, had a mania for collecting cats and dogs, so that she had under her roof no fewer than thirty of the former and forty-three of the latter. Last Spring she left her home and quadrupeds in charge of a couple of servant girls ; but she forgot to. leave any money for victualling the menagerie and the girls. The latter, as the tradesmen refused credit, took their leave, and the unfortunate pets were shut up without food, in consequence of which some of them were forced to kill and eat their companions. The magistrate fined their neglectful mistress for her culpable neglect, and explained to her that those "who keep cats and dogs must make suitable provisions for their maintenance."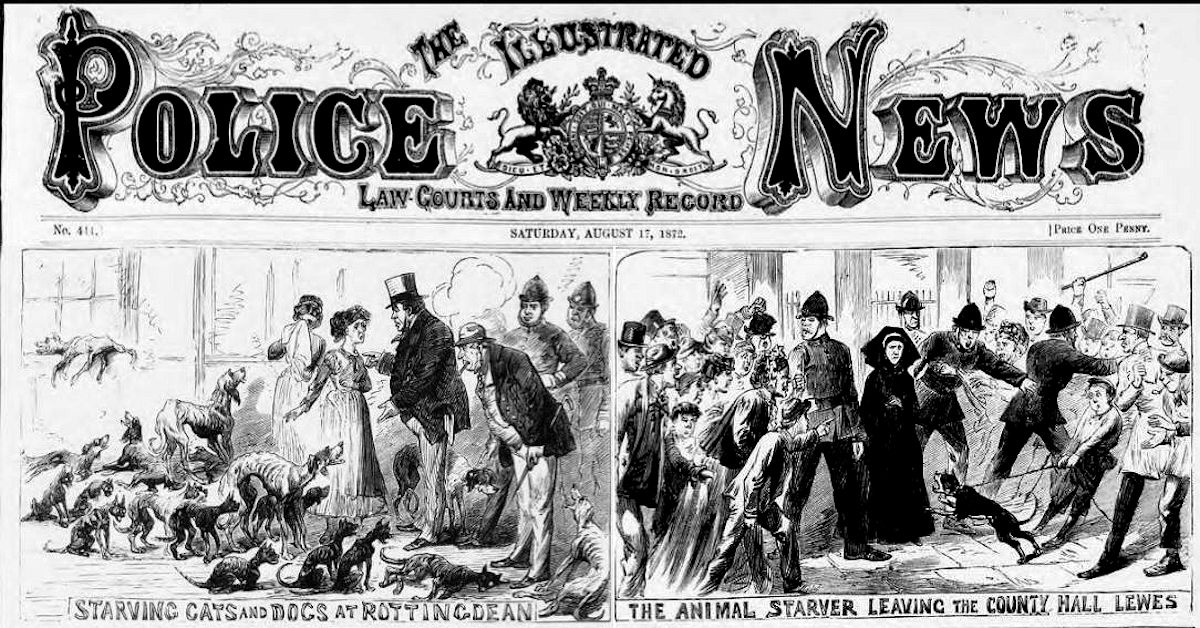 STARVING CATS AND DOGS AT ROTTINGDEAN.
Illustrated Police News - Saturday 24 August 1872
We are in receipt of a letter from an inhabitant of Rottingdean, in which the writer refers to this case, and complains of our illustrations, which he asserts are calculated to "make an injurious impression on the multitude." Our answer to this is that the drawings were made from sketches and photos forwarded to us by an artist, and the engravings therefrom only depicted what was sworn to in court. From what has since transpired, we have every reason to believe that Mrs. Ohantrell has been more sinned against than sinning; indeed, it is likely enough that she has been the victim of wicked and designing persons. We do not for a moment believe that she would be party to, or countenance in any way, the cruelty practiced on tee half-starved animals in question. She has appealed against the decision, and when the case again comes before the court we believe it will assume quite a different aspect.
The 1872 case was so extraordinary that it was reported in New Zealand.
EXTRAORDINARY CRUELTY.
Waikato Times (New Zealand), Volume II, Issue 84, 12 November 1872
Colonist (New Zealand), Volume XV, Issue 1579, 8 November 1872
At the Lewes Petty Sessions, Mrs Mary Elizabeth Chantrell has been charged, at the instigation of the Royal Society for the Prevention of Cruelty to Animals, with having subjected 42 cats and 32 dogs to a state of the utmost misery at her residence at Rottingdean. The defendant, it appeared, had formed a large collection of dogs; cats, and the like. Mr Harris appeared for the prosecution Mr Besley for the defence. Elizabeth Pettinger, a domestic in the defendant's service, now deposed that in May last there were forty-three cats and thirty dogs, with puppies, kept in a loft. The defendant went to London at that time, leaving the animals to the care of two servant girls. When witness saw them, at the end of June, they were worn to skeletons, and otherwise in a dreadful state. The girls had no money with which to buy the animals food, and the tradesmen had stopped the supplies.
Mr W. Pritchard, a veterinary surgeon to the prosecuting society, said that on the 20th June, he went to the defendant's house and found the stench so fearful, that at first,- until he had taken a stimulant, he could not enter. When lie did so he found cats and dogs roaming in a starving and ravenous condition about the place, their bones almost protruding through the skin. One cat lay dead upon a table, and another so emaciated that it was unable to rise. In the back yard he saw about twenty dogs so thin that he could count their ribs easily, and a large number of cats there were in a like condition. In the whole course of a lengthened professional career, he never saw animals suffering so badly from actual starvation; Mr Andrews, the chief Constable of the society, gave corroborative testimony. Henry Taylor, an officer of the society, said he wrote two letters to the defendant describing to her the condition of her animals, but she took no notice of them.
Phoebe Redworth and Jane Mansfield, the two servants who were left in charge of the house, both said that when the defendant went away she left them no money with which to get food either for themselves or the animals, and they wrote to tell her the state they were in. The dogs had eaten the fowls, and the dogs and cats had eaten each other. Mr Besley contended that the Bench had no jurisdiction, because a person could not be held responsible for that which occurred when he was 50 miles away. The magistrates however, held that they had jurisdiction. Several tradesmen were called for the defence, but all admitted that not having received their money, they had for a time stopped the supplies. The magistrates fined the defendant £5 and costs, £15 19s 6d, and told her if she came up again on such a charge, she would be sent to prison. When she left the court the defendant was surrounded by a large crowd, who followed her with hootings to the railway station.
THE CHANTRELL WILL CASE.
Central Press, London, No 3414, February 28, 1874.
In the Probate Court to-day the learned judge concluded his summing up of the evidence in this extraordinary case, and left it to the jury to say whether the testator was of sound mind when the will was made. He also told them that whether the "Williams" and "Calderon" letters were written by real personages or not, if they were satisfied they were written with the sanction and knowledge of Miss Dear, she was equally responsible. They would have to say by their verdict with what object those letters were written, and whether that object was the obtaining of the will of the testator by fraud. The Jury, after an absence of four hours and a half, returned a verdict that the testator was of sound mind at the time of the execution of the will, but that the will was obtained by the undue influence and fraud of Mary Elizabeth Chantrell. His Lordship pronounced against the will, the question of costs being reserved.
Some excerpts from the probate case (Chichester Express and West Sussex Journal - Tuesday 24 February 1874. These give some background into the strange relationship between Mary Chantrell nee Dear and the elderly Robert Chantrell.
"In the diary of the deceased to show the disordered condition of the mind of the testator, [. . .] at the age of 70, to show the state of bondage in which he alleged he was kept by Miss Dear in order that her object of marriage might not tie frustrated. " [. . .] Witness spoke to Miss Dear about the state of the family in her presence, but she said there was no harm in her being there, as Mr. Chantrell was old enough to be her grandfather. "
" On the 23rd March, 1804, [Mr Chantrell's daughter] sent a registered letter to her father in consequence not receiving answer to her three previous letters. This letter begged her father to free himself from the schemes of a low-born designing woman whose object was to obtain her own selfish end. [. . .] the house, she observed was in a very dirty state. In the garden she saw a lot of cats, either dead or dying. They appeared if they had been starved to death. "
"When Mr Chantrell showed [Dr Hayman] the eruption on his skin, [Dr Hayman] told him he was not surprised at it, considering the objectionable condition of the atmosphere he was living in."
"Witness and her sister after that went the house at Rottingdean, and found it in a filthy state. There were dead cats in every room. They found dead cats in the drawers, and ten of them were found in a putrid state, wrapped in napkins. They also found dead cats in the cupboards, the oven, and in every corner of the house. In all, she should say there were several hundred dead cats in the house [. . .] She knew that the family for years had been anxious to remove their father from the bondage of Miss Dear [. . .] She was quite sure her father during the time she was at home would not have endured forty or fifty cats in the but she thought him a person very likely imposed upon by anonymous letters asking for money. "
" Whilst witness [Mr Chantrell's son] was at Eastbourne, there was constant quarrelling between his father and Miss Dear. He tried, frequently to see his father alone, but Miss Dear always prevented it. [. . .] While he was living with Mias Dear, he saw her influence over his father was wonderful. When his father showed him over his house, he found it in filthy condition. [. . .] The smell in the house was something terrible. When went into the garden there were dead cats and kittens, in various stages decomposition. Some were in cages, others were lying about, but everything was disgustingly dirty. His father generally when saw him complained of the filthy habits which Miss Dear had reduced him to, and the debt site had driven him to incur. [. . .] When he went to Rottingdean, after the slaughter of the cats, found them concealed in all parts of the house, most of them a dreadful state. [. . .] When he visited his father at Rottingdean in 1864 there were dead cats lying about in all directions, and the house was in a most filthy state, and when went there 1867, after Miss Dear was taken to Lewes, it was much worse. "
"Mr. George Chantrell : [. . .] in 1867, I found a crowd outside the house, and heard guns firing. One of the bailiffs and house dealer were shooting cats, and great number of cats were killed. The total number buried was over [illegible] was being cleaned after Miss Dear left. There were several barrowloads of dead animals taken out of the place. They found dead cats in the drawers, cupboards, and the mattress. "
Reference was also made to the lazy habits of Miss Dear.
The following testimonies show that Miss Dear (later Mrs Chantrell) was manipulative and that she controlled Robert Chantrell.
SINGULAR WILL CASE - The Teesdale Mercury, March 4, 1874
The hearing of this singular case was resumed, and farther evidence was given on behalf of the plaintiff, and in opposition to the will. Robert Dennis Chantrell, another son of the testator, deposed to visiting his father, and seeing how much he was under the control of Miss Dear even at an early period of his acquaintance with her. John Holland, a police officer at Rottingdean, spoke to knowing the testator, and also that his house was a nuisance, and that he was summoned for it.
There were often obstructions from the number of persons who called with various kinds of animals. This witness was present when some of the family saw the deceased, and he retracted the charge of their attempting to poison him. He was also present when Miss Dear was taken to Lewes Gaol for debt, and afterwards when barrowsful of the bodies of dead cats were removed from the house. Superintendent Johnson(?) was also present at the interview alluded to, and his testimony was added to that of other witnesses who preceded him as to the dirty condition of the house.
A servant named Searle, who was formerly in the employ of the testator, said that she dare not speak to the deceased, as Miss Dear was so jealous of him. They often quarrelled, and the defendant frequently told the deceased that he ought to be shut up in a lunatic asylum. On one occasion she told him that the sons might shoot him from over the wall, and on another, when Miss Mary Chantrell, a sister of deceased, called, she was refused admittance. Both Miss Dear and the testator had studios, but witness had never seen the latter paint. The next testimony given was that of Mr. Penfold, a solicitor, who gave his unqualified denial to a knowledge of any person of the name of " Calderon "or " Williams." After the evidence of Mr. Hume, a bank manager, in support of the theory of the plaintiff, as to who was the real writer or author of several letters, the testimony against the will was closed, and Dr. Deane, Q.C., proceeded to sum up his case, and had not concluded when the court adjourned.
Boston Evening Transcript - Mar 6, 1874
By the will of Mr Robert Dennis Chantrell, whose title and fame was founded in the collection of cats which he kept in the house at Rottingdean, to the annoyance of his neighbors, the widow and a solcitor named Lamb were appointed executors. In the court of Probate the testator's eldest son, by a former marriage, is disputing the instrument on the ground of incapacity, undue influence, and fraud.
SINGULAR CHARGE OF CRUELTY.
Burnley Gazette - Saturday 05 September 1874
At the County Hall, Lewes, on Tuesday, before the Earl of Chichester and other magistrates, Mrs. Mary Elizabeth Chantrell, widow, of Rottingdean, who has been prominently before the public lately as one of the parties in the Chantrell will case, appeared to answer an information laid by the Society for the Prevention of Cruelty to Animals, charging her with causing to be tortured, by keeping them without sufficient food and nourishment; eighteen dogs and fourteen cats. Mrs. Chantrell has previously been fined for a similar offence, and the case excited a great degree of interest. On the case being called, Mrs. Chantrell, who had her little child with her, asked for adjournment, on the ground that she had been too ill to instruct a solicitor, and was quite unprepared to meet the charge. The Bench intimated that the case must proceed, as the summons had been served a week, but Mrs. Chantrell reiterated her appeal, stating that she was unable, through indisposition, to attend before the Vice-Chancellor on Wednesday, and begging the magistrates as English gentlemen to consider the position of a lady who was suffering at the present time so much that she could scarcely stand.
The evidence for the prosecution was briefly as follows : On the 14th ult. an officer of the Society visited the defendant's premises, accompanied by a veterinary surgeon and the district sanitary inspector. In a yard he found five dogs in a very emaciated state; in an outhouse another dog was gnawing the remains of a dead dog, and on a door being opened leading to a paddock a large lean retriever rushed out and commenced devouring the carcase of another dead dog which was on the grounds. Altogether, eighteen dogs were found, the bones of several of them protruding nearly through the skin. In a pigsty were two boxes and a hamper in which were discovered thirteen cats which had evidently been dead some time, and another dead cat was found in a room upstairs. There were fourteen live cats in the out kitchen, and these, like the dogs, appeared in state of semi-starvation. On visiting the premises five days later the officer found one of the cats dead, and missed five of the lamest of the dogs. In explanation, Mrs. Chantrell said she had taken the dogs away for fear they might be ordered to be killed. Guinea pigs and other animals were found in the house, but these were in fair condition.
Mrs. Chantrell cross-examined the witness with great tact. In defence she said she had kept animals for 15 years, and had never done an act of cruelty to any of them. She loved her animals, and could not act inhumanly towards them. On the contrary, she had bestowed care and attention upon them, and allowed them ample food. They had diarrhoea and other diseases, which might account, in some respect for their leanness. But was it not, she added, a remarkable fact, that the guinea pigs and other animals under protection in the house should in good condition, whereas those exposed in the yard were lean and unwell ? This pointed to the supposition that the latter must have had poison or something put into their food by some malicious person, in order to bring her into trouble. She entreated the Bench not to blast her character by convicting her of cruelty, of which she was altogether innocent. Mrs. Chantrell put some questions to the Hon. Leslie Melville, whom she called as witness, but his evidence was altogether in her disfavour. A man in her employ, however, who fed the dogs, stated that while he had charge of them they had ample food, and had even left it at times.
After a short deliberation the Earl of Chichester, in passing judgment, said the Bench were satisfied Mrs. Chantrell had been guilty of the offence with which she was charged, and they had determined, instead of fining her, a previous occasion, to commit her to prison for two months.
Mrs. Chantrell asked if the magistrates would allow her to appeal.
The Chairman : You can appeal if you give notice within three days.
Mrs. Chantrell: I will give notice, my lord, and indeed I will prove my innocence this time.
The Bench agreed to accept bail, herself in £100 and two sureties in £50. Mrs. Chantrell pleaded that she might be allowed to communicate with her friends, and asked the magistrates if they would be satisfied with Sir Patrick Cole, barrister, as security, or with Dr. Yaughan, Master of the Temple. (Laughter.) The Earl of Chichester told her they could not accept sureties who were not in personal attendance. Mrs. Chantrell produced a paper from the Court of Chancery, showing her to be entitled, as she said, to £13,000, and offered in despair to leave this in possession of any one who would become surety for her. Having been informed that she could have access to her solicitor in prison, she was removed to the county gaol.
Edinburgh Evening News - Thursday 22 October 1874
At the Sussex sessions, on Tuesday, the conviction of Mrs Mary E. Chantrell, widow, of Rottingdean, for starving eighteen dogs, was affirmed on appeal.
The Pall Mall Gazette (London), Issue 3176, Friday, April 23, 1875: The Society for the Prevention of Cruelty to Animals has at length succeeded in putting an end to the proceedings of Mrs. CHANTRELL , who has been twice convicted of starving dogs and cats on her premises at Rottingdean. Having obtained the necessary authority from the Court of Chancery, the officers of the society took possession of Mrs. CHANTRELL's premises, and all but two of the emaciated animals were poisoned.
THE LONDON GAZETTE, JANUARY 29, 1875
The Bankruptcy Act, 1869.
In the County Court of Sussex, holden at Brighton. To Mary Elizabeth Chantrell, of Rottingdean, in the county of Sussex, Widow. TAKE notice, that a Bankruptcy Petition has been presented against you to this Court by Samuel Reed, of Rottingdean, in the county of Sussex, Grocer and Draper, and the Court has ordered that the publication of this notice in the London Gazette shall be deemed to be service of the Petition upon you; and further take notice, that the said Petition will be heard at this Court, on the 19th day of February, 1875, at eleven o'clock in the forenoon, on which day you are required to appear, and, if you do not appear, the Court may adjudge you bankrupt in your absence. The Petition can be inspected by you on application at this Court.—Dated 22nd day of January, 1875.
LUTON TIMES AND ADVERTISER, APRIL 24, 1875. 
Brighton.—The remaining cats and dogs belonging to Mrs. Chantrell, who is known for the extraordinary number of them she kept (...)
THE TEESDALE MERCURY, WEDNESDAY MAY 5, 1875:
MRS. CHANTRELL CASE.- In the Bail Court an application was made by Mr Waddy, Q C., to set aside an order of certiorari in the case of Mrs. Chantrell, of Rottingdean, who was recently Convicted of cruelty to dogs and cats. It was contended by the prosecutor - the Society for the Prevention of Cruelty to Animals - that no conviction of the kind could be removed into a superior court. The Court took time to consider if they had power to issue a rule for a certiorari.
(Certiorari was a supervisory writ that kept inferior jurisdictions within the bounds of their authority and directed the court to send records for judicial review in a superior court.)
And also from THE TEESDALE MERCURY, WEDNESDAY MAY 5, 1875:
MRS. CHANTRELL, of Rottingdean, near Brighton, is certainly a phenomenon for whose revolting vagaries it is difficult to account except on the plea of semi-insanity. On two occasions during the past three years proceedings have been taken against this person by the Society for the Prevention of Cruelty t o Animals for starving a large number of cats and dogs at her house. Convictions, which were appealed against, were obtained in each prosecution; at quarter sessions the convictions were affirmed; but as the woman's counsel, in the latest appeal, obtained leave to state a case for the opinion of the Court of Queen's Bench, the defendant was out on bail, and the starving process went on without intermission. To this it was resolved to put an end; and the solicitor of the society, authorised by Vice-Chancellor Malins, and aided by the police, succeeded in gaining an entrance to the house, though not without considerable difficulty, as the doors and windows were bolted and barred, and Mrs. Chantrell threatened to do damage with the bludgeon and poker which she flourished in her hands when she appeared on the doorstep. In the house, on an entrance being at last forced, only the traces of dead animals could be seen, but ultimately, in an adjoining cottage, the living animals were found. The shocking spectacle was presented of the attenuated frames of living cats placed side by side with the carcases of dead animals, while in a cupboard the skeletons of upwards of fifty cats were disclosed. Dogs, one actually showing its backbone, were also found in the last stages of starvation and disease. The details are of the most sickening description and read rather like incidents of a hideous nightmare than anything that has really occurred. By a merciful application of poison, notwithstanding the resistance offered by Mrs. Chantrell, the police succeeded in putting the animals, with the exception of two, out of their misery. What the motives of the woman can be in following this extraordinary course, it is difficult to imagine, unless we conceive that she entertains a mortal enmity towards cats and dogs, and gratifies her inhuman spite by seeing the poor animals dying slowly of starvation.
CRUELTY TO ANIMALS. STARVING DOGS AND CATS AT ROTTINGDEAN IN ENGLAND
The New York Times, May 9, 1875
The London Standard of April 23 has the following: It may be remembered that on two occasions during the past three years, proceedings have been taken against Mrs Chantrell by the Royal Society for the Prevention of Cruelty to Animals for starving a large number of cats and dogs at her house in Rottingdean, near Brighton. Convictions were obtained in each prosecution, and Mrs Chantrell appealed against both decisions, the latter being two months' imprisonment without the option of paying a pecuniary penalty. At quarter sessions the convictions were affirmed, but in the latest appeal her counsel obtained leave to state a case for the opinion of the Court of Queen's Bench, defendant being out on bail meanwhile. The condition of the animals, however, as far as could be ascertained (for her house was bolted and barred against visitors) has not improved, and in consequence last week an officer of the society gained admission by stratagem, with the Sanitary Inspector, to defendant's house, where he found a considerable reduction in the number of animals, but those still living were in a terrible condition of emaciation and suffering. An old woman, who had been left in charge of the animals, also appeared starved, and she stated that the house and property had passed into the hands of the Court of Chancery. Upon receipt of the officer's report in London, the Secretary of the society instructed their solicitor to appear before Vice Chancellor Malins on Tuesday last, and make known to him the present condition of the animals, and apply for directions to prevent a continuation of the cruelty; when it transpired that the Receiver of the court was not already in possession at Rottingdean.
The Vice Chancellor, however, upon reading the officer's statement, assured Mr Leslie that the Receiver should take possession immediately, and be instructed to to pass the animals into the society's possession should he find them in the suffering condition described. Accordingly, Mr Leslie, directed by the Secretary, took an early train on Tuesday morning last for Brighton; and arriving at Rottingdean the house was found to be barred and barricaded to prevent his admission. Reinforced by Constables, the Sanitary Inspector, and a veterinary surgeon, the party determined to force an admission; great stones were hurled at the gates and front door; and eventually Mrs Chantrell, armed with a bludgeon and poker, appeared on her doorstep and defied the party to enter. Admission was speedily gained, when not a single animals could be found on the premises, although the remains of several dead ones were seen. The doors of several rooms were locked, which Mrs Chantrell refused to open, alleging that the keys had been lost. A search was made, and every room was examined, but without discovering anything more than the traces of dead animals.
Ultimately the living animals were found in an adjoining cottage, they having been removed by Mrs Chantrell subsequent to the order of the Vice Chancellor alluded to. An indescribable scene of misery and suffering pervaded this place. The attenuated frames of living cats were found with the carcases of dead animals, and in a cupboard the skeletons of upwards of fifty cats were disclosed. In other places a number of dogs were found in the last stage of poverty and disease, upon seeing which the veterinary surgeon assured Mrs Chantrell it was an act of cruelty to permit any of her animals to live. The actual back-bone of one of the dogs was exposed to view, and another dog, a shrivelled wan-looking creature, gave birth to a pup during the visit and, being pressed by hunger, shortly afterward devoured it. Those persons who witnessed the eager, ravenous, struggles of these wretched brutes to obtain food which was thrown among them will never forget the scene of weakness and ferocity which followed. Mrs Chantrell obstructed the search with threats of violence, and persistently refused to permit any of the animals to be destroyed. Her loud language caused a large crowd to assemble around the house, and the people at one time threatened to break in for the purpose of putting an end to the cruelty, and venting their indignation on the strange person who had caused it.
The Police managed, however, to keep back the crowd, and a sufficient quantity of poison having been procured, the whole of the animals excepting two were put out of their misery. These extraordinary proceedings caused great excitement, which was protracted by Mrs Chantrell's willful resistance until near upon midnight, the entire neighborhood having turned out to witness the termination of a nuisance, as well as cruelty to animals, which have unhappily been continued by her for three or four years, in defiance of the Magistrates, the Police, and the Society (i.e. RSPCA).
To add some context, earlier in the year she was declared bankrupt and notices were posted in several newspapers. It seems she was incompetent as a mother, because in case number: 1874 C146. "Chantrell v Chantrell" it lists the Plaintiffs as Marian Felicia Dennis Chantrell infant by Charles Davie Beauchamp her next friend, and the defendants: Robert Dennis Chantrell, John Boham Chantrell, Alfred Hopps, Elizabeth Caroline Hopps his wife, George Frederick Chantrell, James Francis Martin, Frances Catherine Martin his wife, William Chantrell, Dennis Brownell Murphy, Emily Susannah Murphy his wife and Mary Elizabeth Chantrell widow.
THE STARVED DOGS AND CATS AT ROTTINGDEAN.
Bury and Norwich Post - Tuesday 1 June 1875
A lady, named Chantrell, possessing a house at Rottingdean, evidently labours under a most singular form of monomania — a passion for collecting crowds of dogs and cats in her house, and then starving them to death. Twice already has the Secretary of the Society for the Prevention of Cruelty to Animals obtained convictions against Mrs. Chantrell, and on the last occasion she was sentenced to two months' imprisonment without the option of a fine, but she has managed to maintain a series of appeals, and meanwhile, being released on bail, has contrived to keep up and replenish her den of starving brutes. More than fifty dead cats have been found in one of her cupboards, and a crowd of dogs, in the last stage of hunger and disease, their bones protruding from their skin, were found prowling about the other day, when (thanks to an order from Vice-Chancellor Malms) the officers of the Society for the Prevention of Cruelty to Animals, reinforced by constables, made good their entrance into her premises in spite of her resistance with a bludgeon and poker. At the recommendation of a veterinary surgeon all the poor suffering creatures save two were put out of their misery at once with poison. It is, observes the Echo, scandalously anomalous (to say no worse), that medical men should have been found ready to certify to the insanity of poor innocent Miss Wood, and to send her to Laverstoke Asylum for her harmless delusions, while Mrs. Chantrell's atrocious form of insanity should have been left for four years to work all this cruel mischief
THE LONDON GAZETTE, AUGUST 3, 1875
TO be sold, pursuant to an Order of the High Court of Chancery, made in the causes of Chantrell v. Chantrell and Chantrell v. Clark with the approbation of the Vice-Chancellor Sir Richard Malins, by Mr. Peter Richard Wilkinson, of the firm of Wilkinson and Son, the person appointed ,by the said Judge, at the Estate Sale Rooms of the said Messrs. Wilkinson and Son, 168, North-street, Brighton, in the county of Sussex, on Thursday, the 26th day of August, 1875, at three o'clock in the afternoon precisely, in two lots :—
Lot 1. Consisting of a detached copyhold residence known as Ivy Cottage, situate fronting the High-street, Rottingdean, with gardens, two paddocks and stabling, containing together about 2 and a quarter acres. This lot is unlet.
Lot 2. A plot of copyhold building land, with" the shed thereon situated on the north side of Lot 1, as shown on the plan, with a frontage of about 33 feet to the High-street, Rottingdean, by a depth of about 81 feet and suitable for the erection of a detached residence.
Particulars and conditions of sale may be had (gratis) of Messrs, Roy and. Cartwright, Solicitors, 4, Lothbury, London, E.C.; of Messrs. Tilleard and Co., Solicitors, No. 34, Old Jewry, London; Messrs. Gadsden and Treherne, Solicitors, No. 28, Bedford-row, London; Messrs. Marson and Dadley, Solicitors, No. 1, Southwark Bridge-road, London ; Mr. T. W. Nelson, Solicitor, No. 6, Laurence Pountney-lane, London; Messrs. Black, Freeman, and Gell, Solicitors, Ship-street, Brighton; Messrs. Nelson, Buhner, and Nelson, Solicitors, Leeds;
of Messrs. Paterson, Kerr, and Goldring, Auctioneers, &c., Albion chambers, Moorgate-street, London, E.C.; and of Messrs. Wilkinson and Son, Auctioneers and Estate Agents, 168, North-street, Brighton.
LONDON SOCIETY, VOLUME XXIX, 1876.
And now for a word with reference to the actual results which the Society for the Protection of Animals can show from year to year. Their last annual report denotes a remarkable degree of activity, for in the course of the preceding year they had obtained nearly two thousand convictions. By far the greater part of these were for working horses when in an unfit condition, or for beating and kicking other domestic animals. But one of them - the Chantrell case - was a phenomenon of cruelty. On this person's premises, at Brighton, were found a large number of dogs, cats, rabbits, and fowls which she had collected, and then shut up, all together, without food. The natural result was that they preyed upon each other ; and when at last the survivors were relieved by the Society's officers their condition was disgusting. The details of the affair cannot yet be forgotten, and we will be content with a passing allusion to it.
The Chantrell Probate case was reported in Lloyds Weekly Newspaper (London, Middlesex) on Sunday, December 21, 1879. This is a summary due to illegible text: The Chantrell case came before Vice chancellor Malins; the will of the testator was contested in the Probate court in on the ground of undue influence on the part of Mary Chantrell to whom the whole of the personal estate was left. It transpired in the course of the inquiry that Mrs Chantrell kept a large number of cats and dogs in her home and when the sanitary inspector visited the establishment be found in different rooms the skeletons of several cats. The Vice chancellor ordered her to be paid one third of the personal (inheritance?) and provision was to be made for her. The Vice chancellor asked where Mary's poor child was now - she was at a boarding school and her mother never even inquired after her. The Vice chancellor asked if the lady was still alive with her stock of cats. Mary had claimed she would never live without seeing the child but it was suspected she was more interested in her cats than in her child.
In 1881, the widowed Mary Chantrell, aged 48, is shown as living in Castle Street, St Martins in the Fields, Westminster, London and was occupied as an Artist in Oil and Watercolours. However, she soon moved back to the Brighton area where she was again fined for animal cruelty. A while later, she seems to have ended up homeless and sleeping rough in south-east London.
ECHO, Tuesday June 30th, 1885
At Brighton yesterday, a lady named Mary Chantrell was fined £5 and costs for keeping cats in a state of starvation.
Lloyd's Weekly Newspaper - Sunday 5 July 1885
At Brighton, on Monday, a lady, an animal painter, named Mary Chantrell, widow of the late sculptor of that name, was fined 5 pounds and costs for cruelty to cats, which she had kept in a state of starvation. A few years ago she was twice convicted upon similar charges, having then a large number of cats and dogs in a starved state.
South Wales Echo - Friday 04 February 1898
AN ARTIST'S MODELS. At Penge yesterday Mary Chantrell, described as an artist, of no fixed home, was charged with sleeping outdoors without visible means of subsistence. Prisoner, an elderly woman of refinement and education, brought into court several bundles, including a portfolio of her own drawings. She carried two cats under her cloak. It appeared that at midnight on Wednesday she was found sleeping on a doorstep at Minden-road, Anerley. She was charged with a similar offence on Wednesday and discharged. Prisoner said she had exhibited at the Royal Academy, but was now homeless. She was a widow, and had no friends in the neighbourhood. The Bench sentenced her to four days' imprisonment.—Prisoner Don't take away my little cats from me. They are my models for my painting.
The Church Weekly, 11th February, 1898:
AT one time Mrs. Mary Chantrell was an exhibitor at the Royal Academy. One night last week she was found sleeping on a doorstep in Minden Road, Anerley, homeless, and without money. She told the constable who took her to the police-station that she was a widow, and had no friends in the neighbour-hood. When she was brought up at Penge Police Court on a charge of sleeping out of doors without visible means of subsistence, it was plain that she was a woman of refinement and education. She appeared in court with several bundles, a portfolio of her own drawings, and carrying two cats under her cloak. The bench sentenced her to four day's imprisonment. Prisoner : Don't take away my little cats from me. They are my models for painting.
This infamous case was also translated into French
JOURNAL DES DÉBATS POLITIQUES ET LITTÉRAIRES, April 26th, 1878
Mardi dernier, sur la plainte du secrétaire de la Société royale protectrice des animaux, la demeure d'une dame Chantrell, à Rottingdean, près de Brighton (Angleterre) a été visitée par un agent de la Cour de la chancellerie.. La bruit courait depuis longtemps que cette dame laissait mourir d'inanition des chiens et des chats. La police fut obligée d'enfoncer la porte qui avait été barricadée au dedans au moyen de grosses pierres et de planches. M" Chantrell apparut alors sur le seui), armée d'un bâton et d'un tisonnier, et déclara qu'elle ne laisserait entrer personne. On parvint toutefois à écarter la mégère; mais nulle part on ne put trouver d'animaux vivans; en revanche, do nombreux cadavres gisaient dans les appartemons. dont les portes durent être forcées, Mme Chantrell refusant de les ouvrir sous prétexte qu'elle avait perdu les clefs.
Enfin, à force de recherches, on découvrit, dans un cottage voisin, des chats vivans les malheureuses bêtes étaient dans un état de maigreur effrayant et pouvaient à peine se soutenir. Plusieurs étaient déjà morts de faim les autres poussaient des gémissemens lamentables.
Dans un bunet étaient entasssés les squelettes de plus de cinquante chats plus loin on découvrit des chiens, mais dans un tel état de maigreur et d'épuisement que le vétérinaire qui accompagnait la police déclara que ce serait une véritable cruauté que de les laisser vivre. Du cadavre d'un chien dévoré par les autres il ne restait plus que l'épine dorsale. Une malheureuse chienne, aux flancs décharnés, à l'œll famélique, mit bas devant les visiteurs et dévora Immédiatement ses petits. Ce fut une horrible lutte lorsqu'on jeta du pain et de la viande au mliieu do ces spectres anamés. La mort de ces pauvres bêtes fut décidée. Une autre scène commença alors M" Chantrell poussa les hauts cris et refusa da laisser tuer ses chiens et ses chats.
La foule, de son côté, qui s'était amassée autour de !a maison, voulait entrer de force pour mettre on aux souffrances des malheureux animaux et no ménageait pas les insuites et les menaces à l'excentrique M' Chantrell. Ennn la police parvint à écarter cette foule; on apporta, une quantité sufSsante de poison pour mettra un au martyre des pauvres botes. Deux seulement fursnt ????pargnes r
Il y avait plus de trois am qu-) M. Chantrell laissait ainsi mourir de faim des chiens et des chats dans s~ maison, soit parinégilgon ca soit par manie. Deux fois déjà elle avait été condamnée sur la plainte do la Société, protectrice des animaux.
(In addition to English reports, this says there was the corpse of a dog devoured by others there remained (only) the backbone.)
Short Biography of Mary Elizabeth Chantrell
Mrs Mary Elizabeth Chantrell (nee Dear) had been an Oil and Watercolours Artist. She was born 12th November 1832 at St Pancras, London (Middlesex); the eldest daughter of John (Jonas?) Dear, a Piano-forte Maker, and Hannah Lethbridge. Her siblings were Emily Jane, Eliza, Louisa, Jane and John William. In the 1861 census she was shown as visiting Architect Robert Dennis Chantrell at 7, Park Place, Camberwell, Surrey; Robert Chantrell and his wife were her guardians, her parents having died. Robert had been born in 1794 in Newington Butts, Surrey and died on 4th Jan 1872 and as an architect he had designed a number of churches, but he was also known for appropriating bits of old church masonry for garden ornaments! His wife, Elizabeth, left him in the 1840s after he took a "great interest" in 14-year-old Mary Elizabeth Dear. Elizabeth reportedly objected to the frequency and nature of Mary's visits to their house and went to live in Liverpool; she died in 1863 and her estranged husband did not attend the funeral.
Listed works: DEAR, Miss Mary E. 47, Mary Street, Hampstead Road:
1848 – Studies. 1849 – Portrait (23, Robert Street, Hampstead Road.) 1850 – Playfellows (3, Tottenham Court Road.) 1852 – The Daisy "Wee modest crimson-tipped flower, etc." (7 Victoria Road South, Kentish Town.) 1854 – a series of allegorical tableaux reproduced as engravings in The Art Journal – The Spring (May issue), Summer (August issue), Autumn (October issue), Winter (December issue). 1856 – Marietta (7 Mortimer St, Kentish Town.) 1857 – The Sisters "No wing of wind the region swept, etc." 1859 – R. Dennis Chantrell, Esq. F.R.I.B.A. 1859 - Illustrations for Nathaniel Hawthorne's book "The Scarlet Letter." While she may have been a precocious artist, it seems that her skills did not continue to develop as her output seems to have waned.
After Robert's wife leaves him, Mary is effectively his common-law spouse. In July 1867 Mary was imprisoned for debt and Robert's sons took their father to Bruges, Belgium (where his late aunt's family lived) to escape Mary's erratic behaviour. Mary reported being pregnant so he returned to Rottingdean in and married her in spite of his adult children's protests. On Nov 2 1867, aged 34, Mary Elizabeth Dear married Robert Dennis Chantrell, a 74 year old widower then living in Rottingdean. They married at St. Pancras Parish Church. Their daughter, Marion Felicia, was born soon afterwards and, naturally, there were questions about her paternity.
A report in 1867 stated that Robert Chantrell was before the courts because of the starving animals, which numbered between one hundred and two hundred, many being skeletons, but which were Mary's models for her artistic work. In 1869, they had a daughter named Marian and the family were living at Ivy Cottage, Rottingdean. One wonders about the motive of the marriage (one suspects financial security) as Robert senior was reportedly on the verge of lunacy (in modern terms he no doubt had advanced Alzeimer's and probably should not have been fit to stand before the court in 1867), and the couple had violent rows. Robert was finally unable to live with Mary's animal hoarding and erratic temper, and he moved to Norwood, where he died aged 78 on 4th January 1872; his death is recorded in Croydon, Surrey. The first case against Mary (as opposed to against Robert) was in November of that year.
By February 1898, Mary Chantrell, an artist of no fixed abode and no visible means of subsistence, was charged with sleeping outdoors. A Mary Chantell was recorded as being admitted to London asylums in 1898 and 1899. It is generally assumed that she died penniless and was buried in a pauper's grave, but she is said to have died in April 1900 at Gravenhurst, Ontario, Canada – this strikes me as unlikely and there may be confusion with a Chantrell family residing in Ontario at that time (Robert and Mary being very common names).
THE OBSERVER published a detailed account of Chantrell's trial on Sunday February 15, 1874. It gives a history of Mary Dean and her relationship with Robert Chantrell.
COURT OF PROBATE AND DIVORCE.—Sat., Feb 14. Before the Right Hon. Sir James Hannen and a Common Jury. CHANTRELL V. CHANTRELL AND LAMB. This was a probate suit, which came before the court on Thursday last, and in which defendant propounded the will of her late husband, Mr. Robert Denis Chantrell, who died at Rottingdean, near Brighton, on the 4th of January, 1872, being at the time over 80 years of age. The will was dated the 8th of October, 1868, and is opposed by the plaintiff, a son of the testator, on the ground that the will was informally executed, that at the time it was executed the testator was not of sound mind, that it was obtained by the undue Influence of the defendant and Mrs. Mary Elizabeth Chantrell, and that the testator did not know or approve of its contents. Dr. Deane, Q.C., Mr. Philbrick, and Mr. Searle were counsel for the plaintiff; Dr. Spinks, Q.C., and Mr. Harrison were for the defendants. It appeared from the statement of Dr. Spinks that the testator was born somewhere about the year 1789. He passed the earlier portion of his life in Belgium, where he devoted himself to the study of the fine arts, of which he was passionately fond. Ultimately he came to England, where he commenced the business of an architect, aim was eminently successful. He resided at Leeds, and be there designed one of the finest churches and public buildings in Yorkshire. He did not appear to have lived on very good terms with his family, especially with his sons. About the year 1841 be came to London, where he had considerable property situated at Walworth. After be came to London he became a frequenter of the Society of Arts, of which he was a member, and he there met the lady who propounded the present will. She was then Miss Dean, a girl of 14 years of age. She had obtained the first prize of the society, and the testator was so struck by a girl so young being so distinguished in art that, on the occasion of the distribution of the prizes by the late Prince Consort, he conducted the young lady up to the Prince, who handed to her the reward which she had won by her genius. After that Miss Dean was a frequent visitor at his house, where she would stay on long visits. In 1869 she took a portrait of the testator, which was exhibited at the Royal Academy.
The intimacy the testator had formed with Miss Dean did not seem to be agreeable to the testator's family, and in 1860 his first wife left him on a visit to one of her daughters at Liverpool, and never returned. She died in 1863, and the first intimation the testator had of her death was seeing it in the newspapers. After his wife left, Miss Dean went to take charge of the testator's house. He was then living at Camberwell, but soon after he removed to Eastbourne, and then he went to Rottingdean, near Brighton, where he resided up to his death. After they went to Rottingdean Miss Dean, who seemed to have inherited some of Landseer's talents for sketching animals, applied herself to that occupation; but unlike Landseer, whose talents were applied to the nobler and more sagacious animals, the favourite subjects of her pencil were cats. Of these she kept an entire menagerie; but the neighbours having complained to the magistrate of the nuisance caused by them, the menagerie was either destroyed or dispersed.
In 1867 Miss Dean was taken to Lewes Gaol on a judgment summons for a debt due to a Brighton tradesman. This was said to have been done by the intrigues of Mr. Chantrell's sons, who, after she was sent to gaol, took their father away to Belgium. They were also stated to have taken possession of all his papers. He did not, however, long remain in Belgium, for he returned to England in October, 1867. He was joined in London by Miss Dean, whom he married at St Pancras Church on the 2nd of November of the last-named year. After the marriage they went to their residence at Rottingdean. In the autumn of 1868 the testator found his wife far advanced in pregnancy, when he began to think of making his will, in order to protect his wife and the child that was to be born. For that purpose he went to Mr. Lamb, a respectable solicitor in Brighton, who took his Instructions and prepared from them the will now propounded. That will was executed on the 8th of October, 1868, the testator's medical attendant, Dr. Baker, being present when it was executed, and signing it as one of the attesting witnesses. The child was born on the 28th of the same month. This will is now disputed on the grounds stated. In support of the will, Mr. Lamb, Dr. Baker, and several witnesses were examined, all of whom deposed to the capacity of the testator to make the will in question, and that the instrument was executed in due form. An effort was made to arrange the matter in dispute, but it was unsuccessful, after which Mrs. Chantrell went into the witness box, and, in the course of her evidence, stated the circumstances under which she became the wife of the testator, which accorded with the statement which we have just given. the witness was cross-examined by Dr. Deane, but it did not terminate when the Court rose on Friday afternoon. The cause was resumed yesterday (Saturday), when the cross-examination of Mrs. Chantrell, the widow of the deceased, was proceeded with by Dr. Deane, Q.C. In answer to a question as to whether certain letters were not in her handwriting, she said the writing resembled hers in some Instances, but as they were written so long ago she could not say whether she wrote them or not. On a diary being laid before her she stated she believed the entries to be in the hand writing of the testator. She was then questioned as to the receipt of certain cheques for various amounts set out in that diary, as having been drawn in her favour, and in explanation said the cheques she received were all dealt with according to the direction of the testator
The learned Judge, after a great number of letters had been submitted to the witness, and she having denied generally all knowledge of them, said it was a useless waste of time to continue the proceeding. As the ground for doing so appeared to be that those letters, although purporting to be written by other persons to the testator, were, in fact, written by the witness, he thought a general question on the subject of the remaining letters might be put to her. Dr. Spinks then submitted a letter, numbered 257, to witness, which she recognised as in Mr. Chantrell's handwriting, but she positively denied that the alterations or additions at the bottom of the pages were in her handwriting. She thought that several of the letters that had been put into her hands were forgeries of her handwriting, but she could not say by whom they were written. She positively denied that she had received the letter 257 and suppressed it. She also positively denied that she had made the erasures in the same letter, and she added that if she had been so lost to all moral sense as to commit a forgery she could have done it a great deal better than appeared in the paper in her band, and so, indeed, could any other artist. The witness was then shown letters signed "Williams," but she denied that she had written any part of them. Dr. Deane then put in the remainder of the letters in the correspondence bearing the signatures of " Williams " and " Calderon." The witness said she was not a party to the writing to any of these letters, and that she had never misapplied any of the money mentioned in those letters. She knew that the testator had a correspondent named "Calderon," but she never knew who in reality that person was. The same remark would apply to the letters signed "Williams," but she thought those letters might relate to a Mr.Jones. After other evidence of a like kind had been given, the Court rose at four o'clock. the case will be resumed on Wednesday.
When Robert died, Mary was granted probate, but this was revoked in 1874 because Mary had unduly influenced him and committed fraud, and given to his son, Robert, by his first marriage. At the start of 1875, Mrs Chantrell was declared bankrupt. The repeated court cases came to a head in 1875. In 1881, the widowed Mary Chantrell, aged 48, is shown as living in Castle Street, St Martins in the Fields, Westminster, London and was occupied as an Artist in Oil and Watercolours. Her artwork can still be found, but it is necessary to pity the animals who were her models.
The Mary Chantrell case achieved such notoriety that I wondered what became of her daughter, who must have been brought up in a very unhealthy environment.  Marian (or Marion) Felicia who had been born on 28th November 1868 in Rottingdean, but Mary Chantrell evidently lost custody of her daughter.  Marion  married Frank Lisle (b 1867, Southampton) on 20th Jan, 1890 at Kensington, London.  She died on 4th April, 1958 in Kaitaia, Auckland, New Zealand.  Frank pre-deceased her in March 1937 at Kaitaia (many of the Chantrells seem to have lived into their 80s).  So Marion escaped her father's dementia and the squalor of a hoarder's house, married Frank and emigrated.  They had 6 children, most born in Taranaki, New Zealand: Grace Ethel Lisle (1893 - ?); Gladys May Lisle (1897 - 1996), Matilda Lillie Lisle (1899 - ?), Elsie Ivy Frances Lisle (1901 - 1970), Edith (?) and Clive William (1929 - ?). 

"Patchwork" by Mary E. Dear (Mary Chantrell), 1857. Oil on board. 10.6 inches x 12.6 inches. Two sisters sit under a tree next to a sunny meadow in summer. The older sister has fallen asleep with her patchwork in her lap, while the younger sister is cutting patches from her best dress. Also in 1857, Mary Dear exhibited "Sisters," which had a Winter theme and was accompanied by a line from Tennyson's verse "In Memoriam." Other paintings included "Spring," "Summer" and "Playfellows."
Mary Dear (later Mary Chantrell) flourished as a London artist between 1848 and 1867. She was known for portraits and figure subjects, especially of children. She exhibited at the Royal Society of British Artists from 1859 onwards and the distinguished painting dealer Colnaghi, Pall Mall, as her address. Although she exhibited at the Royal Academy and Suffolk Street on several occasions, her paintings are rare. In style, she was influenced by the pre-Raphaelites. In 1867 she married Robert Chantrell, having lived with him since 1861. In 1866 and 1867 she first became notorious as a cat hoarder (the earlier case in 1855 was only reported locally).
Her 4 allegorical tableaux depicting the seasons.